Research article

Open Access
Insights into the evolution of enzyme substrate promiscuity after the discovery of (βα)8 isomerase evolutionary intermediates from a diverse metagenome
BMC Evolutionary Biology
2015
15:107
Received: 19 December 2014
Accepted: 11 May 2015
Published: 10 June 2015
Abstract
Background
Current sequence-based approaches to identify enzyme functional shifts, such as enzyme promiscuity, have proven to be highly dependent on a priori functional knowledge, hampering our ability to reconstruct evolutionary history behind these mechanisms. Hidden Markov Model (HMM) profiles, broadly used to classify enzyme families, can be useful to distinguish between closely related enzyme families with different specificities. The (βα)8-isomerase HisA/PriA enzyme family, involved in L-histidine (HisA, mono-substrate) biosynthesis in most bacteria and plants, but also in L-tryptophan (HisA/TrpF or PriA, dual-substrate) biosynthesis in most Actinobacteria, has been used as model system to explore evolutionary hypotheses and therefore has a considerable amount of evolutionary, functional and structural knowledge available. We searched for functional evolutionary intermediates between the HisA and PriA enzyme families in order to understand the functional divergence between these families.
Results
We constructed a HMM profile that correctly classifies sequences of unknown function into the HisA and PriA enzyme sub-families. Using this HMM profile, we mined a large metagenome to identify plausible evolutionary intermediate sequences between HisA and PriA. These sequences were used to perform phylogenetic reconstructions and to identify functionally conserved amino acids. Biochemical characterization of one selected enzyme (CAM1) with a mutation within the functionally essential N-terminus phosphate-binding site, namely, an alanine instead of a glycine in HisA or a serine in PriA, showed that this evolutionary intermediate has dual-substrate specificity. Moreover, site-directed mutagenesis of this alanine residue, either backwards into a glycine or forward into a serine, revealed the robustness of this enzyme. None of these mutations, presumably upon functionally essential amino acids, significantly abolished its enzyme activities. A truncated version of this enzyme (CAM2) predicted to adopt a (βα)6-fold, and thus entirely lacking a C-terminus phosphate-binding site, was identified and shown to have HisA activity.
Conclusion
As expected, reconstruction of the evolution of PriA from HisA with HMM profiles suggest that functional shifts involve mutations in evolutionarily intermediate enzymes of otherwise functionally essential residues or motifs. These results are in agreement with a link between promiscuous enzymes and intragenic epistasis. HMM provides a convenient approach for gaining insights into these evolutionary processes.
Keywords
Hide Markov Model
pASK
Isomerase Activity
Bifidobacterium Longum
Hide Markov Model Profile
Background
Numerous reports have shown that enzyme promiscuity, defined as the capacity of an enzyme to perform activities other than the function for which they have evolved–using the same active site– is an extremely common event [1, 2]. The biological implications of these 'secondary' activities have been broadly discussed at different levels. The redundancy of enzymatic functions has been hypothesized to lead to a 'plastic' metabolic network, important for organismal evolution [3]. At the protein level, these secondary activities have been hypothesized to serve as raw material for the evolution of new activities [4]. Thus, promiscuity could represent an evolutionary advantage that could be selected for as part of a mechanism to acquire novel enzyme functions [2, 5, 6]. Indeed, not only positive selection but also neutral evolution, which leads to accumulation of non-conserved mutations usually away from catalytic active sites, have been proposed to lead to promiscuous enzymes [7].
Methods for functional classification of protein sequence data based on molecular evolution theory assume that members of protein families will diverge from the consensus sequence as functional shifts take place. However, the sequence differences associated with such functional shifts, mainly at early evolutionary stages when enzyme promiscuity and sign epistasis occur [8–11], are difficult to detect. Moreover, the contribution of point mutations may vary broadly both in terms of the derived trade-off between promiscuous and primary activities [12, 13] and their closeness to the active site of enzymes [14, 15]. Therefore, our inability to predict enzyme promiscuity, whose evolutionary nature remains to be fully understood, hampers current enzyme classification systems.
The abovementioned conundrum relates to the issue of 'hidden' or adjacent information in biology, a recurring theme in many fields with heterogeneous large datasets. Such heterogeneity has been probabilistically tackled using Hidden Markov Models (HMM) [16, 17]. HMM profiles, a broadly used method for sequence classification and protein functional annotation (e.g. Pfam), can be defined as a motif definition with some probabilities involved. Indeed, a recent study partly based on the usage of HMM profiles shows how these tools can yield important information on the origin of enzymatic functions [18].
Here we hypothesized that HMM profiles provide an efficient approach to identify subtle functional shifts involving enzyme promiscuity. To test this we focus on the (βα)
8
-isomerase HisA or
N
'-[(5′-phosphoribosyl)formimino]-5-aminoimidazole-4-carboxamide ribonucleotide (ProFAR) isomerase (
hisA
gene, EC 5.3.1.16) enzyme family (Fig.
1
). HisA is involved in L-Histidine biosynthesis, and due to its internal symmetry, it has been largely used to test hypotheses related to the evolution of the (βα)
8
-fold from smaller [(βα)
2
, (βα)
3
, (βα)
4
, (βα)
6
] subunits [
19
–
25
]. Moreover, the HisA homologs from the class
Actinobacteria
have been renamed as PriA, from Phosphoribosyl Isomerase A [
26
], due to their broader specificity. Indeed, in addition to their ancestral HisA activity, PriA enzymes also have a proficient
N'
-(5′-phosphoribosyl) anthranilate (PRA) isomerase or TrpF activity (
trpF
gene, EC 5.3.1.24) (Fig.
1
). Thus, where a
trpF
gene is lacking, as in the
Actinobacteria
or Gram positive eubacteria with high (G + C) content, PriA participates in the biosynthesis of both L-histidine and L-tryptophan.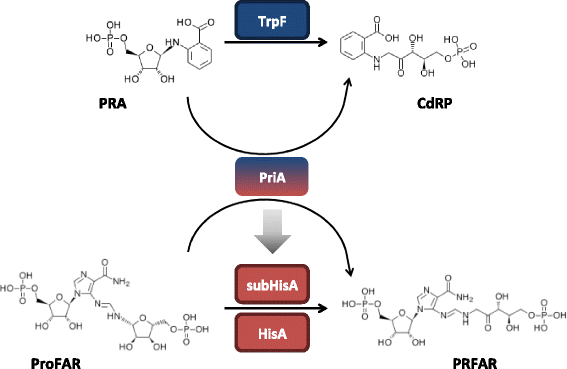 In addition to PriA, we have recently reported a closely related group of homologs specific to a certain sub-clade of the genus Corynebacterium, which was renamed as subHisA [27]. The subHisA enzyme sub-family evolved from PriA in a process resembling sub-functionalization, and it lacks any TrpF activity, rendering a mono-substrate ProFAR specific HisA-like enzyme. The HisA, PriA and subHisA enzyme sub-families share 35 % sequence identity between them, and several of their catalytic amino acid residues have been identified (see reference 25 for a review). Notably, at least one residue that is conserved at the sub-family level, Gly81, Ser81 and Thr81, respectively, was identified early on and further characterized [28]. More recently, additional PriA [30] and subHisA [27] specific residues, including Arg143 and Asn142, respectively, have been discovered as sub-family specific residues. These residues are part of the N-terminal phosphate-binding site (PBS) motif, where substrate specificity takes place, in equivalent positions within the (βα)8-fold adopted by these enzymes.
Despite these well-established sequence, structural, and functional differences, semi-automatic annotation methods based in multiple sequence alignments (MSA) and structural similarities, such as those used by the SCOP and CATH databases, continue to group some HisA, PriA and subHisA sequences within one single enzyme family, and under the same Enzyme Classification (EC) number. For instance, at time of submission of this paper, CATH groups all these enzymes under the enzyme superfamily, 3.20.20.70 or Aldolase class I; and the PriA enzyme from Mycobacterium tuberculosis, despite being comprehensively characterized [30], is still annotated as a HisA enzyme, i.e. only under the EC number 5.3.1.16, and not by both this number and 5.3.1.24, which refers to TrpF or PRA isomerase activity.
In this paper we report that with the use of HMM profiles, and in accordance with their substrate specificities, it is possible to successfully classify sequences of unknown function as HisA or PriA. We identify evolutionary intermediates between HisA and PriA enzyme sub-families within a large metagenome. Selected enzymes, including single amino-acid mutants constructed following evolutionary analyses, as well as a (βα)6 truncated enzyme, which may be useful to explore hypotheses related to the evolution of the (βα)8-fold, were synthesized and biochemically characterized. Our results demonstrate that substrate specificity within enzyme sub-families, and therefore enzyme promiscuity, can be identified with HMM profiles.
Methods
Construction of PriA Hidden Markov Model profiles
The Sequence Alignment and Modeling System program (SAM Version 3.5– T2K) [29] was used to predict the remote intermediates. HMM profiles were built with the w0.5 script [30]. To score the training set of sequences with the HMM the hmmscore program was used. Alignments of the hits were performed with the program align2model [31], and editions and redundancy analyses were performed with Belvu alignment viewer [30]. The best ten hits were aligned to the HMM as above, and the hits of the original entries were removed from the initial training set to avoid re-sampling in the following iteration. The resulting multiple sequence alignment (MSA) was edited, trimmed to the aligning region, and made non redundant at 80 % identity.
Construction of UniProt database and profile validation
A UniProt database (as of October 2008) consisting of all sequences in the size range of 200 to 300 residues was created. From each scoring run, the sequences with the top 100 E-values were retrieved along with their scores and E-values for further analysis. The data of all rounds were summarized in a matrix describing the E-values of each sequence obtained per iteration. Therefore, the entry mij describes the E-value. The ith is the sequence obtained when evaluated with the profile HMM from the jth iteration.
Construction of metagenomic database
To generate an initial scoring set, sequences were retrieved from the CAMERA database [32] using the BLAST wizard tool in the webpage http://camera.calit2.net/ (now embedded within the NCBI database). PriA and subHisA sequences from Actinobacteria, and HisA sequences from other Eubacteria and Archeae, were BLASTed against all metagenomic ORF peptides (43,240,119 sequences) with default parameters. PriA query was P16250 from Streptomyces coelicolor (annotated as both 5.3.1.16 and 5.3.1.24), plus the enzymes annotated as HisA (i.e. only annotated as 5.3.1.16) P9WMM5 from Mycobacterium tuberculosis (recently experimentally confirmed as PriA, reference 30), Q8G4S5 from Bifidobacterium longum, Q4JW54 from Corynebacterium jeikenium (recently confirmed as PriA, reference 27), Q0RFX1 from Frankia alni, Q5YYP5 from Nocardia farcinica, A8LX58 from Salinispora arenicola, A6WCU8 from Kinecoccocus radiotolerans, A1R562 from Arthrobacter aurescens, A7BD07 from Actinomyces odontolyticus, and A5CSK6 from Clavibacter michiganensis. One subHisA sequence, O68602 from Corynebacterium glutamicum, was also used for BLAST. HisA queries included one Archea: P62356 from Thermus thermofilus and six other eubacteria, two Proteobacteria: P10371 from Escherichia coli and Q7N8D1 from Photorhabdus luminiscens; one cyanobacteria: B0C904 from Acarychloris marina; and two firmicutes: O35006 from Bacillus subtilis and Q2RGW1 from Moorella thermoacetica. The top 100 hits from each run were gathered and repeated sequences above 80 % sequence identity were removed to produce a non-redundant sequence set.
Phylogenetic analysis of evolutionary intermediates
All MSA were built using MUSCLE within the software SEAVIEW [33]. In order to define the best-fitting model for our data, the program ProtTest [34] was used. The output of this program was used as input for MrBayes, which was run for two million generations [35]. The sequences used, alignment and tree files were deposited in the TreeBASE repository (http://purl.org/phylo/treebase/phylows/study/TB2:S17486) [36].
Construction of truncated enzyme variants
A library of truncated enzyme variants was constructed by systematically removing one by one the amino acids located at the C-terminus end of the protein, covering a total region of 75 residues. The deletion process was performed by the application of a codon-based oligonucleotide method that we developed, referred to as 'truncagenesis'. Briefly, the method relies on synthesizing a priming segment of the target oligonucleotide and removing a small fraction of the support, carrying the growing oligonucleotide, every three nucleotides during the synthesis process. The removed fractions are accumulated in a second synthesis column where they are finished with addition of an antisense codon and an appropriate restriction site for cloning purposes, when truncation is targeted at the C-terminus of a protein. Due to technical limitations in the synthesis of long oligonucleotides, coverage of the 75 amino acid targeted region was accomplished by the synthesis of five sets of truncated primers, with each set containing 15 truncated primers. Sequences of the five sets and the primers contained in set1 are shown in Additional file 1: Table S1. Truncated variants were amplified by PCR using the forward primer NdeFw and the corresponding reverse set. The PCR products, as well as the cloning vector, were double digested with the restriction enzymes NdeI and HindIII, purified, and ligated. Approximately 14,000 colonies were obtained, which represents library coverage of 186X. Plasmids from 32 colonies were isolated and sequenced, validating that the explored region was randomly shortened, as expected.
Cloning, site-directed mutagenesis and functional analysis of HisA homologs
Sequences retrieved from CAMERA, termed CAM1 and CAM2, and hisA from Acidimicrobium ferrooxidans genes, were commercially synthesized (Geneart). Codons were optimized for E. coli heterologous expression. priA from B. longum was cloned from genomic DNA generously provided by Frabizio Arigoni (Nestlé Research Center). The full sequence is shown in Additional file 1: Table S2. All genes, including CAM-derived truncated library, were cloned into pASK plasmid [37] using the NdeI and HindIII restriction sites. The pASK plasmid is a version of the commercially available vector pASK_IBA3plus (Iba - Lifesciences), from which the NdeI site was deleted by site-directed mutagenesis using the oligonucleotides pASKNdeFor (AAATGATCAATTCAAGGCC) and pASKNdeRev (GCGGATTAGAAAAACAACT). We have previously used pASK for complementation assays involving enzymes with very low promiscuous activities.
In addition, a His-Tag from vector pET15b was cloned using the EcoRI and HindIII restriction sites. The pASK final version contains an NdeI site, following the N-terminal His-tag and lacks the C-terminal Strep-tag. CAM mutants' A81S and A81G were constructed using a site-directed mutagenesis commercial kit (Stratagene) and pASK_CAM1 as template. Sequences of oligonucleotides used are: A81S_F (GTCGAAGTGAGCGGTGGTATCCG) and A81S_Reverse (CGGATACCACCGCTCACTTCGAC) A81G_Forward (GTCGAAGTGGGCGGTGGTATCCG) and A81_R (CGGATACCACCGCCCACTTCGAC). The HisA enzyme from A. ferrooxidans was cloned into the pET22b (Novagen) vector using NdeI and HindIII restriction sites, and PriA from B. longum, CAM1_A81G and A81S variants were cloned in the pET28a (Novagen) vector using the NdeI and XhoI restriction sites. In vivo activity complementation assays, as well as in vitro steady-state enzyme kinetics, were performed as previously [38], other than pASK derivatives were used and M9 minimal media was supplemented with anhydrous tetracycline at 20 ng/ml (Sigma).
Construction of 3D structural models
After failed attempts to obtain X-ray crystallographic structures of the proteins investigated, homology models using 2vep structure from Streptomyces coelicolor [28] as the initial template were built for CAM1 (261 residues), CAM2 (203 residues) and CAM1_204 (204 residues). Ten thousand decoys were produced with Rosetta 3.4 [39] and clustered for each independent target. The model with the lowest energy of the widest and most populated cluster was chosen as the final structure for each sequence. Protons were placed afterwards, such that an optimal hydrogen-bonding network was achieved, using the WHATIF package [40]. Two additional independent models were produced in silico, following the same methodology as before, in which the last 12 residues of the CAM2 sequence were replaced with a randomly generated sequence [41].
Discussion
Our report represents an effort to classify enzyme sub-families with different substrate specificities, aiming to predict enzyme promiscuity in non-annotated databases. For this purpose, we used HMM profiles and (βα)8 isomerases involved in L-histidine and L-tryptophan biosynthesis, two ancestral pathways, for proof-of-concept. The use of HMM profiles allowed us to distinguish between the closely related enzyme sub-families HisA (mono-substrate) and PriA (dual-substrate), but not the evolutionarily more closely related subHisA (mono-substrate). After validation of our PriA HMM profile we classified a subset of HisA homologs contained in the CAMERA metagenomic database. Interestingly, discrete groups were no longer obtained; on the contrary, a continuum of E-values was found (transition zone). This seems to correlate with a higher degree of diversity contained within non-cultivated microorganisms, as previously widely noted [47, 48].
By means of MSA, we detected two evolutionarily intermediate sequences, CAM1 and CAM2, with a unique PBS sequence motif. The mutational path from glycine to serine requires a two-nucleotide substitution, with alanine being one of the plausible transition amino acids. Although such amino acid transition has been previously observed in the laboratory after directed evolution experiments [49], to the extent of our knowledge, it is rare to find homologous enzymes that enable the study of a natural mutational path. Thus, the existence of such a scenario, represented here by evolution of PriA from HisA via CAM, support the idea that CAM1 and CAM2 can be assumed to be enzymes representing possible evolutionary trajectories. Along these lines, it would be interesting to take into account residues unrelated to the N-PBS but that directly mediate substrate specificity, such as the loop-embedded Arg19 and Trp145 involved in the metamorphosis of the active site of PriA [29, 30].
Dedicated phylogenetic analysis of HisA, CAM and PriA enzymes, placed CAM1 as the outgroup of PriA sub-family, between the genera Acidimicrobium and Bifidobacterium. In accordance with the bacterial tree of life [50–52] Acidimicrobium species, a group of early divergent Gram positive with high (G + C) content bacteria, is the outgroup of Bifidobacterium. Moreover, the genus Bifidobacterium is the outgroup of the order Actinomycetales, which includes species where PriA has been found as a response to the lack of a trpF gene [26, 27, 46]. In agreement with this, HisA_Afer was shown to have specificity towards ProFAR, while PriA_Blon can accept both PRA and ProFAR substrates. These observations suggest that evolution of PriA from HisA could have occurred in the divergence events that gave rise to the Gram positive with high (G + C) content bacterial group, dated to 2 billion years ago [50].
Mutation of residue 81 (glycine in HisA and serine in PriA) could be tolerated by CAM1, which contrasts with the effect of mutating this residue in PriA from S. coelicolor (Fig. 4) [28, 38]. The reason why CAM1 could withstand mutations in this key catalytic residue is not understood. It implies, however, an increased robustness, a characteristic that could be intrinsic to evolutionary intermediates, in this case between the HisA and PriA sub-families. Given recent reports, it is tempting to speculate that this observation has to do with the role of epistasis during early enzyme evolution, which involves promiscuous enzyme states [8–11]. This could be exploited as an attribute for detection and annotation of enzyme promiscuity from sequence data using HMM profiles.
Given the nature of neutral mutations, the development of systematic approaches to detect enzyme promiscuity at the sequence level has been hindered [2]. Based on molecular signatures obtained by means of graph kernel support vector machines, it has been suggested previously that it is possible to make predictions with an accuracy of 85 % [53, 54]. More recently, random forests have been used to predict enzyme substrate-specific residues, which are intimately related to enzyme promiscuity [55]. However, although these methods claim to predict function at the fourth level of the Enzyme Classification number, a situation that remains to be experimentally validated, incorrect annotation in current databases, incorrect training of the method, domain fusions, and bias in the knowledge of functional residues, among other factors, are likely to hamper their efficiency. Our report expands on this repertoire of approaches, with the advantage of being computationally simpler, and possibly also more sensitive as it is based in HMMs.
Two plausible scenarios have been hypothesized for the evolution of the (βα) 8 -fold. First, based on the symmetry seen in HisA and its remote homolog HisF, whose substrates/products are also symmetrical, duplication and subsequent fusion of (βα)4 half barrels has been put forward [19]. This hypothesis has been supported experimentally by reconstitution of complete (βα) 8 barrels from two (βα)4 halves [20, 56]. Second, an 'asymmetrical' pathway, which considers two, three or more duplication and fusion events, proposes that the (βα) 8 barrel could have originated from (βα)2 and (βα)3 subunits [23, 57]. Indeed, it has been shown experimentally that (βα)6 barrels are viable, and thus they may also provide intermediaries in the course of evolution and appearance of the (βα)8 [22, 24].
Isolation of a functional HisA-like (βα) 6 barrel in this study suggests that the latter 'non-symmetrical' hypothesis may also be viable for symmetrical proteins. Unfortunately, despite several efforts, we could not obtain crystallographic structural data for either CAM1 or CAM2. This observation, together with our inability to isolate (βα) 6 active proteins after screening of a CAM1 truncated library, suggests that CAM2 is not a naturally occurring protein, but rather a fictitious protein arising from misannotation of metagenomic DNA. Nevertheless, our homology-based structural modeling supports the idea that CAM2 maintains some activity because its amino acid sequence at the C-terminal end allows a stable secondary structure. This predicted structural feature may stabilize the (βα) 6 fold, and thus its active site, analogous to cases in which remote functional mutations have been found [14, 15]. In the absence of the C-terminal PBS, needed to bind the symmetrical ProFAR substrate, an interesting possibility along these lines would be that CAM2 undergoes dimerization and domain swapping reconstitute its active site.
Conclusion
As expected, reconstruction of the evolution of PriA from HisA, using HMM profiles and phylogenetics, suggest functional shifts involving intragenic epistatic mutations. These mutations seem to be compatible with a stability-activity tradeoff that allows a broader exploration of sequence space by nature. Indeed, as the evolutionary intermediates identified here behave as promiscuous enzymes, a key evolutionary raw material, intragenic epistasis is confirmed as a mechanism driving functional shifts. The use of HMM provides a convenient approach for gaining insights into these evolutionary processes, as was shown here for the evolution of PriA from HisA, but not for subHisA from PriA, as the latter are evolutionarily closely related and thus highly similar. Isolation of a (βα) 6 protein with HisA activity provides further evidence for the hypothesis that extant (βα) 8 may have evolved not only from symmetrical subunits.
Declarations
Acknowledgements
Conacyt, Mexico, supported this work by grants to F.B.-G. (No. 179290) and M.C.-T (No. 132376). We would like to acknowledge Hilda E. Ramos-Aboites for technical support, and Nelly Sélem, José Arcadio Farías and Angélica Cibrián-Jaramillo for critical reading of the paper and useful suggestions.
Authors' Affiliations
(1)
Evolution of Metabolic Diversity, Unidad de Genómica Avanzada (Langebio), Irapuato, México
(2)
Biomolecular Diversity Laboratories, Unidad de Genómica Avanzada (Langebio), Irapuato, México
(3)
Instituto de Biotecnología, Universidad Nacional Autónoma de México (UNAM), Cuernavaca, México
(4)
Current Addresses: Department of Biological Chemistry, Weizmann Institute of Science, Rehovot, Israel
(5)
Current Addresses: División de Biología Molecular, Instituto Potosino de Investigación Científica y Tecnológica, San Luis Potosí, México
(6)
Current Addresses: Department of Genetics, Stanford University, Stanford, USA
Copyright
© Noda-García et al. 2015
This is an Open Access article distributed under the terms of the Creative Commons Attribution License (http://creativecommons.org/licenses/by/4.0), which permits unrestricted use, distribution, and reproduction in any medium, provided the original work is properly credited. The Creative Commons Public Domain Dedication waiver (http://creativecommons.org/publicdomain/zero/1.0/) applies to the data made available in this article, unless otherwise stated.