Research article

Open Access
Structural, functional, and evolutionary analysis of moeZ, a gene encoding an enzyme required for the synthesis of the Pseudomonas metabolite, pyridine-2,6-bis(thiocarboxylic acid)
BMC Evolutionary Biology
2002
2:8
Received: 20 November 2001
Accepted: 23 April 2002
Published: 23 April 2002
Abstract
Background
Pyridine-2,6-bis(thiocarboxylic acid) (pdtc) is a small secreted metabolite that has a high affinity for transition metals, increases iron uptake efficiency by 20% in Pseudomonas stutzeri, has the ability to reduce both soluble and mineral forms of iron, and has antimicrobial activity towards several species of bacteria. Six GenBank sequences code for proteins similar in structure to MoeZ, a P. stutzeri protein necessary for the synthesis of pdtc.
Results
Analysis of sequences similar to P. stutzeri MoeZ revealed that it is a member of a superfamily consisting of related but structurally distinct proteins that are members of pathways involved in the transfer of sulfur-containing moieties to metabolites. Members of this family of enzymes are referred to here as MoeB, MoeBR, MoeZ, and MoeZdR. MoeB, the molybdopterin synthase activating enzyme in the molybdopterin cofactor biosynthesis pathway, is the most characterized protein from this family. Remarkably, lengths of greater than 73% nucleic acid homology ranging from 35 to 486 bp exist between Pseudomonas stutzeri moeZ and genomic sequences found in some Mycobacterium, Mesorhizobium, Pseudomonas, Streptomyces, and cyanobacteria species.
Conclusions
The phylogenetic relationship among moeZ sequences suggests that P. stutzeri may have acquired moeZ through lateral gene transfer from a donor more closely related to mycobacteria and cyanobacteria than to proteobacteria. The importance of this relationship lies in the fact that pdtc, the product of the P. stutzeri pathway that includes moeZ, has an impressive set of capabilities, some of which could make it a potent pathogenicity factor.
Keywords
Nitrate Reductase ActivityLateral Gene TransferConserve Domain DatabaseLateral Gene Transfer EventCXXC Motif
Background
Pyridine-2,6-bis(thiocarboxylic acid) (pdtc) is an iron-regulated metabolite produced by certain pseudomonads that is highly reactive towards metals by virtue of a pair of thiocarboxylate groups and ring nitrogen that combine to form a non-specific, high affinity, tri-dentate ligand (Figure
1
)[
1
,
2
]. The formation constants for Co, Cu, and Fe complexes of pdtc were determined to be greater than 10
33
[
3
]. Uptake studies using
59
Fe showed that addition of pdtc to the growth medium of two different pdtc-producing pseudomonads increased the efficiency of iron uptake by 20% [
1
]. The contribution of pdtc to iron uptake may be due to the fact that the copper complex of pdtc (Cu:pdtc) has the ability to reduce both soluble and mineral forms of ferric iron) [
1
]. Not surprisingly, in light of its high affinity for essential metals, pdtc also exhibits antimicrobial activity [
4
].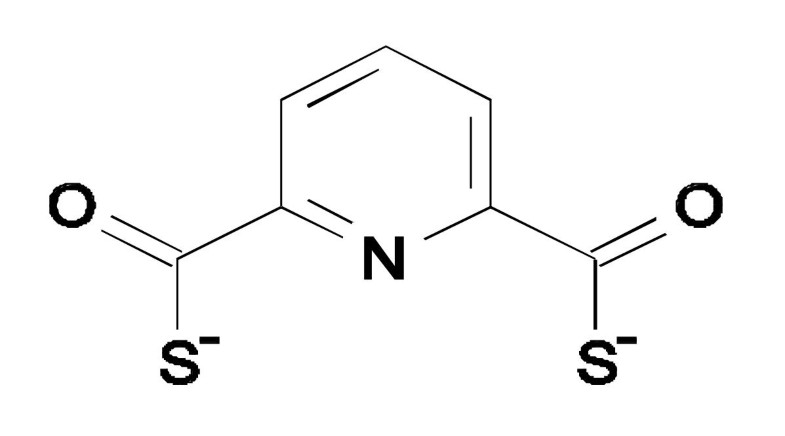 MoeB, the molybdopterin synthase activating enzyme (MSAE), is part of the well-characterized molybdopterin cofactor (MPT-Mo) synthesis pathway. A dimer of MoeB adenylates the MoaD subunits of molybdopterin synthase that, after the conversion of these AMP moieties to thiocarboxylates by a sulfurtransferase, goes on to convert precursor Z to molybdopterin (MPT) [5, 6]. Molybdopterin synthase is a heterotetrameric protein composed of two units each of MoaD and MoaE. The crystal structure of the E. coli MoeB-MoaD complex clearly shows the interaction between these two proteins and unambiguously confirms the adenylation role of MoeB [7]. After a thiocarboxylate moiety is formed on the terminal glycine of each MoaD subunit, the two sulfur atoms are transferred to precursor Z as sulfhydryl groups in a dithiolene configuration. [8–11]. Molybdenum is added to MPT in subsequent steps to generate MPT-Mo, the active form of the molybdopterin cofactor. Since MPT-Mo is required for nitrate reductase activity [12], the activity of this enzyme can be used as a diagnostic indicator for the presence of the MPT-Mo synthetic pathway [7].
There are a number of genomic sequences deposited in GenBank as MoeB proteins, although only a few have been physiologically or genetically proven to function in MPT-Mo synthesis. Two moeB sequences with evidence for function include a knockout of the open reading frame encoding GenBank accession number BAA35521, which was shown to cause the accumulation of precursor Z in E. coli [13] and accession number Z95150, which was found to be located within a cluster of other MPT-Mo synthesis genes of Mycobacterium tuberculosis [14]. MSAEs from eukaryotic organisms have also been characterized: MOCS3 (GenBank accession number NM_014484) from humans and cnx 5 from Arabidopsis thaliana [15], respectively, have been sequenced, and cnxF from Aspergillus nidulans [16] has been both sequenced and physiologically characterized.
MoeZ is one of several MSAE-like conceptually translated protein sequences identified by the M. tuberculosis genome sequencing group at Sanger Center [14]. Although coding for a putative protein with high sequence similarity to MoeB, moe Z was so named because it had no genetic linkage to other MPT-Mo synthesis genes. Cole et al. [14] state in their GenBank entry (accession number Z95120) that MoeZ is possibly involved in the synthesis of molybdopterin, but there has been no biochemical or physiological characterization of this protein. An open reading frame (ORF-F) identified as a necessary part of the Pseudomonas stutzeri pdt locus coding for the synthesis pathway of pdtc (Figure 1) was found to have 57% identity to M. tuberculosis MoeZ at the amino acid (AA) level. Further analysis revealed that a 521 base pair region of P. stutzeri ORF-F shares 80% homology with M. tuberculosis moe Z [17]. The products of the pdt locus probably function by activating, then sulfurating, a carboxylic acid precursor. The end product of this synthesis is pdtc, a molecule with two thiocarboxylic acid groups that is secreted from the cell.
Recently, data obtained from genome sequencing projects have made it clear that bacteria exchange genetic information by means of transducing bacteriophages, conjugative plasmids, and natural transformation [18] at a much higher rate than previously thought [19]. There seem to be few insurmountable barriers to interspecies gene transfer, with transfers being documented between such diverse organisms as archea and eubacteria [20]. Synechococcus sp. [21] and some P. stutzeri strains [22] are two examples of the many bacterial species known to undergo natural transformation. Of the completely sequenced genomes, all show some level of lateral gene transfer (LGT). For example, 3.3% and 16.6% of the M. tuberculosis and Synechocystis sp. PCC6803 genomes, respectively, are estimated to be composed of sequences acquired by LGT [19].
We report here on the structural, functional, and evolutionary relationships of moeZ and discuss the possibility that the discontinuous distribution of moeZ is the result of a LGT event between unrelated bacteria.
Conclusions
It is not known what function MoeZ performs in the mycobacteria and cyanbacteria species that contain it. Indications are that in mycobacteria, MSAE function is performed by MoeBR. But in the fully-sequenced cyanobacteria there are only MoeZs and no MSAE, so in these organisms MSAE function may be fulfilled by MoeZ. In either case, MoeZ is essential to pdtc synthesis in P. stutzeri strain KC, and pdtc is a potent and versatile molecule. Its capabilities of enhancing iron uptake and iron reduction make it a good candidate for a pathogenicity factor. The role of MoeZ in the pathogenic mycobacteria and its impact on virulence of these strains should be investigated.
Materials and Methods
Sequences were obtained from the GenBank non-redundant (nr) sequence database at the National Center for Biotechnology Information. BLAST searches were used to obtain the initial set of sequences similar to P. stutzeri strain KC ORF-F [38]. The program, BLAST 2 Sequences, was used to obtain the degrees of similarity and homology among amino acid (AA) and nucleic acid (NA) sequences [39]. Protein domains, as codified by Pfam [26], were identified by searching the Conserved Domain Database using the Domain Architecture Retrieval Tool provided by GenBank.
Protein alignments were generated using the Clustal X program and checked manually [40]. SSU NA sequences were aligned using Clustal W as implemented by the OMIGA package and checked manually [41, 42]. NA alignments of full-length moeZ sequences for indel analysis were aligned manually based on the Clustal X protein sequence alignment.
Codon bias tables and GC/AT percentages were calculated using the Countcodon program available from the Codon Usage Database [43].
Synonymous and non-synonymous substitution rates were calculated by the Synonymous/non-synonymous Analysis Program (SNAP) provided by Los Alamos National Laboratory http://hiv-web.lanl.gov/ using the codon-based NA alignment of the high homology group. Substitution rates were averaged over an 18 codon window to smooth the data for graphing.
Phylogenic trees were inferred using PAUP 4.0 [44]. Three data sets were analyzed: those portions of the NA alignment coding for the ThiF domains of the MoeZ conceptual proteins, the alignment of the complete MoeZ sequences, and the alignment of the full length 16S rDNA (SSU) sequences. Maximum likelihood, parsimony, and distance methods were used for analysis. Confidence estimates were determined by bootstrap analysis based on 1000 replicates.
RNA secondary structure of the ThiF domain coding regions of the sequences in the high homology group was predicted using the GeneBee web server http://www.genebee.msu.su/ using both individual sequences as well as alignments [45].
Declarations
Acknowledgements
The authors would like to thank Sarah Koerber for her editorial assistance. This material is based on work supported by, or in part by, the U.S. Army Research Laboratory and the U.S. Army Research Office under the contract/grant number DAAD19-00-1-0078.
Authors' Affiliations
(1)
Environmental Research Institute, University of Idaho, Moscow, USA
(2)
Microbiology Molecular Biology & Biochemistry Department, University of Idaho, Moscow, USA
Copyright
© Cortese et al; licensee BioMed Central Ltd. 2002
This article is published under license to BioMed Central Ltd. This is an Open Access article: verbatim copying and redistribution of this article are permitted in all media for any purpose, provided this notice is preserved along with the article's original URL.