Research article
Open Access
Generation of divergent uroplakin tetraspanins and their partners during vertebrate evolution: identification of novel uroplakins
BMC Evolutionary Biology
2014
14:13
Received: 19 July 2013
Accepted: 2 January 2014
Published: 23 January 2014
Abstract
Background
The recent availability of sequenced genomes from a broad array of chordates (cephalochordates, urochordates and vertebrates) has allowed us to systematically analyze the evolution of uroplakins: tetraspanins (UPK1a and UPK1b families) and their respective partner proteins (UPK2 and UPK3 families).
Results
We report here: (1) the origin of uroplakins in the common ancestor of vertebrates, (2) the appearance of several residues that have statistically significantly positive dN/dS ratios in the duplicated paralogs of uroplakin genes, and (3) the existence of strong coevolutionary relationships between UPK1a/1b tetraspanins and their respective UPK2/UPK3-related partner proteins. Moreover, we report the existence of three new UPK2/3 family members we named UPK2b, 3c and 3d, which will help clarify the evolutionary relationships between fish, amphibian and mammalian uroplakins that may perform divergent functions specific to these different and physiologically distinct groups of vertebrates.
Conclusions
Since our analyses cover species of all major chordate groups this work provides an extremely clear overall picture of how the uroplakin families and their partner proteins have evolved in parallel. We also highlight several novel features of uroplakin evolution including the appearance of UPK2b and 3d in fish and UPK3c in the common ancestor of reptiles and mammals. Additional studies of these novel uroplakins should lead to new insights into uroplakin structure and function.
Keywords
Common AncestorBony FishCartilaginous FishGenome Duplication EventParalog Group
Background
Uroplakins (UP's) are the protein subunits of the urothelial plaques that cover the apical surface of mammalian bladder epithelium (urothelium). There are four major mammalian uroplakins, i.e., the 27-kDa UPIa, 28-kDa UPIb, 15-kDa UPII and the 47-kDa UPIIIa; [1–3]. UPK3b is a minor isoform of UPIIIa [4]. These plaques form the so-called asymmetric unit membrane (AUM), and contribute to the permeability barrier function and mechanical stability of the urothelium. Uroplakin defects underlie some urinary tract anomalies, and one of the uroplakins, UPIa, can serve as the receptor for the uropathogenic E. coli that causes over 85% of urinary tract infections [5].
Uroplakins (UPK) can be divided into two types. The first type comprises UPK1a and 1b, which belong to the tetraspanin family (containing CD9, CD63, CD81 and CD151 proteins); tetraspanin proteins span the membrane four times and play important functions in fertilization, immunity and cell:cell interaction [6–11]. The second type comprises UPK2 and UPK3 that span the membrane only once; these uroplakins share a stretch of ~12 amino acid residues on the extracellular side of their single transmembrane domain (TMD) [12, 13].
The fact that uroplakins 1a and 1b (UPK1a and UPK1b) interact specifically with uroplakins 2 and 3a (UPK2 and UPK3a), respectively, make them an attractive system for studying the co-evolution of interacting membrane protein pairs [14–16]. While mammalian uroplakins form 2D crystals of urothelial plaques on urothelial apical surface, uroplakins of the non-mammals including amphibians (which have the complete assortment of UPK1a, 1b, 2 and 3a, as well the minor UPK3b) do not form such plaques [17–19]. In Xenopus oocytes, UPK3a and its binding partner UPK1b play a key role in sperm-egg fertilization [19–21]. In addition, a UPK3-related gene product in zebrafish [22] was recently found to play a role in epithelial polarization and morphogenesis of pronephric tubules [20]. The evolutionary relationship among these fish, amphibian and mammalian uroplakins, that seem to be functionally divergent, remains unclear.
To better understand the evolution of uroplakins and to decipher how the tetraspanin uroplakins coevolve with their binding partners, we analyzed the uroplakin-related sequences in a wide range of whole-genome-sequenced vertebrate species including mammals, birds, amphibians, bony fish and ancient cartilaginous fish [22]. Previously we showed the existence of a strong co- evolutionary relationship between UPK1a and UPK1b and their partner's UPK2 and UPK3a/3b proteins, respectively [22]. The recent availability of additional genome-sequences from a broad array of chordates (cephalochordates, urochordates and vertebrates), including "living fossils" such as lampreys, spotted gars and coelacanths, allowed us to re-examine more systematically the evolution and possible neofunctionalization of uroplakins. For convenience and consistency, in this communication we will refer to the individual ortholog groups such as UPK1a, UPK1b, UPK2 and UPK3a as families, while the UPK1a/1b tetraspanins and the UPK2/UPK3-related proteins as two separate superfamilies.
In this paper, we pinpoint the origin of uroplakins in the common ancestor of vertebrates, track the appearance of skewed dn/dS ratios in the nucleotide sequences of the gene families and point to possible neofunctionalization in the duplication of paralog uroplakin genes. We also analyze the patterns of coevolution between UPK1a/1b tetraspanins and the UPK2/UPK3-related proteins. Finally, we report the existence of three new UPK members belonging to the UPK2/3 superfamily, i.e., UPK2b, 3c and 3d. Since our analyses are based on a broad array of species covering all major chordate groups this work presents an overall picture of the uroplakin families existing in nature.
Methods
Cloning and sequencing of UPK 3c
Total human normal bladder mRNA (1100564 F, Asterand, Detroit, MI) was used to synthesize cDNA using Transcriptor Fisrt Strand cDNA Synthesis Kit (Roche, Germany) with Random Hexamer Primers. The human normal bladder cDNA of upk3c was isolated by RT-PCR using primers based on the hypothetical uroplakin 3BL sequence annotated in NCBI (NM_001114403.2). The primer sequences used for full-length ORF amplification were sense 5′- GACGGACGGACAGACAGATGGACA-3′ and antisense 5′-GCCCCTCTGGAACCCCTCAG-3′. The cDNA product was cloned into pCR®II- TOPO vector and sequenced.
Alignments
Fasta sequences were aligned using the web based alignment tool TranslatorX [25] that utilizes amino acid alignments to generate DNA sequence alignments. Phylogenetic matrices in PHYLIP and NEXUS format were then generated using Mesquite [26] for both protein sequences and DNA sequences. We explored the different phylogenetic signal inherent in amino acid data and nucleotide data, by analysing the protein and DNA sequence matrices separately. In addition, we elided the DNA data matrix with the amino acid matrix for an analysis where the amino acid data weight the DNA sequence data [27]. PHYLIP matrices were then used in subsequent analysis for natural selection (web based DataMonkey analyses and desktop HYPHY analyses). In addition to the two differently formatted matrices (PHYLIP versus NEXUS), we also generated two kinds of matrices. The first kind of matrix used the genes in the two gene families as terminals. One matrix for the UPK1 genes (UPK1a and UPK1b) was constructed and a second matrix for the UPK2/UPK3 families was also constructed. The second kind of matrix we constructed used the several vertebrate species that have UPKs in their genomes as terminals with partitions representing the seven paralog groups for these genes.
Phylogenetic analysis
Three kinds of tree building approaches were used to generate phylogenetic hypotheses for the gene families in this study. Parsimony analysis was accomplished in PAUP. Maximum Likelihood analysis was accomplished using the RaxML BlackBox webserver [
28
]. Bootstraps in both PAUP and RaxML were generated using 100 replicates of bootstrapping. Bayesian analysis was accomplished in MrBayes [
29
,
30
]. For each of the gene family trees, two million generations of MCMC simulation were used along with a burnin of 200,000 generations to generate the Baysian posteriors for the two gene family trees. This number of MCMC generations allowed for convergence of simulation chains and reduction of split frequencies to an acceptable level. Here we report the Bayesian phylogenetic inference results (Figure
1
). Phylogenetic trees are stored in Additional file
3
: Figure S3 and Additional file
4
: Figure S4.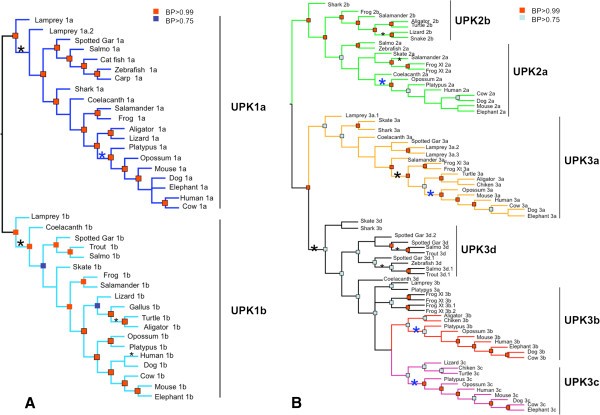 Detection of dN/dS skew
Two tests were used to detect the patterns of sequence change using dN/dS ratios in the gene families of this study. The first test examines branch specific departure from neutrality (or a dN/dS = 1.0). The Branch-site REL test in the HYPHY package was used on the two gene families (UPK1 and UPK2/UPK3) separately. The default settings and the Bayesian tree topology were used with in these tests. The second test is the MEME (Mixed Effects Model of Evolution) test that uses mixed model approaches to detect departures from neutrality at individual codons [31]. This latter test was performed individually on each of the following seven genes – UPK1a, UPK1b, UPK2, UPK2a, UPK3a, UPK3b, and UPK3c.
Analysis of gene by gene phylogenetic interaction
The congruence of the UPK interacting pairs was examined using the Shimodaira Hasegawa test [32]. This test examines the congruence of phylogenetic information in two partitions of data using a likelihood ratio test. Each of the seven genes (UPK1a, UPK1b, UPK2a, UPK2b, UPK3a, UPK3b, UPK3c) that are found in more than four species were tested pairwise for congruence with each other.
Conclusions
We studied the evolution of genes encoding the two major types of uroplakins, i.e., the UPK1a/1b tetraspanin type and the UPK2/3 tetraspanin-associated type. The tetraspanin UPKs show a clear pattern of duplication in the common ancestor of vertebrates more than likely commensurate with the major genome duplication event that has been hypothesized in this ancestor [34]. Once the duplication occurred in the common ancestor of vertebrates, both UPK1a and UPK1b diverged dramatically as is evident by the different patterns of dN/dS ratios for these two paralog groups. On the other hand, the UPK2/UPK3 group of uroplakins experienced more complex and lineage-specific rounds of duplication to produce the existing genes in these two groups of UPKs. We suggest that UPK2 retained the ancestral function while the UPK3 paralogs neofunctionalized. Again the patterns of skewed dN/dS ratios for these paralog groups support this interpretation.
Moreover, we found that UPK1a and UPK2a show strong congruence with respect to evolutionary history. Likewise UPK1b and UPK3 paralogs show strong congruence, commensurate with their known interactions. Our current work identifies three new UPK families (ortholog groups - UPK2b, UPK3c and UPK3d) all belonging to the UPK2/3 superfamily. Our systematic analysis of uroplakin-related genes pinpoints the appearance of uroplakins to the earliest vertebrates, links the structural diversification and skew in dN/dS ratios with major gene duplication events, and nearly exhaustively identifies all the existing uroplakin families including several novel ones.
Declarations
Acknowledgements
We thank MICINN (Spain) for financial support (grant CONSOLIDER INGENIO CSD- 2010–00065 to A.G.-E.). A.G.-E. was supported by the Research Stabilization Program of the Instituto de Salud Carlos III-Institut Catala de la Salut in Catalonia. J.U.C thanks the IISPV for a predoctoral fellowship. T.-T.S. was supported by NIH grants DK52206 and DK39753, and the Goldstein Fund for Urological Research of the New York University School of Medicine. RD thanks the Sackler Institute for Comparative Genomics and the Korein Family Foundation for their continued support. The nucleotide sequence reported in this paper has been submitted to the GenBankTM/EBI Data Bank with accession number KF150200.
Authors' Affiliations
(1)
Sackler Institute for Comparative Genomics, American Museum of Natural History, New York, USA
(2)
Unitat de Recerca, Hospital Joan XXIII, Institut de Investigacio Sanitaria Pere Virgili (IISPV), Universitat Rovira i Virgili, Tarragona, Spain
(3)
Department of Cell Biology, New York University School of Medicine, New York, USA
(4)
Department of Dermatology, New York University School of Medicine, New York, USA
(5)
Department of Biochemistry and Molecular Pharmacology, New York University School of Medicine, New York, USA
(6)
Department of Urology, New York University School of Medicine, New York, USA
Copyright
© DeSalle et al.; licensee BioMed Central Ltd. 2014
This article is published under license to BioMed Central Ltd. This is an open access article distributed under the terms of the Creative Commons Attribution License (http://creativecommons.org/licenses/by/2.0), which permits unrestricted use, distribution, and reproduction in any medium, provided the original work is properly cited.