Research article

Open Access
Diversification and spatial structuring in the mutualism between Ficus septica and its pollinating wasps in insular South East Asia
BMC Evolutionary Biology
BMC series – open, inclusive and trusted
2017
17:207
Received: 17 March 2017
Accepted: 4 August 2017
Published: 29 August 2017
Abstract
Background
Interspecific interactions have long been assumed to play an important role in diversification. Mutualistic interactions, such as nursery pollination mutualisms, have been proposed as good candidates for diversification through co-speciation because of their intricate nature. However, little is known about how speciation and diversification proceeds in emblematic nursery pollination systems such as figs and fig wasps. Here, we analyse diversification in connection with spatial structuring in the obligate mutualistic association between Ficus septica and its pollinating wasps throughout the Philippines and Taiwan.
Results
Ceratosolen wasps pollinating F. septica are structured into a set of three vicariant black coloured species, and a fourth yellow coloured species whose distribution overlaps with those of the black species. However, two black pollinator species were found to co-occur on Lanyu island. Microsatellite data on F. septica indicates the presence of three gene pools that broadly mirrors the distribution of the three black clades. Moreover, receptive fig odours, the specific message used by pollinating wasps to locate their host tree, varied among locations.
Conclusions
F. septica and its black pollinator clades exhibited similar geographic structuring. This could be due originally to geographic barriers leading to isolation, local adaptation, and finally co-structuring. Nevertheless, the co-occurrence of two black pollinator species on Lanyu island suggests that the parapatric distribution of the black clades is now maintained by the inability of migrating individuals of black pollinators to establish populations outside their range. On the other hand, the distribution of the yellow clade strongly suggests an initial case of character displacement followed by subsequent range extension: in our study system, phenotypic or microevolutionary plasticity has allowed the yellow clade to colonise hosts presenting distinct odours. Hence, while variation in receptive fig odours allows specificity in the interaction, this variation does not necessarily lead to coevolutionary plant-insect diversification. Globally, our results evidence evolutionary plasticity in the fig-fig wasp mutualism. This is the first documentation of the presence of two distinct processes in pollinating fig wasp diversification on a host species: the formation of vicariant species and the co-occurrence of other species over large parts of their ranges probably made possible by character displacement.
Keywords
Biogeography Ceratosolen MutualismPhilippinesSpeciation
Background
Interspecific interactions have long been assumed to play an important role in diversification. Competitive coevolutionary diversification among related species seems to be common while mutualistic coevolutionary diversification could be more exceptional [1]. Emblematic examples of allopatric speciation followed by competitive character displacement in secondary contact zones include Anoles lizards in Caribbean islands [2], Darwin's finches [3] and sticklebacks [4]. Nevertheless, despite numerous putative cases, there are only few fully demonstrated examples of competitive character displacement [5].
Plants and their pollinators were proposed as models that should be prone to mutualistic coevolutionary diversification, because pollinators disperse the gametes of the plants whose flowers they visit [6]. Phylogenetic studies actually suggest that reciprocally-associated plant and pollinator clades often undergo asynchronous diversification consistent with a model of plants diversifying in response to sensory biases of their pollinators (e.g., [7]). Further, microevolutionary studies usually fail to test whether pollinators are evolving in response to the plants they visit. In nursery pollination systems, species-level specificity is often high, with most plant species usually locally pollinated by only one or a few host-specific insect species. This suggests that these mutualisms may coevolve. However, little is known about how speciation and diversification proceeds in emblematic nursery pollination systems such as figs and fig wasps (but see [8]) or in Phyllanthaceae and their pollinating moths [9]. Because of the intricate nature of these interactions, they have often been proposed as good candidates for diversification through co-speciation. However, comparing Ficus and their pollinating wasp phylogenies has shown that only 2/3 of the nodes are coevolved, and this is the most extreme example documented today of plant-insect codiversification [10]. At least in some of these systems, pollinator host shifts could be a mechanism that promotes diversification [1, 11]. In the Yucca-Tegeticula interaction, results suggest that geographic isolation plays a predominant role in speciation for both Yucca and Tegeticula, with coevolution between them acting primarily to facilitate codivergence after one partner begins to diverge for other reasons [12, 13]. Similarly in the fig-fig wasp interaction, geographic isolation may also play an important role resulting in co-structuring, but does not necessarily result in congruent evolutionary histories of plant and insect [14].
While island systems are ideal situations to observe geographic isolation effects, they are also well represented in demonstrations of coevolutionary diversification as they provide repetitions of similar events thus providing statistical power [5]. Moreover, they have limited species diversity allowing related species to diversify into an assortment of ecological niches [5]. Because of the difficulty of re-assembly, it has been generally assumed that establishment of obligate mutualisms in islands is highly unlikely [15]. Nonetheless, existence of specialized mutualisms in island complexes defies this assumption. Indeed, the Glochidion tree-Epicephala moth mutualism is present throughout the tropical Pacific Islands [15]. Another example is the colonization of New Caledonia by section Oreosycea fig trees and their Dolichoris pollinators [16]. Although few, these studies show that dispersal and re-assembly of obligate mutualisms in islands is possible and results in evolutionarily stable interactions. Such situations allow analysing diversification patterns, some driven by obstacles to gene flow and others by host shifts [15, 17].
The intricate island systems of South East Asia and Australasia provide a diversity of situations in which Ficus species have diversified, and also in which some Ficus species have spread out over numerous islands [18]. Nevertheless, little is known about within-Ficus species diversification among islands and about associated pollinating wasp diversification. In insular systems, widespread Ficus species may be pollinated by different, more or less cryptic species of wasps in different parts of their range [17]. This is the case for Ficus septica, an insular fig species ranging from the Solomon Islands to the Ryukyu Islands and throughout insular South East Asia [17]. Previous work on Ficus septica suggested that coevolutionary diversification through competition could be at work among its pollinators, the Ceratosolen bisulcatus species complex [19]. Further, published data suggests the presence of among-island variation in receptive fig odour in Ficus septica, i.e. variation in the main message used by the wasps to locate their hosts (compare [19, 20]).
Our goal in this study was to describe the general pattern of diversification within the Ficus septica-pollinating wasps system and to demonstrate that it is consistent with the hypotheses (1) that geographic differentiation of receptive fig odours within Ficus septica, though present, is not a major biological barrier constraining the distribution of pollinator clades, (2) that coevolutionary diversification through competition followed by expansion through lineage sorting could be involved in an expansion of the Ceratosolen jucundus clade resulting in local coexistence of several pollinator lineages and (3) that the distribution of variation in plant and insects does not correspond to a generalized pattern of diversification through plant-insect reciprocal adaptation as geographic obstacles play a major role.
Results
Ficus septica microsatellite analysis
Genetic parameters averaged over 14 Ficus septica microsatellite loci used in this study are shown in Additional files 1 and 2. Expected heterozygosity (He) and number of alleles per locus (Na) exhibited minimal variation in the seven sites (0.313–0.405) while private alleles (PA) varied more between islands. Exact tests of genotypic differentiation showed that all the population pairs, except the two from Luzon Island, were differentiated.
F
ST
values showed that the least differentiated populations were those from Luzon and those from Taiwan and Lanyu (Additional file
3
). An intermediate homogeneity between the Luzon populations and the Negros population was evidenced by intermediate F
ST
values demonstrating some genetic differentiation. The Bayesian clustering gave an optimal number of clusters, K, equal to 3 (Fig.
2
). From South to North, the clusters gathered 1) the lone Mindanao population, 2) the Negros and Luzon populations, 3) the Lanyu Island population and the two Taiwan populations (Fig.
2
).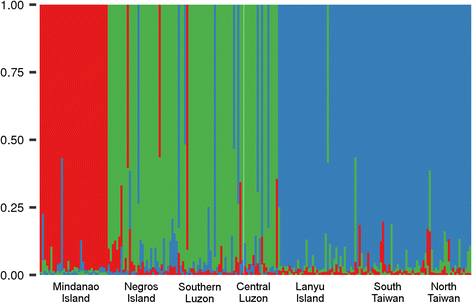 Ficus septica receptive odours
A total of 39 compounds were found in the scent of F. septica, with a little less than half classified as sesquiterpenes (Additional file 4). However, the two dominant compounds, (E)-β-ocimene and (Z)-3-hexen-1-ol, were not sesquiterpenes but an acyclic monoterpene and a simple aliphatic, respectively. The most abundant fig odour component was α-pinene in Mindanao samples, (Z)-3-hexen-1-ol in Negros samples, (E)-β-ocimene in Central Luzon samples, and linalool in North Taiwan samples. Total amount of volatiles emitted did not differ significantly between locations, seasons and sexes (One-way ANOVA, F 10,45 = 1.853, P = 0.078). Of the 39 compounds, 18 had a mean amount of at least 1% of the blend (Additional file 4). To allow significance testing, only the abundances of these 18 compounds were used for subsequent analyses.
Using relative abundance values of the 18 compounds, we found that geography/location, season and their interaction factor were significant in explaining the variation in odour blend of receptive figs from Philippines (permanova, geography:
F
= 6.93,
P
< 0.0001; season:
F
= 2.55,
P
= 0.016; geography*season:
F
= 1.896,
P
= 0.026). Sex did not have a significant effect on scent variation (permanova, sex:
F
= 0.49,
P
= 0.868). When the Philippine dataset was partitioned into the three different sites, season had a significant effect in the scent variation in both Negros and Central Luzon, but not in Mindanao (permanova: Negros –
F
= 2.60,
P
= 0.012; Central Luzon –
F
= 2.89,
P
= 0.021; Mindanao –
F
= 1.20,
P
= 0.30; Additional file
5
). In an analysis of all samples, including Taiwan, geography/location still showed a significant effect and sex still presented no effect on the blend (MANOVA, geography: approx.
F =
5.45,
P
< 0.0001; sex: approx.
F
= 0.44,
P
= 0.967). Through pairwise comparisons of samples from different locations, it was found that the odour blend of the four
F. septica
populations significantly differed from each other (Additional file
6
). This result was supported by the findings that the main compounds in the blends of the four sites differed (Additional file
7
). PCA also reflected this differentiation (Fig.
3
). The first two PCs explain about 24% of the variation in the data. The first axis separated the Mindanao samples from the other samples. The second axis separated the remaining three groups. In this representation, the barycenters of fig odours from Central Luzon and Negros were located next to each other.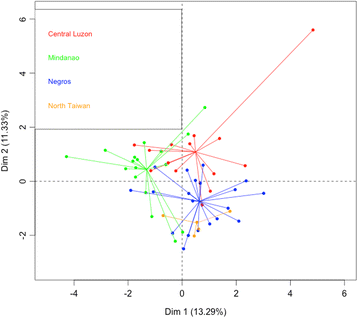 In summary, data on receptive fig odour show that Mindanao, Negros, Central Luzon, and North Taiwan each have their own distinct odour profiles. These also show that geography/location is the main factor affecting fig scent variation, with the sex of the tree contributing very little, if at all, to the variation seen. Lastly, in the Philippines, season also accounted to some extent for scent variation in Negros and Central Luzon but not in Mindanao.
Structuring into clades and phylogeny of Ficus septica pollinators
Number of individuals sequenced, location of collection and GenBank accession numbers are given in Additional file
8
. The phylogenetic trees derived from nuDNA (Fig.
4A
) and mtDNA (Fig.
4B
) show the presence of four major clades associated with
F. septica
. In our samples, three major pollinator clades (1–3) corresponded to black coloured morphs and the last major clade (clade 4) was composed of more or less yellow-coloured morphs, either dark backed-yellow sided (subclades 4A and 4B) or totally yellow (subclades 4C and 4D). Clades 1 to 3 followed a south to north distribution: clade 1 was present only in Mindanao, clade 2 ranged from Negros Island to Luzon (plus, according to
COI
sequences, one specimen collected on Lanyu Island and analyzed in [
22
]), and clade 3 occurred from Lanyu Island to Okinawa Island (Fig.
1
). On the other hand, clade 4 showed less geographic structuring and was present throughout the Philippines up to South Taiwan (Fig.
1
). Subclade 4A occurred in Mindanao and neighboring Camiguin Island, subclade 4B stretched from Palawan to the southern tip of Luzon. Subclade 4C ranged from Central to North Luzon and subclade 4D was present in Lanyu Island and South Taiwan. Clade 1 was found in sympatry with subclade 4A. Clade 2 coexisted with subclade 4C (Luzon) and with subclade 4D and clade 3 (Lanyu Island). Lastly, subclade 4B was not found in sympatry with any other clade. All previously published sequences from our sampling region fitted into the picture presented here. Samples from Indonesia and New Guinea [
17
] belonged to different clades from those recovered in this study.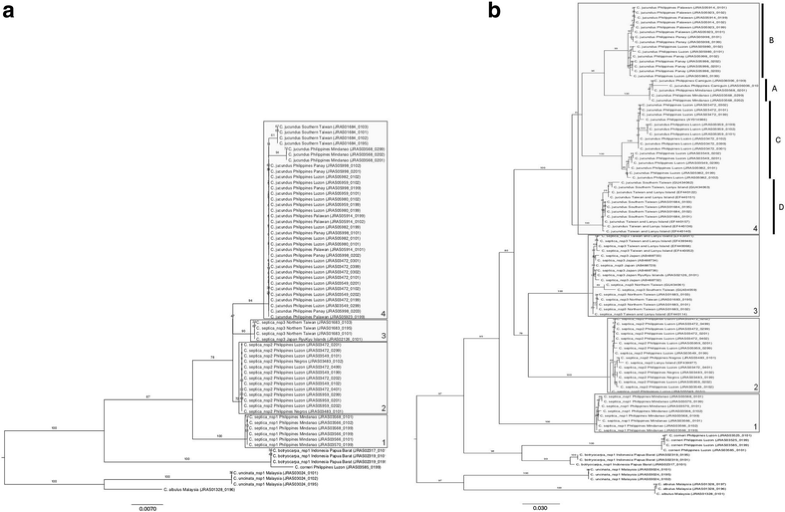 Conclusions
We have shown that F. septica and its black pollinator clades exhibited similar geographic structuring. We hypothesize that this could be due originally to strong geographic (and climatic) barriers leading to isolation, local adaptation, and finally plant-insect co-structuring. We also show the co-existence of pollinating species in an area, which probably had been brought about by initial character displacement and subsequent range expansion. This is the first documentation of the presence of two distinct processes in pollinating fig wasp diversification on a host species: the formation of vicariant species and the co-occurrence of other species over large parts of their ranges probably made possible by character displacement. Lastly, we provide evidence that receptive fig odours do not constrain the specificity of the fig-pollinator wasp interactions.
Abbreviations
ANOVA:

analysis of variance
COI :

cytochrome c oxidase subunit I
cyt b :

cytochrome b
EF1α :

elongation factor 1α
GC:

gas chromatograph
GTR:

general time reversible
He :

expected heterozygosity
MANOVA:

multivariate analysis of variance
ML:

maximum likelihood
MS:

mass spectra
mtDNA:

mitochondrial DNA
Na:

number of alleles per locus
nuDNA:

nuclear DNA
PA:

private alleles
PC:

principal component
PCA:

principal components analysis
Permanova:

permutational analysis of variance
Declarations
Acknowledgements
We are grateful to Jean-Marie Bessiere, Marjorie Garcia, Bruno Buatois, Florian Massip, Rian Bernal, Nonoy Dulman, Luciano Palmieri, Ian Fontanilla, Dino Ramos, Yoyi Rodriguez and Reynand Canoy for helping us in the identification of compounds, laboratory work and field collection.
Funding
This work was supported by the University of the Philippines Office of the Vice-Chancellor for Research and Development, Commission on Higher Education (Philippines), ANR-09-BLAN-0392-CSD 7, NSC 99–2923-B-002-001-MY3, Bibliothèque du Vivant funded by the CNRS, Muséum National d'Histoire Naturelle and the Institut National de la Recherche Agronomique.
Availability of data and materials
Microsatellite genotyping data, odour profiles and gene alignments are available from the corresponding author on request. Wasp DNA sequences are deposited in GenBank (accession numbers are listed in the Additional file 8).
Authors' contributions
MHM, LSC, JYR and FK conceived the study. LJR, AB, LC, AC, RG, HYT, JYR and FK performed the experiments and data collection. LJR, AB, LC, AC, JYR and FK analysed and interpreted the data. LJR and FK wrote the manuscript. All authors commented on the manuscript and gave final approval for publication.
Ethics approval and consent to participate
We confirm that the leaf and insect collection presented here were conducted in accordance with the Wildlife Resources Conservation and Protection Act (Republic Act 9147) set forth by the Philippine government, the Department of Environment and Natural Resources and the University of the Philippines.
Consent for publication
Not applicable
Competing interests
The authors declare that they have no competing interests.
Publisher's Note
Springer Nature remains neutral with regard to jurisdictional claims in published maps and institutional affiliations.
Open AccessThis article is distributed under the terms of the Creative Commons Attribution 4.0 International License (http://creativecommons.org/licenses/by/4.0/), which permits unrestricted use, distribution, and reproduction in any medium, provided you give appropriate credit to the original author(s) and the source, provide a link to the Creative Commons license, and indicate if changes were made. The Creative Commons Public Domain Dedication waiver (http://creativecommons.org/publicdomain/zero/1.0/) applies to the data made available in this article, unless otherwise stated.
Authors' Affiliations
(1)
Institute of Biology, University of the Philippines, Quezon City, Philippines
(2)
CEFE UMR 5175, CNRS—Université de Montpellier—Université Paul-Valéry Montpellier—EPHE, Montpellier, France
(3)
INRA, UMR 1062 CBGP, Montferrier-sur-Lez, France
(4)
Institute of Ecology and Evolutionary Biology, National Taiwan University, Taipei, Taiwan
(5)
Institut d'Ecologie et des Sciences de l'Environnement de Paris—ECOSENS, INRA-UPMC, Versailles, France
(6)
Department of Forestry and Natural Resources, National Chung-Hsing University, Taichung, Taiwan