Research Article

Open Access
Uncovering missing pieces: duplication and deletion history of arrestins in deuterostomes
BMC Evolutionary Biology
BMC series – open, inclusive and trusted
2017
17:163
Received: 14 November 2016
Accepted: 19 June 2017
Published: 6 July 2017
Abstract
Background
The cytosolic arrestin proteins mediate desensitization of activated G protein-coupled receptors (GPCRs) via competition with G proteins for the active phosphorylated receptors. Arrestins in active, including receptor-bound, conformation are also transducers of signaling. Therefore, this protein family is an attractive therapeutic target. The signaling outcome is believed to be a result of structural and sequence-dependent interactions of arrestins with GPCRs and other protein partners. Here we elucidated the detailed evolution of arrestins in deuterostomes.
Results
Identity and number of arrestin paralogs were determined searching deuterostome genomes and gene expression data. In contrast to standard gene prediction methods, our strategy first detects exons situated on different scaffolds and then solves the problem of assigning them to the correct gene. This increases both the completeness and the accuracy of the annotation in comparison to conventional database search strategies applied by the community. The employed strategy enabled us to map in detail the duplication- and deletion history of arrestin paralogs including tandem duplications, pseudogenizations and the formation of retrogenes. The two rounds of whole genome duplications in the vertebrate stem lineage gave rise to four arrestin paralogs. Surprisingly, visual arrestin ARR3 was lost in the mammalian clades Afrotheria and Xenarthra. Duplications in specific clades, on the other hand, must have given rise to new paralogs that show signatures of diversification in functional elements important for receptor binding and phosphate sensing.
Conclusion
The current study traces the functional evolution of deuterostome arrestins in unprecedented detail. Based on a precise re-annotation of the exon-intron structure at nucleotide resolution, we infer the gain and loss of paralogs and patterns of conservation, co-variation and selection.
Keywords
ArrestinSignalingGene duplicationEvolutionReceptor specificityRetrogene
Background
Arrestins are cytosolic proteins with a molecular weight of about 40-45 kDa involved in the regulation of cell signaling. The binding of arrestins to activated and phosphorylated G protein-coupled receptors (GPCRs) blocks the inter-helical cavity of active GPCR, thereby precluding its coupling to cognate G proteins [1, 2]. Thus, arrestins contribute to the fast and precise shut-off of GPCR signaling via G proteins. In particular, arrestin binding is indispensable for a high temporal resolution in vision [3, 4]. Beyond their "arresting"-function that gave the protein family its name, diverse other biological functions of arrestins have been described in the last two decades. Among them are the scaffolding, subcellular localization, and regulation of kinases, phosphatases and ubiquitin ligases, G protein independent signaling and GPCR trafficking (for review see [5, 6]). In recent years, considerable efforts were made towards the design of arrestins that modulate GPCR signaling and facilitate biased signaling [7].
Arrestin proteins consist of two domains each with the
β
-sandwich at its core, the arrestin_N and arrestin_C domain. The domains are connected by a highly flexible linker region. The N domain contains the only
α
-helix (Fig.
1
a
). Arrestin proteins belong to the arrestin clan and were named
β
-arrestins by [
8
] or true arrestins by [
2
,
9
]. Below, we will refer to this group of proteins as arrestins although there are additional members in the clan that share the anti-parallel
β
-sandwich fold and are involved in cellular trafficking. These are the arrestin-domain containing proteins and a set of families that are rather distantly related to arrestins with maximal 10% sequence identity [
8
]. These distant relatives encompass the VPS26 family (including DSCR3) and RGP1 that are represented in human (
Homo sapiens
), as well as fungal arrestin-related trafficking adapters, amoebal arrestin domain-containing proteins and the Spo0M family in bacteria and archaea [
8
,
10
].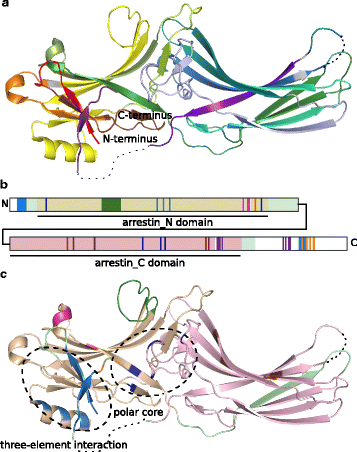 Arrestins have been found in Choanoflagellata, Filasterea and Metazoa, which all belong to Holozoa [11]. Within Metazoa, arrestins are found in both deuterostomes and protostomes [8, 9, 11]. In contrast to the rest of the arrestin clan, the sequences of arrestins are highly conserved [5]. Mammalian arrestins were studied extensively in the past [12–14]. There are four paralogs, functionally divided into the visual and non-visual group, each composed of two members. The visual arrestins, arrestin-1 (formerly known as rod arrestin) and arrestin-4 (formerly known as cone arrestin or X-arrestin) are encoded by the genes SAG and ARR3, respectively. The non-visual arrestins, arrestin-2 and arrestin-3 (also known as b-arrestin1 and b-arrestin2), are encoded in humans by the genes ARRB1 and ARRB2. Both functional groups are clearly monophyletic. Visual arrestins exhibit a much higher evolutionary rate than non-visual arrestins [15, 16].
GPCRs engage the concave side of arrestins [17–19]. Receptor binding leads to the reorganization of arrestin's polar core and three-element interaction inducing a conformational change and resulting in the release of arrestin's C-terminus [17, 20, 21]. The C-terminus of non-visual arrestins harbors binding sites for AP-2 and clathrin (Fig. 1 b, c) [1].
Arrestin-1 is the prevalent form in mouse cones, suggesting that it can bind to cone pigments [22]. Arrestin-1 is well known for binding to rhodopsin with high specificity, preferring it over other GPCRs [19, 23]. In contrast, binding specificity of arrestin-4 is ensured by its co-expression with cone opsins in cone photoreceptors, as in vitro arrestin-4 binds non-visual GPCRs fairly well [24]. In contrast, non-visual arrestins are expressed in all cell types and have a broad receptor specificity recognizing several hundred different GPCRs.
Individual arrestins from non-mammalian vertebrates have been cloned for functional studies. Among them are visual arrestins from frogs [25–27], salamander [13] and gecko [28]. Phylogenetic analyses support 1:1 orthology with their human counterparts. [29] reported co-expression of two distinct arrestin-1 genes, termed SAGa and SAGb, in rods of medaka (Oryzias latipes) and [3] identified two zebrafish paralogs (Danio rerio) for each visual arrestin ortholog in human, as well as two zebrafish paralogs for arrestin-3. They concluded that three additional arrestin genes originated from the teleost-specific whole genome duplication event (3R-WGD). [15] reported the expression of a visual and a non-visual arrestin in arctic lamprey's pineal organ (Lethenteron camtschaticum). [30] showed that the vase tunicate (Ciona intestinalis), has only a single arrestin with functional features of both visual and non-visual subtypes. This suggests that the divergence of visual and non-visual arrestins is indeed associated with the vertebrate-specific whole genome duplications (2R-WGD). A comprehensive phylogenetic analysis to test this hypothesis, however, still has been missing.
While the cloning of individual arrestins led to the discovery of unexpected duplications and subfunctionalizations, the evolutionary history of arrestins has not been studied systematically. The information on arrestin homologs presently available covers only a very limited range of species [8] and an incomplete set of paralogs for most species investigated [9]. The objective of this study was to systematically investigate the duplication and deletion history of arrestins in deuterostomes. Sequence and exon-intron structure conservation are evaluated to gain insight into possible functional changes of the less studied members of the protein family and to elucidate nature's repertoire of signaling interfaces relating to arrestins.
Results
We were working with two data sets that resolve arrestin phylogeny on two levels. In a database analysis, we placed arrestins in a wider evolutionary context (first subsection), while in a second analysis we focused on a narrower set of sequences covering only deuterostome arrestins (all other subsections). The interest in the detection of positive selection and co-variation requires a complete collection of paralogs per genome, a highly accurate annotation of the exon-intron structure on nucleotide level and transfer of the functional annotation between homologs. For this purpose, we needed carefully reconstructed coding sequences of the individual family members even when situated on genome fragments (see
Methods
). This level of accuracy is currently not provided by databases for non-model organisms. This has been a limitation to previous studies on arrestin evolution. We applied the
ExonMatchSolver
(EMS) pipeline and manually curated the annotation of deuterostome arrestins. We demonstrate that in comparison to a coarse database analysis, the exon-intron structure focused homology search is in fact a more successful strategy to trace the details of arrestin evolution. For example, considering paralog counts,
OrthoDB
under- and overpredicted the number of paralogs in 20 and five of 57 species, respectively. In general, we found paralogs that are missing from
OrthoDB
(Fig.
2
).
OrthoDB
overpredicted sequences due to mis-assembly (in pig,
Sus scrofa
), inclusion of a pseudogene (in opossum,
Monodelphis domestica
), a naming mistake (in human), and included two additional sequences without any further reference (in lancelet,
Branchiostoma floridae
and acorn worm,
Saccoglossus kowalevskii
). We added five species critical to resolve the arrestin genealogy that were not included in
OrthoDB
(
Lytechinus variegatus
,
Patiria miniata
,
Leucoraja erinacea
, arctic lamprey and
Orycteropus afer afer
). The updated annotation is in general more complete than the respective database entries and represent a fundamental improvement in regard to the annotation of splice sites, short and terminal exons. We argue that our approach demonstrates how detailed curation can change and improve the detailed duplication and deletion history of an individual gene. The updated arrestin annotation represents one of the very rare instances of a highly curated set of paralogous genes and thus is ideal for evaluation of gene annotation tools and orthology prediction tools.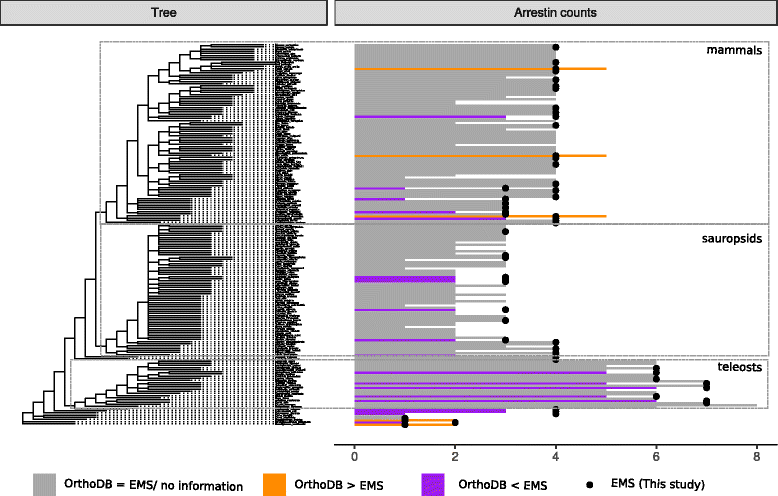 Discussion
We uncovered the complex duplication and deletion history of the arrestin family in deuterostomes based on a careful evaluation of genomic information. Our approach enhanced by manual curation outperforms conventional strategies that rely on uncurated databases to infer orthology relationships (OrthoDB).
We show that the paralog counts differ for 25 species (44%) between the updated annotation and OrthoDB, a frequently used database that is considered to be fairly complete (Fig. 2). The majority of deviations is caused by an underestimation of paralog counts in OrthoDB exemplifying the incompleteness of this database. Although patterns of absence and presence of paralogs are conveniently presented in OrthoDB, it remains an open problem to distinguish paralog losses from missing information for biological and technical reasons in automated procedures. Biological reasons are high degree of divergence, duplications, and pseudogenizations. Over- and especially underprediction of paralogs is mostly caused by technical issues, e.g. due to sequencing techniques, sequencing coverage, annotation and assembly strategies. Particular care should be taken when inferring the expected number of paralogs from the maximum number of paralogs in the database, proposing an exaggerated rate of losses. A successful strategy to perform gene family annotation uses a whole genome homology search, a priori information about genome duplications and exon-intron structure. Consideration of lowly sampled taxonomic groups phylogenetically close to gene loss and gain events is critical to resolve the genealogy. Information extracted from current protein databases can thus just deliver a preliminary overview on paralog counts and orthology relationships. Here, we establish a high-quality standard of a small curated data set that can be used as a benchmark for annotation and orthology prediction tools. As homology search methods propagate erroneous annotations, the improvement of existing annotations and methodology for annotation and orthology predictions is a necessity in computational biology [57, 58].
The majority of deuterostome arrestin paralogs arose by WGD, either at the root of vertebrates or at the root of teleosts. These events promoted the acquisition of new functions and changes in exon-intron structure of arrestins.
The 2R-WGD led to the emergence of the four arrestin paralogs from a prototypical arrestin presumably similar to ARR0 in vase tunicate in accordance to [30, 59]. Arrestins are in line with several other gene families of the phototransduction cascade, e.g. opsins, G protein-coupled receptor kinases and transducins, all of which expanded by the basal vertebrate tetraploidizations and thus paved the way for the development of a sophisticated visual system in the vertebrate clade [59]. Some studies place the 2R-WGD after the split of jawless fish and jawed vertebrates suggesting independent duplications in the lamprey-lineage [60, 61], other studies argue that both 2R-WGDs took place at the root of jawed vertebrates, followed by an immediate split of both groups [62, 63]. The current study of one gene family, also cannot resolve this controversy. It remains unclear, therefore, whether the lamprey arrestins represent 1:1 orthologs to the vertebrate arrestins or arose from independent duplications after a shared first WGD.
A third WGD resulted in further increase in the number of arrestin paralogs in teleosts. Visual arrestins were more readily retained after duplication than non-visual arrestins. [3] made the first attempt to functionally characterize ARR3a and ARR3b in zebrafish, which they found specifically expressed in the outer layer of either M- and L-cones (ARR3a) or of S- and UV-sensitive cones (ARR3b).
In addition to spatial subfunctionalization, we propose that expansion and diversification of opsins is paralleled by functional diversification of ARR3a and ARR3b. This is supported by [3], and our comparative analysis revealing mutations of receptor binding residues. As a second example of functional subfunctionalization, we find SDPs of phosphate and IP6 binding residues affecting binding specificity, in agreement with functional studies showing that SAGa and SAGb have different binding affinities for phosphorylated rhodopsin in carp [64].
The duplicated non-visual arrestins, ARRB2a and ARRB2b, were shown to have similar functions in modulating the distribution of the chemokine ligand Cxcl12a, but different spatial expression patterns in zebrafish primordial germ cells [65]. These paralogs are nearly identical in zebrafish. In contrast, ARRB2 of stickleback and pufferfish carry mutations in key functional motifs presumably impairing their function.
In addition to 3R-WGDs, local duplications such as tandem duplications or retrogene insertions contributed to the emergence of more arrestin paralogs within smaller classes or infraclasses. The sea urchin-specific tandem duplication of ARR0 seems to be in line with the over-representation of arrestin-interaction partners such as the secretin-like GPCR superfamily [66] and the rhodopsin-type GPCRs expressed in sensory appendages and the nervous system in purple sea urchin [67]. Furthermore, the Ras-superfamiliy of G proteins regulated by arrestins, as well as receptor protein tyrosine phosphatases regulating arrestin binding to GPCRs, are expanded in sea urchin hinting at a general expansion of molecules involved in GPCR signaling [68, 69]. ARR0.1 is suggested to have acquired a new function in connection with receptor binding, enhanced phosphate sensing and, possibly, reduced binding to the clathrin adapter protein AP-2.
In conclusion, a common theme for fine tuning or specialization of arrestins after duplication seem to be the following two degrees of freedom: receptor binding and phosphate sensing.
In addition to expansions of the arrestin system we also found some losses, in particular, the well-documented pseudogenization/loss of ARR3 in Afrotheria, Xenarthra, and common shrew. Less obvious is the possible loss of ARRB2 in birds. The study, simply based on comparative genomics, is strongly dependent on genome coverage and the quality of the available assemblies. As these differ widely among vertebrate genomes, we were particularly cautious hypothesizing about exon or gene losses. Whenever possible, multiple data sources and strategies were used. When available, we took into account additional transcriptome data and investigated arrestin genes in additional, closely related species to obtain information on synteny. Nevertheless, we cannot rule out that individual genes, such as bird ARRB2 escaped sequencing or assembly even after having considered 50 bird genomes in this study. The incompleteness of avian genomes, and the difficulty of sequencing certain regions in these genomes is a well known, albeit poorly understood, phenomenon [70–72]. Regions known to cause difficulties in sequencing and assembly are heterochromatin and repeat regions [73], and also bird microchromosomes in general. It remains unclear, therefore, whether the single, detected exons of ARRB2 in birds and of ARR3 in hedgehog are remnants of a pseudogene or of an intact gene. The exons we identified for ARRB2 have a high sequence conservation in comparison to mammalian ARRB2, cover different parts of the gene and are generally situated on short contigs suggesting difficulties in sequencing and/or assembly. On the other hand, we did not detect any transcripts of ARRB2 in various transcriptome data sets representing different tissues and developmental states of several bird species. One has to bear in mind, though, that the expression of the ubiquitous arrestin-3 could be too low to detect its transcripts as arrestin-3's expression is 10-20-times lower than that of arrestin-2 in most mammalian cells [74].
In contrast, the loss of ARR3 could be shown explicitly for Afrotheria and Xenarthra based on the synteny information. ARR3 is specifically expressed in cones and pinealocytes [75], where it inactivates phosphorylated cone opsin and interacts with additional binding partners e.g. Mdm2, JNK3 [76], Als2Cr4 [77] or MKK4, ASK1 [4] acting as a scaffolding molecule. Whereas it is the only visual arrestin expressed in L- and M-cones in humans and several primates [78], both, SAG and ARR3, are expressed in primate S-cones [78] and all mouse cones [22].
The evolutionary need for ARR3 has already been discussed in the literature emphasizing differences between SAG and ARR3, namely the ability of SAG to self-assemble and the transient binding affinity of ARR3 to receptors [4]. ARR3 null mice have an impaired contrast sensitivity and visual acuity when young, while their cones seem to degenerate slower with increasing age in comparison to wild type (WT) mice as shown recently [79]. However, other studies in mice suggest that the arrestin-4 function can be fulfilled by arrestin-1. The response of S-dominant cones of ARR3 null mice to light stimuli is similar to WT mice, while recovery from flashes is greatly slowed down in SAG/ARR3 double-knock out mice [22]. The authors concluded that at least one visual arrestin is necessary for inactivation of S- or M-opsin in mice. Additionally, [80] showed that arrestin-1 can inactivate S-opsin metaII in transgenic mice expressing S-opsin instead of rhodopsin in rods, although arrestin-1 does not seem to be necessary for dim-flash response in WT cones. Thus, these studies suggest that arrestin-1 could take over the arrestin-4 function if expressed in cones, which is consistent with the loss of ARR3 reported in our study. Alternatively, other adaptions could have evolved in Afrotheria and Xenarthra to compensate for the loss of ARR3.
Although the evolution of e.g. mammalian arrestins has been examined previously [9], the present study uncovered numerous previously unreported gene gain and loss events within arrestins in deuterostomes. Identification of residues that determine specificity and are positively selected after duplication was made possible by a high quality alignment obtained by genome inquiries, dense species sampling and consideration of fragmented loci from poorly assembled genomes. The residues identified during this study as evolutionary "adjusting screws" are candidate positions for construction of biased arrestins that were already approved by nature.
Abbreviations
BF:

Bayes factor
EMS:

ExonMatchSolver
EST:

Expressed sequence tag
GPCR:

G-protein coupled receptor
IP6:

Inositol-6-phosphate
MCA:

Multiple correspondence analysis
ML:

Maximum likelihood
mya:

Million years ago
pHMM:

Profile Hidden Markov Model
SDP:

Specificity determining position
SH:

Sequence harmony
SRA:

Short read archive
WGD:

Whole genome duplication
WT:

Wild type
Declarations
Acknowledgments
We thank Chris Amemiya for sharing the germline genome of river lamprey and two anonymous reviewers for their comments.
Funding
This work was supported by the European Social Fund (ESF) of the European Union (EU) and the Free State of Saxony (grant numbers 100148833/22117017, 100227413 to HI) as well as NIH grants (RO1 DA030103, NS065868 to EVG and RO1 EY011500, R35 GM122491 to VVG).
Availability of data and materials
The data sets supporting the results of this article are available in the zenodo repository, DOI 10.5281/zenodo.820866. [120].
Authors' contributions
HI annotated arrestin genes and performed subsequent analysis. PFS, SJP and VVG designed the study. VVG and EVG contributed biological knowledge on important sequence motifs and suggestions about regions of interest. All authors contributed in writing the manuscript. All authors read and approved the final manuscript.
Competing interests
The authors declare that they have no competing interests.
Consent for publication
Not applicable.
Ethics approval and consent to participate
Not applicable.
Publisher's Note
Springer Nature remains neutral with regard to jurisdictional claims in published maps and institutional affiliations.
Open Access This article is distributed under the terms of the Creative Commons Attribution 4.0 International License (http://creativecommons.org/licenses/by/4.0/), which permits unrestricted use, distribution, and reproduction in any medium, provided you give appropriate credit to the original author(s) and the source, provide a link to the Creative Commons license, and indicate if changes were made. The Creative Commons Public Domain Dedication waiver(http://creativecommons.org/publicdomain/zero/1.0/) applies to the data made available in this article, unless otherwise stated.
Authors' Affiliations
(1)
Computational EvoDevo Group, Department of Computer Science, Universität Leipzig, Leipzig, Germany
(2)
Bioinformatics Group, Department of Computer Science, Universität Leipzig, Leipzig, Germany
(3)
Interdisciplinary Center for Bioinformatics, Universität Leipzig, Leipzig, Germany
(4)
Department of Pharmacology, Vanderbilt University, Nashville, USA
(5)
Max Planck Institute for Mathematics in the Sciences, Leipzig, Germany
(6)
Fraunhofer Institute for Cell Therapy and Immunology, Leipzig, Germany
(7)
Department of Theoretical Chemistry, University of Vienna, Vienna, Austria
(8)
Center for non-coding RNA in Technology and Health, Frederiksberg C, Denmark
(9)
Santa Fe Institute, Santa Fe, USA