Research article

Open Access
Phylogenomic analysis of carangimorph fishes reveals flatfish asymmetry arose in a blink of the evolutionary eye
BMC Evolutionary Biology
BMC series – open, inclusive and trusted
2016
16:224
Received: 12 July 2016
Accepted: 30 September 2016
Published: 21 October 2016
Abstract
Background
Flatfish cranial asymmetry represents one of the most remarkable morphological innovations among vertebrates, and has fueled vigorous debate on the manner and rate at which strikingly divergent phenotypes evolve. A surprising result of many recent molecular phylogenetic studies is the lack of support for flatfish monophyly, where increasingly larger DNA datasets of up to 23 loci have either yielded a weakly supported flatfish clade or indicated the group is polyphyletic. Lack of resolution for flatfish relationships has been attributed to analytical limitations for dealing with processes such as nucleotide non-stationarity and incomplete lineage sorting (ILS). We tackle this phylogenetic problem using a sequence dataset comprising more than 1,000 ultraconserved DNA element (UCE) loci covering 45 carangimorphs, the broader clade containing flatfishes and several other specialized lineages such as remoras, billfishes, and archerfishes.
Results
We present a phylogeny based on UCE loci that unequivocally supports flatfish monophyly and a single origin of asymmetry. We document similar levels of discordance among UCE loci as in previous, smaller molecular datasets. However, relationships among flatfishes and carangimorphs recovered from multilocus concatenated and species tree analyses of our data are robust to the analytical framework applied and size of data matrix used. By integrating the UCE data with a rich fossil record, we find that the most distinctive carangimorph bodyplans arose rapidly during the Paleogene (66.0–23.03 Ma). Flatfish asymmetry, for example, likely evolved over an interval of no more than 2.97 million years.
Conclusions
The longstanding uncertainty in phylogenetic hypotheses for flatfishes and their carangimorph relatives highlights the limitations of smaller molecular datasets when applied to successive, rapid divergences. Here, we recovered significant support for flatfish monophyly and relationships among carangimorphs through analysis of over 1,000 UCE loci. The resulting time-calibrated phylogeny points to phenotypic divergence early within carangimorph history that broadly matches with the predictions of adaptive models of lineage diversification.
Keywords
Adaptive radiation
Carangimorpha
Evolutionary innovation
Pleuronectiformes
UCE
Ultraconserved elements
Background
During the past decade, a series of molecular phylogenetic analyses drawing on increasingly larger samples of taxa and genetic loci have transformed our understanding of evolutionary relationships among acanthomorphs or spiny-rayed fishes [1–6], a hyperdiverse lineage that includes nearly one in three living vertebrate species. These studies support the monophyly of many clades previously recognized by morphological phylogeneticists (e.g., Tetraodontiformes, Lophiiformes), but reject the coherence of other classical groups (e.g., Scombroidei inclusive of billfishes [7], Labroidei [8]) by removing some of their core members to other, distantly related lineages [9–11]. In resolving the 'bush' at the top of the teleost tree of life, these molecular phylogenies have exposed striking examples of morphological, physiological, and functional convergence among acanthomorphs [10, 11], and revealed unexpected groupings of lineages not previously regarded as closely related [11].
A well-supported radiation [1, 12, 13], variously termed Clade L [14], Carangimorpha [2, 3], or Carangimorpharia [4, 15], represents one of the most surprising features of the emerging picture of acanthomorph interrelationships. Carangimorphs include anatomically disparate lineages characterized by remarkable behavioral and anatomical novelties: eye and brain heating organs coupled with long rostra and numerous specializations for rapid swimming in Xiphioidei (marlins and swordfishes) [16]; cranial adhesion discs and commensal lifestyle in Echeneidae (remoras) [17, 18]; expanded, tactile pectoral-fin rays in Polynemidae (threadfins) [19]; sophisticated spine-based venom delivery systems in Carangidae (scombroidin jacks) [20]; and use of water jets to capture aerial prey in Toxotidae (archerfishes) [21]. These specializations are joined by even more singular innovations in arguably the most peculiar carangimorph lineage: Pleuronectiformes (flatfishes). Flatfishes, including familiar food fish like halibut, sole, and plaice, are characterized by profound cranial asymmetry resulting from the migration of one eye to the opposite side of the skull during larval metamorphosis. This extreme developmental resculpturing of the head permits adult flatfishes to rest on the seafloor on their eyeless or 'blind' side, leaving both eyes of the 'eyed' side unobstructed by sediment.
Although carangimorph monophyly is well supported, relationships among its principal lineages are weakly supported and highly variable between studies (Fig.
1
). Flatfishes provide the most concrete illustration of the uncertainty in carangimorph relationships. Ichthyologists have overwhelmingly regarded the orbital migration and associated lateralized behavior of flatfishes as unique innovations that strongly support pleuronectiform mononphyly [
22
–
30
] (but see [
31
–
33
]). However, analyses that do recover a flatfish clade provide only weak statistical support for its monophyly (bootstrap support < 70 %; Fig.
1
) [
2
,
4
,
34
–
36
]. Several published phylogenies support the monophyly of a subset of flatfishes representing Pleuronectoidei of anatomical classifications [
23
,
37
,
38
] and place
Psettodes
as the sister taxon of a closely related—but symmetrical—lineage that varies among analyses (Fig.
1
; Centropomidae [snooks] + Xiphoidei [
1
]; Sphyraenidae [barracudas] [
2
]; Latinae [Nile perches] [
3
]; Nematistiidae [roosterfish] [
4
]; Toxotidae [
38
]). Although trees favoring a polyphyletic origin of Pleuronectiformes lack sufficient statistical support to reject the morphological null hypothesis of monophyly [
34
], some researchers have nevertheless concluded that asymmetry arose independently in
Psettodes
and pleuronectoids [
38
,
39
]. These conclusions resurrect a pre-cladistic hypothesis in which generalized percomorph traits apparent in
Psettodes
suggest that cranial symmetry evolved within this lineage independently of that in pleuronectoids [
31
,
32
], an inference that casts uncertainty on the phylogenetic placement and evolutionary significance of early flatfishes showing incomplete orbital migration [
39
].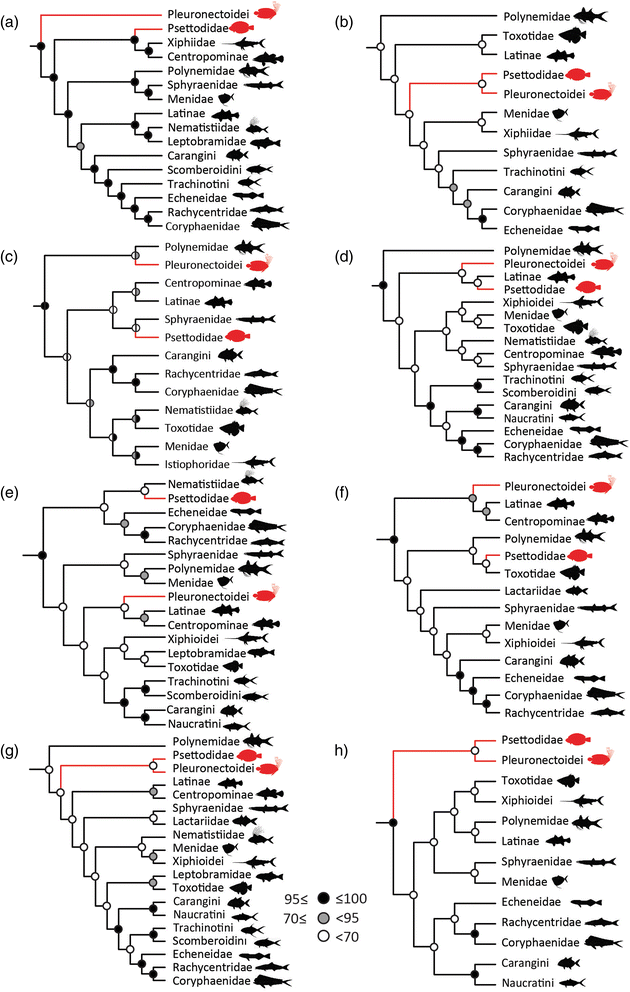 The recent debate regarding flatfish monophyly spotlights the difficulties faced by many phylogenetic studies, particularly in the use of molecular data for radiations characterized by short internodes deep in evolutionary time. Methodological challenges, such as accounting for base compositional bias (i.e., non-stationarity [40]) and long branch attraction [41, 42], as well as natural phenomena such as horizontal gene flow and incomplete lineage sorting (ILS) can result in inference of gene trees that do not reflect a clade's history of speciation [43–45]. Even under certain scenarios of branch length in species trees, the most frequent gene trees do not reflect the topology of the species tree (the so-called anomaly zone [46]). The use of analytical approaches to account for non-stationarity or application of the coalescent model for ILS is important for improving accuracy of gene tree and species tree estimation, but the addition of large numbers of unlinked loci may be the most direct approach for improving phylogenetic accuracy in the face of these processes [47]. Thus far, incrementally larger DNA sequence datasets of up to 23 loci have produced inconsistent increases in support for relationships among major carangimorph lineages, particularly with regard to flatfish monophyly (Fig. 1) and the identification of a symmetrical sister group.
Using recent advances in phylogenomics and high-throughput sequencing, we assembled a dataset of ultraconserved DNA elements (UCEs) and their flanking sequences representing over 1000 loci sampled from 45 carangimorph species. Here we use this novel dataset in conjunction with the rich fossil record of Carangimorpha to: (i) establish a well-supported hypothesis of relationships among anatomically disparate carangimorph lineages; (ii) provide a statistically decisive molecular solution to the 'pleuronectiform problem'; and (iii) estimate divergence times for carangimorphs, with an emphasis on constraining the timescale over which remarkable anatomical innovations such as flatfish asymmetry and other specialized carangimorph bodyplans likely arose.
Methods
We use a probe set developed for application to acanthomorph phylogenetics to generate sequence data for approximately 1200 UCE loci [48]. These loci vary in size and number of variable sites per locus, but average between 300 and 500 nucleotides in length. This approach has provided resolution across a range of evolutionary depths in phylogenetic studies of acanthomorphs [5]. Gilbert et al. [49] examined the phylogenetic informativeness of a subset of the probe set used in this analysis, and found that it provides greater informativeness across ages during which carangimorphs diversified than do protein-coding genes previously used in phylogenetic analysis of acanthomorphs (including carangimorphs). Information on DNA isolation, library preparation, sequencing, and data pipelining is provided in Additional file 1: Methods 1. Raw read data are archived in the NCBI Sequence Read Archive (SRA) under accession numbers SAMN05784507, SAMN05786321-SAMN05785372, SAMN05919513, SAMN05919514. Our high-throughput sequencing generated uneven coverage across taxa and loci, resulting in an incomplete data matrix for all 1200 UCE loci. While increasing the number of nucleotides and loci is desirable for phylogenetic analysis, empirical studies of the impact of missing data on resolving difficult nodes show diminishing returns at varying thresholds of incompleteness (e.g., 25 % incomplete in [50] and 50 % incomplete in [51]). In order to evaluate the role of missing data in our matrices and whether tree topology and clade support values varied with the addition of more, but sparsely sampled loci, we performed phylogenetic analyses on 75 %, 95 %, and 100 % complete alignment matrices.
Results
Our sequencing generated an average of 996 loci per taxon. After alignment and alignment trimming, mean locus length was 365 nucleotides (range: 121–811), with a mean of 97 parsimony informative sites per locus. The phylogenetic trees inferred in this study from the concatenated datasets are resolved with strong node support and exhibit near-identical topologies regardless of the matrix examined [75 % (1014 loci), 95 % (596 loci) and 100 % (97 loci) complete] and method of analysis (Bayesian and maximum likelihood) (Fig.
2
, Additional file
1
: Figure S1). Phylogenies inferred from coalescent gene tree species tree (GT-ST) analyses share a majority of nodes in common with results from concatenated analyses (Additional file
1
: Figure S2). Disagreement is localized to the deepest divergences within Carangimorpha, which are poorly supported in GT-ST phylogenies. Best practice for the application of coalescent GT-ST methods to genomic data is currently debated [
68
,
69
], and we therefore base our discussion on the phylogenies inferred using the 95 % complete concatenated matrix (Fig.
2
). The population tree generated by BCA matched the topology of the concatenated 95 % complete matrix (Additional file
1
: Figure S3). We present the phylogenies inferred using concatenation analysis of the 75 % and 100 % complete data matrices, GT-ST, and BUCKy-generated primary concordance and population trees in the extended data (Additional file
1
: Figures S1-S3), and we note disagreements between phylogenies resulting from concatenated and GT-ST analyses.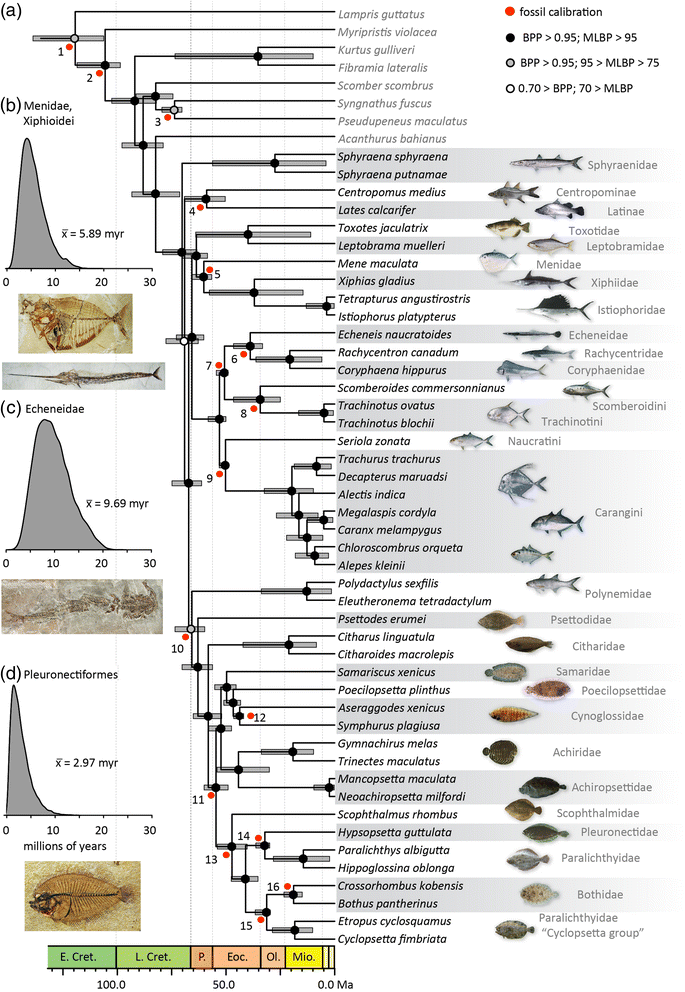 There is strong support for nearly all nodes in phylogenies inferred from concatenated analyses, with Bayesian posterior probabilities (PP) of >0.99 (approximated as '1' below) and bootstrap support percentages (BP) of 100 %. With the exception of the placement of Sphyraenidae, we find strong support for many of the deepest nodes within Carangimorpha, in contrast to previous studies that have inferred inconsistent and poorly supported relationships among these deeply divergent lineages [3, 4, 15, 38].
The monophyly and relationships of flatfishes
Flatfish monophyly is unambiguously supported in phylogenies resulting from all of our concatenated analyses (PP = 1, BP = 100 %), but it also receives strong support in GT-ST analyses, and flatfishes appear as a clade in both the primary concordance and population trees generated by BCA. Concordance factors calculated for the loci containing all fifteen of the subsampled taxa (557 loci contained sequence data for
Psettodes
and the selected representatives of pleuronectoids and each of the remaining major carangimorph lineages) show that a plurality of loci produced gene trees in which
Psettodes
forms a clade with the other two sampled flatfishes, to the exclusion of all other carangimorphs (Fig.
3
). The genome-wide BUCKy concordance factor estimate of 0.149 [95%CI: 0.114–0.187] for the
Psettodes
 + Pleuronectoidei clade is higher than, and non-overlapping with, concordance factors estimated for any alternative topology in which
Psettodes
is recovered in a clade with any non-flatfish lineage (Fig.
3
). Consistent with previous morphological hypotheses [
23
,
26
–
28
,
70
,
71
], we resolve
Psettodes
as the sister lineage to Pleuronectoidei, which contains all other flatfish species. The UCE-inferred phylogenies place Citharidae as the sister lineage to all remaining pleuronectoids, in agreement with previous morphological [
28
,
70
] and molecular analyses [
4
]. Interrelationships among other pleuronectoid families are identical to those reported in a recent molecular phylogenetic analysis of flatfishes [
15
], with universally high support (PP = 1, BP > 95 %).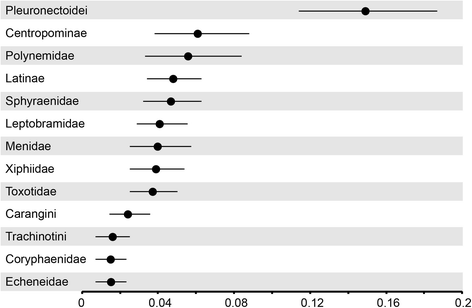 Carangimorph relationships
We resolve Polynemidae as the sister lineage of a monophyletic flatfish clade (Fig. 2). Although this relationship is strongly supported for some datasets (PP ≥ 0.99 across all datasets, BP = 54, 84, and 100 % for 97, 596, and 1014 locus datasets, respectively), it has not been found in any previous molecular study of carangimorphs or on the basis of morphological features (Fig. 1). The clade containing polynemids and flatfishes is the sister lineage of a well-supported (PP = 1, BP = 100 %) and diverse clade containing species from at least nine families: Toxotidae, Leptobramidae (beach salmon), Menidae, Xiphiidae (swordfish), Istiophoridae (marlins and sailfishes), Carangidae (jacks), Rachycentridae (cobia), Coryphaenidae (dolphinfishes), and Echeneidae. Consistent with results from previous morphological [27, 72, 73] and molecular [3, 4, 15] phylogenetic analyses, we find strong support (PP = 1, BP = 100 %) for a carangiform [27] clade including jacks and echeneoids (cobia, dolphinfishes, and remoras). As presented in previous molecular phylogenies, echeneoids are nested within jacks [1–4, 34] rather than the sister lineage of carangids as hypothesized based on anatomical data [73]; we find that the carangid clades Trachinotini and Scomberoidini are more closely related to echeneoids than they are to other jacks [4, 34]. Within echeneoids, we find unambiguous support (PP = 1, BP = 100 %) for a sister-group relationship between cobia and dolphinfishes to the exclusion of remoras [1, 3, 4, 15, 17, 38, 73, 74] rather than the previously hypothesized relationship between more phenotypically similar remoras and cobia [18].
The UCE-inferred phylogeny resolves a clade of anatomically disparate fishes as the sister lineage of carangiforms (Fig. 2). Within this clade, we recover the moonfish Mene maculata, classified in the monotypic Menidae, as the sister lineage of xiphioids. This morphologically unanticipated relationship is weakly supported in some previous molecular analyses [4, 34], but receives unambiguous support in the UCE trees (PP = 1, BP = 100 %). Consistent with a clear morphological [7, 75] and molecular [3, 4, 10, 15, 34, 38] consensus, the monophyly of xiphoids, containing Xiphiidae and Istiophoridae, is strongly supported (PP = 1, BP = 100 %). We resolve this new clade containing moonfish and billfishes as the sister lineage of a group uniting Toxotes and Leptobrama, each of which is the only generic representative of its family (Toxotidae, Leptobramidae). This clade is present in the results of multiple molecular analyses [4, 15, 34], although with weak support.
The only disagreement among the phylogenies from our different concatenated analyses involve the deepest nodes in Carangimorpha, and it specifically concerns the relationships between Sphyraenidae (barracudas), Centropomidae (snooks and Nile perches; comprising Centropominae and Latinae), and all remaining carangimorphs (Fig. 2, Additional file 1: Figure S1). The monophyly of both Centropominae and Latinae is consistently supported in all analyses (PP = 1, BP = 64 % in 97 loci matrix, PP = 1, BP = 100 % in 596 and 1014 matrix analyses), corroborating results from previous morphological [76, 77] and molecular analyses [4, 15, 34, 38, 78]. The phylogenies resulting from analysis of the 97 locus dataset resolve Centropomidae and Sphyraenidae as a clade, which is the sister lineage of all other carangimorphs (PP = 1, BP = 84 %), while the phylogenies inferred using the 596 and 1014 locus datasets place sphyraenids (PP = 0.61, BP = 40 %) and centropomids (PP = 0.57, BP = 44 %), respectively, as successive outgroups to all remaining carangimorphs. Neither of these alternative arrangements is well supported, indicating a degree of phylogenetic uncertainty regarding the earliest divergences within Carangimorpha even in the face of extensive genetic sampling.
The GT-ST results are congruent with nearly all major aspects of the phylogenies inferred from concatenated data (Additional file 1: Figures S1 and S2). The placement of polynemids represents the most conspicuous difference between phylogenies inferred using concatenated and GT-ST methods. The ASTRAL-inferred GT-ST resolves threadfins as the sister lineage of the clade including toxotids, leptobramids, menids, xiphioids, and carangiforms, rather than pleuronectiforms as in concatenated analyses, while BUCKy-inferred population tree places Polynemidae as the sister of flatfishes. We note here, however, that the concordance factors for conflicting placement of Polynemidae have overlapping 95 % credible intervals. Although GT-ST analyses provide strong support for the monophyly of Carangimorpha and Pleuronectiformes, deep divergences among major carangimorph lineages are not well supported.
A timescale for the diversification of Carangimorpha
Our multiple relaxed-clock molecular dating analyses produced similar and consistent estimates of divergence dates across different subsamples of UCE loci and between both analytical frameworks in the BEAST and PAML software packages, with overlapping 95 % highest posterior density ranges for all nodes (Fig. 2, Additional file 1: Figure S4, Additional file 1: Table S3). We refer to specific branch length and divergence date estimates derived from analysis of one set of 75 UCE loci (depicted in Fig. 2); but our BEAST analyses of three other 75 UCE-loci-datasets and PAML analysis of 596 loci provide very similar node ages, branch lengths, and overlapping 95 % highest posterior densities. We infer an origin of Carangimorpha at 71.0 Ma, shortly before the end of the Late Cretaceous, although we cannot reject an earliest Paleocene (Danian) origin [95 % highest posterior density (HPD) interval: 63.44, 80.86]. Most of the strikingly anatomically divergent carangimorph lineages arose in the subsequent 15 million years, before the end of the Paleocene. This is consistent with previous molecular phylogenetic studies [3, 4] (but see Santini and Carnevale [79]) as well as the earliest fossil occurrences of specialized lineages like billfishes, jacks, flatfishes, menids, and barracudas by the end of the first stage of the Eocene [29, 80].
We estimate the pleuronectiform crown node at 61.3 Ma [95 % HPD: 54.3–69.5 Ma]. The most recent common ancestor of flatfishes and threadfins, their living symmetrical sister lineage, is 65.7 Ma [95 % HPD: 57.3–72.6 Ma]. The mean length of the flatfish stem across our posterior sample of trees is 2.97 Myr [median: 2.45 Myr; 95 % HPD: 0.47–8.35 Myr], and it provides the longest possible span over which flatfish asymmetry could have evolved. Maximum timelines for the origin of other remarkable carangimorph bodyplans are generally longer. The divergence between Menidae and Xiphioidei is estimated as 60.6 Ma [median: 95 % HPD: 56.5–66.6 Ma]. Early fossil representatives of both lineages constrain the origin of their unique bodyplans to no later than the earliest Eocene [80, 81]. Thus the mean maximum time for origin of both bodyplans is 5.89 Myr [median: 5.42 Myr; 95 % HPD: 1.91–12.48 Myr]. The difference in age between crown Echeneoidei (marking the divergence of remoras from other echeneoids) and the oldest anatomically modern remora fossils give a maximum time over which the remora adhesion disc evolved. Fossils with discs closely resembling those of modern species are known from the early Oligocene [17, 82, 83], giving a maximum evolutionary interval of 9.69 Myr [median: 9.27 Myr; 95 % HPD: 3.87–17.68 Myr]. Our ability to constrain the time over which other distinctive carangimorph bodyplans—like those of polynemids and toxotids—arose is limited by sparse fossil records [80] and sampling of modern lineages that is insufficient to constrain crown ages.
Conclusion
The invariably low support for monophyly of flatfishes found in previous molecular phylogenetic analyses is emblematic of a common problem in reconstructing the evolutionary history of rapidly diverging lineages throughout the Tree of Life. Although increasingly larger gene-by-gene datasets have provided valuable discoveries regarding the relationships among acanthomorph fishes and the timing of their divergences [3, 4], these datasets may not be large enough to overcome discordance due to phenomena such as incomplete lineage sorting for nodes within rapidly branching portions of the acanthomorph phylogeny. The resolution of carangimorph relationships provided by high throughput sequencing of UCE loci serves as an improved framework on which to study the evolution and diversification of fish bodyplans, and our results suggest similar phylogenomic approaches will be necessary to resolve historically difficult nodes in the acanthomorph phylogeny, as in the case of the flatfishes.
Declarations
Acknowledgements
We thank A. Bentley and P. Chakrabarty for tissue samples, and J. Maclaine and O. Crimmen for access to preserved specimens. Portions of this research were conducted with high performance computational resources provided by Louisiana State University (http://www.hpc.lsu.edu) and the University of Oxford (http://www.arc.ox.ac.uk), and this study was also supported, in part, by resources and technical expertise from the Georgia Advanced Computing Resource Center, a partnership between the University of Georgia's Office of the Vice President for Research and Office of the Vice President for Information Technology.
Funding
This research was supported by NERC grant no. NE/J022632/1 and a Philip Leverhulme Prize PLP-2012-130 (both to M.F.). NSF DEB-1242260 (to BCF) supported computational portions of this work and NSF ANT-0839007 (to TJN) supported portions of laboratory expenses.
Availability of data and material
Sequence data generated for this manuscript are archived as raw reads in the NCBI Sequence Repository (SRA) and assembled contigs in NCBI GenBank (accession numbers SAMN05784507, SAMN05786321-SAMN05785372). The data sets supporting the results of this article, including alignments of UCE loci and phylogenetic trees generated from our analyses of these data, are available in the Dryad Digital Repository (doi:10.5061/dryad.2fj55 [103]). Details of fossil calibrations are provided in Additional file 2.
Authors' contributions
MF and RCH conceived the research. RCH and BCF generated sequence data. Phylogenetic analyses were performed by BCF, MA, and RCH. All authors contributed to interpretation of results and writing of the manuscript. All authors read and approved the final manuscript.
Competing interests
The authors declare that they have no competing interests.
Consent for publication
Not applicable.
Ethics approval and consent to participate
Not applicable.
Open AccessThis article is distributed under the terms of the Creative Commons Attribution 4.0 International License (http://creativecommons.org/licenses/by/4.0/), which permits unrestricted use, distribution, and reproduction in any medium, provided you give appropriate credit to the original author(s) and the source, provide a link to the Creative Commons license, and indicate if changes were made. The Creative Commons Public Domain Dedication waiver (http://creativecommons.org/publicdomain/zero/1.0/) applies to the data made available in this article, unless otherwise stated.
Authors' Affiliations
(1)
Department of Earth Sciences, University of Oxford, Oxford, UK
(2)
Department of Ecology & Evolutionary Biology and Peabody Museum of Natural History, Yale University, New Haven, USA
(3)
Department of Biological Sciences and Museum of Natural Science, Louisiana State University, Baton Rouge, USA
(4)
Department of Marine Biology, Texas A&M University at Galveston, Galveston, USA
(5)
Biodiversity Institute and Department of Ecology and Evolutionary Biology, University of Kansas, Lawrence, USA
(6)
Department of Ecology and Evolutionary Biology, University of California Los Angeles, Los Angeles, USA
(7)
Museum of Paleontology and Department of Earth and Environmental Science, University of Michigan, Ann Arbor, USA