Research article

Open Access
Getting a head in hard soils: Convergent skull evolution and divergent allometric patterns explain shape variation in a highly diverse genus of pocket gophers (Thomomys)
BMC Evolutionary Biology
BMC series – open, inclusive and trusted
2016
16:207
Received: 20 May 2016
Accepted: 30 September 2016
Published: 10 October 2016
Abstract
Background
High morphological diversity can occur in closely related animals when selection favors morphologies that are subject to intrinsic biological constraints. A good example is subterranean rodents of the genus Thomomys, one of the most taxonomically and morphologically diverse mammalian genera. Highly procumbent, tooth-digging rodent skull shapes are often geometric consequences of increased body size. Indeed, larger-bodied Thomomys species tend to inhabit harder soils. We used geometric morphometric analyses to investigate the interplay between soil hardness (the main extrinsic selection pressure on fossorial mammals) and allometry (i.e. shape change due to size change; generally considered the main intrinsic factor) on crania and humeri in this fast-evolving mammalian clade.
Results
Larger Thomomys species/subspecies tend to have more procumbent cranial shapes with some exceptions, including a small-bodied species inhabiting hard soils. Counter to earlier suggestions, cranial shape within Thomomys does not follow a genus-wide allometric pattern as even regional subpopulations differ in allometric slopes. In contrast, humeral shape varies less with body size and with soil hardness. Soft-soil taxa have larger humeral muscle attachment sites but retain an orthodont (non-procumbent) cranial morphology. In intermediate soils, two pairs of sister taxa diverge through differential modifications on either the humerus or the cranium. In the hardest soils, both humeral and cranial morphology are derived through large muscle attachment sites and a high degree of procumbency.
Conclusions
Our results show that conflict between morphological function and intrinsic allometric patterning can quickly and differentially alter the rodent skeleton, especially the skull. In addition, we found a new case of convergent evolution of incisor procumbency among large-, medium-, and small-sized species inhabiting hard soils. This occurs through different combinations of allometric and non-allometric changes, contributing to shape diversity within the genus. The strong influence of allometry on cranial shape appears to confirm suggestions that developmental change underlies mammalian cranial shape divergences, but this requires confirmation from ontogenetic studies. Our findings illustrate how a variety of intrinsic processes, resulting in species-level convergence, could sustain a genus-level range across a variety of extrinsic environments. This might represent a mechanism for observations of genus-level niche conservation despite species extinctions in mammals.
Keywords
Environmental selection pressure
Evolutionary development
Heterochrony
Incisor procumbency
Parallel evolution
Principal component analysis
Repeated evolution
Subterranean niche
Background
Animal populations modify their existing anatomy in response to selection. Functional morphology is therefore a compromise between adaptive forms and possible forms [1] given the organism's evolutionary history [2]. The range of possible adaptive forms is also dictated by what morphological changes can be produced by intrinsic processes such as development or allometry) [3, 4]. In particular, allometry—the disproportionate shape change of a trait due to a change in body size—plays a key role in shaping the evolution of new forms [3]. However, because of limitations imposed by the available morphospace, phylogenetic constraints, and evolutionary time [5], these intrinsic processes can reduce the range of adaptations to new selection pressures. The impact of conflicts between morphological constraints and functional selection can be observed across phylogenetic scales, ranging from at the population level (e.g. [6, 7]) and as large as the three major mammalian subclasses (e.g. [8, 9]).
Fossorial mammals are often used as model organisms to understand the evolutionary interaction between the extrinsic environmental pressures and the intrinsic processes that generate the variation on which natural selection acts [
10
–
15
]. Fossoriality is well known to represent an immense selection pressure on the mammalian skeleton [
12
,
16
]. Digging requires 360–3400 times more energy per-distance than walking [
17
,
18
]. The remarkably species-rich fossorial western pocket gophers (genus
Thomomys
) in northern California [
19
] are thus a good choice to investigate diverse adaptations to digging. The clade also has a well-established species-level phylogeny (Fig.
1
) [
20
,
21
]. In a relatively small geographic area, two subgenera (
T. Thomomys
and
T. Megascapheus
) have radiated into 10 taxa (5 species containing 7 subspecies; Fig.
1
) that contend with varying soil and climate conditions at the confluence of coastal, montane, and desert basin regions [
20
,
22
]. Unlike most other animal genera, whose species tend to occupy very similar environments [
2
],
Thomomys
pocket gophers provide an opportunity to investigate morphological responses of closely related taxa to great variation in external conditions.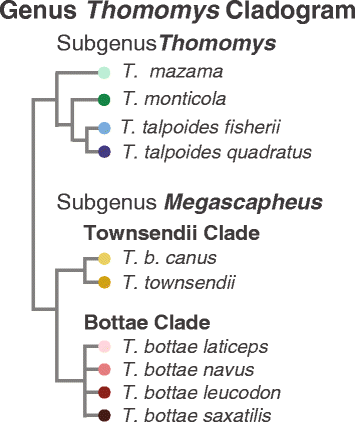 In response to the selection pressures of fossoriality, two regions of the pocket gopher skeleton in particular appear adapted to digging: powerful forearms reflect extensive claw-digging, and—often in regions of hard soil—skull modifications allow for prolonged tooth-digging [16]. However, different taxa vary along this claw- to tooth-digging spectrum [23]. Body size is also a major factor in the evolution of pocket gophers, as there appears to be intense selection to reduce burrow dimensions as much as body size allows: this minimizes the volume of soil moved and the cross-section sheared while foraging underground [18, 24–26]. The exact energetic cost of digging thus depends on a species' body size, specific digging adaptations, as well as the local soil type [17, 18]. As Thomomys gophers are territorial dietary generalists, competition seems to distribute the different species into neighboring, mostly non-overlapping ranges [22, 27]. These range boundaries correspond with changes in soil, suggesting that interspecific differences in body size and digging adaptations confer competitive dominance to one species over another through maximizing foraging efficiency in the local soil [17, 22, 23, 25, 27].
Body size and tooth-digging present a potential morphological trade-off that may underlie the apparent shifts in competitive dominance of one species over its neighbors corresponding with subtle soil changes across very short distances—as little as a few meters [22]. Sustained digging with teeth, the hardest structures in the vertebrate body, requires a derived skull morphology of procumbent incisors (incisor tips with an anterior projection greater than 90° relative to the rostral plane) [16]. Several studies show that procumbent species use less energy in harder soils and/or have higher burrowing rates than their "orthodont" counterparts (i.e. those with the ancestral condition [28] of acutely angled incisors) [17, 23, 29–31]. Increasing body size is associated with greater muscular strength and with an increased incisor angle [23]. An increase in rostral length, resulting in a larger incisor arc radius, appears to underlie this allometric mechanism [32, 33]. This seems to explain why harder soils are generally inhabited by larger species. In contrast, a large body size may be disadvantageous in softer, sandier, lower-clay soils because larger taxa must move a greater soil volume to create larger, less stable burrows [18].
In addition to allometry, wholesale craniodental rearrangements have also been implicated in the evolution of tooth-digging, and may provide a mechanism for increasing incisor procumbency without associated increases in body size [28, 33]. Here, the posterior movement of the incisor root position creates a more obtuse angle with minimal changes in the shape or length of the rostrum [28, 33]. This intrinsic process represents a key innovation in pocket gophers, having evolved at least three times in subgenus T. Megascapheus alone [28].
Forelimb adaptation is also expected to play a role in the evolution of gopher morphology. All Thomomys gophers claw-dig—even procumbent species preferentially use claw-digging when soil compaction does not require tooth-digging [23]. Therefore, procumbent tooth-digging species have more than one digging mode, compared to the ancestral orthodont species which must rely on claw-digging (aside from very limited employment of teeth to remove plant roots) [16]. It is therefore expected that orthodont species would have more derived limb long bones compared to tooth-digging species. In contrast to the mandible, which exhibits plasticity in response to harder foods [34], recent research on muscle attachment sites suggests that long bone shape is mostly determined through inheritance [35–37].
Overall, species within the genus Thomomys tend to conform to the expectation that body size and soil type are tightly linked [22]: subgenus T. Thomomys retains the ancestral condition [28] of a small body size and tends to inhabit softer soils [22], while the larger subgenus T. Megascapheus inhabits harder soils [22, 27, 28]. Females of the largest species, T. (Megascapheus) townsendii (245 g) weigh about four times those of the smallest species, T. (Thomomys) talpoides (64 g) [38, 39]. The larger subgenus, T. Megascapheus, also tends to have more procumbent incisors, suggesting a role for allometry in the evolution of this cranial morphology [28]. Unexpectedly, the smallest taxa (two T. (T.) talpoides subspecies) break the genus-wide trend by inhabiting hard soils [27]. This exception could be due to digging adaptations arising from a more complex evolutionary mechanism than allometry alone. This suggests that pocket gophers adapt to fossoriality through a variety of intrinsic mechanisms, which interact differentially in taxa experiencing different selection pressures exerted by different soil types.
Here, we use the fine-grained taxonomic structure and geographic distribution of northern Californian pocket gophers to assess how environment, constraint, and intrinsic shape patterning processes may produce a diverse range of morphologies among closely related mammals. First, we test for shape divergence between the 2 subgenera, 3 clades, and 10 distinct taxa (species or subspecies; see Fig.
1
) in cranial and humeral shapes using principal components analyses. Second, we investigate the variation in the impact of allometry on shape using MANCOVAs, allometry plots, and pairwise tests of homogeneity of slopes. Third, we visualize the association of shape with three soil conditions—previously shown to separate gophers into their respective ranges [
27
]—on cranial and humeral shape. Finally, we assess the evidence for convergent evolution within the genus by comparing forelimb and skull morphologies between more distantly related taxa inhabiting similar soils (Fig.
2
).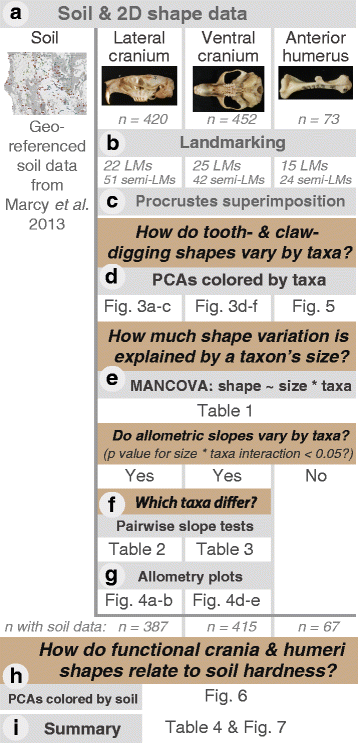 Discussion
Our results reveal that different combinations of intrinsic shape-change processes appear to resolve conflicts of form and function presented by the rodent skeleton in the context of fossorial selection pressures. In genus Thomomys, body size change seems to mediate allometric shape changes which are likely adaptive in harder soils, with several exceptions. At the species and subspecies level, cranial and humeral shapes appear to exhibit finely distinguished adaptations to local soil conditions (Table 4). Furthermore, we identify several taxa pairs that inhabit soils presenting similar digging challenges yet exhibit diverging morphologies. This suggests a trade-off between procumbent tooth-digging shapes and body size that each of the three main clades balances differently. Together, these processes seem to generate the remarkable morphological diversity of this genus in which each even sister subspecies can diverge substantially, and distant relatives may converge on similar morphologies.
Conclusions
We conducted geometric morphometric analyses on a diverse pocket gopher genus from a small geographic region with fine-grained taxonomic distinctions. Our results revealed that both allometry and differential evolution of functional cranial versus humeral shapes appear to have generated substantial differences in the digging apparatus essential for life underground. Because the fossorial niche exerts a high-energy-cost selection pressure [18], functional trade-offs, such as between tooth-digging and tunnel size, as well as biological constraints, particularly of body size, appear to channel the skull into a limited morphospace. The resulting relationship between shape and body size, however, appears more complex than the previously suggested uniform allometric mechanisms proposed earlier [28]. The results also reveal substantial adaptive flexibility within the genus, for example in our newly reported instance of convergent evolution in the smallest-bodied gopher T. (T.) talpoides. In this species, allometric constraints appear to be circumvented through evolution of the most derived cranial rearrangement for tooth-digging seen in the genus.
In a recent meta-analysis of convergent evolution, Ord & Summers (2015) [2] report that repeated evolution of similar morphological traits is much more common in closely related taxa [2]. Their assumed mechanism is that shared genomic and/or developmental pathways produce similar morphological changes in similar ways. Our results, however, suggest that the incisor procumbency in T. (T.) talpoides evolved in a different way than the procumbency in T. Megascapheus gophers. Therefore, this genus of pocket gophers seems to provide cases of parallel evolution (allometry between subgenus T. Megascapheus taxa) and a case of convergent evolution in which the similar trait is produced by different combinations of processes (allometry and/or cranial rearrangement). Our suggestion provides an intriguing addition to the mechanisms for repeated evolution proposed by Ord & Summers (2015) [2], particularly in species with pronounced developmental constraints living under a strong selection pressure. The developmental mechanisms underlying the allometric and the cranial rearrangement processes producing incisor procumbency, which have been frequently invoked in the past literature (e.g. [28]), will require further analyses with ontogenetic series.
Genus-level adaptive lability is apparent in the fact that each of the three distinct clades harbor at least one taxon diverging from its sister taxa along the spectrum of claw-digging to tooth-digging. Phylogenetic analyses suggest that these adaptations evolved in short evolutionary timescales of around 2 Ma [20]. The diversity of digging adaptions across the phylogeny of genus Thomomys suggests that taxa from each of the three clades could opportunistically occupy and adapt to any regional soil type if a neighboring gopher species went locally extinct. This "niche conservatism" appears to have acted in changing climate conditions during the Pleistocene-Holocene transition, which coincided with a species turn-over event in our study area [59]. In this case, a tooth-digging species replaced a claw-digging species [59]; the former appears to have had an advantage in the drier climate [27]. Because species turn-over events like this still maintain the genus-wide range, we propose that within-clade diversity in functional shapes, as detected in this study, underlies the evidence for genus-level niche conservatism inferred from stable mammal genera range sizes [60].
Abbreviations
can :

T. (M.) bottae canus
fis :

T. (T.) talpoides fisherii
lat :

T. (M.) bottae laticeps
leu :

T. (M.) bottae leucodon
LM:

Landmark
Ma:

Million years ago
maz :

T. (T.) mazama
mon :

T. (T.) monticola
nav :

T. (M.) bottae navus
PC:

Principal Component
PCA:

Principal Component Analysis
qua :

T. (T.) talpoides quadratus
sax :

T. (M.) bottae saxatalis
T. (M.) :

Genus Thomomys subgenus Megascapheus
T. (T.) :

Genus Thomomys subgenus Thomomys
tow :

T. (M.) townsendii
Declarations
Acknowledgements
Authors are grateful to Museum of Vertebrate Zoology curators Chris Conroy, James Patton, and Michelle Koo for assisting with the specimen collections and their associated geographical information; Aki Wantabe for advice on landmark coverage; Scott Fendorf for insightful comments on soil; as well as Alana Sharp and Warren Handley for thorough and thoughtful editing of manuscript drafts. Finally, we give immense thanks to two anonymous reviewers and the Associate Editor for critiques that greatly improved this manuscript.
Funding
These data were gathered as part of AEM's undergraduate honors thesis at Stanford University. AEM was supported by a Major Grant and a Small Grant from Stanford University's Vice Provost for Undergraduate Education, as well as through a 2014 Postgraduate Fulbright Scholarship from the Australian-American Fulbright Commission. VW was was funded by a Discovery Early Career Research Award (DE120102034). Funding bodies had no role in the study design or analysis.
Availability of data and materials
The datasets supporting the conclusions of this article are available in the Dryad repository, DOI:10.5061/dryad.bj7n9 [61].
Authors' contributions
AEM, EAH, and VW conceived of and designed the project. AEM collected, processed, and analyzed the data with essential statistical guidance provided by ES. ES and KG contributed essential statistical scripts. AEM, ES, and VW wrote the manuscript. AEM designed the figures. All authors read, edited, and approved the final manuscript.
Competing interests
The authors declare that they have no competing interests.
Consent for publication
Not applicable.
Ethics approval and consent to participate
Not applicable.
Open AccessThis article is distributed under the terms of the Creative Commons Attribution 4.0 International License (http://creativecommons.org/licenses/by/4.0/), which permits unrestricted use, distribution, and reproduction in any medium, provided you give appropriate credit to the original author(s) and the source, provide a link to the Creative Commons license, and indicate if changes were made. The Creative Commons Public Domain Dedication waiver (http://creativecommons.org/publicdomain/zero/1.0/) applies to the data made available in this article, unless otherwise stated.
Authors' Affiliations
(1)
School of Biological Sciences, University of Queensland, St. Lucia, Australia
(2)
Department of Biology, Stanford University, Stanford, USA
(3)
Department of Evolution, Ecology and Genetics, Research School of Biology, The Australian National University, Canberra, Australia