Research article

Open Access
Phylogeography of the Spanish Moon Moth Graellsia isabellae (Lepidoptera, Saturniidae)
BMC Evolutionary Biology
BMC series – open, inclusive and trusted
2016
16:139
Received: 20 October 2015
Accepted: 12 June 2016
Published: 24 June 2016
Abstract
Background
Geographic and demographic factors as well as specialisation to a new host-plant may lead to host-associated differentiation in plant-feeding insects. We explored the phylogeography of a protected moth, Graellsia isabellae, and its two recognised host-plant species (Pinus sylvestris and P. nigra) in order to seek for any concordance useful to disentangle the evolutionary history of this iconic lepidopteran.
Results
DNA variation in one mitochondrial marker and nine nuclear microsatellite loci revealed a strong phylogeographic pattern across 28 populations of G. isabellae studied in Spain and France comprising six groups mostly distributed along different mountain ranges. Reanalysis of a previously published chloroplast microsatellite dataset revealed a three and two-group structure for Spanish P. sylvestris and P. nigra, respectively. Overall, the population groupings of this protected moth did not match the ones of P. sylvestris and P. nigra.
Conclusions
There was no evidence of host-associated differentiation between populations using P. sylvestris and the ones inhabiting P. nigra. The two major mitochondrial clades of G. isabellae likely diverged before the Last Glacial Maximum and geographically separated the species into a "southern" (Central and Southern Iberian clusters) and a "northern" lineage (Eastern Iberian, Pyrenean and French Alpine clusters). The Eastern Iberian System, where this insect uses both host-plants, harboured the highest level of genetic diversity. Such a group independently colonised the West and East parts of the Pyrenees. Our results point to a native origin for the French populations occurring in the Alps, genetically related to the Eastern Iberian and Pyrenean sites. The Central Iberian group derived from Southern Iberian ancestors. Secondary contacts were inferred between the Southern/Central Iberian populations and Eastern Iberian cluster as well as between the two Pyrenean ones. The mito-nuclear discordance observed with regard to the Eastern Iberian cluster is congruent with a secondary contact after the evolution of mito-nuclear incompatibilities in geographically isolated areas.
Keywords
COI MicrosatellitescpDNA Pinus sylvestris Pinus nigra Mito-nuclear discordance
Background
The diversity of plant-feeding insects is remarkable and host-associated differentiation has been advocated as a relevant trigger of such macroevolutionary diversification [1, 2]. However, not only specialisation to different hosts but genetic incompatibilities between geographically isolated populations may prevent successful hybridisation after a secondary contact [3]. At microevolutionary scale, knowledge about the relative roles played by specialisation to a given host and differentiation in separate areas is also valuable to account for the divergent lineages of oligophagous species of insects [4–6].
Here we set out to disentangle the microevolutionary history of the Spanish Moon Moth
Graellsia isabellae
(Graells 1849) (Lepidoptera, Saturniidae), a protected species in France and Spain after its inclusion in the Habitats Directive [
7
,
8
]. This univoltine insect is mainly distributed in the mountains of the eastern half of the Iberian Peninsula and the French Alps (Fig.
1d
) and it develops on two cold-adapted host-plants: the Scots (
Pinus sylvestris
) and Black (
P. nigra
) pines.
P. sylvestris
is the host species of
G. isabellae
in the Central Iberian System, Pyrenees and Alps, where the presence of
P. nigra
is scarcer. This spectacular silkmoth inhabits forests of both
P. sylvestris
and
P. nigra
in the Iberian System [
9
–
11
]. Although it is widely accepted that
G. isabellae
feeds exclusively on
P. nigra
in Southern Spain [
12
], the host-plant of the recently discovered population of Sierra-María (
L28
, Fig.
1
), flying in a mixed forest of the thermophilous
P. halepensis/P. pinaster
, remains to be confirmed [
13
]. Our aims are to: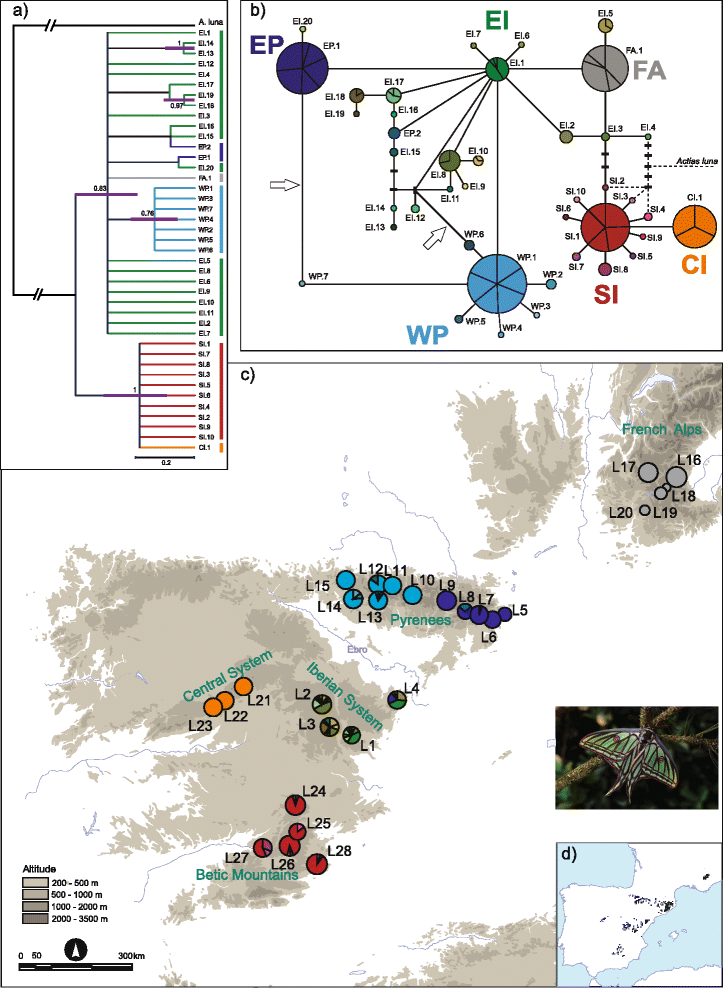 (1)

Assess the levels of genetic variability and population structure of Graellsia isabellae across its entire distribution range.

(2)

Evaluate whether host-associated differentiation and divergence of geographically isolated populations played a relevant role in the phylogeography of this iconic insect.
Pinus species are known for their variation in deterrent compounds (e.g. terpenoids) [14]. Thus, it is reasonable to expect populations of G. isabellae to have experienced host-associated differentiation. If so, congruence between the population structure of G. isabellae and its host plant use (P. sylvestris, P. nigra and P. pinaster/P. halepensis) should be found.
The evolutionary history of G. isabellae is expected to depend to some extent on the range shifts suffered by P. sylvestris and P. nigra during the Upper Quaternary [15]. Several Last Glacial Maximum (LGM) refugia have been inferred for P. sylvestris and P. nigra in the Iberian Peninsula [16, 17]. Both species expanded during the Holocene, especially P. sylvestris [18, 19]. However, the potentially suitable area for G. isabellae in Spain is about three times larger than the one it presently occupies [10]. Therefore, another plausible expectation is that the current degree of population structuring of G. isabellae was already present at the LGM, corresponding to the separate glacial refugia of P. sylvestris/P. nigra.
Methods
To achieve aim 1, we Sanger sequenced the second half of the cytochrome c oxidase subunit I gene (COI), a mitochondrial marker widely used in insect population genetics, and genotyped nine microsatellite markers specifically developed for Graellsia isabellae [20]. To attain our second aim, we used the genetic structure of Pinus sylvestris and P. nigra as a background. For this, we revised the available organelle and nuclear evidence for both pines at European level. We also surveyed the structure of their Iberian populations by reanalysing the chloroplast (cpDNA) microsatellite dataset published by Soto et al. [21].
Conclusions
Graellsia isabellae showed a strong phylogeographic pattern. The six differentiated groups revealed by the microsatellites and mtDNA showed a one to one correspondence with each of the main mountain ranges inhabited by the species. The mitochondrial data further clustered those groups into two major lineages, "southern" and "northern", which likely diverged before the LGM. There was no evidence of host-associated differentiation between populations using P. sylvestris and the ones utilising P. nigra. Eastern and Western Pyrenees were most likely colonised by individuals closely related to modern Eastern Iberian populations through independent asynchronous events. The past and present wider distribution of P. nigra when compared to P. sylvestris suggests that G. isabellae used the former to reach several mountain ranges where it currently lives on the latter. This seems to be the case for the populations of the Spanish Moon Moth from the Eastern Pyrenees and French Alps, which likely derived from the Holocene fragmentation of the continuous forest of P. nigra connecting different populations of P. sylvestris in Northeastern Spain and Southeastern France. The Central Iberian system descends from Betic ancestors, whose populations showed genetic footprints of both a population expansion and posterior bottlenecks. Subsequent gene flow between both the Central/Betic mountains and the Eastern Iberian System was revealed by the nuclear dataset and was compatible with the overlapping potential distribution area of the Scots and Black pines during the Holocene. The mito-nuclear discordance involving the Eastern Iberian cluster is congruent with male-biased gene flow and/or a secondary contact after the evolution of mito-nuclear incompatibilities in geographically isolated areas.
Abbreviations
Ca, circa; CI, Central Iberia; cpDNA, chloroplast DNA; EI, Eastern Iberia; EP, Eastern Pyrenees; FA, French Alps; HPD, High Posterior Density; ISSR, Inter Simple Sequence Repeat; Kya, kilo (103) years ago; MRCA, most recent common ancestor; mtDNA, mitocondrial DNA; mya, million (106) years ago; na, not applicable; SI, Southern Iberia; SSD, sum of squared deviations; SSR, single sequence repeats; vs, versus; WP, Western Pyrenees.
Declarations
Acknowledgements
We thank N Remón and E Magnoux for help in the laboratory. J Baixeras, J Casaponsa, MA Gómez, S Ibáñez, DC Lees, R Maciá, MICROFAUNA, Y Monasterio, E Murria, JC Nevado, A Sáez, J Sevilla, T Latasa, J Ylla and, especially, F Goussard contributed to fieldwork with their advice, assistance and equipment. We appreciate the invaluable help provided by E Villagrasa (Parque Nacional de Ordesa y Monteperdido) and J Mestre (Parc Natural dels Ports). The male of G. isabellae included in Fig. 1c was photographed by T Decaens. U Kodandaramaiah and his team kindly provided controls for detection of Wolbachia. A Dolsa and J Baixeras generously sent us 13 of the samples tested for this intracellular parasite. This work benefited from the discussions held with D Buckley, M García-París, S González-Martínez, A Martínez-Abraín, W Nässig, JJ Pino, R Rougerie and J Rousselet. We thank the editor, R Vila, and two anonymous referees for their constructive comments. We are deeply indebted to DC Lees for his thorough revision of the final version of this work. Figures displayed in Additional file 7 are reproduced with permission of the copyright holder.
Funding
This work received funding from the following institutions: Ministerio de Educación y Ciencia (CGL2007-63549/BOS, BES-2008-002571, HF2007-0055), Xunta de Galicia (PGIDIT06PXIB103258PR, GRC2014/050), European Science Foundation (CONGEN 1635 & 1683), INRA (Projet-innovant-2007-EFPA) and Campus France (Partenariat-Hubert-Curien-Picasso-2008-7153UF).
Availability of data and materials
The mitochondrial haplotypes supporting the results of this article have been deposited on GenBank under accession numbers KX302361–KX302402 (see Additional file 3) and KX348010, whereas the microsatellite dataset is available in the figShare repository (entry DOI: 10.6084/m9.figshare.3423001 [97]). A fasta file containing the 41 mitochondrial haplotypes of G. isabellae can be found at figShare repository (entry DOI: 10.6084/m9.figshare.3423142 [98]).
Authors' contributions
MV and CLV conceived the study. MV, CLV, MAAR and HN obtained funding. NMM, MV and CLV collected samples. NMM and MV performed most lab and computer analyses. NMM, HN and MV drafted the manuscript. All authors contributed to the writing, read and approved the final manuscript.
Authors' information
Not applicable.
Competing interests
The authors declare that they have no competing interests.
Ethics approval and consent to participate
Nonlethal sampling described in this paper has received prior and explicit approval from the competent authorities. Year 2007: fieldwork in France was carried out with collecting permit (Arrêté n° 2008.38.4) issued by Préfecture des Hautes Alpes. Fieldwork in Spain was specifically approved by the following institutions: Generalitat de Catalunya (Ref.: 0152S), Parc Natural dels Ports (Ref.: 0155S), Gobierno de Aragón (Ref.: LC/mp 24/2007/5682), Gobierno de Navarra (authorisation signed on May 7th, 2007, by Mr. Eraso Centelles (Director del Servicio de Conservación de la Biodiversidad), Mr. Martínez García (Técnico de la Sección de Hábitats) and Mr. Larumbe Arricibita (Jefe de la Sección de Hábitats)). Year 2008: Comunidad de Madrid (Ref.: ASP/mco), Generalitat de Catalunya (Ref.: SF/286, SF/287), Gobierno de Aragón (Ref.: LC/mp 24/20008/2015), Junta de Andalucía (Ref.: SGYB-AFR-CMM), Junta de Castilla y León (Ref.: EP/CYL/225/2008), Organismo Autónomo de Espacios Naturales de Castilla-La Mancha (Registro de salida 339796, 15 de abril de 2008). Year 2009: Generalitat de Catalunya (Ref.: SF/185, SF-186, SF/188), Generalitat Valenciana (Eixida 30297, 14 de abril de 2009), Gobierno de Aragón (Ref.: LC/mp 24/2009/1638), Organismo Autónomo de Espacios Naturales de Castilla-La Mancha (Registro de salida 425992, 8 de mayo de 2009). All permits were issued to N Marí Mena, C López Vaamonde and/or M Vila.
Consent for publication
Not applicable.
Open AccessThis article is distributed under the terms of the Creative Commons Attribution 4.0 International License (http://creativecommons.org/licenses/by/4.0/), which permits unrestricted use, distribution, and reproduction in any medium, provided you give appropriate credit to the original author(s) and the source, provide a link to the Creative Commons license, and indicate if changes were made. The Creative Commons Public Domain Dedication waiver (http://creativecommons.org/publicdomain/zero/1.0/) applies to the data made available in this article, unless otherwise stated.
Authors' Affiliations
(1)
Department of Molecular and Cell Biology, Evolutionary Biology Group (GIBE), Universidade da Coruña, A Coruña, Spain
(2)
AllGenetics & Biology, SL, Edificio de Servizos Centrais de Investigación, A Coruña, Spain
(3)
INRA, UR633 Zoologie Forestière, Orléans, France
(4)
IRBI, UMR 7261, CNRS/Université François-Rabelais de Tours, Tours, France