Research article

Open Access
Forewing color pattern in Micropterigidae (Insecta: Lepidoptera): homologies between contrast boundaries, and a revised hypothesis for the origin of symmetry systems
BMC Evolutionary Biology
BMC series – open, inclusive and trusted
2016
16:116
Received: 4 February 2016
Accepted: 13 May 2016
Published: 26 May 2016
Abstract
Background
Despite the great importance of lepidopteran wing patterns in various biological disciplines, homologies between wing pattern elements in different moth and butterfly lineages are still not understood. Among other reasons, this may be due to an incomplete understanding of the relationship between color pattern and wing venation; many individual wing pattern elements have a known relationship with venation, but a framework to unite all wing pattern elements with venation is lacking. Though plesiomorphic wing veins are known to influence color patterning even when not expressed in the adult wing, most studies of wing pattern evolution have focused on derived taxa with a reduced suite of wing veins.
Results
The present study aims to address this gap through an examination of Micropterigidae, a very early-diverged moth family in which all known plesiomorphic lepidopteran veins are expressed in the adult wing. The relationship between wing pattern and venation was examined in 66 species belonging to 9 genera. The relationship between venation and pattern element location, predicted based on moths in the family Tortricidae, holds for Sabatinca just as it does for Micropterix. However, the pattern elements that are lightly colored in Micropterix are dark in Sabatinca, and vice-versa. When plotted onto a hypothetical nymphalid wing in accordance with the relationship between pattern and venation discussed here, the wing pattern of Sabatinca doroxena very closely resembles the nymphalid groundplan.
Conclusions
The color difference in pattern elements between Micropterix and Sabatinca indicates that homologies exist among the contrast boundaries that divide wing pattern elements, and that color itself is not a reliable indicator of homology. The similarity between the wing pattern of Sabatinca doroxena and the nymphalid groundplan suggests that the nymphalid groundplan may have originated from a Sabatinca-like wing pattern subjected to changes in wing shape and reduced expression of venation.
Keywords
Developmental constraintsMicrolepidopteraNymphalid groundplanSymmetry systems
Background
Color pattern in the animal kingdom has been an area of intense study for well over a century [1]. Insects in the order Lepidoptera were the subject of groundbreaking research during the early years of evolutionary biology [2–5] and remain a tremendously popular system for the study of color pattern in a variety of disciplines, ranging from theoretical biology to taxonomy, developmental biology, and ecology [6–9]. However, a disproportionate number of studies of Lepidoptera – such as those cited thus far – have focused on butterflies; the evolutionary history of wing pattern in microlepidoptera is still poorly known. Due to this lack of knowledge regarding wing pattern in more early-diverging lineages, it is difficult to extrapolate findings regarding butterfly wing patterns to other lineages of Lepidoptera.
The present study aims to bridge the gap between butterflies and microlepidoptera. Here we report on wing patterns in Sabatinca and other genera in the family Micropterigidae. Recent studies have confirmed that Micropterigidae, along with Agathiphagidae, are the most basal living moths [10, 11]. Due to the basal phylogenetic position of Micropterigidae, commonalities between the wing patterns of butterflies and Sabatinca should be indicative of ancestral states for all Lepidoptera. Comparisons of the wing patterns of Micropterigidae and butterflies can be confounded by the great differences in wing size and shape in these two clades. However, a recent examination of wing pattern in Micropterix, another genus within the Micropterigidae, showed a consistent relationship between wing venation and color pattern [12]. This relationship with wing venation has the potential to facilitate comparisons of wing pattern in various lepidopteran lineages, as homologies among wing veins are far better understood.
The wing pattern groundplan of
Micropterix
follows the predictions of a model based on the (far more derived) microlepidopteran family Tortricidae [
13
,
14
]. This model is referred to as the "wing-margin" model here. In
Micropterix
, alternating light and dark brown transverse bands, or fasciae, straddle one vein each along the costal margin of the wing (Fig.
1
). This interpretation relies on three veins that are not present in the adult wing of
Micropterix
. Two of these veins – h and R
1a
– are known from other Micropterigidae such as
Sabatinca
and have been included in the most recent reconstruction of ancestral wing venation for Lepidoptera [
15
], and one other – a third branch of Sc, occurring here between the branches referred to as Sc
1
and Sc
2
– is widely known from the amphiesmenopteran fossil record [
16
–
18
] and from the basal trichopteran genus
Rhyacophila
[
19
]. This plesiomorphic three-branched Sc vein has also been put forth as tentative explanation for the hindwing venation of the micropterigid
Paramartyria semifasciella
[
20
].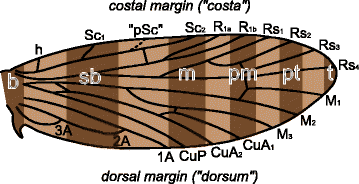 In addition to the "wing-margin" model, another predictive model, proposed decades earlier by Hennig Lemche [21, 22] and referred to here as the "vein-fork" model, predicts that the basal edge of each fascia will fall along the points where veins bifurcate. The wing pattern of Micropterix is not consistent with the "vein-fork" model [12]. Genera such as Sabatinca, which have a more complete suite of plesiomorphic wing veins than Micropterix, are excellent candidates for further testing of the wing pattern groundplan proposed based on Micropterix.
Results
Forewing pattern in New Zealand Sabatinca
In the
Sabatinca
clade shown to be the most basal in the genus, called the "
calliarcha
group" [
39
], wing pattern consists of either three or four different colors in each species (Fig.
4
).
Sabatinca lucilia
has the simplest wing pattern in this group, with a small, dark pattern element straddling the humeral vein; a very light-colored, uninterrupted band straddling Sc
1
at the costa, surrounded by a dark band on each side; another very light band straddling R
1b
at the costa, also surrounded by a dark band on each side but interrupted by a dark patch connecting the two dark bands; and one last very light band, straddling Rs
4
and M
1
along the dorsum and sometimes Rs
3
along the costa, also bordered by a dark band along its basal edge (Fig.
4c
).
Sabatinca heighwayi
has a somewhat similar pattern in that it includes very light bands surrounded by dark bands, but the bands on
Sabatinca heighwayi
are more numerous and not as wide (Fig.
4a
). The wing pattern of
Sabatinca calliarcha
is more complex, with four colors and a number of variations (Fig.
4b
). Some transverse bands are connected by patches of the same color that run along the proximo-distal axis of the wing. Concentric spots occur near the apex of the wing: on the costal margin these are comprised of small, dark intravenular patches surrounded by a rim of very light scales, with the opposite arrangement on the dorsal margin.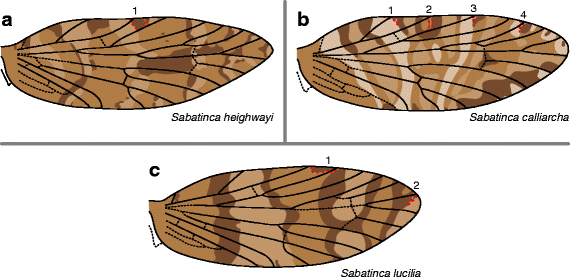 In the "
chrysargrya
group" – the clade that includes the majority of New Zealand
Sabatinca
species sampled – the fasciate wing pattern of
S. aurella
is the most straightforward (Fig.
5e
). Dark and medium brown wing pattern elements alternate along the wing; the four distal-most dark pattern elements contain areas of light scales in the center, but these light scales never interrupt the contiguous dark border. At and beyond the terminal Sc branch, the dark and medium wing pattern elements each straddle one vein along the costal margin. The wing pattern of
Sabatinca doroxena
is very similar to that of
S. aurella
, except that the location of certain pattern elements varies slightly between individuals, and the pattern includes four colors instead of three (Fig.
5d
). The wing pattern of
Sabatinca aenea
(Fig.
5g
) includes many small spots and therefore is not strictly "fasciate," particularly along the apical half of the wing; nevertheless, it is similar to that of
S. aurella
in that, with a single exception, the largest of the dark pattern elements straddle/abut alternating wing veins along the costal margin. However, wing pattern in this species is quite variable, and in certain specimens, pattern elements – some extremely small – straddle every single vein beyond Sc, instead of occurring in an alternating pattern.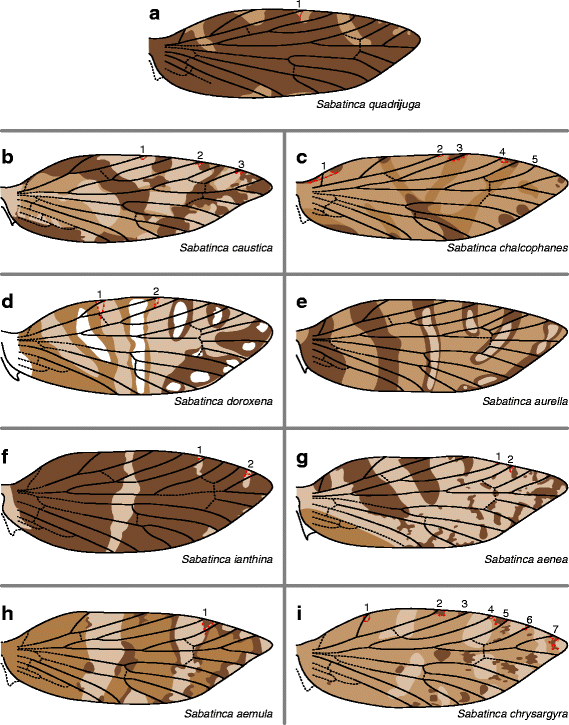 The wing pattern of Sabatinca aemula (Fig. 5h) is similar to that of S. aurella in that the lightest scales form transverse markings that are bordered by the darkest scales on the wing. Two major differences between Sabatinca aemula and S. aurella are immediately apparent: firstly, the wing pattern of S. aemula is not entirely fasciate, as the darkest scales often form spots, and secondly, medium-colored scales straddle alternating veins along the costa of S. aurella but straddle only one vein, h, along the costa of S. aemula. The wing pattern of Sabatinca chrysargyra is broadly similar to that of S. aemula in terms of the positioning of pattern elements relative to veins along the costa, but contains spots of varying sizes instead of any discernible fasciae (Fig. 5i). In Sabatinca chrysargyra, unlike S. aurella and S. aemula, the darkest pattern elements are spots and do not occur adjacent to the lightest pattern elements.
The wing patterns of other Sabatinca species in the "chrysargyra group" do not lend themselves as obviously to comparison with the wing pattern of S. aurella, and are discussed in order of complexity as follows. In Sabatinca ianthina, the predominance of dark wing pattern elements is such that dark scales straddle every single vein along the costa (Fig. 5f). Sabatinca quadrijuga also has a wing pattern that consists overwhelmingly of dark scales; certain lighter wing pattern elements do straddle veins at the costa, but this occurs only at the h and Sc veins (Fig. 5a). Sabatinca caustica and S. chalcophanes share a banding pattern in which fasciae converge toward the middle of the dorsum (Fig. 5b, c). In both species, wing pattern is quite variable at the costal margin of the wing and all veins that reach the costa, including the humeral vein, are surrounded by dark scales in at least some specimens.
The wing patterns of
Sabatinca incongruella
and
S. demissa
, the only two New Zealand species that belong to the "
incongruella
group," do not consist exclusively of fasciae or spots. In
S. incongruella
, the pattern consists of four colors (Fig.
6a
). Fasciae have very jagged edges and spots occur toward the dorsum. In
Sabatinca demissa
(Fig.
6b
), large, dark spots occur at the points where veins meet the costa and where veins bifurcate; all veins along the costa (except for the humeral vein) are surrounded by dark scales in at least some individuals. Smaller spots occur elsewhere on the wing and are usually much lighter in color.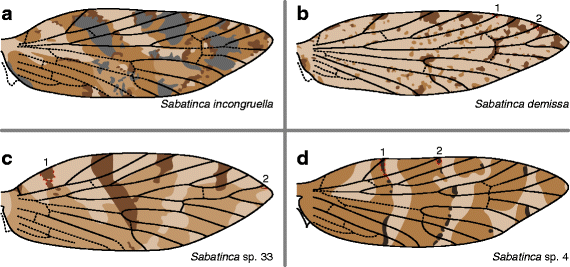 Forewing pattern in New Caledonia Sabatinca
The two New Caledonian species shown to be most basal, Sabatinca spp. 33 and 4, have somewhat fasciate wing patterns consisting of three colors. In Sabatinca sp. 33 (Fig. 6c), only two the lightest and darkest colors reach the costa. The darkest brown straddles the humeral vein, and then alternating veins: Sc1, R1a, Rs1, and sometimes Rs3. In Sabatinca sp. 4, all three colors reach the costa (Fig. 6d). The main transverse bands alternate between light and medium brown, with small dark brown spots and bands appearing at the basal edge of the light bands.
Forewing pattern in other Micropterigidae
In genera other than
Sabatinca
, forewing pattern is simpler, consisting of only two or three shades of brown and usually with fewer wing pattern elements due to the absence of numerous dark spots. Along the costa of
Austromartyria porphyrodes
(Fig.
11a
), light bands sometimes straddle Sc
1
and Sc
2
; dark bands straddle all other veins. In
Hypomartyria micropteroides
(Fig.
11b
), one light band nearly reaches the costa between Sc
1
and Sc
2
, another straddles R
1b
, and one more abuts Rs
2
and straddles Rs
3
. In the three
Agrionympha
species examined –
A. capensis
,
A. fuscoapicella
, and
A. sagittella
(Fig.
11c-e
) – light bands are surrounded on either side by thinner, very dark bands. As in
Hypomartyria micropteroides
, one light band reaches the costa between Sc
1
and Sc
2
. Another light band straddles R
1a
in
Agrionympha sagittella
, and R
1b
in
A. capensis
and
A. fuscoapicella
. In
Agrionympha capensis
and
A. sagittella
, a third light band straddles Rs
3
; this band is absent in
A. fuscoapicella
.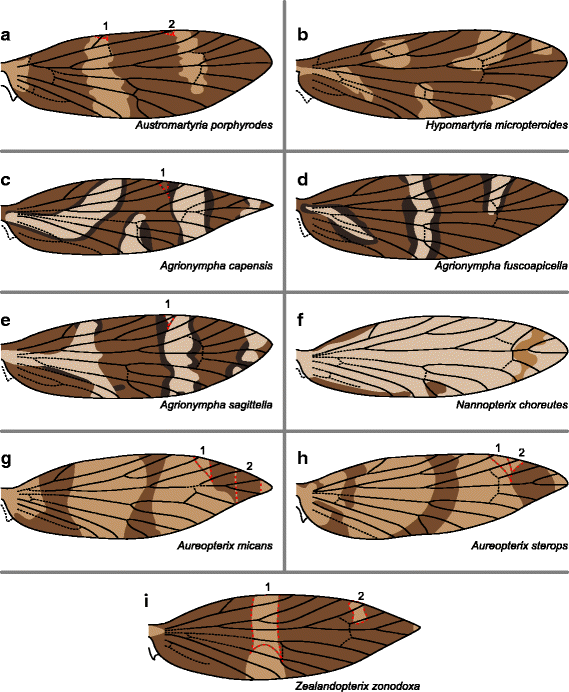 In Nannopterix choreutes (Fig. 11f), a dark band abuts the basal edge of Sc1 at the costa and a medium band straddles Rs2. In Aureopterix micans (Fig. 11g), dark bands straddle Sc1, Sc2, and Rs1 at the costa. Sometimes the band that straddles Rs1 also straddles Rs2 and Rs3, and, less often, R1b. In Aureopterix sterops (Fig. 11h), dark bands consistently straddle Sc2 and Rs2 at the costa; the band that straddles Rs2 sometimes extends to Rs1 and R1b. In Zealandopterix zonodoxa (Fig. 11i), the only light wing pattern element that consistently reaches the costal margin of the wing is a small spot that occurs at the apex and does not straddle any veins; in some specimens, one light band occurs at the "pSc" area of the costa between Sc1 and Sc2 and another light band abuts Rs1.
Wing pattern in
Tasmantrix
consists of two shades of brown (Fig.
12
). In all species examined here except
Tasmantrix lunaris
, a light band reaches the costa between Sc
1
and Sc
2
; in
T. phalaros
,
T. tasmaniensis
, and
T. thula
, this band sometimes straddles Sc
1
as well. Another light band straddles R
1b
in
Tasmantrix tasmaniensis
and almost reaches this vein in
T. lunaris
, sometimes straddling R
1a
in both species. In all other species – in which a band does not straddle R
1a
or R
1b
– small spots occur along this area of the costa but never straddle any veins. A light pattern element straddles Rs
4
in
Tasmantrix calliplaca
,
T. tasmaniensis
, and
T. thula
, nearly abutting this vein in
T. fragilis
.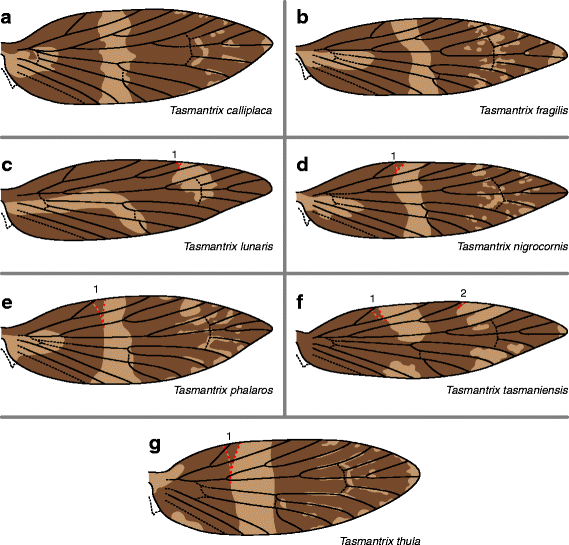 Lastly, in
Epimartyria
(Fig.
13
) – the only genus examined here that belongs to the Laurasian, Northern Hemisphere clade [
39
] – both species,
E. bimaculella
and
E. pardella
, have the same wing pattern along the costa: a single light pattern element usually straddles R
1a
and occasionally straddles Sc
2
.

Conclusions
From an examination of micropterigid wing patterns that are comprised of two colors, it appears that the ancestral state for this family – and therefore quite possibly for the order Lepidoptera – is a wing pattern of alternating light and dark bands, with each band straddling one vein along the costa. This ancestral state conforms to the predictions of the "wing-margin" model, originally based on Tortricidae [13, 14]. However, a comparison of the wing patterns of Micropterix with Sabatinca doroxena and S. aurella shows that the "wing-margin" correctly predicts the location of transverse bands and the contrast boundaries between them, but cannot predict which series of bands will be light brown and which will be dark brown. The wing pattern elements of Sabatinca doroxena and S. aurella – simple bands of a single dark color, and two-color bands in which dark scales surround a central light area – illustrate both stages of "split-band" symmetry system formation hypothesized by Lemche [22], thus strongly supporting his hypothesis that symmetry systems originated when dark bands were bisected, or hypertrophied, by light bands. When the wing pattern of Sabatinca doroxena is plotted on to a nymphalid wing following the constraints proposed by the "wing-margin" model, the resulting hypothetical wing pattern very strongly resembles the nymphalid groundplan. Because the "wing-margin" model correctly predicts the location of wing pattern elements in distantly related lepidopteran lineages (Micropterigidae, Tortricidae), and, in combination with the "split-band" hypothesis, can predict the nymphalid groundplan based on wing pattern in Sabatinca, the "wing-margin" model and the "split-band" hypothesis appear to have great potential to explain wing pattern diversity in the order Lepidoptera.
Methods
The specimens examined for this study are held in the Australian National Insect Collection in Canberra, Australia; Victoria University in Wellington, New Zealand; and the Smithsonian Institution in Washington DC, USA. Only forewings were examined, because hindwings have very light scales of only one color. A total of 918 wings were examined, which may have included one or both forewings from a given specimen – the only wings that were excluded are those in which the relationship between venation and patterning cannot be deduced because the scales are worn off or the wing is broken. These 918 wings represent 66 species and 9 genera of Micropterigidae. Taxa were selected to match those sampled in the existing preliminary micropterigid phylogeny [39]. Sampling differences between the preliminary phylogeny and the present study are as follows: Micropterix was not included here because this genus has already been examined [12]; Sabatinca spp. 5b, 49, and 50 were not included here because these species are only known from specimens preserved in ethanol; and Epimartyria auricrinella and the genera Paramartyria, Palaeomicroides, Issikiomartyria, Kurokopteryx, and Neomicropteryx were not included here because these species' wings are of only a single color, a dark brown similar to the color of dark bands in Micropterix [20, 40]. Additional species belonging to the genera Epimartyria (E. bimaculella) and Tasmantrix (T. calliplaca, T. lunaris, T. nigrocornis, T. phalaros, and T. tasmaniensis), and species representing the additional genera Agrionympha (A. capensis, A. fuscoapicella, and A. sagittella) and Nannopterix (N. choreutes) were included here, despite being absent from the preliminary phylogeny, because specimens were available and because the affinities of these additional genera have already been discussed in the literature [42, 61].
The methods used here to examine wing pattern morphology parallel those developed by Schachat and Brown [12] and are as follows: For each species, one forewing from one specimen was selected to form the basis of the illustration of that species' wing pattern. The wings selected were those that had intact color pattern, minimal overlap between the forewing and hindwing, and minimal overlap between the wing and the small block holding the minuten pin. This allowed maximum light to shine through the backlit wing. Scaled wings, instead of cleared wings, were examined in order to observe the precise relationship between color pattern and venation. Micropterigid wings are thinly scaled, and the venation becomes visible when specimens are lit from below using a microscope stage light. The observed wing venation was confirmed by examination of published illustrations of wing venation [40, 61, 62] and by examination of a wing slide prepared by Don Davis and Jean-Francois Landry and held at the USNM for Epimartyria bimaculella, and by examination of wing slides prepared by George Gibbs and held at Victoria University for all other species; for the 7 species for which wing slides are not available (Agrionympha capensis, A. sagittella, A. fuscoapicella, Sabatinca viettei, and S. spp. 36, 39, and 43;), the wing slide of a sister species was examined for Sabatinca and published illustrations were consulted for Agrionympha [61].
To verify that the illustrations fully represent the species to which they correspond, a total of up to 20 forewings were examined under a light stereomicroscope. (Results are discussed primarily in terms of wings instead of specimens because, in a few cases, only one forewing could be examined per specimen due to wear, due to the angle at which the specimen had been pinned, or because one wing had been removed to make a wing slide. Furthermore, a number of specimens have color patterns that varied between the two forewings.) Variations were noted at all locations along the costa where veins terminate, with the frequent exception of the humeral vein, which often cannot be detected on scaled specimens. Variations were also noted in between the two visible branches of the Sc vein, because an ancestral vein in this location has been hypothesized to constrain wing pattern [12], and variations were noted at the location where the Rs4 vein terminates because, although this vein does not terminate along the costa in any of the species examined for the present study, it does terminate along the costa in Micropterix [43] and occasionally in fossil Micropterigidae [63]. To create illustrations, a forewing was photographed while backlit so that both the patterning and venation were visible. This photograph was used as a template for a wing venation/wing patterning illustration created in the vector graphics application Affinity Designer. All intraspecific variation was incorporated into one single illustration per species. For each species, the illustrated wing pattern is that which is most prevalent; each variation is noted by a number and illustrated with a line comprised of red dashes alternating with the color that is present in the variation. Furthermore, supplemental material includes a written description of each pattern variation as well as prevalence data (Additional file 1: Tables S1, S2, S3).
The location of the wing vein 1A + 2A could not be observed in all pinned specimens because of the overlap between the forewing and hindwing, and therefore had to be inferred based on wing slides and previously described venation [40, 61, 62]; however, this vein is of no relevance to the model because it does not reach the costal margin. Similarly, the jugal lobe was often folded in the specimens examined; its outline was inferred based on wing slides and previous descriptions. These and other inferred features are illustrated with dashed lines. In descriptions presented in the Results, the humeral vein is often excluded from statements regarding wing veins that terminate along the costa, because this vein is so often difficult to observe.
Declarations
Acknowledgements
We wish to thank George Gibbs (Victoria University of Wellington); Ted Edwards, Marianne Horak, Alan Landford, You Ning Su, and Andreas Zwick (Australian National Insect Collection); David Rowell (Australian National University); and Don Davis, Mignon Davis, Conrad Labandeira, and M Alma Solis (Smithsonian Institution) for discussion and for assistance in collections; Joaquín Baixeras for extensive feedback at various stages of this project; and Jerome Goddard, David Lees, Arnaud Martin, and Sead Sabanadzovic for valuable discussion. We also with to thank the two anonymous reviewers who provided insightful feedback that greatly improved the quality of this manuscript.
Funding
The research was supported in part by the USDA National Institute of Food and Agriculture project # MIS-012040 and by the Mather Fund of the Mississippi State University Development Foundation. SRS is supported by the National Science Foundation Graduate Research Fellowship Program under grant # DGE-1125191, Australian National University/National Science Foundation Graduate Research Opportunities Worldwide, National Science Foundation Graduate Research Internship Program, and Sigma Xi Grant-in-Aid of Research # G201503151194219.
Authors' contributions
SRS and RLB designed the study; SRS examined specimens and wrote the paper, which was then edited and approved by both authors.
Competing interests
The authors declare that there is no conflict of interest that could be perceived as prejudicing the impartiality of the research reported.
Open AccessThis article is distributed under the terms of the Creative Commons Attribution 4.0 International License (http://creativecommons.org/licenses/by/4.0/), which permits unrestricted use, distribution, and reproduction in any medium, provided you give appropriate credit to the original author(s) and the source, provide a link to the Creative Commons license, and indicate if changes were made. The Creative Commons Public Domain Dedication waiver (http://creativecommons.org/publicdomain/zero/1.0/) applies to the data made available in this article, unless otherwise stated.
Authors' Affiliations
(1)
Mississippi Entomological Museum, Mississippi State, USA
(2)
Department of Paleobiology, Smithsonian Institution, Washington, USA
Copyright
© Schachat and Brown. 2016