Research article

Open Access
Do novel genes drive morphological novelty? An investigation of the nematosomes in the sea anemone Nematostella vectensis
BMC Evolutionary Biology
BMC series – open, inclusive and trusted
2016
16:114
Received: 27 April 2016
Accepted: 12 May 2016
Published: 23 May 2016
Abstract
Background
The evolution of novel genes is thought to be a critical component of morphological innovation but few studies have explicitly examined the contribution of novel genes to the evolution of novel tissues. Nematosomes, the free-floating cellular masses that circulate through the body cavity of the sea anemone Nematostella vectensis, are the defining apomorphy of the genus Nematostella and are a useful model for understanding the evolution of novel tissues. Although many hypotheses have been proposed, the function of nematosomes is unknown. To gain insight into their putative function and to test hypotheses about the role of lineage-specific genes in the evolution of novel structures, we have re-examined the cellular and molecular biology of nematosomes.
Results
Using behavioral assays, we demonstrate that nematosomes are capable of immobilizing live brine shrimp (Artemia salina) by discharging their abundant cnidocytes. Additionally, the ability of nematosomes to engulf fluorescently labeled bacteria (E. coli) reveals the presence of phagocytes in this tissue. Using RNA-Seq, we show that the gene expression profile of nematosomes is distinct from that of the tentacles and the mesenteries (their tissue of origin) and, further, that nematosomes (a Nematostella-specific tissue) are enriched in Nematostella-specific genes.
Conclusions
Despite the small number of cell types they contain, nematosomes are distinct among tissues, both functionally and molecularly. We provide the first evidence that nematosomes comprise part of the innate immune system in N. vectensis, and suggest that this tissue is potentially an important place to look for genes associated with pathogen stress. Finally, we demonstrate that Nematostella-specific genes comprise a significant proportion of the differentially expressed genes in all three of the tissues we examined and may play an important role in novel cell functions.
Keywords
Novelty
Cnidocyte
Nematosome
Immune
Phagocytosis
RNA-Seq
Nematostella vectensis
Taxonomically-restricted genes
Background
Understanding the evolution of animal complexity requires an understanding of how new traits arise. Studies of novel trait evolution typically invoke either the origin of new genes [1, 2] or the evolution of new relationships among conserved genes [3] as the primary drivers of evolutionary innovation. Collectively, these studies suggest that novel genes can be generated in several ways, including: duplication and divergence of conserved genes, RNA-mediated duplication/retroposition, exon shuffling/mis-splicing of RNA and other modifications to coding sequence, horizontal transfer of genes from other taxa, de novo evolution of an open reading frame in previously non-coding sequence, and overprinting (i.e., transcription from multiple reading frames in the same gene) [1, 2, 4]. Indeed, this diversity of mechanisms underlying the generation of new coding sequence has led to the suggestion that novel genes are generated with high frequency across lineages [5]. In support of this, approximately 10-20 % of the genes in all sequenced genomes (as of 2010) comprise novel/taxonomically-restricted genes [6, 7], but the putative role of these abundant novel genes in driving evolutionary innovation is far from clear.
A recent study of drosophilids demonstrated that equally large proportions of novel (Drosophila-specific) and conserved genes (~30 % of each) were critical for viability, supporting the idea that recently evolved genes can be essential to the biology of the organism [8]. Several additional studies provide support for novel/taxonomically-restricted genes in generating lineage-specific morphological features (e.g., [9–13]) but surprisingly, most of these studies have identified only few novel genes to be contributing to the novel morphological trait of interest. Thus, despite their focus on the role of novel genes in the evolution of a novel trait, these studies actually reveal that the majority of the genes involved in evolutionary innovation are conserved. One challenge to studies of evolutionary novelty is the identification of a truly novel tissue to use as a model [14, 15]. Additionally, limited availability of data from closely related taxa means that many genes identified as "novel" may actually reflect sparse taxon sampling. Poor tissue sampling may pose an even bigger problem, leading to a general overestimation of the value of novel genes in the evolution of novel tissues merely because no other tissues were sampled. In fact, only few studies have explicitly examined the abundance and distribution of novel genes across cell/tissue types [12, 16, 17] and their results regarding the importance of novel genes have been conflicting.
Cnidarians have become a valuable model for the evolution of novelty because they possess an unequivocal example of a single-celled novelty: the cnidocyte (stinging cell). Cnidocytes are complex sensory/effector cells that exhibit significant morphological diversity across cnidarians (for a review of cnidocyte diversity, see [18]). Used primarily in prey capture and defense, cnidocytes are abundant in the tentacles, which are the primary feeding apparatus of cnidarians. Among anthozoans (e.g., corals and sea anemones), one of the notable synapomorphies is the presence of mesenteries [19, 20], multifunctional internal tissues of mixed developmental origin (endodermal and ectodermal) that contain gonadal and digestive cells as well as a diverse repertoire of other cell types, including cnidocytes. During feeding, the mesenteries become apposed to ingested prey items, presumably enabling the use of their cnidocytes and ectodermal gland cells to assist in immobilization/digestion of prey tissues [21]. The mesenteries of sea anemones in the superfamily Metridioidea [22] are modified to include threadlike distal extensions called "acontia" which are replete with cnidocytes. Interestingly, the suite of cnidocytes that populate the acontia can be distinct from that of the mesenteries, their tissue of origin [23]. While cnidarians may superficially appear simple, they clearly exhibit tissue-specific distributions of cell types resulting in a surprisingly high level of morphological complexity.
Nematostella vectensis
(the starlet sea anemone) has emerged as an important model for diverse studies of cellular and molecular biology [
24
]; yet one of the most intriguing tissues in this animal remains largely unstudied: the nematosomes. First described by Stephenson in 1935 [
25
], nematosomes are an enigmatic free-floating tissue that circulates through the gastrovascular cavity (Additional file
1
) in adult sea anemones, occasionally coming to rest along the internal surface of the body wall (Fig.
1a
) [
26
,
27
]. The presence of nematosomes in
N. vectensis
,
Milne-Edwardsia polaris
(later
N. polaris
), and
Milne-Edwardsia nathorstii
(later
N. nathorstii
), and their absence in other members of the Edwarsiidae led to the early designation of the nematosomes as the defining apomorphy of the genus
Nematostella
([
25
,
28
–
30
], as cited by [
31
,
32
]). Despite this, little is known about the biology of this tissue. Nematosomes are small, multicellular masses of cells comprised largely of cnidocytes (Fig.
1b
) and, like the acontia of metridoidean cnidarians, nematosomes are derivatives of the mesenteries [
31
]. Given the critical role of cnidocytes in the feeding behavior of sea anemones, early hypotheses of nematosome function suggested a role for this novel tissue in facilitating immobilization of ingested prey [
27
,
32
]; yet support for this hypothesis has been inconclusive [
33
]. Histological studies of nematosomes confirmed that this tissue lacks gland cells leading to the conclusion that nematosomes play no role in digestion [
33
] but provided no convincing alternative function and no further information about the cell types present in these structures. The observation of abundant nematosomes in the jelly matrix surrounding the spawned egg masses [
26
,
34
] led to a hypothesized role in protection of the developing embryos; yet, this hypothesis, too, has received mixed support [
33
,
35
]. The long history of conflicting results regarding the putative function of nematosomes even led to the hypothesis that nematosomes play no role at all in the biology of
N. vectensis
[
33
], ultimately relegating the diagnostic morphological feature of the genus
Nematostella
merely to an intriguing curiosity.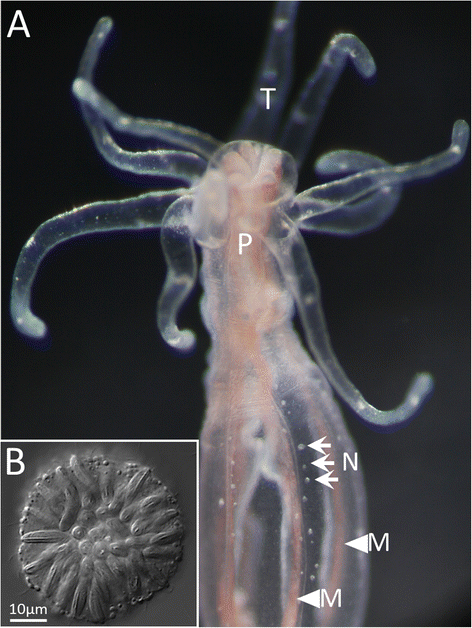 Nematosomes are thought to develop continuously throughout the adult life of N. vectensis (albeit at a rate influenced by some undefined mechanism) making them a tractable model for understanding patterning and identity in an adult tissue. Since nematosomes are restricted only to the genus Nematostella (i.e., they have no phylogenetic homologs) and they are found only in adult polyps (i.e., they have no serial homologs), these unique structures are an unequivocal example of a phenotypic/tissue-level novelty [36, 37]. Whether this novel tissue expresses novel genes and cell types, however, is unknown. Herein, we (i) assess the function of this tissue by explicitly testing existing hypotheses from the literature, (ii) examine the morphology of this tissue for evidence of novel cell types, (iii) characterize the gene expression profile of the nematosomes (using RNA-Seq), and (iv) test hypotheses about the contribution of novel genes to novel structures by evaluating the distribution of novel and conserved genes in nematosomes and other tissues. Together, our results confirm that nematosomes comprise more than just a mass of sloughed cnidocytes and provide support for a novel role for this tissue in the innate immune system of N. vectensis. We further report that Nematostella-specific genes are indeed overrepresented in this Nematostella-specific tissue but these novel genes also comprise a large proportion of the upregulated transcripts across tissues, suggesting that novel genes may play important roles in the tissue-specific biology of all tissues.
Discussion
Evaluating the cell biology and function of nematosomes
Our data provide support for several previous hypotheses about the function of nematosomes, including their role in the prey capture and defense, and a novel potential role in the immune system of N. vectensis. In support of Hand [32], we confirm that the cnidocytes in nematosomes are capable of subduing prey (Fig. 3, Additional file 4), and that this function results from the firing of their abundant cnidocytes. However, like Williams [33], we find no evidence of gland cells in nematosomes; thus, our results are in conflict with the recent suggestion that the venom responsible for subduing prey derives from ectodermal gland cells adjacent to the cnidocytes in N. vectensis, rather than the cnidocytes themselves [64]. As noted in the early descriptions of nematosomes (summarized in: [32]), spirocytes are absent from this tissue, so it is possible, though speculative, that ectodermal gland cells work in tandem with spirocytes, which is why both are abundant in the tentacles.
Cnidocytes were once thought to behave as "independent effectors" responding autonomously to stimulus [65] but subsequent studies have revealed that this behavior may be modulated by chemical and mechanical stimuli [66] and by neuronal/synaptic input [67, 68]. The ultrastructural data presented in Fig. 5 suggest that nematosomes lack the sensory cell complexes necessary for mechanosensitization and neuronal modulation of cnidocyte discharge [69]; however, certain types of cnidocyte/support cell complexes are known to fire either as a result of physical contact alone or in response to combined physical and chemical stimuli [70]. Currently, we cannot discriminate between these two possibilities in nematosomes but future studies aimed at localizing chemoreceptors in the putative nematosome support cells will provide important insight on this topic. Furthermore, the absence of neurons from nematosomes may suggest that this tissue has evolved a means to limit the firing response of their cnidocytes to only physical stimuli, perhaps as a means to maximize firing success while nematosomes are "tumbling" around in the gastrovascular cavity.
Beyond the ability to subdue prey, we propose that nematosomes may also play a role in defense of the spawned egg masses. Unlike broadcast spawning species of sea anemone, N. vectensis produces egg masses bound by a jelly matrix [26, 34, 35]. Although the lifespan of nematosomes is reported by some to be < 21 h at room temperature [25], we routinely observed living nematosomes embedded in the egg jelly as planulae larvae begin to swim and emerge from the egg mass (>48 h after fertilization at 25 °C) (see Additional file 11 and [35]). Considering this long lifespan and the proximity to the developing embryos in the egg mass, nematosomes could reasonably play a role in defense of the spawned egg masses. Anecdotal observations of live killifish behavior also suggest that these potential predators may be deterred by cnidocyte discharge from the abundant nematosomes embedded in the jelly matrix (Adam Reitzel, pers. comm.). Together, these data suggest that nematosomes are an important component of the ecology of N. vectensis.
Our data also suggest that nematosomes may play an important part in the immune system of N. vectensis. Inflammation in cnidarians has been described as a global phagocytic response ([71], as translated by [72]). In support of this claim, the few previous studies of anthozoan immune function have demonstrated a dramatic increase in the number of mobile phagocytic cells following injury [72, 73]. Immune function has not been functionally characterized in N. vectensis but nematosomes might be an important reservoir for the phagocytes that comprise the putative inflammatory response in this species. Figure 6 demonstrates the propensity of cells in the nematosomes to engulf particles of various types (E. coli and latex beads), confirming the presence of phagocytes in this tissue. Furthermore, two of the top-expressed transcripts in the nematosomes share homology with uromodulin (Nv46 and Nv111), a glycoprotein known to be involved in protein-protein interactions associated with the inflammatory response of mammals [74, 75] and previously shown to be upregulated during wound-healing in N. vectensis [76]. Although the behavior of nematosomes during wound-healing/regeneration has not been studied, the presence of phagocytes suggests this tissue may play a role in clearing damaged tissue from a wound site. In this regard, it would be very interesting to determine if nematosomes aggregate at the site of a wound in N. vectensis.
We show that nematosome size is associated with its cellular composition (Fig. 4d); while cnidocytes make up half of the cells present in small nematosomes, they comprise only ~30 % of the cells in large nematosomes. We have also shown that nematosomes do not typically contain proliferative cells and likely do not undergo growth after they leave the mesentery epithelium, meaning that nematosome size is determined during the development and budding processes. Given that larger nematosomes have more non-cnidocyte cells than smaller nematosomes, and that at least some of these cells are phagocytes, we suggest that both nematosome size and budding rate may correlate positively with the animal's perceived pathogen load. In this light, it would be interesting to raise N. vectensis polyps in the presence of antibiotics to determine if nematosome number decreases in this pathogen-free environment. We could further hypothesize that pathogen-related genes might be upregulated in nematosomes from polyps exposed to higher pathogen loads.
Toward a molecular identity of nematosomes
The data presented herein represent the first tissue-specific transcriptome data from N. vectensis, an important model for cell biology and development, and the first molecular description of the nematosomes. Using these molecular resources, we evaluated two hypotheses about evolutionary innovation in N. vectensis. First, because nematosomes bud from the mesenteries and contain the same two types of cnidocytes found in the mesenteries (basitrichs and microbasic p-mastigophores), we hypothesized that the transcriptional profile of the nematosomes would constitute a subset of the transcripts expressed in the mesenteries. Differential expression, qPCR, and GO analyses independently verify the unique gene expression profile of the nematosomes (Figs. 7 and 8) and reinforce their putative role in immunity (Fig. 9, Tables 4 and 5) but also suggest that nematosomes may have more cell types or cell functions in common with tentacles than with mesenteries. These similarities in gene expression between nematosomes and tentacles may reflect the relative abundance of cnidocytes in these tissues, suggesting this dataset will be important for identifying novel markers of cnidocyte and support cell identity. Additionally, because mesenteries give rise to new nematosomes, the genes responsible for specifying this novel tissue at the onset of its development must be among the mesentery-specific dataset. Future studies aimed at identifying these nematosome developmental genes would be extremely valuable in understanding the evolutionary and developmental origin of this novel tissue. Thus, using comparative transcriptomics, we reject the hypothesis that nematosomes are merely sloughed portions of the mesenteries and suggest that nematosomes constitute a novel tissue with a unique identity and have characteristics consistent with cell functions that have not yet been characterized in N. vectensis.
The second hypothesis that we evaluated with these comparative transcriptome data was motivated by the assertion that lineage-specific genes are expected to be expressed in higher frequency in lineage-specific tissues [5, 77]. Given that nematosomes are unique to the genus Nematostella, we expected Nematostella-specific genes to be overrepresented in the nematosomes, relative to the two other tissues, one of which is specific to anthozoans (mesenteries) and the other is specific to cnidarians (tentacles). We found that Nematostella-specific genes comprised a larger proportion of the transcripts expressed uniquely in nematosomes than in either mesenteries or tentacles, but the largest number of Nematostella-specific transcripts was expressed uniquely in the tentacles. These results can be interpreted in several ways: first, the broader expression of conserved genes may simply reflect that a large proportion of the conserved genes we sequenced play a role in conserved functions that are common to all cells (i.e., "housekeeping" functions). Second, this pattern could reflect that conserved genes are expressed in cell types common to all three tissues, yet this hypothesis is harder to support considering that the only cell types known to populate all three tissues are cnidocytes. A third possibility is that this pattern reflects a greater level of pleiotropy in older genes. Indeed, novel genes are thought to arise rapidly [5] and have been shown by us and others to be uniquely expressed in adult tissues (e.g., [12, 16, 77]); whether these novel genes all acquire functions important for the phenotype of the tissue, however, is an unanswered question. Thus, despite the abundance of novel sequences produced, the percent of novel genes that actually take on a critical role in the biology of any given tissue may be relatively modest.
Although uniquely expressed transcripts were dominated by Nematostella-specific genes in all tissues, conserved/metazoan genes were among the top expressed transcripts from all three tissues (3/10 in nematosomes, 8/10 in mesenteries, and 5/10 in tentacles; Table 4). These data are interesting in the context of two recent studies of the role of novel genes in the evolution of novel hymenopteran social behaviors [12, 77]. Like us, Jasper et al [12] found that the proportion of lineage-specific genes in honey bees varies only little across tissue types but they suggest that the level of expression of these novel genes is responsible for driving the novel tissue identity. They show that the greatest proportion of gene expression in the venom/stinger and hypopharyngeal glands (both tissues with novel functions in the honey bee) is attributable to transcription of novel genes, but the patterns they describe appear to be driven by the exorbitantly high expression of a single gene in each tissue. In our study, the nematosomes (the novel tissue) were characterized both by a larger proportion of Nematostella-specific (novel) genes and a larger proportion of the top expressed genes were also found to be lineage-specific (pan-cnidarian).
Are novel genes important?
It is well-established that both changes in gene regulation [3, 78] and changes in the coding sequences of conserved genes [4] drive morphological innovation but this does not preclude novel genes from also playing a critical role in this process [5]. In fact, there are several examples of novel proteins that are essential for defining the identity of the adult cell or tissue types (e.g., venom components [12], antimicrobial peptides [79], and structural proteins like minicollagen [80]). Interestingly, these novel products are largely secreted proteins that appear to have been incorporated into the terminus of an existing gene regulatory network. From an evolutionary perspective, the simplest way to link a novel protein into an existing regulatory network involves the smallest number of connections between the novel gene and the other components of the network [81] and this network connectivity issue may explain why duplicated genes at the ends of pathways may be maintained at a higher rate than duplicated transcription factors [13, 37]. In the context of this study, Nematostella-specific transcripts expressed uniquely in the nematosomes that encode secreted or structural peptides may well have a critical role in dictating the function or phenotype of this novel tissue.
Conclusions
Cnidarian genome projects have revealed surprising levels of gene conservation between cnidarians and bilaterians; despite this, cnidarians have several cell and tissue types that are not found in other taxa. This study confirms that a novel tissue (nematosomes) plays an important role in the biology of N. vectensis and reveals, for the first time, that this novel tissue has a unique gene expression profile that differentiates it from its tissue of origin. Considering there are only 3-4 cell types present in this tissue, this unique molecular profile of nematosomes must be associated with the identity of only few cell types. Nematosomes, therefore, provide a valuable opportunity to evaluate the relationship between the expression of novel genes and the evolution of novel cell and tissue functions. Rather than being intriguing curiosities, novelties provide a unique opportunity to evaluate the mechanisms of evolution that result in the origin of new structures and have ultimately contributed to the morphological and genomic diversity exhibited in the animal kingdom.
Abbreviations
1/3X FSW:

1/3X filtered seawater
ANCOVA:

analysis of covariance
ANOVA:

analysis of variance
BLAST:

basic local alignment search tool
CEGMA:

Core Eukaryotic Genes Mapping Approach
DAPI:

2-(4-amidinophenyl)-1H-indole-6-carboxamidine
DIC:

differential interference contrast (microscopy)
FITC:

fluorescein isothiocyanate
GO:

gene ontology
NCBI:

National Center for Biotechnology Information
ORF:

Open Reding Frame
PCR:

polymerase chain reaction
PTw:

phosphate buffered saline with 0.1 % Tween-20
PTx:

phosphate buffered saline with 0.1 % Triton-X
qPCR:

quantitative Real Time PCR
RNA-Seq:

RNA sequencing
SD:

standard deviation
SEM:

scanning electron microscopy
TEM:

transmission electron microscopy
Declarations
Acknowledgements
The authors would like to thank Tina Carvahlo and Marilyn Dunlap in the Biological Electron Microscopy Facility at the University of Hawaii and C. Titus Brown and his laboratory/associates involved in the NGS course at Kellogg Biological Station for their help interpreting our data. The anti-mcol1 and anti-mcol3 antibodies were a generous gift from the laboratory of Dr. Suat Ozbek. This work was supported by the National Aeronautics and Space Administration (NNX14AG70G).
Authors' contributions
LSB conceived of the study, collected tissues, carried out all laboratory work, conducted bioinformatic analyses, and wrote the manuscript. MQM participated in the design and coordination of the study, collected tissues, and evaluated multiple drafts of the manuscript. JFR participated in the design and coordination of the study, conducted bioinformatic analyses, and evaluated multiple drafts of the manuscript. All authors read and approved the final manuscript.
Availability of data and materials
Raw sequencing reads and the three reference transcriptomes assembled from them are available in the European Nucleotide Archive, Project Accession: PRJEB13676 (http://www.ebi.ac.uk/ena/data/view/PRJEB13676), unique sample identifiers: mesenteries: SAMEA3937624, SAMEA3937625, SAMEA3937626; nematosomes: SAMEA3937621, SAMEA3937622, SAMEA3937623; tentacles: SAMEA3937635, SAMEA3937636, SAMEA3937637. The remaining datasets supporting the conclusions of this article are included within the article (and its additional files).
Ethics
No human subjects were used in this study and the invertebrate animals used in this study are not subject to regulation by animal ethics committees.
Consent
All authors have approved this manuscript for publication.
Competing interests
The authors declare that they have no competing interests.
Open AccessThis article is distributed under the terms of the Creative Commons Attribution 4.0 International License (http://creativecommons.org/licenses/by/4.0/), which permits unrestricted use, distribution, and reproduction in any medium, provided you give appropriate credit to the original author(s) and the source, provide a link to the Creative Commons license, and indicate if changes were made. The Creative Commons Public Domain Dedication waiver (http://creativecommons.org/publicdomain/zero/1.0/) applies to the data made available in this article, unless otherwise stated.
Authors' Affiliations
(1)
Whitney Laboratory for Marine Bioscience, University of Florida, St. Augustine, USA
(2)
Department of Biology, University of Florida, Gainesville, USA