Research article

Open Access
Weeds, as ancillary hosts, pose disproportionate risk for virulent pathogen transfer to crops
BMC Evolutionary Biology
BMC series – open, inclusive and trusted
2016
16:101
Received: 28 April 2016
Accepted: 6 May 2016
Published: 12 May 2016
Abstract
Background
The outcome of the arms race between hosts and pathogens depends heavily on the interactions between their genetic diversity, population size and transmission ability. Theory predicts that genetically diverse hosts will select for higher virulence and more diverse pathogens than hosts with low genetic diversity. Cultivated hosts typically have lower genetic diversity and thus small effective population sizes, but can potentially harbour large pathogen population sizes. On the other hand, hosts, such as weeds, which are genetically more diverse and thus have larger effective population sizes, usually harbour smaller pathogen population sizes. Large pathogen population sizes may lead to more opportunities for mutation and hence more diverse pathogens. Here we test the predictions that pathogen neutral genetic diversity will increase with large pathogen population sizes and host diversity, whereas diversity under selection will increase with host diversity. We assessed and compared the diversity of a fungal pathogen, Rhynchosporium commune, on weedy barley grass (which have a large effective population size) and cultivated barley (low genetic diversity) using microsatellites, effector locus nip1 diversity and pathogen aggressiveness in order to assess the importance of weeds in the evolution of the neutral and selected diversity of pathogens.
Results
The findings indicated that the large barley acreage and low host diversity maintains higher pathogen neutral genetic diversity and lower linkage disequilibrium, while the weed maintains more pathotypes and higher virulence diversity at nip1. Strong evidence for more pathogen migration from barley grass to barley suggests transmission of virulence from barley grass to barley is common.
Conclusions
Pathogen census population size is a better predictor for neutral genetic diversity than host diversity. Despite maintaining a smaller pathogen census population size, barley grass acts as an important ancillary host to R. commune, harbouring highly virulent pathogen types capable of transmission to barley. Management of disease on crops must therefore include management of weedy ancillary hosts, which may harbour disproportionate supplies of virulent pathogen strains.
Keywords
Population sizeGenetic diversityMigrationPathogen evolutionWeedy hostBarley Rhynchosporium commune Fungi
Background
The severity of plant, animal and human epidemics depends in part on the interaction between pathogen evolution and host induced selection of virulence traits [1]. Pathogen diversity and evolution is likely influenced by host population size. This is because large host populations can potentially carry large pathogen populations, leading to more opportunities for mutation in the pathogen and thus higher pathogen genetic diversity [2]. Furthermore, the potential for pathogen connectivity through migration is enhanced in large host populations, with transmission ability representing a key factor in pathogen evolution [3, 4].
Most pathogens are able to infect more than one host species, with additional consequences for the evolution of pathogen virulence [5, 6]. Thus, host diversity may strongly influence the diversity of pathogen virulence in an evolutionary arms race between resistance genes in the host and effector genes in the pathogen, on a gene-for-gene basis [7–9]. For example, in the flax rust fungus, Melampsora lini, pathogens with broad virulence occur more frequently in highly resistant host populations [10, 11]. Thus a large number of resistance alleles in the host usually select for a large number of effector alleles in the pathogen through balancing or diversifying selection [12–14]. At the population level, variation in host resistance is also likely to be of central importance for influencing the patterns of disease incidence and prevalence [15]. It follows, that in order to understand disease dynamics, host diversity is therefore, an important consideration.
Presently, there appear to be few studies investigating the influence of host diversity on pathogen evolution, with most of these studies focused solely on pathogen virulence evolution at traits under selection to the neglect of any consideration of diversity at other loci (but see [16, 17]). Yet, it seems likely that host diversity at loci under selection will also influence the levels of pathogen neutral genetic diversity [18]. For example, higher neutral genetic diversity was found in sexually reproducing populations of the wheat pathogen Puccinia striiformis f.sp tritici when the alternate host, Berberis, was present [16]. In contrast, Zymoseptoria tritici exhibits a higher effective population size on cultivated wheat (low genetic diversity), indicating a faster rate of evolution, when compared to its sister species on wild grasses (high genetic diversity) [19]. These contrasting results make it difficult to predict whether host diversity will increase pathogen neutral diversity. Since pathogen neutral genetic diversity is expected to be a good proxy for pathogen evolutionary potential [20], which in turn may affect disease dynamics, it is thus surprising that the influence of host diversity has not been investigated more widely when assessing the importance of factors influencing pathogen neutral genetic diversity.
Although population neutral genetic diversity and virulence (or pathotypes) of pathogens that infect crops have been well documented for a diverse array of pathogens, the influence of susceptible, sympatrically occurring weeds on pathogen diversity or virulence has received remarkably little empirical attention (but see circumstantial support in [21, 22]). This is despite disease management strategies advocating management of weeds because of their potential importance in pathogen evolution [18, 23, 24].
In this study we apply an integrated approach by considering both host diversity and pathogen population size, and their influence on pathogen neutral and selected (virulence, number of pathotypes and diversity at effector loci) genetic diversity. We explore the relationships between pathogen and host genetic diversity and population size, using the well-characterised Rhynchosporium commune – barley pathosystem as model. R. commune is a haploid fungal pathogen, previously known as R. secalis [25] and causing a disease known as barley leaf scald. It is a common pathogen on barley (Hordeum vulgare ssp. spontaneum), occurring wherever barley is cultivated. The pathogen also infects barley grass, known as the Hordeum murinum species complex, consisting of three subspecies H. murinum, H. leporinum and H. glaucum [26].
Within Australia, barley is a major crop resulting in a large census population size (N) for the host and pathogen. Barley cultivars are selected for genetic uniformity and typically only 4 to 6 varieties make up the majority (75 %) of barley planted in any one region of Australia, leading to the prediction of a small effective population size (N e ) for barley. By contrast, barley grass, H. murinum, was an adventitious introduction and is now an ubiquitous grass weed which grows in pockets predominantly within the southern cereal growing regions of Australia, often found growing alongside barley fields. Disease incidence of R. commune on barley grass is typically much lower than on barley (C. Linde personal observation), resulting in a small pathogen N on barley grass. Hordeum species are typically autogamous, although H. murinum also show evidence for high levels of outcrossing (despite potential for autogamy) [27, 28]. Thus a relatively high level of genetic diversity is found in H. murinum populations [27, 29] with no identical biotypes identified in a small study in Australia [30], leading to the prediction of a large N e for barley grass.
Host immune receptors are mostly encoded by a single dominant resistance (R) gene that in turn directs the recognition of a cognate pathogen effector gene [31–33]. The gene-for-gene paradigm implies selection pressure on the pathogen to escape recognition by host resistance genes. In R. commune, one such characterized gene-for-gene system is Rrs1-Nip1 [34]. However, the host resistance conferred by Rrs1 was overcome in 1956 in California [35] where pathogen virulence evolved via deleted or altered nip1 genes [34, 36, 37]. Consequently, the use of Rrs1 as a source of resistance in barley breeding programs has declined. With this decline in the use of cultivars with Rrs1 resistance, it is expected that selection pressure on Nip1 will be greater in barley grass, than in cultivated barley, where it is assumed that Rrs1 occurs naturally in barley grass since wild Hordeum is a rich source for resistance genes against R. commune [38, 39]. We thus predicted a priori that more effector locus alleles will be present in the pathogen population on barley grass.
Given our expectation of large differences in the genetic diversity of its two hosts, we further predicted that
R. commune
will be genetically more diverse on barley grass than on cultivated barley. Coupled with these genetic diversity predictions, we also expected to uncover evidence for higher rates of sexual reproduction within the fungal pathogen on barely grass (see Table
1
for predictions). As in other organisms more generally, sexual reproduction in fungi drives genetic recombination and serves to purge deleterious mutations. Although the occurrence of sexual reproduction for
R. commune
has not yet been observed, it is strongly indicated by population genetic studies [
40
]. Thus estimating the degree of linkage disequilibrium will be informative.
Table 1
Predicted and observed Rhynchosporium commune diversity estimates under the contrasting host diversities and pathogen census population size
Barley

Barley grass

Large pathogen pop size

Genetically uniform host

Small pathogen population size

Genetically diverse host

R. commune diversity

Predicted

Predicted

Observed

Predicted

Predicted

Observed

Neutral genetic diversity:

 No. of SSR alleles

Many

Few

Many

Few

Many

Few

  Ne

Large

Small

Large

Small

Large

Small

 No. of MLGs

Many

Few

Many

Few

Many

Few

 Mode of reproduction/linkage disequilibrium

-

More asexual/high linkage disequilibrium

More sexual/lower linkage disequilibrium

-

More sexual/low linkage disequilibrium

More asexual/higher linkage disequilibrium

 Migration

More from barley to barley grass

More from barley grass to barley

More from barley grass to barley

More from barley to barley grass

More from barley grass to barley

More from barley grass to barley

Diversity under selection:

 No. of effector alleles

-

Few

Few

-

Many

Many

 No. of pathotypes

-

Few

Few

-

Many

Many

 Aggressiveness

-

Less

Less

-

More

More
The first aim of this study is to simultaneously investigate the hypothesis that host genetic diversity and large pathogen N leads to high pathogen genetic (neutral and selected) diversity. The second aim is to assess which of these factors is more important for maintaining diversity in the pathogen (see Table 1 for predictions). For this assessment we compare R. commune populations from the weedy barley grass host (high genetic diversity, smaller host and associated pathogen N) to the monoculture barley crop (low genetic diversity but harbours larger pathogen N). For R. commune we estimate diversity at both neutral microsatellite loci and for pathogen traits and loci that are predicted to be under selection to answer the following four questions: 1) Does host genetic diversity and/or pathogen N affect pathogen neutral genetic diversity and mode of reproduction? 2) Is there more pathogen migration from the weed to the crop, and if so does this enhance the risk of newly evolved virulent strain transfer to barley? 3) Is pathogen genetic diversity under selection related to host genetic diversity? 4) Are pathogen populations from a genetically diverse host more aggressive/virulent than those from a monoculture crop? In our discussion we explore the implications of our improved understanding of the evolutionary processes affecting pathogen diversity. We also predict general outcomes for host-associated pathogen evolution within an evolutionary framework.
Results
Rhynchosporium commune host-associated populations were analysed with 14 SSR loci and an effector locus to assess the relationship of the pathogen's genetic diversity compared to that of the host and the pathogen's N.
Nip1 analyses
Nip1 diversity
In total, 12 NIP1 protein types were found to occur in Australia. Six NIP1 types were found among 191 isolates from barley and eight types among 139 isolates from barley grass, with two types shared among the host populations. Isolates lacking
nip1
(ΔNIP1) are pathogenic on barley cultivars containing
Rrs1
. The proportion of isolates with ΔNIP1 varied from only four of the tested 274 isolates (1.45 %) from barley, to 44 of the tested 192 isolates (22.92 %) from barley grass (Table
4
).
Nip1
nucleotide diversity showed similar values for isolates from barley and barley grass, although nine polymorphic sites were found among isolates from barley grass compared to only four among isolates from barley (Additional file
1
: Table S8). An AMOVA revealed a similar pattern of population structure at
nip1
as observed for the SSRs (Additional file
1
: Table S6).
Table 4
NIP1 types of Rhynchosporium commune from barley and barley grass in Australia. Virulence is as measured on the barley cultivar Atlas46, which contains the resistance gene Rrs1
Number of isolates

NIP1 type

No of isolates

Barley

Barley grass

Virulence on Rrs1

1

30

28

2

-

2

232

155

77

-

3

2

-

2

+

9

1

1

-

-

14

51

-

51

-

26

1

1

-

+

27

3

-

3

+

28

5

5

-

+

29

1

-

1

-

30

1

1

-

-

31

2

-

2

+

32

1

-

1

-

SUM

330

191

139

ΔNip1

4/274

44/192

+
Virulence of NIP1 types
Three NIP1 types (3, 27 and 31) from barley grass and two from barley (26 and 28, the latter lacking a signal peptide), as well as isolates with ΔNIP1, were virulent on all three barley cultivars tested, hence these confer virulence to Rrs1 containing cultivars (Table 4).
Pathogenicity
The linear mixed model analysis of the factors affecting the percentage leaf area covered by lesions showed a significant (
P
 < 0.001) effect of host (from which the pathogen was collected) and the interaction between host and seed type (on which isolates were inoculated) (Table
5
). The percentage leaf area covered by lesions on barley was significantly (
P
 = 0.031) higher for isolates from barley (mean = 12.83 %) than for isolates from barley grass (mean = 10.32 %). In contrast, isolates from barley caused significantly (
P
 < 0.001) less disease on barley grass (mean = 3.85 %) than isolates from barley grass (mean = 13.42 %) (Fig.
1
). Isolates from barley grass also infected significantly more barley cultivars (91.1 % vs. 87.7 %;
P
 = 0.011) and barley grass lines (95.5 % vs. 79.5 %;
P
 < 0.001) than isolates from barley. While these results show strong evidence for host adaptation, they nonetheless also confirm that isolates from barley grass are capable of infection on barley grass. Furthermore, such isolates also caused larger lesions on barley.
Table 5
Linear mixed model assessing the effects of host and seed type on the percentage leaf area covered by lesions
| Term | Estimate | SE | t | P |
| --- | --- | --- | --- | --- |
| Intercept | 0.658 | 0.359 | 1.829 | 0.067 |
| Host B | −0.403 | 0.063 | −6.351 | <0.001 |
| Seed type B | 0.004 | 0.066 | 0.059 | 0.952 |
| Host B: Seed type B | 0.407 | 0.037 | 11.030 | <0.001 |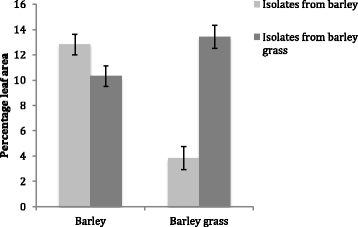 Discussion
In this detailed genetic study we investigated the often-overlooked hypothesis that host genetic diversity and pathogen population size affects pathogen diversity. It is well-known that variation in the host phenotype affects virulence evolution in the pathogen [64]. However, studies that simultaneously evaluate host diversity and pathogen population size at neutral and selected loci in order to explore the link between fungal pathogen diversity and virulence appear to be absent. We predicted that pathogen neutral genetic diversity will increase with large pathogen N AND host diversity, whereas pathogen diversity under selection will increase with host diversity. This prediction was broadly supported, with the exception that pathogen neutral genetic diversity was found to increase with pathogen N. We also discovered strong evidence that pathogen migration from the diverse host (barley grass) is high, providing a mechanism for the effective transmission of virulence from weeds to the crop. Below we explore these findings and their implications in more detail.
Conclusions
Resistance genes typically have a short life time because pathogens evolve virulence [20]. This arms race between hosts and pathogens depend mostly on interactions between their genetic diversity, population size, transmission ability and host composition. Although it has long been implied that weeds may play a key part in these interactions, empirical evidence demonstrating this is rare. The findings of this study reinforce the critical role weeds play in the evolution of pathogen virulence.
Availability of data and materials
The nucleic acid sequences of nip1 generated for this article are available in the GenBank repository with accession numbers of nip1 = KT340216-KT340474, those of representative sequences of new NIP1 types = KT340207-211, KT340212-213 and KT340215.
Declarations
Acknowledgments
CCL was funded by the Grains Research Development Council (GRDC) (ANU00012 and DAQ00187). The authors thank Hugh Wallwork (SARDI) for assisting in some isolate collections and Megan Head (ANU) for statistical advice.
Open AccessThis article is distributed under the terms of the Creative Commons Attribution 4.0 International License (http://creativecommons.org/licenses/by/4.0/), which permits unrestricted use, distribution, and reproduction in any medium, provided you give appropriate credit to the original author(s) and the source, provide a link to the Creative Commons license, and indicate if changes were made. The Creative Commons Public Domain Dedication waiver (http://creativecommons.org/publicdomain/zero/1.0/) applies to the data made available in this article, unless otherwise stated.
Authors' Affiliations
(1)
Evolution, Ecology and Genetics, Research School of Biology, The Australian National University, Canberra, Australia