Research article

Open Access
Contrasting evolutionary histories of the legless lizards slow worms (Anguis) shaped by the topography of the Balkan Peninsula
BMC Evolutionary Biology
BMC series – open, inclusive and trusted
2016
16:99
Received: 22 February 2016
Accepted: 25 April 2016
Published: 10 May 2016
Abstract
Background
Genetic architecture of a species is a result of historical changes in population size and extent of distribution related to climatic and environmental factors and contemporary processes of dispersal and gene flow. Population-size and range contractions, expansions and shifts have a substantial effect on genetic diversity and intraspecific divergence, which is further shaped by gene-flow limiting barriers. The Balkans, as one of the most important sources of European biodiversity, is a region where many temperate species persisted during the Pleistocene glaciations and where high topographic heterogeneity offers suitable conditions for local adaptations of populations. In this study, we investigated the phylogeographical patterns and demographic histories of four species of semifossorial slow-worm lizards (genus Anguis) present in the Balkan Peninsula, and tested the relationship between genetic diversity and topographic heterogeneity of the inhabited ranges.
Results
We inferred phylogenetic relationships, compared genetic structure and historical demography of slow worms using nucleotide sequence variation of mitochondrial DNA. Four Anguis species with mostly parapatric distributions occur in the Balkan Peninsula. They show different levels of genetic diversity. A signature of population growth was detected in all four species but with various courses in particular populations. We found a strong correlation between genetic diversity of slow-worm populations and topographic ruggedness of the ranges (mountain systems) they inhabit. Areas with more rugged terrain harbour higher genetic diversity.
Conclusions
Phylogeographical pattern of the genus Anguis in the Balkans is concordant with the refugia-within-refugia model previously proposed for both several other taxa in the region and other main European Peninsulas. While slow-worm populations from the southern refugia mostly have restricted distributions and have not dispersed much from their refugial areas, populations from the extra-Mediterranean refugia in northern parts of the Balkans have colonized vast areas of eastern, central, and western Europe. Besides climatic historical events, the heterogeneous topography of the Balkans has also played an important role in shaping genetic diversity of slow worms.
Keywords
Anguidae
Squamata
Phylogeography
Biogeography
Speciation
Contact zones
Microrefugia
Balkan mountains
Background
Diversity of European biota has been strongly influenced by global climatic and environmental changes in the Quaternary. Toward the end of the Pleistocene, repeated climatic oscillations led to extinctions of many phylogenetic lineages from vast northern areas during glacial periods followed by re-colonisations during interglacials [1–3]. Many plant and animal lineages survived cold and dry glacials in relatively stable and hospitable environments. In Europe these were located in three Mediterranean peninsulas: Iberian, Italian, and Balkan. This general biogeographical model has been expanded to a more complex view acknowledging long-term persistence of cold-tolerant species in central and northern Europe during glacials and survival in multiple refugia located within the Mediterranean peninsulas [4, 5]. Demographic stability of populations in southern refugia enabled them to diverge, which has resulted in high diversity in all three main refugial regions. In contrast, northern populations established during re-colonization are generally characterized by lower taxonomic and genetic diversity.
In comparison to the Iberian and Italian peninsulas, the Balkans has remained much less studied in terms of the biogeographical history of the species distributed there, although it is richer both in biodiversity and paleoendemics [6–8]. The Balkan Peninsula is not isolated by one extended mountain range such as the Pyrenees of the Iberian and the Alps of the Italian Peninsula, and so there are fewer dispersal barriers to the north. This allowed postglacial expansion of populations from the Balkan refugia to central and northern Europe [1, 5, 9]. On the other hand, the Balkan Peninsula is a region with high topographic and climatic heterogeneity, showing a strong contrast between the eastern/western and northern/southern parts. In the east and north, the surface is formed by plains or plateaus and the mountain slopes are generally gentle, while in the west and south the Dinarides and Hellenides rise steeply from the coastal strip [10]. Each of the Balkan mountain chains also has a different tectonic and sedimentary history, and while they all underwent complex folding and faulting in the process of the Alpine orogenesis, the intensity was different [11]. All this geographical variation offers suitable conditions for local adaptations of populations, which could promote divergence and subsequent diversification [12, 13].
We, and others [14–17] have been studying the evolutionary history of legless lizards of the genus Anguis (family Anguidae) within its Western Palearctic range. This genus comprises five species, four of which occur in the Balkans [14, 15]. While Anguis cephallonica Werner, 1894 and A. graeca Bedriaga, 1881 are Balkan endemics with rather restricted distribution in the south of the peninsula, ranges of A. fragilis Linnaeus, 1758 and A. colchica (Nordmann, 1840) are at the continental scale and cover vast areas of Europe and western Asia [14, 17–19]. Considering the semifossorial lifestyle and high site tenacity [20, 21], one might expect restricted occurrence of slow worms. However, distribution of slow worms in the Balkan Peninsula seems to be more or less continuous with gaps probably only in agricultural regions and extremely high altitudes [19, 22, 23]. Nevertheless, details of the species ranges within the Balkans, contact zones of multiple species, and detailed intraspecific genetic structure in respect to geography and ecology still remain widely unknown.
In this study we collected and analysed data originating from the Balkan slow-worm populations with the aim to i) provide a detailed picture of distribution; ii) infer historical relationships of populations and describe genetic diversity; iii) reconstruct biogeographical histories of the Balkan slow-worm populations during the Quaternary. Finally, we tested iv) whether the genetic diversity observed in the Balkan slow worms is driven by specifics of topography. Dispersal barriers would most likely coincide with the extensive and variously rugged mountain ranges of the Balkan Peninsula, thus we expected the slow-worm genetic diversity to be correlated with topographic variation of this region.
Results
Phylogeny, species distributions and contact zones
The maximum likelihood and Bayesian phylogenetic analysis provided topologies concordant with previous studies [14, 15, 17]. The southernmost species, A. cephallonica, forms a clade with A. veronensis from the Italian Peninsula, while the other three species (A. fragilis, A. colchica, and A. graeca) form a separate clade, in which the Balkan endemic A. graeca is in a sister position to the eastern widespread species, A. colchica (Fig. 1).
Anguis fragilis is distributed in the northwestern and central parts of the Balkan Peninsula from the Julian Alps and the southeastern Prealps, along the Dinarides to the Macedonian-Thracian Massif, and only marginally in the northern Hellenides (Figs. 1 and 10). Anguis colchica is documented from the Carpathians, the Balkanides along the Stara Planina Mts. in southeastern Serbia and central Bulgaria, and from the Black Sea region (Strandzha Mts.). Anguis graeca is mostly confined to the Hellenides in the southern Balkans where it is distributed from the northern Peloponnese, along the Pindus Mts. and the Albanian Mts. to the southernmost Dinaric region (southern Montenegro) and western Macedonian-Thracian Massif (northeastern Rep. Macedonia). Anguis cephallonica was found in the Peloponnese and Kephallonia Island (not sampled in Zakynthos and Ithaki islands in this study where the species was documented previously [42, 43]).
Our detailed sampling also revealed several areas where haplotypes of different species could be found in distances from ca. 15 to 80 km, indicating the existence of contact zones (Fig. 1). One such contact zone between A. fragilis and A. colchica was detected in eastern and southeastern Serbia and central-western Bulgaria (sites 34–37, 67–68, 73–76 for A. fragilis; sites 109–111, 115–116, 117–119 for A. colchica). Three zones of contact were further detected between A. fragilis and A. graeca in southernmost Montenegro (sites 61 and 139; sympatric occurrence), northwestern Rep. Macedonia (sites 63 and 158), and in the tri-border area of Serbia, Bulgaria and Rep. Macedonia (sites 64, 70–72, 160). Sympatric occurrence of A. graeca and A. cephallonica was confirmed from northern Peloponnese (sites 165, 166, 172; and 174–176).
Genetic diversity and phylogeographical patterns
Historical demography
The Bayesian skyline plots (BSPs; Figs.
6
,
7
and
8
) gave evidence of population growth in all tested groups, with the exception of the 'Slovenian' populations of
A. fragilis
(Fig.
6c
) and the Carpathian populations of
A. colchica
, although a mild and relatively recent (during the last ca 80 Ky) population growth was detected in the Carpathian lineage (Fig.
7b
). A sharp population growth was detected in the Stara-Planina lineage of
A. colchica
also since ca 80 Kya (Fig.
7c
). Comparing the two main clades of
A. colchica
, population growth started earlier in the Pontic clade (ca 200 Kya; Fig.
7d
) than in the
Incerta
clade (80 Kya; Fig.
7a
). Considerable population growth was also detected during the last 150 Ky in the ICE + SB haplogroups of
A. fragilis
(Fig.
6a
), or since ca 50 Kya when only the SB haplogroup was analysed (Fig.
6b
).
Anguis graeca
was analysed as a single population due to its complex genetic variation with many haplogroups. The BSP showed a substantial population growth starting about 700 Kya, the population being stable during the Middle Pleistocene and slightly declining during the last ca 80 Kya (Fig.
8a
). In the widespread lineage of
A. cephallonica
, a sign of population growth was detected about 300 Kya ago and the lineage has been stable since the last 100 Kya (Fig.
8b
).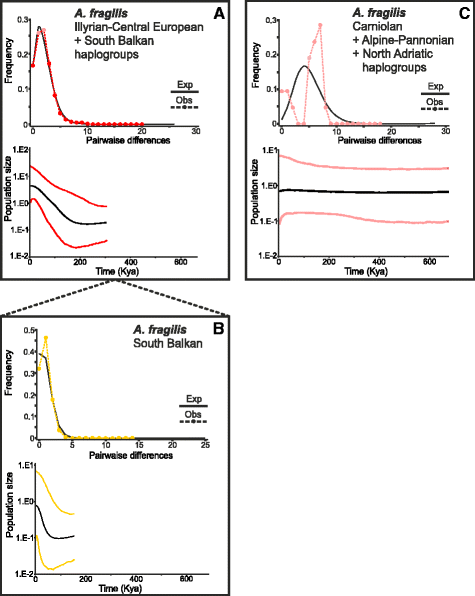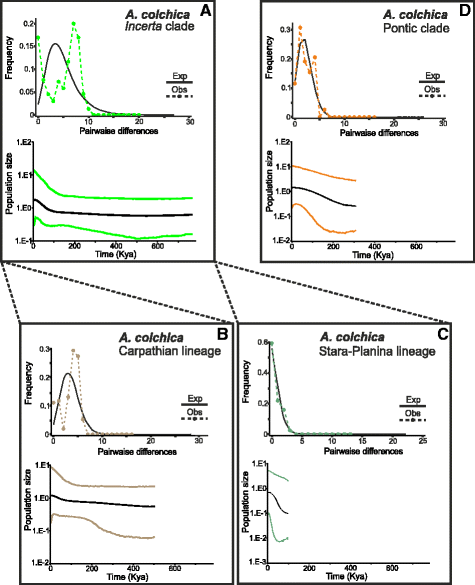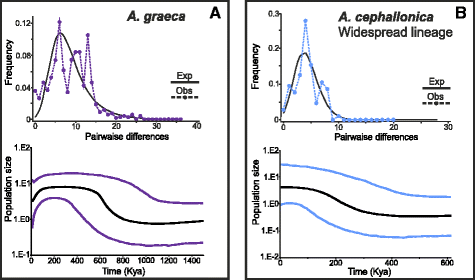 The complementary mismatch distributions (MDs; Figs. 6, 7 and 8) showed a ragged distribution of the observed values of pairwise differences in the predominantly Slovenian A. fragilis (Fig. 6c), the Incerta clade of A. colchica (Fig. 7a) and its Carpathian lineage (Fig. 7b), and to some extent also in A. graeca and the widespread lineage of A. cephallonica (Fig. 8a, b). In the other analysed population groups the observed values mirrored the values expected for a growing- or declining-population model. The neutrality tests showed significant departures from the neutrality in the majority of our groups, except for the predominantly Slovenian haplogroups of A. fragilis, the Incerta clade of A. colchica and its Carpathian lineage (Table 1).
Genetic diversity and topographic heterogeneity
Multiple linear regressions of nucleotide diversity (
π
) of the lineages/haplogroups plotted against the Q3, median above Q3, and modus above Q3 of the terrain ruggedness index (TRI), and an area size inhabited by these lineages/haplogroups, were statistically significant (Table
2
). Partial regression analyses, however, revealed that only TRI values, not the area size, had a significant effect on the nucleotide diversity (Table
2
, Fig.
9
and Additional file
2
: Table S2, Additional file
3
: Figure S1 and Additional file
4
: Table S3). Standardized (
beta
) regression coefficients were highly significant both when samples from the Apuseni Mts. were included among the Carpathian samples as well as when they were treated separately.
Table 2
Results of the multiple linear regressions between nucleotide diversity (π), topographic heterogeneity [estimated as the third quartile (Q3) of the terrain ruggedness index (TRI), and median and modus calculated for data above Q3], and the area size of the topographic units inhabited by particular slow-worm lineages/haplogroups
Apuseni Mts. within the Carpathians

Apuseni Mts. as a separate unit

R2 /beta

P

R2 /beta

P

TRI (Q3)/area size

0.814

0.035

0.830

0.012

TRI (Q3)

0.987

0.015

0.935

0.004

area size

0.274

0.316

0.228

0.281

TRI (median above Q3)/area size

0.897

0.011

0.869

0.006

TRI (median above Q3)

1.110

0.004

0.973

0.002

area size

0.445

0.080

0.299

0.137

TRI (modus above Q3)/area size

0.843

0.025

0.847

0.009

TRI (modus above Q3)

0.966

0.010

0.922

0.003

area size

0.184

0.433

0.079

0.670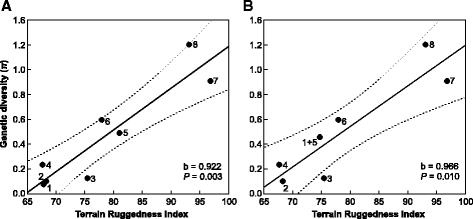 Discussion
Distribution of slow worms in the Balkans and contact zones
Due to relatively hard-to-interpret morphology and description of several vaguely defined forms and their intermediates in the Balkan Peninsula, the distribution of slow worms remained problematic and conflicting [
18
,
22
,
44
]. Recent molecular-phylogenetic studies [
14
,
15
] recognized four species of the genus
Anguis
within the Balkans and have also painted the first coarse-grained picture of their distribution, but the precise ranges have remained to be revealed. Here, based on extensive sampling and molecular identification, we show detailed distribution of all four species inhabiting the Balkan Peninsula (Figs.
1
and
10
). The Balkan slow worms are characterized by mostly parapatric distributions, to large extent corresponding with major geomorphological units of the peninsula. We acknowledge that the distribution patterns revealed here may not fully represent species distributions due to the specific characteristics of the used mtDNA marker (maternal and clonal inheritance, reduced effective population size, sex-specific dispersal, relatively common interspecific introgression). However, the overall phylogenetic patterns we found are vastly concordant to previously published ones based on both mtDNA and nuDNA markers [
14
,
15
].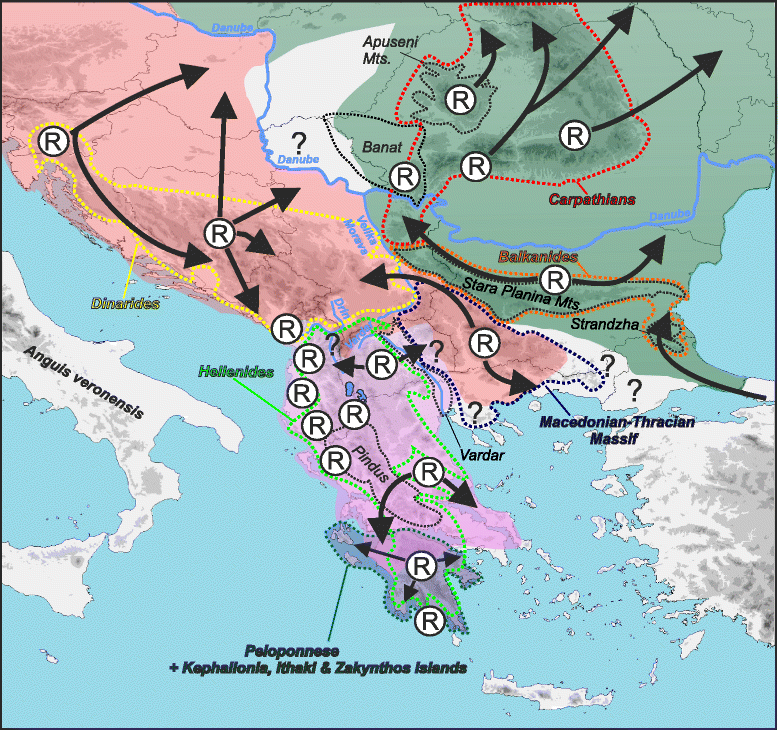 Among our studied species, Anguis cephallonica occupies the smallest range limited to the Peloponnese Peninsula and the islands of Kephallonia, Ithaki, and Zakynthos [17, 42, 43]. The distributions of the other three species principally follows the main mountain ranges in the Balkans; A. fragilis is distributed in the Dinarides and Macedonian-Thracian Massif, A. colchica in the Carpathians, Stara Planina, and Strandzha Mts., and A. graeca in the Hellenides.
It appears that while the ranges of A. fragilis and A. graeca each meet with ranges of two other species in the Balkans (furthermore, A. fragilis also forms a contact zone with A. veronensis outside the Balkan Peninsula, see [15]), A. colchica and A. cephallonica only come into contact with one other species. Parts of the contact zones presumably originated by crossing natural barriers such as mountain ridges or river valleys. For instance, the range of A. graeca crosses the Vardar River valley and extends from the Hellenides into the Macedonian-Thracian Massif where it forms a contact zone with A. fragilis. On the other hand, A. fragilis inhabiting predominantly the Dinarides, Macedonian-Thracian Massif, and their vicinity seems to have extended its range to the south, across the northern borderline of the Hellenides, where it forms a contact zone with A. graeca (Fig. 1). Historical demographic model indicates that an expansion of the SB haplogroup of A. fragilis could probably have happened during the Holocene (Fig. 6b). Anguis graeca and A. cephallonica form a contact zone and partial sympatry in the northern Peloponnese where they both might have come into contact repeatedly as climatic oscillations and resulting sea-level changes led to repeated connection and disconnection of the peninsula and the mainland during the Pleistocene [17, 45]. It seems that ranges of A. graeca and A. colchica do not come into recent contact because A. fragilis populations are embedded between them.
Multiple refugia and colonization routes
All four species of slow worms show high levels of intraspecific genetic differentiation in the Balkans and are sub-structured into several divergent lineages or haplogroups. This genetic structure was shaped by local restrictions of ranges into multiple Pleistocene refugia located in the Peloponnese (A. cephallonica), Hellenides (A. graeca), southern Carpathians (A. colchica), and northwestern Dinarides (A. fragilis) (Fig. 10). Existence of several smaller and isolated refugia that harboured slow-worm populations during the Pleistocene climatic oscillations within the Balkans is in concordance with the refugia-within-refugia model originally proposed for the Iberian Peninsula [46], and also suggested for the Italian Peninsula based on the phylogeography of A. veronensis [15]. This pattern might have more general applicability in the Balkans where multiple refugia were corroborated in both animals e.g. [8, 47–49] and plants e.g. [50, 51]. They are located either in the Mediterranean region (e.g. Adriatic coast, Peloponnese; [52]) or in non-Mediterranean parts of the peninsula (Carpathians, and the Prealps region between the Dinarides and Alps; [4, 5, 53].
The biogeographical histories of slow worms from southern and northern Balkan refugia differ. The ICE haplogroup of A. fragilis and several haplogroups of the Carpathian lineage of A. colchica colonized broad areas of temperate Europe from their northern extra-Mediterranean refugia. On the contrary, A. cephallonica, A. graeca, the Pontic and Stara-Planina lineages of A. colchica, and the South Balkan haplogroup of A. fragilis did not disperse much from their southern Mediterranean refugia and their distribution has remained more localized south of the Danube River (Fig. 10).
In the case of Anguis fragilis our results indicate the existence of at least three separate Pleistocene refugia. The South Balkan haplogroup predominantly occurs in the Macedonian-Thracian Massif, where a refugium was presumably located. Outside this mountain range the SB haplogroup only dispersed to the northernmost Hellenides, probably recently, as a common and widespread haplotype was detected there. Populations of the ICE haplogroup colonized vast parts of the western Balkans, but also central and northwestern Europe from a refugium presumably located in the Dinarides. This happened relatively rapidly, which is indicated by (i) a star-like pattern of the haplotype network and low genetic variation of the ICE haplogroup and (ii) the broad area presumably colonized from a single source population [54]. The situation could be vividly illustrated using f1 haplotype (Fig. 2a, c): it is found not only throughout the central and western Balkans, but also in central Europe and as far as the British Isles spread over an area of approximate length of 2000 km [14]. The pattern of the haplotype network and current distribution of A. fragilis suggests not only quick expansion to the north, but also a gradual north-to-south/west-to-east expansion during the Pleistocene, which is very rare in terrestrial animals (Fig. 10; [55–57]).
We detected relatively high haplotype diversity of A. fragilis in the northern Adriatic region (mainly in Slovenia; Fig. 2b, c). Also the BSP analysis demonstrated population stability for these 'Slovenian' haplogroups indicating a long-term survival of slow-worm populations in this region. Such persistence in refugia at foothills of the Alps has been described in several temperate amphibian and reptile species e.g. [58–65]. This region was also probably important in shaping genetic diversity of A. veronensis, the species whose main part of the distribution range is located in the Apennine Peninsula [15]. However, the Prealpine slow-worm populations also contributed to the colonization of the Pannonian Basin as indicated by the phylogeographical pattern when extralimital samples were included (Fig. 2a, c; haplotype AF05; [16]).
The Carpathians formed an important extra-Mediterranean refugium of many temperate and cold-adapted species e.g. [40, 56, 66, 67]. This was mainly possible because most of the mountain range remained ice-free during the last glacial maximum [68]. In some taxa, distinct phylogenetic lineages have been detected with distribution restricted to the Carpathians, which indicates their long-term in situ survival (e.g. the newt Lissotriton vulgaris, [49, 69]; the toad Bombina variegata, [70]). These populations also contributed to the postglacial colonization of Europe. In the Carpathians or their close vicinity we discovered haplotypes of three geographically well-separated lineages of A. colchica (Stara-Planina, Banatian, and Carpathian lineages within the Incerta clade; Fig. 3). While the Stara-Planina lineage (which is currently also present in the Serbian Carpathians) presumably survived in a refugium outside the Carpathians, the Carpathian and Banatian lineages are together comprised of several haplogroups that could be traced to multiple microrefugia within the Carpathians. Close affinity of these haplotypes (or even identity in some cases, e.g. haplotypes c1, c6) to those from central and north-eastern Europe [14, 15] suggests that these areas were historically colonized from the Carpathian refugia. A very similar colonization pattern of the northern and eastern Europe from the Romanian Carpathians has been described in a rodent Clethrionomys glareolus [71].
Despite its limited distribution in the Balkans, the Pontic clade of A. colchica shows relatively high mtDNA polymorphism. Close phylogenetic relationships of the southeast Bulgarian and Anatolian populations (own unpublished data) indicate that the Pontic lineage might have colonized the Black Sea region of the Balkans during the Pleistocene when the peninsula was accessible from northern Anatolia via terrestrial route [72, 73].
The Peloponnese, inhabited by endemic A. cephallonica, and the region west of the Pindus Mts. (with high haplotype diversity of A. graeca) have favourable geography with deep long valleys providing stable climatic conditions. Consequently it is known for high endemism of numerous plants, invertebrates, and vertebrates [17, 74–76]. Multiple refugia in the region have already been proposed [52]. Further in the north, most of Albania and northwestern Greece are surrounded by mountain ranges characterized by steep slopes and deep valleys which could have had a strong isolating effect on A. graeca during the Plio-Pleistocene and allowed divergence of its lineages. In contrast, the overall flat Skadar region enabled colonization of southern parts of the region of present-day Montenegro and forming a narrow zone of sympatric occurrence with A. fragilis. The existence of several distinct haplogroups in A. graeca indicates that this species has a longer and complex evolutionary history. Overall high intraspecific genetic diversity with up to 3.6 % in p-distances (Additional file 5: Table S4) suggests older diversification events probably associated with multiple refugia, e.g. in central and southern Albania, northwestern Greece, and northern Peloponnese where the most divergent haplotypes were found.
Correlation of genetic diversity and topographic heterogeneity
Phylogeographical analysis of all Balkan slow-worm species showed different patterns of intraspecific divergences and genetic diversity for each studied species, presumably mirroring their different, contrasting, evolutionary histories. Specifically, lineages with more pronounced genetic structure inhabit landscapes with higher terrain ruggedness, i.e. higher altitudinal differences, more numerous and deeper valleys, and steeper slopes. Our regression analysis indeed confirms this pattern with high significance – lineages with higher nucleotide diversity inhabit mountain systems characterized by higher elevational differences, i.e. rugged terrain (Table 2, Fig. 9 and Additional file 2: Table S2, Additional file 3: Figure S1 and Additional file 4: Table S3).
The general pattern described as southern richness and northern purity [3] is typical for many taxa on a broad continental scale and can also be observed in slow worms: the species with highest genetic diversity are A. graeca and A. cephallonica inhabiting the very south of the genus range in the Balkans. A detailed view reveals that even within the relatively small ranges of these species, the highest diversity can be found in smaller and more southerly located areas, corresponding to local microrefugia (or refugia within refugia; [46]). The situation is however different for the two northerly occurring species, A. colchica and A. fragilis, in which the populations with highest diversity occur in more northerly-located areas in the Balkans. More pronounced altitudinal differences, steep exposed slopes, and generally more heterogeneous landscapes create numerous effective barriers preventing dispersal of small legless lizards, such as slow worms, in which the dispersal ability is also limited by semifossorial lifestyle [77]. Such combination of life history and habitat characteristics provides suitable predispositions for isolation and subsequent divergence of populations. On the other hand, lowlands, plains, low-hill regions and slightly rolling landscapes offer fewer barriers to dispersal and gene flow, and thus divergence occurs less often. Our observations on correlation of slow-worm genetic diversity with topographic ruggedness are fully in concordance with the fact that 33 (63 %) of the 52 identified Mediterranean refugia are situated in submontane and montane areas [52].
Conclusions
Our study uncovered mitochondrial DNA variation and distribution of four Anguis species and hidden diversity of their populations in the Balkans. These species have mostly parapatric distributions that correspond with major mountain ranges. We showed that biogeography of the genus in the Balkans is concordant with the refugia-within-refugia model previously proposed for other main European Peninsulas. The role of Mediterranean as well as extra-Mediterranean refugia was detected in the evolutionary history of slow worms with varying ages and degrees of post-glacial recolonization. Beside climatic historical events, we consider the complex topography of the Balkans as one of the most important factors in shaping recent genetic diversity of slow worms. Topographic heterogeneity seems to be a good predictor of both genetic and species diversity, in general. The pattern observed on slow-worm refugia in the Balkan Peninsula thus illustrates and highlights the fact that many global biodiversity hotspots and endemism centres are located in montane regions [78–82]. As it has been suggested in other taxa [13, 83–86], complex mountain topography offers conditions that could facilitate genetic isolation and divergence and result thus in a high rate of speciation.
Availability of data and materials
New sequences have been deposited in GenBank (accession numbers KX020147–KX020322) and other input data are provided in Additional file 1: Table S1, Additional file 2: Table S2, Additional file 3: Figure S1, Additional file 4: Table S3 and Additional file 5: Table S4 of this study.
Consent to publish.
Not applicable.
Declarations
Acknowledgments
We would like to thank (alphabetically) to J.W. Arntzen, P. Balej, L. Blažej, B. Bolfíková, L, Choleva, D. Coğalniceanu, M. Donát, C. Dundarová, I. Ghira, S. Giokas, J. Hájek, J. Hlaváč, M. Homolka, T. Husák, K. Janoušek, M. Jedlička, A. Kecskés, D. Koleška, P. Kornilios, Z. Lajbner, H. Laťková, P. Lymberakis, P. Meduna, O. Mettouris, T. Míšek, E. Mizsei, L. Muller, R. Musilová, P. Pavlík, N. Preradović, M. Rindoš, R. Rozínek, R. Šanda, M. Šandera, M. Šandová, H. Šifrová, E. Stloukal, B. Švecová, O. Tzortzakaki, I. Velikov, P. Vlček, J. Vörös, J. Vukić, B. Wielstra, S.R. Zamfirescu, V. Zavadil for their kind donation of tissue samples or help in the field. We thank J. Kreisinger for helpful discussion about the statistics, D. Senko for GIS calculations and two anonymous reviewers for their comments, which improved previous version of the manuscript. The Geographic Resources Analysis Support System (GRASS) and GIS calculations were performed in the Computing Centre of the Slovak Academy of Sciences using the infrastructure acquired within the projects ITMS 26230120002, ITMS 26210120002 and ITMS 6240120014 supported by the Research & Development Operational Program funded by the European Regional Development Fund (ERDF). We also acknowledge the local authorities of nature conservation. This study was supported by the Comenius University grants UK/20/2014, UK/37/2015 and a grant of the Scientific Grant Agency of the Slovak Republic VEGA 1/0073/14. Daniel Jablonski was also supported by the Societas Europaea Herpetologica (Travel grant 2013). Additional financial support was from the Institute of Vertebrate Biology, Czech Academy of Sciences (RVO 68081766), and the Ministry of Culture of the Czech Republic (DKRVO 2016/15, National Museum, 00023272). The work of K. Ljubisavljević and G. Džukić was supported by the Serbian Ministry of Education, Science and Technological Development (grant173043).
Open AccessThis article is distributed under the terms of the Creative Commons Attribution 4.0 International License (http://creativecommons.org/licenses/by/4.0/), which permits unrestricted use, distribution, and reproduction in any medium, provided you give appropriate credit to the original author(s) and the source, provide a link to the Creative Commons license, and indicate if changes were made. The Creative Commons Public Domain Dedication waiver (http://creativecommons.org/publicdomain/zero/1.0/) applies to the data made available in this article, unless otherwise stated.
Authors' Affiliations
(1)
Department of Zoology, Comenius University in Bratislava, Bratislava, Slovakia
(2)
Department of Ecology and Evolutionary Biology (EBIO), University of Colorado, Boulder, USA
(3)
Department of Evolutionary Biology, Institute for Biological Research "Siniša Stanković", Belgrade, Serbia
(4)
Department of Vertebrates, National Museum of Natural History, Sofia, Bulgaria
(5)
Croatian Institute for Biodiversity, Croatian Herpetological Society Hyla, I, Zagreb, Croatia
(6)
Department of Biology, Section of Animal Biology, School of Natural Sciences, University of Patras, Patras, Greece
(7)
Department of Zoology, National Museum, Prague, Czech Republic
(8)
Institute of Vertebrate Biology, Czech Academy of Sciences, Brno, Czech Republic