Research article

Open Access
Heme pathway evolution in kinetoplastid protists
BMC Evolutionary Biology
BMC series – open, inclusive and trusted
2016
16:109
Received: 2 April 2016
Accepted: 21 April 2016
Published: 18 May 2016
Abstract
Background
Kinetoplastea is a diverse protist lineage composed of several of the most successful parasites on Earth, organisms whose metabolisms have coevolved with those of the organisms they infect. Parasitic kinetoplastids have emerged from free-living, non-pathogenic ancestors on multiple occasions during the evolutionary history of the group. Interestingly, in both parasitic and free-living kinetoplastids, the heme pathway—a core metabolic pathway in a wide range of organisms—is incomplete or entirely absent. Indeed, Kinetoplastea investigated thus far seem to bypass the need for heme biosynthesis by acquiring heme or intermediate metabolites directly from their environment.
Results
Here we report the existence of a near-complete heme biosynthetic pathway in Perkinsela spp., kinetoplastids that live as obligate endosymbionts inside amoebozoans belonging to the genus Paramoeba/Neoparamoeba. We also use phylogenetic analysis to infer the evolution of the heme pathway in Kinetoplastea.
Conclusion
We show that Perkinsela spp. is a deep-branching kinetoplastid lineage, and that lateral gene transfer has played a role in the evolution of heme biosynthesis in Perkinsela spp. and other Kinetoplastea. We also discuss the significance of the presence of seven of eight heme pathway genes in the Perkinsela genome as it relates to its endosymbiotic relationship with Paramoeba.
Keywords
Heme
Kinetoplastea
Paramoeba pemaquidensis
Perkinsela
Evolution
Endosymbiosis
Prokinetoplastina
Lateral gene transfer
Background
Kinetoplastea is a diverse group of unicellular flagellated organisms, most of which are parasites. The best known group of kinetoplastid parasites is the Trypanosomatida, which parasitize plants (e.g., Phytomonas [1]), insects (e.g., Angomonas [2]) and humans (e.g., Leishmania [3] and Trypanosoma [4]). However, the Kinetoplastea also includes non-parasitic organisms such as free-living bodonids like Bodo saltans [5] and Neobodo designis [6]. The bodonids are comprised of Neobodonida, Eubodonida and Parabodonida, which are considered early branching Kinetoplastea [7–10] and serve as an important reference point for the evolution of parasitism within this species-rich group [11]. However, these organisms are poorly understood and the evolutionary relationship amongst bodonids is still debated [8, 10, 12]. The Prokinetoplastina is an even deeper branching group of kinetoplastid flagellates [7–9], and is composed of organisms such as Ichthyobodo necator, a fish ectoparasite, and Perkinsela sp. [13], which is an endosymbiont of opportunistic pathogenic amoebae belonging to Neoparamoeba/Paramoeba spp. [14–18]. The Kinetoplastea themselves belong to the Excavata, more specifically the Euglenozoa, which includes Diplonemida (e.g., Diplonema papillatum) and Euglenida such as the plastid-bearing organisms Eutreptiella gymnastica and Euglena gracilis.
Parasitic Kinetoplastea have complex life cycles and have undergone extensive reductive evolution as a consequence of their parasite-host interactions. One commonly observed change is the reduction or complete loss of biochemical pathways that can be augmented or provided by their hosts [11]. This includes the lack of tetrahydrobiopterin biosynthesis required for folate and pteridine [19, 20] and, in trypanosomatids, purine auxotrophy [21]. One particularly striking example of such metabolic reduction in Kinetoplastea is the heme pathway, which is either incomplete or missing entirely (in some parasitic species). In the latter case, essential metabolites are acquired from their hosts [22, 23] or, in the case of Strigomonas culicis and Angomonas deanei, from bacterial endosymbionts [24]. Metabolite import could involve intermediates in the heme pathway from coproporphyrinogen III, as suggested by Kořenỳ et al. [25], or heme itself [26, 27]. Furthermore, the plant pathogen Phytomonas serpens seems not to require heme at all [28]. The heme pathway is not found in Trypanosoma and only the last three steps of the pathway are present in other trypanosomatids such as Leishmaniinae (composed of Leptomonas spp., Crithidia spp. and Leishmania spp.) [29] and Strigomonadinae (composed of Angomonas spp. and Strigomonas spp.). No complete heme pathway has been described for a member of the Kinetoplastea [25].
The heme pathway is an important part of cellular metabolism. It produces the cofactor heme, which is required for key biochemical processes such as oxidative phosphorylation. In most eukaryotes, heme biosynthesis involves eight steps (Fig.
1
), the first being the transformation of glycine or L-glutamate into 5-amino-levulinate by 5-aminolevulinate synthase (ALAS) [
30
]. An alternative is the synthesis of 5-amino-levulinate by the sequential action of glutamyl-tRNA synthetase (GltX), glutamyl-tRNA reductase (GTR), and glutamate-1-semialdehyde 2,1-aminomutase (GSA-AT). This second pathway is found in most bacteria and in most eukaryotes with a plastid [
31
,
32
]. 5-amino-levulinate is then converted into porphobilinogen by porphobilinogen synthase (also known as delta-aminolevulinic acid dehydratase (ALAD)), and then into hydroxymethylbilane by hydroxymethylbilane synthase (or porphobilinogen deaminase (PBGD)). Subsequently, uroporphyrinogen-III synthase (UROS) produces uroporphyrinogen III, which is then converted into coproporphyrinogen III by uroporphyrinogen decarboxylase (UROD) [
33
,
34
].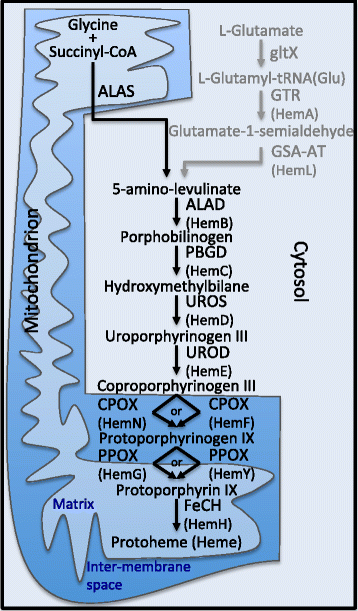 In the next step of the heme pathway, coproporphyrinogen III is modified to protoporphyrinogen IX by coproporphyrinogen III oxidase (CPOX/HemF) under aerobic conditions, and under anaerobic conditions, by oxygen-independent coproporphyrinogen III oxidase (CPOX/HemN) [35]. Subsequently, protoporphyrinogen IX is transformed into protoporphyrin IX by oxygen-dependent protoporphyrinogen oxidase (PPOX/HemY), or menaquinone-dependent protoporphyrinogen oxidase (PPOX/HemG), the latter enzyme possessing the ability to perform the reaction under aerobic and anaerobic conditions [36–38]. Finally, protoporphyrin IX is converted to protoheme by the action of ferrochelatase (FeCH) [39]. Interestingly, the heme biosynthetic pathway in eukaryotes involves proteins in three different cellular locations. While the ALAD, PBGD, UROS, and UROD enzymes act in the cytosol, the ALAS and FeCH enzymes are usually localized to the mitochondrial matrix, and PPOX and CPOX function in the inter-membrane space of the mitochondrion [25, 40] (Fig. 1).
In this study, we analyzed the heme pathway of two species of Perkinsela, which are endosymbionts of the amoebozoans Paramoeba pemaquidensis and P. invadens. Using molecular phylogenetics, we show that Perkinsela belongs to the earliest branching kinetoplastid lineage currently known, and demonstrate that these highly reduced endosymbionts nevertheless possess a near-complete heme biosynthesis pathway, the first of its kind described for a member of the Kinetoplastea. We hypothesize that at least a subset of these enzymes represents elements of the ancestral heme pathway in the group. Finally, we discuss the importance of this pathway in early-branching kinetoplastid flagellates for understanding the adaptations that have occurred during the evolution of bodonids and parasitic trypanosomatids.
Methods
Heme pathway protein sequence acquisition
We searched for genes encoding heme biosynthetic enzymes in the nuclear genome of the Perkinsela endosymbiont living within the amoebozoan Paramoeba pemaquidensis CCAP1560/4. The nuclear genome (and associated transcriptome) of the host P. pemaquidensis was also queried, as was transcriptomic data from another species, P. invadens. GenBank accession numbers for the Perkinsela spp. and Paramoeba spp. data used in this study are LFNC00000000 and KU609011-KU609043. BLASTp/tBLASTn searches were carried out using a curated set of heme pathway enzymes from diverse eukaryotes as queries with an E-value cut-off 1e-05. For identification of UROS enzymes, local HMMER [41] searches (hmmsearch) were initially performed against the total P. invadens transcriptome database (6-frame translation into protein) using default settings. Profile HMMs were constructed via hmmbuild with Stockholm alignments ('Seed' and 'NCBI') for HEM4 (PF02602) retrieved from the Pfam website (http://pfam.xfam.org). Hits with an E-value ≤ 1e-05 were then used as queries to screen the P. pemaquidensis total genomic and transcriptomic assemblies via local tBLASTn. Homologs were also identified using Ghostkoala (http://www.kegg.jp/ghostkoala/). Sequences used in phylogenetic analyses were obtained by BLAST from the NCBI nr database, the MMETSP database of transcriptomes [42], from TritrypDB [43], and from the B. saltans genome (Welcome Trust Sanger Institute). To further verify their predicted roles in heme biosynthesis, all sequences analyzed in this study were annotated using InterProScan [44] and the InterPro classification [45].
Protein localization predictions
Sequences of proteins putatively involved in heme biosynthesis were subjected to a localization prediction pipeline using the following tools: SignalP 3.0 (http://www.cbs.dtu.dk/services/SignalP-3.0/) [46], TargetP 1.1 (http://www.cbs.dtu.dk/services/TargetP/) [47], PredSL (http://aias.biol.uoa.gr/PredSL/input.html) [48] and Predotar (https://urgi.versailles.inra.fr/predotar/predotar.html) [49] with standard settings for prediction of N-terminal targeting signals such as secretory signal peptides (SPs) and mitochondrial targeting peptides (mTPs). TMHMM 2.0 (http://www.cbs.dtu.dk/services/TMHMM/) [50] was used for analysis of potential transmembrane domains (TMDs). Euglenophytes harbor complex three membrane-bound plastids of green algal origin and the proteins targeted to these organelles usually possess bipartite targeting signals (BTS) consisting of a SP followed by a transit peptide (TP) [51, 52]. Plastid targeting of proteins in photosynthetic euglenids was thus predicted using TargetP, PredSL and Predotar (see above) in 'plant/chloroplast' mode after removal of the signal peptide (SP) (based on SignalP prediction). For classification of a protein into one of four categories (secretory, mitochondrial, plastidial, 'other'), the output of at least two of the searches had to be positive for a specific category (see Additional file 1: Table S1). Only those protein sequences starting with a methionine residue were classified.
Phylogenetic analysis
Eleven proteins were selected for their potential to resolve the evolution of Kinetoplastea in general and the taxonomic position of Perkinsela spp. in particular (Additional file 2: Table S2; proteins used for Perkinsela sp. from P. pemaquidensis were: KNH09580, KNH04116, KNH06333, KNH09360, KNH08922, KNH06227, KNH03620, KNH06559, KNH08032, KNH06818, KNH05478). Phylogenetic trees were first constructed individually for each protein. Homologs were aligned using MUSCLE [53] and blocks were selected using BMGE [54] with the BLOSUM40 similarity matrix and a block size of four. Each individual protein tree was obtained with IQ-TREE using the ultrafast bootstrap method under the LG4X model and was checked manually before concatenation. Sequences for each organism were then concatenated (30 taxa, 5,060 sites), and a single phylogenetic tree was built using Phylobayes version 4.1 [55] under the catfix C20 + Poisson model [56]. The two chains were stopped when convergence was reached (maxdiff < 0.1) after 230 cycles and a burn-in of 300 trees. We then mapped bootstrap values obtained from 1,000 replicates under the LG4X [57] model with IQ-TREE software [58]. Trees were visualized using Figtree (http://tree.bio.ed.ac.uk/software/figtree/). Topological tree tests were performed using RAxML version 8.0.19 [59] under the PROTGAMMALG4X model. The different topologies were then compared according to the tree topology test available in IQ-TREE (RELL approximation [60], the Kishino-Hasegawa test [61], the Shimodaira-Hasegawa test [62], and expected likelihood weights [63]). The percentage of missing data for each organism in the concatenated alignment is provided in Additional file 3: Table S1.4.
We also built phylogenetic trees for enzymes involved in the heme pathway in Kinetoplastea. Sequences were retrieved using homology searches by BLAST against sequences obtained from different sources (see above). All sequences with an E-value less than 1e-5 were selected. We then aligned these sequences using MAFFT with the fast alignment settings [64]. Block selection was then performed using BMGE with a block size of 4 and the BLOSUM30 similarity matrix. Preliminary trees were generated using Fasttree [65] and 'dereplication' was applied to robustly supported monophyletic clades using TreeTrimmer [66] in order to reduce sequence redundancy. For each protein, the final set of sequences was selected manually. Proteins were re-aligned with MUSCLE, block selection was carried out using BMGE with a block size of four and the matrix BLOSUM30, and trees were generated using Phylobayes-4.1 under the catfix C20 + Poisson model with the two chains stopped when convergence was reached (maxdiff < 0.1) after at least 200 cycles, discarding 1,000 burn-in trees. Bootstrap support values were estimated from 100 replicates using IQ-TREE under the LG4X model and mapped onto the Bayesian tree.
Conclusions
Here we have explored the basal evolutionary position of Prokinetoplastina within Kinetoplastea, and provided the first evidence for the existence of a near-complete heme biosynthesis pathway in a member of the Kinetoplastea. Phylogenetic analyses suggest that a major portion of the heme pathway present in Prokinetoplastina (in particular, Perkinsela spp.) was ancestrally present. LGT also appears to have contributed heme biosynthetic genes after the various Kinetoplastea lineages diverged from one another, perhaps related to their adaptation to a parasitic lifestyle. The presence of an almost complete heme pathway in Perkinsela spp. provides an opportunity for future studies aimed at shedding light on the nature of the metabolic connections between Perkinsela and its Paramoeba host.
Abbreviations
ALAD:

delta-aminolevulinic acid dehydratase
ALAS:

5-aminolevulinate synthase
BTS:

bipartite targeting signal
CPOX/HemF:

coproporphyrinogen III oxidase
CPOX/HemN:

oxygen-independent coproporphyrinogen III oxidase
FeCH:

ferrochelatase
GltX:

glutamyl-tRNA synthetase
GSA-AT:

glutamate-1-semialdehyde 2,1-aminomutase
GTR:

glutamyl-tRNA reductase
LGT:

lateral gene transfer
PBGD:

porphobilinogen deaminase
PPOX/HemG:

menaquinone-dependent protoporphyrinogen oxidase
PPOX/HemY:

oxygen-dependent protoporphyrinogen oxidase
SP:

signal peptide
TMD:

transmembrane domain
UROD:

uroporphyrinogen decarboxylase
UROS:

uroporphyrinogen-III synthase
Declarations
Acknowledgements
This work was supported by an operating grant awarded to JMA from the Canadian Institutes of Health Research (MOP-115141). DM was supported by a grant from Dalhousie University's Centre for Comparative Genomics and Evolutionary Bioinformatics. JMA and JL acknowledge support from the Canadian Institute for Advanced Research. We thank Andrew Jackson and Matthew Berriman for permission to analyze the Bodo saltans genome prior to publication.
Open AccessThis article is distributed under the terms of the Creative Commons Attribution 4.0 International License (http://creativecommons.org/licenses/by/4.0/), which permits unrestricted use, distribution, and reproduction in any medium, provided you give appropriate credit to the original author(s) and the source, provide a link to the Creative Commons license, and indicate if changes were made. The Creative Commons Public Domain Dedication waiver (http://creativecommons.org/publicdomain/zero/1.0/) applies to the data made available in this article, unless otherwise stated.
Authors' Affiliations
(1)
Department of Biochemistry and Molecular Biology, Dalhousie University, Halifax, Canada
(2)
Centre for Comparative Genomics and Evolutionary Bioinformatics, Halifax, Canada
(3)
Faculty of Life and Environmental Sciences, University of Tsukuba, Tsukuba, Japan
(4)
Institute of Parasitology, Biology Centre, Czech Academy of Sciences, and Faculty of Sciences, University of South Bohemia, České Budӗjovice, Czech Republic
(5)
Canadian Institute for Advanced Research, Toronto, Canada