Research article

Open Access
Hierarchical genetic structure shaped by topography in a narrow-endemic montane grasshopper
BMC Evolutionary Biology
BMC series – open, inclusive and trusted
2016
16:96
Received: 11 February 2016
Accepted: 21 April 2016
Published: 5 May 2016
Abstract
Background
Understanding the underlying processes shaping spatial patterns of genetic structure in free-ranging organisms is a central topic in evolutionary biology. Here, we aim to disentangle the relative importance of neutral (i.e. genetic drift) and local adaptation (i.e. ecological divergence) processes in the evolution of spatial genetic structure of the Morales grasshopper (Chorthippus saulcyi moralesi), a narrow-endemic taxon restricted to the Central Pyrenees. More specifically, we analysed range-wide patterns of genetic structure and tested whether they were shaped by geography (isolation-by-distance, IBD), topographic complexity and present and past habitat suitability models (isolation-by-resistance, IBR), and environmental dissimilarity (isolation-by-environment, IBE).
Results
Different clustering analyses revealed a deep genetic structure that was best explained by IBR based on topographic complexity. Our analyses did not reveal a significant role of IBE, a fact that may be due to low environmental variation among populations and/or consequence of other ecological factors not considered in this study are involved in local adaptation processes. IBR scenarios informed by current and past climate distribution models did not show either a significant impact on genetic differentiation after controlling for the effects of topographic complexity, which may indicate that they are not capturing well microhabitat structure in the present or the genetic signal left by dispersal routes defined by habitat corridors in the past.
Conclusions
Overall, these results indicate that spatial patterns of genetic variation in our study system are primarily explained by neutral divergence and migration-drift equilibrium due to limited dispersal across abrupt reliefs, whereas environmental variation or spatial heterogeneity in habitat suitability associated with the complex topography of the region had no significant effect on genetic discontinuities after controlling for geography. Our study highlights the importance of considering a comprehensive suite of potential isolating mechanisms and analytical approaches in order to get robust inferences on the processes promoting genetic divergence of natural populations.
Keywords
Chorthippus saulcyi moralesi Ecological niche modellingHierarchical genetic structureIsolation by environmentIsolation by resistanceLandscape geneticsPyreneesTopographic complexity
Background
Understanding the factors structuring genetic variation in natural populations is a paramount topic in evolutionary biology [1, 2]. The genetic structure of populations is primarily determined by inter-population dispersal rates and realized gene flow, which in turn are shaped by geography, environment, historical processes and, more frequently, their combined effects [3–5]. The isolation-by-distance (IBD) model predicts that genetic differentiation increases with Euclidean geographic distance because of limited dispersal and genetic drift [6, 7]. Even though this classic model explains spatial patterns of genetic differentiation in a wide range of organisms ([6], but see review in [8]), it does not consider more sophisticated information than straight-line geographic distances and assumes landscape homogeneity, an unrealistic scenario for most natural systems [9, 10]. Recently, the emergence of landscape genetics has explicitly incorporated landscape complexity into the study of evolutionary processes [9, 10], bringing new approaches that take into account the ability of organisms to disperse across different landscape features according with the resistance that they offer to movement (i.e. isolation-by-resistance, IBR [11, 12]; e.g., [13, 14]).
Beyond geography and the spatial configuration of connecting corridors and isolating barriers, environment can also play a major role in shaping spatial patterns of genetic differentiation [4, 15]. This occurs when populations inhabiting ecologically dissimilar habitats experience limited gene flow due to the low performance of immigrants arriving to areas where they may not be locally adapted or as consequence of the reluctance of individuals to cross or establish in unfamiliar habitats (i.e. isolation-by-environment, IBE [15–17]). Recent research has revealed the ubiquity of IBE patterns, highlighting the importance of ecological factors in shaping genetic structure of natural populations (see meta-analyses in [4, 18]). The contribution of environment relative to geography in explaining spatial patterns of genetic variation may vary depending on species characteristics and ecological features of the natural systems [18, 19]. Indeed, different isolating mechanisms are not mutually exclusive and gene flow is often influenced by a combination of geographical and ecological factors [5, 20, 21]. Given that geography and environment are often highly correlated, disentangling their relative impact on population genetic differentiation harbors inherent analytical difficulties (see [22] for a discussion about eco-spatial autocorrelation) that have promoted the progressive development of more robust and accurate statistical methods [23–27]. However, only a few studies have jointly considered the relative effects of geography, landscape composition and environmental heterogeneity on either landscape-level [28, 29] or range-wide patterns of genetic structure [5].
The Pyrenean Morales grasshopper (
Chorthippus saulcyi moralesi
) (Orthoptera: Acrididae) is a narrow-endemic subspecies belonging to the
Chorthippus binotatus
group, exclusively distributed in central Aragón and Catalonia Pyrenean mountains (see [
30
], for taxonomic status and detailed description). It is a winged grasshopper primarily feeding on gramineous herbs [
30
] and patchily distributed across a gradient of habitats, including submediterranean shrub formations, mesophile grasslands, montane shrubby vegetation and subalpine open grasslands located at elevations ranging between 1100 and 2400 m.a.s.l. [
30
,
31
]. Its distribution range is restricted to a narrow longitudinal axis with an east–west orientation characterized by a gradient of precipitation and temperature, from Atlantic to Mediterranean climate regimes [
31
]. The Pyrenees constitute the natural northern border of the Iberian Peninsula and present a high topographic and environmental complexity, rich biodiversity and considerable number of endemic species [
32
]. These mountains experienced dramatic climate fluctuations during the Pleistocene [
33
], which are expected to have strongly influenced the demographic history and altered the distribution of many organisms of the region [
34
]. Despite the wide variety of habitats and altitudinal ranges occupied by the Pyrenean Morales grasshopper, populations at elevations lower than 1400 m and above 2100 m are anecdotal [
30
,
31
]. This suggests that valley bottoms and mountain tops, together with the complex topographic complexity of the region, may act as barriers to dispersal in this species [
35
,
36
]. Thus, our study system has a great potential to examine the relative role of geography, environmental heterogeneity and present and past configuration of suitable habitats (i.e. corridors and barriers to dispersal) in shaping patterns of genetic differentiation throughout the entire distribution range of a narrowly distributed taxon [
37
]. We first analyzed spatial patterns of genetic structure and then employed a suite of complementary statistical approaches to test three different plausible scenarios of population differentiation (see Fig.
1
for a summary of the workflow employed in this study). In particular, we used multiple matrix regressions with randomization (MMRR, [
24
]), distance-based redundancy analyses (dbRDA, [
38
]) and geostatistical modelling based on Bayesian inference [
25
] to test whether the spatial pattern of genetic differentiation in the Pyrenean Morales grasshopper is explained by i) geographic distances (IBD), ii) resistance distances based on topographic complexity and current and past (last glacial maximum and last interglacial) climate suitability (IBR); and iii) altitudinal and environmental dissimilarity between populations (IBE) (Fig.
1
). If geography, topography or corridors/barriers defined by habitat suitability are identified as the major drivers of genetic structure, then migration-drift equilibrium and neutral divergence can be regarded as the main evolutionary force shaping genetic discontinuities [
5
]. A predominant or independent significant effect of environment on disrupting gene among populations would point to a role of ecological divergence and local adaptation processes in the evolution of spatial genetic structure [
39
].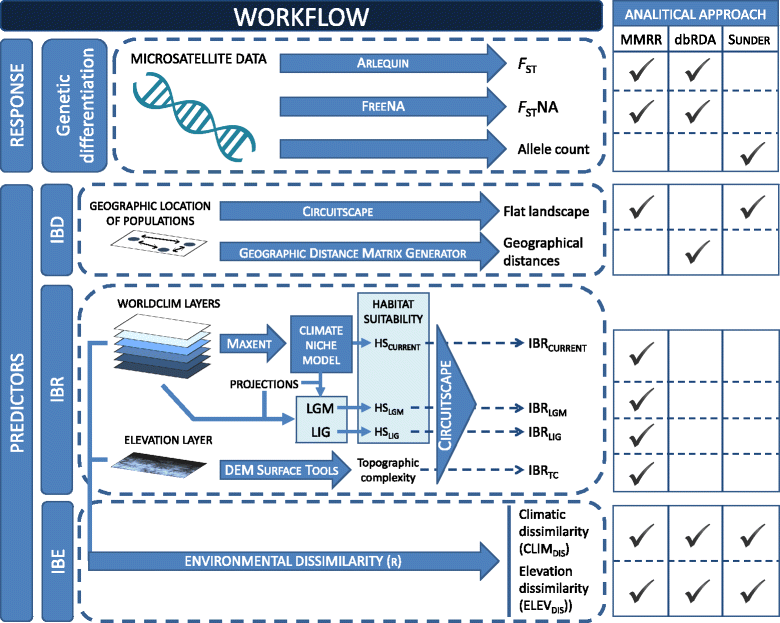 Discussion
Despite its small distribution range (<200 km between the most distant populations), the Pyrenean Morales grasshopper exhibits a strong genetic structure congruent with the geographical location of its different populations. Our microsatellite-based clustering and phylogenetic analyses revealed a strong hierarchical structure and a relatively low degree of inter-group genetic admixture. In most cases, the distinct genetic clusters corresponded to single populations, which clustered in the hierarchically superior genetic group according to the main mountain chains of the region. In comparison with other Mediterranean orthoptera, the Pyrenean Morales grasshopper has a population genetic structure as remarkable as that found at a wider spatial scale in Mioscirtus wagneri (global F ST ~ 0.19) and much higher than that shown for Ramburiella hispanica at a similar spatial scale (global F ST ~ 0.02), two species presenting a patchy distribution restricted to highly isolated and fragmented habitats [14, 81, 82]. The genetic structure found in the Pyrenean Morales grasshopper is in accordance with isolation driven by geographical factors, in which the presence of deep barriers disrupting gene flow between populations primarily explained levels of genetic differentiation [69]. Despite climate warming during LIG and present has probably led to upward altitudinal shifts in the species distribution, its populations have presented a continuous distribution and exhibited a similar connectivity during both cold and warm periods characterizing the last 120 kya. Our niche models suggest that only a few contemporary populations probably went extinct during the LGM, but this might have had a little impact on global patterns of genetic structure if nearby populations, with a similar genetic makeup, colonized present-day suitable habitat patches. The absence of the species in areas identified as climatically suitable and stable during the last 120 kya according to our niche models (i.e. large areas in the peripheral northern and western portion of the Pyrenees) could be linked to historical events (such as extinctions) predating the temporal scale addressed in our study [83]. It could also depend on constraints of our climate models not capturing other important abiotic or biotic interactions that may contribute to the distribution of the species in those areas [84]. Thus, our analyses suggest that the strong genetic structure found across the species distribution range has not arisen as consequence of long-term isolation driven by Pleistocene climatic oscillations that shaped range-wide patterns of genetic structure in many other taxa from temperate regions [34, 85, 86].
Our different landscape genetic approaches confirmed that neutral divergence resulted from the isolating effects of topography primarily drove the deep patterns of population genetic differentiation observed in the Morales grasshopper. The resistance model based on topographic complexity was the best fit to our data, indicating that physical features defining the abrupt landscape characterizing the Pyrenees shaped genetic differentiation. In particular, deep valleys with a north-south orientation and slopes that are generally steep and create canyons and ridges on the landscape crisscross the central and eastern portion of the Pyrenees inhabited by Morales grasshopper. Hence, these topographic features could become impassable barriers and restrict gene flow as has been previously documented for other species with limited dispersal capacities and inhabiting regions of remarkable topographical roughness [35, 36, 87, 88]. The remaining analyzed landscape factors, such as resistance-based distances informed by current and past climate niche models, did not show either a significant association with genetic differentiation after controlling for the influence of topographic complexity or geographical distances. The lower explanatory power of CNM-based resistance distances may be related with the fact that they are not capturing well microhabitat structure, which has been found to be highly relevant in determining the distribution and demography of grasshoppers [89–92]. The short generation time of the studied species (=1 year) may have also resulted in contemporary patterns of genetic differentiation are not capturing the genetic signal left by dispersal routes defined by habitat corridors during the past. This fact contrasts with patterns found in species with longer generation times and that are likely to show a time lag in their response to changing climatic conditions [77, 93].
We found no support for ecological divergence and local adaptation processes have contributed to population genetic differentiation and the three different employed approaches (MMRR analysis using dissimilarity matrices, dbRDA analysis using raw variables and Bayesian inference) confirmed the consistency of this result. We did not find support either for altitude as an isolating mechanism despite elevation gradients have been previously found to be a significant driver of genetic and phenotypic variation in grasshoppers and many other organisms [94, 95]. Our results contrasts with other studies that have documented an important role of environment on genetic differentiation in many taxa [4, 18], including some insects such as grasshoppers [96, 97], walking sticks [98] or beetles [99]. This discrepancy may be in part due to these studies considered species exhibiting narrow feeding preferences and analyzed ecological dissimilarity in terms of host-plant associations, an aspect that may have a higher impact on genetic divergence than the climate or elevation gradients considered in our study [96–99]. The meta-analysis by [18] showed that isolation-by-ecology is more frequent than IBD in insects, particularly in species with strong patterns of genetic structure. Considering the high degree of genetic differentiation among our study populations, we can discard the hypothesis that a high level of gene flow has counteracted the potential disruption of gene flow driven by local adaptation processes mediated by environmental heterogeneity [17]. Hence, the lack of effects of environment on gene flow could be due to different reasons, including low environmental variation among sampling sites [5] or local adaptation driven by other ecological factors not considered in this study (e.g. distinct host plants or habitat structure [96]).
Conclusions
This study emphasizes the importance of examining jointly different scenarios of population isolation to understand their contribution to the spatial distribution of genetic variation across a species range. Our analyses evidence the importance of topographic complexity in determining patterns of genetic differentiation, indicating that limited dispersal and drift, due to scarce population connectivity, is shaping the genetic structure found in our study system (e.g., [86]). Further research harnessing high-throughput sequencing will provide a better understanding about the potential association between loci under selection and different ecological factors, which may help to identify genomic regions involved in local adaptation processes [15, 100]. Exploring the relationship between environmental features and genetic and phenotypic patterns of variation could also provide insights about the potential interplay of evolutionary and ecological processes in shaping range-wide patterns of genetic differentiation [101, 102].
Ethics
This study did not require ethical approval. Specimens were collected under license from 'Gobierno de Aragón', 'Generalitat de Catalunya' and 'Ordesa y Monte Perdido National Park'. Our sampling procedures did not affect the survival of the studied populations.
Availability of data and materials
Abbreviations
AUC:

area under the curve.
BIC:

Bayesian information criterion
BP:

before present
CNM:

climate niche models
DAPC:

discriminant analysis of principal components
dbRDA:

distance-based redundancy analyses
HWE:

Hardy-Weinberg equilibrium
IBD:

isolation-by-distance
IBE:

isolation-by-environment
IBR:

isolation-by-resistance
kya:

thousand years ago
LGM:

last glacial maximum
LIG:

last interglacial
m.a.s.l.:

meters above sea level
MCMC:

Markov chain Monte Carlo
MMRR:

multiple matrix regressions with randomization
MTSS:

maximum training sensitivity plus specificity threshold
NJ:

neighbor-joining
PCA:

principal component analysis
PCoA:

principal coordinates analyses
RMSE:

root mean squared error
Declarations
Acknowledgements
We wish to thank Bernard Defaut for providing valuable information about sampling locations. Two anonymous referees provided useful and valuable comments on an earlier draft of this manuscript. We acknowledge support of the publication fee by the CSIC Open Access Publication Support Initiative through its Unit of Information Resources for Research (URICI).
Funding
VN was supported by a FPI pre-doctoral scholarship (BES-2012-053741) from Ministerio de Economía y Competitividad. JO was supported by Severo Ochoa (SEV-2012-0262) and Ramón y Cajal (RYC-2013-12501) research fellowships. This work received financial support from research grants CGL2011-25053 (Ministerio de Ciencia e Innovación and European Social Fund), POII10-0197-0167, PEII-2014-023-P (Junta de Comunidades de Castilla-La Mancha and European Social Fund) and UNCM08-1E-018 (European Regional Development Fund).
Open AccessThis article is distributed under the terms of the Creative Commons Attribution 4.0 International License (http://creativecommons.org/licenses/by/4.0/), which permits unrestricted use, distribution, and reproduction in any medium, provided you give appropriate credit to the original author(s) and the source, provide a link to the Creative Commons license, and indicate if changes were made. The Creative Commons Public Domain Dedication waiver (http://creativecommons.org/publicdomain/zero/1.0/) applies to the data made available in this article, unless otherwise stated.
Authors' Affiliations
(1)
Grupo de Investigación de la Biodiversidad Genética y Cultural, Instituto de Investigación en Recursos Cinegéticos - IREC (CSIC, UCLM, JCCM), Ciudad Real, Spain
(2)
Department of Integrative Ecology, Estación Biológica de Doñana (EBD-CSIC), Seville, Spain