Research article
Open Access
Balancing selection and recombination as evolutionary forces caused population genetic variations in golden pheasant MHC class I genes
BMC Evolutionary Biology
2016
16:42
Received: 13 December 2015
Accepted: 2 February 2016
Published: 18 February 2016
Abstract
Background
The major histocompatibility complex (MHC) genes are vital partners in the acquired immune processes of vertebrates. MHC diversity may be directly associated with population resistance to infectious pathogens. Here, we screened for polymorphisms in exons 2 and 3 of the IA1 and IA2 genes in 12 golden pheasant populations across the Chinese mainland to characterize their genetic variation levels, to understand the effects of historical positive selection and recombination in shaping class I diversity, and to investigate the genetic structure of wild golden pheasant populations.
Results
Among 339 individual pheasants, we identified 14 IA1 alleles in exon 2 (IA1-E2), 11 IA1-E3 alleles, 27 IA2-E2 alleles, and 28 IA2-E3 alleles. The non-synonymous substitution rate was significantly greater than the synonymous substitution rate at sequences in the IA2 gene encoding putative peptide-binding sites but not in the IA1 gene; we also found more positively selected sites in IA2 than in IA1. Frequent recombination events resulted in at least 9 recombinant IA2 alleles, in accordance with the intermingling pattern of the phylogenetic tree. Although some IA alleles are widely shared among studied populations, large variation occurs in the number of IA alleles across these populations. Allele frequency analysis across 2 IA loci showed low levels of genetic differentiation among populations on small geographic scales; however, significant genetic differentiation was observed between pheasants from the northern and southern regions of the Yangtze River. Both STRUCTURE analysis and F-statistic (F ST ) value comparison classified those populations into 2 major groups: the northern region of the Yangtze River (NYR) and the southern region of the Yangtze River (SYR).
Conclusions
More extensive polymorphisms in IA2 than IA1 indicate that IA2 has undergone much stronger positive-selection pressure during evolution. Moreover, the recombination events detected between the genes and the intermingled phylogenetic pattern indicate that interlocus recombination accounts for much of the allelic variation in IA2. Analysis of the population differentiation implied that homogenous balancing selection plays an important part in maintaining an even distribution of MHC variations. The natural barrier of the Yangtze River and heterogeneous balancing selection might help shape the NYR-SYR genetic structure in golden pheasants.
Keywords
Balancing selection Chrysolophus pictus GalliformesGenetic diversityMajor histocompatibility complexMHC class IPopulation geneticsRecombination
Background
The major histocompatibility complex (MHC) is a primary factor in initiating immune defenses, and it is composed of glycoproteins that are specialized to present foreign antigens to T lymphocytes [1]. The MHC multigene family can be divided into at least 2 main classes of genes: class I and class II. Class I molecules are expressed in a wide variety of nucleated cells and mainly respond to intracellular parasites [2, 3]. MHC class I proteins are structurally composed of a cytoplasmic region, a transmembrane portion, and 3 extracellular domains (α1, α2, and α3), where antigen-binding domains (α1 and α2) encoded by exons 2–3 interact to form the hypervariable peptide-binding region (PBR) [2].
Apart from their prominent role in immune responses, much attention has been paid to MHC genes because of their extensive polymorphism. In recent years, the patterns of genetic variability in MHC class I genes have been intensively investigated across different vertebrate taxa, including mammals [4, 5], birds [6, 7], reptiles [8, 9], amphibians [10, 11], and fishes [12, 13]. The mechanisms that generate abundant MHC variation primarily involve parasite-related balancing selection [14], such as frequency-dependent selection or overdominant selection [15]. Because fast-evolving pathogens can easily escape the immune surveillance of common host MHC alleles, frequency-dependent selection prevails, contributing to the generation and retention of rare alleles [16]. Consequently, changes in the pathogen community over time and location lead to MHC variation in host populations [17]. In the case of overdominance, heterozygotes exhibiting superior recognition of a wider range of pathogens mount a stronger immune defense against pathogen infections than do homozygotes [18]. In addition, MHC-based mating preferences increase MHC gene heterogeneity in progeny [19–21].
In diverse vertebrate lineages, including birds, the MHC gene family has an extremely complex molecular architecture and genome organization with high gene copy numbers, abundant pseudogenes, frequent recombination, and homologous chromosome exchanges [22–26]. The complex evolutionary pattern in MHC genes appears to be dictated both by birth-and-death and concerted evolution [27]. In the birth-and-death mechanism, some novel duplicated genes remain functional for long periods in the genome, whereas others decay into non-functional genes (pseudogenes) or are completely eliminated from the genome [25, 28]. The concerted evolution model implies that different members of the MHC family evolve as a unit, primarily due to recombination across paralogous genes [27, 29]; as a result, genes within a species are more similar compared to orthologous genes in closely related species. Moreover, such widespread sequence homogeneity caused by repeated recombination events increases the difficulty in assigning alleles to specific MHC loci. Therefore, given the current poor understanding of MHC genomic organization, MHC single-locus typing in some non-model avian taxa is more challenging [7, 30–32]. The chicken MHC-B (Gallus gallus, Phasianidae, Galliformes), the first representative of the "minimal essential" MHC, is highly condensed and dramatically simpler than the mammalian MHC, containing only 2 classical class I genes, BF1 and BF2 [33, 34]. The detailed knowledge of MHC organization in chickens and its compressed nature facilitated the characterization of MHC diversity at the locus-specific level [35].
Golden pheasants (
Chrysolophus pictus
, Phasianidae, Galliformes), representing an endangered species in China, are scattered in the central and western regions of Mainland China [
36
]. Their main distribution areas are divided by 2 major geographical barriers: the Yangtze River and Qinling-Daba Mountain (QDM) (Fig.
1
). To provide efficient protective strategies for this pheasant, we prioritized screening of MHC class I variation among wild populations. Previous studies on the golden pheasant MHC have reported the complete sequence of the gold pheasant MHC-B region, which is nearly identical to the chicken MHC-B gene arrangement [
37
]. The 97-kb golden pheasant MHC-B comprises 20 streamlined genes and conforms to the minimal essential hypothesis. In addition, only 2 duplicated functional class I genes (
IA1
and
IA2
) were identified in this species, as in chickens [
37
]. Based on these findings, we examined allelic variation of classical MHC class I genes in golden pheasants. The main objectives of this study were to (i) characterize sequence polymorphisms of exons 2 and 3 from both
IA1
and
IA2
genes through locus-specific PCR amplification, (ii) examine the role of historical positive selection and recombination in shaping class I diversity, and (iii) infer the population-genetics structure on the basis of MHC variation.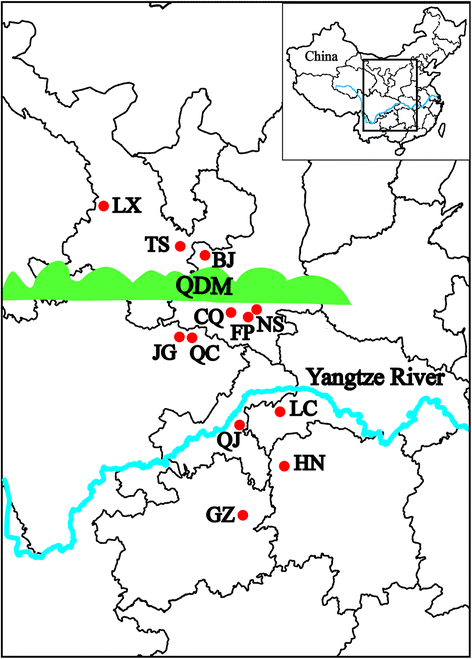 Conclusion
In the present study, we genotyped MHC class I genes from 12 wild golden pheasant populations by PCR-SSCP, using locus-specific primers. Our work revealed that: 1) 2 MHC class I genes exhibited differential genetic polymorphisms, and much stronger positive selection detected at IA2 than at IA1 might account for the more extensive variation of IA2; 2) interlocus recombination between 2 IA genes, noticeably reflected by the intermingling phylogenetic pattern, is also an important mechanism responsible for the extensive allelic variation of the IA2 gene; 3) the pattern of population differentiation implied that homogenous balancing selection might explain why an even distribution of MHC variation was maintained among populations within the NYR or SYR region, while the Yangtze River acted as a barrier to gene flow between NYR and SYR populations, and heterogeneous balancing selection might be an important factor determining the NYR-SYR genetic structure in golden pheasants.
Abbreviations
AMOVA:

analysis of molecular variance
BJ:

Baoji
BS:

bootstrap support
CQ:

Changqing
d N :

non-synonymous substitutions
d S :

synonymous substitutions
FEL:

fixed effects likelihood
FN:

Foping-Ningshan
FP:

Foping
F ST :

F-statistic
GTR:

general time reversible
GZ:

Guizhou
H E :

expected heterozygosity
HN:

Hunan
H O :

observed heterozygosity
HWE:

Hardy-Weinberg equilibrium
JG:

Jiange
JK:

Jiangkou
JQ:

Jiange-Qingchuan
JS:

Jishou
JTT:

jones-taylor-thornton
LB:

Libo
LC:

Lichuan
LX:

Linxia
MCMCMC:

metropolis-coupled Markov chain Monte Carlo simulations
MHC:

major histocompatibility complex
NCBI:

national center for biotechnology information
NJ:

neighbor-joining
NQDM:

Northern range of Qinling-Daba Mountain
NS:

Ningshan
NYR:

the northern region of the Yangtze River
PBR:

peptide-binding region
QC:

Qingchuan
QDM:

Qinling-Daba mountain
QJ:

Qianjiang
REL:

random effects likelihood
SB:

Shibing
SQDM:

Southern foothill of Qinling-Daba Mountain
SSCP:

single-stranded conformation polymorphism
SYR:

the southern region of the Yangtze River
SZ:

Sangzhi
TS:

Tianshui
YS:

Yongshun
Declarations
Acknowledgements
This work was supported by a grant from the National Natural Science Foundation of China (No. 31070334), a special grant from the State Forestry Administration, and the Fundamental Research Funds for the Central Universities of the P. R. China.
Open AccessThis article is distributed under the terms of the Creative Commons Attribution 4.0 International License (http://creativecommons.org/licenses/by/4.0/), which permits unrestricted use, distribution, and reproduction in any medium, provided you give appropriate credit to the original author(s) and the source, provide a link to the Creative Commons license, and indicate if changes were made. The Creative Commons Public Domain Dedication waiver (http://creativecommons.org/publicdomain/zero/1.0/) applies to the data made available in this article, unless otherwise stated.
Authors' Affiliations
(1)
The Key Laboratory of Conservation Biology for Endangered Wildlife of the Ministry of Education, State Conservation Center for Gene Resources of Endangered Wildlife, College of Life Sciences, Zhejiang University, Hangzhou, China
(2)
College of Animal Science and Technology, Zhejiang A&F University, Lin'an, China