Research article

Open Access
NarJ subfamily system specific chaperone diversity and evolution is directed by respiratory enzyme associations
BMC Evolutionary Biology
2015
15:110
Received: 20 January 2015
Accepted: 4 June 2015
Published: 12 June 2015
Abstract
Background
Redox enzyme maturation proteins (REMPs) describe a diverse family of prokaryotic chaperones involved in the biogenesis of anaerobic complex iron sulfur molybdoenzyme (CISM) respiratory systems. Many REMP family studies have focused on NarJ subfamily members from Escherichia coli: NarJ, NarW, DmsD, TorD and YcdY. The aim of this bioinformatics study was to expand upon the evolution, distribution and genetic association of these 5 REMP members within 130 genome sequenced taxonomically diverse species representing 324 Prokaryotic sequences. NarJ subfamily member diversity was examined at the phylum-species level and at the amino acid/nucleotide level to determine how close their genetic associations were between their respective CISM systems within phyla.
Results
This study revealed that NarJ members possessed unique motifs that distinguished Gram-negative from Gram-positive/Archaeal species and identified a strict genetic association with its nitrate reductase complex (narGHI) operon compared to all other members. NarW appears to be found specifically in Gammaproteobacteria. DmsD also showed close associations with the dimethylsulfoxide reductase (dmsABC) operon compared to TorD. Phylogenetic analysis revealed that YcdY has recently evolved from DmsD and that YcdY has likely diverged into 2 subfamilies linked to Zn- dependent alkaline phosphatase (ycdX) operons and a newly identified operon containing part of Zn-metallopeptidase FtsH complex component (hflC) and NADH-quinone dehydrogenase (mdaB). TorD demonstrated the greatest diversity in operon association. TorD was identifed within operons from either trimethylamine-N-oxide reductase (torAC) or formate dehydrogenase (fdhGHI), where each type of TorD had a unique motif. Additionally a subgroup of dmsD and torD members were also linked to operons with biotin sulfoxide (bisC) and polysulfide reductase (nrfD) indicating a potential role in the maturation of diverse CISM.
Conclusion
Examination of diverse prokaryotic NarJ subfamily members demonstrates that the evolution and genetic association of each member is uniquely biased by its CISM operon association.
Keywords
Redox Enzyme Maturation Protein (REMP)
System specific chaperones
NarJ
NarW
DmsD
TorD
YcdY
Complex iron-sulfur molybdoenzymes
Anaerobic respiration
Chaperone
Twin Arginine Translocase (Tat)
Background
Anaerobic respiratory enzymes found in a variety of facultative and anaerobic Bacteria and Archaea offer an organism the flexibility to survive in a wide variety of anoxic environments. For example, the facultative Gammaproteobacterial anaerobe Escherichia coli has a total of 23 respiratory enzymes ranging from reductases, hydrogenases, dehydrogenases, and oxidases conferring respiratory flexibility and diversity under anaerobic growth conditions (reviewed by [1]). The majority of anaerobic respiratory systems have similar modular cofactor-based protein architecture (as reviewed by [2]). Despite their architectural similarities these systems demonstrate incredible versatility in substrate utilization, reflecting their essential role in energy generation during the first billion years of life [3–5]. Characterized members are generally classified into families and superfamilies according to their substrate(s) and/or co-factor requirements [2]. One of these members is the complex iron-sulfur molybdoenzyme (CISM) superfamily of oxidoreductases, which are typified by the presence of an iron-sulfur cluster and an additional molybdenum-bis pyranopterin guanine dinucleotide) (MobisPGD) catalytic cofactor in its active site [6]. Well-characterized examples from this superfamily include enzyme subfamilies such as dimethylsulfoxide (DMSO) reductase, trimethylamine N-oxide (TMAO) reductase, formate dehydrogenase (Fdh), and nitrate reductase (Nar).
Due to their inherent complexity and cofactor requirements, the biogenesis of any CISM requires the aid of a specialized chaperone known as a redox enzyme maturation protein (REMP). In general, a specific REMP is involved in the maturation of a particular molybdoenzyme(s) [7–9]. Key functions of REMPs include CISM folding, cofactor insertion, membrane/translocase targeting, subunit assembly, proofreading, and proteolytic protection of its respective enzyme during its maturation. The majority of studies on REMPs focus on members identified from the model organism E. coli, however, REMPs from other Bacterial and Archaeal species have been functionally and structurally examined (as reviewed by [9, 10]). A distinct subgroup within REMP family members demonstrated high sequence homology and its members include: the Nar delta subunit of the cytoplasmic nitrate reductase A (NarJ), and its closely related homologue (NarW) involved in nitrate reductase Z assembly, DMSO reductase maturation protein D (DmsD), the chaperone protein for trimethylamine-N-oxide oxidoreductase 1 (TorD), and the chaperone protein involved in maturation of YcdX (YcdY) [7, 9, 11]. Other distantly related REMP family members that are not considered part of this subgroup include, FdhD and FdhE affecting formate dehydrogenase-N complex activity [12, 13], HyaE for hydrogenase-1 maturation [14], chaperone for the periplasmic nitrate reductase (NapD) [15], and a hydrogenase-2-specific chaperone (HybE) [14, 16]. This subfamily is known by a variety of names all based on their homology to characterized members such as the DmsD/TorD and/or TorD subfamily [11, 17] and to NarJ [9]. Since this study will specifically focus on characterized members NarJ/NarW, DmsD, TorD and YcdY, the subfamily will be referred to as the NarJ subfamily based on most recent bioinformatics analyses [9] and findings presented in this study.
Every REMP member is responsible for the maturation of a specific enzyme complex by coordinating co-factor insertion, folding, and targeting the holoenzyme to the twin-arginine translocase (TAT) for secretion across the cytoplasmic membrane and attachment to its membrane anchor subunit (as reviewed by [10, 18]). NarJ is the REMP for the cytoplasmic nitrate reductase (NarGHI) and binds the α-subunit NarG [19–21]. NarW is the purported REMP for a second cytoplasmic nitrate reductase complex (NarVYZ) present in some species and in vitro studies suggest that it can interact with both NarG and NarZ [22]. Both narJ and narW are located within the operons of their respective respiratory enzyme substrates (narGHJI and narZYWV) in E. coli [22]. NarJ is also known to interact with MobisPGD biosynthesis proteins (MogA, MoeA, MobAB) in addition to NarG [21].
DmsD, also known as YnfI, binds the α-subunit (DmsA) of the DMSO reductase (DmsABC) [23–25] and binds to the α-subunits, YnfE and YnfF, of the selenate reductase complex (YnfEFGH) [16, 26] during their maturation. DmsD has demonstrated binding to the preprotein form of TorA and its signal peptide [16, 24]. In E. coli the dmsD/ynfI locus is part of the ynfEFGHI operon and the dmsABC operon is located in trans from the ynfEFGHI operons [27]. DmsD appears to recognize and interact with a variety signal/ leader peptides, general chaperones (GroEL, DnaK, DnaJ, GrpE, Tig and EF-TU), and TAT components [28] suggesting that DmsD acts as a chaperone node in many CISM maturation pathways.
TorD is known to assist in the folding and recognition of the signal peptide of the periplasmic catalytic subunit (TorA) of the TMAO reductase complex 1 (TorAC) [16, 29, 30] and its gene is located within the torAC operon in E. coli [31]. Unlike DmsD, TorD interacts exclusively with the signal/ leader peptide of the TorA [30, 32]. TorD also possesses a TAT-signal proofreading ability [30, 32, 33] and it was demonstrated to possess GTPase activity [34].
Relatively little is known about YcdY, and it is considered to be an atypical member of the NarJ subfamily due to its involvement in the maturation of a Zn2+ cofactor requiring phosphatase (ycdX) that participates in swarming motility [35]. In E. coli, ycdY mutants result in swarming motility defects and it is not associated with any known CISM systems [35, 36].
The purpose of this bioinformatic study was to examine the sequence distribution, diversity and evolution of all 5 characterized NarJ subfamily REMP members, NarJ, NarW, DmsD, TorD and YcdY within Bacterial and Archaeal kingdoms. The goal was to identify sequence similarities and differences among NarJ subfamily members homologues from a broad taxonomic sampling of 130 diverse Bacterial and Archaeal species (a total of 324 sequences) to gain additional insights into the role(s) that each member of this REMP subgroup may contribute to the maturation of their specific CISM. A combination of bioinformatics approaches were used to examine and compare the distribution, sequence structure and location of NarJ subfamily members and their specific CISM enzymes. These approaches involved operon mapping, phylogenetic analysis of protein sequences, non-synonymous to synonymous nucleotide substitution assessments, and multiple sequence alignments for motif analyses. The main finding revealed that NarJ subfamily evolution was tightly linked to its CISM operon association. A second major finding from this identified the presence of unique subfamily member specific motifs in each chaperone that were linked to different CISM operons. A final novel finding from this study indicates that YcdY recently evolved from DmsD and has diverged into 2 subgroups, one associated with Zn- dependent ycdX and a second newly identified subgroup linked to operons containing hflC (a ATP dependent Zn-metallopeptidase) and to NADH dehydrogenase (quinone) homologue mdaB.
Discussion
Bioinformatics analyses of taxonomically diverse NarJ subfamily members NarJ, NarW, DmsD, TorD and YcdY, have revealed that a close association exists between each chaperone and a specific CISM system/ operon. This study provides further evidence that supports the system specificity of each NarJ subfamily member during CISM maturation and a summary of these findings are provided in Fig.
6
. NarJ members demonstrated the strictest conservation when compared to all NarJ subfamily members, regarding its sequence motif as well as its association to
narGHI
operons. The close association of
narGHJI
across all phyla may be an excellent example of selfish operon theory [
62
], since many respiratory enzymes represent some of the most ancient genes in Bacteria and Archaea [
5
]. NarJ sequence motifs from Gram-positive and Gram-negative species also highlight potential differences in function or in the ability to differentiate specific nitrate reductases. Gram-negative NarJ members serve as progenitors of Gammaproteobacterial NarW paralogues. This contrasts Gram- positive NarJ members that appear to lack NarW paralogs but have closely related NarJ duplications based on their phylogenetic associations (Figs.
3
and
6
). Phylogenetic analysis using different NarJ subfamily member outgroups supported that NarJ serves as the progenitor of subfamily members DmsD and TorD and is in agreement with a recent phylogenetic study of CISMs that demonstrated NarGHI homologues were distantly related to DmsABC systems [
5
].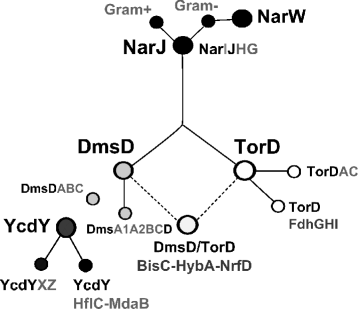 The evolutionary analysis of DmsD and TorD members together, confirmed that YcdY members were paralogues of Gram-negative DmsD members, despite their frequent 'TorD' annotation. Two distinct YcdY subclades were identified in Gammaproteobacteria species, those possessing YcdY associated to ycdX operons [35] and a more recent subclade (YcdYb) that linked to a hflC and mdaB operon. HflC is an inner membrane component of the HflK-HflC complex that includes HflB, an integral membrane ATP-dependent zinc metallopeptidase, and functions as a regulator of FtsH protease [63, 64]. Although experiments examining the folding translocation of HflKC determined that it required a Sec- dependent pathway [64], YcdY may play an important role in the co-factor insertion of other Zn-dependent complexes as experimentally demonstrated for YcdX [35]. The lipoprotein mdaB functions as a quinone reductase, it is dependent on NADPH and is active with quinone derivatives using ferricyanide as electron acceptors [65]. The presence of mdaB may suggest that YcdY participates in quinone reductase maturation. Therefore, examination of YcdY/TorD operons in this study has identified other potential enzyme substrates that may involve YcdY-mediated maturation and merit future consideration.
Although dmsD-dmsABC conservation and genetic organization was high in this study, similar to the narGHJI operons, some dmsD loci (20 %) were associated to other operons. This suggests that dmsD-dmsABC associations were subjected to greater genetic re-arrangement/re-organizations than NarJ. Many phyla possessed additional copies of dmsD in trans from additional copies of complete and incomplete dmsABC, suggesting that DmsD and DmsABC enzymes are frequent targets of gene/ operon duplication. It is uncertain why DmsD and its cognate CISM have undergone such genetic variation by comparison to NarJ, but understanding the CISM distribution, inheritance and/or the type of respiration performed by their cognate enzymes may provide some explanation. Since evidence of lateral gene transfer was identified for DmsD as well as NarJ and TorD members (18–25 %), the close association between DmsD chaperone and its DMSO reductase still supports the currently proposed selfish operon theory [66], making this subfamily and CISM/ Zn-dependent enzyme an excellent operon family to explore further. The close linkage of dmsD to dmsABC operons have not only aided the determination of bona fide DmsD members but also indicated that many organisms may benefit from having additional dmsD copies regulated by other CISM operons as DmsD fdh and DmsD bisC , especially in species with incomplete dmsABC operons. This provides further support for DmsD's role as a maturation hub in the folding of other CISM systems. The high degree of sequence variation within the N-terminus of DmsD protein alignments may reflect changes in specificity between different substrates like DMSO reductase alpha subunit component DmsA [25] or the selenate reductase alpha components YnfE and YnfF [26] and further studies of DmsD-linked selenate reduction in species beyond Gammaproteobacteria may help clarify ynfI and dmsD homology.
TorD subfamily members demonstrated the most variation regarding its genetic association to its respective torAC operon. Out of the 130 species surveyed with identifiable NarJ subfamily members, only 1/3 of species with one or more annotated 'torD' homologues actually possessed a copy of torA and/or torC genes. This indicated that the remaining 2/3 of torD sequences were mis-annotated or participate in the maturation of other CISM systems such as TorDfdh and TorD bisC . Since TorD torAC associations only appear to be identified in Proteobacteria, more ancient versions of torD may be linked to the maturation other CISM systems that utilise similar substrates. This may explain why 1/3 of all 'torD' loci were associated with fdhGHI operons. Since FdhD/ E were almost always detected (97 %) in trans to all TorD fdh species it is unlikely that TorD functionally compenstates for FdhD/E chaperones. However, almost all species with TorD fdh had a high correlation (r + 0.88) to trans copies of periplasmic molybdoprotein reductase complex (yedYZ) operons, known to contain a TAT signal peptide [67]. Associations between torD and fdhGHI operons may be explained by the evolutionary origins of CISMs themselves. Phylogenetic analysis of Prokaryotic molybdopterin-containing respiratory enzymes suggested that FdhGHI were more distantly related to NarGHI, and then evolved to form DmsABC [5]. If this is correct, TorD associations to FdhGHI may reflect an ancient operon divergence between FdhD/E and TorDAC to accommodate the emergence of YedZY. The clearest evidence supporting torD divergence was highlighted by distinct motif differences between TorD fdh and TorD torAC . These motif differences strongly suggest that the genetic association to each operon was evolutionarily directed towards different systems and regulation.
The final 1/3 of TorD bisC and 20 % of DmsD bisC were difficult to discern from each other due to the number of small monophyletic subclades within the DmsD/ TorD clade (2b) (Figs. 3 and 6). One explanation is that these bisC-hybA-nrfD associated members have diverged with in these species to accommodate CISMs with specific substrates, as observed for the tetrathionate reductase linked TorD ttr subclade (Fig. 3). DmsD/TorD bisC may have diverged to assist in the maturation of additional CISMs such as polysulfide reductases (Psr), thiosulfate reductases (Psh), and xanthine dehydrogenases (Xdh), were present (correlated at r +0.71 to +0.78) in DmsD/TorD bisC subclades (Additional file 4: Figure S4). These members may participate in the maturation of bisC and nrfD complexes. BisC is a CISM enzyme responsible for biotin-d-sulfoxide and methionine-S-sulfoxide reduction and to a lesser extent detoxification of N-hydroxylated bases. It plays a role in biotin scavenging and assimilation of oxidized methionines [68–70]. Since BisC is known to be dependent on an as-yet unidentified chaperone for its maturation [71], DmsD/TorD bisC sequences are worthy candidates for future consideration. Additionally, formate-dependent nitrate reductase/polysulfide reductase NrfD is known to be an inner membrane protein which has demonstrated both naphthtoquinol oxidase and proton pump activities [72, 73]. Altogether, diverse genetic associations observed within DmsD/TorD bisC subclades have likely contributed to their low overall conservation within sequence sub-alignments. The relationship of DmsD/TorD bisC members will remain elusive until more is known about these bisC-hybA-nrfD operons.
Conclusions
The evolution and diversity of NarJ subfamily members NarJ, DmsD, TorD, and YcdY all appear to be highly influenced by their genetic association to CISM enzyme genes. Selection pressures acting on each subfamily member differs considerably from N- to C- terminus confirming that each family member is diverging in sequence to conform to its cognate respiratory enzyme. NarJ subfamily members appear to be diverging into paralogous subfamilies that specifically target other CISM, such as NarJ and NarW, and possibly TorD (TorD torAC and TorD fdh ). DmsD was demonstrated to be the origin of chaperones that require an alternative cofactor like Zn as demonstrated for YcdY ycdX /YcdY hflC-mdaB indicating that DmsD members also serve as a chaperone progenitor. The significance of these findings indicate that NarJ subfamily members are highly diverse and tailored to accommodate a variety of respiratory and non-respiratory co-factor requiring systems making them fascinating proteins for further analysis to expand the current maturation/chaperone proteome.
Abbreviations
CISM:

Complex iron-sulfur molybdoenzyme
DMSO:

Dimethylsulfoxide
Dms:

Dimethylsulfoxide reductase
Fdh:

Formate dehydrogenase
Nar:

Nitrate reductase
MobisPGD:

Molybdenum-bis pyranopterin guanine dinucleotide)
MSA:

Multiple sequence alignment
dN/dS:

Non-synonymous to synonymous substitution rate
REMP:

Redox enzyme maturation protein
TMAO:

Trimethylamine-N-oxide
Tor:

Trimethylamine-N-oxide reductase
Declarations
Acknowledgements
We would like to thank Tara Winstone, Sean Booth, and Ashley Jarding for valuable manuscript discussions. We would also like to thank Iain George for server access and assistance. Funding for this work was provided by Canadian Institutes of Health Research (CIHR) grant to RJT.
Authors' Affiliations
(1)
Department of Biological Sciences, University of Calgary, Calgary, Canada
Copyright
© Bay et al. 2015
This is an Open Access article distributed under the terms of the Creative Commons Attribution License (http://creativecommons.org/licenses/by/4.0), which permits unrestricted use, distribution, and reproduction in any medium, provided the original work is properly credited. The Creative Commons Public Domain Dedication waiver (http://creativecommons.org/publicdomain/zero/1.0/) applies to the data made available in this article, unless otherwise stated.