Research article

Open Access
Causations of phylogeographic barrier of some rocky shore species along the Chinese coastline
BMC Evolutionary Biology
2015
15:114
Received: 25 September 2014
Accepted: 22 May 2015
Published: 15 June 2015
Abstract
Background
Substrate, ocean current and freshwater discharge are recognized as important factors that control the larval dispersal and recruitment of intertidal species. Life history traits of individual species will determine the differential responses to these physical factors, and hence resulting in contrasting phylogeography across the same biogeographic barrier. To determine how these factors affect genetic structure of rocky shore species along the China coast, a comparative phylogeographic study of four intertidal and subtidal species was conducted using mitochondrial and nuclear DNA by combining new sequences from Siphonaria japonica with previously published sequences from three species (Cellana toreuma, Sargassum horneri and Atrina pectinata).
Results
Analysis of molecular variance and pairwise ΦST revealed significant genetic differences between the Yellow Sea (YS) and the other two marginal seas (East China Sea, ECS and South China Sea, SCS) for rocky-shore species (S. japonica, C. toreuma, S. horneri), but not for muddy-shore species Atrina pectinata. Demographic history analysis proved that the population size of all these four species were persistent though the Last Glacial Maximum (LGM, ~20 ka BP). Migration analysis revealed that gene flow differentiated northward and southward migration for these four species. However, the inferred direction of gene flow using alternatively mitochondrial or nuclear markers was contradictory in S. japonica.
Conclusions
It is concluded that there is a phylogeographical break at the Yangtze River estuary for the rocky shore species and the causation of the barrier is mainly due to the unsuitable substratum and freshwater discharge. All four intertidal and subtidal species appear to have persisted through the LGM in China, indicating the lower impact of LGM on intertidal and subtidal species than generally anticipated. The imbalanced gene flow between YS and ESCS groups for these four species could be explained by historical refugia. The discordance between mitochondrial and nuclear markers in the MIGRATE analysis of S. japonica prove the importance of employing multi-locus data in biogeographic study. Climate change, land reclamation and dam construction, which are changing substrate and hydrological conditions around Yangtze River estuary, will consequently affect the biogeographic pattern of intertidal species.
Keywords
Freshwater dischargeRocky shore speciesLife historyOcean currentPopulation structureSubstrate
Background
Phylogeographical patterns of marine faunas are complex and affected by multiple biotic and abiotic factors, and it is in the long-term interest of marine ecologists to understand the roles of these factors in determining the distribution and genetic structuring of species. Glacial-interglacial climate fluctuations during the Pleistocene led to changes of sea level [1, 2] and then caused habitat contractions or expansions [3], which impeded gene flow of marine species and resulted in genetic divergence. Following the glacial retreat, demographic expansion occurred in most marine taxa [4]. Postglacial exchanges of propagules may erase the signals of historic isolation. Accordingly, the biology of the species (e.g. dispersal capacity), availability of suitable habitat and ocean current regimes, which determine the contemporary level of gene flow, would significantly contribute to promote, maintain or homogenize the genetic divergence created by glacial periods. Suitable habitat is assumed to have a significant impact on the phylogeographical distribution of coastal species [5–10] .
The impacts of ocean currents on larval dispersal are variable. Sometimes oceanic currents can promote larval dispersal and enrich population connectivity [11–14]. However, converging ocean currents may also pose a potential barrier to gene flow to some extents [15]. Additionally, a river outflow carrying large amount of sediments and freshwater discharge can influence physical and chemical characteristics (e.g. geomorphology, turbidity, salinity, nutrients and dissolved oxygen etc.) of estuarine and coastal water, which control the biotic dynamics in estuary and coastal ecosystems [16]. This has significant impacts on the dispersal of marine taxa [5, 15, 17–20].
The marginal seas in the northwestern Pacific have changed dramatically in area and configuration, particularly during the Pleistocene glacial-interglacial cycles [21]. Three of the marginal seas, namely the South China Sea (SCS), the Yellow Sea (YS) plus the East China Sea (ECS), and the Sea of Japan (SOJ), served as three independent glacial refugia and resulted in vicariant divergence in marine fauna [22–24]. On the other hand, the lack of genetic structuring in some sympatrically distributed taxa was attributed to their postglacial colonization of these regions [24]. Yet, these hypotheses were not rigorously tested using comprehensive phylogenetic data because most of the studies performed in the region were based on a single marker (in most case the mitochondrial DNA) and largely biased to commercial species, of which the effect of anthropogenic introduction for aquaculture purposes was unknown. Hence, additional investigation using both mitochondrial and nuclear markers was advocated [24].
The Yangtze River represents another critical factor in the gene flow of coastal species in China. The Yangtze River, the fifth largest river in the world in terms of volume discharge, brings huge amounts of water (8 ~ 9 × 10
11
m
3
) into the East China Sea annually [
25
]. When the freshwater discharge reaches its maximum in spring and summer, Yangtze River plume can extend eastward or northeastward to the Jeju Island (126°08′ ~ 126°58′E, 33°08′ ~ 33°60′N) [
26
,
27
], and it can dramatically change surrounding ocean currents [
26
,
28
] and salinity of the upper layer of the Kuroshio Current [
29
,
30
] (Fig.
1
). Moreover, sediment discharges from the Yangtze and other nearby rivers have formed the Yangtze River Delta with an area of more than 3 × 10
4
km
2
[
31
,
32
]. The ~600 km long coastline from Lianyungang, Jiangsu Province (34°36′N, 119°13′E) to Shaoxing, Zhejiang Province (30°19′N, 120°46′E) is mainly salt marsh [
33
]. This together with the Yangtze River discharge is assumed to form a contemporary dispersal barrier for marine species that require a hard substratum (e.g. intertidal rocky shore) or with larvae that cannot tolerant decreased salinity, including the gastropod
Cellana toreuma
[
20
], the bivalve
Cyclina sinensis
[
34
] and the macroalga
Sargassum hemiphyllum
[
18
,
35
]. However, studies on other coastal fauna did not detect any genetic split across the Yangtze River [
24
]. Therefore, more comprehensive study is required to test for the influence of this barrier.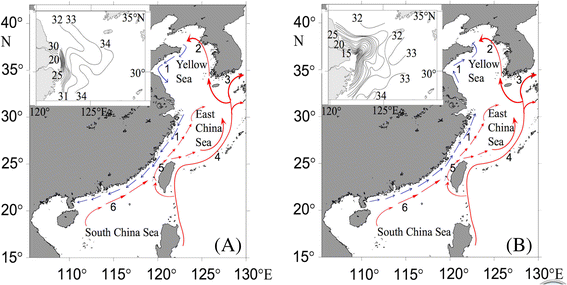 To detect causations (such as substrate, freshwater discharge, coastal current and historical events) of phylogeographic break of intertidal and subtidal rocky shore communities, a multi-species genetic analysis of several intertidal and subtidal species along the Chinese coast was performed. We combined new sequences with previously published sequences from the Chinese coast to construct a database of mitochondrial and nuclear DNA from four species, including three rocky-shore species (limpet
Siphonaria japonica
, limpet
C. toreuma
[
20
], macroalga
S. horneri
[
36
]) and one muddy-shore species (bivalve
Atrina pectinata
[
37
]). These species possess different habitat preferences, reproductive seasons and breeding modes (See Table
1
, [
37
–
40
]), which provide insights into the responses of intertidal and subtidal species to multi-factors.
Table 1
Summary of life history features of four intertidal and subtidal species. The life history features include period of spawning, larval type and larval duration for four intertidal species
| Species | Habitat | Spawning period | Larval type | Larval duration | Reference |
| --- | --- | --- | --- | --- | --- |
| Siphonaria japonica | Intertidal rocky shore | Mar-Jul | Egg ribbons + Pelagic larvae | >7 days | [38] |
| Cellana toreuma | Intertidal rocky shore | Jun-Sep/Oct | Pelagic larvae | 4-17 days | |
| Sargassum horneri | Intertidal and subtidal rocky shore | Mar-May | Floating oospores | — | [40] |
| Atrina pectinata | Muddy and sandy shore | May-Oct | Pelagic larvae | 17-21 days | [37] |
Conclusions
A significant phylogeographic break, occurring around the Yangtze River Estuary, was observed for populations of rocky-shore species along the China coast. Substrate, ocean current and freshwater discharge are suggested as major factors determining the contemporary structure of rocky-shore species by limiting north–south dispersal of planktonic larvae. In addition, historical events and life history characteristics can also influence the contemporary phylogeographic distribution of intertidal and subtidal species. However, human activities are changing the habitat of intertidal species. Large-scale land reclamation activities can change the sedimentary substrate, and so provide suitable hard substrates for colonization by rocky-shore species. On the other hand, numerous dams constructed in the Yangtze River catchment decrease the riverine sediment supply to the sea and will impact on the environment of the Yangtze Delta and the nearby coastal ocean.
Availability of supporting data
The newly obtained DNA sequences: GenBank accessions: KF716505-KF716747 mtDNA; KF716748-KF716980 nuclear gene for Siphonaria japonica. The reanalyzed data: Cellana toreuma (COI, GenBank accession number, JQ313140-JQ313557; [20]), Sargassum horneri (COIII, GenBank accession number, JF461002-JF461052; [36]), Atrina pectinata (COI, GenBank accession number, HQ449254-HQ449388; [37]). All the alignments data supporting the results of this article are available in the Dyad data repository under doi: 10.5061/dryad.2mv73 [86].
Declarations
Acknowledgements
We would like to thank Guo-dong Han for his assistance in the laboratory, Dr. Colin Little for his great helps in preparing the manuscript. This work was supported by grants from National Natural Science Foundation of China (41476115 41276126), National Basic Research Program of China (2013CB956504), Nature Science funds for Distinguished Young Scholars of Fujian Province, China (2011 J06017), the Fundamental Research Funds for the Central Universities, Program for New Century Excellent Talents in University of Fujian Province and Program for New Century Excellent Talents in University.
Authors' Affiliations
(1)
State Key Laboratory of Marine Environmental Science, College of Marine and Earth Sciences, Xiamen University, Xiamen, China
(2)
Marine Biodiversity and Global Change Laboratory, Xiamen University, Xiamen, China
(3)
Institute of Marine Biology, National Taiwan Ocean University, Keelung, Taiwan
Copyright
© Wang et al. 2015
This is an Open Access article distributed under the terms of the Creative Commons Attribution License (http://creativecommons.org/licenses/by/4.0), which permits unrestricted use, distribution, and reproduction in any medium, provided the original work is properly credited. The Creative Commons Public Domain Dedication waiver (http://creativecommons.org/publicdomain/zero/1.0/) applies to the data made available in this article, unless otherwise stated.