Research article

Open Access
Reevaluating Emx gene phylogeny: homopolymeric amino acid tracts as a potential factor obscuring orthology signals in cyclostome genes
BMC Evolutionary Biology
2015
15:78
Received: 3 November 2014
Accepted: 15 April 2015
Published: 4 May 2015
Abstract
Background
Vertebrate Emx genes, retained as multiple copies, are expressed in a nested pattern in the early embryonic forebrain and required for its regionalization. This pattern seems to have originated in a vertebrate common ancestor; however, a previous analysis, reporting two lamprey Emx genes, claimed independent Emx gene duplications in both cyclostome (extant jawless fish) and gnathostome (jawed vertebrate) lineages after their divergence. This scenario is neither parsimonious nor consistent with the hypothesis that genome expansion occurred before the cyclostome-gnathostome split, which is supported by recent genome-wide analyses.
Results
We isolated and sequenced cDNA of two hagfish Emx genes and performed intensive molecular phylogenetic analyses, including the hagfish and/or lamprey Emx genes. The lamprey genes tended to attract each other in inferred phylogenetic trees, an effect that tended to be relaxed on inclusion of the hagfish genes. The results of these analyses suggest that cyclostome EmxB is orthologous to gnathostome Emx2, which was also supported by conserved synteny. Homopolymeric amino acid (HPAA) tracts represent a remarkable feature of the lamprey Emx sequences, and a comparative genome-wide scan revealed that lamprey proteins exhibit a unique pattern of HPAA tract accumulation.
Conclusions
Our analysis, including hagfish Emx genes, suggests that gene duplications gave rise to Emx1, -2 and -3 before the cyclostome-gnathostome split. We propose that independent HPAA tract accumulations in multiple ancient duplicates, as identified in lamprey Emx gene products, may have led to erroneous identification of gene duplication in the lamprey lineage. Overall, our reanalysis favors the scenario that the nested Emx expression pattern in mouse and lamprey shares a common origin.
Keywords
Emx Gene duplicationCyclostomeLampreyHagfishConserved syntenyHomopolymeric amino acid (HPAA) tracts
Background
Homeobox-containing Emx genes of vertebrates play pivotal roles in the regionalization of the telencephalon [1-3]. In the early embryonic forebrain, Emx2 is expressed widely in the pallium, which develops into the cerebral cortex, while the expression of Emx1 is observed in the dorsal, medial and lateral pallium, but not the ventral pallium which later differentiates to form a part of the claustroamygdaloid complex in mammals [4]. This nested pattern has been reported commonly in jawed vertebrates, including the mouse [5,6], zebrafish [7,8], and small spotted catshark [9].
Tank et al. reported two
Emx
genes of sea lamprey, a jawless fish, which are also expressed in a nested pattern, as in gnathostomes (jawed vertebrates) [
10
]. They performed molecular phylogenetic analyses including these two sea lamprey
Emx
genes, and suggested that they duplicated uniquely in the lineage leading to lampreys, independently from the gene duplication that gave rise to
Emx1
and
-2
of jawed vertebrates [
10
] (Figure
1
b). This suggests that the nested expression patterns in cyclostome (extant jawless fish) and gnathostome lineages converged from independent origins; however, principle of parsimony suggests that these expression patterns in these diverse vertebrates is more likely to share a common ancestry (Figure
1
a).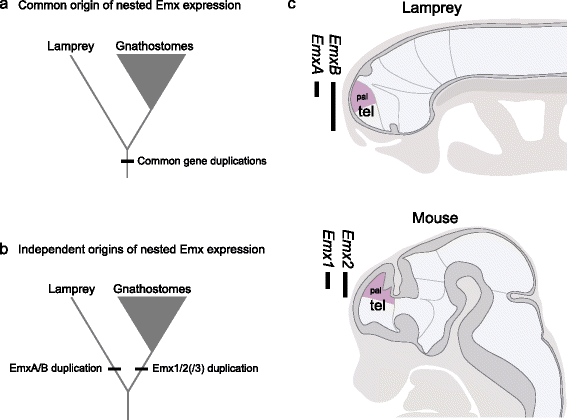 A previous study showed that the genome expansion that accompanied massive gene duplications ('two-round whole genome duplications' abbreviated in 2R-WGD) occurred before the cyclostome-gnathostome split [11] scenario finding that was also supported by later studies [12,13]. Nonetheless, assigning orthology of jawless fish genes to gnathostome counterparts is often not straightforward [14], possibly due to the high GC content and biased amino acid composition of lamprey genes [12,15,16].
In this study, we reexamined the molecular phylogeny of Emx genes and investigated lamprey-specific sequence characteristics affecting molecular phylogenetic analyses. We sought to address the question of whether the nested Emx gene expressions were established a single time in the vertebrate common ancestor or independently in both gnathostome and cyclostome lineages.
Discussion
We reanalyzed the Emx gene phylogeny with sequence information from diverse species (hagfish, little skate, spotted gar and coelacanth) from statistical and genomic viewpoints. Our tree inference did not reproduce the extremely high support for the sea lamprey EmxA-EmxB clustering reported in a previous study (NJ bootstrap value, 99.4; ML quartet puzzling support value, 97; [10]). In our analysis, support values for the sea lamprey EmxA-EmxB clustering were only around 50, at the largest (Figure 3a). Moreover, the support for gene duplication in the cyclostome lineage decreased when hagfish sequences were included in the input data set (Additional file 6). This trend was also observed in a probabilistic count of gene duplications (Table 2). Overall, our phylogenetic analysis favored the Emx gene duplication before the cyclostome-gnathostome split (Figure 1a).
Notably, our scan of the multiple sequence alignment of Emx gene products detected homopolymeric amino acid (HPAA) tracts (also known as homopeptides or amino acid tandem repeats) co-occurring between the peptide sequences of sea lamprey EmxA and -B. In our analysis, ClustalW, adopted by the previous study by Tank et al. [10], aligned tightly the HPAA tracts in those sequences, whereas MAFFT and T-Coffee largely relaxed this effect (Additional file 14). The alignment produced by ClustalW, from which non-conserved sites including the HPAAs were deleted, lent strong support of an exclusive clustering of the two lamprey Emx genes (Figure 5b). When the HPAA tracts were excluded prior to alignment (Figure 5a), the support for the lamprey EmxA-EmxB grouping values became as low as that from the datasets prepared with the other alignment programs (Figure 5b). Interestingly, the HPAAs influenced to the alignment in neighboring regions and then to phylogenetic tree inference, only with ClustalW as far as we examined (Figure 5b). Thus, we concluded that the co-occurrence of those HPAA tracts in these two duplicates led to erroneously strong support for the EmxA-EmxB clustering in the previous study [10].
As no information was available for lampreys, we have performed genome-wide quantification of HPAA tracts. Among the three species examined, significant difference was observed in amino acid composition of HPAA tracts, as well as the frequency of HPAA tract-containing peptides (Figure 6). First, our analysis detected the high proportion of poly-Q tracts consisting of no less than twelve amino acids in human. This tendency is probably common among mammals including rodents, according to a previous study (see Figure 1 in [40]) and could have been driven by selection pressure unique to the poly-Q accumulation. Second, when HPAA tracts consisting of no less than six amino acids were quantified, sea lamprey exhibited a unique pattern of HPAA accumulation, with markedly high frequency of peptides containing HPAA tracts consisting of particular amino acids and their compositions with the number of contained homopolymeric amino acids taken into account (Figure 6; Additional files 11 and 12). In this analysis, we paid close attention to false-positive identification of HPAA caused by false prediction of protein-coding regions in the sea lamprey genome, and verified the result with three sequence data sets differently derived. HPAA accumulation should be recognized as a factor misleading lamprey gene phylogeny, together with other factors previously identified, such as high GC-content, codon usage bias and amino acid composition [12,16].
Consistent with the result of our molecular phylogenetic analysis, our synteny analysis supported the one-to-one orthology between cyclostome EmxB and gnathostome Emx2 (Figure 4a). In general, synteny data involving cyclostome genes should be carefully interpreted because not only a certain gene of interest but also its flanking genes should exhibit ambiguous signals to multiple potential orthologs of gnathostomes (reviewed in [14]). In the present study, we identified the Pdzd8 gene in the vicinity of the Emx2 gene; Pdzd8 is present as a single copy (without any paralog that arose in the vertebrate lineage) in all chordate genomes analyzed to date (Figure 4b). For this reason, we assumed that proximity to the Pdzd8 gene could be regarded as a unique signal of orthology to Emx2. In the sea lamprey genome, EmxB and the Pdzd8 ortholog were identified within 0.9 Mbp on the same scaffold (Figure 4a), suggesting orthology between Emx2 and EmxB. We cannot completely rule out the possibility that the Pdzd8 gene experienced an ancient duplication, and that subsequent differential gene loss resulted in paralogy between the gnathostome Pdzd8 and the sea lamprey Pdzd8-like gene in the vicinity of EmxB. However, in addition to the possible EmxB-Emx2 orthology, the EmxA-Emx1 orhology was also suggested by our analysis (see Results). In conclusion, our study favored the common Emx gene duplication and one-to-one orthology of cyclostome EmxA and -B to gnathostome Emx1 and -2, respectively.
We identified two or three Emx homologs in all jawed vertebrates. Although the third homolog has been lost in reptiles, birds, and eutherian mammals, other taxa, including marsupials, have retained Emx3. While mouse Emx2 plays a major role in development of dorsal telencephalon [3], Emx3 has been shown to be the most widely expressed and indispensable Emx homolog in zebrafish [2]. Its orthologs in opossum and Xenopus, which seem to be under less functional constraint as indicated by unique indels in their peptide sequences, remain poorly characterized. It would be intriguing to examine how Emx2 and Emx3 function in marsupials, as the Emx1 ortholog was reported to be pseudogenized at least in opossum [2].
The expression domains of EmxB and Emx2 encompass those of EmxA and Emx1, respectively [1,3,10]. Our results suggest that the similar expression pattern between cyclostome and gnathostome Emx is the consequence of shared ancestry, not convergence. We conclude that the nested expression pattern observed for the duplicated Emx genes was acquired in the common ancestor of all extant vertebrates (Figure 1a). Dorso-ventral subdivision of the pallium by the restricted expression of Emx1/A may thus have been acquired before the divergence between cyclostomes and gnathostomes, as proposed previously [41].
Some differences in expression domains of developmental regulatory genes, including Emx, are observed in developing brains in lamprey and gnathostomes. For instance, the expression of lamprey EmxB at early embryonic stages is expanded more ventrally than that of mouse Emx2 [10], and the onset of FGF signaling in lamprey forebrain occurs at a later stage than in mice [42-44]. Analyses on knock-out mice show that FGF signaling is essential for proper induction of telencephalon and dorsal restriction of Emx2 expression [45-48]. We thus suggest that ventral expansion of the early expression of lamprey EmxB may correspond to the later onset of FGF signaling in this animal. This hypothesis needs to be verified with further analyses, ideally involving hagfish, which represents the indispensable but currently missing link for reconstruction of the brain patterning program in the vertebrate ancestor.
Conclusions
Our analysis, including hagfish Emx genes, suggests the occurrence of the gene duplications giving rise to Emx1, -2 and -3 before the cyclostome-gnathostome split. We propose that independent HPAA tract accumulations in multiple ancient duplicates may have led to erroneous identification of gene duplication in the lamprey lineage. Overall, our reanalysis concluded that the nested Emx expression pattern in mouse and lamprey shares the common origin before the split between the cyclostome and gnathostome lineages. A practical lesson from this study is that potential effect of unique properties of molecular sequences in lamprey can largely be relaxed thorough taxon sampling in other cyclostomes, such as hagfishes.
Abbreviations
A:

Alanine
Q:

Glutamine
G:

Glycine
P:

Proline
OTU:

Operational taxonomic unit
KH test:

Kishino-Hasegawa test
SH:

Shimodaira-Hasegawa test
NJ:

Neighbor-joining
ML:

maximum-likelihood
HPAA:

Homopolymeric amino acid tract
Declarations
Acknowledgements
The authors acknowledge Juan Pascual Anaya and Shigeru Kuratani for sequence data production and Yuichiro Hara for insightful discussion in sequence analyses. The authors also thank the little skate and spotted gar genome consortia for sharing the unpublished results of their respective genome sequencing efforts.
Authors' Affiliations
(1)
Genome Resource and Analysis Unit, RIKEN Center for Developmental Biology, Kobe, Japan
(2)
Division of Biology, Hyogo College of Medicine, Nishinomiya, Japan
(3)
Evolutionary Morphology Laboratory, RIKEN, Kobe, Japan
(4)
Phyloinformatics Unit, RIKEN Center for Life Science Technologies, Kobe, Japan
Copyright
© Noro et al. 2015
This is an Open Access article distributed under the terms of the Creative Commons Attribution License (http://creativecommons.org/licenses/by/4.0), which permits unrestricted use, distribution, and reproduction in any medium, provided the original work is properly credited. The Creative Commons Public Domain Dedication waiver (http://creativecommons.org/publicdomain/zero/1.0/) applies to the data made available in this article, unless otherwise stated.