Research article
Open Access
Pan-African phylogeny of Mus (subgenus Nannomys) reveals one of the most successful mammal radiations in Africa
BMC Evolutionary Biology
2014
14:256
Received: 30 May 2014
Accepted: 27 November 2014
Published: 14 December 2014
Abstract
Background
Rodents of the genus Mus represent one of the most valuable biological models for biomedical and evolutionary research. Out of the four currently recognized subgenera, Nannomys (African pygmy mice, including the smallest rodents in the world) comprises the only original African lineage. Species of this subgenus became important models for the study of sex determination in mammals and they are also hosts of potentially dangerous pathogens. Nannomys ancestors colonized Africa from Asia at the end of Miocene and Eastern Africa should be considered as the place of their first radiation. In sharp contrast with this fact and despite the biological importance of Nannomys, the specimens from Eastern Africa were obviously under-represented in previous studies and the phylogenetic and distributional patterns were thus incomplete.
Results
We performed comprehensive genetic analysis of 657 individuals of Nannomys collected at approximately 300 localities across the whole sub-Saharan Africa. Phylogenetic reconstructions based on mitochondrial (CYTB) and nuclear (IRBP) genes identified five species groups and three monotypic ancestral lineages. We provide evidence for important cryptic diversity and we defined and mapped the distribution of 27 molecular operational taxonomic units (MOTUs) that may correspond to presumable species. Biogeographical reconstructions based on data spanning all of Africa modified the previous evolutionary scenarios. First divergences occurred in Eastern African mountains soon after the colonization of the continent and the remnants of these old divergences still occur there, represented by long basal branches of M. (previously Muriculus) imberbis and two undescribed species from Ethiopia and Malawi. The radiation in drier lowland habitats associated with the decrease of body size is much younger, occurred mainly in a single lineage (called the minutoides group, and especially within the species M. minutoides), and was probably linked to aridification and climatic fluctuations in middle Pliocene/Pleistocene.
Conclusions
We discovered very high cryptic diversity in African pygmy mice making the genus Mus one of the richest genera of African mammals. Our taxon sampling allowed reliable phylogenetic and biogeographic reconstructions that (together with detailed distributional data of individual MOTUs) provide a solid basis for further evolutionary, ecological and epidemiological studies of this important group of rodents.
Keywords
BiogeographyTropical AfricaMolecular phylogenyPygmy micePlio-Pleistocene climatic fluctuationsDivergence timingMuridae (Murinae)Mus minutoidesPhylogeographyDNA barcoding
Background
One of the main challenges of current nature conservation is the accelerating loss of biodiversity. Even if this problem is generally recognized, there are several difficulties in quantifying the loss of biodiversity at the level of species. For example, there is a lack of traditional taxonomic specialists for particular groups of organisms and the real amount of biodiversity is therefore unknown [1]. This is especially true for some tropical areas, where the overall biodiversity level is the highest and its loss is the most intensive. Another problem for practical biodiversity conservation is the delimitation of species (e.g. [2] vs. [3]). Traditional concepts of typological or biological species are not universally applicable and with accumulating knowledge in evolutionary biology it is increasingly difficult to define generally what a species is. Genetic approaches, like DNA barcoding, are now routinely used to overcome some of these problems. They provide a cheap and easily applicable approach for discovering the taxa worth future taxonomical research and areas with high phylogenetic diversity with special conservation concern (e.g. [4]). For example, 175 new extant taxa of mammals were described from African mainland, Madagascar and all surrounding islands between 1988–2008 [5], and in the majority, the first consideration for taxonomic delimitation was motivated by the use of genetic data.
Rodents of the genus Mus represent one of the most valuable biological models for biomedical and evolutionary research [6]. Out of the four currently recognized subgenera, i.e. Mus, Coelomys, Pyromys and Nannomys, the latter comprises the African pygmy mice [7]. These are small rodents (4–12 g in most taxa, but see [8]), endemic to the sub-Saharan Africa. The phylogenetic relationships, species diversity, ecology and chromosomal evolution of Nannomys were recently reviewed [9]. They represent the most diverse lineage of the genus, with currently about 18 species recognized [9],[10], comprising almost half of the described Mus species [10]. While predominantly savannah dwellers [11], several species have also been trapped in forest, agricultural fields and rural areas [12]-[14].
Mainly due to their extensive chromosomal diversity coupled with highly conserved morphology, African pygmy mice have attracted the attention of evolutionary scientists [9],[11],[15]-[17]. They exhibit chromosomal features that are rarely recorded in other taxa, e.g. the greatest diversity of sex-autosome translocations reported so far in any mammalian lineage (e.g. [18]). Thus Nannomys became an important biological model for the study of processes of chromosomal speciation and mechanisms of sex determination in mammals [19]. Recent studies have also shown that African pygmy mice are important hosts of arena viruses [20]-[23], making them a target group for epidemiological surveys.
Increasing numbers of molecular genetic data provide evidence for high cryptic diversity in Nannomys and it is highly probable that further integrative taxonomy research will reveal new undescribed species [11],[14]. Furthermore, the inclusion of poorly known African Mus-related rodents in molecular phylogenetic datasets may provide surprising results changing the current view on the evolutionary scenarios of Nannomys. For example, the Ethiopian endemic genus Muriculus was recently recognized to be an internal lineage of Mus [8].
The genus
Mus
diverged in Asia approximately 6.7 to 7.8 Mya and shortly after this time the ancestor(s) of
Nannomys
colonized Africa through the Arabian Peninsula and Miocene land bridges [
9
]. The oldest fossils of
Mus
in Africa are reported from Tugen Hills (Kenya) about 4.5 Mya [
24
]. The highly heterogeneous environment of Eastern Africa can thus be considered as the place of first diversification of African
Mus
in Early Pliocene, followed by a radiation caused by climatic oscillations and habitat modification [
9
],[
11
]. In this context it is important to note that genetic data used so far for molecular phylogenetic inference of the African pygmy mice are strongly biased geographically in favour of material collected from savannahs in the western and southern part of the continent, while specimens from Eastern Africa (including those from mountains and forests) are clearly under-represented (Figure
1
a).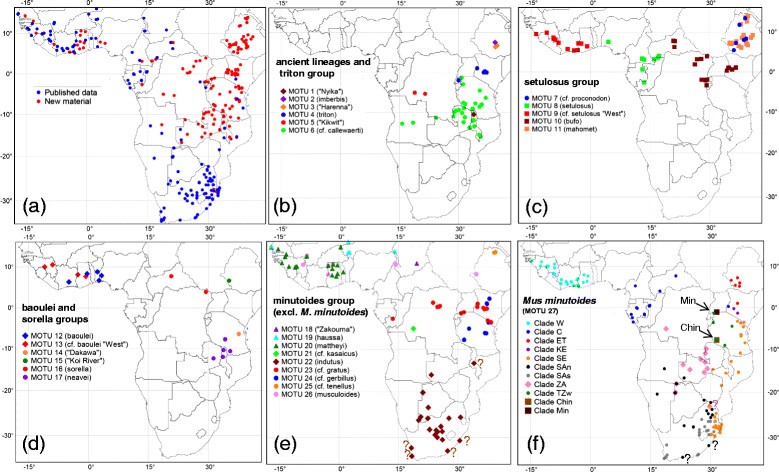 More thorough geographical sampling is necessary for obtaining the correct biogeographical scenario of Nannomys evolution. Only a comprehensive and reliable phylogenetic hypothesis can lead to meaningful inferences on the evolution of sex-determination or virus-host co-evolution. In this study, we provide the so far most comprehensive geographic sampling of genetically characterized African pygmy mice composed of 657 Nannomys individuals from most parts of sub-Saharan Africa. First, we use this pan-African dataset for the reconstruction of phylogenetic relationships within Nannomys lineage. Second, using the combination of species delimitation methods, we aim to estimate the presumable species richness of Nannomys, highlighting groups and geographical regions necessitating further taxonomical research. Finally, the dating of divergences and biogeographical reconstructions allow us to modify previous scenarios that were suggested to explain the Nannomys radiation in Africa.
Discussion
For the purpose of our study, we compiled new and existing sequences into the largest genetic dataset to date of the subgenus Nannomys and performed the first phylogenetic analysis of the group that contains most of the currently recognized valid species across the whole sub-Saharan Africa. We detected a surprisingly high amount of cryptic diversity, with numerous candidates for new species. Wide geographical sampling also allowed the first empirical definition of the distribution areas of all the detected lineages based on physically present genotyped individuals. Using several calibration points and the current distributional data, we also carried out biogeographical analysis and reconstructed the possible evolutionary scenario of this highly successful group of sub-Saharan murines.
Conclusions
The known species diversity of tropical organisms is highly underestimated even for relatively well known animals like mammals. Here we performed a phylogenetic analysis of the largest available set of genetic data collected from the only indigenous African lineage of the genus Mus, called Nannomys. A conservative definition of MOTUs suggests that the number of species described to date represents only approximately 60% of possible species diversity and intensive taxonomic work is now required to allow the formal description of genetically divergent lineages. We also provide the first reliable genotype-based distribution ranges of particular MOTUs that can aid in future species inventories in different parts of Africa. The dating of divergences and biogeographical analyses strongly suggest that ancestors of Nannomys colonized Africa at the end of Miocene and diverged to ancestors of the main species groups in mountains of Eastern Africa in lower Pliocene. The aridification that started in Africa cca 3 Mya led to spreading of open habitats and provided new ecological niches that were fully utilized by Nannomys. In particular, the so-called minutoides lineage underwent an exceptionally intensive radiation in savannah-like habitats and occupied almost whole sub-Saharan Africa in several colonization waves. The combination of a detailed phylogeny based on an almost complete taxon sampling combined with genotype-based distributional data of lineages, taxa and valid species provides a solid foundation to address specific ecologically-explicit evolutionary hypotheses using Nannomys as a model system, i.e. in evolution of sex determination and host-virus co-evolution.
Availability of supporting data
The newly produced sequences were submitted to GenBank under accession numbers KJ935741-KJ935873 (CYTB) and KJ935874-KJ935905 (IRBP) (see Additional file 1 for more details). The final alignment of concatenated sequences used in phylogenetic analyses is in Additional file 6.
Authors' information
JB is head of molecular ecology group at Institute of Vertebrate Biology ASCR, generally interested in factors affecting evolution of vertebrate populations. His actual topics include phylogeography and speciation in Africa, conservation genetics and mechanisms of host-parasite co-evolution. OM and TA are post-doc and PhD student in JB's lab, respectively. RŠ, YM, LL, HL and EV are leaders of research groups studying ecology and evolution of vertebrates, mainly mammals and especially rodents, in different parts of Africa. VM, NO, JM, KW, NA and MC are African and European collaborators of above-mentioned researchers, with joint interest in biodiversity of African rodents.
Abbreviations
CYTB :

Mitochondrial gene for cytochrome b
IRBP:

Gene for interphotoreceptor binding protein
Mya:

Million years ago
mtDNA:

Mitochondrial DNA
ML:

Maximum likelihood
BI:

Bayesian inference
MOTU:

Molecular operational taxonomic unit
GMYC:

Generalized mixed Yule-coalescent model
PCR:

Polymerase chain reaction
AIC:

Akaike information criterion
LCMV:

Lymphocytic choriomeningitis virus
Declarations
Acknowledgements
This study was supported by the projects of the Czech Science Foundation, no. P506-10-0983 (JB and RŠ), the Russian Foundation for Basic Research, no. 12-04-01283 (LL), and the Belgian Science Policy project 'Evaluating the effect of Pleistocene climate changes on speciation patterns in selected African vertebrates' (EV). For help in the field, we acknowledge H. Patzenhauerová-Konvičková, J. Šklíba, M. Lövy, C. Sabuni, G. Mhamphi, F. Sedláček, S. Šafarčíková, A. Konečný, S. Gambalemoke Mbalitini, and all local collaborators. The assistance of R. Makundi, W.N. Chitaukali, B. Dudu Akaibe and late W. Verheyen with project logistics and sample collection is highly appreciated. H. Patzenhauerová-Konvičková and L. Piálek helped with genotyping and E. Fichet-Calvet and S. Gryseels provided unpublished sequences. For permission to carry out the research and to collect specimens we are obliged to the National Research Council and Forestry Department in Malawi, the National Council for Science and Technology, the Kenyan Forest Service and the Kenyan Wildlife Service, the Ethiopian Wildlife Conservation Authority, Zambian Wildlife Authority, Sokoine University of Agriculture, and the 'Centre de surveillance de la biodiversité' in Kisangani, RD Congo. We would also like to thank the curators of the museums (G. Csorba, N. Duncan, V. Nicolas and W. Wendelen) for allowing us to study the material in their care, and two anonymous reviewers and J.C. Winternitz for comments on the previous version of the manuscript.
Authors' Affiliations
(1)
Institute of Vertebrate Biology, Academy of Sciences of the Czech Republic, Brno, Czech Republic
(2)
Department of Botany and Zoology, Faculty of Science, Masaryk University, Brno, Czech Republic
(3)
Institute of Animal Physiology and Genetics, Academy of Sciences of the Czech Republic, Brno, Czech Republic
(4)
Department of Zoology, Faculty of Science, University of South Bohemia, České Budějovice, Czech Republic
(5)
Department of Biology, College of Natural and Computational Sciences, Mekelle University, Tigray, Ethiopia
(6)
A.N.Severtsov Institute of Ecology and Evolution RAS, Moscow, Russia
(7)
Earth Watch Institute, Nairobi, Kenya
(8)
College of Agriculture and Veterinary Sciences, University of Nairobi, Nairobi, Kenya
(9)
University of Kisangani, Eastern Province, Kisangani, Congo
(10)
CNRS UMR 6552/53, Université de Rennes 1, Station Biologique, France
(11)
Evolutionary Ecology Group, Biology Department, University of Antwerp, Antwerpen, Belgium
(12)
Royal Belgian Institute for Natural Sciences, Operational Direction Taxonomy and Phylogeny, Brussels, Belgium
(13)
Institute of Vertebrate Biology, Academy of Sciences of the Czech Republic, Research Facility Studenec, Koněšín, Czech Republic
Copyright
© Bryja et al.; licensee BioMed Central. 2014
This article is published under license to BioMed Central Ltd. This is an Open Access article distributed under the terms of the Creative Commons Attribution License (http://creativecommons.org/licenses/by/4.0), which permits unrestricted use, distribution, and reproduction in any medium, provided the original work is properly credited. The Creative Commons Public Domain Dedication waiver (http://creativecommons.org/publicdomain/zero/1.0/) applies to the data made available in this article, unless otherwise stated.