Research article

Open Access
Taming the wild: resolving the gene pools of non-model Arabidopsislineages
BMC Evolutionary Biology
2014
14:224
Received: 27 June 2014
Accepted: 15 October 2014
Published: 27 October 2014
Abstract
Background
Wild relatives in the genus Arabidopsis are recognized as useful model systems to study traits and evolutionary processes in outcrossing species, which are often difficult or even impossible to investigate in the selfing and annual Arabidopsis thaliana. However, Arabidopsis as a genus is littered with sub-species and ecotypes which make realizing the potential of these non-model Arabidopsis lineages problematic. There are relatively few evolutionary studies which comprehensively characterize the gene pools across all of the Arabidopsis supra-groups and hypothesized evolutionary lineages and none include sampling at a world-wide scale. Here we explore the gene pools of these various taxa using various molecular markers and cytological analyses.
Results
Based on ITS, microsatellite, chloroplast and nuclear DNA content data we demonstrate the presence of three major evolutionary groups broadly characterized as A. lyrata group, A. halleri group and A. arenosa group. All are composed of further species and sub-species forming larger aggregates. Depending on the resolution of the marker, a few closely related taxa such as A. pedemontana, A. cebennensis and A. croatica are also clearly distinct evolutionary lineages. ITS sequences and a population-based screen based on microsatellites were highly concordant. The major gene pools identified by ITS sequences were also significantly differentiated by their homoploid nuclear DNA content estimated by flow cytometry. The chloroplast genome provided less resolution than the nuclear data, and it remains unclear whether the extensive haplotype sharing apparent between taxa results from gene flow or incomplete lineage sorting in this relatively young group of species with Pleistocene origins.
Conclusions
Our study provides a comprehensive overview of the genetic variation within and among the various taxa of the genus Arabidopsis. The resolved gene pools and evolutionary lineages will set the framework for future comparative studies on genetic diversity. Extensive population-based phylogeographic studies will also be required, however, in particular for A. arenosa and their affiliated taxa and cytotypes.
Keywords
ChloroplastCytologyEvolutionITSMicrosatellitesSystematicsTaxonomy
Background
Arabidopsis: life in the fast lane
Less than a decade ago "Arabidopsis and its poorly known relatives" was the title chosen to introduce the closest relatives of Arabidopsis thaliana to a broader readership [1]. This review summarized both the systematics and taxonomy of the genus and also the ecologically important traits to be studied in A. thaliana's "wild" relatives. Its necessity was obvious because until 1999, a huge number of species (60) were recognized in Arabidopsis in the traditional sense. Arabidopsis' taxonomical history was compiled in detail more than 10 years ago [2],[3], and nine Arabidopsis species with several subspecies were recognized by this time. Based on this work and unraveling the evolutionary history of the genus Arabis[4]-[7], which differs morphologically from Arabidopsis only in the position of the cotyledons relative to the radicle in the seeds, a new systematic concept was presented 10-15 years ago [4],[8],[9]. Several species and subspecies have since been added either because molecular studies provided new resolution [10] or because description of new species [11] led to changes in their respective taxonomic rank (species, subspecies, variety) [11]-[17].
Arabidopsis
has been estimated to comprise of at least nine species and six subspecies [
8
], or up to 13 (or even more) species and nine subspecies [
18
] depending on the taxonomic approach and the identifier. The most recent studies, e.g. on
A. arenosa
and its segregates [
19
], and taxonomic entities within the genus
Arabidopsis
are summarized in Table
1
. Note that few of them will probably not be considered in future either because of insufficient diagnostic morphological characters or because they do not represent monophyletic lineages. Russian
Arabidopsis
taxa [
17
], however, may be considered more carefully in future, based on current morphological and molecular analysis (Koch et al., unpublished data).
Table 1
Arabidopsis species diversity and taxonomy
| Arabidopsis arenosaspecies aggregate | | |
| --- | --- | --- |
| Arabidopsis arenosa (L.) Lawalrée | | |
| subsp. arenosa | (2n = 32) | Central and Western Europe, Scandinavia (lower altitudes) |
| subsp. arenosa var. intermedia (Kovats) Hayek | (2n = 32) | Southeastern Austrian Alps (similar to A. neglecta) |
| subsp. borbasii (Zapałowicz) O'Kane & Al-Shehbaz | (2n = 32) | Central and Western Europe (mountain ranges, higher altitudes) |
| Arabidopsis arenosa, unclear taxonomic treatment | (2n = 16) | Balkans |
| Arabidopsis carpatica, nom. prov. | (2n = 16) | Carpathians (middle altitudes, calcareous bedrocks) |
| Arabidopsis neglecta (Schultes) O'Kane & Al-Shehbaz | | |
| subsp. neglecta | (2n = 16) | Carpathians (alpine ranges) |
| subsp. robusta, nom. prov. | (2n = 32) | Carpathians (alpine ranges, only occasionally in lower altitudes) |
| Arabidopsis nitida, nom. prov. | (2n = 16) | Carpathians (mountain ranges, middle to subalpine altitudes) |
| Arabidopsis petrogena (A. Kern) V.I. Dorof. | | |
| ?subsp. petrogena | (2n = 16) | Carpathians, Pannonian lowland (maybe two varieties) |
| subsp. exoleta, nom. prov. | (2n = 32) | Carpathians (lower altitudes) |
| Arabidopsis lyrata lineage | | |
| Arabidopsis lyrata subsp. lyrata (L.) O'Kane & Al-Shehbaz | (2n = 16) | Alaska, Canada, United States |
| Arabidopsis lyrata subsp. petraea (L.) O'Kane & Al-Shehbaz | (2n = 16/32) | Europe |
| = A. petraea (L.) V.I. Dorof. | | |
| Arabidopsis petraea subsp. umbrosa (Turcz. Ex Steud.) Elven & D.F. Murray | (2n = 16) | Arctic NE Asia, Siberia, Alaska, Canada |
| Arabidopsis petraea subsp. septentrionalis (N. Busch) Elven & D.F. Murray | (2n = 32) | Arctic NE Europe, European Russia to Siberia |
| Arabidopsis arenicola (Richardson ex Hook.) Al-Shehbaz et al. | (2n = 16) | Arctic Canada and Greenland |
| Arabidopsis halleri lineage | | |
| Arabidopsis halleri subsp. halleri (L.) O'Kane & Al-Shehbaz | (2n = 16) | Europe |
| Arabidopsis halleri subsp. dacica (Heuff.) Kolník | (2n = 16) | Carpathians, Romania |
| Arabidopsis halleri subsp. gemmifera (Matsum.) O'Kane & Al-Shehbaz | (2n = 16) | Russia Far East, NE China, Korea, Japan, and Taiwan |
| Arabidopsis halleri subsp. ovirensis (Wulfen) A. P. Iljinsk. | (2n = 16) | Austria only (all accessions from the Balkans belong to subsp. halleri) |
| Arabidopsis halleri subsp. tatrica (Pawł.) Kolník | (2n = 16) | Tatra mountains, Slovakia |
| Arabidopsis umezawana Kadota | (2n = ?) | Japan, Hokkaido (alpine zone of Mt. Rishirizin), annual to biennial |
| Other diploid taxa | | |
| Arabidopsis pedemontana (Boiss.) O'Kane & Al-Shehbaz | (2n = 16) | NW Italy |
| Arabidopsis cebennensis (DC.) O'Kane & Al-Shehbaz | (2n = 16) | SE France, Massif Central |
| Arabidopsis croatica (Schott) O'Kane & Al-Shehbaz | (2n = 16) | Croatia |
| Allopolyploid taxa | | |
| Arabidopsis kamchatica (Fisch. Ex DC.) O'Kane & Al-Shehbaz | (2n = 32) | Boreal Alasca, Canada, E Siberia, Russian Far East, Korea, Japan, |
| Taiwan | | |
| Arabidopsis kamchatica subsp. kawasakiana (Makino) Shimizu & Kudoh | (2n = 32) | Japan, winterannual (coastal, lowland) |
| Arabidopsis suecica (Fr.) Norrl. | (2n = 26) | Fennoscandinavia and the Baltic region |
Monophyly is generally accepted among Arabidopsis taxa by plant scientists at present. However, considering that A. thaliana is a model system taxonomic recognition of new species as Arabidopsis is acknowledged much faster than comparable systematic-taxonomic changes in other genera. One such contrary example from the Brassicaceae family is the genus Noccaea which includes important model species for heavy metal tolerance and hyperaccumulation. Noccaea caerulescens required more than 30 years to be recognized appropriately within the correct evolutionary framework [20],[21]. Systematics and taxonomy in the genus Arabidopsis is thus ever-debatable and in constant need of further improvement.
Developing a comprehensive systematic framework
To date there is limited genetic information across the entire genus which allows for adequate taxonomic and systematic comparison. The first study highlighting centers of genetic variation in Europe for the main evolutionary lineages also provided evidence for extensive shared plastidic variation among species [22]. The female component of nuclear-encoded self-incompatibility genes (SI alleles at the SRK locus) also revealed trans-specific polymorphism among some of the same species [23].
Some major evolutionary lineages have been identified in the Arabidopsis genus [18],[22], namely the following groups: A. halleri, A. lyrata and A. arenosa. Three other genetically isolated diploid species have been identified, A. croatica, A. cebennensis and A. pedemontana. A few allopolyploids are also well studied: A. suecica with A. arenosa and A. thaliana as parental species [24],[25], and A. kamchatica with A. lyrata and A. halleri (subsp. gemmifera) as parents [26]-[28]. Another taxonomically not yet introduced tetraploid taxon (close to A. lyrata) is found in Lower Austria, which is either the result of hybridization and genome doubling between A. arenosa and A. lyrata (allopolyploidy), or genome duplication of diploid A. lyrata (autopolyploid) with subsequent introgression from tetraploid A. arenosa[29].
For some of these major lineages and their subspecies there are more detailed genetic studies available covering either a broader geographic scale or larger sets of taxa. For A. halleri it has been shown that all five subspecies are closely related to each other, and that one major center of genetic diversity is located in the Eastern Austrian Alps [22]. It has also been concluded for A. halleri that metallicolous populations have been founded separately from distinct non-metallicolous populations without suffering from founder effects [30]. The same authors provided a comprehensive phylogeographic scenario [31]; and although the accessions studied were not characterized taxonomically, many helpful comments linking taxonomy with genetic data were provided. For A. lyrata there are several studies available showing general phylogeographic patterns and hybrid speciation on a large scale [26],[27]. Local-scale phylogeographic studies in North America highlighted switches in mating system [32],[33]. Population-based analysis with a few selected populations provided the first evidence for population genetic structure at varying geographic scales [34]-[36]. At a more local scale and focusing on different aspects of adaptation there are numerous contributions covering A. lyrata[37]-[39], and comprehensive reviews have recently been presented to summarize many more aspects [1],[40]. There is very limited information regarding A. arenosa, one of the most diverse evolutionary lineages in Arabidopsis[22], with only one phylogeographic-systematic study at a broad geographic scale [19]. Nevertheless, A. arenosa has proven to be an excellent model to study the formation and evolution of allopolyploids [41],[42] and plant adaptation [43],[44].
A recently published review [45] emphasized the need for all-encompassing evolutionary studies within the genus Arabidopsis that provide a broader framework on genus-wide genetic diversity and differentiation, in order to enable researchers to study molecular mechanisms of speciation-related processes in interspecific comparative approaches. Our goal here was to provide a reliable phylogenetic-systematic base line using ribosomal DNA sequence variation from the internal transcribed spacers 1 and 2 and the trnLF region of the plastid genome [22]. These data were combined with population genetic variation based on a set of nuclear-encoded microsatellite loci shown to be highly sensitive for resolving Arabidopsis lineages [29]. Finally, since genome size and chromosome numbers are important cytological characters that significantly influence various organismal traits, we conducted a comprehensive scan of cytological variation via the homoploid nuclear DNA content within and among the principal gene pools in Arabidopsis.
Here we explore the gene pools of Arabidopsis taxa using a battery of molecular markers and their cytology to identify clearly genetically distinct units over their entire geographic distribution, develop a schematic phylogeographic-systematic scenario based on this data and lastly, comment on any discrepancies between these resolved gene pools and existing taxonomic identifiers.
Results
Our results indicate the existence of several major gene pools or species groups; confirming several taxonomically recognized species and subspecies (Figure
1
). However, it is also obvious that gene flow and/or shared ancestry blur some distinct evolutionary units in several cases, both between ploidy levels and among species.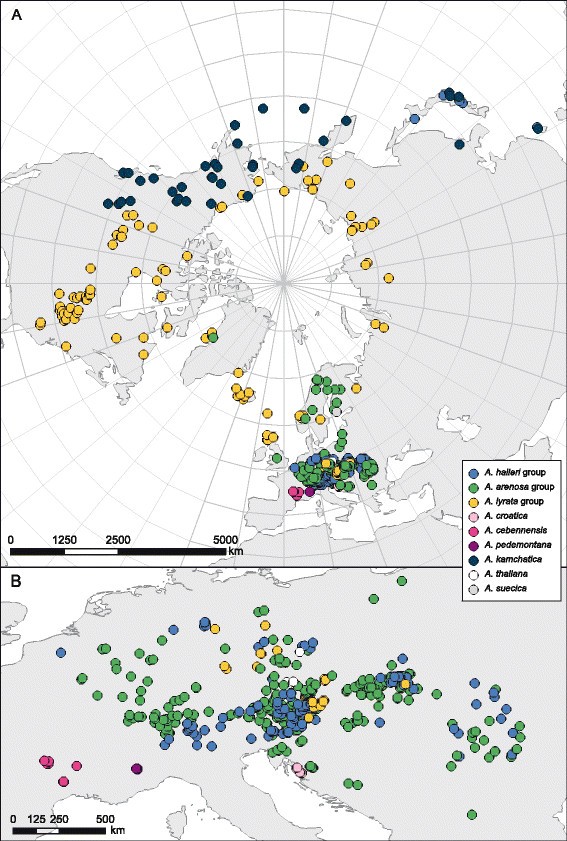 The number of single nucleotide polymorphisms (SNPs) was not sufficient to resolve taxa below the species level, most likely because the genus' radiation within the last 2.5 million years is too recent.
Discussion
We have provided some historical evolutionary context for many of the non-model lineages that comprise the Arabidopsis genus. ITS data provided the most robust signature to separate the main evolutionary lineages (Figures 2 and 5): 1) Arabidopsis thaliana, 2) A. cebennensis, 3) A. pedemontana, 4) A. lyrata and its segregates/subspecies, 5) A. arenosa with numerous different species and cytotypes and A. croatica more distinct from the remainder, and 6) A. halleri and its subspecies. This summary excludes two hybrid species, namely Arabidopsis suecica and A. kamchatica "bridging" A. thaliana/A. arenosa and A. halleri/A. lyrata, respectively. These taxa will be discussed subsequently, since there is increasing evidence of substantial gene flow over various species and/or ploidy levels [29],[48].
Conclusion
We characterized in detail the three main Arabidopsis evolutionary lineages: A. halleri, A. lyrata and A. arenosa, including their respective subspecies in an attempt to present a genus-wide overview on genetic variation and taxon delimitation. The relationship among these three lineages is not completely certain due to the power of resolution across the assays used here, but there is some tendency that the lyrata lineage is more closely related to arenosa than to halleri, consistent with being sister taxa. Three additional well-defined endemic species, A. pedemontana, A. cebennensis and A. croatica do form separate evolutionary lineages, with the latter (croatica) most likely positioned at the base of the A. arenosa lineage. The other two endemics are distantly related to any other lineage, but ecologically and morphologically closer to A. halleri. Aside from these evolutionary lineages, there is a need to characterize some taxa in much more detail, such as the arctic taxa of A. lyrata and members of the A. arenosa species aggregate. One other conclusion which stems from the extensive chloroplast haplotype sharing observed among all major evolutionary lineages is the need to qualify and quantify the extent of gene flow within the entire genus.
Availability of supporting data
The data sets supporting the results of this article are available online. A complete documentation of the new sequences generated for this study, including GenBank accession numbers, is available from Additional file 5. Further, data files (accession list; ITS alignment; microsatellite dataset) are accessible with the Dryad data repository under doi:10.5061/dryad.497sg.
Authors' contributions
NH and RS carried out the molecular marker studies and statistical analyses, and contributed to drafting the manuscript. ML and FK conducted part of genome size measurements and contributed to drafting the manuscript. TJC and KM helped with plant material and contributed to drafting the manuscript. MAK designed and coordinated the project, analyzed and integrated the results and drafted the manuscript. All authors read and approved the final version. With the exception of part of the genome size analysis, most of the work was done in Heidelberg.
Declarations
Acknowledgments
We thank Ihsan Al-Shehbaz (Missouri, USA), Galina Gusarova (Oslo, Norway), Gu Hongya (Beijing, P. R. China), Barbara Mable (Glasgow, Scotland), David L. Remington (Greensboro, USA), Outi Savolainen (Oulu, Finland) and the curators of the Herbariums of the Natural History Museums London and Vienna for providing plant material, Susanne Ball, Liza Kretz and Peter Sack for laboratory assistance. We are very grateful to Graham Muir for countless valuable comments and careful editing of the manuscript. This research was supported by DFG grants KO 2302/5 and KO 2302/14 (priority research program DFG-SPP 1529) to Marcus A. Koch and by the Czech Science Foundation grant no. P506/12/0668 to Karol Marhold.
Authors' Affiliations
(1)
Centre for Organismal Studies (COS) Heidelberg, Heidelberg University, Heidelberg, Germany
(2)
Institute of Botany, Academy of Sciences of the Czech Republic, Průhonice, Czech Republic
(3)
Department of Life Sciences, Cheng-Kung University, Tainan, Taiwan
(4)
Department of Botany, Faculty of Science, Charles University in Prague, Prague, Czech Republic
(5)
Institute of Botany Slovak Academy of Sciences, Bratislava, Slovakia
Copyright
© Hohmann et al.; licensee BioMed Central Ltd. 2014
This article is published under license to BioMed Central Ltd. This is an Open Access article distributed under the terms of the Creative Commons Attribution License (http://creativecommons.org/licenses/by/4.0), which permits unrestricted use, distribution, and reproduction in any medium, provided the original work is properly credited. The Creative Commons Public Domain Dedication waiver (http://creativecommons.org/publicdomain/zero/1.0/) applies to the data made available in this article, unless otherwise stated.