Research article

Open Access
Evolution and genomic organization of muscle microRNAs in fish genomes
Pedro Gabriel Nachtigall

1,

Marcos Correa Dias

2 and

Danillo Pinhal

1

Email author
BMC Evolutionary Biology
2014
14:196
Received: 8 May 2014
Accepted: 22 August 2014
Published: 25 September 2014
Abstract
Background
MicroRNAs (miRNAs) are small non-coding RNA molecules with an important role upon post-transcriptional regulation. These molecules have been shown essential for several cellular processes in vertebrates, including muscle biology. Many miRNAs were described as exclusively or highly expressed in skeletal and/or cardiac muscle. However, knowledge on the genomic organization and evolution of muscle miRNAs has been unveiled in a reduced number of vertebrates and mostly only reflects their organization in mammals, whereas fish genomes remain largely uncharted. The main goal of this study was to elucidate particular features in the genomic organization and the putative evolutionary history of muscle miRNAs through a genome-wide comparative analysis of cartilaginous and bony fish genomes.
Results
As major outcomes we show that (1) miR-208 was unexpectedly absent in cartilaginous and ray-finned fish genomes whereas it still exist in other vertebrate groups; (2) miR-499 was intergenic in medaka and stickleback conversely to other vertebrates where this miRNA is intronic; (3) the zebrafish genome is the unique harboring two extra paralogous copies of miR-499 and their host gene (Myh7b); (4) a rare deletion event of the intergenic and bicistronic cluster miR-1-1/133a-2 took place only into Tetraodontiformes genomes (pufferfish and spotted green puffer); (5) the zebrafish genome experienced a duplication event of miR-206/-133b; and (6) miR-214 was specifically duplicated in species belonging to superorder Acanthopterygii.
Conclusions
Despite of the aforementioned singularities in fish genomes, large syntenic blocks containing muscle-enriched miRNAs were found to persist, denoting colligated functionality between miRNAs and neighboring genes. Based on the genomic data here obtained, we envisioned a feasible scenario for explaining muscle miRNAs evolution in vertebrates.
Keywords
miRNAComparative genomicsStriated muscleEvolutionParalogs
Background
The massive sequencing of eukaryote genomes has lead to an unprecedented discovery of fundamental features of an abundant class of non-coding regulatory elements, the microRNAs (miRNAs). Recognized as the micromanagers of gene expression, miRNAs added a new layer of complexity to the regulation of protein-coding genes, owing to its ability of virtually silence any mRNA in the cell [1].
The occurrence of deeply conserved and species-specific miRNAs in metazoan, argues in favor of a permanent, rapid and uneven evolutionary process of miRNA genes emergence [2]. Notably, episodes of miRNA repertoire acquirement positively correlate to increased animal complexity [3],[4]. Actually, several studies revealed that the origin and evolution of miRNA loci resemble that of protein-coding genes, being prompted by classical evolutionary forces, such as duplication, mutation and genetic drift. Such dynamism generated paralogous members producing identical or nearly identical mature sequences [5],[6] many of which are clusterized and expressed in a cell-specific or tissue-enriched basis [7],[8].
In this sense, a suite of miRNAs, including miR-1, −133a, −133b, −206, −208a, −208b, −214 and −499, were identified as highly enriched or specifically expressed in cardiac and/or skeletal muscle cells of animals (reviewed in [9]). These muscle-enriched miRNAs are known to play essential roles in muscle biology by controlling processes like myogenesis (proliferation and differentiation), regeneration, aging, homeostasis, apoptosis and immune responses [10]-[12].
In animals, miRNA expression profiles and functions in muscle and other tissues depend on the miRNA genomic context, which ultimately correspond to miRNA location, conservation and organization in the genome [13],[14]. Peculiarities such as the physical distance between miRNA genes in chromosomes [15] or miRNA location in comparison to protein coding genes (i.e., intergenic, intronic, exonic, or mirtron) may provide important clues regarding coordinated regulation and function of miRNAs. However, current knowledge on the genomic context of muscle miRNAs has been unveiled in a reduced number of vertebrates, thus preventing more informative large scale comparisons. Indeed, available data mostly reflects features from mammal miRNAs, whereas fish, the largest class of living vertebrates, remain largely uncharted.
Thus, the aim of this study was to elucidate particular features in the genomic organization and the putative evolutionary history of muscle-enriched miRNAs in fish through genome-wide comparative analysis.
Results and discussion
Precursor and mature miRNA features
Overall, muscle miRNAs genes were highly conserved among species of vertebrates investigated. Interspecific comparisons of fish pre-miRNAs sequences to counterparts from other seven representatives of all living groups of vertebrates (see Additional file
1
for more details) revealed a similarity of roughly 85% for each muscle pre-miRNA (Table
2
). Indeed, the comparison of predicted secondary structures of orthologous confirmed that all of them shape into a hairpin structure compliant to the miRNA biogenesis model [
1
],[
23
]. In the comparison of mature sequences, the degree of similarity among orthologous was even higher, ranging from ~95% to perfectly matched sequences (Table
2
). Such findings suggest that muscle miRNAs examined have been under strong selective constraint throughout the evolution of vertebrates, thereby reflecting an acquirement of primordial functions on muscle biology. In fact once a miRNA evolves and acquires a function in a strictly tissue-specific context, it is rarely lost [
24
],[
25
]. Based on the comparison of here acquired to available data (see Additional file
2
), it is possible to infer that all muscle miRNAs investigated are ancient and derived from an early gnathostome ancestor.
Table 2
Comparative analysis of muscle-enriched miRNAs sequences of 16 species representatives of the main vertebrate groups
| miRNA | Sequence length (bp) | Mature sequence identity (%) | Stem-loop sequence identity (%) |
| --- | --- | --- | --- |
| miR-1 | 71 | 97.1 | 81.0 |
| miR-133a | 73 | 97.3 | 91.8 |
| miR-133b | 76 | 98.8 | 86.8 |
| miR-206 | 70 | 100 | 83.6 |
| miR-214 | 91 | 94.3 | 81.0 |
| miR-499 | 84 | 95.9 | 77.8 |
Burst and expansion of the miRNA repertoire took place at the base of the bilaterian lineage [3]-[5] and later at the base of vertebrate lineage [3],[26]. However it is essential to have in mind that the evolution of miRNAs is an ongoing process and novel miRNAs are emerging [27]. The homologs of ancient miRNAs that emerged more recently by duplication and are still not under functional constraint, may either evolve fast, potentially originating other miRNAs, or be conserved, as verified for the miR-214 paralog identified in the present study (below discussed).
Typically, more ancient miRNAs undergo fewer changes than miRNAs that have emerged more recently, implying that the sequences of young miRNAs have higher evolutionary rates than old miRNAs. This can be attested through an examination of all segments of the hairpin, comprising the mature sequences (5p or 3p) and seed regions. For instance miR-1 and miR-133, whose origin remounts to a common ancestor of Protostomia and Deuterostomia [25], were amongst the most conserved miRNAs (Table 2). By contrast, miRNA clusters such as miR-310 ~ 313 from fruit flies and beetles [28], and miR-290 ~ 295 from mouse embryonic stem cells [29], were found to be young fast-evolving miRNA families. Another fast-evolving miRNA family was recently found in primate, but not in rodent. This emergent primate-specific miRNAs became integrated into ancient gene circuitry improving post-transcriptional control [30].
Thereby we envision that events of miRNAs acquisition and loss might have occurred in basal organisms in response to changes in morphological and physiological traits alongside evolution of vertebrates, as for instance challenges emerged during transition from aquatic to terrestrial ambient. Therefore, the origins of muscle-enriched miRNAs can be related to an acquisition of new physiological and ontogenetic patterns by the gene expression regulatory machinery, which reflects in their constrained evolution [2],[31].
Genomic context of muscle miRNAs
Evolutionary scenario of muscle miRNAs in vertebrates
New data generated for Nile tilapia coupled with available data on several species allows us to propose a general evolutionary scenario for muscle-enriched miRNAs in vertebrates (Figure
6
).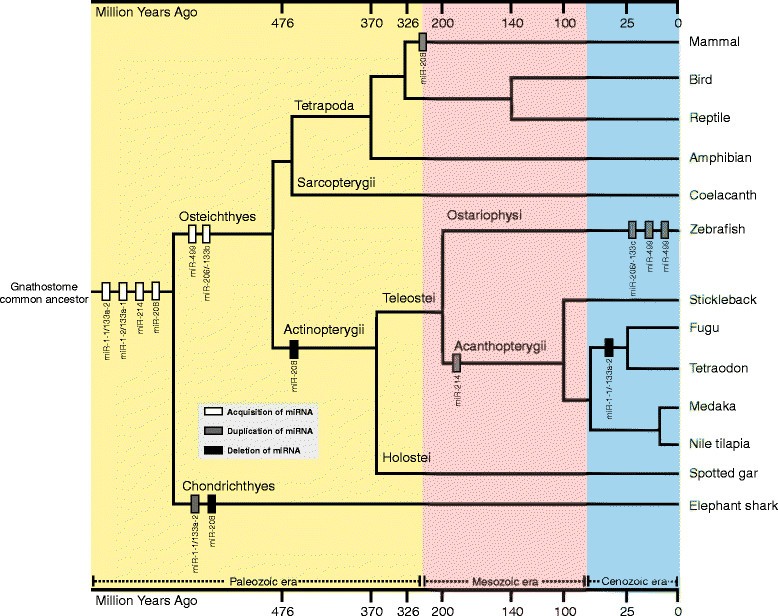 In this hypothetical scenario a birth event of the clusterized and intronic miRNA miR-1-2/-133a-1 took place on a common Chordata ancestor [46]. Subsequently, this cluster generated the intergenic cluster miR-1-1/-133a-2 by duplication and rearrangement events. Another duplication of miR-1/-133a cluster must have occurred on a gnathostome ancestor, before the split of Chondrichthyes, Actinopterygii, Sarcopterygii and Tetrapoda lineages. Then, this extra copy of the miR-1/-133a cluster probably acquired a function and was maintained in Chondrichthyes, whereas it was converted into a novel miR-206/-133b cluster retained in the genome of the remaining vertebrate groups over evolution [36]. We also can propose that the miR-206/-133 cluster was just recently duplicated in zebrafish, because extra copies of this locus were not detected in any other vertebrate genome. Furthermore, our survey suggests that a recent event of rare loss of the functional bicistronic miR-1-1/-133a-2 took place into a common ancestor of Tetraodontiformes because both Fugu and Tetraodon species do not carry this miRNA cluster in their genomes.
Therefore, we can infer that the birth event that doubled miR-208 took place in a common vertebrate ancestor and was followed by a conversion of one locus of miR-208 into miR-499 in a bony fish common ancestor. This pattern was maintained in Sarcopterygii and Tetrapoda, but not in cartilaginous and ray-finned fish lineages that underwent the loss of the miR-208 but not of its host gene. Moreover, we have found the miR-208 distributed in all 41 mammals examined, implying that the miR-208 and its host gene were duplicated on a mammal common ancestor only. Such conclusion is strengthened by the absence of miR-208 in cartilaginous and ray-finned fishes, as well as by the existence of a unique miR-208 copy in Sarcopterygii, birds, reptiles and amphibians.
Regarding the miR-499, all acquired data suggests that this myomiR emerged and was retained under the same organizational pattern in Actinopterygii and Sarcopterygii. However, there are two peculiarities that might have happened for this miRNA: (1) a recent double duplication of miR-499 and its host gene in zebrafish genome, since no similarities of this pattern were detected in other vertebrate genomes; and (2) the conversion from intronic to intergenic miR-499 in medaka and stickleback genomes, an event that might have occurred independently, as recently described for unrelated species Atlantic cod and platyfish [37].
For the miR-214, we propose a gene-birth in a gnathostome common ancestor, because our deep genome search did not recover this miRNA neither in lamprey (agnatha) nor in any other basal chordate. Additionally the highly conserved sequence and organizational pattern within all gnathostome species indicates that miR-214 would have experienced similar evolutionary pressures that kept it under strong selective constraint. Moreover, a duplication event restricted to a common ancestor of Acanthopterygii would explain the miR-214 paralogs in all members investigated from this superorder. Overall, our analysis supports a scenario where the origin of miR-214 in vertebrate genomes took place during Paleozoic and extant paralogs came out after a gene duplication event restricted to an Acanthopterygii ancestor during Mesozoic.
Conclusions
The high dynamism inherent to fish genomes helps to explain the variable pattern in the distribution of miRNA genes but fails to explain the high synteny observed so far. In this work, we thoroughly studied the genomic organization and discussed the evolutionary dynamics and diverse remarkable singularities of muscle miRNAs in fishes. We also show that, in spite of a few peculiarities and differences between species, some of the chromosomal regions that contain the muscle miRNAs had high synteny levels, denoting colligated functionality. Moreover, we conclude that most of events of muscle-specific miRNAs acquisition and diversification occurred on a gnathostome common ancestor, whereas singular events of miRNA duplication and loss were randomly assigned to distinct species of the divergent animal groups studied. Collectively, these insights about the miRNA genomic context shed new light on the evolutionary history of such key modulators of the muscle biology in vertebrates.
Declarations
Acknowledgements
This work was supported by CAPES and FAPESP (grant number 2012/15589-7).
Authors' Affiliations
(1)
Department of Genetics, UNESP - Sao Paulo State University, Institute of Biosciences, Botucatu, Brazil
(2)
Institute of Health Sciences, UFMT -Federal University of Mato Grosso, Mato Grosso, Brazil
Copyright
© Nachtigall et al.; licensee BioMed Central Ltd. 2014
This article is published under license to BioMed Central Ltd. This is an Open Access article distributed under the terms of the Creative Commons Attribution License (http://creativecommons.org/licenses/by/4.0), which permits unrestricted use, distribution, and reproduction in any medium, provided the original work is properly credited. The Creative Commons Public Domain Dedication waiver (http://creativecommons.org/publicdomain/zero/1.0/) applies to the data made available in this article, unless otherwise stated.