Research article

Open Access
Evolution of the vertebrate goose-type lysozyme gene family
BMC Evolutionary Biology
2014
14:188
Received: 20 April 2014
Accepted: 12 August 2014
Published: 29 August 2014
Abstract
Background
Lysozyme g is an antibacterial enzyme that was first found in the eggs of some birds, but recently has been found in additional species, including non-vertebrates. Some previously characterized lysozyme g sequences are suggested to have altered secretion potential and enzymatic activity, however the distribution of these altered sequences is unknown. Duplicated copies of the lysozyme g gene exist in some species; however, the origins of the duplicates and their roles in altered function are unclear.
Results
We identified 234 lysozyme g sequences from 118 vertebrate species, including 181 sequences that are full or near full length representing all vertebrate classes except cartilaginous fish. Phylogenetic analysis shows that most lysozyme g gene duplicates are recent or lineage specific events, however three amplification events are more ancient, those in an early amniote, an early mammal, and an early teleost. The older gene duplications are associated with changes in function, including changes in secretion potential and muramidase antibacterial enzymatic activity.
Conclusions
Lysozyme g is an essential muramidase enzyme that is widespread in vertebrates. Duplication of the lysozyme g gene, and the retention of non-secreted isozymes that have lost enzymatic activity indicate that lysozyme g has an activity other than the muramidase activity associated with being an antibacterial enzyme.
Keywords
Lysozyme gVertebratesGene duplicationGenome evolutionPhylogeny
Background
Lysozyme is an antibacterial enzyme that has been a model system for understanding enzymology [1],[2], protein structure [3]–[5], and gene regulation [6],[7]. The best-characterized lysozyme is lysozyme c (chicken-type or conventional lysozyme), which is typically secreted into body fluids (e.g., blood, sweat, tears, and milk) of mammals and is found in the egg whites of many birds [8]–[11]. Protein and gene sequences for lysozyme c have been characterized from a diverse array of vertebrate and non-vertebrate species [8]–[11]. It has long been known that lysozyme c is a member of a gene family, with the two other well-characterized members being lactalbumin and calcium-binding lysozyme [8]–[10]. Genome sequence data has led to the realization that the lysozyme c gene family is much larger than expected, with 10 genes identified in the human genome and similar numbers in other mammals [12]. A number of additional types of lysozymes that show limited or no significant similarity to lysozyme c have been identified [13],[14]. The antibacterial lysozyme isolated from goose eggs, lysozyme g, was found to be larger than and have no significant sequence similarity to lysozyme c[9],[11],[13],[14]. Lysozyme g is also found in other vertebrates and a few non-vertebrate species [9],[11]. Additional types of lysozyme have been found in invertebrates (lysozyme i) [11],[15], plants [16], bacteria [17], and bacteriophage [18]. These different forms of lysozyme share limited or no sequence similarity; however, protein crystal structures suggest they share similar structures raising the possibility that they have a common ancestor [14],[19],[20].
Lysozyme g was initially identified from the egg white of the goose and some other bird species [21],[22]. Low levels of lysozyme g were also detected in a few other tissues of the goose [23]. The first lysozyme g gene to be cloned was from the chicken, a species that does not express this enzyme in eggs [24]. Chicken lysozyme g was found to be specifically expressed in cells of the bone marrow and in the lung [24]. In contrast to birds, lysozyme g appears to have a broader expression pattern in fish [25]–[28]. Fish lysozyme g retains antibacterial properties, and its expression is often induced in response to bacterial infection [26]–[28]. Many fish lysozyme g sequences do not predict signal peptides, suggesting they may have an intracellular function [26],[28],[29], however some do contain signal peptides due to the presence of an alternative 5′ spice acceptor in the second coding exon [30]. In mammals, a pair of lysozyme g genes has been identified, however little is known about their function [29].
Multiple lysozyme g genes have been identified in several species such as mammals [29], chicken [31], zebrafish [29], and urochordates [32]. A phylogenetic analyses conducted with the limited number of sequences available about 10 years ago indicated that the duplicated lysozyme g genes in mammals, zebrafish and urochordates were products of independent gene duplications [29],[32]. Since recent analyses of vertebrate genomes have indicated that the lysozyme c gene family is much larger than previously appreciated [12], and a large number of vertebrate genome sequences are now available, we hypothesized that the vertebrate lysozyme g gene family may show a similar increase in size. Here we show that there is indeed a family of lysozyme g genes, where an ancestral amniote (i.e., ancestor of birds, mammals, and reptiles) had three distinct lysozyme g genes, and that the previously characterized bird egg white lysozyme g genes are not orthologous to the mammalian lysozyme g genes.
Conclusions
Our survey of lysozyme
g
sequences in diverse vertebrate species shows that this gene is well conserved and there likely is a lysozyme
g
with antibacterial muramidase activity in almost all vertebrate species, indicating that it must have a very important function. Duplication of the lysozyme
g
gene has been an ongoing process, with multiple parallel duplication of the gene (Figures
1
and
2
). While the majority of duplications have been relatively recent (or lineage specific) several more ancient events appear to have led to the evolution of new functions for lysozyme
g
. In Figure
3
we illustrate the key events in the evolution of lysozyme
g
. Lysozyme
g
has an ancient origin and is found in both vertebrate and non vertebrate species [
11
], and we found this gene in all vertebrate classes except cartilaginous fish (Table
1
). Ancestrally, lysozyme
g
appears to be a secreted protein, like lysozyme
c
[
11
], however this property has been lost on several vertebrate lineages, those leading to teleost fish, lobe-finned fish, and one of three paralogs (
LygC
) found in amniotes (Figure
3
and Additional file
15
: Table S4). In fish, the loss of the signal peptide seems to be associated with the gain of alternative splicing [
30
]. It is suggested that the lack of a signal peptide may not prevent secretion of all lysozyme
g
sequences [
31
], as an alternative secretion may be used [
50
], the majority of lysozyme
g
sequences that do not have signal peptides do not show evidence of being able to use the non-classical secretion pathway (Additional file
15
: Table S4). This suggests that the majority of lysozyme
g
sequences that lack a signal peptide may have an intracellular function.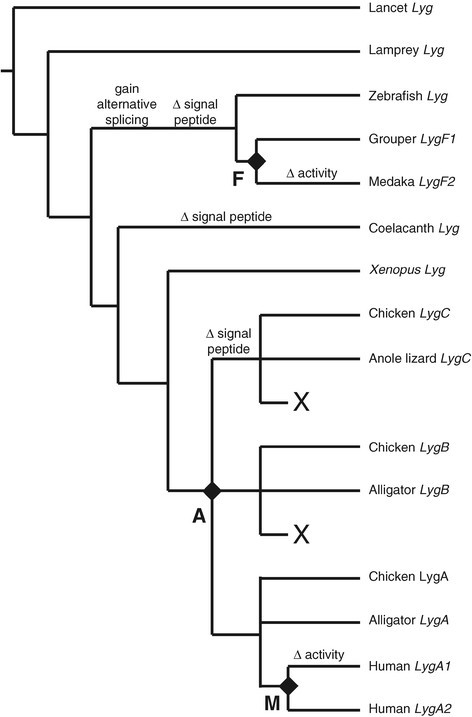 Loss of muramidase activity, and potentially bacteriolytic activity, is associated with duplication of the lysozyme g gene (Figure 3). Relatively old duplications of the lysozyme g gene occurred (1) on the lineage leading to the common ancestor or birds, reptiles and mammals, (2) on the early mammalian lineage and (3) on an early teleost lineage (Figures 2 and 3). In two of these three amplification events, the ones on the mammalian and teleost lineages, one of the products of this duplication (LygA1 in mammals and LygF2 in fish) acquired mutations that should prevent enzymatic activity (Figure 3 and Additional file 15: Table S4). In fish, only two full length sequences that represent one product of the ancient lysozyme g gene duplication were identified, however both had lost all three active site residues (Additional file 15: Table S4), which contrasts to the lysozyme g that has antibacterial activity [25]–[28] that has been retained in diverse array of fish (Figure 2). This observation suggests that the lysozyme g that has lost murimadase activity has only been retained by a few species, implying that it had a less important, or is retained by the lysozyme g that has enzyme activity. Only a few species require the separation of these two activities. In mammals, LygA1 has acquired mutations that should prevent muramidase activity in diverse species (Additional file 15: Table S4), yet has been retained by most species (with artiodactyls being a notable exception, see Additional file 3: Figure S1). Again this implies that sub-functionalization of lysozyme g may have occurred, with LygA2 retaining the antibacterial role and LygA1 retaining the unknown function. Like lysozyme c[12], lysozyme g likely has roles other than being only an antibacterial enzyme.
Methods
Database searches
The molecular sequence databases maintained by the National Center for Biotechnology Information (NCBI) [36] were searched in January 2014 for lysozyme g-like sequences. We initially searched the database using the tBLASTn algorithm [33] using previously characterized human and bird lysozyme g sequences as queries. Subsequent tBLASTn searches used putative lysozyme g-like protein sequences identified in our earlier searches. Similar searches were conducted using the Ensembl and Pre!Ensembl genome databases [34],[35]. We also searched the elephant shark (the sole representative of cartilaginous fish with a genome sequence) genome generated by the Elephant Shark Genome Project [40]. All sequences that had E-scores below 0.01 were examined. Sequences identified by BLAST searches were used in reciprocal BLASTx searches of the human and chicken proteomes to ensure that their best matches were lysozyme g-like sequences. Searches of the NCBI nr database identified lysozyme g sequences from the American and Chinese alligators that were derived from genomic sequence. These alligator lysozyme g coding sequences were used to identify the genomic region encoding these genes from the NCBI genome database [36]. Since the anole lizard lysozyme g gene was distributed over two genomic scaffolds we also searched for EST sequence data in the NCBI UniGene database [41] for cDNA sequences that could link the two genomic sequences. To provide addition support for the existence of a single lysozyme g gene in lizards and snakes we also searched for lysozyme g genes in the Burmese python genome data [57] maintained in the NCBI genome database [36]. Several lysozyme g gene sequences were either not annotated, or incorrectly annotated, in the genome databases (see Additional file 1: Table S1). To better annotate these sequences we used previously published methods [12] to predict lysozyme g-like genes. Lancet lysozyme g sequences, used as outgroups for the phylogenetic analysis (see below), were identified by searches of the NCBI database [36]. Genes were named (see Additional files 1 and 2: Tables S1 and S2) to reflect their orthology-paraology relationships, based on phylogenetic analysis (see below) and sequence similarity, with the LygA, LygB, and LygC representing paralogous genes found in diverse amniotes, LygA1 and LygA2 being paralogous genes in mammals, and LygF1 and LygF2 being paralogous genes found in teleost fish (see results and discussion for details).
To examine genomic neighborhoods near lysozyme g genes, genomic comparisons were conducted using PipMaker and MultiPipMaker[58]–[60]. Genes neighboring the lysozyme g-like genes were identified from the genome assemblies at Ensembl[34] and Pre!Ensembl[35]. The organization of genes adjacent to the lysozyme g-like genes was used to determine whether the genes of interest reside in conserved genomic neighborhoods. Expression data for lysozyme g genes was inferred from the NCBI UniGene database [41].
Signal peptides were predicted in the protein sequences using the SignalP 4.1 server [49]. The potential of a protein to be secreted using the non-classical secretion pathway was predicted using the SecretomeP 2.0 server [51].
Phylogenetic analysis
Phylogenies of vertebrate lysozyme g-like gene coding sequences were generated with near full-length lysozyme g sequences from diverse vertebrate (see Additional files 1 and 2: Tables S1 and S2) and outgroups (Additional file 2: Table S2). Lysozyme g-like coding sequences were aligned using MAFFT[42] as implemented at the Guidance web server site [43], using default parameters. Similar results were obtained if Clustal W[60] was used as the alignment program. DNA sequence alignments were based on codons to retain protein alignments. The reliability of the alignments was examined using Guidance[43] and trimmed alignments using sites that had values above the default cut-off of 0.93 were generated.
Phylogenetic trees of the sequences were generated using Bayesian methods with MrBayes 3.2 [61], maximum likelihood with PhyML[62], and neighbor-joining distance approaches with MEGA5.1 [63]. Bayesian trees were generated from coding sequences with MrBayes 3.2 using parameters selected by hierarchical likelihood ratio tests with ModelTest version 3.8, as implemented on the FindModel server [64],[65]. MrBayes was run for 2,000,000 generations with four simultaneous Metropolis-coupled Monte Carlo Markov chains sampled every 100 generations. The average standard deviation of split frequencies dropped to less than 0.02 for all analyses. The first 25% of the trees were discarded as burn-in with the remaining samples used to generate the consensus trees. Trace files generated by MrBayes were examined by Tracer[66] to verify if they had converged. Bootstrapped maximum likelihood trees, 100 replications, were generated with PhyML[62] on the PhyML webserver [67] using parameters for the substitution model suggested by ModelTest. The maximum likelihood search was initiated from a tree generated by BIONJ and the best tree was identified after heuristic searches using the nearest neighbor interchange (NNI) algorithm. MEGA5.1[63] was used to construct bootstrapped (1000 replications) neighbor-joining distance trees, using either Maximum Composite Likelihood distances for the DNA sequences or JTT distances for the proteins sequences. Similar results were obtained, but with lower confidence (bootstrap or posterior probabilities) intervals if alternative outgroups (e.g., sequences from Ciona intestinalis or from bivalves) were used (results not shown).
With respect to orthology-paralogy issues, choice of outgroup, alignment method (MAFFT[42] or Clustal[68]), or the use of full-length or trimmed (based on Guidance scores [43]) alignments had little influence on the key findings of these analyses. Methods that relied on shorter sequences (i.e., trimmed alignments or protein sequences) or simpler models of sequence evolution (i.e., neighbor-joining or parsimony) tended to yield weaker support for the earlier diverging lineages, but none of our analyses were in significant conflict with the key inferences of the phylogeny presented in Figure 2 or Additional file 11: Figure S8.
Availability of supporting data
Declarations
Acknowledgements
This work has been supported by grants from the Natural Sciences and Engineering Research Council (to DMI). The funding body did not have any role in the design, analysis, or interpretation of data or in the writing of the manuscript and the decision to submit the manuscript for publication.
Authors' Affiliations
(1)
Department of Laboratory Medicine and Pathobiology, Faculty of Medicine, University of Toronto, 1 King's College Circle, Toronto, Ontario, Canada
(2)
Banting and Best Diabetes Centre, University of Toronto, Toronto, Ontario, Canada
Copyright
© Irwin; licensee BioMed Central Ltd 2014
This article is published under license to BioMed Central Ltd. This is an Open Access article distributed under the terms of the Creative Commons Attribution License (http://creativecommons.org/licenses/by/4.0), which permits unrestricted use, distribution, and reproduction in any medium, provided the original work is properly credited. The Creative Commons Public Domain Dedication waiver (http://creativecommons.org/publicdomain/zero/1.0/) applies to the data made available in this article, unless otherwise stated.