Research article

Open Access
New Biogeographic insight into Bauhinias.l. (Leguminosae): integration from fossil records and molecular analyses
BMC Evolutionary Biology
2014
14:181
Received: 31 March 2014
Accepted: 4 August 2014
Published: 10 August 2014
Abstract
Background
Given that most species that have ever existed on earth are extinct, it stands to reason that the evolutionary history can be better understood with fossil taxa. Bauhinia is a typical genus of pantropical intercontinental disjunction among the Asian, African, and American continents. Geographic distribution patterns are better recognized when fossil records and molecular sequences are combined in the analyses. Here, we describe a new macrofossil species of Bauhinia from the Upper Miocene Xiaolongtan Formation in Wenshan County, Southeast Yunnan, China, and elucidate the biogeographic significance through the analyses of molecules and fossils.
Results
Morphometric analysis demonstrates that the leaf shapes of B. acuminata, B. championii, B. chalcophylla, B. purpurea, and B. podopetala closely resemble the leaf shapes of the new finding fossil. Phylogenetic relationships among the Bauhinia species were reconstructed using maximum parsimony and Bayesian inference, which inferred that species in Bauhinia species are well-resolved into three main groups. Divergence times were estimated by the Bayesian Markov chain Monte Carlo (MCMC) method under a relaxed clock, and inferred that the stem diversification time of Bauhinia was ca. 62.7 Ma. The Asian lineage first diverged at ca. 59.8 Ma, followed by divergence of the Africa lineage starting during the late Eocene, whereas that of the neotropical lineage starting during the middle Miocene.
Conclusions
Hypotheses relying on vicariance or continental history to explain pantropical disjunct distributions are dismissed because they require mostly Palaeogene and older tectonic events. We suggest that Bauhinia originated in the middle Paleocene in Laurasia, probably in Asia, implying a possible Tethys Seaway origin or an "Out of Tropical Asia", and dispersal of legumes. Its present pantropical disjunction resulted from disruption of the boreotropical flora by climatic cooling after the Paleocene-Eocene Thermal Maximum (PETM). North Atlantic land bridges (NALB) seem the most plausible route for migration of Bauhinia from Asia to America; and additional aspects of the Bauhinia species distribution are explained by migration and long distance dispersal (LDD) from Eurasia to the African and American continents.
Keywords
BauhiniaPantropical intercontinental disjunctionEvolutionBiogeographyPaleocene-Eocene thermal maximumBoreotropical floraLong distance dispersal
Background
Pantropical intercontinental disjunction is an interesting biogeographic pattern in angiosperms, and is common to several tropical and subtropical genera and families [1],[2]. However, it still remains poorly understood compared with temperate disjunctions due to greater species richness, inaccessibility of study material [3], greater ocean separation, and the vast latitudinal distribution of taxa [2]. Many pantropical taxa are hypothesized to have spanned the Northern Hemisphere during the Paleocene-Eocene Thermal Maximum (PETM), because the warmer climate of the early Palaeogene allowed thermophilic taxa to extend their ranges northward [4]. The exchange of floristic elements among pantropical regions was possible through the North Atlantic land bridges (NALB) and the Bering land bridges (BLB) during the early Eocene [5]-[8]. A "boreotropical" connection across the North Atlantic during the Eocene has long been viewed as a key to understand the disjunction patterns in the Northern Hemisphere, such as the close relationships between Eastern Asian-North American plants [9], which have been extensively studied [10]. Recently, molecular phylogenetic studies combined with molecular clock inferences have allowed a more precise understanding of the process of dispersal, and have hypothesized the divergence times of pantropical distribution patterns for many plant families, such as Melastomataceae [3],[11], Malpighiaceae [8], Annonaceae [12],[13], Myristicaceae [12], Burseraceae [14], Rubiaceae [15], Simaroubaceae [16], and Sapotaceae [1]. Among the above-mentioned studies, the results suggest that modern pantropical disjunction mostly resulted from ancestral boreotropical distribution which was disrupted by late Eocene climatic cooling. That caused the distribution ranges of plant species to shrink to lower and warmer paleolatitudes for the sake of survival, followed by migrations from North to South America [17]-[20].
Explanations for wide geographic ranges of pantropical lineages in Eurasia, America, and Africa, typically invoke three main hypotheses: (1) The vicariance hypothesis developed with the acceptance of plate tectonics theory, which has been used to explain the wide distribution lineages on portions of the ancient Gondwana continent [2],[21]. As a biogeographic mechanism, it has been proposed for the relatively older family, such as Annonaceae [12]. (2) The boreotropical migration hypothesis describes the migration of some tropical lineages between the Old and the New Worlds via the NALB or BLB during the early Tertiary Period, when the climate conditions in the Northern Hemisphere could accommodate tropical vegetations [8],[22]. This hypothesis has been proposed as an explanation for the distribution of several lineages with a classical western Gondwanan disjunction pattern, such as Burseraceae [14]. (3) Long distance dispersal (LDD) has also been proposed as a process that has significantly shaped the formation of modern biotas. This hypothesis is used, especially when the divergence times of lineages are far too young, to be explained by vicariance via tectonic plate movements [8],[21],[23]. Despite the existence of this conceptual framework, there are still relatively few well-resolved biogeographic studies on pantropical clades.
Bauhinia
L., is one of the largest genera in subfamily Caesalpinioideae (Leguminosae), comprising approximately 300 morphologically variable species of trees, shrubs, and lianas [
24
],[
25
]. It is distributed in tropical to subtropical and warm-temperate Asia, and tropical regions of Africa and the America (Figure
1
). Recent studies have been revealed that the Caesalpinioideae are an early offshoot of the Leguminosae [
24
]-[
31
]. Recently,
Bauhinia
leaves were found in the Upper Miocene deposits from Wenshan, Southeast Yunnan, China. We used morphometrics to investigate the leaf shapes of
Bauhinia
and to compare the leaf shapes of extant and fossil species. Based on this new fossil record, we combined both molecular and fossil data to investigate the biogeographic history of
Bauhinia
.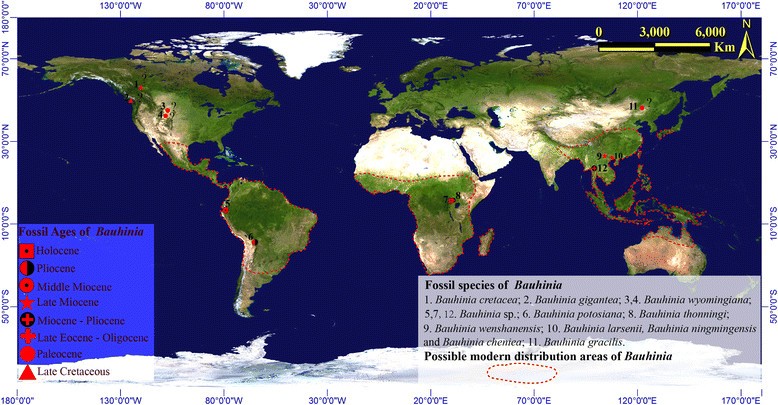 Several molecular studies have focused on the phylogenetic relationships [25],[26],[32] and diversification of the legumes [33],[34]. Setting the stem node of legumes hypothetically at 60 Ma, the estimated age of the Leguminosae crown node is at 59 Ma [34]. However, the biogeographic history of Bauhinia is still not well resolved. A biogeographic history of Bauhinia should consider well-documented fossils and take into consideration dispersal in different continents. Information from pantropical flora is relatively limited, and divergence times are still unclear without fossil evidence. Well-dated, properly identified fossils and reliable phylogenetic reconstructions are crucial to reveal geographic distribution patterns. Fossils can provide direct evidence on origin time and migration or dispersal pathways to some extent, which are of special interest in biogeographic discussions when combined with molecular analyses.
In this study, we describe a new fossil species of Bauhinia, and use morphometrics to compare it with other species. Then, we combine fossil records and molecular analyses to discuss the timing of lineage diversifications and the biogeographic history of Bauhinia.
Results
Systematics
Family: Leguminosae Juss. (or Fabaceae Lindl.)
Subfamily: Caesalpinioideae DC.
Tribe: Cercideae Bronn
Subtribe: Bauhiniinae (Benth.) Walp.
Genus: Bauhinia L.
Species: Bauhinia wenshanensis H.H. Meng et Z.K. Zhou sp. nov.
Twenty-four fossil species of Bauhinia are described as follows. All the voucher specimens were collected from the same locality and stratigraphy, and they are deposited at the same locality.
Holotype
: DMS0019, Figure
4
A (designated here).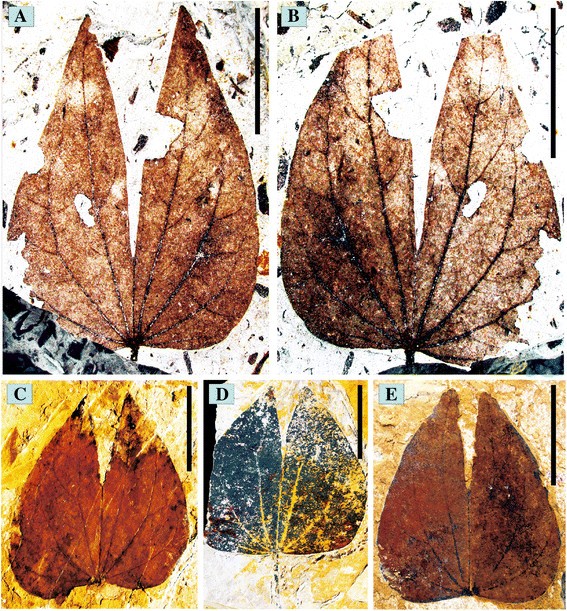 Isotype: DMS0020, Figure 4B (designated here).
Paratypes: DMS0008, 0021, 0022 (Figure 4C, D, E); DMS0001-0007, DMS0009-0018, DMS0023-0024 (designated here).
Repository: Paleoecology Research Group, Xishuangbanna Tropical Botanical Garden, CAS.
Type locality: Dashidong Town, Wenshan County, Southeast Yunnan, China. (23°20′50″N, 104°17′19″E, alt. 1277 m).
Stratigraphy: Xiaolongtan Formation, Upper Miocene Epoch.
Etymology: The specific epithet wenshanensis is given in reference to the locality Wenshan, where the fossils were collected.
Diagnosis: Adult leaf, petiolate, pulvinate, and simple. Lamina bilobed, apically cordate and symmetrical, apex acuminate, base rounded or ovate. Venation palmate; primary veins 7–9, midvein ending with a free, small projection beyond lamina; secondary venation camptodromous; major secondary veins terminating at the leaf edge.
Description: All leaf fossils are simple, petiolate, and bilobed. The basal portion is slightly ovate, rounded, or cordate. The leaf apex is obtuse, approximately 6–7 cm long and approximately 3–4 cm wide. The two lobes of the lamina share the same pulvinus. The two lobes are attached along the midvein for about 3/4 of the lamina length. Lobes are acutely pointed. The base is rounded to shallowly cordate. The petiole is 2–4 cm long, and thickened at the base. The venation is palmate with 7–9 primary veins in the leaflet. The midvein ends with a free, small apical mucro. Lateral veins are frequently branched. Secondary veins diverge at approximately 45° on the proximal side, fused with other secondary veins or the branches of primary veins to the leaf margin, or arcs between the primary veins. Higher order veins are not visible.
Comparative morphology
PCA and CA among extant
Bauhinia
and the new fossil
B. wenshanensis
revealed the leaf shape variability of this genus (Figure
5
and Additional file
4
: Figure S1). Species which are visibly or morphologically similar can be distinguished. However, the position of the species within the PCA and CA plots does not reflect the geographic distribution of species in
Bauhinia
. The results suggest that
B. acuminata
,
B. championii
,
B. chalcophylla
,
B. ungulata
,
B. podopetala
,
B. madagascariensis
, and
B. bassacensis
are similar to
B. wenshanensis
(Figure
5
). In particular,
B. acuminata
,
B. championii
,
B. chalcophylla
,
B. purpurea,
and
B. podopetala
are the closest to
B. wenshanensis
in leaf shape (Figures
4
,
5
, and
6
). All bear similar strongly bilobed lamina, a bifid leaflet, and a midrib ending in a mucro; especially, the leaf apex is acute.
B. acuminata
,
B. championii
,
B. purpurea,
and
B. chalcophylla
, are the most similar to the new fossil according to the PCA (Figure
6
), and these species are widespread in China today. They are bilobed with a shared pulvinus, and the leaf blade parted to approximately 1/3 to 1/2 of its length.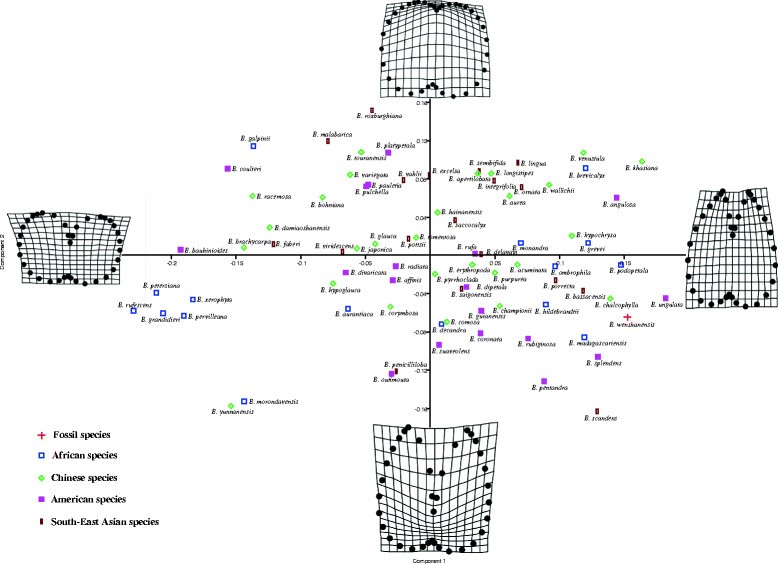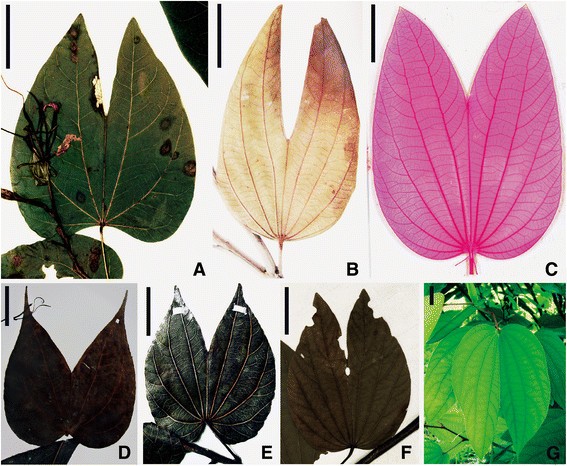 Phylogenetic relationships and divergence times
The most parsimonious tree and the Bayesian inference tree yielded essentially identical topologies, so only the Bayesian analysis tree is illustrated here (Figure
7
). The phylogram shows that
Bauhinia
species are well-resolved into three main groups. The clades with the high bootstrap values (BP) in the maximum parsimony (MP) analysis also had high posterior probabilities (PP) in the Bayesian analysis. The three main clades recognized in the phylogeny are groups A and B, which include the species in Asia and Africa respectively; and group C, which includes the species in America and
B. tomentosa,
an Asian species (Figure
7
).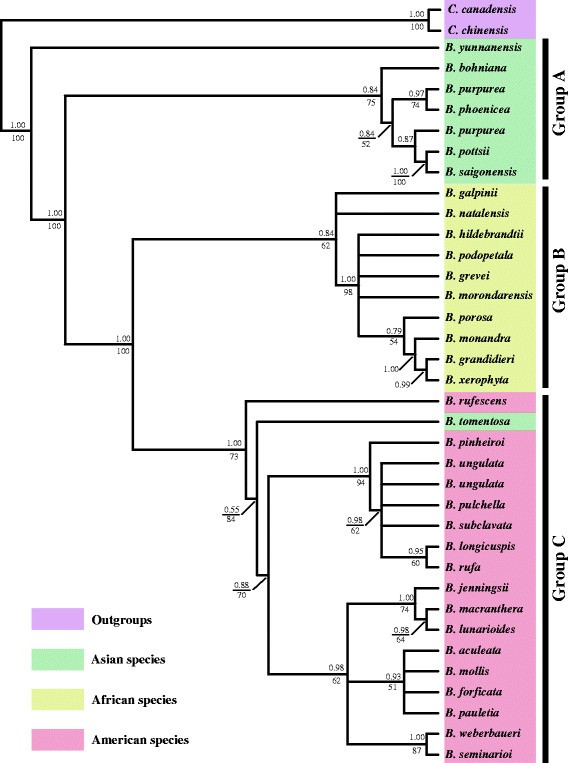 The Bayesian estimation of divergence times for the three major clades of
Bauhinia
is presented along with calibration points from fossil records on a chronogram (Figure
8
A). The estimated initial divergence time of
Bauhinia
is
ca.
62.7 Ma (Paleocene), and the divergence time of the Asian species
B. yunnanensis
was
ca.
59.8 Ma (Paleocene). The subsequent divergence between the Asian and African-American species groups is estimated at
ca.
34.3 Ma (late Eocene), and the diversification times of subclades of the Asian, African, and American species group were
ca.
21.8 Ma,
ca.
15.3 Ma, and
ca.
18.7 Ma, respectively.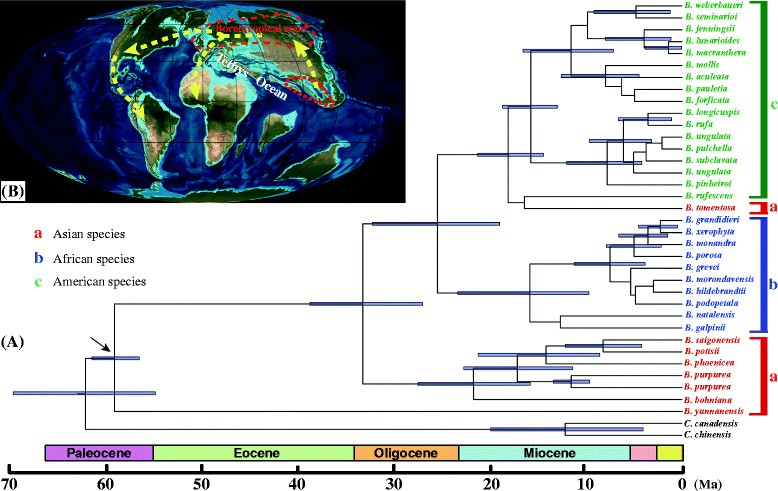 Conclusions
We describe a new species of Bauhinia from the late Miocene in Wenshan, Southeast Yunnan, China. Analyses integrating hypothesized age of the stem group, plus fossil and molecular data, suggest that the present pantropical distribution pattern was already established by the middle Paleocene in Laurasia, and possibly originated from Asia. The disjunct distribution of Bauhinia in America, Africa, and Asia is the result of the southward movement of the boreotropical flora in response to the climatic cooling during the late Eocene to the early Oligocene. After originating in Asia, Bauhinia reached the whole of Eurasia and then migrated to the American continent via the NALB, although there are no validly determined Bauhinia fossils in the North American record. And Bauhinia migrated from Eurasia to Africa when the two land masses were connected during the Cenozoic Era. LDD can also explain some of the patterns which were observed. The findings illustrate the power of incorporating fossil records and modern plant distribution areas, together with assumptions about stem group age, to better understand the geographic patterns and the possible dispersal routes of plant species.
Declarations
Acknowledgements
We would like to thank Dr. Yao-Wu Xing and Dr. He Xu for their assistance in this study. Funding for this research was provided by the National Key Basic Research Project ("973" Project, No. 2012CB821900 to Z.-K. Zhou), and the National Natural Science Foundation of China (No. 41372035 to Z.-K. Zhou, and No. 41272007 to F. MB Jacques).
Authors' Affiliations
(1)
Key Laboratory of Tropical Forest Ecology, Xishuangbanna Tropical Botanical Garden, Chinese Academy of Sciences, Mengla, China
(2)
Key Laboratory for Plant Diversity and Biogeography of East Asia, Kunming Institute of Botany, Chinese Academy of Sciences, Kunming, China
(3)
Faculty of Land Resource Engineering, Kunming University of Science and Technology, Kunming, China
(4)
Zhejiang Institute of Geological Survey, Hangzhou, China
(5)
University of the Chinese Academy of Sciences, Beijing, China
Copyright
© Meng et al.; licensee BioMed Central Ltd 2014
This article is published under license to BioMed Central Ltd. This is an Open Access article distributed under the terms of the Creative Commons Attribution License (http://creativecommons.org/licenses/by/4.0), which permits unrestricted use, distribution, and reproduction in any medium, provided the original work is properly credited. The Creative Commons Public Domain Dedication waiver (http://creativecommons.org/publicdomain/zero/1.0/) applies to the data made available in this article, unless otherwise stated.