Research article

Open Access
The implications of a Silurian and other thylacocephalan crustaceans for the functional morphology and systematic affinities of the group
BMC Evolutionary Biology
2014
14:159
Received: 5 March 2014
Accepted: 11 July 2014
Published: 22 August 2014
Abstract
Background
Thylacocephala is a group of enigmatic extinct arthropods. Here we provide a full description of the oldest unequivocal thylacocephalan, a new genus and species Thylacares brandonensis, which is present in the Silurian Waukesha fauna from Wisconsin, USA. We also present details of younger, Jurassic specimens, from the Solnhofen lithographic limestones, which are crucial to our interpretation of the systematic position of Thylacocephala. In the past, Thylacocephala has been interpreted as a crustacean ingroup and as closely related to various groups such as cirripeds, decapods or remipeds.
Results
The Waukesha thylacocephalan, Thylacares brandonensis n. gen. n. sp., bears compound eyes and raptorial appendages that are relatively small compared to those of other representatives of the group. As in other thylacocephalans the large bivalved shield encloses much of the entire body. The shield lacks a marked optical notch. The eyes, which project just beyond the shield margin, appear to be stalked. Head appendages, which may represent antennulae, antennae and mandibles, appear to be present. The trunk is comprised of up to 22 segments. New details observed on thylacocephalans from the Jurassic Solnhofen lithographic limestones include antennulae and antennae of Mayrocaris bucculata, and endites on the raptorial appendages and an elongate last trunk appendage in Clausocaris lithographica. Preserved features of the internal morphology in C. lithographica include the muscles of the raptorial appendage and trunk.
Conclusions
Our results indicate that some 'typical' thylacocephalan characters are unique to the group; these autapomorphies contribute to the difficulty of determining thylacocephalan affinities. While the new features reported here are consistent with a eucrustacean affinity, most previous hypotheses for the position of Thylacocephala within Eucrustacea (as Stomatopoda, Thecostraca or Decapoda) are shown to be unlikely. A sister group relationship to Remipedia appears compatible with the observed features of Thylacocephala but more fossil evidence is required to test this assertion. The raptorial appendages of Thylacocephala most likely projected 45 degrees abaxially instead of directly forward as previously reconstructed. The overall morphology of thylacocephalans supports a predatory mode of life.
Keywords
WaukeshaWisconsinSolnhofen lithographic limestonesPredatory crustaceansRemipedia
Background
The monophyletic group Thylacocephala is known to range from at least 435 million years ago (Silurian) [1],[2] to 84 million years ago (Cretaceous) [3]. Vannier et al. [4] described a possible Cambrian species, Zhenghecaris shankouensis, from the lower Cambrian Chengjiang fauna of China and discussed whether other Cambrian arthropod species (of Isoxys and Tuzoia) might represent thylacocephalans (see also [5]). These arthropods, however, do not preserve the characteristic raptorial appendages [4],[6]. The enigmatic Ainiktozoon loganense, from the Lower Silurian of Lesmahagow, Scotland, which has compound eyes and possible spiny limbs, has also been interpreted as a thylacocephalan [7]. Its complex morphology [8], however, is not easy to reconcile with that of thylacocephalans. Thylacocephalans are characterised by a large bivalved shield often termed 'carapace' that encloses almost the entire body. Many representatives are known only from their valves. Where other aspects of the 'soft part' morphology are preserved thylacocephalans typically show a pair of large anterior compound eyes and three pairs of large sub-chelate raptorial appendages. It is not clear to which body segments these raptorial appendages belong. Posterior of them the trunk consists of a series of homonomous segments that bear relatively simple appendages.
The interpretation of the morphology and systematic position of Thylacocephala has been controversial since their discovery [4],[6],[9]-[12]. The first specimens of Thylacocephala described were isolated shields of Concavicaris sinuata interpreted at that time (1868) as phyllocarids [13]. In the 1880s thylacocephalans from the Cretaceous of Sahel Alma, Lebanon, were interpreted as larvae of stomatopod crustaceans [14],[15], see [3]. A century later species from the Jurassic of Osteno, Italy, were interpreted as relatives of thecostracan crustaceans, i.e. barnacles and their parasitic relatives [16]. Other thylacocephalan species have been compared to non-stomatopod malacostracan crustaceans, particularly decapods [4],[12],[17]. Thus, while there is some agreement that thylacocephalans are representatives of Eucrustacea, their placement within this higher taxon is uncertain.
The best preserved specimens are from Jurassic Lagerstätten. Details of the internal morphology are known from the famous La Voulte Lagerstätte in south-eastern France [12],[18]. Specimens from the Jurassic of southern Germany preserve possible appendages anterior of the raptorial limbs [19]. Even these details, however, have not resulted in a more satisfactory systematic assignment, possibly because these relatively young species are derived representatives of the group. The evidence of these Jurassic fossils has led to a consensus on the mode of life of Thylacocephala, which are thought to have been mobile predators or ambush predators [4],[20].
The oldest well preserved material of unequivocal thylacocephalans is from the Silurian Waukesha biota of Wisconsin, USA. It is to these Paleozoic fossils that we look for evidence of the more plesiomorphic morphology of the group, and possible insights into the systematic affinities of Thylacocephala. New details of Jurassic species from the Solnhofen lithographic limestones also provide evidence of the possible systematic affinity and ecology of Thylacocephala.
Methods
Material
The Silurian specimens
UWGM 1748–1750, 1767–1769 (all with part and counterpart) are held by the Geology Museum, Department of Geology and Geophysics, University of Wisconsin, Madison, U.S.A.. These six specimens are from the Brandon Bridge Formation (late Telychian) at Waukesha, near Milwaukee, Wisconsin (see [21]-[23] for details of the setting). The enclosing lithology is finely laminated organic-rich argillaceous mudstone and dolomudstone that occurs in the lowest 2 m of the Brandon Bridge strata. Fine scale lamination with limited bioturbation suggests deposition in an anoxic, possibly brackish, environment. Arthropods, dominantly represented by exuviae, are the major component of the fauna and include trilobites, phyllocarids and ostracods, and a number of undescribed arthropods and worm-like animals of uncertain affinity [1],[2]. Shelly fossils are rare and usually decalcified. The exceptionally preserved assemblage clearly represents an unusual environmental setting related to restricted circulation associated with initial flooding at the beginning of a sequence [24].
The Jurassic specimens
The Jurassic specimens investigated here come from the lithographic limestones of the Solnhofen area, southern Germany. Specimens are held in the collection of the Staatliches Museum für Naturkunde Stuttgart (SMNS 67901, collected by Michael Fecke, Langenberg; SMNS 70193/1–70193/5, collected by Roger Frattigiani, Laichingen). Two species are represented, Clausocaris lithographica (SMNS 67901, SMNS 70193/1–70193/4) and Mayrocaris bucculata (SMNS 70193/5). As is often the case with fossils from the Solnhofen area, for most of the specimens the locality is unknown: SMNS 67901 and SMNS 70193/3 are exceptions - both come from Eichstätt. High resolution images will be reposited in the Staatliches Museum für Naturkunde Stuttgart.
The Solnhofen Limestone is a pure laminated micritic limestone interpreted as a result of deposition in a restricted lagoon [25]. Limited circulation led to salinity-stratified water and benthic anoxia. The diverse fauna includes species of Archaeopteryx and Compsognathus, pterosaurs, fishes, shrimps and other arthropods, molluscs, echinoderms and rarer insects and plants.
Documentation methods
The Silurian specimens were photographed with a Canon Rebel T3i and a MPE-65 mm macrolens. Cross-polarised light was provided by Canon Macro Twin Flash MT 24. Several image details were stitched to generate a complete image of the specimens with Adobe Photoshop CS3. Resulting images were color-inverted and their histograms optimised. Prominent structures were traced by hand and color marked. Documentation of the Jurassic specimens followed the principles of fluorescence composite imaging and macro-fluorescence imaging (see [26],[27]). 3D-models were produced with Blender.
Results
Systematic paleontology
This published work and the nomenclatural acts it contains have been registered in Zoobank: http://zoobank.org/References/955F7A06-15DC-4118-A40B-3D773205714C.
Euarthropoda sensu[28]
Crustacea sensu lato sensu[29]
Eucrustacea sensu[28]
Thylacocephala sensu[30]
Thylacares gen. nov.
LSID: urn:lsid:zoobank.org:act:29D50895-5A01-4D9E-B937-5E49907BBEAE
Derivatio nominis: Thylax (Gr) - pouch, bag from the original derivation of Thylacocephala, which referred to the large eye, then interpreted as the stomach; acares (Gr) - small, referring to the size of the eye in the Silurian species.
Diagnosis: as for the species.
Thylacares brandonensis sp. nov.
LSID: urn:lsid:zoobank.org:act:3A2A61CE-8133-4D43-B8A4-1FDE918E1457
Derivatio nominis: After the Brandon Bridge Formation, the source of the specimens.
Holotype: UWGM 1748, originally figured in [2], figures two and nine as UW 4001/8 and 14a.
Paratypes: UWGM 1749, 1750, 1767–1769, all with parts and counterparts.
Diagnosis: Thylacocephalan with a large bivalved shield enveloping the entire body, only eyes and distal extremities of raptorial appendages projecting beyond it. Shield in lateral view with straight dorsal margin; anterior, ventral and posterior margin of shield continuous, rounded. Optical notch very weak. Eyes relatively small, stalked. Raptorial appendages robust and stout. Trunk with up to 22 segments.
Description of the specimens
Clausocaris lithographica
Amended description
An extensive description of
Clausocaris lithographica
was provided by Polz [
33
]. Here we report new morphological details (Figures
7
A-G,
8
,
9
) and confirm most of his observations, for example the serration of the postero-dorsal area of the shield (Figure
8
D). New evidence shows that the raptorial appendages bear significantly more setae than previously observed (Figure
7
B, C). The proximal region (most likely the basipod) bears enditic protrusions: at least three are present on raptorial appendage 2 (Figure
7
D) and at least five on raptorial appendage 3 (Figure
7
F). Each endite is equipped with at least one row of at least 8 long setae (Figure
7
G). The appendages preserve long muscles (Figures
7
A,
8
A, B,
9
A, E) with fan-like attachment areas (Figure
7
E). Discrete muscle bundles are also apparent in the trunk region (Figures
8
C,
9
D) consisting of a bundle of shorter muscles followed by a bundle of longer ones. This pattern allows the arrangement and number of trunk segments to be determined. Displacement of the muscle bundles (Figure
9
D, furthest left bundles) does not disturb this pattern. Eleven segments are evident posterior of the last raptorial appendages. Each one bears a pair of paddle-shaped appendages equipped with setae along the lateral edge (Figure
9
B, F-G). The most posterior appendages are similar in structure to the preceding ones, but slightly longer (Figure
9
D). Dorsally at the anterior of the trunk a pair of leaf-like structures is apparent. These may represent gills.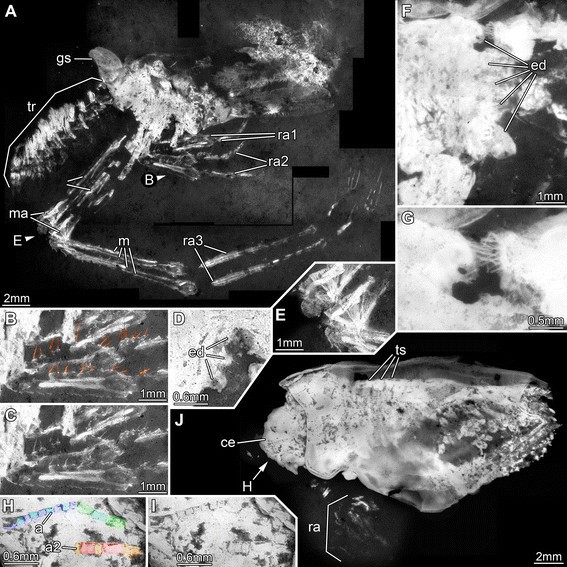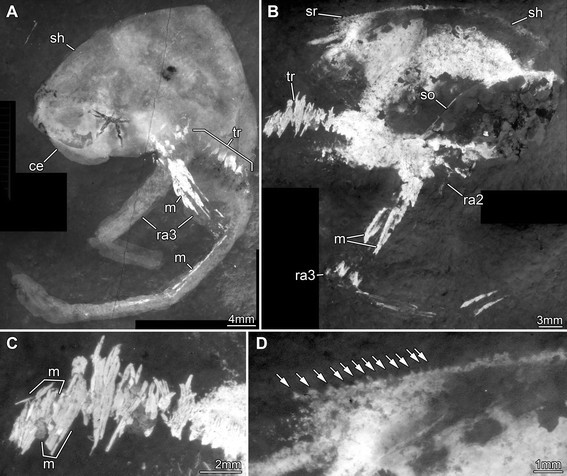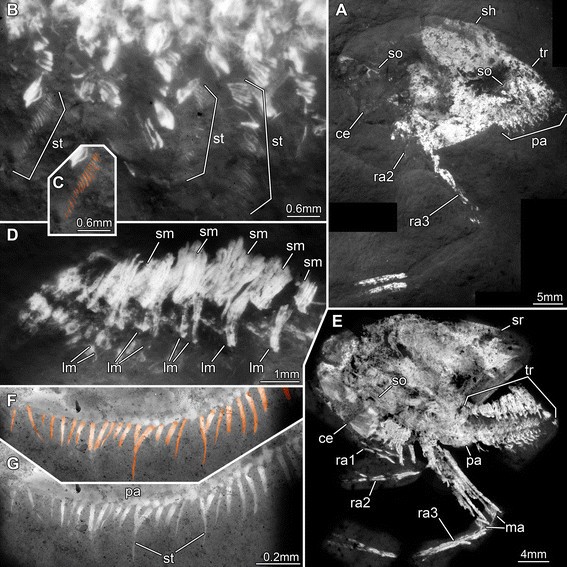 Mayrocaris bucculata
Amended description
An extensive description of Mayrocaris bucculata was provided by Polz [34]. We have new evidence of two pairs of appendages lying between the two large compound eyes (preserved compressed through the eyes) (Figure 7H-J). The more anterior appendage lies slightly dorsal of the other, due to the strongly convex shape of the body in the anteriormost region. A more proximal and a distal part can be differentiated. The proximal part of the appendage consists of at least three similar elements, apparently tube-shaped and longer than wide. The distal part of the appendage appears flagellate and is comprised of at least nine elements. These also appear tube-shaped, but are significantly smaller than those of the proximal part; each element of the distal part is slightly longer than wide, the elements decreasing in width distally. It remains unclear whether additional distal elements might have been present but are not preserved. It is also uncertain whether the most proximal preserved element is the originally most proximal one, although this seems plausible. This appendage, with its anterior position, is interpreted as the antennula. The second appendage comprises five elements. These elements appear more robust than those of the first appendage, and vary in length. The two most proximal ones are about twice as long as wide. The third element is only one third of the length of the preceding one. The fourth one is longer again, about twice as long as element 3. Element 5 appears to be similar in length to element 3, but may be incomplete. It remains unclear whether further distal elements were present but are not preserved. This appendage is interpreted as the antenna.
Further posterior under the shield dorso-ventral bands are apparent. Such structures have been interpreted as gills [34]. Yet, here these structures seem more likely to represent the more anterior trunk segments.
Conclusions
1.

The Silurian thylacocephalan Thylacares brandonensis, described here for the first time, appears less derived than many of the later representatives of the group.

2.

Features "typical" for many thylacocephalans, such as a marked optical notch on the shield, sessile hypertrophied eyes and extremely elongate raptorial appendages, as well as a relatively short trunk, evolved after the early Paleozoic.

3.

The new evidence reinforces the assignment of Thylacocephala to Eucrustacea.

4.

Previous hypotheses of the position of Thylacocephala within Eucrustacea (to Stomatopoda, Decapoda or Thecostraca) are incompatible with the new information reported here.

5.

This new information suggests that a sistergroup relationship between Thylacocephala and Remipedia merits further testing.
Declarations
Acknowledgements
We thank Klaus Westphal, Richard Slaughter and Carrie Eaton, Geology Museum, University of Wisconsin, for loan of material. Waukesha Lime and Stone Company permitted and assisted with the initial study in their quarry. Erik Tetlie prepared preliminary camera lucida drawings of the Waukesha specimens. The manuscript benefitted from the comments of Fred Schram, Seattle, and one anonymous reviewer. Part of this work was funded by National Science Foundation grant DEB 92–01048 to D. G. Mikulic (who publishes with the permission of the Director of the Illinois State Geological Survey) and J. Kluessendorf. We thank Günter Schweigert, SMNS Stuttgart; Roger Frattigiani, Laichingen; and Michael Fecke, Langenberg, for providing specimens of Jurassic thylacocephalans for study. We acknowledge those who programmed the freely available software used in this study, such as OpenOffice, CombineZM/ZP, Microsoft Image Composite Editor, GIMP 3.0, and Blender. Most of the research was carried out while JTH and CH were based at Yale. JTH was supported by a Feodor Lynen postdoctoral research fellowship from the Alexander von Humboldt-Foundation (AvH) and by Yale University. He is currently funded by the German Research Foundation (DFG) under HA 6300/3-1.
Authors' Affiliations
(1)
Department of Biology II and GeoBio-Center, LMU Munich, Martinsried-Planegg, Germany
(2)
Department of Geology and Geophysics, Yale University, New Haven, USA
(3)
Yale Peabody Museum of Natural History, Yale University, New Haven, USA
(4)
llinois State Geological Survey, Champaign, USA
(5)
Weis Earth Science Museum, University of Wisconsin - Fox Valley, Menasha, USA
Copyright
© Haug et al.; licensee BioMed Central Ltd. 2014
This article is published under license to BioMed Central Ltd. This is an Open Access article distributed under the terms of the Creative Commons Attribution License (http://creativecommons.org/licenses/by/4.0), which permits unrestricted use, distribution, and reproduction in any medium, provided the original work is properly credited. The Creative Commons Public Domain Dedication waiver http://creativecommons.org/publicdomain/zero/1.0/ applies to the data made available in this article, unless otherwise stated.