Research article

Open Access
Effects of shortened host life span on the evolution of parasite life history and virulence in a microbial host-parasite system
BMC Evolutionary Biology
2009
9:65
Received: 02 January 2009
Accepted: 25 March 2009
Published: 25 March 2009
Abstract
Background
Ecological factors play an important role in the evolution of parasite exploitation strategies. A common prediction is that, as shorter host life span reduces future opportunities of transmission, parasites compensate with an evolutionary shift towards earlier transmission. They may grow more rapidly within the host, have a shorter latency time and, consequently, be more virulent. Thus, increased extrinsic (i.e., not caused by the parasite) host mortality leads to the evolution of more virulent parasites. To test these predictions, we performed a serial transfer experiment, using the protozoan Paramecium caudatum and its bacterial parasite Holospora undulata. We simulated variation in host life span by killing hosts after 11 (early killing) or 14 (late killing) days post inoculation; after killing, parasite transmission stages were collected and used for a new infection cycle.
Results
After 13 cycles (≈ 300 generations), parasites from the early-killing treatment were less infectious, but had shorter latency time and higher virulence than those from the late-killing treatment. Overall, shorter latency time was associated with higher parasite loads and thus presumably with more rapid within-host replication.
Conclusion
The analysis of the means of the two treatments is thus consistent with theory, and suggests that evolution is constrained by trade-offs between virulence, transmission and within-host growth. In contrast, we found little evidence for such trade-offs across parasite selection lines within treatments; thus, to some extent, these traits may evolve independently. This study illustrates how environmental variation (experienced by the host) can lead to the evolution of distinct parasite strategies.
Keywords
Parasite LoadSelection LineInfection CycleAssay TubeAdaptive Peak
Background
Understanding the factors that shape the evolution of parasite life history and virulence is a major issue in evolutionary biology [1–4], with important implications in applied and medical contexts [5, 6]. According to standard theory, a parasite needs to exploit the host to increase its rate of transmission. If exploitation harms the host, the parasite must therefore trade current for future transmission and evolution should lead to the balance between virulence and the rate of transmission that maximizes the parasite's life-time reproductive success. Where this balance lies may depend on genetic [7], epidemiological [8–11] or environmental factors [12, 13].
A general prediction concerning environmental factors is that increased extrinsic host mortality (i.e. the mortality that is not due to the parasite) selects for higher virulence [[11, 14, 16, 16], but see [17]]. Because shorter host life span reduces future opportunities of transmission, the constraint to keep the host alive is relaxed. Rather, to compensate for the loss of future transmission, parasites should evolve to grow more rapidly within the host, start transmission earlier and, consequently, be more virulent. This prediction can be restated in terms of classical life-history theory: if future reproduction is compromised, we expect selection for earlier age at maturity and increased investment in early reproduction [18]. In this sense, the change in virulence reflects a shift in optimal latency time. A theoretical framework based on this life-history perspective has been developed for the evolution of lysis time in bacteriophages [19]. Such a framework is relevant for medicine, as, from the parasite's point of view, shorter host life span is similar to shortening the infection by the application of a drug treatment. It is therefore important to understand how parasite life-history, such as latency time or fecundity, responds to selection imposed by such a treatment [20, 21].
Few experimental studies have investigated the effects of shortened host life span [22–25]. In a serial passage experiment, Cooper et al [22] directly manipulated host life span and timing of transmission of an insect virus by killing infected hosts at two time points after infection. Consistent with theory, early killing selected for higher virulence, possibly caused by more rapid within-host growth. In a similar type of experiment, infecting hamster cells in vitro with vesicular stomatitis virus, Elena [23] found that earlier transmission schedules selected for higher viral population growth rate and increased longevity of viral propagules in the medium, conferring a selective advantage during the early phase of an epidemic. A more complex picture was found in a serial transfer experiment on nematode parasite of rats [25]: with increasing numbers of nematode females inside the host, females from the early killing treatment became less fecund than those from the late killing treatment. Although it was not measured in this study, lower fecundity may also lead to a reduction in virulence. Finally, a clear-cut counterexample to theory was obtained in an experiment on the water flea, Daphina magna, and a microsporidian gut parasite [24]. In the treatment where host death rate was increased, parasites evolved to produce fewer transmission stages and were less virulent than parasites from the control treatment, possibly because the high mortality treatment led to a concomitant increase in the frequency of multiple infections [24]. Thus, these experiments show that parasites indeed respond to selection imposed by a shorter host life-span, but not always by increasing their virulence, as predicted by standard theory. In particular, it remains largely unclear how primary targets of selection, parasite latency time and age at maturity, evolved in these experiments [but see [22]].
We used experimental populations of the bacterial parasite
Holospora undulata
and its protozoan host,
Paramecium caudatum
, to investigate effects of early vs. late killing on different aspects of parasite life history. The life cycle of infection [
26
] is similar to that of certain bacteria-phage systems in that it involves within-host replication with vertical transmission when its host divides and horizontal transmission. However, unlike, e.g., in lytic phages, horizontal transmission does not require host death. Furthermore, this parasite produces two morphologically and functionally distinct forms: reproductive forms for within-host growth and infectious forms for horizontal transmission. Reproductive forms cannot be transmitted horizontally and infectious forms cannot replicate. The conversion of reproductive into infectious forms seems to rely on a density-dependent switch [
27
], similar to other parasites, such as
Legionella
[
28
] or Trypanosomes [
29
]. These features give such parasites evolutionary options to respond to shortened host life span that do not necessarily lead to increased virulence. For example, earlier onset of horizontal transmission may be achieved by lowering the threshold density that triggers the production of infectious forms. This can be done without changing within-host growth rate; moreover, if conversion into infectious forms is irreversible, total parasite load will be lower and thus virulence will be lower (Figure
1
).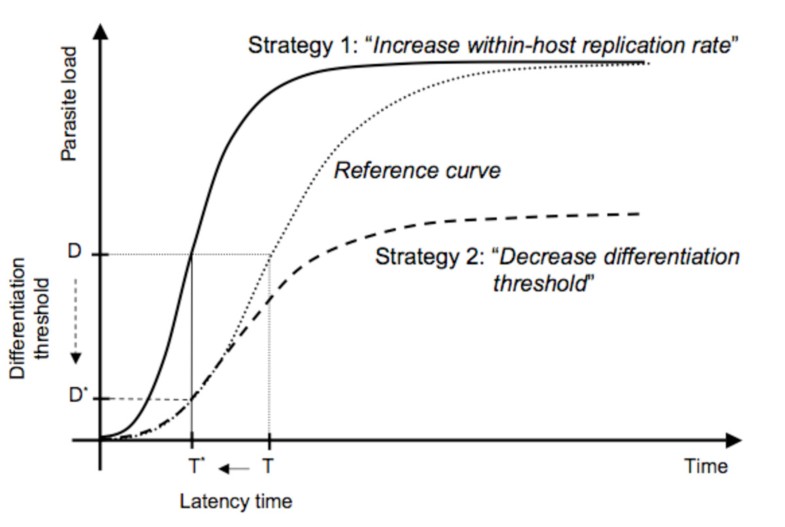 We experimentally manipulated host life-span in a serial transfer experiment, by killing hosts at two time points. In the early-killing treatment, hosts were killed 11 days after infection and infectious forms of the parasite harvested to start a new infection cycle on previously unexposed hosts. Initially, only a small fraction of the infected hosts produced infectious forms at this time point. In the late-killing treatment, hosts were killed after 14 days, when the majority of infected hosts had begun to produce infectious forms. After 13 infection cycles, we compared parasites from the two treatments for their infectivity, latency time (= time to production of infectious forms), parasite load and virulence. We further examined correlations between these traits among parasite selection lines.
Results
Adaptation assays were performed on evolved parasite lines from the early- and late-killing treatments. Ancestral parasite lines had been stored at -80°C, but their extremely low infection success after thawing precluded the reconstruction of the parasite founder population for the assay.
Discussion
Life-history theory predicts that cutting off future reproduction selects for increased investment in early reproduction [18]. Consistent with this prediction, parasites from the early-killing treatment (where hosts were killed 11 days after infection) had a shorter latency and accumulated more transmission stages in the micronuclei of infected hosts than did parasites from the late-killing treatment (where hosts were killed 14 days after infection). Early parasites were also more virulent, in agreement with theoretical models predicting that higher virulence evolves under increased background mortality [11, 15].
Conclusion
Our study demonstrated an adaptive shift in parasite age at maturity (i.e., latency time), consistent with basic life-history theory. As predicted by standard models of virulence evolution, experimentally shortened host life span lead to an evolutionary increase in virulence, confirming results from studies on viral pathogens [22, 23]. Faster within-host replication is the most likely explanation for the shorter latency time, although this needs to be confirmed by more detailed analysis. However, conclusions about the evolution of genetic correlations or trade-offs between parasite traits should be taken with caution. More generally, our results illustrate how variation in environmental conditions affecting host life-history can feed back on the evolution of parasite life-history. The remaining challenges are experiments testing more realistic scenarios, relaxing constraints on epidemiological and (co)evolutionary processes.
Declarations
Acknowledgements
We thank Angus Buckling, Mike Hochberg, Hélène Magalon, Elena Arriero and Nicolas Mouquet for discussion and two anonymous reviewers for their comments. This work was financed by a grant "ACI Jeunes Chercheurs" (no. 035167) to O.K
Authors' Affiliations
(1)
UPMC University Paris 06, Laboratoire de Parasitologie Evolutive – UMR 7103, Paris, France
(2)
UMR de Génétique Végétale, University Paris Sud/INRA/CNRS/INAPG, Ferme du Moulon, Gif-sur-Yvette, France
(3)
Division of Biology, Imperial College London, Silwood Park Campus, Ascot, UK
(4)
Institut des Sciences de l'Evolution, UMR 5554, Université de Montpellier 2, CC 065, Montpellier, France
Copyright
© Nidelet et al; licensee BioMed Central Ltd. 2009
This article is published under license to BioMed Central Ltd. This is an Open Access article distributed under the terms of the Creative Commons Attribution License (http://creativecommons.org/licenses/by/2.0), which permits unrestricted use, distribution, and reproduction in any medium, provided the original work is properly cited.