Research article

Open Access
Phylogenetic analysis of mitochondrial substitution rate variation in the angiosperm tribe Sileneae
BMC Evolutionary Biology
2009
9:260
Received: 08 January 2009
Accepted: 31 October 2009
Published: 31 October 2009
Abstract
Background
Recent phylogenetic studies have revealed that the mitochondrial genome of the angiosperm Silene noctiflora (Caryophyllaceae) has experienced a massive mutation-driven acceleration in substitution rate, placing it among the fastest evolving eukaryotic genomes ever identified. To date, it appears that other species within Silene have maintained more typical substitution rates, suggesting that the acceleration in S. noctiflora is a recent and isolated evolutionary event. This assessment, however, is based on a very limited sampling of taxa within this diverse genus.
Results
We analyzed the substitution rates in 4 mitochondrial genes (atp1, atp9, cox3 and nad9) across a broad sample of 74 species within Silene and related genera in the tribe Sileneae. We found that S. noctiflora shares its history of elevated mitochondrial substitution rate with the closely related species S. turkestanica. Another section of the genus (Conoimorpha) has experienced an acceleration of comparable magnitude. The phylogenetic data remain ambiguous as to whether the accelerations in these two clades represent independent evolutionary events or a single ancestral change. Rate variation among genes was equally dramatic. Most of the genus exhibited elevated rates for atp9 such that the average tree-wide substitution rate for this gene approached the values for the fastest evolving branches in the other three genes. In addition, some species exhibited major accelerations in atp1 and/or cox3 with no correlated change in other genes. Rates of non-synonymous substitution did not increase proportionally with synonymous rates but instead remained low and relatively invariant.
Conclusion
The patterns of phylogenetic divergence within Sileneae suggest enormous variability in plant mitochondrial mutation rates and reveal a complex interaction of gene and species effects. The variation in rates across genomic and phylogenetic scales raises questions about the mechanisms responsible for the evolution of mutation rates in plant mitochondrial genomes.
Keywords
Substitution RateMitochondrial GeneRate AccelerationSynonymous Substitution RateSilene Species
Background
Substitution rates in plant mitochondrial genomes are generally low relative to their nuclear and chloroplast counterparts, as well as relative to the mitochondrial genomes of other organisms [
1
–
3
]. In fact, absolute rates of sequence evolution in seed plant mitochondrial DNA (mtDNA) are among the slowest ever estimated (Figure
1
; [
4
]). A series of recent studies, however, has revealed notable exceptions to this generalization [
4
–
7
]. There are angiosperm species that not only deviate from the slow substitution rates typical of plant mtDNA but also exhibit some of the highest eukaryotic substitution rates ever documented (Figure
1
). With such a substantial fraction of known rate variation captured in a relatively small twig within the tree of life, plant mitochondrial genomes represent an intriguing system for investigating the evolutionary forces that shape substitution rates [
8
–
14
].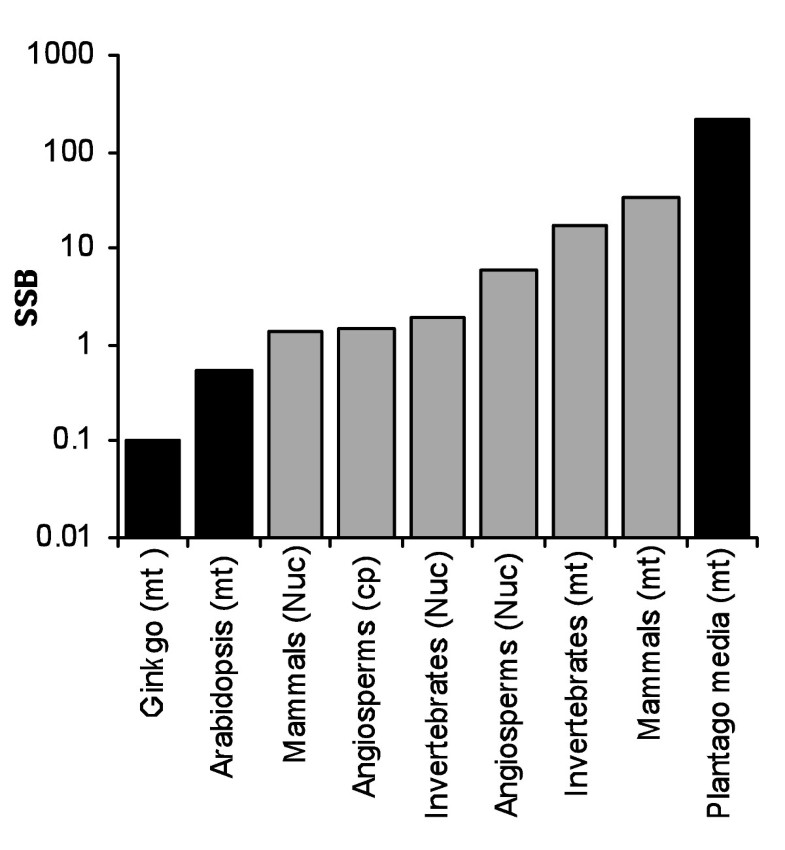 Studies of rate accelerations in plant mitochondrial genomes have consistently shown that these effects are most pronounced at so-called synonymous sites, which do not affect the corresponding amino acid sequence (e.g. [5]). One of the pillars of the neutral theory of molecular evolution is that the rate of neutral substitutions (i.e. those with no fitness effect) is expected to equal the mutation rate [15]. Synonymous substitutions are not completely neutral, however. They are subject to a variety of selection pressures including translational efficiency, mRNA stability and the conservation of regulatory motifs (reviewed in [16]), and direct measurements of mutation rates can be more than an order of magnitude higher than those estimated from synonymous substitution rates [17]. Nevertheless, synonymous sites still offer one of our best approximations of the underlying mutation rate. Therefore, considering the absence of well-supported alternative hypotheses, the extreme synonymous substitution rates observed in certain plant mitochondrial genomes are most likely a result of mutational acceleration.
Silene noctiflora (Caryophyllaceae) is a recent addition to a growing list of angiosperms exhibiting major accelerations in mitochondrial synonymous substitution rate [4, 7]. In other well-documented examples (e.g. Plantago and Pelargonium), rate accelerations appear relatively old (ca. 30-80 million years) having preceded the divergence of large clades or even an entire genus [6]. In contrast, the extreme mitochondrial substitution rates of S. noctiflora appear unique relative to other Silene species, suggesting a very recent acceleration. Estimates of mitochondrial substitution rate, however, are available for only a few Silene species, representing a tiny fraction of this large and diverse genus. The sparse sampling severely limits the phylogenetic resolution to detect historical changes in substitution rate.
The scarcity of mitochondrial sequence data within
Silene
reflects a broader under-representation of plant mtDNA in studies of molecular evolution. Whereas chloroplast DNA (cpDNA) and animal mtDNA are utilized extensively in phylogenetic studies, the low baseline substitution rates and growing evidence for rate heterogeneity in plant mtDNA often limit its utility in this context--particularly at local phylogenetic scales [
18
]. Understanding the causes and consequences of mutation rate variation is a fundamental problem in evolutionary biology [
12
,
19
–
21
], but the lack of plant mtDNA sequence data is a hindrance to investigating this question. To characterize the pattern of mitochondrial substitution rate variation throughout
Silene
and related genera, we sequenced four mitochondrial loci in a sample of 74 species that were selected to capture the phylogenetic diversity of this genus and its closest relatives (Table
1
). To our knowledge, this effort represents the most extensive species-level sampling to date of mitochondrial sequence divergence in a plant genus.
Table 1
Sampled species and voucher information.
| Species | Voucher |
| --- | --- |
| Agrostemma githago L. | D. Sloan 001 (VPI) |
| Atocion lerchenfeldianum (Baumg.) M. Popp | Strid 24875 (GB) |
| Eudianthe laeta (Aiton) Rchb. ex Wilk. | Strandhede et al. 690 (GB) |
| Heliosperma pusillum (Waldst. & Kit.) Rchb. | E. Zogg ZH 1438 (Z) |
| Lychnis coronaria (L.) Desr. | N/A. Collected by D. Sloan. Charlottesville, VA, USA |
| Petrocoptis pyrenaica A.Br. | Schneeweiss et al. 6549 (WU) |
| Silene acaulis (L.) Jacq. | *Schneeweiss 5315 (WU) |
| Silene acutifolia Link ex Rohrb. | Rothmaler 13691 (S) |
| Silene akinfievii Schmalh. | Portenier 3814 (LE) |
| Silene ammophila Boiss. & Heldr. | Raus 7631 (GB) |
| Silene antirrhina L. | N/A. Collected by D. Sloan. Kellog, MN, USA |
| Silene argentina (Pax) Bocquet | M. Popp 2005-11-11 (GB) |
| Silene armena Boiss. | B. Oxelman 2436 (GB) |
| Silene auriculata Sibth. & Sm. | Baden & Franzén 795 (Strid) |
| Silene bellidifolia Jacq. | Strid et al. 35179 (Strid) |
| Silene caesia Sm. | Baden 1114 (Strid) |
| Silene caryophylloides (Poir) Otth | Görk et al. 2436 (Strid) |
| Silene ciliata Pourr. | Franzén et al. 822 (Strid) |
| Silene conica L. | P. Erixon 70 (UPS) |
| Silene conoidea L. | A. Rautenberg 290 (GB) |
| Silene cordifolia All. | Lippert & Merxmüller 17265 (Strid) |
| Silene davidii (Franch.) Oxelman & Lidén | F. Eggens 85 (UPS) |
| Silene delicatula Boiss. | B. Oxelman 2456 (GB) |
| Silene dichotoma Ehrh. | W. Till 17.7.2004 (WU) |
| Silene douglasii var. oraria (M. Peck) C.L. Hitchc. & Maguire | *N/A. Collected by S. Kephart. Cascade Head, OR, USA |
| Silene flavescens Waldst. & Kit. | Strid & Papanicolaou 15820 (Strid) |
| Silene fruticosa L. | B. Oxelman & Tollsten 934 (GB) |
| Silene gallica L. | D. Sloan 002 (VPI) |
| Silene gallinyi Heuff. ex Rchb. | Strid & Hansen 9283 (Strid) |
| Silene gracilicaulis C.L. Tang | Smith 11346 (UPS) |
| Silene hookeri Nutt. subsp. hookeri | F. Schwartz 107 (WTU) |
| Silene imbricata Desf. | B. Oxelman 1881 (GB) |
| Silene integripetala Bory & Chaub. | B. Oxelman 1902 (GB) |
| Silene involucrata (Cham. & Schltdl.) Bocquet | F. Eggens 7 (UPS) |
| Silene khasyana Rohrb. | Einarsson et.al 3025 (UPS) |
| Silene lacera (Stev.) Sims | Schönswetter & Tribsch Iter Georgicum 51 (WU) |
| Silene laciniata subsp. californica (Durand) J.K. Morton | Schwartz 102-2 (WTU) |
| Silene latifolia Poir. | *N/A. Collected by J. Greimler. Vienna, Austria |
| Silene littorea Brot. | P. Erixon 74 (UPS) |
| Silene macrodonta Boiss. | B. Oxelman 2441 (GB) |
| Silene menziesii Hook. | Kruckeberg 3436 (WTU) |
| Silene moorcroftiana Wall. ex Benth | B. Dickoré 17783 (Dickoré) |
| Silene multicaulis Guss. | Strid & Hansen 9954 (Strid) |
| Silene muscipula subsp. deserticola Murb. | *Chevalier 548 (WU) |
| Silene nana Kar. & Kir. | Kereverzova & Mekeda 1976.V.5 (LECB) |
| Silene nicaeensis All. | D. Sloan 005 (VPI) |
| Silene noctiflora L. | D. Sloan 003 (VPI) |
| Silene nutans L. | *Larsen, Larsen & Jeppesen 196 (S) |
| Silene odontopetala Fenzl | Görk et al. 23817 (Strid) |
| Silene otites (L.) Wibel | A. Rautenberg 83 (UPS) |
| Silene paradoxa L. | W. & S. Till 21 July 2002 (WU) |
| Silene paucifolia Ledeb. | H. Solstad & Elven 04/1384 (O) |
| Silene pendula L. | A. Rautenberg 289 (GB) |
| Silene pygmaea Adams | Amirkhanov 22.VI-1977 MW) |
| Silene repens Patrin | Argus 1068 (UPS) |
| Silene sachalinensis F. Schmidt | Popov 1949.VII.8 (LE) |
| Silene samia Melzh. & Christod | B. Oxelman 2208 (UPS) |
| Silene samojedora (Sambuk) Oxelman | H. Solstad, R. Elven SUP-04-3871 (O) |
| Silene schafta S.G. Gmel. ex Hohen. | M. Popp 1053 (UPS) |
| Silene schwarzenbergeri Halácsy | Hartvig & Christiansen 8167 (Strid) |
| Silene seoulensis Nakai | Hong & Han 13420001 (UPS) |
| Silene sordida Hub.-Mor. & Reese | B. Oxelman 2206 (GB) |
| Silene sorensenis (B. Boivin) Bocquet | F. Eggens 48 (UPS) |
| Silene stellata (L.) W.T. Aiton | N/A. Collected by D. Sloan. Giles County, VA, USA |
| Silene succulenta Forssk. | Strid & Kit Tan 55028 (Strid) |
| Silene tunicoides Boiss. | Carlström 5970 (Strid) |
| Silene turkestanica Regel | K. Kiseleva 20.VI.1970 (MW) |
| Silene uniflora Roth | P. Erixon 73 (UPS) |
| Silene vittata Stapf | B. Oxelman 2390 (UPS) |
| Silene vulgaris (Moench) Garcke | *N/A. Collected by M. Dzhus. Minsk, Belarus |
| Silene yemensis Deflers | Hepper 5792 (WU) |
| Silene zawadzkii Herbich | B. Oxelman 2241 (GB) |
| Viscaria alpina (L.) G. Don | B. Frajman & Schönswetter 11415 (LJU) |
| Viscaria vulgaris Bernh. | P. Schönswetter & B. Frajman 11097 (LJU) |
To compare absolute substitution rates in a gene across lineages requires an estimate of the genealogy with dated nodes (i.e. divergence times). In cases of extreme rate variation, generating such a tree directly from the gene in question is problematic. With rate variation, slowly-evolving taxa can be difficult to resolve, and long branch attraction can favor incorrect topologies [22]. Even with an accurate topology, rate variation can bias the estimate of divergence times with molecular clock based methods. For this reason, previous studies of substitution rate variation in plant mitochondrial genomes have constrained their analyses based on phylogenies and divergence times inferred from nuclear and chloroplasts sequences.
Because both mitochondrial and chloroplast genomes are predominantly maternally inherited in Silene, they are expected to share a common genealogy [23, 24] (although breakdowns in uniparental inheritance may potentially disrupt this relationship [25–27]). Therefore, we chose the chloroplast gene matK to estimate phylogenetic relationships and divergence times. This gene has proven to be highly informative in phylogenetic reconstruction, partly because of its high rates of substitution [28, 29]. It has also been used in two recent analyses of divergence times within Silene and the Caryophyllaceae [4, 30].
We identified substantial rate accelerations in multiple lineages within the Silene phylogeny as well as major rate differences among mitochondrial genes. Here, we discuss the complex patterns of mitochondrial rate variation in the genus Silene and the implications they have for the evolution of mitochondrial mutation rates and the patterns of selection on mtDNA at the sequence level.
Conclusion
Based on our analysis of mitochondrial divergence within the tribe Sileneae, we conclude that mutational acceleration is not restricted to a single species nor is it completely confined to a small number of high rate lineages. The patterns of divergence in atp9 illustrated that elevated rates have been maintained throughout much of the genus Silene for at least one mitochondrial gene, highlighting a complex gene × species interaction in the distribution of rate variation. The diversity in phylogenetic and genomics scale suggests that there is no simple rule or single mechanism underlying mutation rate variation in plant mitochondrial genomes. Elucidating the mechanistic forces that shape mutation rate variation should represent a high priority in the field of plant mitochondrial genomics. Silene was targeted for this in-depth sampling of species-level mitochondrial divergence because of a priori knowledge of the rate acceleration in S. noctiflora. Determining whether the patterns of rate variation among species and among genes in Silene are broadly representative of angiosperm genera or represent something unique about the molecular evolution of Silene will require similar levels of sampling in taxa that currently show no evidence of rate increase.
Declarations
Acknowledgements
We thank Stephanie Goodrich for providing Agrostemma seeds and Nahid Heidari and Vivian Aldén for assistance in the lab. We also appreciate comments on an earlier version of this manuscript from Steve Keller, Magnus Lidén, Matt Olson, and the members of the Taylor lab. This study was supported by NSF DEB-0808452 (to DBS and DRT), NSF DEB-0349558 (to DRT) and grants from the Swedish Research Council for Environment, Agricultural Sciences and Spatial Planning (to BO).
Authors' Affiliations
(1)
Department of Biology, University of Virginia, Charlottesville, USA
(2)
Department of Plant and Environmental Sciences, University of Gothenburg, Gothenburg, Sweden
(3)
Department of Systematic Biology, EBC, Uppsala University, Uppsala, Sweden
Copyright
© Sloan et al; licensee BioMed Central Ltd. 2009
This article is published under license to BioMed Central Ltd. This is an Open Access article distributed under the terms of the Creative Commons Attribution License (http://creativecommons.org/licenses/by/2.0), which permits unrestricted use, distribution, and reproduction in any medium, provided the original work is properly cited.