Research article

Open Access
Cyto-nuclear discordance in the phylogeny of Ficus section Galoglychia and host shifts in plant-pollinator associations
BMC Evolutionary Biology
2009
9:248
Received: 7 June 2009
Accepted: 12 October 2009
Published: 12 October 2009
Abstract
Background
Hybridization events are relatively common in vascular plants. However, the frequency of these events is unevenly distributed across the plant phylogeny. Plant families in which individual species are pollinated by specific pollinator species are predicted to be less prone to hybridization than other families. However, exceptions may occur within these families, when pollinators shift host-plant species. Indeed, host shifts are expected to increase the rate of hybridization events. Pollinators of Ficus section Galoglychia are suspected to have changed host repeatedly, based on several cases of incongruence between plant phylogeny and taxonomy, and insect phylogeny and taxonomy. We tracked cyto-nuclear discordance across section Galoglychia as evidence for hybridization. To achieve a proper global view, we first clarified the monophyly of section Galoglychia as it had been questioned by recent phylogenetic studies. Moreover, we investigated if fig size could be a factor facilitating host shifts.
Results
Phylogenetic chloroplast and nuclear results demonstrated the monophyly of section Galoglychia. Within section Galoglychia, we detected several cases of statistically significant cyto-nuclear discordance. Discordances concern both terminal nodes of the phylogenetic trees and one deep node defining relationships between subsections. Because nuclear phylogeny is congruent with morphological taxonomy, discordances were caused by the chloroplast phylogeny. Introgressive hybridization was the most likely explanation for these discordances. We also detected that subsections pollinated by several wasp genera had smaller figs and were pollinated by smaller wasps than subsections pollinated by a single wasp genus.
Conclusion
As hypothesized, we discovered evidences of past hybridization in Ficus section Galoglychia. Further, introgression was only detected in subsections presenting incongruence between plant and pollinator phylogenies and taxonomy. This supports the hypothesis that host shift is the cause for plant-pollinator incongruence. Moreover, small fig size could facilitate host shifts. Eventually, this study demonstrates that non-coding chloroplast markers are valuable to resolve deep nodes in Ficus phylogeny.
Keywords
Introgressive HybridizationHost ShiftLarge Single CopyWasp SpeciesGenetic Introgression
Background
Frequent natural hybridization events in vascular plants were documented by early biologists (e.g. [1, 2]). However, the prevalence of hybridization events is unevenly distributed across the plant phylogeny and seems to be concentrated within a small fraction of families and genera [3]. Grant [4] pointed out that the frequency of natural hybridizations varies with factors such as life history, breeding system, environmental disturbance, genetic predisposition, and eventually pollination syndrome. In this context, plant species pollinated by specific pollinator species are predicted to present almost no hybridization events. Indeed, in specific mutualisms as plant-pollinator associations, the associated species usually present co-adaptations involved in attraction, recognition and physical compatibility with the other species. Such adaptations can be viewed as pre-zygotic barriers limiting interspecific hybridization [5–7].
Host shift is one of the main ecological processes that can break patterns of strict cospeciation between tightly bound interacting species [8–11], as observed in some cases affecting postulated strict co-evolutionary pattern in specific pollination mutualisms [12]. When associated with a transitional use of two hosts by the pollinator, a host shift may allow plant hybridization and hence leave a signature of genetic introgression in the plant genome. Following such hybridization, recurrent backcrosses of offspring with one parent may also allow the introgression of a limited set of foreign alleles into a plant species [13]. Hence, plant lineages in which pollinators have jumped from one host to another are more likely to exhibit signs of introgression than other lineages.
Detecting past events of host shifts requires tracking incongruence between phylogenetic trees of interacting taxa [8, 14, 15]. However, pollinator species duplication in the absence of host speciation, followed by cospeciation and subsequent asymmetric extinction, a phenomenon we will call duplication/extinction hereafter, is another mechanism that can cause incongruence between host phylogeny and partner phylogeny [16]. Although different in essence, these phenomena lead to similar patterns of phylogenetic incongruence, and discriminating between them is often largely speculative [17]. Nevertheless, and contrary to host shift, duplication/extinction does not involve plant hybridization. Consequently, detecting introgressed genes in a plant lineage for which there is incongruence between plant and pollinator phylogenies would support the host shift hypothesis.
Fig trees (Ficus, Moraceae) and their pollinating wasps (Agaonidae, Chalcidoidae) constitute one of the well-known cases of species-specific pollination mutualism. In this system, the rule is that a wasp species generally pollinates a single host species [18, 19]. Further Ficus and Agaonid wasp morphological taxonomy and molecular phylogenies are steadily improving, providing a unique set of information to infer past history of the association on a broad set of species. Based on phylogenetic data, several authors have suggested parallel diversification of host and associated pollinating wasps [5, 20–23]. Moreover, fig tree sections or subsections appear to be generally monophyletic and pollinated by a single wasp genus or by a few genera. Nevertheless, exceptions to the rule of a single agaonid wasp species associated with a single Ficus species are quite frequent and rather well documented based on morphology [24, 25] as well as on molecular methods [12, 26–28]. Indeed, Rasplus et al. [29] estimated for Africa, on the basis of morphology, that 17% of fig species were pollinated by more than one wasp species and that 15% of fig pollinator wasps used two or more hosts. However, molecular data on Australian pollinators suggest that when two or more wasps pollinate the same host they seem to often be sister species [30].
Within this general context, species of section
Galoglychia
show an unusual pattern of association with their pollinating wasps within genus
Ficus
. The 77 described species of section
Galoglychia
are distributed into six subsections [
18
,
31
], several of which are unambiguously defined. Seven morphologically unambiguous genera of fig wasps are known to pollinate section
Galoglychia
(Figure
1
). Some genera are both subsection specific and the sole pollinators of the subsection. Other genera pollinate fig trees from different subsections and some subsections are pollinated by several wasp genera. Further some individual
Ficus
species may be pollinated by wasps belonging to different genera (e.g.
Ficus natalensis
pollinated by
Alfonsiella
and
Elisabethiella
) and one wasp species may pollinate several
Ficus
species (e.g.
Elisabethiella stuckenbergii
pollinates
F. burkei, F. natalensis, F. petersii and F. lingua depauperata
[
32
]).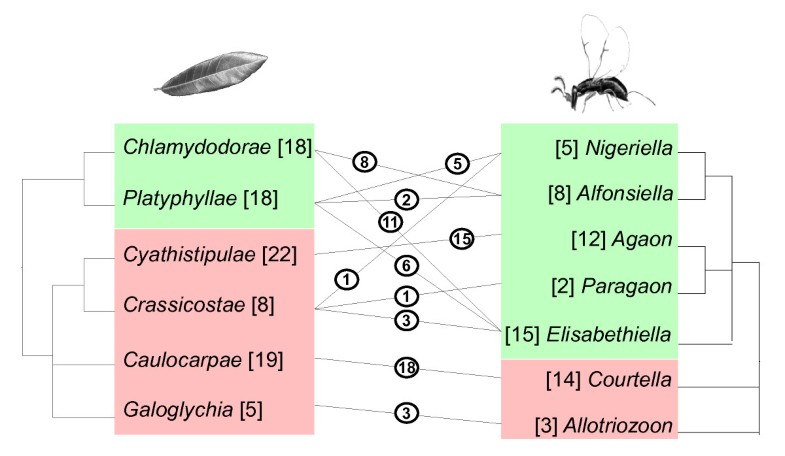 Recent molecular phylogenies supported, with some caveats, the monophyly of subsections within section Galoglychia [33] and that of wasp genera [26]. Hence the interactions between figs of section Galoglychia and their pollinating wasps present us with a series of instances of lack of strict specificity, and lack of congruence between fine wasp and Ficus taxonomy and phylogeny [18, 34]. Comparing the phylogenies of trees and insects suggests additional lack of congruence, with respect to the order of branching of Ficus subsections and wasp genera (Figure 1). In the plant phylogeny [33], based on ITS and ETS nuclear markers, subsections Cyathistipulae and Crassicostae are grouped with subsections Galoglychia and Caulocarpae within a clade, while the remaining subsections are clustered together into a second clade. In the wasp pollinator phylogeny [26], based on 28S and ITS markers, subsection Galoglychia pollinators and Caulocarpae pollinators constitute the outgroups of a clade including the pollinators of the remaining subsections. Fig tree phylogeny is thus incongruent with pollinating wasp phylogeny with respect to the branching of subsections Cyathistipulae and Crassicostae versus Chlamydodorae and their pollinators. An additional finding of the molecular phylogeny of section Galoglychia is a suggestion that neotropical species of section Americana could be enclosed within section Galoglychia, although this result was only weakly supported by the various node validation methods [33]. If section Galoglychia is really paraphyletic to section Americana, pollinators of this last section could provide an example, pending phylogenetic and taxonomic re-evaluation, of discrepancy between the phylogenetic histories of Ficus and their pollinating wasps as the pollinators of section Americana and of section Galoglychia have been classified into different subfamilies (Agaoninae and Blastophaginae) [19].
Incongruence between pollinator and host phylogenies has been traditionally attributed to host shifts [12, 35]. However, ancient pollinator species duplication events could also have lead to different wasp pollinator genera pollinating the same host figs. Subsequent cospeciation and asymmetric extinction could be responsible of the apparently haphazard host association exhibited by Alfonsiella and Elisabethiella pollinators [26, 36].
The goal of this contribution is to study introgression events in the phylogeny of section Galoglychia. If host shifts and not duplications/extinctions are effectively responsible for plant-pollinator taxonomic and phylogenetic incongruence, then we expect to detect introgression events, especially in the plant lineages implied in this incongruence. We compared nuclear and chloroplast phylogenies to detect cases of genetic introgression between Ficus species, because the chloroplast genome of vascular plants possesses several features that facilitate its introgression into a new plant species after hybridization compared to the nuclear genome [13, 37, 38], as illustrated by the numerous cases of chloroplast introgression documented in the literature [37, 39, 40]. Our working hypothesis is that the current complex pattern of host association of genera Elisabethiella, Nigeriella and Alfonsiella result from host shifts. The prediction is that we may detect evidence for cytoplasm transfer between species of subsection Chlamydodorae, Platyphyllae and Crassicostae. We will also search for other potential cases of genetic introgression and especially for subsection Cyathistipulae for which available data suggests mismatch between the phylogenetic position of the subsection [33] and the phylogenetic position of its pollinators, namely genus Agaon [26]. To do so, we first developed specific chloroplast markers for Ficus and sequenced them in 58 individuals representing 38 species of section Galoglychia and 10 species of section Americana. We also sequenced ITS and ETS markers on these same individuals. Second, we searched for cases of discordance between chloroplast and nuclear phylogenies and tested their significance. Third, we showed that genetic introgression was the most likely mechanism to explain the cases of discordance. Besides, because section Galoglychia is the sole Ficus section subdivided into six subsections all of which are well defined (pending revision of the taxonomic position of some species assigned to subsection Platyphyllae, see discussion) and the sole section pollinated by six monophyletic agaonid wasp genera, this section offers a unique opportunity to investigate host shifts and their determinants. Within the section, known and suspected examples of pollinators using several hosts seem to involve host species presenting rather small figs, such as F. burkei, F. natalensis, F. petersii and F. lingua depauperata [32]. Therefore we investigated whether the fig subsections involved effectively presented small figs and whether their pollinator genera presented small body size.
Conclusion
As predicted by the hypothesis that host shifts are responsible for the lack of congruence between insect and plant phylogeny and taxonomy in section Galoglychia, we found evidence for several cases of chloroplast genetic introgression events. The alternative to host shifts would be duplication of insect taxa on a host followed by later extinction. Separating these two hypotheses is extremely difficult [69, 71]. However, in our case, because two genetically independent markers, nuclear DNA carried by insects and chloroplasts, tell the same story, the hypothesis of host shifts becomes much more likely. Knowing which lineages are involved in host shifts within a Ficus section allowed us to infer that a facilitating factor for host shift could be small fig size. Detecting identical or analogous patterns to those described here in other sections of the genus will constitute the real test of their generality. Finally, while chloroplast DNA presents limited variability in Ficus [72], our initial screening of markers allowed increasing the number of polymorphic sites. We were eventually able to resolve deep nodes in the Ficus phylogeny for which ITS and ETS nuclear markers were not sufficiently informative. Non-coding chloroplast markers could thus be very helpful to resolve basal branching inside the Ficus phylogeny; a necessary step for an in depth analysis of the history of the coevolution between figs and their pollinating wasps.
Declarations
Acknowledgements
We are indebted to Champlain Djieto-Lordon, of the Faculty of Science at Yaoundé for help during field collections in Cameroun. We also thank E. Renoult and M. Charpentier for constructive comments on earlier version of the manuscript, and N. Alvarez for technical advices. We also thank N. Rønsted who kindly provided nine samples from her studies. JPR was supported by a grant from the French Ministry of Research. The work was supported by the ANR grant NICEFig.
Authors' Affiliations
(1)
CNRS, UMR 5175 Centre d'Ecologie Fonctionnelle et Evolutive (CEFE), Equipe Interactions Biotiques, Montpellier Cedex 5, France
(2)
INRA, UMR 1098, Développement et Amélioration des Plantes (DAP), Montpellier Cedex 5, France
(3)
Montpellier SupAgro, UMR 1098, Développement et Amélioration des Plantes (DAP), Montpellier Cedex 5, France
(4)
INRA, UMR 1097, Diversité et Adaptation des Plantes Cultivées (DiA-PC), Montpellier Cedex 2, France
(5)
Conservatoire Botanique National Méditerranéen de Porquerolles, Hyères, France
Copyright
© Renoult et al; licensee BioMed Central Ltd. 2009
This article is published under license to BioMed Central Ltd. This is an Open Access article distributed under the terms of the Creative Commons Attribution License (http://creativecommons.org/licenses/by/2.0), which permits unrestricted use, distribution, and reproduction in any medium, provided the original work is properly cited.