Research article

Open Access
Comprehensive computational analysis of Hmd enzymes and paralogs in methanogenic Archaea
BMC Evolutionary Biology
2009
9:199
Received: 24 November 2008
Accepted: 11 August 2009
Published: 11 August 2009
Abstract
Background
Methanogenesis is the sole means of energy production in methanogenic Archaea. H2-forming methylenetetrahydromethanopterin dehydrogenase (Hmd) catalyzes a step in the hydrogenotrophic methanogenesis pathway in class I methanogens. At least one hmd paralog has been identified in nine of the eleven complete genome sequences of class I hydrogenotrophic methanogens. The products of these paralog genes have thus far eluded any detailed functional characterization.
Results
Here we present a thorough computational analysis of Hmd enzymes and paralogs that includes state of the art phylogenetic inference, structure prediction, and functional site prediction techniques. We determine that the Hmd enzymes are phylogenetically distinct from Hmd paralogs but share a common overall structure. We predict that the active site of the Hmd enzyme is conserved as a functional site in Hmd paralogs and use this observation to propose possible molecular functions of the paralog that are consistent with previous experimental evidence. We also identify an uncharacterized site in the N-terminal domains of both proteins that is predicted by our methods to directly impart function.
Conclusion
This study contributes to our understanding of the evolutionary history, structural conservation, and functional roles, of the Hmd enzymes and paralogs. The results of our phylogenetic and structural analysis constitute datasets that will aid in the future study of the Hmd protein family. Our functional site predictions generate several testable hypotheses that will guide further experimental characterization of the Hmd paralog. This work also represents a novel approach to protein function prediction in which multiple computational methods are integrated to achieve a detailed characterization of proteins that are not well understood.
Keywords
Functional Site
Alignment Position
Hydrogenotrophic Methanogen
Protein Function Prediction
Diffraction Structure
Background
The methanogens are a diverse, but phylogenetically related, group of Archaea. Methanogenic Archaea have been isolated from habitats ranging from mammalian gut flora to deep sea hydrothermal vents. Methanogens are comprised of two taxonomic classes known as class I and class II [1–3]. Class I methanogens include the orders Methanococcales, Methanobacteriales, and Methanopyrales, while class II methanogens include the orders Methanosarcinales and Methanomicrobiales.
The three known methanogenesis pathways are distinguished with regards to the electron source. These are hydrogenotrophic methanogenesis, acetoclastic methanogenesis, and methylotrophic methanogenesis [
4
]. Hydrogenotrophic methanogenesis involves the reduction of CO
2
to CH
4
, utilizing H
2
and reduced cofactors as electron donors through a seven step pathway (Figure
1
). Many hydrogenotrophic methanogens are autotrophic, requiring only CO
2
, H
2
, and inorganic salts to produce energy through methanogenesis and synthesize biomass through CO
2
fixation [
5
].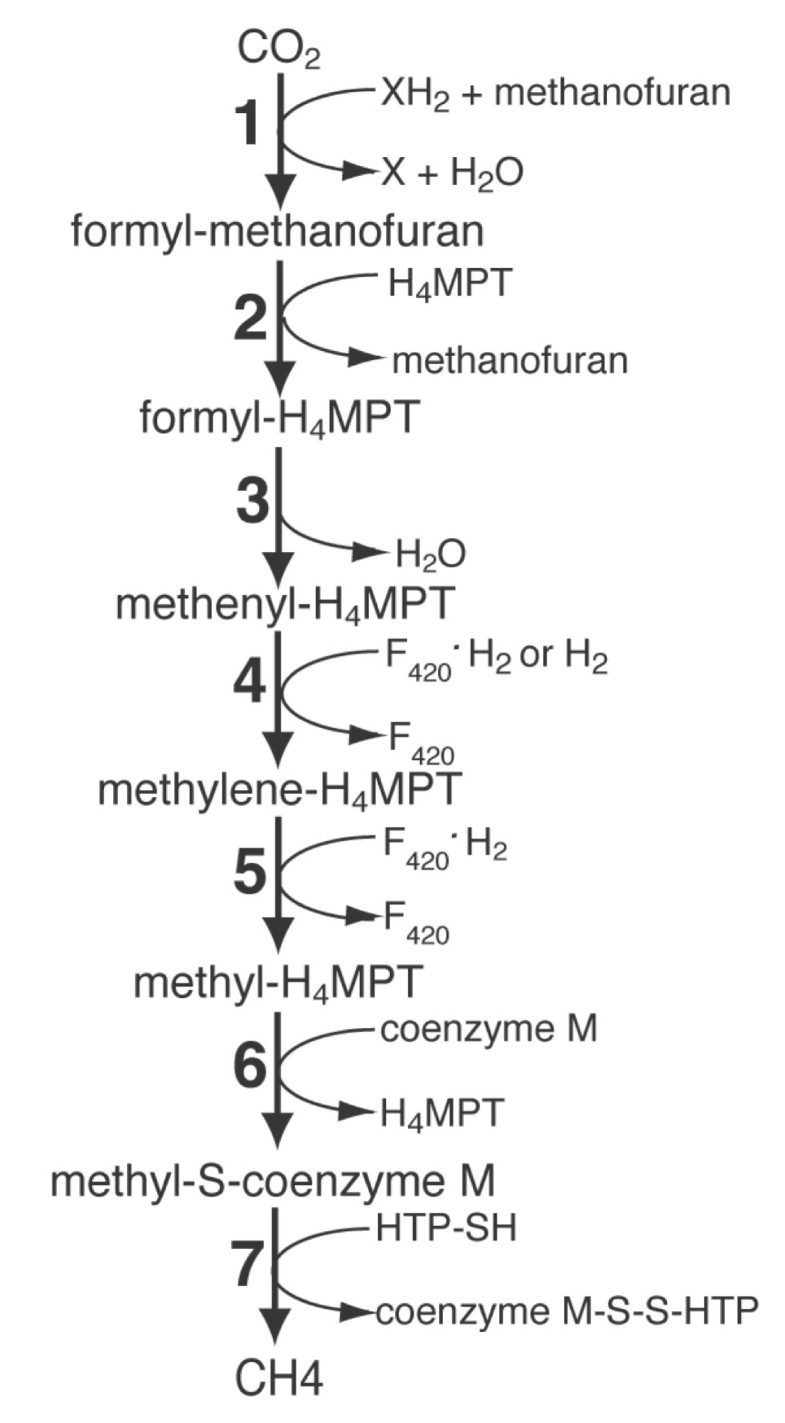 The fourth step in the hydrogenotrophic methanogenesis of class I methanogens involves the reduction of N5,N10-methenyltetrahydromethanopterin (methenyl-H4MPT) to N5,N10-methylene-H4MPT. Class II methanogens differ in their use of methanosarcinapterin rather than H4MPT as the C1 carrier. This step in class I methanogens can be carried out by either of two different enzymes. Coenzyme F420-dependent methylene-H4MPT dehydrogenase (Mtd) reduces methenyl-H4MPT using reduced coenzyme F420 as the electron donor. H2-forming methylene-H4MPT dehydrogenase (Hmd) reduces methenyl-H4MPT to methylene-H4MPT using H2 as an electron source. Afting et al. [6] observed in Methanothermobacter marbugensis that Hmd has a specific activity greater than that of Mtd under nickel-limited, ammonia-limited, and non-limited conditions while Mtd has a specific activity greater than that of Hmd under hydrogen-limited conditions. Hendrickson et al. [7] observed in Methanococcus maripaludis that hmd is upregulated proportional to growth rate and mtd is upregulated under hydrogen limitation.
The Hmd holoenzyme is comprised of a homodimer of 38 kDa subunits, two pyridone derivative cofactor molecules, and two iron atoms [8]. Each iron atom coordinates the reduction of methenyl-H4MPT and oxidation of H2 while bound to both Hmd and a cofactor molecule [8, 9]. The apoenzyme of Hmd is stable and can be restored to active holoenzyme by the addition of cofactor [9]. Hmd is the only known hydrogenase that lacks an iron-sulfur cluster and is sometimes referred to as the 'iron-sulfur cluster-free hydrogenase'.
Almost all genomes of class I hydrogenotrophic methanogens contain both an hmd enzyme gene and at least one hmd paralog gene. Several species have two copies of the hmd paralog (referred to in this manuscript with arbitrary numeration as paralog1 and paralog2; see Additional file 1). Afting et al. [6] first showed in M. marburgensis that the protein products of hmd paralogs are present in the cell. Their study also revealed that Hmd paralog1 is detectable at low H2, while Hmd paralog2 is detectable at high H2 and that neither paralog show any observable hydrogenase activity. Recent unpublished work mentioned in a review by Shima and Thauer [10] indicates that Hmd paralog1 from Methanocaldococcus jannaschii can competitively bind cofactor and inhibit the activation of Hmd apoenzyme. Curiously, Hmd paralog1 in M. jannaschii was shown by Lipman et al. [11] to specifically bind prolyl-tRNA synthetase. While these results taken together constitute a partial characterization of Hmd paralogs, our understanding of these proteins and their role in methanogenesis is far from complete.
Here we present advanced computational analyses of Hmd enzymes and their paralogs from the genomes of sixteen class I hydrogenotrophic methanogens. The relationship of hmd enzyme and paralog sequences is demonstrated through phylogenetic analysis. The tertiary structures of Hmd enzymes and paralogs from five representative species are predicted using the top ranking modeling server of the last two CASP competitions [[12]; http://predictioncenter.org/casp8/]. Functional characterization of the Hmd paralogs is performed using a state of the art method recently developed by our group [13]. Taken together, these analyses form a thorough computational characterization of the Hmd enzymes and paralogs and generate several testable hypotheses regarding the molecular functions of both Hmd enzymes and paralogs.
Conclusion
This study offers an in depth computational analysis of the relationship between the sequences, structures, and functional features of Hmd enzymes and paralogs in class I hydrogenotrophic methanogens. Phylogenetic analysis of thirty hmd enzyme and paralog genes from sixteen species and strains confirms that the genetic predecessors of modern Hmd enzymes and paralogs were present in the last common ancestor of all class I hydrogenotrophic methanogens. Structural modeling of fourteen representative Hmd enzymes and paralogs reveals a common structural arrangement comprised of one large N-terminal domain containing α-helices and β-sheets and one smaller C-terminal domain containing only α-helices.
Functional site prediction was performed by the calculation of Meta-Functional Signature (MFS) scores for the fourteen modeled Hmd enzymes and paralogs [13]. MFS comparison across a multiple sequence alignment revealed five functional sites conserved between Hmd enzymes and paralogs. The superimposition of these sites onto representative structures of the Hmd enzyme and paralog showed that the enzyme active site is maintained as a functional site in the paralog. One of the four functionally conserved residues in this functional site is a His in Hmd enzymes and an Asn in most Hmd paralogs. We conclude from these observations that the molecular function of the Hmd paralog is similar but not identical to the enzyme. Our analysis also predicted a second site of common function between Hmd enzymes and paralogs that is yet uncharacterized. Our MFS data did not substantiate the observation of Lipman et al. [11] that Hmd paralog1 in M. jannaschii specifically binds to prolyl-tRNA synthetase.
Previous experimental work has demonstrated that Hmd paralogs do not enzymatically catalyze hydrogenase/dehydrogenase reactions [6], but are able to competitively bind the Hmd enzyme cofactor [10]. Our results indicate that the catalytic site of the Hmd enzyme is conserved as a functional site in Hmd paralogs, but that the molecular function of the paralog differs from that of the enzyme due to at least one key amino acid substitution. Given these observations, it is possible that the Hmd paralog is responsible for acting as a reservoir for the Hmd enzyme cofactor when H2 is low and the Mtd reaction is favored over the Hmd reaction (see Background). Alternatively, the Hmd paralog may act as a scaffold for cofactor synthesis. These hypotheses warrant experimental verification.
The datasets and predictions generated in this study provide a guide for future experimental characterization of the Hmd protein family. This work also serves as an example of detailed protein function prediction that can be achieved by the combination of multiple independent computational techniques. We are currently working to optimize and generalize the method presented here. Such an approach will increase the accuracy of protein function prediction and help to guide the early steps of experimental protein characterization.
Declarations
Acknowledgements
Many thanks to Laura Heath and Sujay Chattopadhyay for critical review of the phylogenetic analysis presented in this manuscript. Thanks also to Jeremy Horst, Michal Guerkuin, Tom Lie, and Jeremy Dodsworth for helpful discussions. This work was funded by the University of Washington NSF IGERT program in Astrobiology and the NSF Career Award DBI-0217241.
Authors' Affiliations
(1)
Department of Microbiology, University of Washington, Seattle, USA
(2)
NSF IGERT Program in Astrobiology, University of Washington, Seattle, USA
Copyright
© Goldman et al; licensee BioMed Central Ltd. 2009
This article is published under license to BioMed Central Ltd. This is an Open Access article distributed under the terms of the Creative Commons Attribution License (http://creativecommons.org/licenses/by/2.0), which permits unrestricted use, distribution, and reproduction in any medium, provided the original work is properly cited.