Research article

Open Access
Evolution of plant senescence
BMC Evolutionary Biology
2009
9:163
Received: 18 September 2008
Accepted: 14 July 2009
Published: 14 July 2009
Abstract
Background
Senescence is integral to the flowering plant life-cycle. Senescence-like processes occur also in non-angiosperm land plants, algae and photosynthetic prokaryotes. Increasing numbers of genes have been assigned functions in the regulation and execution of angiosperm senescence. At the same time there has been a large expansion in the number and taxonomic spread of plant sequences in the genome databases. The present paper uses these resources to make a study of the evolutionary origins of angiosperm senescence based on a survey of the distribution, across plant and microbial taxa, and expression of senescence-related genes.
Results
Phylogeny analyses were carried out on protein sequences corresponding to genes with demonstrated functions in angiosperm senescence. They include proteins involved in chlorophyll catabolism and its control, homeoprotein transcription factors, metabolite transporters, enzymes and regulators of carotenoid metabolism and of anthocyanin biosynthesis. Evolutionary timelines for the origins and functions of particular genes were inferred from the taxonomic distribution of sequences homologous to those of angiosperm senescence-related proteins. Turnover of the light energy transduction apparatus is the most ancient element in the senescence syndrome. By contrast, the association of phenylpropanoid metabolism with senescence, and integration of senescence with development and adaptation mediated by transcription factors, are relatively recent innovations of land plants. An extended range of senescence-related genes of Arabidopsis was profiled for coexpression patterns and developmental relationships and revealed a clear carotenoid metabolism grouping, coordinated expression of genes for anthocyanin and flavonoid enzymes and regulators and a cluster pattern of genes for chlorophyll catabolism consistent with functional and evolutionary features of the pathway.
Conclusion
The expression and phylogenetic characteristics of senescence-related genes allow a framework to be constructed of decisive events in the evolution of the senescence syndrome of modern land-plants. Combining phylogenetic, comparative sequence, gene expression and morphogenetic information leads to the conclusion that biochemical, cellular, integrative and adaptive systems were progressively added to the ancient primary core process of senescence as the evolving plant encountered new environmental and developmental contexts.
Keywords
CarotenoidLand PlantSenescence ProgramPlant SenescenceSenescing Leave
Background
We present evidence that the genes and metabolism representing the core of the process of senescence in modern land-plants can be traced back to primaeval unicellular photoautotrophs and that specific elaborations and regulatory mechanisms have been progressively added to the senescence program at decisive points during plant evolution. Senescence is a prominent characteristic of angiosperm morphogenesis and ecology. The term is applied at all levels of plant biology, from processes at the biome-wide scale that define the season of autumn in temperate climates [1, 2] through to the cellular dimension in the terminal development of individual tissues and organs [3, 4]. Plant senescence is commonly considered to be programmed [5] and several genes have been identified as essential for normal initiation and/or execution of the syndrome [6, 7]. Here we focus particularly on the metabolism of pigments in green tissues and the colorful lateral organs and structures of angiosperms [8, 9] and, based on comparative cell biology and protein sequence relationships across the evolutionary range of plants and their phototrophic ancestors, we reconstruct a progression of genetic events leading to the establishment of senescence as an essential element in the terrestrial plant life-cycle.
Evolutionary origin of photosynthetic pigments
A challenging question sometimes asked of biologists by children and physicists is: if leaves are solar panels, why are they green and not black [10–12]? This query in turn implies further questions about the nature of the earliest life-forms, how they used light as an energy-source, how the photosynthetic apparatus became organised and reorganised during evolution and (of particular relevance to the present paper) the evolutionary origin of pigment metabolism and its control in plant development. The light absorption profile of chlorophyll-based green membranes is characterised by a broad gap in the middle of the visible wavelength range. It has been proposed that the earliest phototrophs had light receptors that occupied the centre of the spectrum between the red and blue peaks of chlorophyll-based green membranes, and that chlorophyll evolved as a complementary pigment, filling in the missing wavelengths at the edges of the spectrum. According to this hypothesis the earliest photoautotrophs may have been similar to purple bacteria in using bacteriorhodopsin as the light-intercepting pigment-protein and bacteriochlorophyll at the reaction centre, driving a proton pump coupled to ATPase [10, 13, 14]. Phylogenetic analyses based on genes for photosynthesis as well as other markers such as rRNA and heat shock proteins are suggesting a number of alternative trajectories for the early evolution of pigment metabolism and organisation, but the widespread prevalence of horizontal gene transfer makes it difficult to agree the definitive scenario [13, 15]. We can be certain, however, that isoprenoid-derived pigments continued to carry out the function of intercepting light in the middle of the visible spectrum while chlorophyll adopted an increasingly prominent role in light harvesting as well as charge separation, leading to modern streptophytes including land plants.
Phylogenetic analysis of genes for Mg-tetrapyrrole biosynthesis indicates that anoxygenic photosynthetic organisms are ancestral to oxygen-evolving cyanobacteria and that the pathway in purple bacteria may be closest to that of the most ancient phototrophs [16]. By contrast to chlorophyll synthesis, the catabolic side of chlorophyll metabolism has not hitherto been examined in molecular phylogenetic terms, though a detailed survey of the enzymological properties of RCC reductase (RCCR) in a range of terrestrial species carried out by Hörtensteiner et al. [17] allowed some inferences to be drawn about the evolution of the pigment breakdown pathway in land plants. In the present paper we analyse the occurrence of genes for two key enzymes of chlorophyll catabolism (phaeophorbide a oxygenase – PaO – and RCCR; [18]), one post-translational regulator (Sgr; [19]) and two catabolite transporters (WBC23 and MRP2; [20]) in the lineages leading to modern angiosperms.
From photosynthetic eukaryotes to the invasion of land by plants
The significant early events in the evolution of the photosynthetic apparatus comprised diversification of reaction centre and antenna structure, based on chlorophyll and isoprenoids, and organisation and delineation of oxygenic and anoxygenic photosynthesis. According to Strother [21] 'the endosymbiotic origin of plastids...indicates that perhaps all of the original host cell lineages for the algae were phagotrophic...' Based on nutrient conditions and the evolution of food webs in the Palaeo- and Meso-proterozoic ocean [21, 22], it is reasonable to suppose that facultative autotrophy would have been the rule in early photosynthetic organisms. The formation of endosymbiotic relationships resulting in the evolution of plastid-containing eukaryotic cells probably occurred just once in the lineage, although there is evidence of several secondary events, including horizontal gene transfer, too [23–25]. It seems likely that the foundation endosymbiont was mixotrophic in character and that the earliest green eukaryotes were facultatively autotrophic [21, 26]. This is significant for the origin of plant senescence because aspects of the biochemistry and cell biology of plastids in terrestrial plants suggest that the transition from chloroplast to the plastids of senescing leaves (gerontoplasts) or fruit and floral parts (chromoplasts) is a change in status from auto- to hetero-trophy [27]. A strikingly senescence-like response during the change of trophic condition on removal of light and nitrogen source is seen in cultures of Auxenochlorella (formerly Chlorella) protothecoides. Cells turn yellow, accompanied by changes in protein and enzyme activities that resemble those of senescing mesophyll cells [28], and a red pigment is secreted into the medium [29–31]. Chemical analysis shows the pigment to be a bilin derived from chlorophyll by removal of phytol and Mg and by oxygenolysis of the methine bridge between pyrrole groups A and B [32]. This structure and its biochemical origin relate directly to the metabolic sequence for chlorophyll catabolism in angiosperms [33]. Similar production of chlorophyll catabolites has been reported in a Chlamydomonas mutant [34]. The luciferin of the bioluminescent dinoflagellate Pyrocystis lunula is also a bilin degradation product of chlorophyll, though in this case the chlorin macrocycle is opened between rings A and D [35]. A luciferin of similar structure is found in the krill organism Euphausia pacifica [35, 36], presumably originating in ingested phytoplankton. We conclude that at least part of the enzymic pathway of chlorophyll catabolism was present during the aquatic phase of plant evolution and this has led us to seek phylogenetic continuity between genes for trophic responses and pigment catabolism from unicellular algae to angiosperms.
Amongst the genes expressed during the auto- to hetero-trophic transition in Auxenochlorella is an amino acid permease, dee4 [28]. Transcripts of the Arabidopsis homologue of dee4, At1g44100, were identified in isolated nuclei of Arabidopsis phloem cells, suggesting a role in nitrogen translocation from sources to sinks [37]. Bleecker [38] considered nutrient salvage to be a driving force in the evolution of the plant senescence program. Nutrient recovery implies structural differentiation into source and destination tissues, with a transport system between them [39, 40]. To assess their relevance to the evolution of nutrient relations during senescence, we carried out protein sequence tree and expression analyses of dee4 and At1g44100 respectively. We also analysed a NAC gene with a regulatory function in organ development and senescence. Uauy et al. [41] isolated NAM-2, a NAC transcription factor, by positional cloning and demonstrated a regulatory role in nutrient redistribution from senescing leaves to developing grain in cereals. AtNAP, a NAM-like factor, expression of which is closely associated with the senescence process of Arabidopsis rosette leaves [42], was included in our analyses of expression and taxonomic distribution.
From endosymbiont origins of photosynthetic eukaryotes to angiosperms is a sequence of major events including differentiation of two- and three-dimensional body plans and emergence from the aquatic environment onto land [43]. Cell specialisation, intra- and inter-cellular signalling and elaboration of body plan are regulated by homeoprotein transcription factors and the integration of senescence into morphogenetic and adaptive programs is likely to be apparent in the phylogenetic record. Prominent amongst the regulators of signalling networks activated during plant senescence are transcription factors of the Wrky family. Sequence analysis of Wrky53, the most intensively studied of the senescence-related signal-transduction components [44], suggests the point during evolution at which such factors may have became available for networking with the core senescence program.
Appearance of coloured organs in land-plants driven by coevolution
As well as promoting diversification of structure, and adaptation to terrestrial ecological niches, achieving landfall eventually exposed plants to new biotic and abiotic interactions. The ancient role of carotenoids as quenchers of excess light energy intercepted by photosystems [45] acquired new significance in environments where mismatch between photon flux, temperature and the availability of water and nutrients is the rule and a strongly oxidising atmosphere supports the uncontrolled propagation of damage by reactive chemical species. Coevolution between plant pigments and the visual systems of insects and other animals introduced a new role for carotenoids as signalling molecules, advertising to pollinators, to dispersers or to herbivores and other predators [46, 47]. Investigations of the phylogenetic origin of carotenoids in relation to colour changes in senescence and ripening are frustrated by the ubiquity and antiquity of the corresponding genes and the inordinate degree of horizontal gene transfer apparent in the evolutionary record [48, 49]. Nevertheless, we have identified four genes associated with the subcellular organisation and developmental regulation of carotenoid metabolism in senescing and ripening tissues that provide insights into how this aspect of senescence may have evolved. Lipid bodies (plastoglobules) accumulate during the transition from chloroplast to gerontoplast or chromoplast [50]. They have been observed in the plastids of Auxenochlorella during the switch from auto- to hetero-trophy [51]. Plastoglobule-like lipid bodies are very widely distributed amongst prokaryotes [52]. Existing and newly-synthesised carotenoids concentrated in plastoglobules are responsible for the colours of fruits and senescing leaves in some species [8, 53, 54]. We examined the distribution of sequences similar to PAP-Fibrillin, a plastoglobule protein with functions in plastid development and stress responses [55].
Carotenoid metabolism in senescence and ripening is closely integrated with the transdifferentiation of chloroplasts into gerontoplasts and chromoplasts. Chromoplast development is regulated by Or (dnaJ-type) chaperone/transcription factors [56], two of which we included in our analyses. Carotenoid derivatives also have hormonal and cell signalling roles in plants. Genes of the Carotenoid Cleavage Dioxygenase (CCD) group are known to participate in regulation of a number of aspects of development, including leaf senescence [57]. Accordingly, we carried out an analysis of the protein sequences related to that of senescence-associated CCD8.
Another major class of pigments in land-plants comprises products of phenylpropanoid metabolism [58]. Anthocyanins are considered to have adaptive value both in stress responses and in signalling to beneficial or predatory animals, and there is an extensive literature on the significance of the range of possible anthocyanin functions in senescing leaves [8, 59]. By contrast with carotenoids, which are highly hydrophobic and confined to the lipophilic environment of plastid membranes and plastoglobules, anthocyanins are water-soluble and accumulate in the cell vacuole [60]. The behaviour of the two classes of pigment during senescence is indicative of the state of their respective subcellular compartments. The anthocyanin responsible for the red colour of autumn leaves is commonly cyanidin-3-glucoside. The final step in its synthesis is catalysed by anthocyanidin 3-O-glucosyltransferase, encoded by the Bronze1 (Bz1) gene [61]. A myb transcription factor C1 regulates expression of the anthocyanin pathway [62]. We included Bz1 and C1 in our evolutionary survey of senescence-associated genes. As a senescence-related marker for the evolution of specific tonoplast membrane functions we also selected MRP2, a chlorophyll catabolite transporter [63]. The proteome of the vegetative plant cell vacuole is consistent with a lytic role in defence and tissue differentiation [64]. Transposon insertional mutagenesis of See2, a gene of maize encoding a vacuolar processing endopeptidase (VPE) has a range of effects on plant development, including delay of senescence [65]. We carried out an evolutionary survey of See2 and confirmed senescence-related expression of the Arabidopsis homologue At4g32940.
Relationships between the ontogeny and phylogeny of plant senescence
As well as analysing the distribution across plant and microbial taxa of the selection of senescence-related protein sequences described above, we applied the clustering tools in Genevestigator to an extended group of Arabidopsis genes with likely functions in senescence, with the object of identifying common regulatory units. It is also of interest to seek evidence for homologies between terminal physiological changes in different organs, which in turn would begin to answer the question as to whether there is a common senescence program which operates, with variations, in all plant cells, tissues and organs.
Results
Gene expression profiles, protein structures and molecular phylogenies are discussed in relation to chlorophyll catabolism and its control, homeoprotein transcription factors with known functions in senescence, metabolite transporters, carotenoid metabolism and anthocyanin biosynthesis (Table
1
). Many senescence-associated genes have been described but the physiological functions of relatively few of them have been established, and fewer still have been demonstrated to be necessary for initiation or execution of the syndrome [
6
,
7
,
9
]. Those listed in Table
1
have been shown, by mutation, transgenic manipulation or biochemical analysis, to have defined roles in senescence. The tools of phylogenetic analysis were applied to amino acid rather than nucleotide sequences to avoid difficulties with codon usage across the very wide taxonomic scale considered in this study, though where a particular taxon yielded no hit when a critical protein was BLASTed, we checked for the existence of corresponding pseudogenes or other untranslated nucleotide sequence. Since we are principally interested in the first detectable occurrence and subsequent evolutionary continuity of particular protein sequences, we have not explicitly distinguished between orthologues and paralogues, a known issue when establishing phylogenetic and functional relationships [
66
]. The relative paucity of sequence data for many of the species examined is an acknowledged limitation in this study but, with a few exceptions discussed in detail, the analyses reported here make a consistent and biologically plausible picture.
Table 1
Proteins and their corresponding Arabidopsis genes with known functions in senescence, selected for phylogenetic and expression analyses.
Protein

(UniProt code)

Arabidopsisgene (AGI code)

Reference

1

Arabidopsis RCCR(NP_195417)

At4g37000

Chlorophyll catabolism

2

Arabidopsis PaO (NP_190074)

At3g44880

3

Arabidopsis Sgr1 (NP_567673)

At4g22920

4

Arabidopsis WBC23 – envelope FCC transporter (NP_850781)

At5g06530

[20]

5

Arabidopsis Wrky53 (NP_194112)

At4g23810

Cell and tissue specialisation

6

Arabidopsis AtNAP (NP_564966)

At1g69490

[42]

7

Auxenochlorella dee4 – amino acid permease (Q9XFY8)

At1g44100

[28]

8

Arabidopsis Fibrillin (NP_192311)

At4g04020

Plastid trans-differentiation

9

Arabidopsis Carotenoid Cleavage Dioxygenase8 (NP_195007)

At4g32810

[57]

10

Brassica dnaJ chaperone OrI (ABH07405)

At5g61670

11

Arabidopsis dnaJ chaperone OrII (NP_851031)

At5g06130

[56]

12

Zea Bronze1 (P16167)

At5g17050

[61]

Vacuole function

13

Zea myb C1 anthocyanin TF (P10290)

At4g34990

[62]

14

Arabidopsis AtMRP2 ATP transporter (NP_181013)

At2g34660

15

Zea See2 (CAB64545)

At4g32940
In most cases the trees are presented in unrooted radial form and are based on global alignments of protein sequences from one or two representative genera of each major taxon. Tree topologies for individual proteins often deviated from those predicted by the evolutionary relationships between the corresponding taxa. The non-congruence of gene and species trees is a well-described feature of molecular phylogenies and indeed is statistically to be expected [
67
]. Bootstrap values and branch lengths with their error estimations are presented in Additional Files
1
and
2
respectively. The range of senescence-related sequences (Table
1
) is subsequently extended (Figure
1
) for cluster analysis to reveal units of coexpression and developmental relationships amongst plant structures with respect to their senescence programs.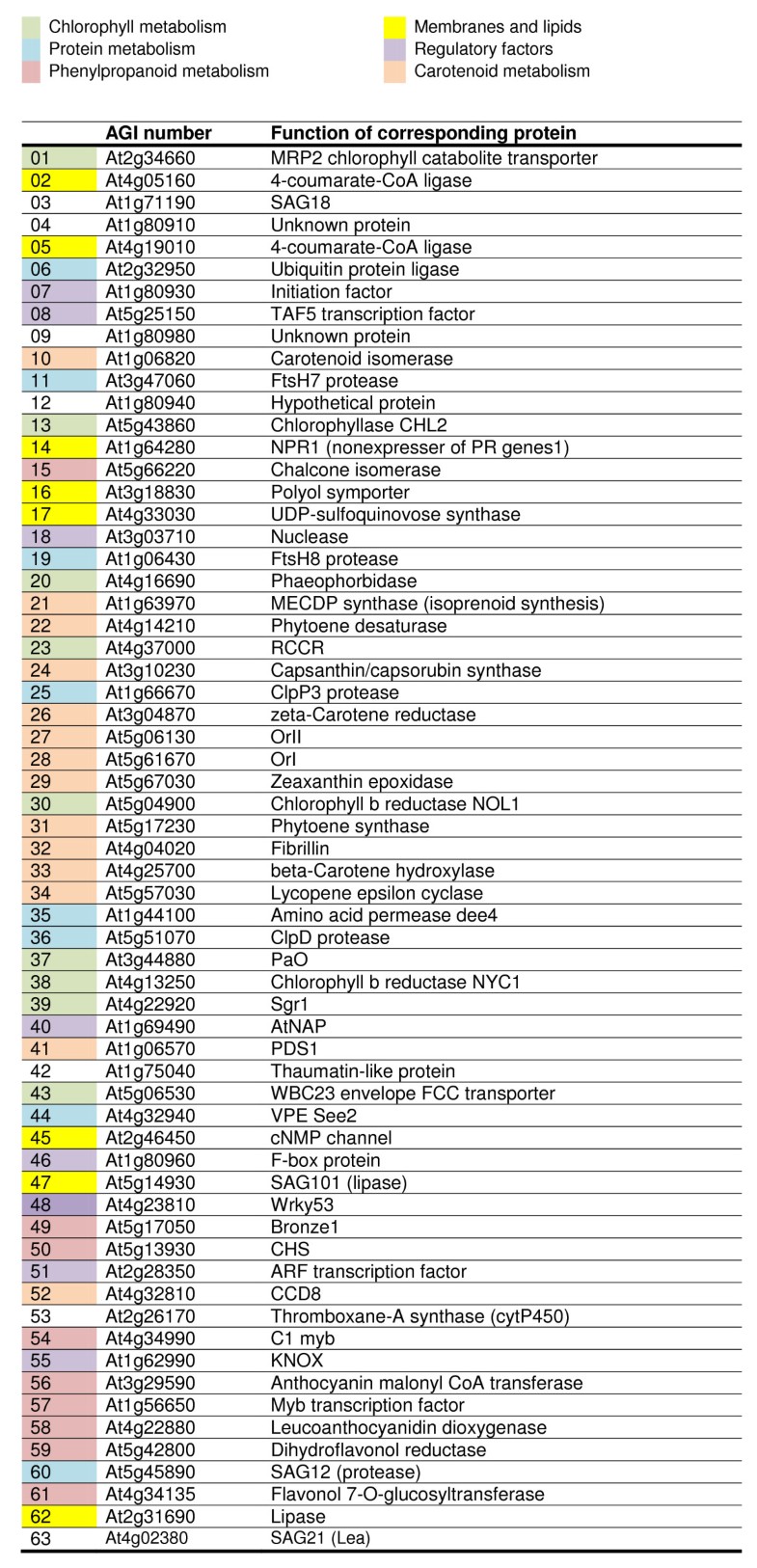 Cell and tissue specialisation
In a study of genes expressed during
Arabidopsis
leaf senescence, Hinderhofer and Zentgraf [
44
] identified Wrky53 as a transcription factor with a major coordinating role in senescence regulation. Phylogenetic analysis of the Wrky family by Zhang and Wang [
74
] established that Wrky53 is a member of Group 3 that appeared before divergence of monocots and dicots but later than diversification of the bryophytes 160 – 330 million years ago (mya). Wrky53 is expressed exclusively in mature and senescing leaves (Figure
2
), suggesting a role beginning in the earliest phase of senescence. Sequence similarities to the protein corresponding to Wrky53 gene At4g23810 (UniProt accession number NP_194112) were analysed and the resulting tree topology was in agreement with that of Zhang and Wang [
74
], with the exception of the appearance of a single hit in
Chlamydomonas
(Figure
9
). The E score for this protein is 2e
-11
and analysis of conserved domains reveals two Wrky superfamily sequences with E-values of 9.7e
-33
and 1.26e
-35
respectively (Figure
9
). We conclude that this represents a true algal Wrky53 homologue and is evidence that the appearance of Group 3 Wrkys may have been significantly earlier than the 330 mya originally inferred.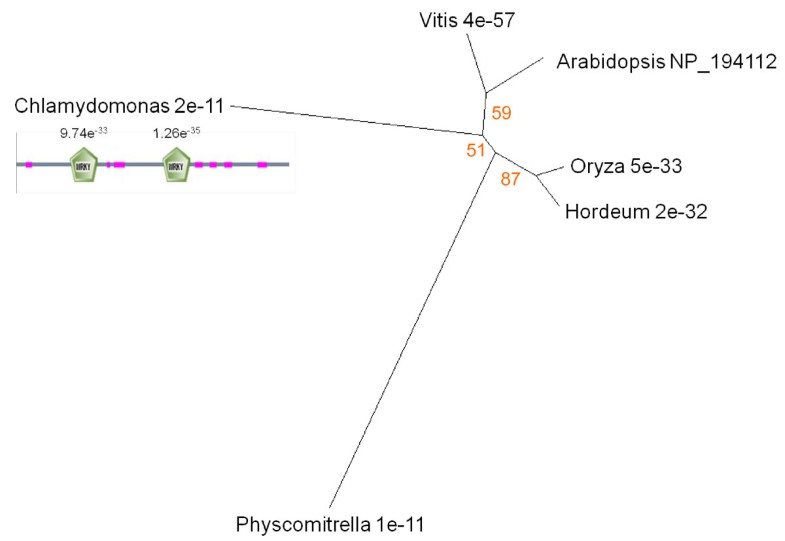 During senescence metabolites are relocated within the cell, from tissue to tissue and from source to sink organs. Uauy et al. [
41
] isolated a NAC transcription factor that corresponded to a major QTL for nutrient mobilisation from vegetative tissues during cereal grain-fill. Guo and Gan [
42
] also identified a senescence-associated NAC factor (AtNAP, AGI At1g69490) in
Arabidopsis
. Figure
2
reiterates the expression patterns reported by Guo and Gan [
42
], confirming strong upregulation in senescing leaves and high levels in cauline leaf, sepal and petal. Alignment of the AtNAP protein (UniProt NP_564966) showed similarity to the cereal sequence. The tree based on protein sequence alignments is presented in Figure
10
. Exhaustive protein and nucleotide BLAST searches support the conclusion that NAP- and NAM-like proteins are exclusively found in land plants.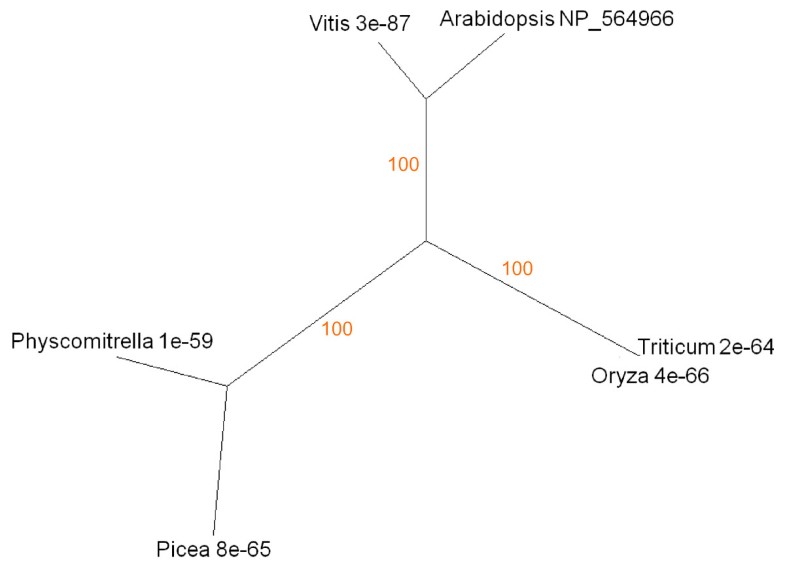 A gene encoding an amino acid permease (dee4, UniProt Q9XFY8) is upregulated when
Auxenochlorella protothecoides
is transferred from auto- to hetero-trophic culture conditions; the
Arabidopsis
homologue (At1g44100) is also upregulated in senescing leaves (Figure
2
) and has been identified in phloem [
37
]. Similar proteins to dee4 occur in angiosperms, mosses and conifers but are not present in taxa that diverged before the appearance of green algae (Figure
11
).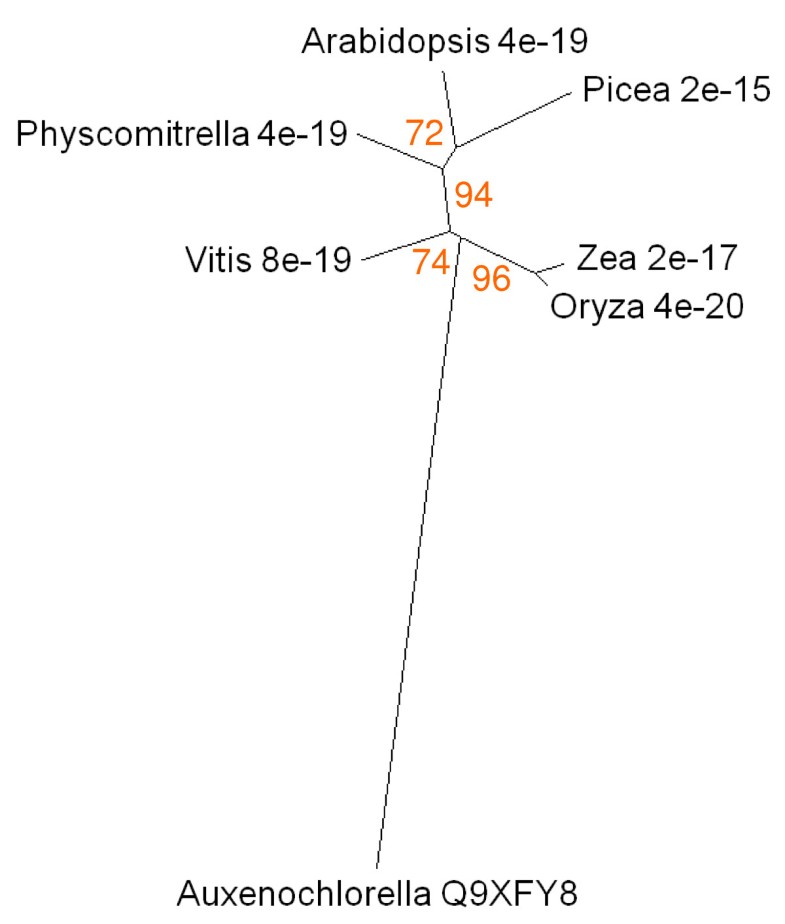 Gerontoplasts and chromoplasts
Plastids differentiate, dedifferentiate and morph from one type to another in a network of developmental transitions (Figure
12
; [
75
–
78
]). Orange and red carotenoids are unmasked, concentrated or synthesised de novo in gerontoplasts and chromoplasts during senescence and ripening [
8
] and are sequestered in plastoglobules that become abundant as chloroplasts transdifferentiate [
55
,
79
]. We examined the expression and sequence relationships of
Arabidopsis
PAP-Fibrillin (UniProt NP_192311, AGI At4g04020), a plastoglobule-associated protein [
55
]. Genevestigator profiling shows expression to be absent from roots and to be prominent in cotyledons, floral parts and leaves (Figure
2
). The protein tree for Fibrillin (Figure
13
) reveals dicot and monocot clusters and a conifer branch with a comparatively low bootstrap value. Eukaryotic unicellular green algae and cyanobacteria make a distinct separate group. The
Ostreococcus
sequence with a high E score appears to be a chimeric protein comprising two additional FHA (forkhead-associated, putative nuclear-signalling) domains, separated from each other and the Fibrillin domain by regions of low complexity (Figure
13
).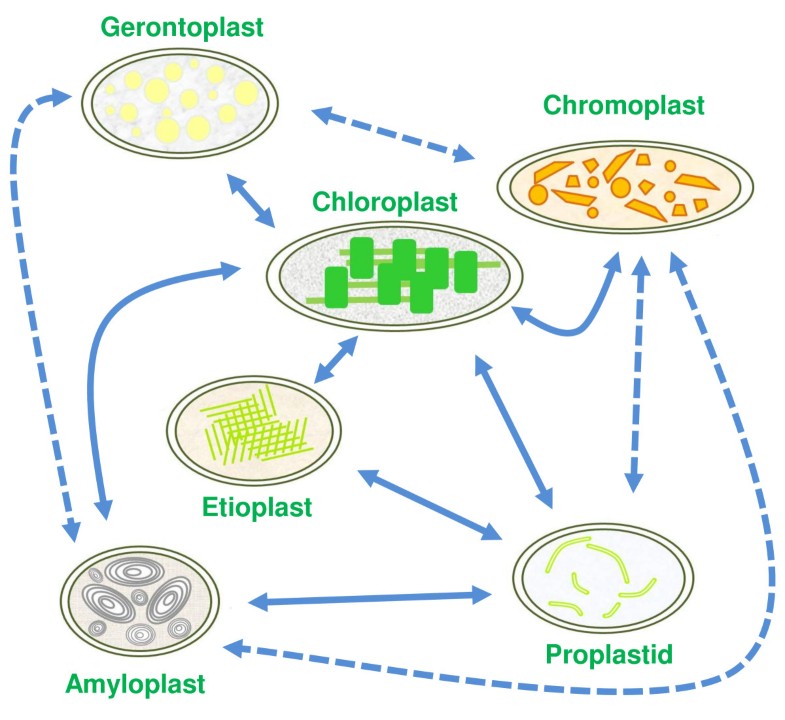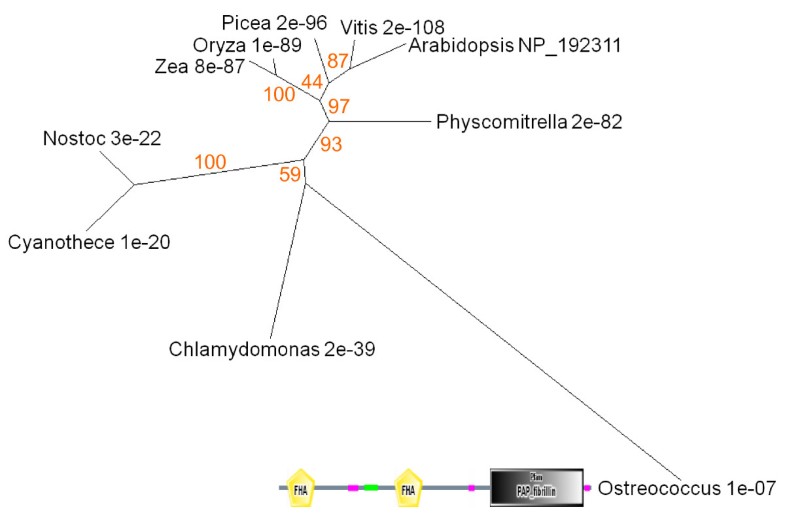 The gene Carotenoid Cleavage Dioxygenase8 (CCD8; UniProt NP_195007, AGI At4g32810) has a regulatory function in branch production, root growth, flower development and leaf senescence [
57
]. It is mostly expressed in shoots, particularly hypocotyl tissues, stem, node and senescent leaf (Figure
2
). The protein is highly conserved from proteobacteria (eg
Coxiella
) to angiosperms (Figure
14
) and a search for conserved domains establishes that CCD8 and its homologues are members of the RPE65 retinal pigment epithelial membrane protein superfamily which includes neoxanthin cleavage enzymes in plants and lignostilbene-α, β-dioxygenase in bacteria.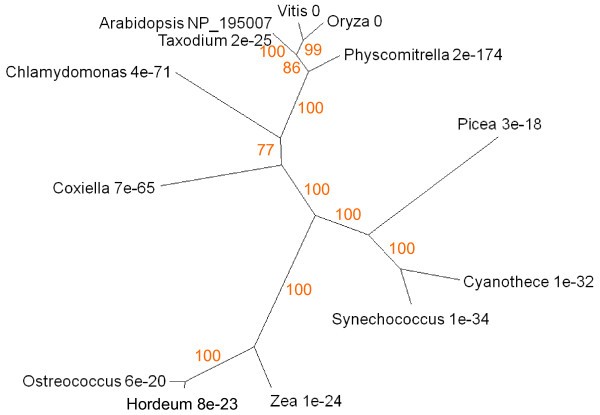 The Or genes of
Brassica
encode proteins of the dnaJ chaperone class that play an important role in the differentiation of chromoplasts [
56
,
80
]. At5g61670 is the
Arabidopsis
gene corresponding to the cauliflower Or protein ABH07405 (UniProt), and is referred to here as OrI. It is expressed in floral parts, cotyledons and in cauline and senescent leaves (Figure
2
). At5g06130 and NP_851031 are the AGI and UniProt codes for a second
Arabidopsis
Or-like dnaJ gene and protein respectively, designated OrII. The expression profile of this gene is broadly similar to that of At5g61670 (Figure
2
), with somewhat stronger expression in senescing leaf, petal, stamen and pedicel. Trees of sequence relationships for OrI and OrII are presented in Figure
15
. Both proteins are highly conserved from prasinophyceans to angiosperms. Prokaryotes gave no significant BLAST hit. The occurrence of Or-like genes in plants that do not differentiate chromoplasts, and their upregulation in a range of tissues including floral parts and senescing leaves (Figure
2
), suggest that they may have a more generic function in plastid transdifferentiation.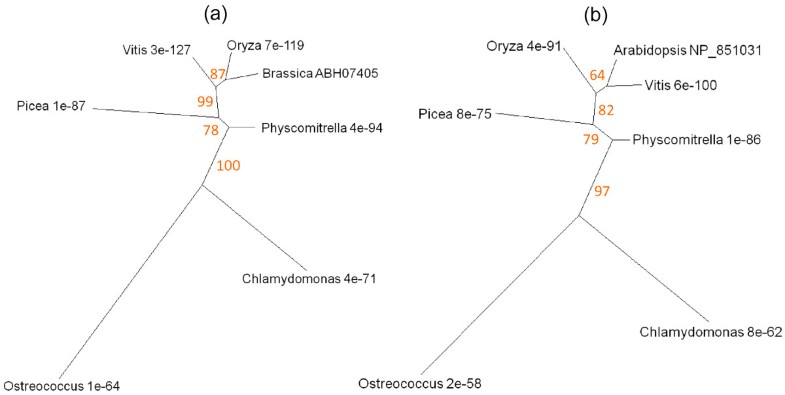 Vacuoles
Anthocyanin production and leaf yellowing are associated with senescence responses to nitrogen limitation, but are genetically independent [
81
]. We analysed the expression and protein sequence relationships of two genes with functions in anthocyanin biosynthesis. Bronze1 (Bz1) encodes the glycosyl transferase that synthesises the red vacuolar pigment cyanidin-3-glucoside.
Zea
Bz1 (UniProt P16167) was aligned with similar sequences; the homologous
Arabidopsis
gene is AGI At5g17050. The anthocyanin pathway is under the control of myb transcription factor C1 (UniProt accession number of
Zea
C1 P10290; AGI code of the homologous
Arabidopsis
gene At4g34990). Both genes are widely expressed in different organs and tissues (Figure
2
). Bz1 is most prominent in senescing leaf. C1 is also expressed in senescing leaf but is most strongly represented in stigma and hypocotyl tissues. The Bz1 tree reveals the occurrence of homologues in angiosperms, conifers and mosses (Figure
16
). At an E value of 1e
-08
, only a single BLAST hit was recorded for a non-tracheophyte. The
Chlamydomonas
protein has a UDP glycosyl transferase region towards the C terminal end but low similarity to Bz1 elsewhere in the polypeptide. A BLAST search against the
Chlamydomonas
protein identifies other plant UDP glycosyl transferases, but E scores are high, and the algal protein aligns more closely with a range of nucleoside glycosyl transferases from metazoa. We conclude that this algal protein has a distant structural relationship to tracheophyte Bz1-like sequences but functions as a transferase in a different metabolic pathway from that leading to anthocyanin synthesis. It follows that the anthocyanin pathway appeared relatively late in the evolution of senescence processes, around the time of cryptogam diversification. By contrast, genes related to C1, the myb transcription factor responsible for regulating expression of anthocyanin synthesis, are well represented throughout plant taxa, from
Zea
to
Ostreococcus
(Figure
17
). BLAST also identifies similar genes in the actinomycete
Frankia
and other bacteria.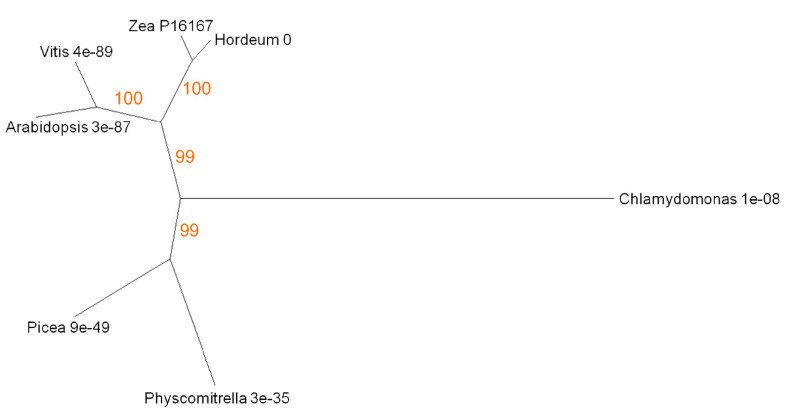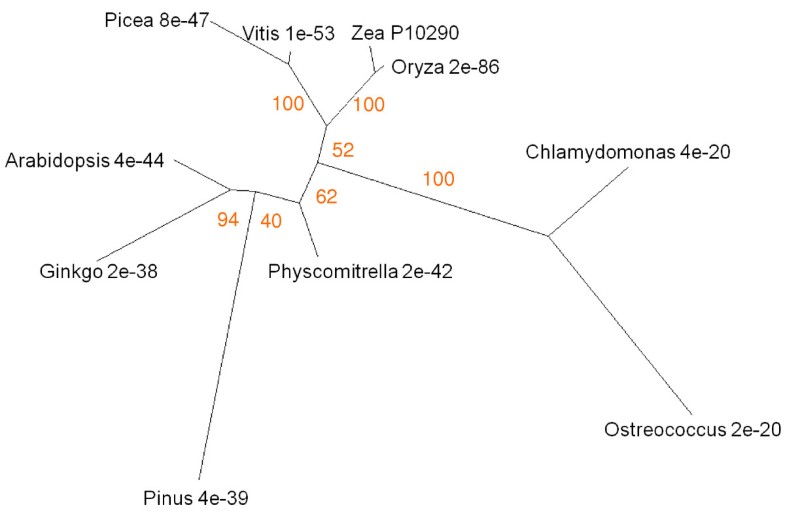 The final products of chlorophyll catabolism are deposited in the vacuole. They are moved across the tonoplast membrane by ATP mediated transporters of the MRP type [
63
]. MRP2 (AGI At2g34660) is expressed in senescent and cauline leaves as well as sepal, stamen and root tissues (Figure
2
). Multidrug-resistance transporter proteins like AtMRP2 are very widely distributed across plants and animals. The tree of the corresponding protein (UniProt NP_181013) identifies a group of closely-related structures within angiosperms, mosses and green algae. Interestingly the MRP2-like protein of the predatory bacterium
Bdellovibrio
aligns to
Arabidopsis
with a lower E score than the cyanobacterial homologue (Figure
18a
). BLAST also identifies a more distantly-diverged, but still highly similar, branch consisting of protozoa (Placozoa, Choanocyte) and vertebrates. The algal and angiosperm MRP2-like sequences have similar domain structures (Figure
18b, c
).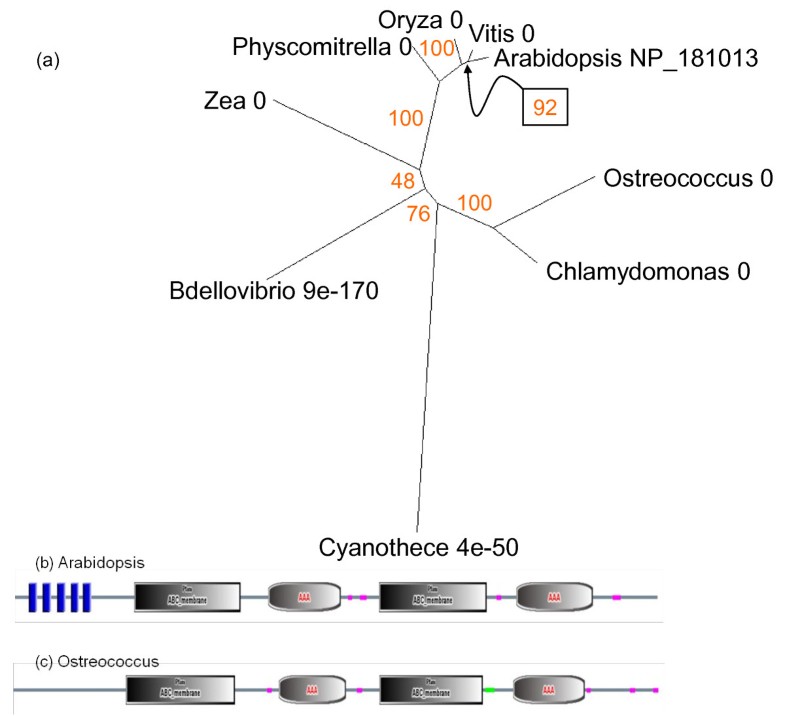 As well as representing a destination for pigments and their catabolites, the vacuole has complex functions in intracellular turnover, lytic processes and defence against biotic invasion. See2 (UniProt CAB64545) is the product of a
Zea
gene originally identified amongst those upregulated during flag leaf senescence [
82
]. It is a representative of the VPE group of protein-processing legumains and may function as part of a proteolytic cascade, rather in the manner of the caspases involved in apoptosis [
83
]. The
Arabidopsis
homologue (At4g32940) is most strongly expressed in senescent and cauline leaf, with some significant signal in petal, sepal, xylem and cork (Figure
2
). BLAST identified similar proteins in angiosperms, conifers, mosses and green algae (Figure
19
). A distantly diverged group comprises marine myxobacteria, diverse vertebrate and invertebrate taxa.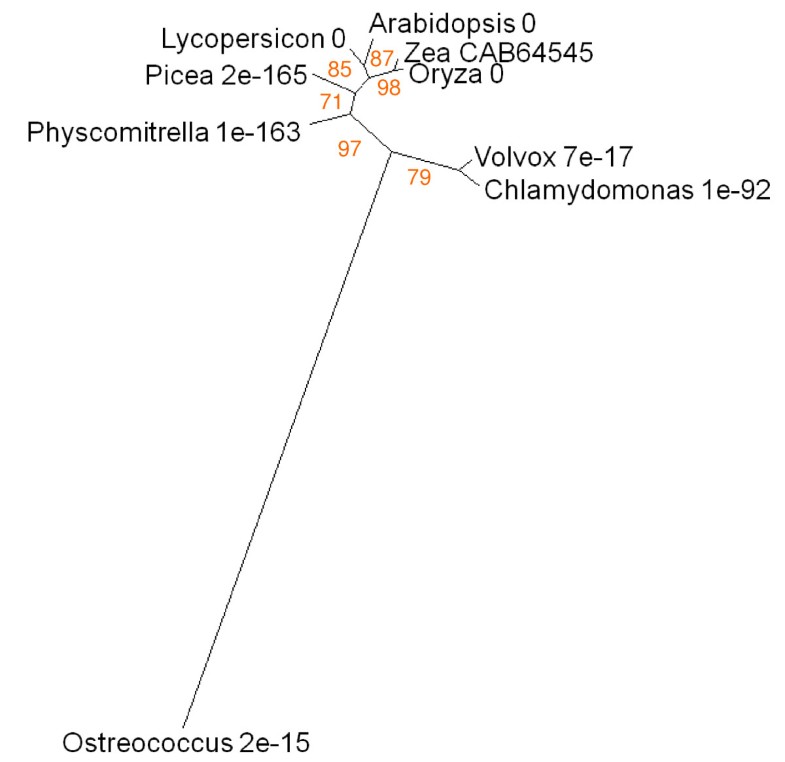 Cluster analysis of senescence-related genes
In the evolution of the senescence program, genes would be expected to show a degree of coordinate expression in groupings that reflect phylogenetic trends. Similarly, a consequence of the differentiation of plant tissues and organs from ancestral structures is the sharing of common senescence programs. We used the Genevestigator Clustering Analysis tool to look for relationships between a collection of
Arabidopsis
genes comprising those listed in Table
1
and a further group that includes the results of a search of the TAIR database for senescence-related genes. Figure
1
lists a total of 63 genes, each of which is assigned to a colour-coded broad functional grouping (no colour indicates an unknown, unclassifiable or hypothetical protein). The Genevestigator heat map shown in Figure
20
clusters these genes according to profile and tissue, in the order left to right in which they are listed in Figure
1
. The distribution of colour codes indicates blocks of genes with common functions and coordinated expression patterns. Tissues with similar complements of expressed genes are hierarchically arranged close to each other. The gene and tissue associations presented in Figure
20
are suggestive of developmental and evolutionary relationships that are considered further in the Discussion section below.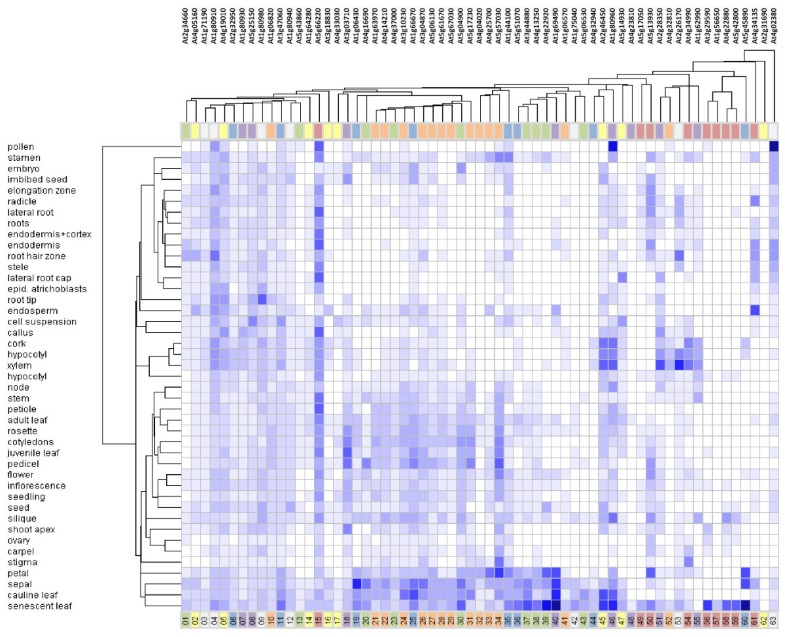 Discussion
The present account of the evolutionary origins of plant senescence seeks to follow the major features of the syndrome in angiosperms through the lineage of organisms leading from the earliest phototrophs, as revealed by analysing sequence relationships among key proteins. Additional File
3
summarises innovations in the evolutionary time-line that are relevant to the construction of a senescence program integrated into plant development and adaptation, and represents a framework for the discussion that follows. Figure
21
relates this time-line to the phylogenetic origins of the senescence-related genes analysed in the present paper. The foundation of the argument developed here is that a core of primary metabolic processes concerned with building and maintaining the photoreceptors of the earliest prokaryotes has been invested with successive layers of adaptive metabolic and regulatory circuitry as factors in the evolution of complexity in trophic status, life-cycle, anatomy, morphology, adaptation to new environments and biotic and abiotic challenges.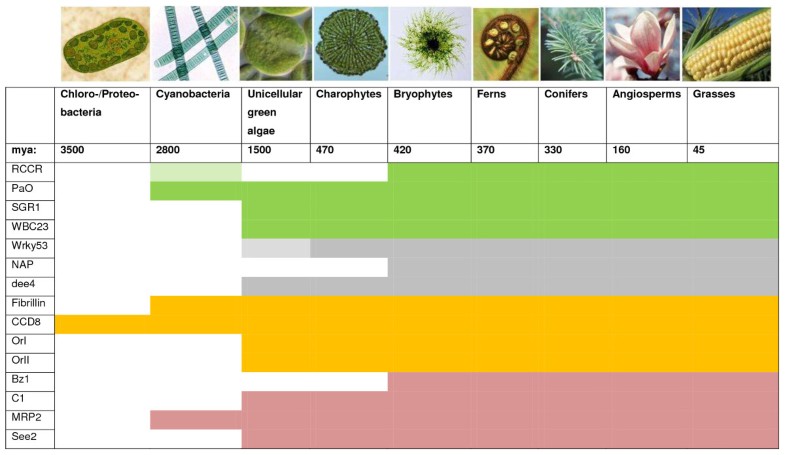 Conclusion
In recent times the quantity and quality of DNA sequence information from plants across the taxonomic and evolutionary range has increased greatly. At the same time our understanding of the molecular and cell biology of plant senescence has developed to the point where we can assign functions to some enzymes and regulatory proteins. In the present paper we have taken the first steps towards a synthesis that allows us to frame, and begin to test, hypotheses about the evolutionary origins of angiosperm senescence, its control and integration into plant development and adaptation. Because major gaps remain in the taxonomic spread of sequenced species, and the assignment of functions to senescence-associated genes, the arguments presented here include a number of conjectural interpolations and extrapolations. For example, it is something of an article of faith for molecular evolution studies to consider a modern member of an ancient phylum (the lycopod Selaginella, for example) as representative of the genomic status of its newly-evolved ancestral form. Many more sequences from many more species, particularly covering the span between the cyanobacteria and the angiosperms, are needed before this belief can be held with full confidence. For the specific case of plant senescence, the scarcity of sequences from ferns and charophytes is a particular limitation. Even so, the present study has allowed a feasible scheme to be proposed that accounts for much of the available information on senescence-related genes, their functions and interactions.
Declarations
Acknowledgements
Howard Thomas is grateful to the Leverhulme Trust for the award of an Emeritus Fellowship. Lin Huang and Helen Ougham acknowledge financial support from a UK Biotechnology and Biological Sciences Research Council Strategic Programme Grant. We thank Joe Ironside for helpful discussion.
Authors' Affiliations
(1)
IBERS, Aberystwyth University, Ceredigion, UK
(2)
IBERS, Aberystwyth University, Plas Gogerddan, Aberystwyth, Ceredigion, UK
Copyright
© Thomas et al; licensee BioMed Central Ltd. 2009
This article is published under license to BioMed Central Ltd. This is an Open Access article distributed under the terms of the Creative Commons Attribution License (http://creativecommons.org/licenses/by/2.0), which permits unrestricted use, distribution, and reproduction in any medium, provided the original work is properly cited.