Research article

Open Access
Mitochondrial and Y-chromosome diversity of the Tharus (Nepal): a reservoir of genetic variation
BMC Evolutionary Biology
2009
9:154
Received: 22 December 2008
Accepted: 02 July 2009
Published: 02 July 2009
Abstract
Background
Central Asia and the Indian subcontinent represent an area considered as a source and a reservoir for human genetic diversity, with many markers taking root here, most of which are the ancestral state of eastern and western haplogroups, while others are local. Between these two regions, Terai (Nepal) is a pivotal passageway allowing, in different times, multiple population interactions, although because of its highly malarial environment, it was scarcely inhabited until a few decades ago, when malaria was eradicated. One of the oldest and the largest indigenous people of Terai is represented by the malaria resistant Tharus, whose gene pool could still retain traces of ancient complex interactions. Until now, however, investigations on their genetic structure have been scarce mainly identifying East Asian signatures.
Results
High-resolution analyses of mitochondrial-DNA (including 34 complete sequences) and Y-chromosome (67 SNPs and 12 STRs) variations carried out in 173 Tharus (two groups from Central and one from Eastern Terai), and 104 Indians (Hindus from Terai and New Delhi and tribals from Andhra Pradesh) allowed the identification of three principal components: East Asian, West Eurasian and Indian, the last including both local and inter-regional sub-components, at least for the Y chromosome.
Conclusion
Although remarkable quantitative and qualitative differences appear among the various population groups and also between sexes within the same group, many mitochondrial-DNA and Y-chromosome lineages are shared or derived from ancient Indian haplogroups, thus revealing a deep shared ancestry between Tharus and Indians. Interestingly, the local Y-chromosome Indian component observed in the Andhra-Pradesh tribals is present in all Tharu groups, whereas the inter-regional component strongly prevails in the two Hindu samples and other Nepalese populations.
The complete sequencing of mtDNAs from unresolved haplogroups also provided informative markers that greatly improved the mtDNA phylogeny and allowed the identification of ancient relationships between Tharus and Malaysia, the Andaman Islands and Japan as well as between India and North and East Africa. Overall, this study gives a paradigmatic example of the importance of genetic isolates in revealing variants not easily detectable in the general population.
Keywords
Indian SubcontinentMalaria EradicationIndian ComponentHaplogroup FrequencyNepalese Population
Background
Terai, a highly malarial region of South Nepal bordering on India (Figure
1
), was until a few decades ago, when malaria was eradicated, inhabited almost exclusively by Tharus, one of the oldest and the largest indigenous people of Terai. This group is known for their resistance to malaria as evidenced by their decreased malarial morbidity compared to sympatric Nepalese populations [
1
], a phenomenon not completely clarified at the genetic level. It was only after substantially full malaria eradication, through a program for malaria control started in 1956, that several other Nepalese populations migrated and settled in Terai. Tharus live throughout the length of the country (mainly in the northern strip of Terai) in villages very close to, or even inside, the previously malarial forested zones. Although culturally and linguistically very heterogeneous, they consider themselves as a unique tribal entity subdivided into three main groups (western, central and eastern).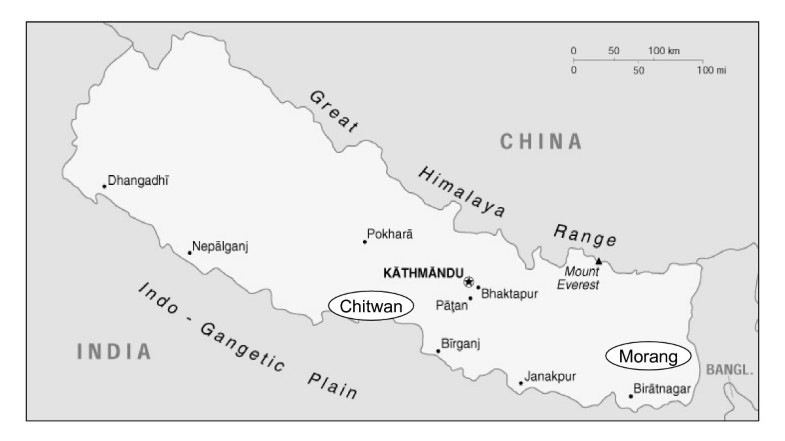 Because of its geographic position in a boundary area of Central Asia, Terai was a preferential passageway during the dispersal of many prehistoric and historic populations, thus Tharus might have retained genetic traces of ancient migratory events. Until 1980, however, their genetic structure was almost unknown and, on the basis of some classical serum markers [2] and physical features [3], they were considered a 'Mongoloid' tribe. Subsequent studies, carried out on mitochondrial DNA (mtDNA) RFLPs, however, provided further support for the presence of a Tharu East Asian component [4–8] and showed other genetic characteristics of unclear origin [9]. In addition, heterogeneity among the three groups was also evidenced [5, 9] by the different distribution of the malarial related α-thal gene [10].
Even in more recent phylogeographic studies encompassing a large number of populations and including Tharu samples, mostly from Uttar Pradesh [11–16], the Tharu genetic structure was not completely clarified.
The present availability of more advanced techniques, which allow molecular analyses at a much higher level of resolution with extremely small amounts of DNA, prompted us to once again address the issue of the genetic origin of the Tharus, by analyzing both their mtDNA (including sequencing of entire mtDNAs) and Y-chromosome (SNPs and STRs) variation.
Discussion
The analysis of mtDNA and Y chromosome polymorphisms in three Tharu samples from Central and Eastern Terai has enlightened the presence of three main components, Oriental, West Eurasian and Indian, that show remarkable quantitative and qualitative differences among the three groups as well as between sexes within the same group.
The East Asian signature of the Tharus
Like Tibetans and other people of Nepal [37] the greater part of the East Asian influence in the Tharus may be mainly traced back to Tibeto-Burman speakers who entered Northeast India within the last 4.2 ky [78] and likely influenced them through a founder effect. Indeed, East Asian mtDNA haplogroups present in the Tharu samples show lower genetic variation: all control-region haplotypes are similar [see Additional file 1] and do not cover the variety found within the Tibeto-Burman populations [79]. In particular, B5a, D4, G2a mtDNAs are present among Tharus, whereas B4, D5 mtDNAs as well as haplogroups A, M7 and R10 were not observed. Signatures of this influence are also seen in the Tharu Y chromosomes that are almost completely represented by haplogroup O3-M117. Interestingly, Tibetan markers not present in the other Nepalese populations [37] are revealed in the Central Tharus by haplogroups D (4.5%) and Q (0.7%) of the Y chromosome.
The Middle Eastern signature of the Tharus
West Eurasian markers are virtually absent in the mtDNA of Tharus, whereas they are present in their Y chromosomes essentially as J2-M410* and J2-M241*, with a frequency peak (30%) in the eastern sample, where three E-M35 chromosomes were also observed. These latter, all displaying the same microsatellite haplotype, could be attributed to recent gene flow from the Middle East or, as previously reported for the Indian Siddis, from Africa [80, 81]. By contrast, both sub-haplogroups of J are indicative of various connections with the Middle East. J-M410, which was associated with the first farmer dispersal in Europe [13, 82–84], shows variance values of 0.346 in the Tharus and 0.339 in Indian groups [15]. These values are lower than those (0.467 and 0.479) observed in Anatolia [13, 82] and (0.410) in Southeast Europe [83, 84] and therefore are compatible with a dispersal of this lineage from somewhere in the Middle East/Asia Minor. The situation of J-M241* is more difficult to interpret. The variance of this lineage shows a value of 0.437 in the Tharus which is higher than that (0.328) obtained from the Indian data of Sengupta et al. [15], thus suggesting a pre-Neolithic presence of J-M241* in the Indian subcontinent.
The Indian background
A great majority of the Tharu mtDNA and Y-chromosome gene pools is represented by lineages shared or derived from Indian haplogroups. In particular, Tharus share with Indians ancient mtDNA haplogroups (see for example, the M clades M31, M33, M35, M38, the new M52 and also the R30, almost all dated ~30 ky) and Y-chromosome haplogroups (such as H-M69, O2-P31Tdel, R1-M17* and R2-M124) that, in the isolated malaria-resistant Tharus of Terai, could be retained. Therefore, Tharus might have been structured in situ by major demographic episodes of the past, and then by relatively minor gene flows due to subsequent migrations.
Tharu gene pool: a reservoir of variation generated by local differentiations and by traces of different migratory routes
The remarkable qualitative heterogeneity of the three components and of the age of their haplogroups in the total populations and in their sub-groups [see Figures 4 and 5 and Additional file 3] makes it possible to set them in a temporal background and to identify links between the various populations of the Indian subcontinent, as well as with populations outside this area.
Of particular interest is the link emerging between Tharus and tribals from Andhra Pradesh, as well illustrated by the Y-chromosome PCA plots (Figure
8
) and by the high prevalence in these two populations of the local Y-chromosome haplogroup component (Figure
9
), in comparison to the Hindus and to the other populations of Nepal [
37
] where the inter-regional component is clearly predominant. This further supports a deep common ancestry between Tharus and Indians, probably due to the legacy of the first settlers who arrived from the Indian coasts during the out-of-Africa dispersal. Subsequently, the high level of consanguinity inside numerous social boundaries, along with the influences of evolutionary forces such as long-term isolation, could be responsible for the development of local genetic variants stemming out from the same founders, as seen for mtDNA haplogroups M43, M51, M52, R30a in figures
4
and
5
.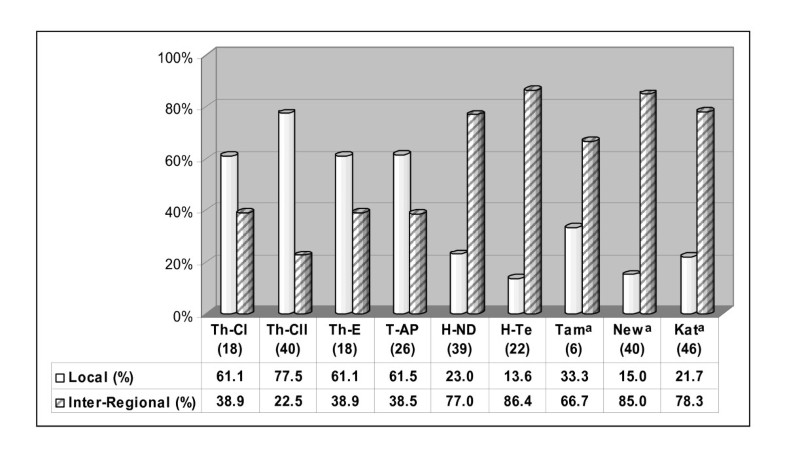 Useful in further elucidating and deepening these processes has been the complete sequencing of informative mtDNAs, especially belonging to haplogroup M.
The links between the Central Tharus and the Andaman Islanders through Northeast India (Hg M31), between the Eastern Tharus and Japan (Hg R30) and between Central Tharus and Malaysia (Hg M21), are ancient. However, whereas our results are in agreement with an Indian ancestor for haplogroup M31 [27], they are not informative about the origin of haplogroup M21 (observed in two Tharus-CII), given its Southeast Asian frequency and variation [44]. Haplogroup R30 could represent a relic of the postulated out-of-Africa South Coastal Route [24], whereas M33, together with U9a, indicate ancient links of India with North and East Africa. These events of gene flow, however, according to the divergence times (20.6 + 10.3 and 23.1 + 7.7 ky, respectively), would have occurred more recently than those previously described and dated to about 40–45 ky [43].
Sex-specific influences
Clear sex-biased frequencies emerged from these analyses. This is particularly evident for the East Asian contribution that shows a decreasing trend from Central to Eastern Tharus and is more strongly represented in the mtDNA than in the Y-chromosome data set. By contrast, the West Eurasian contribution, extremely scarce and even absent in the Tharu mtDNA, accounts from 12% to 30% of the Y-chromosome data set. As for the Indian component, it is well represented in all groups, with the highest frequencies in the Eastern Tharu mtDNA and in the Y chromosomes of Tharu-CII.
Apart from genetic drift, these sex-specific influences can be ascribed to all those human movements with different male/female composition. Thus, whereas the first human dispersals involved both males and females, more recent immigrations, involving mainly men [85], gradually diluted the ancient local Y-chromosome pool. A clear example of a recent sex-biased influence emerged in the comparison between lower and the northern upper casts, the latter receiving in the last few thousand years, a Indo-European male genetic input from the North [86, 87]. Thus, the differentiation between tribal and non tribal groups is evident for the Y chromosome (Figure 8) whereas a major similarity characterizes the two groups for mitochondrial DNA (Figures 7).
Comparison with other Nepalese populations
By considering the Nepalese populations examined by Gayden et al. [37], apart from the homogeneous Tamang sample that displays almost exclusively the East Asian haplogroup O3-M134, the Newar and Kathmandu groups, like Tharus, show an important Indian component. However, whereas in the first two, the inter-regional haplogroups are most represented, in the Tharus the local ones are prevalent (Figure 9). Both quantitative and qualitative differences emerge from the East Asian component: on the whole it is most frequent and heterogeneous among Tharus, especially in the Chitwan groups which, in addition to the frequent Hg-O3-M117, show the Hgs D and Q, reflecting a Tibetan influence. The West Eurasian component, virtually absent in the Tibetan sample, is represented in Newar and Kathmandu groups with frequencies of 7.6% and 10.4%, respectively. It is interesting to note however, that the Newar sample in addition shows a substantial presence (10.6%) of the R1-M269 haplogroup not found in all the other examined populations.
Conclusion
The analyses carried out on the mtDNA and Y chromosome of the Tharus, one of the oldest and the largest indigenous people of Terai, have shown a complex genetic structure within which are identifiable: i) a deep common ancestry between Tharus and Indians, not previously reported, more evident for mtDNA but also revealed by the prevalence of the local Indian Y-chromosome subcomponent, as in the tribals of Andhra Pradesh; ii) a significant East Asian genetic contribution both in the male and female gene pool; iii) a western heritage, clearly evident for the Y-chromosome; iv) a remarkable heterogeneity of the Tharu population (with the Eastern Tharus more dissimilar to the others) ascribable both to various exogenous influences and to subgroup specific lineages stemming from a shared genetic background with Indians.
Particularly informative has been the complete mtDNA sequencing that further supports a deep differentiation of mtDNA haplogroups in the Indian subcontinent, indicating that some branches are geographically or socially specific, while others are widespread. The improvement in the mtDNA phylogeny has also allowed the identification of ancient relationships between Tharus, not only with the Indian subcontinent area, including Pakistan, but also with the Andaman Islands, Malaysia, and Japan, as well as between India and North and East Africa. The new sequence data also allow a better definition of the genetic relationships among Indian populations at the microgeographic level. Indeed many control-region data from the literature, if compared to the mtDNA sequences of the present study can now be classified into known haplogroups.
Moreover, the importance of genetic isolates in revealing variants not easily detectable in the general population has clearly emerged.
Declarations
Acknowledgements
This research received support from Progetti Ricerca Interesse Nazionale 2007 (Italian Ministry of the University) (to O.S. and A.T.), Ministero degli Affari Esteri (to O.S.) and Compagnia di San Paolo (to O.S. and A.T.).
Authors' Affiliations
(1)
Dipartimento di Genetica e Microbiologia, Università di Pavia, Pavia, Italy
(2)
Dipartimento di Biologia Cellulare e Ambientale, Università di Perugia, Perugia, Italy
(3)
Dipartimento di Biologia, Università di Roma 'Tor Vergata', Roma, Italy
(4)
Current address: Human Evolutionary Genetics, CNRS URA 3012, Institut Pasteur, Paris, France
Copyright
© Fornarino et al; licensee BioMed Central Ltd. 2009
This article is published under license to BioMed Central Ltd. This is an Open Access article distributed under the terms of the Creative Commons Attribution License (http://creativecommons.org/licenses/by/2.0), which permits unrestricted use, distribution, and reproduction in any medium, provided the original work is properly cited.