Research article

Open Access
Gene flow persists millions of years after speciation in Heliconiusbutterflies
BMC Evolutionary Biology
2008
8:98
Received: 26 November 2007
Accepted: 27 March 2008
Published: 27 March 2008
Abstract
Background
Hybridization, or the interbreeding of two species, is now recognized as an important process in the evolution of many organisms. However, the extent to which hybridization results in the transfer of genetic material across the species boundary (introgression) remains unknown in many systems, as does the length of time after initial divergence that the species boundary remains porous to such gene flow.
Results
Here I use genome-wide genotypic and DNA sequence data to show that there is introgression and admixture between the melpomene/cydno and silvaniform clades of the butterfly genus Heliconius, groups that separated from one another as many as 30 million generations ago. Estimates of historical migration based on 523 DNA sequences from 14 genes suggest unidirectional gene flow from the melpomene/cydno clade into the silvaniform clade. Furthermore, genetic clustering based on 520 amplified fragment length polymorphisms (AFLPs) identified multiple individuals of mixed ancestry showing that introgression is on-going.
Conclusion
These results demonstrate that genomes can remain porous to gene flow very long after initial divergence. This, in turn, greatly expands the evolutionary potential afforded by introgression. Phenotypic and species diversity in a wide variety of organisms, including Heliconius, have likely arisen from introgressive hybridization. Evidence for continuous gene flow over millions of years points to introgression as a potentially important source of genetic variation to fuel the evolution of novel forms.
Keywords
Gene FlowTriose Phosphate IsomeraseIntrogressive HybridizationMixed AncestryAFLP Locus
Background
Hybridization has long been recognized as an important mechanism of diversification in plants [1, 2], and the exchange of genetic material via horizontal gene transfer has played a significant role in the evolution of many prokaryotic genomes [3]. In animals however, hybridization has historically been viewed as rare and evolutionarily inconsequential [4]. Despite this bias in opinion, we now know that hybridization is relatively wide-spread among animal species [5], and in some instances, it has likely had important evolutionary ramifications, such as in the origin of new species [6–10]. Surveys of hybridization in animals show that it occurs predominantly between closely-related sister species [5], and well-characterized examples of interspecific gene flow generally involve species that diverged very recently [10–13]. These observations are consistent with theory and data which show that genetic incompatibilities that result in hybrid sterility and inviability accumulate as species diverge [14]. Hybrid sterility and inviability, in turn, reduce or eliminate the opportunity for gene exchange. Despite these general trends, there are occasional examples of hybridization between distantly-related non-sister species in various animal groups [15–20]. Do these cases result in the long-term sharing of genetic material or are they simply evolutionary dead-ends?
To address this question I focused on the Neotropical butterfly genus
Heliconius
, a group well known for its diversity of mimetic wing patterns and for extensive hybridization [
21
]. As in other organisms, most hybridization in
Heliconius
occurs between closely-related species and subspecies [
21
]. Among these groups hybridization is known to result in gene flow [
22
–
24
]. However, members of two ecologically and morphologically distinct
Heliconius
subgroups, the
melpomene
/
cydno
clade and the silvaniform clade (Figure
1
), also occasionally hybridize with one another [
21
,
25
]. In captivity, first-generation and backcross hybrids have resulted from multiple crosses between the two clades [
21
,
26
], and there are at least eleven suspected hybrids that have been collected in the field [
21
,
25
,
27
]. Based on phenotype and collection location, four of these field-caught specimens are believed to be hybrids between
H. melpomene
and
H. numata
, five are believed to be hybrids between
H. melpomene
and
H. ethilla
, and two are believed to be hybrids between
H. melpomene
and
H. hecale
[
27
]. Recent genetic data demonstrated that one of these suspected
H. melpomene
/
H. ethilla
hybrids was indeed an F
1
hybrid [
25
].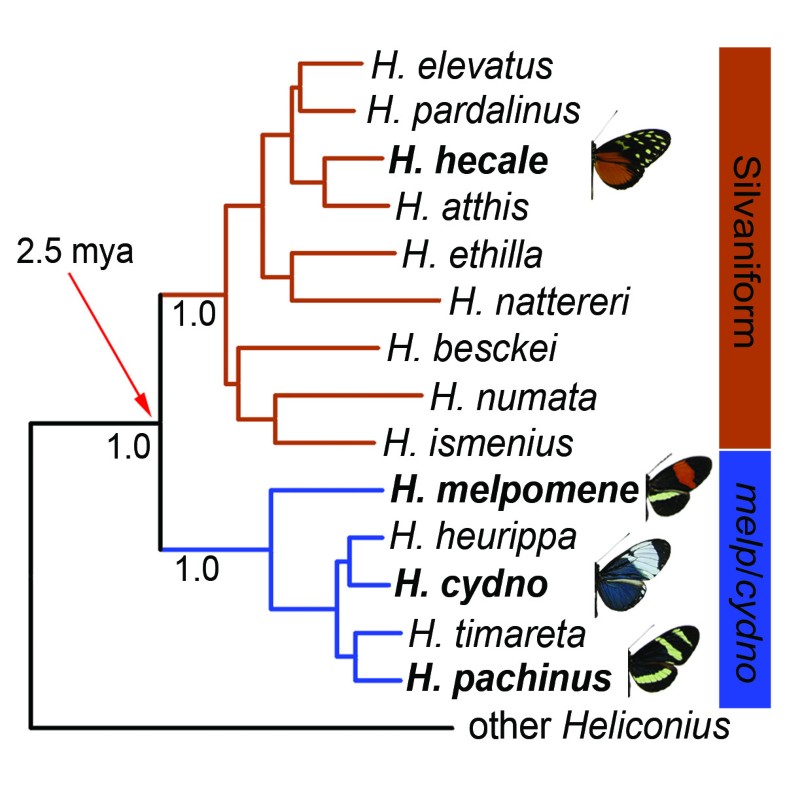 While the existence of rare hybrids between the melpomene/cydno and silvaniform clades provides a potential avenue for gene flow between them, it is unknown whether introgression occurs over these large phylogenetic distances. To determine whether these distantly related groups continue to exchange genes, I used two complementary population genetic datasets to measure the extent of historical gene flow and contemporary admixture between sympatric populations of the two clades.
Conclusion
These data suggest that the process of divergence that ultimately results in reproductively isolated species can be prolonged. The fact that genomes can remain open to gene flow very long after the speciation process is initiated greatly expands the evolutionary novelty that can be generated from introgression. Some portion of the phenotypic and species diversity in Heliconius has very likely arisen from introgressive hybridization [6, 26]. The results presented here suggest that the melpomene/cydno and silvaniform clades of Heliconius have experienced continuous gene flow over millions of years. Thus, introgression has had the potential to provide a ready source of genetic variation to fuel this expansive adaptive radiation. For many organisms, even rare hybridization with distantly related species may allow for the continued exchange of genetic material which may serve as a long-term source of variation for adaptive change.
Declarations
Acknowledgements
I thank Larry Gilbert, Ulrich Mueller, Joan Strassmann, Dave Queller, Lauren Blume, Laura Young, Andres Vega, and Kenny Kronforst for facilitating this research. I also thank reviewers for comments on the manuscript. This work was funded by National Science Foundation Grants DEB 0415718 & DEB 0640512.
Authors' Affiliations
(1)
FAS Center for Systems Biology, Harvard University, Cambridge, USA
Copyright
© Kronforst; licensee BioMed Central Ltd. 2008
This article is published under license to BioMed Central Ltd. This is an Open Access article distributed under the terms of the Creative Commons Attribution License (http://creativecommons.org/licenses/by/2.0), which permits unrestricted use, distribution, and reproduction in any medium, provided the original work is properly cited.