Research article

Open Access
Evolution of the parasitic wasp subfamily Rogadinae (Braconidae): phylogeny and evolution of lepidopteran host ranges and mummy characteristics
BMC Evolutionary Biology
2008
8:329
Received: 03 July 2008
Accepted: 04 December 2008
Published: 04 December 2008
Abstract
Background
The braconid subfamily Rogadinae is a large, cosmopolitan group of endoparasitoid wasps characterised by 'mummifying' their lepidopteran host larvae, from which the adult subsequently emerges. Rogadines attack a variety of both macro- and microlepidopteran taxa, although the speciose genus Aleiodes almost exclusively attacks macrolepidopterans. Here, we investigate the phylogenetic history of the Rogadinae, revise their higher-level classification and assess the evolution of their host ranges and mummy types. We also assess the divergence times within the subfamily and discuss the reasons for the extraordinary evolutionary diversification of Aleiodes.
Results
Our Bayesian analyses weakly support the monophyly of the subfamily. A clade comprising all Aleiodes species and some other taxa is not nested within the tribe Rogadini as previously supposed, but instead is recovered as sister to the Yeliconini, with the remaining Rogadini genera being recovered as sister to the Stiropiini. The Rogadinae is estimated to have originated during the mid to late Eocene, 36.1–51.62 MYA. Molecular dating gives a more recent origin for the Aleiodes clade (17.98–41.76 MYA) compared to the origins proposed for two of its principal lepidopteran host groups (Noctuidae: 60.7–113.4 MYA; Geometridae 48–62 MYA). The Bayesian ancestral reconstruction of the emergence habits from the mummified hosts weakly recovered an anterior emergence as the ancestral condition for the subfamily. Producing a hard mummy has evolved at various times independently, though most of the species with this biology belong to the Aleiodes clade.
Conclusion
Based on our results, we erect the tribe Aleiodini nov. to include Aleiodes and Heterogamus stat. rev. Cordylorhogas, Pholichora and Hemigyroneuron are synonymised with Aleiodes. The molecular dating of clades and the ancestral reconstruction of host ranges support the hypothesis that radiation within Aleiodes s. s. was due to host recruitment leading to host range expansion followed by speciation, and not to parasitoid-host coevolution. Within the Rogadinae, variation in the site of emergence from the mummified host probably evolved as a consequence of the mummy's site and mode of formation, and the extent of mummy tanning/hardness to the degree of protection needed in relation to the cost of providing it.
Keywords
Posterior ProbabilitySister GroupMajority Rule Consensus TreeMuch Recent Common AncestorBaltic Amber
Background
Approximately one out of ten insect species is a parasitoid, that is, their larvae develop by feeding on or in other arthropods, which they eventually kill. Most parasitoid insects are hymenopterans, and an important fraction of these belong to the family Braconidae. Study of insect parasitoids is important in order to characterise their biodiversity, understand their evolution, and in some cases make use of their parasitic abilities for practical purposes, such as biological pest control [
1
]. In this paper we focus on the evolution of the Braconidae subfamily Rogadinae, a cosmopolitan and highly diverse group of Lepidoptera-parasitizing wasps with exclusively koinobiont biology, i.e., allowing the recovery and subsequent temporary development of the host after attack [
2
–
4
]. The rogadines are currently divided into four tribes, the Clinocentrini, Stiropiini, Yeliconini and Rogadini [
5
–
7
] (Figure
1
). The latter is by far the most diverse as it contains the highly speciose and widely distributed genus
Aleiodes
Wesmael, with more than 300 of the approximately 500 species currently described for the subfamily [
5
–
7
]. Rogadines are currently defined only by a single biological synapomorphy, the 'mummification' of the host larvae [
5
], whereby the wasp deposits her egg (or eggs in a few cases) inside a host caterpillar which, after the parasitoid larva has completed feeding, turns into a variously hardened and tanned mummy within which the parasitoid pupates. It has been proposed that this complex strategy has resulted from selective pressures that are intimately related to the biology of a particular host species, and the results are apparent from the observed variability of mummy type within and between the tribes [
8
,
9
].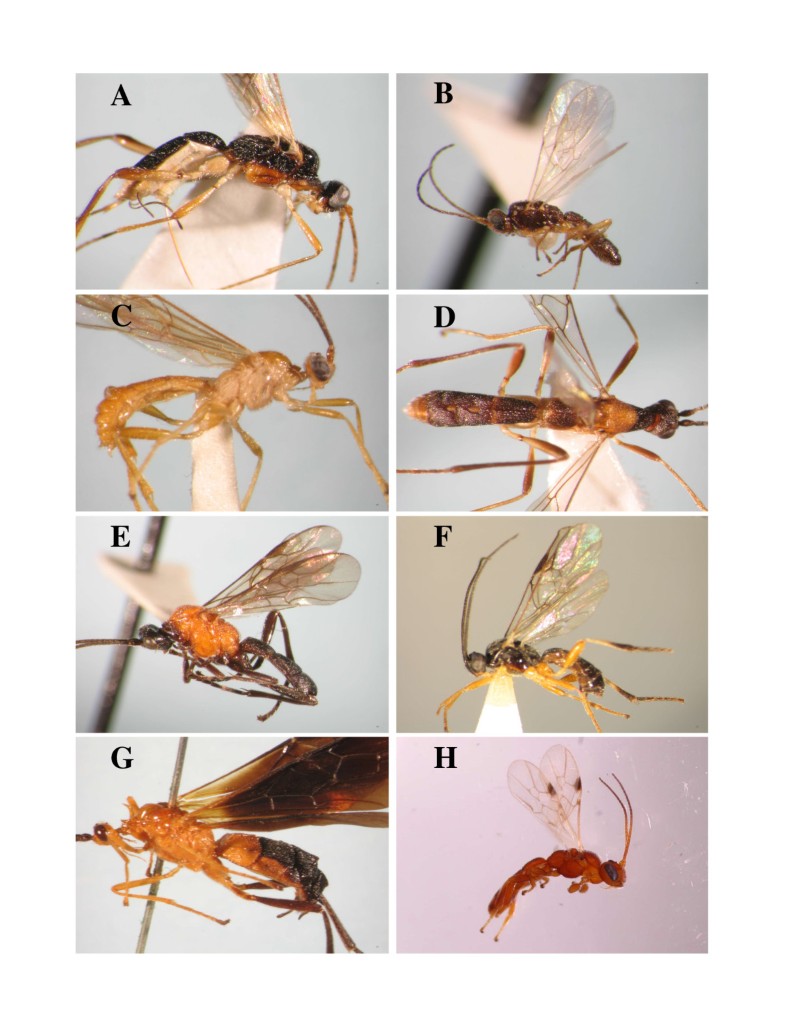 Despite the scant knowledge of host ranges within Rogadinae, a variety of lepidopteran host groups have been confirmed. Species of the Stiropiini, Clinocentrini and Yeliconini are only known to attack 'microlepidopteran' larvae [8, 10, 11], most of which are concealed feeders [12]. On the other hand, members of Rogadini, as currently recognised [13], attack both micro- and macrolepidopteran larvae [8], the latter generally having exposed feeding habits [12, 14]. In Aleiodes, however, parasitism has been observed to occur almost exclusively on macrolepidopteran hosts, although some microlepidopterans with similar exposed feeding habits (e.g. species of Zygaenidae, Yponomeutidae and Pterophoridae) are also attacked by a few species, and only in rare cases does Aleiodes attack macrolepidopterans living in semi-concealed situations [7].
The few molecular phylogenetic analyses that have examined the evolutionary relationships within the Rogadinae have been constrained by limited taxon sampling. Chen et al. [15] presented the only molecular phylogenetic study devoted exclusively to the subfamily but included only 20 species collectively representing nine genera, and the work was based on a single DNA sequence fragment (449–482 bp of the D2 variable region of the 28S rDNA gene). Although most of the relationships investigated could not be resolved with confidence, the Rogadini and its subtribes were not recovered as monophyletic.
More recently, Zaldívar-Riverón et al. [16] carried out a simultaneous molecular and morphological phylogenetic analysis among the cyclostome subfamilies of Braconidae (braconids have traditionally been divided into two major groups, the cyclostomes and non-cyclostomes, based on the presence/absence of an oral opening formed by a ventrally concave clypeus). They employed two gene regions (28S rRNA and COI mtDNA genes) and included representatives of 15 rogadine genera and 19 species. They recovered a weakly supported monophyletic Rogadinae [16] and some relationships that were not concordant with the existing classification of the group, including a non-monophyletic Rogadini, with most members recovered as the sister group of Stiropiini, and with an Aleiodes clade sister to Yeliconini.
Neither of the above studies dealt with the evolution of mummification nor host ranges, nor did they estimate divergence times. Here we reconstruct the first extensive phylogeny for the Rogadinae using a combination of cytochrome oxidase I (COI) mtDNA and 28S rDNA gene sequences. Based on the trees obtained, we evaluate the current higher-level classification of the Rogadinae. We also estimate times of divergence and assess the evolution of host ranges and mummification within the group. Finally, we discuss the driving force for the extraordinary diversification within Aleiodes
Results
Molecular phylogenies
The Bayesian topologies obtained from the separate 28S and COI analyses are shown in Figures
2
and
3
. The 28S topology has a considerably higher number of clades with Bayesian posterior probabilities (PP) ≥ 0.8 compared to the COI one (28S: PP 0.8–0.94 = 72, PP ≥ 0.95 = 61; COI: PP ≥ 0.8–0.94 = 34, PP ≥ 0.95 = 44). The two separate analyses recover a number of similar relationships, and there are no significantly supported clades in conflict between them. Among the similar relationships recovered by both separate analyses are a clade with the species of
Aleiodes
Wesmael,
Cordylorhogas
Enderlein,
Hemigyroneuron
Baker and
Pholichora
Achterberg ('
Aleiodes
clade' hereinafter) (PP: 28S = 0.69; COI = 0.45), a Yeliconini +
Aleiodes
clade (PP: 28S = 0.7; COI = 0.52), and a clade with the remaining Rogadini genera (PP: 28S = 1.0; COI = 0.96).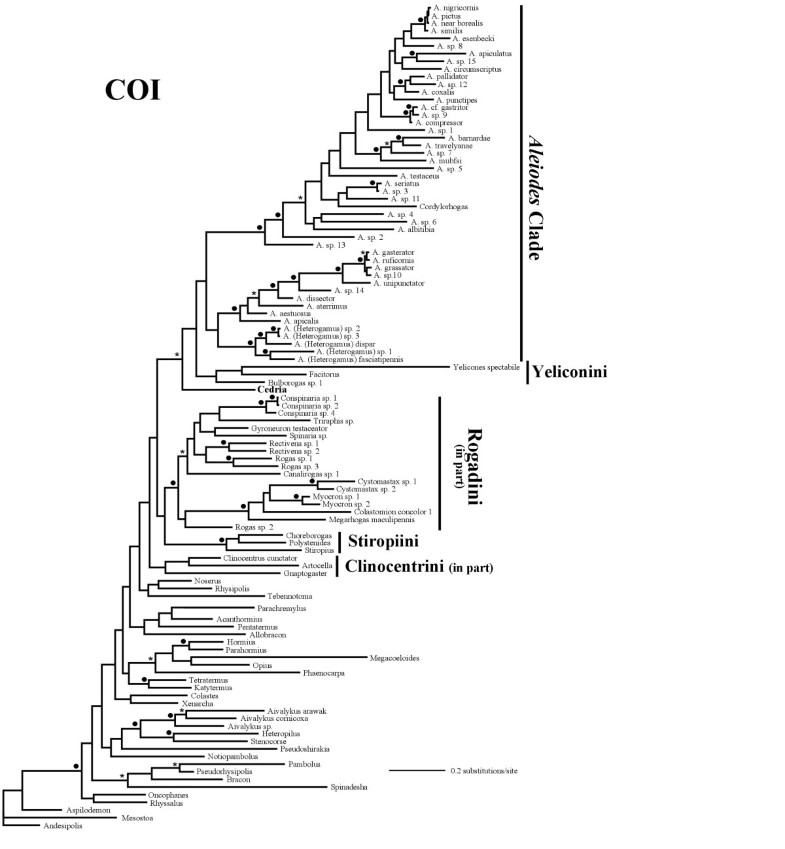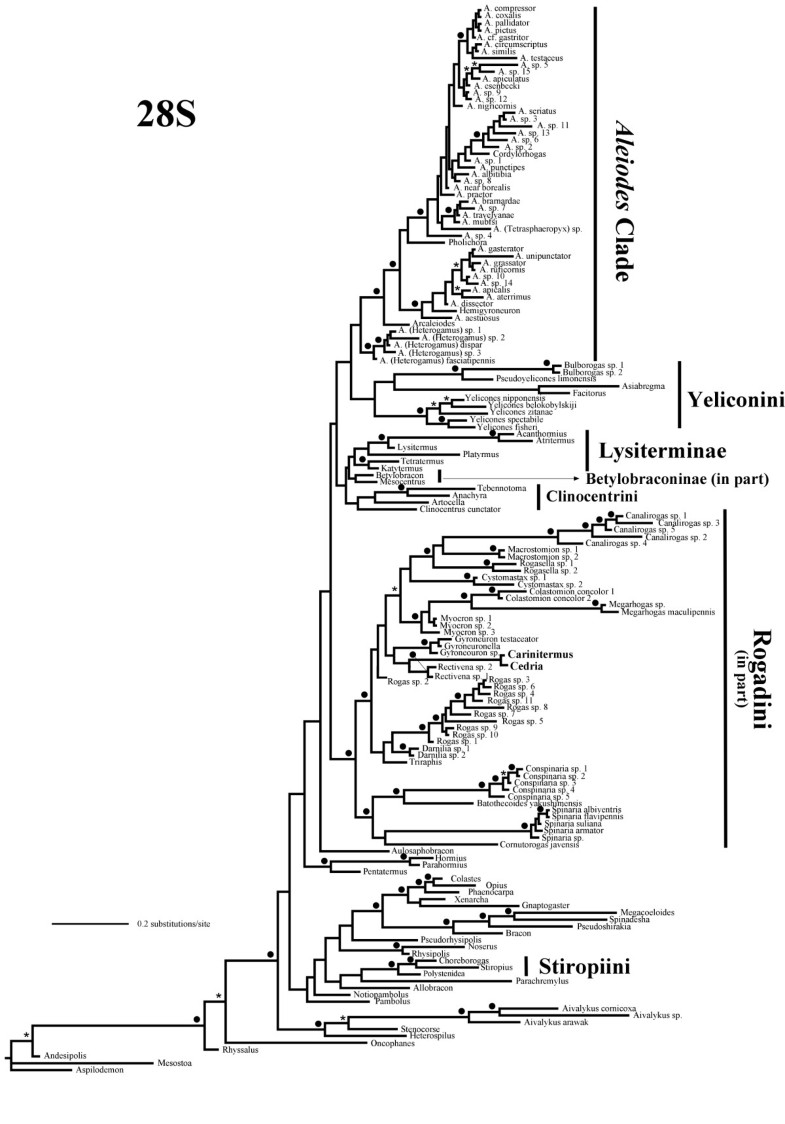 The phylogenetic affinities of the two examined members of the non-rogadine tribe Cedriini, Cedria Wilkinson and Carinitermus Achterberg, vary considerably between the separate and simultaneous analyses. These taxa appear weakly supported in the simultaneous analysis at the base of the Aleiodes + Yeliconini clade, a highly unlikely relationship considering the extreme difference in morphological and life history features. We therefore carried out an additional simultaneous analysis excluding both Cedria and Carinitermus. The topology of the latter analysis was similar to the one that included the above two genera, and thus we only show the topology that excluded them.
Figures
4
and
5
show the 50% majority rule consensus tree derived from simultaneous analysis of the two gene fragments. This has considerably more clades with PP ≥ 0.8 (PP 0.8–0.94 = 101; PP ≥ 0.95 = 80) than either of the topologies from the separate analyses. Among the significantly supported relationships that are congruent with the current classification of Rogadinae are the monophylies of Clinocentrini, Stiropiini, and Yeliconini (PPs = 0.93, 1.0, and 1.0, respectively). The Rogadinae and Lysiterminae were also found to be monophyletic, though with weak support (PPs = 0.35 and 0.75, respectively). Some other relationships, however, are in disagreement with current taxonomy. Members of the Rogadini (
sensu
van Achterberg [
13
]) are grouped in two separate clades. One of these, with significant support (PP = 1.0), consists largely of the included species of
Aleiodes
(PP = 0.86), which form the sister group to the Yeliconini (PP = 1.0). The second clade (PP = 0.4) contains most of the remaining Rogadini species (PP = 1.0) as sister group to the Stiropiini (PP = 1.0) and with the Clinocentrini (PP = 0.94) at the base. The Betylobraconinae (
sensu
Belokobylskij et al. [
17
]) was not recovered as monophyletic, with the Australian
Mesocentrus
Szépligeti and
Betylobracon
Tobias instead forming a grade between Lysiterminae and Rogadinae, and with
Aulosaphobracon
as sister group of all of them (PP = 0.53).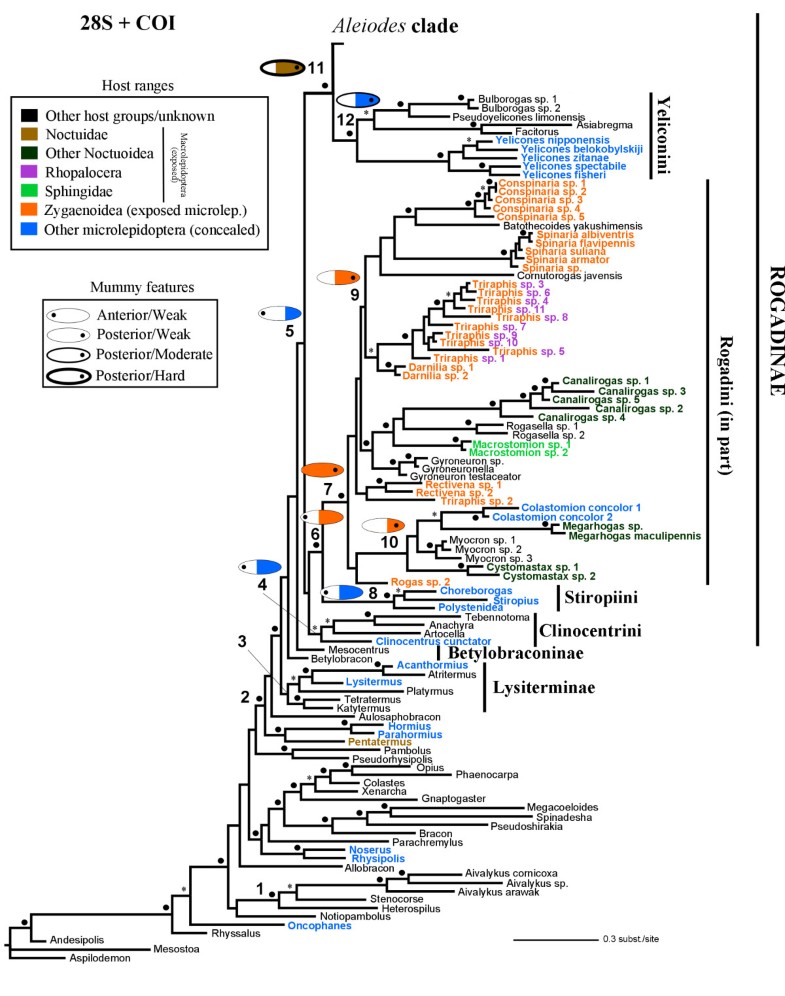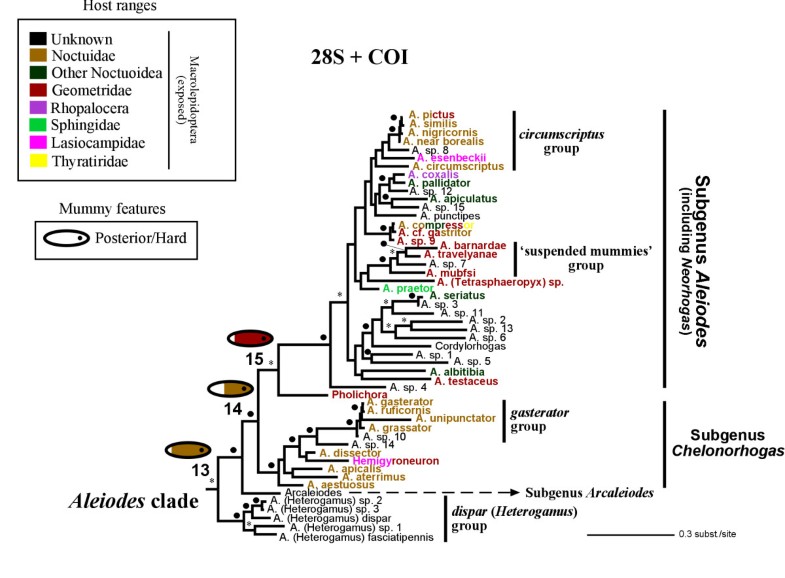 The Aleiodes clade additionally includes members of another three genera, Pholichora, Hemigyroneuron and Cordylorhogas. Relatively few of the species groups proposed by Fortier and Shaw [18] for which we included more than one representative were significantly supported, but rather the relationships were congruent with the currently recognised subgeneric classification of Aleiodes (Figure 5). Their A. dispar (Haliday) group (PP = 1.0), with the exclusion of A. punctipes (Thomson), forms the sister group to a clade with the subgenus Arcaleiodes + the remaining Aleiodes species (PP = 1.0). The two other groups proposed by Fortier and Shaw [18] that were recovered were the A. gasterator (Jurine) and the A. circumscriptus (Nees) [including A. esenbeckii (Hartig) and A. sp. 8] groups. The species known to produce suspended mummies [9] appeared significantly supported as monophyletic (PP = 1.0). The 28S motif TGCGT located at positions 264–268 [stems 3i'-3j of the 28S braconid secondary structure model of Gillespie et al. [19]] in our alignment is highly conserved within the Rogadinae and within the Braconidae in general, and is retained in the dispar group; however, the homologous positions in the remaining Aleiodes species as well as in Pholichora, Hemigyroneuron and Cordylorhogas display a derived AGCGT motif.
A clade with the members of the subtribe Spinariina with the inclusion of Cornutorogas (PP = 0.56) appears deeply nested within the clade including the remaining members of Rogadini (defined in a restricted sense, i.e. excluding the species assigned to Aleiodes together with Pholichora, Hemigyroneuron and Cordylorhogas). The Neotropical species of Triraphis constitute a significantly supported clade (PP = 1.0) that excludes the only Old World species of this genus included here.
None of the credible set of trees obtained from the simultaneous analysis recovered Aleiodes as currently constituted as monophyletic, nor a monophyletic Triraphis, Rogadini (including Aleiodes) and Rogadina (i.e. excluding Spinariina), and thus these alternative hypotheses are statistically rejected.
Ages of diversification in Rogadinae
The times of divergence of selected clades (mean, standard deviation and range) using the penalised likelihood (PL) and Bayesian relaxed phylogenetics (RP) approaches are given in Table
1
and the chronogram for RP is shown in Figure
6
.
Table 1
Estimates of divergence times for selected clades based on the penalised likelihood and relaxed phylogenetic analyses.
Most recent common ancestor

Penalised likelihood

Relaxed phylogenetics

Mean

SD

Range

Mean

Range

1. Doryctinae (South America)

40.17

38.12

3.87

3.71

30.72–49.5

29.11–49.96

39.21

38.6

27.78–52.38

25.74–49.86

2. Rogadinae + Betylobraconinae + Lysiterminae + Hormiinae

48.25

45.14

2.09

3.13

43.49–53.34

39.4–60.36

50.53

47.15

44.52–56.48

40.03–52.4

3. Lysiterminae

41.59

38.51

3.87

4.21

32.96–48.53

29.39–57.39

29.01

29.22

17.53–41.81

15.01–42.26

4. Clinocentrini

35.88

34.87

1.25

1.11

34.7–39.16

34.7–44.47

37.28

37.36

34.7–41.81

34.7–41.18

5. Rogadinae

41.59

38.11

1.15

1.88

37.48–44.4

36.1–51.55

46.34

44.61

41.17–51.62

38.86–49.38

6. Rogadini (excl. Aleiodes s. l.) + Stiropiini

36.76

33.89

2.31

1.84

29.8–43.73

22.71–39.29

42.79

-a

26.84–48.93

-a

7. Rogadini (excl. Aleiodes s. l.) b

27.64

25.58

2.61

2.34

20.47–33.96

21.03–34.41

36.44

37.33

29.66–44.09

31.04–42.76

8. Stiropiini

15.33

14.34

2.7

1.93

10.28–30.45

9.55–20.41

21.36

19.15

11.16–32.62

9.17–31.02

9. 'Zygaenoid hosts' clade c

23.77

22.01

2.95

2.87

14.24–32.01

14.45–33.44

28.17

30.33

-d

-d

10. Colastomion + Cystomastax + Megarhogas + Myocron clade

25.27

23.37

2.6

2.35

18.5–32.39

16.58–30.52

26.92

25.94

-d

-d

11. Aleiodes clade + Yeliconini

37.04

28.34

1

2.88

35.11–40

22.76–40.22

40.29

38.79

35.15–45.18

31.93–44.17

12. Yeliconini

31.54

23.09

1.76

2.93

26.74–35.35

16.79–36.12

34.95

33.44

28.35–41.58

25.14–40.06

13. 'Aleiodes' clade

34.72

23.89

0.23

2.7

34.7–37.04

17.98–38.07

37.54

36.12

34.71–41.76

28.12–40.74

14. Subgenera Aleiodes + Chelonorhogas e

20.7

13.26

3.09

2.65

14.33–28.47

7.82–25.74

30.46

29.42

25.69–36.09

23.02–35.12

15. Subgenus Aleiodes

15.23

9.77

3.64

3.02

7.9–25.16

5.23–25.52

23.71

22.33

18.25–28.18

15.73–28.61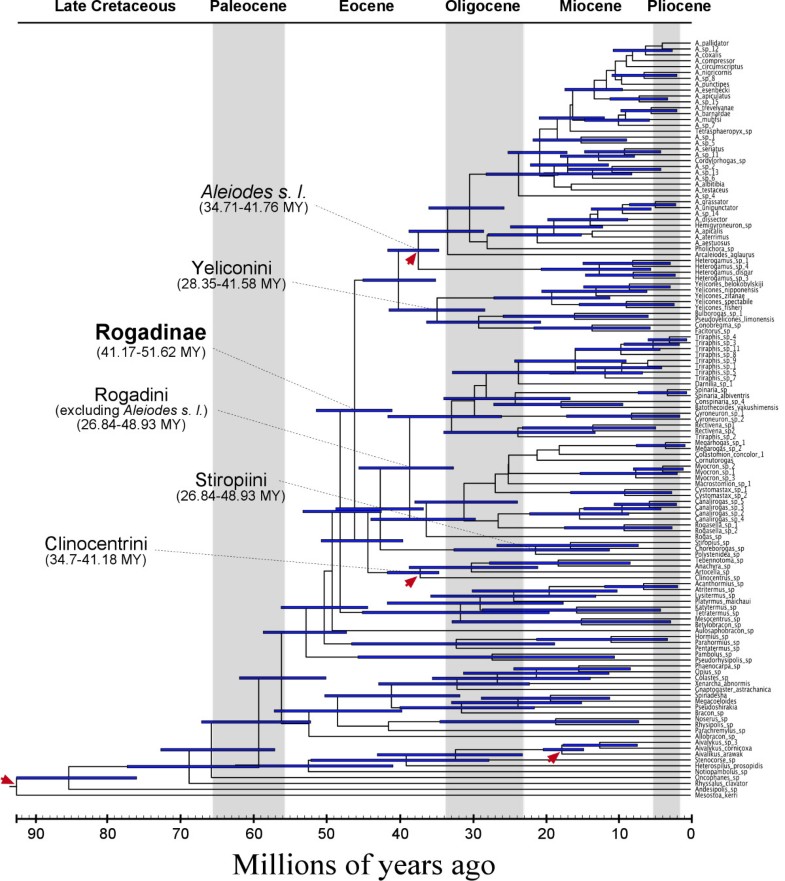 Because of the uncertainty associated with the calibration of the Aleiodes s. l. clade (see Figure 6 for identifying this clade), we ran PL both including (PLiA) and excluding (PLeA) the calibration associated to Aleiodes s. l. Ten of the fifteen clades that were examined in the two PL analyses have a PP value equal to or higher than 0.95 in our 28S + COI Bayesian phylogeny, and thirteen of them higher than 0.8 (Figures 4 and 5). The taxonomic composition of the clades examined using the PL approach was the same as for the 100 sampled trees except in two relationships, which were not present in four and one of the sampled trees, respectively (see Table 1).
The RP analyses including (RPiA) and excluding (RPeA) the Aleiodes s. l. node calibration both recovered most of the relationships found using MrBayes except for the Rogadini + Stiropiini clade, which was not recovered in the RPeA analysis. The age estimates of clades obtained by the two RP analyses are generally similar; thus, we only show the ultrametric tree derived from the RPiA analysis, because it incorporated more node calibrations (Figure 6).
The age estimates derived from the two RP analyses are generally earlier than those from the PL ones (Table 1). The lineage that led to the extant members of the Rogadinae is estimated to have diverged during the late to mid Eocene (36.1 to 51.62 MYA). Among the rogadine tribes, the age of the most recent common ancestor (MRCA) of the Stiropiini and Yeliconini diversified between the late to mid Miocene (9.55 to 32.62 MYA) and the late Eocene to early Miocene (16.79 to 41.58 MYA), respectively. The MRCA of the Rogadini (excluding the Aleiodes clade) on the other hand was estimated to diverge during the late Miocene to mid Eocene (21.03 to 44.09 MYA). Of the four molecular dating analyses performed, the PLeA had a considerably younger age estimate for the origin of the MRCA of the Aleiodes clade (17.98 to 38.07 MYA; late Miocene to early Eocene) in comparison to the remaining PL and RP analyses (28.12 to 41.76 MYA; mid Oligocene to mid Eocene).
Evolution of host ranges and mummification
The MP and Bayesian ancestral states of selected clades for the three biological features examined – host and site of emergence and hardening of mummy – are shown in Table
2
. The Rogadinae ancestral condition for the site of emergence from the mummified host was recovered as equivocal with MP but anterior with the Bayesian method, though its ancestral posterior probability (APP) was very low (APP = 0.21). The Stiropiini and the Rogadini + Stiropini clades had an equivocal and anterior emergence as ancestral conditions with MP and Bayesian methods (APPs = 0.83 and 0.44, respectively). The ancestral reconstructions of the basal Rogadinae clades for the degree of hardness of the mummy were recovered as equivocal (MP) and with low APP values. Forming a hard mummy, however, appears marginally as nonsignificant in the
Aleiodes
clade. The latter condition also appears to have evolved independently in a few members of the Rogadini clade (
Cystomastax
and some species of
Triraphis
) and in some species of
Clinocentrus
.
Table 2
MP and Bayesian ancestral reconstructions of the host ranges and mummy features.
Clade

Host ranges

Site of emergence from mummy

Hardening of mummy

MP

Bayesian

MP

Bayesian

MP

Bayesian

4. Clinocentrini

Microlep.

Microlep.

(0.6)

Equivocal

Anterior

(0.8)

Equivocal

Moderate

(0.42)

5. Rogadinae

Microlep.

Microlep.

(0.3)

Equivocal

Anterior

(0.21)

Equivocal

Weak

(0.22)

6. Rogadini (excl. Aleiodes clade) + Stiropiini

Microlep.

Zygaenoidea (0.59)

Equivocal

Anterior

(0.44)

Equivocal

Weak

(0.71)

7. Rogadini (excl. Aleiodes clade)

Zygaenoidea

Zygaenoidea (0.98)

Equivocal

Posterior

(0.82)

Equivocal

Weak

(0.66)

8. Stiropiini

Microlep.

Microlep.

(0.52)

Equivocal

Anterior

(0.83)

Equivocal

Weak

(0.9)

9. 'Zygaenoid host' clade

Zygaenoidea

Zygaenoidea (0.65)

Posterior

Posterior

(0.34)

Moderate

Weak

(0.44)

10. 'Colastomion' clade

Zygaenoidea

Zygaenoidea (0.43)

Equivocal

Posterior

(0.4)

Weak

Weak

(0.64)

11. Aleiodes + Yeliconini

Microlep.

Noctuidae (0.7)

Equivocal

Posterior

(0.86)

Equivocal

Moderate

(0.41)

12. Yeliconini

Microlep.

Microlep.

(0.52)

Equivocal

Posterior

(0.47)

Equivocal

Moderate

(0.81)

13. Aleiodes clade

Equivocal

Noctuidae (0.88)

Equivocal

Posterior

(0.74)

Equivocal

Hard

(0.9)

14. Aleiodes clade excl. Arcaleiodes and A. dispar group

Equivocal

Noctuidae (0.62)

Posterior

Posterior

(0.95)

Hard

Hard

(1.0)

15. Aleiodes clade excl. A. dispar group, Arcaleiodes and Chelonorhogas

Geometridae

Geometridae (0.84)

Posterior

Posterior

(0.85)

Hard

Hard

(0.95)
Use of microlepidopteran hosts was recovered by both methods as the ancestral condition for the Rogadinae, but only with a low APP with the Bayesian method. In any case, a shift to attack macrolepidopteran hosts appears to have occurred independently in various lineages within the Rogadini clade and once more in the Aleiodes clade. Moreover, our analyses show an expansion to attack various lepidopteran host groups in the Aleiodes clade, with the basal groups generally parasitising Noctuidae species whereas the derived ones attack other macrolepidopteran groups, including other families of Noctuoidea (e.g. Notodontidae, Lymantriidae, Arctiidae) as well as species of Geometridae, Thyratiridae, Lasiocampidae, Satyridae, Hesperiidae and Sphingidae, and rarely also a few microlepidopterans with exposed larval feeding habits (see also [7]).
Discussion and conclusion
Declarations
Acknowledgements
We are very grateful to the following people for supplying material for sequencing: Steve Heydon, Kees van Achterberg, David Agassiz, Joe Fortier, Rebecca Morris, Ray Murphy, John Noyes, Shen-Horn Yen, Sura Pimpasalee, Elroy Charles, Ong Pek Khoo, Kazuhisa Tenna, Rosichon Ubaidillah. Jo Martin, Rebecca Fuller and Rebecca Jeffree carried out some of the sequencing. Richard M. Lyszkowski helped with some of the digital images. AZR and AGS were supported by programs "Juan de la Cierva" and "Ramón y Cajal", respectively, and their research was funded by Plan Nacional I+D (CGL2005-00307 to AGS), all from the Spanish Ministry for Education and Science. We also thank a Natural Environment Research Council grant to DLJQ (NE/C519538), grants given by the Russian Foundation for Basic Research (N 07-04-00454) and the Presidium RAS Program "Origin and evolution of Biosphere, Subprogram II", to SAB, and two grants given by the National Science Foundation (projects BSI-03-46729 and BSI-07-17458; Caterpillars and Parasitoids of the Eastern Andes) to SRS.
Authors' Affiliations
(1)
Departamento de Biodiversidad y Biología Evolutiva, Museo Nacional de Ciencias Naturales (CSIC), Madrid, Spain
(2)
Honorary Research Associate, National Museums of Scotland, Edinburgh, UK
(3)
Division of Biology and Centre for Population Biology, Imperial College London, Ascot, UK
(4)
Department of Entomology, The Natural History Museum, London, UK
(5)
Zoological Institute, Russian Academy of Sciences, Universitetskaya nab. 1, St. Petersburg, Russia
(6)
Museum and Institute of Zoology PAN, Warsaw, Poland
(7)
University of Wyoming Insect Museum, Department of Renewable Resources, University of Wyoming, Laramie, USA
Copyright
© Zaldívar-Riverón et al; licensee BioMed Central Ltd. 2008
This article is published under license to BioMed Central Ltd. This is an Open Access article distributed under the terms of the Creative Commons Attribution License (http://creativecommons.org/licenses/by/2.0), which permits unrestricted use, distribution, and reproduction in any medium, provided the original work is properly cited.