Research article

Open Access
Module evolution and substrate specificity of fungal nonribosomal peptide synthetases involved in siderophore biosynthesis
BMC Evolutionary Biology
2008
8:328
Received: 20 July 2008
Accepted: 03 December 2008
Published: 03 December 2008
Abstract
Background
Most filamentous ascomycete fungi produce high affinity iron chelators called siderophores, biosynthesized nonribosomally by multimodular adenylating enzymes called nonribosomal peptide synthetases (NRPSs). While genes encoding the majority of NRPSs are intermittently distributed across the fungal kingdom, those encoding ferrichrome synthetase NRPSs, responsible for biosynthesis of ferrichrome siderophores, are conserved, which offers an opportunity to trace their evolution and the genesis of their multimodular domain architecture. Furthermore, since the chemistry of many ferrichromes is known, the biochemical and structural 'rules' guiding NRPS substrate choice can be addressed using protein structural modeling and evolutionary approaches.
Results
A search of forty-nine complete fungal genome sequences revealed that, with the exception of Schizosaccharomyces pombe, none of the yeast, chytrid, or zygomycete genomes contained a candidate ferrichrome synthetase. In contrast, all filamentous ascomycetes queried contained at least one, while presence and numbers in basidiomycetes varied. Genes encoding ferrichrome synthetases were monophyletic when analyzed with other NRPSs. Phylogenetic analyses provided support for an ancestral duplication event resulting in two main lineages. They also supported the proposed hypothesis that ferrichrome synthetases derive from an ancestral hexamodular gene, likely created by tandem duplication of complete NRPS modules. Recurrent losses of individual domains or complete modules from this ancestral gene best explain the diversity of extant domain architectures observed. Key residues and regions in the adenylation domain pocket involved in substrate choice and for binding the amino and carboxy termini of the substrate were identified.
Conclusion
Iron-chelating ferrichrome synthetases appear restricted to fission yeast, filamentous ascomycetes, and basidiomycetes and fall into two main lineages. Phylogenetic analyses suggest that loss of domains or modules led to evolution of iterative biosynthetic mechanisms that allow flexibility in biosynthesis of the ferrichrome product. The 10 amino acid NRPS code, proposed earlier, failed when we tried to infer substrate preference. Instead, our analyses point to several regions of the binding pocket important in substrate choice and suggest that two positions of the code are involved in substrate anchoring, not substrate choice.
Keywords
Binding Pocket
Graminearum
Tandem Duplication
Gramicidin
Domain Architecture
Background
Most filamentous ascomycete fungi produce high affinity iron chelator siderophores for scavenging environmental iron and for cellular sequestration of reactive iron [1]. All known fungal siderophores are synthesized by nonribosomal peptide synthetases (NRPSs) [2], large, usually multimodular enzymes that catalyze peptide bond formation independent of ribosomes. NRPS modules consist of three core domains, ordered 5'A-T-C 3': 1) an adenylation (A) domain responsible for recognizing and activating a substrate molecule via adenylation with ATP, 2) a thiolation (T) domain which binds the substrate to the NRPS protein and 3) a condensation (C) domain which joins two substrates through a condensation reaction.
Although the number of NRPSs encoded by individual filamentous fungi varies from 0 to > 20, most of these and their corresponding metabolites are not conserved across the fungal kingdom, making it difficult to trace the evolutionary history of the corresponding genes. Various evolutionary processes may account for this. The observation that A-T-C modules from a single NRPS often group together as a monophyletic clade suggests tandem duplication of modules as a possible mechanism by which multimodular NRPSs arise [3]. It is clear, however, that other mechanisms such as recombination and gene conversion also operate [4]. Ferrichrome synthetases, which biosynthesize ferrichromes, fungal hydroxamate siderophores that function primarily in intracellular iron storage, are among the most conserved NRPSs, offering an opportunity to trace the evolutionary history of the corresponding genes across fungi.
The chemical products of ferrichrome synthetases have been characterized for at least one member of the majority of Ascomycete and Basidiomycete orders [
5
,
6
]. This class of siderophore includes compounds such as ferricrocin, ferrichrome, ferrichrome A, ferrichrome C, and malonichrome. Most ferrichrome siderophores are cyclic hexapeptides [Fig.
1
], with the exceptions of tetraglycylferrichrome, a cyclic heptapeptide, and desdiserylglycerylferrirhodin (DDF) a linear tripeptide of ornithine residues [
7
]. The chemical structure of ferrichromes is also conserved, consisting of six substrate molecules: a core heme-binding unit consisting of three
N
5
-acyl-
N
5
-hydroxy-L-ornithines (AHO) and a ring of three amino acids (Fig.
1
). One amino acid is always a glycine, while the remaining two amino acids can be alanine, serine, or glycine [
5
,
7
]. Ferrichrome has three glycines, ferrichrome A has two serines and one glycine, ferrichrome C and malonichrome have two glycines and one alanine, and ferricrocin has two glycines and one serine [
7
]. Acyl groups attached to AHO substrates can also vary (Fig.
1
).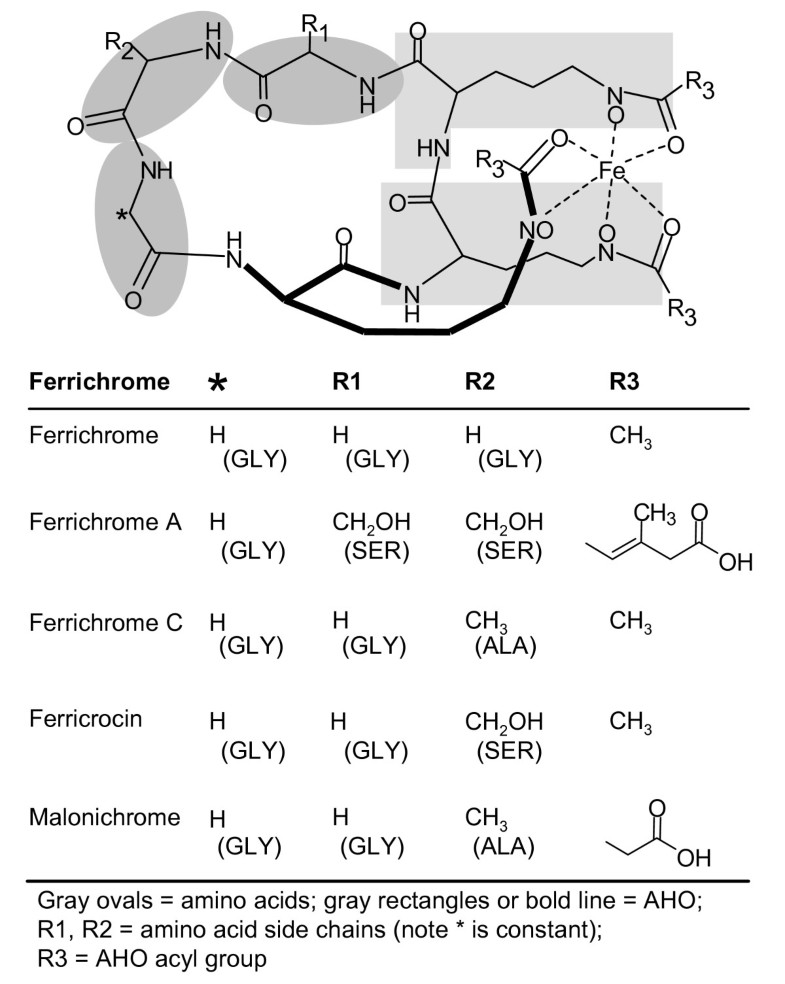 Substrate specificity of NRPSs is believed to be mediated by the A domain [8–10] although some studies have suggested a role for the C domain in selective acceptance of substrates from the A domain [8, 11]. A 10 amino acid (AA) NRPS substrate specificity "code" consisting of single, nonadjacent amino acid residues in the A domain has been proposed, based primarily on examination of bacterial NRPS A domains [9, 12]. Few of these have been tested experimentally and the extent to which this code is applicable to fungal NRPS A domains remains unknown [13]. Since the chemical structure and composition of siderophores produced by fungal ferrichrome synthetases is largely conserved, phylogenetic and structural analyses of these proteins provide an opportunity to correlate protein structure and candidate specificity residues of the A domains with known chemical products.
Ferrichrome siderophores perform key functions in fungal cells. Early work on Neurospora crassa suggested that ferricrocin aids in asexual spore germination by storing iron reserves within spores [14, 15]. This role in asexual development has been confirmed for ferrichrome-type siderophores of other fungal species such as Penicillium chrysogenum [16] and Aspergillus nidulans [17]. In contrast, Cochliobolus heterostrophus and Fusarium graminearum intracellular siderophores have a major role in sexual spore development, but no obvious role in asexual development [18]. A role in sexual development has also been described for intracellular siderophores of A. nidulans [19]. Intracellular siderophores are thought to buffer against reactive oxygen species (ROS) generated by the Haber-Weiss-Fenton reaction in the presence of unbound iron, by sequestering cellular free iron [16]. Indeed, A. nidulans mutants lacking ability to produce intracellular siderophores show increased levels of intracellular free iron [17] and a corresponding increase in sensitivity to ROS [19]. C. heterostrophus mutants lacking ability to make intracellular siderophores, however, are like wild-type (WT) strains in terms of sensitivity to ROS, although mutants lacking extracellular siderophores do show increased sensitivity to ROS [20].
These subtle functional differences observed between intracellular ferrichrome synthetase mutantsof C. heterostrophus and A. nidulans, as well as the presence of two or more copies of the genes encoding ferrichrome synthetases in some fungal species suggested the hypothesis that more than one lineage of NPS genes may be responsible for intracellular siderophore biosynthesis in fungi. In this study, we sought to: 1) identify homologs of C. heterostrophus and A. nidulans ferrichrome synthetases in a phylogenetically representative sample of fungal genomes, 2) address the hypothesis of two distinct lineages of ferrichrome synthetases 3) analyze the structural evolution of enzymatic domains encoded by these genes by phylogenetic analysis, and 4) investigate key positions in A domains that may be involved in substrate specificity.
Conclusion
Our results demonstrate two distinct lineages of ferrichrome synthetases in fungi and suggest that these genes are restricted to fission yeast, filamentous ascomycetes, and basidiomycetes. Phylogenetic analyses of domain architectures supports the hypothesis that the distinct domain architectures observed derive from a hexamodular ancestral gene through loss of individual A domains or complete A-T-C modules and support a series of tandem duplication events of single or double A-T-C modules as the mechanism generating this hexamodular ancestor.
Analyses of substrate specificity show that the proposed 10AA code was unable to infer substrate specificity for these fungal A domains. Structural modeling and evolutionary analyses of functional residues suggest that additional positions may play a role in substrate specificity. Our results confirm that two positions of the code which are conserved across all sequences examined, D235 and K517, likely do not play a role in amino acid substrate choice but instead serve the important function of anchoring the substrate in the binding pocket through interaction with the amino and carboxyl groups respectively.
Declarations
Acknowledgements
BGT acknowledges the support of the Division of Molecular and Cellular Biosciences, National Science Foundation, the USDA Cooperative State Research Education and Extension Service, National Research Initiative and the BARD foundation. KEB thanks Jeff Doyle and Scott Kroken for discussion and comments on the manuscript and Conrad Schoch, Henk DeBakker, Dave Schneider and the Cornell Computational Biology Service Unit for computer resources and/or assistance in running Bayesian analyses.
Authors' Affiliations
(1)
Department of Plant Pathology & Plant-Microbe Biology, Ithaca, USA
(2)
Computational Biology Service Unit, Life Sciences Core Laboratories Center, Cornell University, Ithaca, USA
Copyright
© Bushley et al; licensee BioMed Central Ltd. 2008
This article is published under license to BioMed Central Ltd. This is an Open Access article distributed under the terms of the Creative Commons Attribution License (http://creativecommons.org/licenses/by/2.0), which permits unrestricted use, distribution, and reproduction in any medium, provided the original work is properly cited.