Research article

Open Access
Evolution of SET-domain protein families in the unicellular and multicellular Ascomycota fungi
BMC Evolutionary Biology
2008
8:190
Received: 23 February 2008
Accepted: 01 July 2008
Published: 01 July 2008
Abstract
Background
The evolution of multicellularity is accompanied by the occurrence of differentiated tissues, of organismal developmental programs, and of mechanisms keeping the balance between proliferation and differentiation. Initially, the SET-domain proteins were associated exclusively with regulation of developmental genes in metazoa. However, finding of SET-domain genes in the unicellular yeasts Saccharomyces cerevisiae and Schizosaccharomyces pombe suggested that SET-domain proteins regulate a much broader variety of biological programs. Intuitively, it is expected that the numbers, types, and biochemical specificity of SET-domain proteins of multicellular versus unicellular forms would reflect the differences in their biology. However, comparisons across the unicellular and multicellular domains of life are complicated by the lack of knowledge of the ancestral SET-domain genes. Even within the crown group, different biological systems might use the epigenetic 'code' differently, adapting it to organism-specific needs. Simplifying the model, we undertook a systematic phylogenetic analysis of one monophyletic fungal group (Ascomycetes) containing unicellular yeasts, Saccharomycotina (hemiascomycetes), and a filamentous fungal group, Pezizomycotina (euascomycetes).
Results
Systematic analysis of the SET-domain genes across an entire eukaryotic phylum has outlined clear distinctions in the SET-domain gene collections in the unicellular and in the multicellular (filamentous) relatives; diversification of SET-domain gene families has increased further with the expansion and elaboration of multicellularity in animal and plant systems. We found several ascomycota-specific SET-domain gene groups; each was unique to either Saccharomycotina or Pezizomycotina fungi. Our analysis revealed that the numbers and types of SET-domain genes in the Saccharomycotina did not reflect the habitats, pathogenicity, mechanisms of sexuality, or the ability to undergo morphogenic transformations. However, novel genes have appeared for functions associated with the transition to multicellularity. Descendents of most of the SET-domain gene families found in the filamentous fungi could be traced in the genomes of extant animals and plants, albeit as more complex structural forms.
Conclusion
SET-domain genes found in the filamentous species but absent from the unicellular sister group reflect two alternative evolutionary events: deletion from the yeast genomes or appearance of novel structures in filamentous fungal groups. There were no Ascomycota-specific SET-domain gene families (i.e., absent from animal and plant genomes); however, plants and animals share SET-domain gene subfamilies that do not exist in the fungi. Phylogenetic and gene-structure analyses defined several animal and plant SET-domain genes as sister groups while those of fungal origin were basal to them. Plants and animals also share SET-domain subfamilies that do not exist in fungi.
Keywords
Filamentous Fungus
Graminearum
Profile Hide Markov Model
Unicellular Yeast
Sexual Mechanism
Background
The genes encoding proteins that contain SET-domain sequences (SET-domain genes) are ancient, existing in the Bacterial Domain of life [1], but have proliferated and evolved novel functions connected with the appearance of eukaryotes. Because SET-domain proteins modify chromatin by methylating specific lysines on the histone tails [2–4], it is not surprising that SET-domain genes are present in eukaryotes from the simple unicellular organisms to the multicellular animals and plants. The pattern and the complexity of epigenetic marks 'written' by the SET-domain proteins correlate with the increased requirements of multicellular organisms [5, 6] including regulation of proliferation, ontogenesis, adhesion-mediated silencing, and disease [7–11].
The fungal division Ascomycota provides a unique model to trace the fate of the SET-domain genes in connection to multicellularity within one monophyletic group. It contains the unicellular Saccharomycotina (hemiascomycetes) and the multicellular filamentous fungi Pezizomycotina (or euascomycetes) as sister-groups. Schizosaccharomyces pombe (S. pombe), which belongs to the Taphrinomycotina (or archiascomycete), is an outgroup [12, 13]. The fungi selected from the Saccharomycotina for this study include species existing as unicellular yeasts [Saccharomyces cerevisiae (S. cerevisiae), Candida glabrata (C. glabrata), Debaryomyces hansenii (D. hansenii), and Yarrowia lipolytica (Y. lipolytica)], as a permanently filamentous yeast, Ashbya gossypii (A. gossypii), or as an organism that changes morphology from the yeast to the filamentous forms in response to environmental cues, the dimorphic Candida albicans (C. albicans).
The Saccharomycotina has diverged from the filamentous fungi around 400 million years ago and at estimated >1 billion years ago from animals and plants [13–15]. Substantial events might have taken place during such periods of time; thereby, by comparing the SET-domain genes in unicellular and filamentous Ascomycetes, it might be possible to identify families that have evolved in connection with the appearance of the filamentous (multicellular) forms. Neurospora crassa (N. crassa) is a standard model for the Pezizomycotina (euascomycetes) group because it is a generalist species, less specialized in its biology than many pathogens, symbionts, and fungi of narrow habitat [16, 17]. N. crassa is a bearer of the ancestral characteristics, allowing comparisons of SET-domain gene representation in the closely related pathogen Magnaporthe grisea (M. grisea), in the slightly more distant Fusarium graminearum (F. graminearum), and in the more distantly related Aspergillus fumigatus (A. fumigatus). SET-domain genes found in N. crassa and in the other filamentous fungi, but not in their unicellular relatives, could illustrate evolution of genes connected with transition to multicellular functions; unshared SET-domain genes between nonpathogenic and pathogenic relatives might be related to pathogenicity. Extended comparisons with SET-domain types and families present in the metazoan and plant genomes could outline evolutionary relationships between plant, animal, and fungal kingdoms. A few multicellular genomes, including an invertebrate (Drosophila melanogaster), a mammal (Mus musculus), and a plant (Arabidopsis thaliana), are provided as a reference and are not discussed in detail.
The main questions asked here were: first, whether the type and the number of SET-domain genes in species from the same phylum would correlate with their existence as unicellular or multicellular (filamentous) forms; second, whether the ability of some yeasts to acquire dimorphic forms, to exist as a permanently filamentous yeast, or to occupy a specific niche (i.e., to act in fermentation or as pathogens) would be reflected by the SET-domain gene collection within the genome; third, whether presence of certain SET-domain genes in a fungal genome would suggest occurrence of novel SET-domain genes or loss of existing SET-domain genes; and fourth, to examine the phylogenetic relationships between the SET-domain gene families of yeast, of higher filamentous fungi, of animals, and of plants to see if their evolution would parallel the transition steps from unicellular, to simple multicellular, and to more complex multicellular systems.
Results
Overall genome representation, distribution, and phylogenetic analysis of the fungal SET-domain proteins
Current phylogenetic studies of the kingdom Fungi define Ascomycota as a monophyletic group [
12
,
13
]. For an insight into the evolution of fungal
SET-domain
genes and their relationship with the genes of higher eukaryotes, we reconstructed phylogenetic trees using the highly conserved SET-domain region (~150 amino acids) [
18
]. First, we performed a series of similarity searches including profile hidden Markov models against fourteen genomes: eleven fungal (
Ascomycetes
), two animal (one mammalian and one invertebrate), and one plant (
Arabidopsis
) genomes (see Additional file
1
). One hundred and eighty two SET-domain sequences were identified (see Additional file
2
). Phylogenetic analyses were performed to identify the SET-domain protein families and subfamilies. Maximum likelihood phylogeny reconstructed from the selected 113 representative sequences is shown in Fig.
1
. The phylogenetic clustering based on SET-domain sequences reflected presence/absence of group-specific architectural motifs (see Additional file
3
). We also note that the SET-domain based phylogeny does not seem to support consistently any particular evolutionary relationships among the three kingdoms: fungi, animals, and plants (see also Fig.
2
).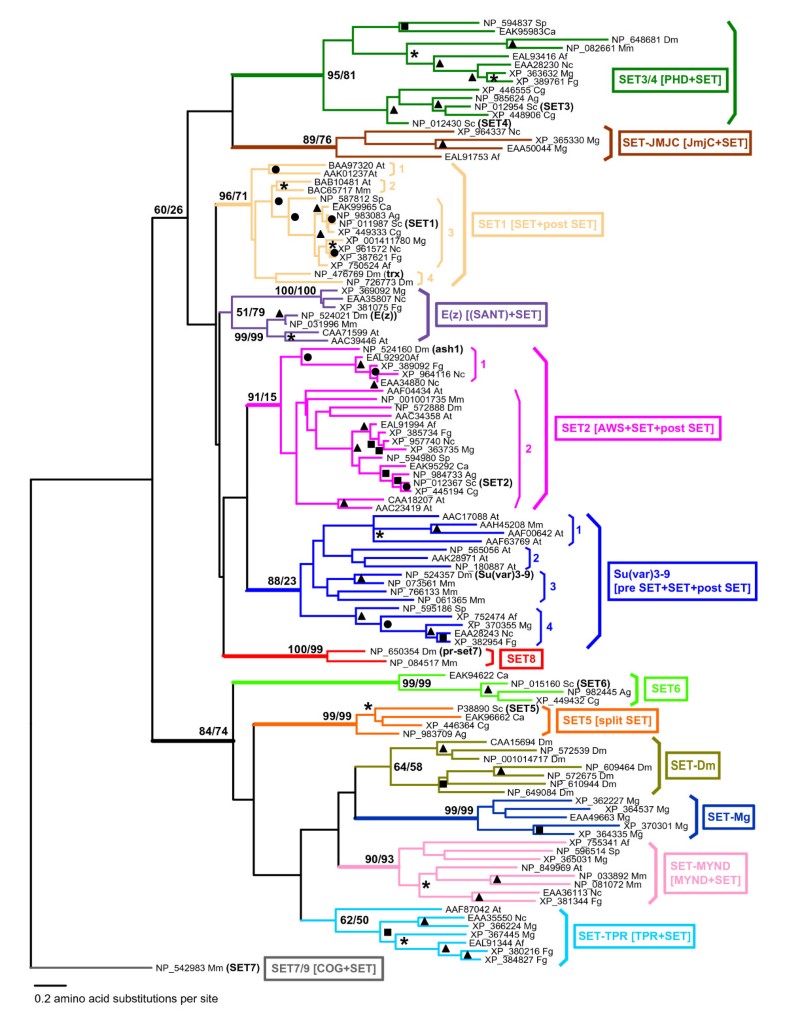 The distribution of the SET-domain proteins across 14 genomes is summarized in Fig.
3
. All 108 SET-domain sequences retrieved from the fungal genomes that belong to the group of the histone methyltransferases are included. SET-domain containing proteins from the RuBisCo, cytochrome C, and the recently discovered ribosomal protein lysine methyltransferases [
19
] are excluded. Among the SET-domain sequences of animal and plant origin, included are only those that are used as reference for the fungal proteins.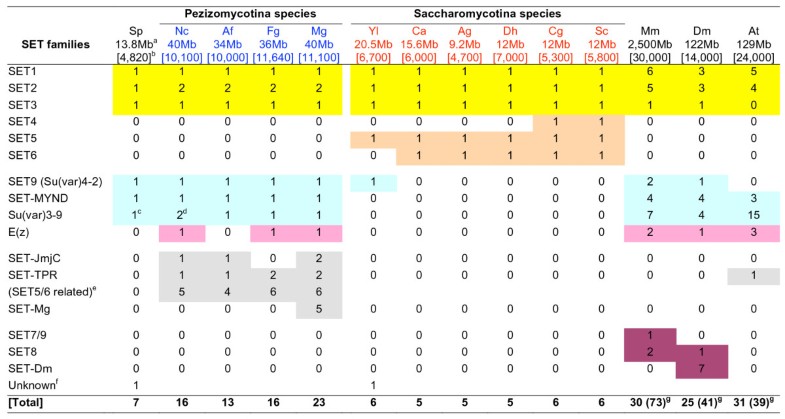 The sizes of the fourteen genomes and the total numbers of ORFs are not linearly correlated; the genomes of the filamentous fungi are approximately three times the size of the yeasts (except Y. lipolytica) while the overall number of identified ORFs is only 1.6-to-2 fold higher than in yeasts. On the other hand, the numbers of SET-domain containing genes in the Pezizomycotina species (13–23) are about 3-fold higher compared to those of the yeasts (5–6; Fig. 3). Non-linear increasement in the number of SET-domain genes is even more pronounced in the animal and plant genomes: about 70 predicted SET-domain genes in the human and mouse genomes, around 40 in D. melanogaster [20], and around 40 in A. thaliana [21]. Increased numbers and diversification of encoded SET-domain proteins reflect, perhaps, increased diversity and complexity of multicellular programs.
Despite the smaller number of ORFs than most Saccharomycotina fungi [22], the single-living Taphrinomycotina (archiascomycete), S. pombe, carries three SET-domain genes (SET9, MYND-SET, and a Su(var)3-9 homologue). These SET-domain genes are present in the Pezizomycotina and in animals/plant, but remarkably absent from the other yeasts (except Y. lipolytica, which carries a SET9 gene) (Fig. 3). Presence of these genes supports a conclusion that S. pombe and Y. lipolytica share many common features with the filamentous relatives [22, 23]. Lastly, S. pombe and Y. lipolytica carry one copy of a SET-domain gene of unclear origins. These S. pombe-specific and the Y. lipolytica-specific putative SET-domain proteins, unrelated to each other or to any of the 182 sequences analyzed, are annotated as 'unknown' (Fig. 3) and were excluded from further analyses.
Saccharomycotina genomes have been subjected to expansions (whole-genome duplications) and deletions (reductive evolution), which have shaped the genome sizes of extant yeasts [23, 24] varying between 9.2 Mb (A. gossypii) to 20 Mb (Y. lipolytica) and overall putative gene numbers between ~4,700 and ~7,000 (Fig. 3). However, the total number of the SET-domain genes in all tested Saccharomycotina is remarkably constant: five or six. Most yeast SET-domain genes are single-copy representatives of distinct subgroups. The SET4 gene, an apparent duplication of SET3 (see below for further discussion) accounts for the difference in the number of SET-domain genes of S. cerevisiae and C. glabrata versus other yeasts; SET6 might have been deleted from the genome of Y. lipolytica or, alternatively, a duplication of SET5 to yield SET6 might have taken place, after the separation of Y. lipolytica from the other yeasts [23]. We note also that both SET5 and SET6 are absent from S. pombe, indicating that these genes encode functions limited to the specific needs of the Saccharomycotina group.
Distribution of each SET-domain group among fungi
Analyses of the distribution of the fungal SET-domain types will be carried out in the context of the transition from unicellular to multicellular filamentous, and to animal/plant multicellular systems. We shall follow genes that are present in: all studied genomes, Saccharomycotina-specific genes, families that are excluded from the Saccharomycotina, and those that are found in specific fungal groups.
Discussion
Correlations between genome evolution, overall gene content, and organismal complexity, revealed in whole-genome comparative analyses, have outlined evolutionary trends associated with the occurrence of multicellularity [17, 65]. It was suggested that core biological functions, common for both unicellular and multicellular organisms, would be carried out by a comparable number of orthologous proteins, while specialized processes unique to multicellulars would use novel proteins [66]. Our analyses support a positive correlation between the numbers and types of SET-domain genes found in multicellular versus unicellular fungi; a similar tendency was observed when the simpler multicellular (filamentous) fungi were compared with multicellular animal and plant genomes. Analysis of the distribution of individual SET-domain fungal genes, however, revealed some unexpected trends, particularly within the Saccharomycotina group.
Declarations
Acknowledgements
The authors are enormously indebted to Drs. A. Atkin and K. Nickerson (UNL) for the critical reading of the manuscript and helpful suggestions. The work was partially supported by an REU/NSF grant (0553630) to ZA.
Authors' Affiliations
(1)
School of Biological Sciences, University of Nebraska-Lincoln, Lincoln, USA
(2)
School of Biological Sciences and Center for Plant Science Innovation, University of Nebraska-Lincoln, Lincoln, USA
Copyright
© Veerappan et al; licensee BioMed Central Ltd. 2008
This article is published under license to BioMed Central Ltd. This is an Open Access article distributed under the terms of the Creative Commons Attribution License (http://creativecommons.org/licenses/by/2.0), which permits unrestricted use, distribution, and reproduction in any medium, provided the original work is properly cited.