Research article

Open Access
Tracing early stages of species differentiation: Ecological, morphological and genetic divergence of Galápagos sea lion populations
BMC Evolutionary Biology
2008
8:150
Received: 22 November 2007
Accepted: 16 May 2008
Published: 16 May 2008
Abstract
Background
Oceans are high gene flow environments that are traditionally believed to hamper the build-up of genetic divergence. Despite this, divergence appears to occur occasionally at surprisingly small scales. The Galápagos archipelago provides an ideal opportunity to examine the evolutionary processes of local divergence in an isolated marine environment. Galápagos sea lions (Zalophus wollebaeki) are top predators in this unique setting and have an essentially unlimited dispersal capacity across the entire species range. In theory, this should oppose any genetic differentiation.
Results
We find significant ecological, morphological and genetic divergence between the western colonies and colonies from the central region of the archipelago that are exposed to different ecological conditions. Stable isotope analyses indicate that western animals use different food sources than those from the central area. This is likely due to niche partitioning with the second Galápagos eared seal species, the Galápagos fur seal (Arctocephalus galapagoensis) that exclusively dwells in the west. Stable isotope patterns correlate with significant differences in foraging-related skull morphology. Analyses of mitochondrial sequences as well as microsatellites reveal signs of initial genetic differentiation.
Conclusion
Our results suggest a key role of intra- as well as inter-specific niche segregation in the evolution of genetic structure among populations of a highly mobile species under conditions of free movement. Given the monophyletic arrival of the sea lions on the archipelago, our study challenges the view that geographical barriers are strictly needed for the build-up of genetic divergence. The study further raises the interesting prospect that in social, colonially breeding mammals additional forces, such as social structure or feeding traditions, might bear on the genetic partitioning of populations.
Keywords
Discriminant Function Analysis
Partial Mantel Test
Step Stone Model
Quadratic Discriminant Function
Genetic Distance Measure
Background
The relative role of ecologically mediated divergence in speciation processes is still under debate [1]. Theory predicts that barriers to gene flow can evolve as a result of ecologically-based divergent selection and need not necessarily be associated with separation imposed by geographic barriers [2–5]. Recent empirical evidence makes it increasingly clear that ecological factors can indeed drive speciation processes [6–9]. Traditionally, top-down phylogenetic analyses, where the relevant divergence processes are inferred retrospectively long after the putative split has occurred have often been invoked to address this question. While this is clearly a powerful approach to reveal evolutionary trajectories, it is by its very nature restricted to retrospective inferences and can thereby only speculate about the ecological conditions under which the speciation process was initiated. It is hence necessary to identify cases where the first steps of divergence appear, even if one can not definitely know whether it will eventually end with a true species separation [10–13]. Studying ongoing differentiation processes in small-scale situations with unlimited dispersal opportunities is therefore crucial to investigate the mechanisms driving adaptive divergence.
Marine environments provide excellent study cases, as they typically allow broad dispersal in mobile taxa and, compared to terrestrial habitats, offer low travel costs [14]. Still, within geographic ranges of several thousand kilometres genetic isolation by distance is expected and has been observed even for highly mobile marine predators [15]. However, it is a challenge to track evolutionary divergence processes at a smaller spatial scale. The few that have ventured on this undertaking have produced interesting results ranging from a role of gamete recognition molecules [16] to a role of socially mediated information [17]. We here present a system that allows examination of micro-evolutionary processes in an isolated, small-scale marine environment for a highly mobile top predator.
The Galápagos sea lion (
Zalophus wollebaeki
) is endemic to the archipelago and genetically distinct from its nearest relatives [
18
]. Thus, any differentiation that can be traced within the archipelago must be genuine and will not due to an allopatric past with following reinvasion. Its marine ecosystem is divided into two distinct habitats (Fig.
1
, Table
1
): Fernandina and the west-coast of Isabela differ from its east-coast and all remaining islands in bathymetry, water temperature and nutrient content [
19
]. While waters on the central plateau are shallow ('Centre' hereafter), the sea west of Fernandina drops rapidly to depths of several kilometres. Central waters are relatively warm and low in nutrients; the 'West', in contrast, is influenced strongly by the cold upwelling waters of the Cromwell current. Such variation in physical properties between the areas results in considerable ecological differences. Primary production is markedly higher in the west, and is particularly pronounced in the area east of Fernandina, where iron concentrations are highest [
20
]. The distribution of animals dependent on aquatic resources mirrors the ecological differences between these contrasting habitats. Viable populations of endemic sea birds as well as colonies of the second Galápagos seal species, the Galápagos fur seal (
Arctocephalus galapagoensis
), are essentially confined to the more productive western habitat [
21
,
22
]. In contrast, the distribution of the Galápagos sea lion includes both habitats. This results in a rather special situation, where both intra- as well as inter-specific niche differentiation between the two seal species could act as ecological sources of selective divergence. It poses the question, whether such environmental contrasts can translate into genetic divergence in a species with a basically unlimited dispersal capacity across its entire range.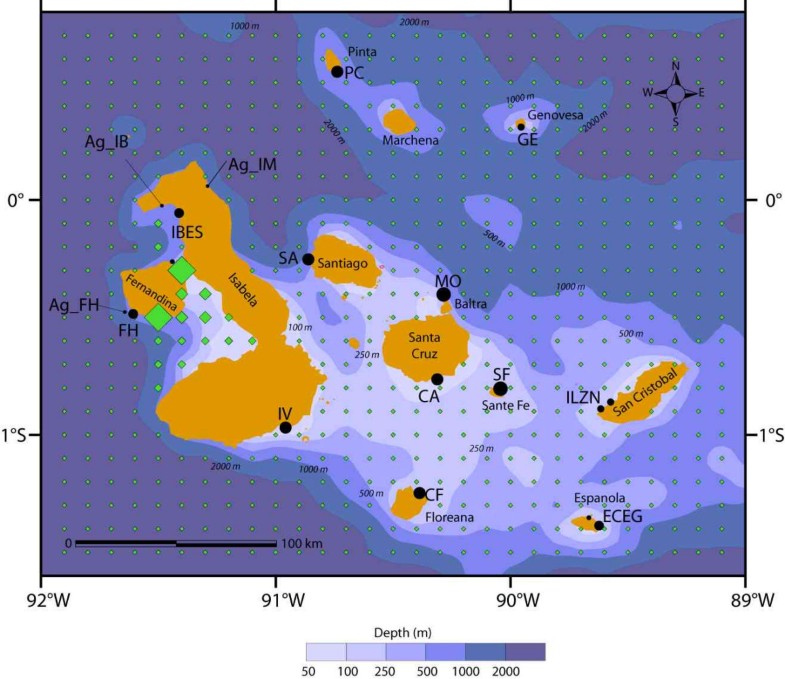 Table 1
Sampling locations and sample sizes
Taxa

Island (code on map)

Coordinates

Number of samples

Differentiation scenario: geological/ecological

≥ 625 bp mtDNA

Amplifying ≥ 21 microsatellite loci

Stable isotope analysis

Zalophus wollebaeki

(Galápagos sea lion)

Caamaño (CA)

0°46'58''S,

90°17'42''W

27

30

10

group 1/Centre

Floreana (CF)

1°14'16''S,

90°23'16''W

30

29

11

group 1/Centre

Mosquera (MO)

0°24'58''S,

90°16'42''W

40

40

10

group 1/Centre

Santiago (SA)

0°14'18''S,

90°52'25''W

29

30

10

group 1/Centre

Santa Fé (SF)

0°48'18''S,

90°02'25''W

35

39

10

group1/Centre

Española * (ECEG)

1°22'07''S,

89°38'32''W

29

28

19

group 2/Centre

San Cristobal* (ILZN)

0°52'30''S,

89°36'00''W

23

47

--

group 2/Centre

Pinta (PC)

0°32'10''N,

90°44'20''W

30

30

10

group 3/Centre

Genovesa (GE)

0°18'16''N,

89°57'16''W

13

14

14

group 3/Centre

Isabela (IV)

0°57'58''S,

90°57'42''W

30

30

--

group 4/Centre

Fernandina (FH)

0°28'18''S,

91°36'25''W

23

23

22

group 4/West

Isabela *(IBES)

0°09'44''S,

91°25'25''W

27

27

24

group 4/West

Arctocephalus galapagoensis

(Galápagos fur seal)

Fernandina (Ag_FH)

0°28'11''S,

91°37'38'' W

--

--

30

Isabela Banks Bay (Ag_IB)

0°01'09''S,

91°29'52''W

--

--

30

Isabela Marshal Bay (Ag_IM)

0°03'58''N,

91°17'12''W

--

--

30

Zalophus californianus

(Californian sea lion)

Año Nuevo Island

37°06'N,

122°19'W

--

14

--

Moss Landing Beach

36°47'N,

121°47'W

--

2

--

TOTAL

336(GSL)

367(GSL)

140(GSL)

11(CSL)

90 (GFS)
Discussion
Using ecological, morphological and molecular indicators, we find a clear structure between western and central Galápagos sea lion colonies, even though these are extremely mobile predators and breeding dispersal is potentially unrestricted across the entire species range. The mobility potential is well exemplified by the Californian sister species of the Galápagos sea lion [18] that can easily travel several hundred kilometres during foraging routines [27]. Similarly, for the Galápagos sea lion satellite telemetry data show that the scale of ecological and genetic divergence lies well within the geographic range of daily foraging trips [28]. In other marine mammals of similar mobility [15] including species of seals [29] a comparable degree of genetic differentiation is usually found only at geographic scales that are about 10-fold larger. This is not surprising, as high mobility usually translates into strong gene flow. In elephant seals for example, a single male can successfully father 19 offspring 8000 km from its natal rookery [30]. This calls for an explanation beyond mere distance effects in the Galápagos sea lion, where homogenizing effects of even rare dispersal events would equally be expected as in other polygynous animals. In the following, we discuss the possible factors that might play a role in this differentiation.
Conclusion
Our data show evidence for intra-specific divergence of the Galápagos sea lion at ecological, morphological and genetic levels, which may potentially lead to the emergence of a new species over time. Our analysis shows that a multitude of factors may play a role in ecological divergence, including some behavioural conditions that are specific to the system. In particular, the data constitute an example where substantial effects of a competitor species on intra-specific evolutionary processes appears likely [31, 32]. Geographic isolation, on the other hand, seems to play only a small role. Thus, our results are in line with an increasing number of studies that suggest that the current dominance of allopatric and parapatric speciation concepts in evolutionary theory may be in part an artefact of studying speciation patterns at levels where the processes have long been completed. The study highlights that divergence processes are likely to be based on a variety of factors, and that little will be gained by exclusively adhering to a controversial debate about geographic speciation scenarios [7].
Declarations
Acknowledgements
We gratefully acknowledge assistance in the field provided by Corinne Zurbrügg, Karina Acevedo-Whitehouse, Marilyn Cruz and Sandie Salazar. Samples of the Californian sea lion were kindly provided by Terry Williams. We thank David Aurioles-Gamboa, who contributed samples for the easternmost range of the Galápagos sea lion. Thanks to Elke Hippauf, Heinke Buhtz, Anita Möller and Elke Blohm-Sievers for help in the laboratory. Thanks to the following for allowing access to skull specimens: Jacques Cuisin and Erwan Vappreau (MNHN), Fiona Brady (AMNH), James Mead, Linda Gordon and Criis Geer (NMNH), Philip Unitt (SDNHM), Michi Solomon (FMNH) and Rainer Hutterer (ZFMK). We would also like to thank the Max-Planck Society via the Institute for Ornithology, Seewiesen, for use of their research table. Funding was provided by the National Geographic Society (grant: 7671-04), the German Research Foundation (WO 1426/1-1), VolkswagenStiftung (grant 78620) and the Max Planck Society. The study complied with the laws of Ecuador, and was carried out under permit and with support of the Servicio Parque Nacional Galápagos and the Charles Darwin Research Station, which also provided the basic GIS map. The highly constructive criticism of four anonymous referees significantly improved the manuscript.
Authors' Affiliations
(1)
Institute for Genetics, Evolutionary Genetics, University of Köln, Köln, Germany
(2)
Max-Planck Institute for Evolutionary Biology, Evolutionary Genetics, Plön, Germany
(3)
Ecology and Evolutionary Biology, School of Biological Sciences, Queen's University Belfast, UK
(4)
Museum of the North, University Alaska, Fairbanks, USA
(5)
Estación Científica Charles Darwin, Puerto Ayora, Galápagos, Ecuador
(6)
Department of Animal Behaviour, University of Bielefeld, Bielefeld, Germany
Copyright
© Wolf et al; licensee BioMed Central Ltd. 2008
This article is published under license to BioMed Central Ltd. This is an Open Access article distributed under the terms of the Creative Commons Attribution License (http://creativecommons.org/licenses/by/2.0), which permits unrestricted use, distribution, and reproduction in any medium, provided the original work is properly cited.