ReXSpecies – a tool for the analysis of the evolution of gene regulation across species
BMC Evolutionary Biology
2008
8:111
Received: 31 August 2007
Accepted: 14 April 2008
Published: 14 April 2008
Abstract
Background
Annotated phylogenetic trees that display the evolution of transcription factor binding in regulatory regions are useful for e.g. 1) narrowing down true positive predicted binding sites, providing predictions for binding sites that can be tested experimentally, and 2) giving insight into the evolution of gene regulation and regulatory networks.
Results
We describe ReXSpecies, a web-server that processes the sequence information of a regulatory region for multiple species and associated (predicted) transcription factor binding sites into two figures: a) An annotated alignment of sequence and binding sites, consolidated and filtered for ease of use, and b) an annotated tree labeled by the gain and loss of binding sites, where the tree can be calculated from the data or taken from a trusted taxonomy, and the labels are calculated based on standard or Dollo parsimony. For genes involved in mammalian pluripotency, ReXSpecies trees highlight useful patterns of transcription factor binding site gain and loss, e.g. for the Oct and Sox group of factors in the 3' untranslated region of the cystic fibrosis transmembrane conductance regulator gene, which closely match experimental data.
Conclusion
ReXSpecies post-processes the information provided by transcription factor binding site prediction tools, in order to compare data from many species. The tool eases visualization and successive interpretation of transcription factor binding data in an evolutionary context. The ReXSpecies URL can be found in the Availability and requirements section.
Keywords
Cystic Fibrosis Transmembrane Conductance RegulatorTranscription Factor Binding SiteAlignment PositionPhylogenetic FootprintingOrnithorhynchus Anatinus
Background
Elucidating how genes are regulated is an important step in understanding the processes of life. One approach to infer gene regulation and regulatory networks is to predict transcription factor binding sites (TFBSs) in genomic sequence data. These TFBSs may be located upstream or downstream of known genes, or be part of their UTRs (untranslated regions). There are already tools available for searching genomic regions from multiple species for TFBSs such as Mapper [1, 2] or Genomatix MatInspector [3]. These tools use TFBS models represented by Hidden Markov Models (HMM, used by Mapper), Position Specific Weight Matrices (PWM, used by Genomatix), or IUPAC consensus sequences (Genomatix) to predict TFBSs in a DNA sequence. In case of Mapper, the source of models are Jaspar [4] and Transfac [5]; Genomatix uses a database of TFBS developed in-house. The DNA motif that these tools are designed to match is usually short (about 8–20 base pairs) and thus it is not surprising, that there are many false positive matches. We showcase that the visualization and study of the evolutionary history of regulatory regions can be insightful, and that it helps to separate the wheat from the chaff. We argue that beyond evolutionary conservation of binding sites, plausible patterns of common gain and loss of TFBSs in evolution ease this separation.
An evolutionary approach for TFBS prediction is phylogenetic footprinting [6], based on the idea that the sequences coding a regulatory element should be preserved across different species. Phylogenetic footprinting methods try to discover TFBS in a set of orthologous regulatory regions from multiple species, by identifying the best conserved motifs in those orthologous regions [7]. We propose here to make a step forward with respect to already well-established phylogenetic footprinting servers such as FootPrinter [8], providing a tool for analyzing and visualizing the evolution of the binding sites. Up to now, large and even small amounts of data had to be digested and visualized manually for this task, by writing down all predictions for each sequence, positioning these in the alignment, and annotating a trusted species tree with them. The annotated alignment then highlights conserved TFBSs and the annotated tree describes the evolution (gain and loss) of binding sites.
With the exception of Mulan [9], visualization approaches published up to now do not calculate nor consider phylogenetic trees. Moreover, there is no tool that can annotate phylogenetic trees with TFBS information, nor is there a multiple alignment visualization that also presents a multiple alignment of the TFBSs.
In particular, CONREAL [10] gives an alignment overview for two sequences only. Similarly rVista [11] only handles pairwise sequence comparison. In contrast, multiTF [9] displays TFBSs and conservation for multiple species, but without considering TFBS predictions separately for each species, they are all listed in one track. Mulan [9] produces an annotated alignment, but it uses only pairwise alignments of each sequence with a reference sequence; multiTF identifies conserved TFBS in the Mulan output, and displays the result pairwise using rVista [11]. It displays an unannotated distance tree of the sequences to inform the user about the phylogenetic relationship of the sequences. PRODORIC [12] is suitable for bacterial genomes only. The ECRBrowser [13] is a genome browser showing only sequence conservation and TFBS predictions that are precomputed, just like UCSC [14, 15] and EnsEMBL [16, 17].
To fill some of the gaps not covered by the tools listed above we have written ReXSpecies with the following specification.
1.

Import TFBS predictions from different sources (since March 2008 TFBS predictions may be obtained directly, see "Note added in proof");

2.

Filter TFBS predictions to extract the relevant ones;

3.

Visualize evolution of TFBSs using an annotated tree and an annotated alignment;

4.

Analyze validity of the TFBS predictions by calculating trees out of the TFBS predictions, the sequence alignment and/or a concatenation of both using MrBayes [18, 19];

5.

Provide access via a web front end;

6.

Provide a modular design to make extensions possible;

7.

Offer a simple Wiki and functionality to share results.
A significant limitation in the understanding of gene regulation and regulatory networks is the lack in visualizing and mastering patterns associated with the very large amounts of data generated by technology such as DNA sequencing, ChIP on Chip, ChIP-seq, and microarrays. ReXSpecies is intended to reduce this limitation. It can be accessed via a web front end [20] and a tutorial is available there [21].
Conclusion
The ReXSpecies web-server is able to give deeper insights into the evolution of regulatory regions by providing sequence alignments and phylogenetic trees annotated with predictions for TFBSs and their gain or loss. In the future we plan to automate more tasks so that finally the input will only be a gene and the output will be an overview of its putative regulatory regions across different species annotated with TFBS predictions, a tree labeled with those predictions including gain/loss information at the edges, and possibly even a regulatory network inferred from the TFBS predictions. Towards this end, automation of the retrieval of sequence information and TFBS predictions is planned. Moreover, we wish to add more tree estimation tools besides MrBayes [18, 19], e.g. RAxML [51], and add likelihood based methods for labeling, as well as add TFBS prediction modules to enable use without Genomatix or Mapper access, automated grouping by clustering of TFBS predictions, and import of experimental (e.g. ChIP on Chip [50]) data.
Availability and requirements
Note added in proof
An improved version of the ReXSpecies server is available since March 1, 2008. Most importantly, we now offer direct calculation of transcription factor binding site predictions using PoSSuM [
52
,
53
].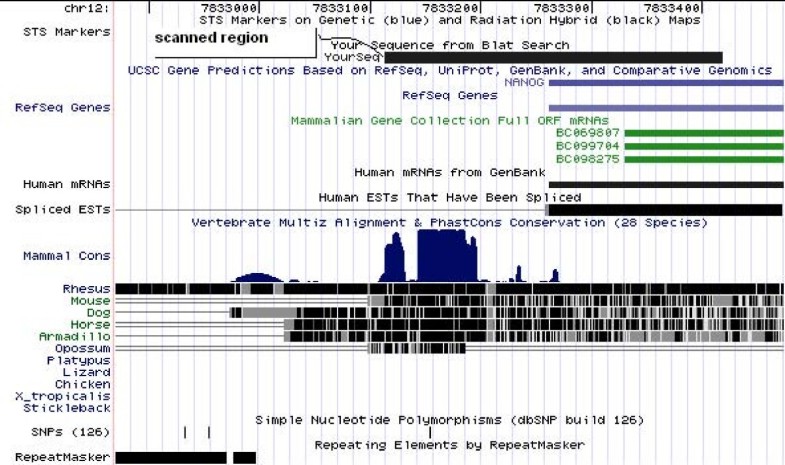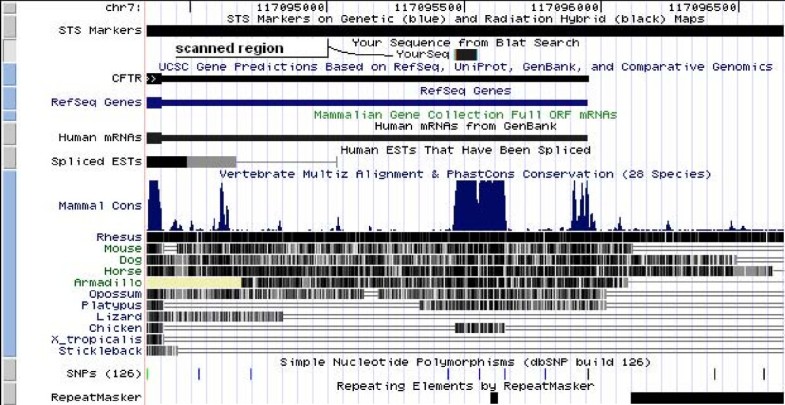 Declarations
Acknowledgements
We thank E. Klassen, M. Kabisch, A. Seeland, C. Scheuner for assistance. RAR was supported by the following grants to Ileana Zucchi, CNR, Milan, Italy: (1) FIRB Internazionali Grant RBIN04CBSM 000 and (2) N.O.B.E.L. Grant funded by Fondazione CARIPLO.
Authors' Affiliations
(1)
Bioinformatics Research Group, E.M.A. University Greifswald, Greifswald, Germany
(2)
Max-Planck-Institute for Molecular Biomedicine, Münster, Germany
(3)
ITB-CNR, Segrate-Milan, Italy
Copyright
© Struckmann et al; licensee BioMed Central Ltd. 2008
This article is published under license to BioMed Central Ltd. This is an Open Access article distributed under the terms of the Creative Commons Attribution License (http://creativecommons.org/licenses/by/2.0), which permits unrestricted use, distribution, and reproduction in any medium, provided the original work is properly cited.