Research article

Open Access
Multiple domain insertions and losses in the evolution of the Rab prenylation complex
BMC Evolutionary Biology
2007
7:140
Received: 16 June 2007
Accepted: 17 August 2007
Published: 17 August 2007
Abstract
Background
Rab proteins are regulators of vesicular trafficking, requiring a lipid modification for proper function, prenylation of C-terminal cysteines. This is catalysed by a complex of a catalytic heterodimer (Rab Geranylgeranyl Transferase – RabGGTase) and an accessory protein (Rab Escort Protein. REP). Components of this complex display domain insertions relative to paralogous proteins. The function of these inserted domains is unclear.
Results
We profiled the domain architecture of the components of the Rab prenylation complex in evolution. We identified the orthologues of the components of the Rab prenylation machinery in 43 organisms, representing the crown eukaryotic groups. We characterize in detail the domain structure of all these components and the phylogenetic relationships between the individual domains.
Conclusion
We found different domain insertions in different taxa, in α-subunits of RGGTase and REP. Our results suggest that there were multiple insertions, expansions and contractions in the evolution of this prenylation complex.
Keywords
Leucine Rich RepeatWhole Genome DuplicationDomain ArchitectureLeucine Rich Repeat DomainDomain Insertion
Background
Protein prenyl transferases are a family of protein complexes that catalyze the lipid modification of proteins with isoprenoid groups. There are covalently attached to cysteine residues near or at the C-termini of intracellular proteins via tioether linkages (reviewed in [1, 2]). The family includes Protein Farnesyl Transferase (FTase), Geranylgeranyl Transferase I (GGTase I) and RabGeranylgeranyl Transferase (RabGTTase). FTase and GGTase I modify C-terminal cystein residues in the context of a CAAX motif with a 15 or 20 carbon isoprenoid, respectively, and are thus termed CAAX prenyltransferases (A stands for aliphatic residue, X for any residue). Substrates of the FTase include Ras family small GTPases, nuclear lamins, centromeric proteins among others, whereas substrates of the latter include the Rho family of small GTPases and heterotrimeric G protein γ subunits (reviewed in reference [3]). RabGGTase in contrast is specific to the Rab family of small GTPases, and catalyses the modification of these with two or sometimes one 20 carbon isoprenoid. It also differs from the CAXX prenyltransferases by the absolute requirement for an accessory protein, termed Rab Escort Protein (REP) for proper catalysis (reviewed in [4]). Protein prenylation affects proteins involved in a multitude of cellular processes, is involved in a variety of human diseases and therepaeutic approaches and this is extensively reviewed, for example in references [3–6].
Protein prenyl transferases are heterodimeric complexes of a α and a β chain, and in the case of RGGTase a third subunit, the REP protein(s). The genes coding for these enzymes have been cloned in a variety of species and shown to be essential for life [
7
–
9
]. FTase and GGTaseI share the α-subunit, but have distinct β-subunits, whereas the α- and β-subunits of RabGGTase are coded by distinct genes. The three-dimensional structure of the three enzymes has been solved, and revealed that the three enzymes are structurally homologous (see Figure
1
). The α-subunit is a right-handed, crescent shaped, super-helix composed by 15 α-helices wrapped around the α-α barrel of the β-subunit [
10
,
11
]. RabGGTase is a similar αβ heterodimer but the rat protein displays the insertion of two additional domains in the α-subunit relative to the other prenyltransferases, and to the yeast protein, a Ig-like domain and a Leucine Rich Repeat domain [
12
]. In contrast with the CAXX prenyltransferases that recognize the C-terminal motif of the substrate proteins via the β, catalytic subunit, RabGGTase recognizes the substrate by interactions of the α-subunit with an extra protein, REP. The rat REP, like the α-subunit, displays an insertion relative to the yeast orthologue and the paralogous RabGDI [
13
,
14
] (Figure
1
). Protein prenyltransferases are believed to have evolved from an ancestral heterodimer, which by gene duplication gave rise to the current constellation of subunits [
15
].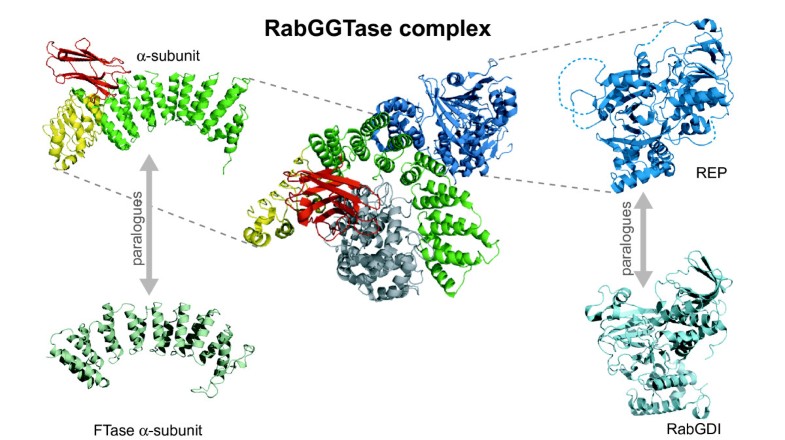 The role of gene duplication in the evolution of protein complexes has been subject of recent interest [16–19]. Individual gene duplications can contribute to specialization of protein complexes, and can also accumulate to the point where two or more fully independent protein complexes exist [16, 19]. Less well understood is the role of domain insertions and deletions in the context of protein complexes. Protein domains are the basic evolutionary units in protein evolution [20, 21]. Proteins can gain, rearrange and loose domains in the course of evolution. Domain gains result mostly from fusions of independent genes that contain one or more domains and it is perhaps the most frequent mechanism of protein evolution after gene duplication [22]. It can also be a consequence of duplication followed by in-frame fusion, resulting in tandem duplications. Less frequently, domain insertions may happen, situations where one or more domains are inserted into another domain, usually in loop regions [23, 24]. Domain losses are less well understood, but recent evidence suggests that they are most abundant at C-termini and due to the premature stop codons [25]. Rearrangements or circular permutations can be achieved by complete duplication with in-frame fusion followed by partial deletion of domains at the termini, the most frequent mechanism [26], but also by independent fusion [26] and also by a mechanism termed "cut and paste" where a gene is fragmented, for example by the action of endonucleases, and then reassembles the resulting fragments in a different order [27].
Here we characterize the domain architectures of the components of the Rab prenylation complex, i.e. the heterodimer αβ of RGGTase and the accessory protein REP. We find that orthologous proteins display diverse domain architectures, suggestive of multiple independent events involving gains and losses of domains.
Conclusion
In summary, we identified the orthologues of the components of the Rab prenylation complex in 43 species – the αβ heterodimer RabGGTase, and the accessory proteins REP. We characterized their domain architectures and found that it varies considerably in evolution. The α-subunit can have distinct inserts in two positions, between the tetratricopeptide repeats 5 and 6 and at the C-terminal. These domain insertions are specific to RabGGTase, as the paralogous α-subunit of Farnesyl and Geranylgeranyl (type I) Transferases displays conserved domain architectures. The β subunit has a conserved domain architecture but the REP proteins also have variable inserts between SCR1B and SCR2.
We found the full constellation of protein prenyltransferases in the organisms we analyzed as found in model organisms [1, 2]. This suggests that the Last Common Eukaryotic Ancestor (L.E.C.A.) had the same constellation of enzymes and subunits. The three enzymes are related by gene duplication events, which suggests that there was an ancestral heterodimeric protein prenyl transferase at the base of the eukaryotic tree. The presence of structural homologues of α and β-subunits in all the branches of the tree of life indicates that the eukaryotic innovation required solely novel interactions, rather than novel folds. The precise order of duplication events is however unclear. FTase and GGTase I are separated by a single gene duplication event, whereas RGGTase is separated by two duplication events from either of the other enzymes. The simpler architecture of FTase and GGTase I, and their independence from further components for proper activity suggests that they preceded RGGTase. However, substrates of all three enzymes are ubiquitous in the eukaryotic tree, which further emphasizes that the L.E.C.A. is likely to have already the three enzymes.
In conclusion, the components of the Rab prenylation complex display varied domain architectures in evolution, which are more consistent with multiple independent events in the first insertion of the α-subunit, multiple losses in the second insert, and independent expansions in REP. There is no known function for the variable domains. There is no obvious correlation between Rab family size, and the presence or size of any of the RGGTase inserts, which suggests that these insertions are independent of Rab family expansion. Furthermore, the inserted domains do not parallel each other within or across subunits. This indicates that it is unlikely that they are involved in direct physical contacts, and that they are likely to have independent functions. The few inserted sequences that are similar to known sequences (C2-like and LRR) suggest that the role of these domains is regulatory, possibly involving lipid and protein binding. It is tempting to speculate that they are involved in taxon-specific regulatory interactions not yet described. One future avenue of research will be the identification of putative binding partners, for example by bioinformatic analysis, searching for genes with similar phylogenetic profiles as those of the inserted domains.
Finally, this case study suggests that domain gains and losses may be an important force driving the evolution and diversification of protein complexes. A future avenue of research is the quantification of this contribution.
Methods
The analyses were performed on sequenced eukaryotic genomes that were downloaded from NCBI and other eukaryotic genomes databases. A full listing of the organisms investigated is provided in additional file 1. It aims for maximum coverage of eukaryotic diversity within the species with a complete genome sequence. Sequence searches combined BLAST [35] searches using known RGGTase and REP sequences as query, as well as protein families defined in the Pfam [36] and superfamily [37, 38] databases. Multiple sequence alignments were performed with ClustalW 1.83 [60], pairwise alignments used the Smith-Waterman algorithm [61] (Water in EMBOSS [62]), in both cases with the a Blosum 62 matrix [63] and default GAP and extension penalties. Sequence manipulation was done with Jalview 2.1.1 [64]. Domain assignments were done using Superfamily [65] and Pfam [66]. Secondary structure predictions was performed using Jpred [39, 40]. Phylogenetic reconstruction was done using the Neighbor-Joining clustering algorithm as implemented in ClustalW 1.83 [60], using 1000 bootstraps, as well as the cladistic methods Maximum Likelihood in the Phylip 3.61 package (ProML) [67] (Jones-Taylor-Thorthon (JTT) matrix; 100 boostraps) and Bayesian method implemented in MrBayes v. 3.1.2 [68, 69] using Blosum62 as a fixed rate aa model, ran until average standard deviation of split frequencies was lower than 0.01. Trees were drawn using in FigTree v. 1.0 [70].
All sequences used in this study, as well as alignment and tree files can be found in the supplementary website [71].
Declarations
Acknowledgements
We thank members of the Computational Genomics and Cell Cycle Regulation laboratories at the Instituto Gulbenkian de Ciencia for helpful discussions.
Authors' Affiliations
(1)
Instituto Gulbenkian de Ciência, Oeiras Portugal
Copyright
© Rasteiro and Pereira-Leal; licensee BioMed Central Ltd. 2007
This article is published under license to BioMed Central Ltd. This is an Open Access article distributed under the terms of the Creative Commons Attribution License (http://creativecommons.org/licenses/by/2.0), which permits unrestricted use, distribution, and reproduction in any medium, provided the original work is properly cited.