Research article

Open Access
Assortative mating and differential male mating success in an ash hybrid zone population
BMC Evolutionary Biology
2006
6:96
Received: 27 July 2006
Accepted: 15 November 2006
Published: 15 November 2006
Abstract
Background
The structure and evolution of hybrid zones depend mainly on the relative importance of dispersal and local adaptation, and on the strength of assortative mating. Here, we study the influence of dispersal, temporal isolation, variability in phenotypic traits and parasite attacks on the male mating success of two parental species and hybrids by real-time pollen flow analysis. We focus on a hybrid zone population between the two closely related ash species Fraxinus excelsior L. (common ash) and F. angustifolia Vahl (narrow-leaved ash), which is composed of individuals of the two species and several hybrid types. This population is structured by flowering time: the F. excelsior individuals flower later than the F. angustifolia individuals, and the hybrid types flower in-between. Hybrids are scattered throughout the population, suggesting favorable conditions for their local adaptation. We estimate jointly the best-fitting dispersal kernel, the differences in male fecundity due to variation in phenotypic traits and level of parasite attack, and the strength of assortative mating due to differences in flowering phenology. In addition, we assess the effect of accounting for genotyping error on these estimations.
Results
We detected a very high pollen immigration rate and a fat-tailed dispersal kernel, counter-balanced by slight phenological assortative mating and short-distance pollen dispersal. Early intermediate flowering hybrids, which had the highest male mating success, showed optimal sex allocation and increased selfing rates. We detected asymmetry of gene flow, with early flowering trees participating more as pollen donors than late flowering trees.
Conclusion
This study provides striking evidence that long-distance gene flow alone is not sufficient to counter-act the effects of assortative mating and selfing. Phenological assortative mating and short-distance dispersal can create temporal and spatial structuring that appears to maintain this hybrid population. The asymmetry of gene flow, with higher fertility and increased selfing, can potentially confer a selective advantage to early flowering hybrids in the zone. In the event of climate change, hybridization may provide a means for F. angustifolia to further extend its range at the expense of F. excelsior.
Keywords
Hybrid ZoneAssortative MatingDispersal KernelMale Mating SuccessFlowering Phenology
Background
Hybrid zones, where lineages differentiable by one or more heritable traits meet and intercross, provide unique opportunities for studying the nature and dynamics of barriers to gene exchange. The evolution of these barriers can have many different outcomes, including divergence of populations leading to speciation, collapse of differentiated populations, hybrid speciation or invasion. The structure and evolution of hybrid zones depend mainly on the relative importance of dispersal, local adaptation and the fitness of hybrids [1, 2], influencing the strength of reproductive isolation. For example, with relatively high dispersal between adjacent populations, gene exchange between species is prevented only if local adaptation is sufficiently strong to eliminate hybrids. Temporal isolation is a particular ecological isolation process that can result from divergent adaptations and cause assortative mating by itself. It involves differences in reproductive timing and can be the result of behavioral or developmental schedule divergences [3, 4]. In this study we focus mainly on the role of dispersal and temporal assortative mating in shaping the mating patterns in a plant hybrid zone population, and on the relative male fitness of hybrids and parental species.
Pollen dispersal is an important factor influencing the dynamics and evolution of plant populations (e.g. [5, 6]). In particular, the frequency of long-distance dispersal events can have strong effects on the distribution of genetic diversity by connecting distant demes in metapopulations [7, 8]: in contact zones, it may have important consequences because it can break down the genetic integrity of locally adapted populations and counter-balance the strength of selection. Several processes can limit gene flow despite long-distance dispersal, and thereby increase the efficiency of response to selection. High selfing rates for example may preserve genetic integrity of well-adapted populations, but on the other hand they can also generate inbreeding depression and reduce the effect of selection [9–11]. In plants, temporal assortative mating is usually due to flowering time differences, which can also impede gene flow despite sympatry. If parental species are adapted to different habitats in parapatry, divergence in flowering time can be reinforced in the contact zone, thereby preventing gene flow and maladaptive hybridization. Examples of this can be seen in natural populations of Agrostis tenuis and Anthoxanthum odoratum at mine boundaries [12] and in A. odoratum growing under different treatments in the 150-year old Park Grass Experiment [13]. In contrast, if divergent flowering times are selected in allopatry by different environmental factors, they may overlap in sympatry if intermediate ecotones exist [3] or in the case of habitat disturbance (e.g. [14]). If hybrids do not suffer reduced fitness, the only way to maintain temporal isolation is a variation of selection regimes through the reproductive season [15]. Indeed, as flowering times are often highly heritable, assortative mating due to flowering phenology can strongly influence the response to selection, for example it can increase the rate of response to directional selection [16, 17]. Moreover, in the case of strong temporal isolation, high selfing rates can provide reproductive insurance and thus contribute to maintain this isolation.
Local scale studies involving cross-generational approaches with molecular markers are known to be useful for exploring the interactions between selection, assortative mating and dispersal in natural hybrid populations [18]. However, very few recent studies have used methods such as paternity or mating system analyses to estimate the importance of assortment and/or heterogeneity in mating success in structuring hybrid zones of plants (e.g. [19–21]) or animals (e.g. [22]). Detecting temporal assortative mating, i.e. the correlation in flowering time between pollen donors and recipients, can be accomplished at a local scale by paternity analysis [23]. Here we extend a recently developed mating model [24] to estimate the level of temporal assortative mating, along with other important parameters involved in the evolution of a hybrid zone population between two closely related forest tree species.
The two European ash species Fraxinus excelsior L. and F. angustifolia Vahl have separate distributions in France but occur in sympatry in several contact zones where they hybridize [25], although they show completely disjoint flowering phenologies in allopatry [26, 27]. We previously showed that the extent of hybridization seems to be limited by climatic variations in some regions, but intermediate conditions provide ecotones where hybrids are widespread, such as in the Loire valley in central France [25]. Here we focus on one of the populations of this hybrid zone, in which we have shown that genetic and morphological differentiation of the adult trees correlates with differences in flowering times, producing isolation by time patterns [28]. Individuals with extreme phenologies appear genetically and morphologically similar to one parental species, while intermediate flowering individuals cluster into several hybrid classes with flowering dates between those of the two species. Moreover, we showed that these intermediate flowering hybrids produced more flowers and fruits over the two years of study. If these high levels of flowering and fruiting lead to a higher fitness, we may expect that these hybrid genotypes will rapidly invade the zone, especially if assortative mating occurs and/or selfing is frequent. The two parental species are known to be outcrossing species (e.g. t m values provide outcrossing rates between 0.94 and 1 for F. excelsior [29, 30], and between 0.95 and 1 for F. angustifolia [Fernandez-Manjarrés and Gérard, unpublished]) but to date, there have been no study examining the level of selfing in hybrids.
In this paper, we use a modified version of the mixed-mating model [24, 31, 32] to explore the relative importance of diverse forces influencing the evolution of this hybrid zone population by estimating jointly: (i) the pollen dispersal kernel and the rate of pollen immigration from outside the population, (ii) the strength of spatial and temporal assortative mating, (iii) the selfing rate within the population, (iv) the relative male fitness through mating success of the parental species and different intermediate flowering hybrids and (v) the effect of different phenotypic trait variations on male fecundity (i.e. sexual phenotype, flowering intensity, tree size and fruit production), and (vi) the effect of floral parasite infection intensity on the male fecundity. We also estimate the variation in selfing rates among phenological groups in order to assess the level of selfing in hybrids compared with the parental species. Additionally, we study the impact of the genotyping error rate assumed in the method, as it can have a strong impact on the estimation of relative mating successes [33, 34].
Results
Joint estimation of the dispersal kernel, temporal assortative mating and male fecundities
Male effective population density
With model 1, we estimated from equation (8) the reduction of effective male population density ( em /d obs ) when only accounting for variation in phenotypic traits as 0.32 when the assumed genotyping error rate was set at 0%, 0.24 for a rate of 0.1%, and 0.27 for a rate of 2.5%.
The mean reduction of effective male population density due to phenotypic traits and temporal assortative mating was estimated at ( em /d obs ) = 0.30, 0.23 and 0.27 (with an error rate of 0%, 0.1% and 2.5% respectively). Among pollen-recipients, regardless of genotyping error, the highest reductions were estimated from the pollen clouds of pollen-recipients belonging to the two latest phenological groups (4 and 5), and particularly that of group 5 (almost two-fold decrease, results not shown).
Finally, the mean reduction of effective male population density due to phenotypic traits, temporal assortative mating and non-random dispersal was estimated to ( em /d obs ) = 0.09, 0.07 and 0.06 with an error rate of 0%, 0.1% and 2.5% respectively.
Selfing rates
The overall selfing rate estimated with
model 1
or
2
was 10% and was slightly affected by genotyping error (Table
1
). It varied among phenological groups (Figure
3
) and among families, as estimated by MLTR: the mean outcrossing rate (
t
m
) was significantly different from 1 within half of the families, with values ranging from 31% to 88% (i.e. selfing rates ranging from 12% to 69%). The selfing rate was close to 20% in group 2 (
t
m
= 82.7%, standard deviation = 7.7%). In group 3, the selfing rate was estimated at 7% (
t
m
= 93%, SD = 0.066): the family-level
t
m
values were significantly different from 1 within 3/8 families, ranging between 62.5% and 94%. The selfing rate was estimated at zero in the two latest flowering groups (4 and 5).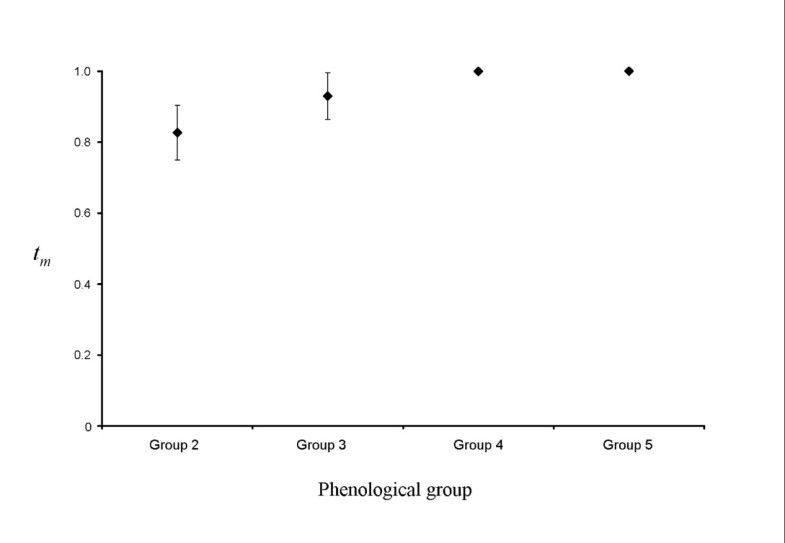 Conclusion
Temporal and spatial assortative mating limit gene flow in this hybrid zone population, even if long-distance dispersal should tend to counter-act their effects. Gene flow between parental species does not occur and intermediate flowering hybrids apparently represent bridges to gene flow between them. Early flowering hybrids, which have the highest male mating success, show optimal sex allocation which, with increasing selfing rates, can potentially confer to them a selective advantage in the hybrid zone. Moreover, temporal assortative mating could contribute to increasing the rate of response to selection by limiting gene flow between different classes of individuals.
The asymmetry of gene flow coming from early flowering pollen donors into late flowering recipients is probably a key factor involved in the dynamics and evolution of this hybrid population. If climate warming allows F. angustifolia not to suffer from winter frosts, the presence of hybrids could contribute to extending its range through this asymmetry. This study has strong implications for understanding the dynamics of forest hybrid zones and for the management of forest diversity in a climate change context.
Appendix
Modelling the genotyping error rate
If α was the error rate and if the paternal allele of the offspring was unambiguously known, we assigned as father with a probability α, a male homozygous for an allele that differ by 1 repeat unit from the offspring, and with a probability 1–2α, a male homozygous for the same allele.
This means that in equation 8, the standard transition probabilities T(g o |, g l ) defined by Meagher (1986) were replaced by , where for each locus loc, and with the notations from [70]:
with δ ij = 1 if i = j and 0 if i ≠ j, is the Mendelian contribution from the mother, without any mistyping, and the contribution from the father accounting for possible mistyping:
Declarations
Acknowledgements
We would like to thank Louis Nowak for field assistance, and Céline Devaux, Sylvain Billiard, Emmanuelle Porcher, Jacqui Shykoff and two anonymous reviewers for helpful discussions and comments on earlier versions of the manuscript. We also thank Sabrina Davis for language corrections. PRG received financial support from the French Ministry of Education and the French Institute for Biodiversity (IFB). This work was funded by the DGFAR (Ministry of Agriculture), IFB and European Union (RAP Project QLK5-2001-00631) grants to NFL and FA. JFFM benefited from post-doctoral fellowships from the EU and IFB.
Authors' Affiliations
(1)
Laboratoire Ecologie, Systématique, Evolution, UMR ENGREF-CNRS 8079, Bât. 360, Université Paris-Sud, Orsay Cedex, France
(2)
Unité de Biométrie, INRA, Domaine St-Paul, Site Agroparc, Avignon cedex 9, France
Copyright
© Gérard et al; licensee BioMed Central Ltd. 2006
This article is published under license to BioMed Central Ltd. This is an Open Access article distributed under the terms of the Creative Commons Attribution License (http://creativecommons.org/licenses/by/2.0), which permits unrestricted use, distribution, and reproduction in any medium, provided the original work is properly cited.