Research article

Open Access
Tracking the evolution of alternatively spliced exons within the Dscam family
BMC Evolutionary Biology
2006
6:16
Received: 26 September 2005
Accepted: 16 February 2006
Published: 16 February 2006
Abstract
Background
The Dscam gene in the fruit fly, Drosophila melanogaster, contains twenty-four exons, four of which are composed of tandem arrays that each undergo mutually exclusive alternative splicing (4, 6, 9 and 17), potentially generating 38,016 protein isoforms. This degree of transcript diversity has not been found in mammalian homologs of Dscam. We examined the molecular evolution of exons within this gene family to locate the point of divergence for this alternative splicing pattern.
Results
Using the fruit fly Dscam exons 4, 6, 9 and 17 as seed sequences, we iteratively searched sixteen genomes for homologs, and then performed phylogenetic analyses of the resulting sequences to examine their evolutionary history. We found homologs in the nematode, arthropod and vertebrate genomes, including homologs in several vertebrates where Dscam had not been previously annotated. Among these, only the arthropods contain homologs arranged in tandem arrays indicative of mutually exclusive splicing. We found no homologs to these exons within the Arabidopsis, yeast, tunicate or sea urchin genomes but homologs to several constitutive exons from fly Dscam were present within tunicate and sea urchin. Comparing the rate of turnover within the tandem arrays of the insect taxa (fruit fly, mosquito and honeybee), we found the variants within exons 4 and 17 are well conserved in number and spatial arrangement despite 248–283 million years of divergence. In contrast, the variants within exons 6 and 9 have undergone considerable turnover since these taxa diverged, as indicated by deeply branching taxon-specific lineages.
Conclusion
Our results suggest that at least one Dscam exon array may be an ancient duplication that predates the divergence of deuterostomes from protostomes but that there is no evidence for the presence of arrays in the common ancestor of vertebrates. The different patterns of conservation and turnover among the Dscam exon arrays provide a striking example of how a gene can evolve in a modular fashion rather than as a single unit.
Keywords
FuguTandem ArrayExon ArrayExon VariantInsect Genome
Background
Many genes containing tandem exon arrays undergo mutually exclusive alternative splicing, in which only one exon variant within a tandem array of related variants is incorporated into the mature transcript [1, 2]. In the fruit fly, Drosophila melanogaster, this form of alternative splicing can potentially produce 38,016 distinct, mature RNAs from a single gene, Down Syndrome Cell Adhesion Molecule (Dscam) [3–6]. Similar arrays of exon variants have been reported in homologs of Dscam from other Diptera (D. pseudoobscura and D. virilis and the mosquito Anopheles gambiae), the honeybee Apis mellifera (Hymenoptera) [4, 7, 8], and most recently the flour beetle Tribolium castaneum (Coleoptera) and the silk moth Bombyx mori (Lepidoptera) [9].
The fly Dscam gene encodes proteins that are members of the immunoglobulin (Ig) superfamily of cell adhesion molecules, and appears to be involved in neuronal axon guidance and bifurcation [4, 10–12]. It may also be involved in adaptive immunity in insects [9]. The protein is comprised of both an extracellular domain that is highly conserved between insect and vertebrate species, and an intracellular domain for which there is little sequence similarity between the insects and vertebrates. Nonetheless, it has been shown in both groups that the intracellular domain activates Pak1 [13], though in the insects this is an indirect interaction through the adaptor protein Dock.
The name of the gene derives from the fact that one of the designated human Dscam homologs maps to a Down syndrome-associated region on chromosome 21; Down syndrome is the most common inherited form of mental retardation [14, 15]. Another homolog, Dscam-like, maps to a locus on chromosome 11 that is associated with the neurological disorders Giles de la Tourette syndrome and Jacobsen syndrome [16]. Though evidence indicates that human Dscam may perform similar functions as its fly homolog, the specific functional role(s) of the human Dscam protein are still under investigation [13, 14]. To date, the human Dscam gene has been reported to produce only three alternative transcripts [16], raising a question about the extent to which transcriptional diversity is found among members of the gene family as a whole.
To address this question, we first located then analyzed the evolution of exons homologous to those within fly Dscam that contain tandem arrays of alternative splice variants: exons 4 (12 variants), 6 (48 variants), 9 (33 variants), and 17 (2 variants) [4, 5, 17]. These exons code for extracellular and transmembrane domains of the protein. A tandem exon array consists of multiple variants, each of which contains a unique alternative 5' (donor) and 3' (acceptor) splice site. Only one variant from an array is incorporated into each mature transcript, and different transcripts may incorporate different variants. The variants in Dscam presumably arose through tandem exon duplication, since they share similar sequences. Exon arrays containing three or fewer variants have been observed in humans [18, 19], and few cases of large tandem arrays are known, such as Pcdh genes, some of which have up to 22 variable exons in a tandem array [20]. Several other genes in vertebrates have also been found to have variable first exons in tandem arrays which undergo alternative splicing [21]. Notably, however, such exon arrays appear to be absent from human Dscam and Dscam-like genes [16].
Because there is a striking difference in the levels of transcript diversity that can be generated among the homologs of this gene [7, 8, 14], it is an intriguing system for studying the evolution of mutually exclusive splicing. Here we address a number of outstanding questions about this gene family. Do tandem arrays of exons homologous to those in fly Dscam exist elsewhere in non-insect genomes? If not, were tandem arrays lost along the lineage leading to mammals or gained along the lineage leading to insects? Do the exon variants undergo turnover within the array and, if so, how rapidly? Are the rate and mode of evolution similar among the different exon arrays?
To answer these questions, we began with the
Dscam
exon variants from each of the fly exon arrays 4, 6, 9 and 17, performing searches for homologous exons amongst sixteen genomes (Figure
1
) and filtering those matches by criteria described in the methods. Once the sets of homologous exons were identified, we used Bayesian methods to infer the phylogeny of each one.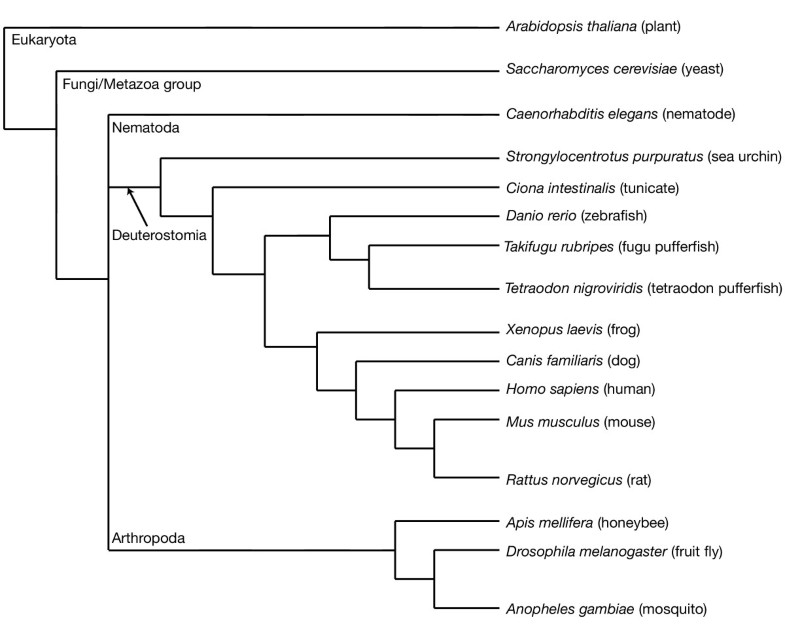 Discussion
The extraordinary difference between the fly and human Dscam homologs in the extent of potential transcript diversity motivated us to investigate the phylogenetic origin of mutually exclusive alternative splicing in the four exon arrays of the Dscam gene.
Conclusion
Our findings illustrate a striking contrast between the conservation of several large exon arrays in insect Dscam and the lack of any such arrays among vertebrates. Contrary to previous reports of high turnover [8], we found evidence for the maintenance of ancient structural patterns within the arrays, especially within exon 4. The four tandem arrays show different patterns of proliferation and conservation but the weight of evidence points to all four arrays having evolved after the divergence of arthropods from deuterostomes and nematodes. It remains to be determined whether the contrast between insect and vertebrate Dscam reflects functional divergence between the genes, or whether a distinct mechanism is acting to produce a similar diversity of transcripts in vertebrates.
Declarations
Acknowledgements
We thank Jason Phillips and M. Shawn Janairo for technical assistance, Stefanie Hartmann, Mark Holmes and Michael Wisz for critical readings of the manuscript, and Clyde Hutchison for helpful discussions. This work was supported by National Institutes of Health Genome Scholar Award HG00044 (to MCG).
Authors' Affiliations
(1)
Department of Microbiology and Immunology, The University of North Carolina at Chapel Hill, Chapel Hill, USA
(2)
Department of Biomedical Engineering, The University of North Carolina at Chapel Hill, Chapel Hill, USA
(3)
Curriculum in Genetics and Molecular Biology, The University of North Carolina at Chapel Hill, Chapel Hill, USA
(4)
Department of Biology, The University of North Carolina at Chapel Hill, Chapel Hill, USA
(5)
Department of Biology, Xavier University of Louisiana, New Orleans, USA
Copyright
© Crayton et al; licensee BioMed Central Ltd. 2006
This article is published under license to BioMed Central Ltd. This is an Open Access article distributed under the terms of the Creative Commons Attribution License (http://creativecommons.org/licenses/by/2.0), which permits unrestricted use, distribution, and reproduction in any medium, provided the original work is properly cited.