Research article

Open Access
Erosive processes after tectonic uplift stimulate vicariant and adaptive speciation: evolution in an Afrotemperate-endemic paper daisy genus
BMC Evolutionary Biology
2014
14:27
Received: 3 August 2013
Accepted: 10 February 2014
Published: 13 February 2014
Abstract
Background
The role of tectonic uplift in stimulating speciation in South Africa's only alpine zone, the Drakensberg, has not been explicitly examined. Tectonic processes may influence speciation both through the creation of novel habitats and by physically isolating plant populations. We use the Afrotemperate endemic daisy genus Macowania to explore the timing and mode (geographic versus adaptive) of speciation in this region. Between sister species pairs we expect high morphological divergence where speciation has happened in sympatry (adaptive) while with geographic (vicariant) speciation we may expect to find less morphological divergence and a greater degree of allopatry. A dated molecular phylogenetic hypothesis for Macowania elucidates species' relationships and is used to address the potential impact of uplift on diversification. Morphological divergence of a small sample of reproductive and vegetative characters, used as a proxy for adaptive divergence, is measured against species' range distributions to estimate mode of speciation across two subclades in the genus.
Results
The Macowania crown age is consistent with the hypothesis of post-uplift diversification, and we find evidence for both vicariant and adaptive speciation between the two subclades within Macowania. Both subclades exhibit strong signals of range allopatry, suggesting that geographic isolation was important in speciation. One subclade, associated with dry, rocky environments at high altitudes, shows very little morphological and ecological differentiation but high range allopatry. The other subclade occupies a greater variety of habitats and exhibits far greater morphological differentiation, but contains species with overlapping distribution ranges.
Conclusions
Species in Macowania are likely to have diversified in response to tectonic uplift, and we invoke uplift and uplift-mediated erosion as the main drivers of speciation. The greater relative morphological divergence in sympatric species of Macowania indicates that speciation in the non-sympatric taxa may not have required obvious adaptive differences, implying that simple geographic isolation was the driving force for speciation ('neutral speciation').
Keywords
AfrotemperateDrakensbergUpliftAdaptive speciationVicarianceGnaphalieae
Background
The formation of major mountain chains by tectonic uplift has stimulated plant diversification in many parts of the world, and the resulting diversity may be spectacular. Documented examples include the Andes [1–3], the Mexican Sierra Madre [4–6] and the Himalayas [7, 8]. For example the northern Andes harbours some 45,000 plant species, 44% of which are endemic [9], with the northern Andean páramos topping this with 60% endemism [10]. However, the specific mechanisms by which uplift may influence species divergence have seldom been explicitly explored. In this study, we examine the mechanisms underlying speciation following uplift of a diverse South African mountain system.
In southern Africa, Pliocene tectonic uplift played a major role in creating the geomorphically diverse Drakensberg ('Dragon's Mountain') range [
11
–
14
]. The Drakensberg constitutes the higher, eastern façade of the central plateau ('the Great Escarpment') of South Africa (Figure
1
). In terms of both height and endemic plant diversity, the Drakensberg is more modest than the Andes, with a maximum altitude of 3,482 m and the core area hosting
ca
2,520 species or subspecies of flowering plants, of which 16% are endemic [
15
]. Nevertheless, the Drakensberg region is one of three centres of Afrotemperate endemism, and appears to have been an important link between the centre in the Ethiopian highlands and that in the highly diverse Cape region with dispersal in both directions resulting from, and possibly facilitating, floristic radiations (e.g. northwards after radiation:
Disa
, Irideae,
Pentachistis
, Restionaceae [
16
]; southwards:
Scabiosa
[
17
];
Erica
[
18
]). Within the mega-diverse southern African subregion, the Drakensberg constitutes the highest-lying land and the only true alpine habitat [
19
,
20
]. The endemic Drakensberg flora is thus directly or indirectly a product of the tectonic processes that created these high-altitude habitats.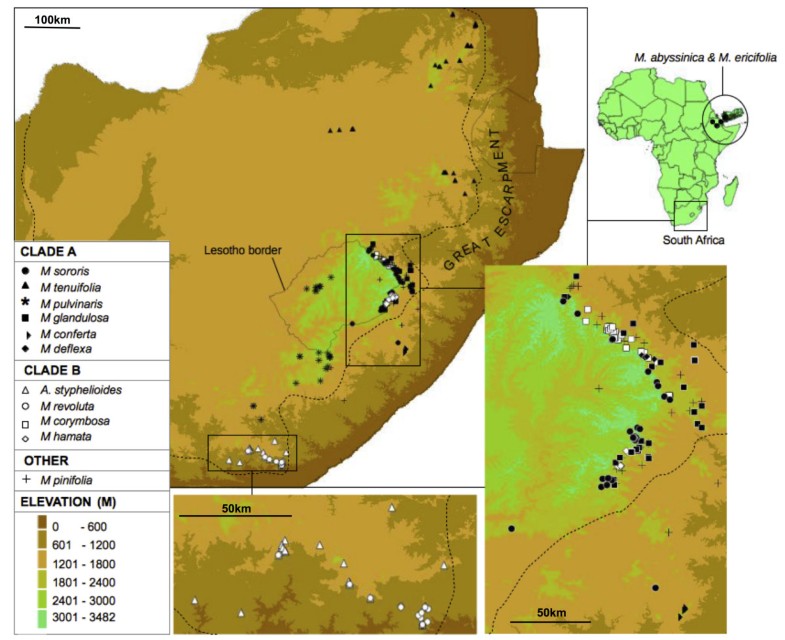 Tectonic uplift might stimulate speciation in two principal ways. First, pronounced uplift will produce a novel, high-altitude adaptive zone which may serve as an arena for adaptive radiation (sensu Simpson [1]). The scale of radiation that occurs within such an adaptive zone will ultimately depend on the heterogeneity of habitats on offer, but this is likely to be high owing to the effectiveness of tectonism and subsequent erosion in generating situations that vary in terms of altitude, aspect, slope, geology, soil type, microclimate and moisture regime (e.g. stream beds versus rocky ridges). Underlying geological heterogeneity will increase the overall habitat diversity by allowing for specialisation to different soil types as they are exposed or created by erosion; it will also result in a more complex landscape due to differences in erodibility. Tectonism may also promote species radiation indirectly, by the stimulation of large-scale erosion resulting from increased river gradients. Removal of increasing portions of the landscape will disrupt the original land surface, potentially fragmenting species ranges. Given time, populations separated by erosion gaps will diverge as a consequence of both adaptive divergence and neutral processes (drift), the latter being more important where the selective differentials between populations are low and/or population size is small with limited gene flow [21]. An example of neutral divergence following erosion-mediated habitat fragmentation is the divergence of a montane lizard genus (Phrynosoma) in the Sierra Madre of Mexico, where canyon formation followed tectonic uplift [4–6]. Although the potential importance of non-adaptive divergence as a driver of speciation (non-ecological speciation) is gaining recognition [22–24], the long-standing emphasis on adaptive divergence as the sole agent remains pervasive [25–28], and it is difficult to prove the absence of any form of adaptation.
In principle, post-uplift species accumulation is likely to occur as a consequence of both adaptive and non-adaptive processes. If this is true, tectonic processes and subsequent erosion have likely been important as stimuli for both adaptive and non-adaptive diversification in the Drakensberg. One of the predictions of this hypothesis is that the bulk of diversification in endemic lineages should be associated with (or occur soon after) episodes of major tectonic activity. Also, where non-adaptive processes have been important, we expect to find strong signatures of allopatric speciation, paired with limited functional divergence. A brief overview of the geological history of the region reveals high probability of erosion-mediated range fragmentation. Composed of large blocks of sedimentary and volcanic rocks (primarily the soft 'cave' sandstones of the Clarens group topped by the younger and erosion-resistant basalts and dolerites of the Drakensberg group) which have been deposited over the past 200 Ma, the highly incised contemporary landscape of the Drakensberg is a product of erosion associated with cyclical uplift throughout the Cenozoic. Following the separation of Africa from the rest of Gondwanaland at about 184 Ma, the eastern half of South Africa experienced several cycles of uplift. The two most recent cycles, the first occurring in the early Miocene and the second in the early Pliocene (± 5 Ma), are thought to have raised the eastern margin of the Great Escarpment of southern Africa by between 150 – 300 m and 600 – 900 m respectively [12, 14, 29–31], each cycle stimulating renewed erosion [11–13]. Over time, the resulting escarpment edge, originally a uniform plateau extending to nearly the present-day coastline [11], is hypothesised by some authors [11–13] to have eroded back towards the interior of the country, simultaneously being incised by a series of deep drainage gulleys. The greater elevations of the Drakensberg range, relative to the rest of the Great Escarpment, has been attributed to pronounced upward flexing in response to to local intense erosion on one flank [32–34]. In the absence of historical volcanism, the contemporary deeply-dissected and geologically heterogeneous Drakensberg landscape is thus a product of landscape erosion.
The existence of the Drakensberg has undoubtedly been key to the creation of the 'Afrotemperate track' [20, 35, 36], a continuous zone of floristic affinity between the hyper-diverse Cape Floristic Region and the Afrotemperate regions of tropical Africa and the Mascarenes [37]. Dispersal both to and from the Cape via the Drakensberg may have been an important factor in the genesis of Afrotemperate plant diversity, including the floras of Madagascar and upland tropical Africa, as well as providing opportunities for European alpine lineages to disperse to and subsequently diversify in the Cape. Regional floras are assembled via both immigration and in situ diversification. Most Drakensberg-endemic lineages studied to date appear to be the result of repeated independent dispersal into the region, rather than in situ diversification [16]. Evidence for this lies in the low number of endemic species per genus. Of the 37 genera that contribute more than three endemic species to the Drakensberg Alpine Centre (DAC: the central, highest-lying part of the Drakensberg range [38, 39]), only two have more than 12 endemics and the average is 6 endemic species [40]. Although the scale of in situ radiation varies among Drakensberg plant lineages [16] it appears for the most part to be modest, which may reflect both a youthful colonisation history and the small scale of the region. The daisy family Asteraceae has been the most successful angiosperm coloniser of the Drakensberg, with several genera contributing high numbers of endemic species to the DAC (Helichrysum: 29; Senecio: 22; Euryops: 7 [38]).
The paper daisy genus Macowania Oliver has five species strictly endemic to the DAC, but ten species endemic to the greater Drakensberg area (including the escarpment of the Eastern Cape, KwaZulu-Natal and Mpumalanga provinces). This makes it comparatively species-rich, and an excellent system for exploring the impact of landscape evolution on speciation in the greater Drakensberg area. In total, Macowania comprises 12 evergreen, woody sub-shrubs, the two non-Drakensberg species being native to the highlands of Ethiopia, Djibouti, Eritrea and Yemen (henceforth referred to as 'East Africa'; Figure 1) and comprising the northern extent of the typical 'Afrotemperate track' [35]. The South African species of Macowania are essentially restricted to high-elevation habitats, the majority favouring rocky environments along or immediately below the Drakensberg scarp edge. Here they inhabit a diversity of substrata or geologies, and some degree of substrate-specificity is apparent. Three species are unusual in preferring riparian or frequently-moist habitats.
In this study, we present a dated molecular (nuclear and plastid DNA) phylogenetic hypothesis for
Macowania
and, in conjunction with distributional and morphological data, use this to explore speciation pattern and process. We include in our study the monotypic genus
Arrowsmithia
because, despite its contrasting vegetative morphology, past authors have suggested the possibility of a close relationship with
Macowania
[
41
,
42
]. In view of the overwhelming association of
Macowania
with high-elevation habitats, we hypothesise that the Drakensberg species of
Macowania
constitute a clade whose contemporary diversity is the product of a minor radiation associated with dramatic Pliocene uplift of the Drakensberg scarp. Our discovery within
Macowania
of two principal clades, one restricted to more-or-less uniform high-elevation rocky habitats (clade A) and the other occupying a broader array of ecological situations (clade B, occurring on rocky slopes, along streams and in seepages), indicates a potential role for both non-ecological and ecological speciation processes (Figures
1
and
2
). We speculate that, whereas erosion-induced fragmentation of the scarp zone has resulted in a history of primarily vicariant speciation in clade A, speciation in clade B has been powered to a greater extent by adaptive divergence. To evaluate these ideas, we test the predictions that, consistent with a vicariant speciation model, (i) the signatures of allopatric speciation should be stronger in clade A than in clade B; (ii) morphological divergence, used as a proxy for functional diversification, should be less pronounced in clade A than in clade B; and (iii) where related species have highly overlapping distributions, especially in clade B, morphological divergence should be higher. We also use molecular dating to evaluate the hypothesis that radiation of these clades closely followed recent tectonic uplift at the start of the Pliocene.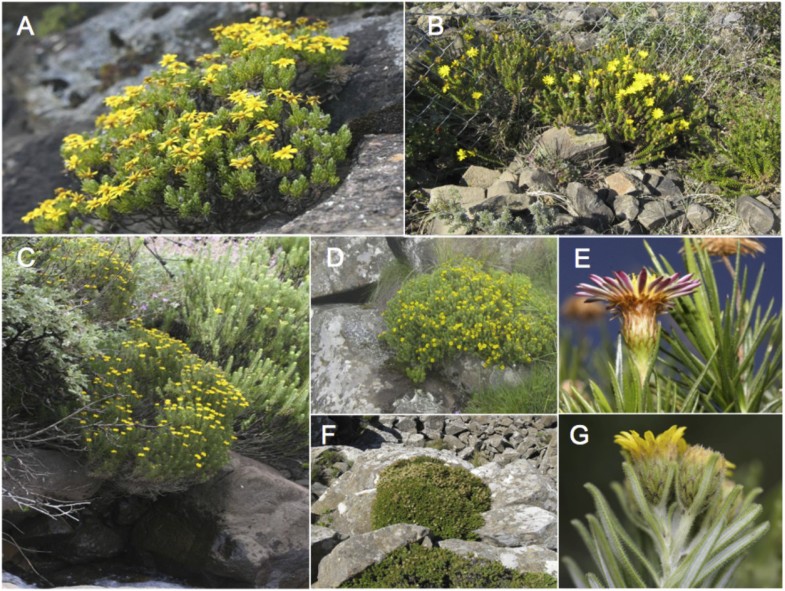 Results
Phylogenetic relationships in Macowania
The two nuclear regions (ETS & ITS) produced completely congruent trees, and so were combined to form a single nuclear matrix consisting of 47 accessions and 1,092 aligned nucleotides, of which 433 (40%) characters were parsimony-informative (Figure
3
). Similarly, the two plastid regions (
trnT-L
and
psbA-F
) yielded poorly-resolved but congruent trees, and were combined to form a matrix consisting of 1,051 characters, of which 104 (10%) were parsimony-informative (Figure
3
). Both the plastid and the nuclear gene trees independently recover
Macowania
as part of a clade containing the
Relhania
group of genera (represented here by
Relhania, Oedera
and
Comborhiza
). While the plastid topology neither rejects nor confirms the monophyly of
Macowania,
the nuclear gene tree resolves a clade comprising most species of
Macowania
(Node X; bootstrap percentage (BS) = 100) and including
Arrowsmithia.
Within this clade, a group of
Macowania
species form a strongly supported subclade (Node Y; BS = 99). Multiple accessions of species were always recovered as monophyletic in the nuclear ribosomal tree, while only those from
Arrowsmithia
and
M. pinifolia
grouped together at the 75% BS level in the plastid tree. Conflict between nuclear and plastid partitions is observed only with regard to the placement of the outgroup taxa
Leysera leyseroides
and
Rhynchopsidium sessiliflorum
. Since relationships amongst the ingroup taxa showed no conflict, all genetic partitions were concatenated into a single matrix and analysed in combination.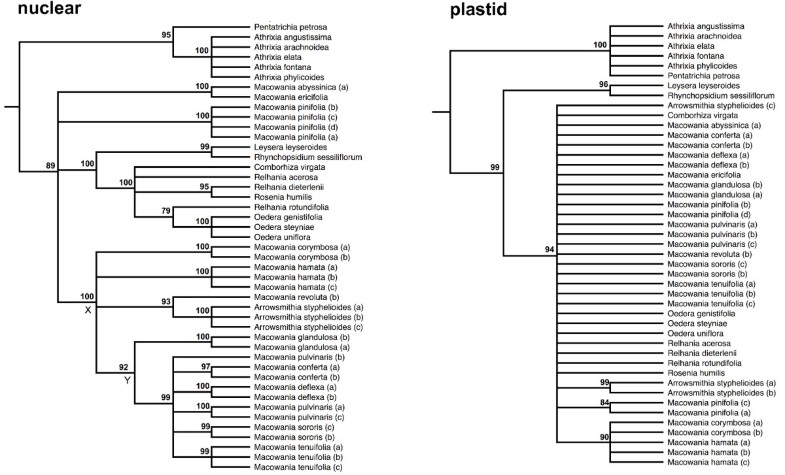 The combined plastid and nuclear tree is well-resolved with a topology that closely resembles the individual nuclear topology (Figure
4
), with no observed decrease in support values upon the inclusion of taxa sampled for only nuclear or plastid data. While the monophyly of the
Relhania
clade
sensu
Bergh & Linder [
43
] is supported (Node E; MrBayes posterior probability (PP) = 1.0, BS = 100; hereafter referred to as the "
Relhania
clade
sensu lato
"), the strength of this result is compromised by the rather limited outgroup sampling. The monophyly of the
Relhania
clade
sensu lato
has, however, been verified in other studies with more extensive outgroup sampling [
43
,
44
]. There is also support for a clade consisting of
Macowania, Arrowsmithia, Relhania, Oedera, Leysera, Rhynchopsidium, Comborhiza
and
Rosenia
(henceforth named "
Relhania
clade
sensu stricto
": Node F; PP = 1.0, BS = 100). Within the
Relhania
clade
sensu stricto, M. pinifolia
is placed as sister to a clade also comprising
Relhania, Oedera, Leysera
and relatives which is resolved as sister to the rest of
Macowania
. The placement of
Macowania pinifolia
in this position, however, lacks bootstrap support (Node G; PP = 0.97, BS < 75). Though the position of the East African species within
Macowania
is unsupported, these are nevertheless confirmed as most closely-related to
Macowania
than to any other genus (their inclusion in the genus has also been confirmed by bootstrap, Bayesian and BEAST PP support in a subsequent analysis where near-complete sampling with multiple species accessions of the
Relhania
clade
sensu lato
and additional outgroups has been carried out by Bentley et al. unpubl. data). The South African members of
Macowania
are monophyletic (Node C; PP = 1.0, BS = 100) subject to the inclusion of
A. styphelioides.
Within this 'core'
Macowania
clade, there is good support for two principal subclades, A and B. Clade B, which lacks support in the separate analyses, comprises
M. revoluta
(the type species)
, M. hamata, M. corymbosa
and
A. styphelioides
(PP = 1.0, BS = 97), while clade A (PP = 1.0, BS = 90), which was also recovered in the nuclear gene tree, comprises
M. tenuifolia, M. glandulosa, M. pulvinaris, M. deflexa, M. sororis
and
M. conferta
. The species relationships within clade A are largely unresolved, but there is good support (PP = 1.0, BS = 99) for a subclade containing
M. conferta, M. deflexa
and
M. sororis.
The monophyly of multiple accessions of each species in our tree is well-supported, with the exception of
M. pulvinaris
whose monophyly is not, however, contradicted.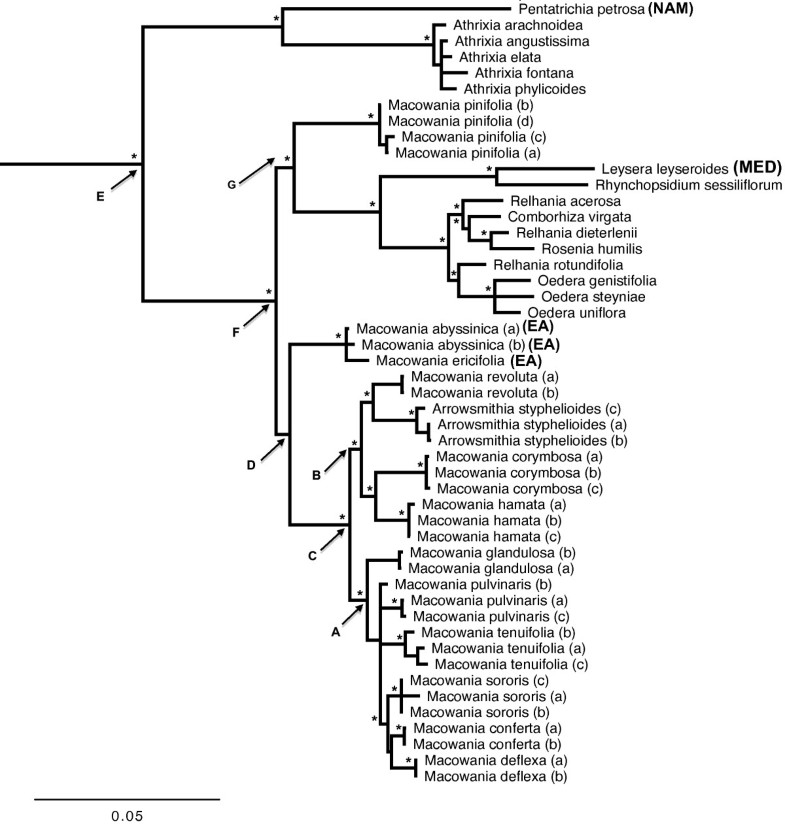 Divergence times and range overlap analysis
At least in terms of supported nodes, the relaxed clock analysis (Table
2
; BEAST tree provided in Additional file
1
) yielded the same topology as the MrBayes analysis, with strong support for most nodes. The
Relhania
clade
sensu lato
and
Relhania
clade
sensu stricto
(Nodes E and F: [
43
]) both have high support (PP = 1.0). The positions of
M. pinifolia
and the East African
Macowania
species (Node D), however, remain unresolved (PP < 0.95, BS < 75). The core
Macowania
clade is well-supported (PP = 1.0), as are clades A (PP = 1.0) and B (PP = 0.99). Within clade A, the BEAST topology differs slightly from that produced by MrBayes, specifically with regard to the placement of
M. tenuifolia
. This species is placed sister to the rest of the members of clade A in BEAST, whereas MrBayes favours
M. glandulosa
in this position, although with no support. Internal relationships do not affect subsequent analyses as these rely solely on species membership of clade A and B, not on their internal topologies.
Table 2
BEAST median age estimates and 95% highest posterior density (HPD) in millions of years before the present for nodes A – F (see Figure 4 )
| Node | Clade | Median | 95% HPD | PP |
| --- | --- | --- | --- | --- |
| A | Clade A | 3.6 | 1.20 – 7.00 | 1.00 |
| B | Clade B | 4.2 | 1.51 – 7.87 | 0.99 |
| C | Macowania crown age | 5.5 | 2.07 – 10.21 | 1.00 |
| D | East African Macowania divergence | 9.4 | 3.79 – 16.22 | 0.93 |
| E | Relhania clade sensu lato | 19.3 | 9.87 – 29.10 | 1.00 |
| F | Relhania clade sensu stricto | 8.5 | 3.70 – 14.49 | 1.00 |
Respectively, the median crown ages of the Relhania clade sensu lato (Node E) and Relhania clade sensu stricto (Node F) are estimated at 19.3 (95% HPD 9.9 – 29.1) Ma and 8.5 (3.7 – 14.5) Ma (Table 2). Although poorly supported in all analyses, the node indicating the divergence of the East African Macowania species from the core Macowania clade (Node D) is dated to 9.4 (3.8 – 16.2) Ma. The median crown age of the core Macowania clade (Node C) coincides with the Miocene/Pliocene boundary (5.5 Ma; 2.1 – 10.2 Ma), while those of clades A (Node A: 3.6 Ma, 1.2 – 7.0 Ma) and B (Node B: 4.2 Ma, 1.5 – 7.9 Ma) are both of Pliocene age, the error bars extending from the Late Miocene to Pleistocene. However, both dates have wide error margins which extend into the Miocene, indicating substantial uncertainty relating to their association with Pliocene uplift.
Within
Macowania,
most species pairs exhibit zero range overlap (Figure
5
). Of the eight comparisons which do show overlap, only three involve species from the same subclade (
M. revoluta
with
A. styphelioides
[clade B], and
M. glandulosa
with both
M. sororis
and
M. deflexa
[clade A]). The overlaps involving
M. glandulosa
may partly be a function of using convex hulls, since both species have crescent-shaped ranges (Figure
1
). Moreover, where
M. glandulosa
generally favours sandstone substrates at lower altitudes, the latter two associate with the basaltic substrates of the high scarp (Figure
1
), such that the true levels of sympatry between these species pairs may be negligible. The same is not true for
M. revoluta
and
A. styphelioides
which have been observed to co-occur at a number of localities (Figure
1
), in wet and dry micro-habitats respectively. A comparison of the proportion of pairwise range overlaps between clades A and B revealed no significant differences between clades (t = -0.3885, df = 19, P > 0.05), signalling that range overlap levels are uniformly low in both clades.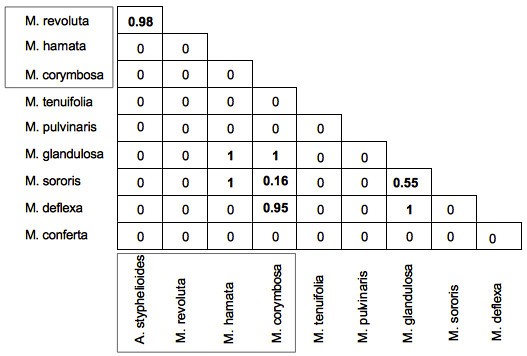 Potential adaptive differentiation
Leaf and capitulum measurements provide a strong degree of morphological discrimination between species from clade B (symbols in shades of green), as indicated on the DFA biplot in Figure
6
. Most members of clade B, however, show some degree of overlap with one or more species from clade A (symbols in shades of purple and pink), and all clade A species overlap with at least one other member of their clade. Based on the traits examined, species in clade B thus exhibit greater morphological divergence than those in clade A. Consequently, the Mahalanobis' distances between species pairs within clade A are generally lower than those within clade B, and this difference is significant (t = 4.625, df = 14, P < 0.001) when compared against a randomly generated null. Of the 12 pairwise Mahalanobis' distance comparisons within clade A, all have values of 100 or less, with only three (the comparisons of
M. glandulosa
with
M. deflexa
,
M. pulvinaris
and
M. sororis
) being greater than 30. In contrast, all but one comparison within clade B yield distances greater than 100, and the highest value is 900; clearly morphological divergence in the traits of interest is much higher within this clade.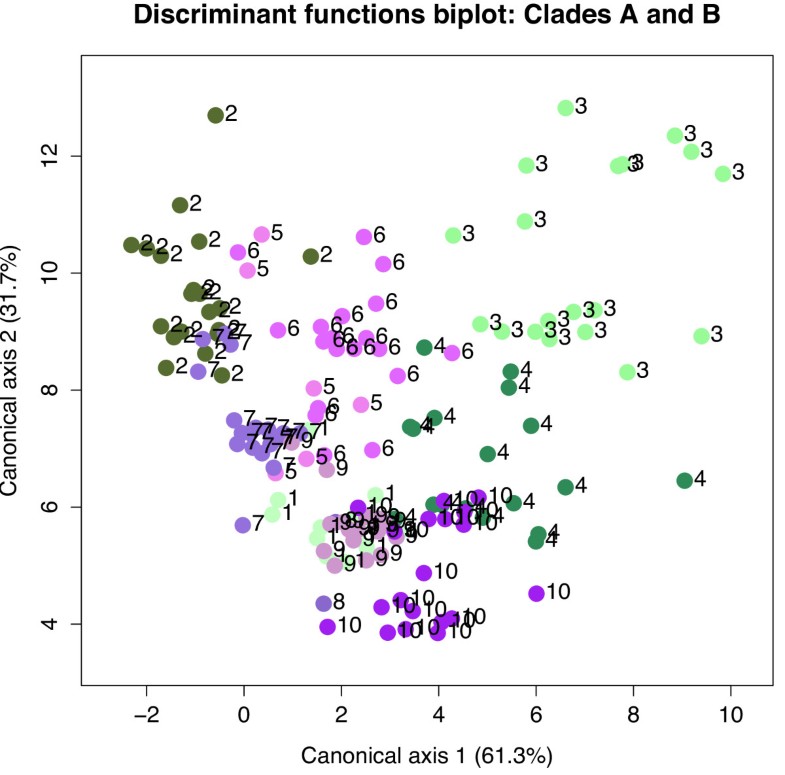 Discussion
To our knowledge, this study presents the first dated molecular phylogenetic study on a Drakensberg-near-endemic plant lineage as well as the first examination of geographic mode of speciation for the region. Phylogenetic data are fundamental to the study of lineage diversification, not only because they provide a (albeit tentatively) dated record of the successive speciation events underlying present-day species diversity, but also because they identify the bounds and membership of the lineage under study. Our data reveal Macowania to be non-monophyletic as currently circumscribed and, as such, inappropriate as a unit for evolutionary study. This is rectified, however, by the inclusion of the monotypic Arrowsmithia and the exclusion of M. pinifolia. Miocene-Pliocene uplift of the Drakensberg appears to have strongly influenced diversification within the Macowania-Arrowsmithia clade, because a strong signal of range allopatry points to geographical isolation as a key driver of speciation, and this diversification appears to have occurred post-uplift. We suggest that geographical isolation in Macowania is linked to Pliocene uplift and subsequent landscape erosion, these processes providing the necessary impetus for both non-ecological and ecological speciation.
Conclusions
We sketch a scenario of post-uplift erosion-mediated speciation in Macowania. Although we are aware of no studies that explore the role of erosion as a stimulus for the diversification of the Drakensberg flora, a major limitation is that the scale of speciation in many Drakensberg clades has been modest, compromising our ability to infer strong patterns. Nevertheless, these ideas could be explored in the light of phylogenetic hypotheses of the larger endemic lineages, such as Helichrysum and Senecio (Asteraceae; 29 and 22 species, respectively); Erica (Ericaceae; 12 species), Delosperma (Mesembryanthemaceae; 12 species), Glumicalyx (Scrophulariaceae; 6 species), Rhodohypoxis (Hypoxidaceae; 6 species) and Huttonaea (Orchidaceae; 6 species) whose radiations, like that of Macowania, are hypothesised to have followed major uplift at the Miocene-Pliocene boundary (e.g. [17]). These findings may indicate general patterns of diversification applicable to other tectonically-influenced systems, including the high Andes, and suggest that post-uplift habitat production by erosive processes might be as much of a driver of speciation as the initial uplift itself.
Availability of supporting data
Authors' information
Joanne Bentley is a graduate student at the Department of Biological Sciences at the University of Cape Town (UCT). She is interested in using molecular tools to examine evolutionary processes.
Tony Verboom is an Associate Professor at the Department of Biological Sciences (UCT). His interests include the evolution and diversification patterns of the Greater Cape Flora and he specialises in phylogenetic methods of analysis to answer pertinent questions.
Nicola Bergh is a Researcher at the Compton Herbarium. Her focus is the evolutionary history of paper daisies in southern Africa.
Abbreviations
BS:

Bootstrap
PP:

Posterior probability
ESS:

Effective sample size
DAC:

Drakensberg alpine centre.
Declarations
Acknowledgements
We acknowledge M. Britton, V. Hoffmann, T. Moore and T. Trinder-Smith for their field assistance. C. McKune provided field assistance and photography. P. Armour and B. Armour (of Ingeli Forest Lodge) as well as T. A. Abbott are thanked for assistance in locating M. conferta. P. Lowry, A. Miya and several other Ezemvelo-KwaZulu-Natal reserve staff were extremely helpful during fieldwork. We further acknowledge the PRE, NU, GRA, BOL and PRU herbaria for providing herbarium specimens and allowing us to take material for DNA extraction. We also thank N. Hind and L. Csiba of KEW who provided DNA extractions of rare leaf material for the two East African members of the genus. Collecting permits were issued by the Cape Nature authorities, Ezemvelo-KwaZulu-Natal Parks board and Mpumalanga parks board, with access permission by several individual park managers. This study was funded by NRF Knowledge Fields Development (South African Biosystematics Initiative) grant 71072 awarded to N. Bergh and NRF MSc bursaries awarded to J. Bentley.
Authors' Affiliations
(1)
University of Cape Town, Cape Town, South Africa
(2)
The Compton Herbarium, Kirstenbosch Research Centre, South African National Biodiversity Institute, Newlands, Cape Town, South Africa
Copyright
© Bentley et al.; licensee BioMed Central Ltd. 2014
This article is published under license to BioMed Central Ltd. This is an Open Access article distributed under the terms of the Creative Commons Attribution License (http://creativecommons.org/licenses/by/2.0), which permits unrestricted use, distribution, and reproduction in any medium, provided the original work is properly credited.