Research article

Open Access
Evolutionary insights about bacterial GlxRS from whole genome analyses: is GluRS2 a chimera?
BMC Evolutionary Biology
2014
14:26
Received: 16 October 2013
Accepted: 7 February 2014
Published: 12 February 2014
Abstract
Background
Evolutionary histories of glutamyl-tRNA synthetase (GluRS) and glutaminyl-tRNA synthetase (GlnRS) in bacteria are convoluted. After the divergence of eubacteria and eukarya, bacterial GluRS glutamylated both tRNAGln and tRNAGlu until GlnRS appeared by horizontal gene transfer (HGT) from eukaryotes or a duplicate copy of GluRS (GluRS2) that only glutamylates tRNAGln appeared. The current understanding is based on limited sequence data and not always compatible with available experimental results. In particular, the origin of GluRS2 is poorly understood.
Results
A large database of bacterial GluRS, GlnRS, tRNAGln and the trimeric aminoacyl-tRNA-dependent amidotransferase (gatCAB), constructed from whole genomes by functionally annotating and classifying these enzymes according to their mutual presence and absence in the genome, was analyzed. Phylogenetic analyses showed that the catalytic and the anticodon-binding domains of functional GluRS2 (as in Helicobacter pylori) were independently acquired from evolutionarily distant hosts by HGT. Non-functional GluRS2 (as in Thermotoga maritima), on the other hand, was found to contain an anticodon-binding domain appended to a gene-duplicated catalytic domain. Several genomes were found to possess both GluRS2 and GlnRS, even though they share the common function of aminoacylating tRNAGln. GlnRS was widely distributed among bacterial phyla and although phylogenetic analyses confirmed the origin of most bacterial GlnRS to be through a single HGT from eukarya, many GlnRS sequences also appeared with evolutionarily distant phyla in phylogenetic tree. A GlnRS pseudogene could be identified in Sorangium cellulosum.
Conclusions
Our analysis broadens the current understanding of bacterial GlxRS evolution and highlights the idiosyncratic evolution of GluRS2. Specifically we show that: i) GluRS2 is a chimera of mismatching catalytic and anticodon-binding domains, ii) the appearance of GlnRS and GluRS2 in a single bacterial genome indicating that the evolutionary histories of the two enzymes are distinct, iii) GlnRS is more widespread in bacteria than is believed, iv) bacterial GlnRS appeared both by HGT from eukarya and intra-bacterial HGT, v) presence of GlnRS pseudogene shows that many bacteria could not retain the newly acquired eukaryal GlnRS. The functional annotation of GluRS, without recourse to experiments, performed in this work, demonstrates the inherent and unique advantages of using whole genome over isolated sequence databases.
Keywords
GluRSGluRS2GlnRSHGTtRNAGlnGene duplicationPhylum-specificityWhole-genome analysis
Background
The presence of glutaminyl-tRNA synthetase (GlnRS) in bacteria is not universal, occurring only in a subset of extant bacteria [
1
,
2
]. Many bacteria that do not contain GlnRS possess a non-canonical copy of glutamyl-tRNA synthetase (GluRS), called GluRS2, in addition to the canonical GluRS (renamed GluRS1 to distinguish it from GluRS2) [
3
]. GluRS2 catalyzes the formation of Gln-tRNA
Gln
through an indirect route utilizing glutamyl-tRNA
Gln
amidotransferase (gatCAB) [
4
,
5
]. The third and the major group of extant bacteria possess neither GlnRS nor GluRS2. These bacteria synthesize Gln-tRNA
Gln
utilizing the canonical GluRS and the heterotrimeric amidotransferase gatCAB via the indirect route [
6
]. The existence of three extant bacterial groups, characterized by the mutually exclusive presence of GlnRS or GluRS2, or, the absence of both, reflects the complex nature of evolutionary history of bacterial GlxRS (Glx stands for Glu and Gln) (Table
1
).
Table 1
Distribution of GlnRS, GluRS and gatCAB in bacteria whole genomes
Bacterial phyla

GluRS copy

1

2

2

1

1

GlnRS

×

×

√

√

√

gatCAB

√

√

√

√

×

abbr

Total

Occurrences

Acidobacteria

ad

6

3

2

--

1

--

Green non-sulfur

ns

7

6

--

--

1

--

Green sulfur

gs

6

5

--

--

1

--

Deinococcus-Thermus

dt

6

--

--

--

6

--

Hyperthermophilic

ht

18

12

5

--

1

--

Cyanobacteria

cy

7

7

--

--

--

--

Planctomycetes

pl

5

2

--

--

3

--

Verrucomicrobia

ve

4

--

--

--

4

--

Fusobacteria

fu

5

5

--

--

--

--

Bacteroidetes

ba

14

1

--

--

1

12

Spirochaetes

sp

5

4

--

--

1

--

Chlamydiae

ch

6

6

--

--

--

--

Actinobacteria

ac

17

16

--

--

1

--

Tenericutes

te

6

3

--

--

--

3

Firmicutes

fi

28

18

--

--

8

2

Alpha-proteobacteria

α

69

18

45

2

4

--

Epsilon-proteobacteria

ϵ

10

--

4

6

--

--

Delta-proteobacteria

δ

24

1

--

--

23

--

Gamma-proteobacteria

γ

80

--

7

--

28

45

Beta-proteobacteria

β

43

--

--

--

43

--
Although extant GluRS (and GlnRS) is a two-domain protein consisting of a N-terminal catalytic domain and a C-terminal anticodon-binding domain, the C-terminal anticodon-binding domain was added to the catalytic domain only after bacteria and eukaryotes diverged [
7
–
9
]. This is reflected in the fact that the anticodon-binding domains of bacterial and eukaryotic GluRS, although functionally similar, are structurally very different (See Figure
1
) [
10
]. GluRS is also considered to be more ancient than GlnRS. GlnRS appeared first in eukaryotes, by gene duplication of GluRS followed by selective amino acid modifications. This is supported by the observation that eukaryotic GluRS and GlnRS in eukaryotes are structurally very similar [
11
]. However, the same is not true for bacterial GlnRS and GluRS. The anticodon-binding domain of bacterial GlnRS is structurally homologous to eukaryotic GlnRS rather than to bacterial GluRS. Based on this, it has been hypothesized that bacteria acquired GlnRS from eukaryotes by HGT [
7
,
12
]. The evolutionary origin of bacterial GluRS2 is not so clear with suggestions that it evolved either from the canonical GluRS/GluRS1 by gene duplication [
5
] or it appeared in bacteria by HGT [
13
].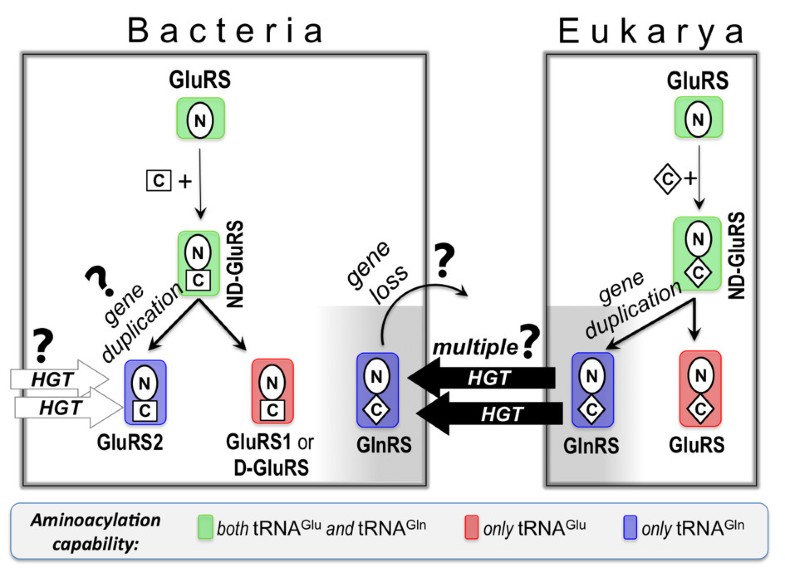 The currently accepted evolutionary history of bacterial GlxRS family, as summarized in Figure 1, is based on insights drawn about two decades ago [7], with later additions [14–17]. Although quite robust in a broad sense, the model needs refinement and re-examination because it is based on GlxRS sequences from only a limited number of bacteria. The weakest point of the model is the poor understanding about the evolutionary origin of GluRS2. Towards this goal, we have compiled and comprehensively analyzed a database consisting of a large number of bacterial whole genomes, taking care to include as many bacterial phyla as possible. Access to whole genomes allowed us not only to analyze sequences of GluRS, GlnRS, gatCAB or tRNAGlx, but also to annotate each bacterium and classify them according to the mutual presence or absence of these molecules. Analyses of the resulting annotated whole genome database have yielded new insights about the evolutionary history of bacterial GlxRS. Major findings of the current study can be summarized as: i) GluRS2 is not a gene-duplicated version of GluRS1 but possibly a chimera of evolutionarily distant catalytic and anticodon-binding domains, ii) GlnRS appeared in eubacteria not only by HGT from eukarya but also by intra-bacterial HGT, iii) GlnRS and GluRS2 can coexist in bacterial genomes, iv) identification of a GlnRS pseudo-gene providing direct evidence for the loss of HGT-acquired GlnRS in some bacteria, and v) the importance of nucleotides 32-38 in GlnRS-tRNAGln coevolution. Our results will help understand the subtleties of a complex molecular coevolution and the database can be used for more insights using complementary techniques.
Conclusion
By constructing and analyzing a large database of bacterial whole genomes, we have probed the evolution of Gln-tRNAGln synthesizing molecular machinery. Our approach is unique because of the large database employed and the functional annotation we used, taking advantage of whole genome information. In addition to supporting the broad picture of the currently accepted model for GlxRS evolution (Figure 1), our results bring out some new findings — the most important being the evolutionary origin of GluRS2. We showed that bacterial GluRS2 comes in two flavors, both in terms of evolution and function. The first kind, found in hyperthermophilic bacteria, appeared by gene duplication of the N-terminal catalytic domain and is non-functional. On the other hand, functional GluRS2, found in some proteobacterial classes (α-, ϵ- and γ-), did not appear due to gene duplication. Rather, these are chimeras of catalytic and anticodon-binding domains, acquired independently by HGT. Acidobacterial GluRS2 is predicted to be functionally similar to hyperthermophilic GluRS2. We could identify extant bacteria that contain both GlnRS and GluRS2, pointing out that their evolutionary histories are independent. In addition, a GlnRS pseudo-gene (in S. cellulosum) was identified that provided direct evidence of loss of HGT acquired GlnRS. Another important finding is the correlation of nucleotides at 32-38 position of tRNAGln and the phylogenetic placement of GlnRS, pointing towards GlnRS-tRNAGln coevolution and the importance of 32-38 nucleotides in GlnRS-tRNAGln interaction. We showed that bacterial GlnRS are of two types, one acquired from eukaryotes by HGT and the other appearing later by intra-phyla HGT, as exemplified by the Yqey-appended GlnRS in ϵ- and δ-proteobacteria, acquired from deinococcus-thermus. The results presented here highlight many subtleties of evolution of bacterial GlxRS and may be a general feature of some other bacterial proteins as well. The functional status of some borderline and idiosyncratic GlnRS, pointed out in this work, could be the target of future experimental studies. The annotated database could also be analyzed further for idiosyncratic features of bacterial GlxRS evolution not identified here.
Declarations
Acknowledgments
This work was supported by funds from the Department of Science and Technology and the Council for Scientific Industrial Research, India (37(1494)/11/EMR-II). The authors would like to thank two anonymous reviewers whose critical comments helped improve the manuscript.
Authors' Affiliations
(1)
Department of Biophysics, Bose Institute, Kolkata, India
Copyright
© Dasgupta and Basu; licensee BioMed Central Ltd. 2014
This article is published under license to BioMed Central Ltd. This is an Open Access article distributed under the terms of the Creative Commons Attribution License (http://creativecommons.org/licenses/by/2.0), which permits unrestricted use, distribution, and reproduction in any medium, provided the original work is properly cited. The Creative Commons Public Domain Dedication waiver (http://creativecommons.org/publicdomain/zero/1.0/) applies to the data made available in this article, unless otherwise stated.