Research article
Open Access
Evolutionary classification of ammonium, nitrate, and peptide transporters in land plants
BMC Evolutionary Biology
2014
14:11
Received: 6 July 2013
Accepted: 30 December 2013
Published: 20 January 2014
Abstract
Background
Nitrogen uptake, reallocation within the plant, and between subcellular compartments involves ammonium, nitrate and peptide transporters. Ammonium transporters are separated into two distinct families (AMT1 and AMT2), each comprised of five members on average in angiosperms. Nitrate transporters also form two discrete families (NRT1 and NRT2), with angiosperms having four NRT2s, on average. NRT1s share an evolutionary history with peptide transporters (PTRs). The NRT1/PTR family in land plants usually has more than 50 members and contains also members with distinct activities, such as glucosinolate and abscisic acid transport.
Results
Phylogenetic reconstructions of each family across 20 land plant species with available genome sequences were supplemented with subcellular localization and transmembrane topology predictions. This revealed that both AMT families diverged prior to the separation of bryophytes and vascular plants forming two distinct clans, designated as supergroups, each. Ten supergroups were identified for the NRT1/PTR family. It is apparent that nitrate and peptide transport within the NRT1/PTR family is polyphyletic, that is, nitrate and/or peptide transport likely evolved multiple times within land plants. The NRT2 family separated into two distinct clans early in vascular plant evolution. Subsequent duplications occurring prior to the eudicot/monocot separation led to the existence of two AMT1, six AMT2, 31 NRT1/PTR, and two NRT2 clans, designated as groups.
Conclusion
Phylogenetic separation of groups suggests functional divergence within the angiosperms for each family. Distinct groups within the NRT1/PTR family appear to separate peptide and nitrate transport activities as well as other activities contained within the family, for example nitrite transport. Conversely, distinct activities, such as abscisic acid and glucosinolate transport, appear to have recently evolved from nitrate transporters.
Keywords
Ammonium transporter (AMT1 and AMT2)Nitrate transporter (NRT1 and NRT2)Peptide transporter (PTR)Gene family evolution
Background
Nitrogen (N) is the macronutrient required by plants in the greatest amounts, yet N is often the most limiting nutrient in terrestrial ecosystems, due to its low availability in soils [1, 2]. In soils, N can exist as organic N, in the forms of amino acids, free peptides, and proteins [3, 4], and as inorganic N, in the forms of nitrate (NO3-) and ammonium (NH4+) [4]. Inorganic N is the most prominent form of N taken up by many land plant species [5, 6]. NH4+ and NO3- uptake from the soil, as well as movement of NH4+ and NO3- throughout the plant, is regulated by current N demand for growth and storage, and is largely performed by two groups of ion transporter proteins, NH4+ transporters (AMTs) and NO3- transporters (NRTs) [4, 7]. Each group can be subdivided into two families based on sequence similarity: NRT1 and NRT2, and AMT1 and AMT2. NRT1's are part of a large family of solute transporters that also includes peptide transporters (PTR).
NRTs are encoded by two distinct gene families (NRT1 and NRT2) that do not share significant overall sequence similarity. Both families perform proton-coupled active transport and have 12 putative transmembrane (TM) domains [5]. The NRT2 family is responsible for the high affinity transport system (HATS) of NO3- [8]. The HATS is composed of saturable transporters that take up NO3- at low rates and high affinity and are expressed under NO3- limiting conditions. The HATS has inducible members (iHATS), which are expressed in response to low NO3- concentrations, as well as constitutive members (cHATS), which are not N-inducible [9]. Some members of the NRT2 family require physical association (protein interaction) with NAR2 (Nitrate Assimilation-Related) proteins [10, 11] for proper functioning. Interaction with NAR2 proteins was shown to be necessary in diverse plant lineages, including monocots, eudicots, and green algae [9, 12].
NRT1s are responsible for the low affinity transport system (LATS) of NO3-. The LATS contains non-saturable transporters that transport NO3- at much higher rates than the HATS and are expressed under NO3- abundant conditions [8]. More than fifty putative members of the family have been identified in A. thaliana; however, many of these are not NO3- transporters but more likely encode transporters of other N-containing compounds such as small peptides or amino acids [8]. Recently, NRT1/PTR family members have also been shown to transport solutes with distinct physiological functions, such as the plant hormone abscisic acid (ABA) [13] or herbivore-deterring glucosinolates [14].
Both AMT1s and AMT2s contain 11 putative TM domains [6, 15, 16]. The AMT1 family largely comprises members responsible for high affinity NH4+ transport [17]. AMT1s are channel-like proteins [18] that act as NH4+ uniporters or NH3/H+ cotransporters [19]. AMT1 and AMT2s do share a distant common evolutionary history and the superfamily includes the Rh family of ammonium transporters present in green algae, but not in land plants. AMT1s are more closely related to prokaryotic ammonium transporters than they are to AMT2s and were likely inherited vertically [16]. In contrast, plant AMT2s (referred to as MEPα in [16]) form a sister clan to some fungal proteins from leotiomyceta and several horizontal gene transfers are apparent in the larger MEP family [16]. In general, the physiological roles of AMT2 proteins are less well understood than those of AMT1 proteins [20, 21]. The Lotus japonicus LjAMT2-2 is involved in NH3 uptake through mycorrhizal symbiosis [22]. AMT2s do not exist in most green algae, but they are present in Mamiellales, although these AMT2s do not share a common evolutionary origin with land plant AMT2s. McDonald et al. [16] suggested that land plant AMT2s share a common origin with AMT2s from Archaea, while a separate horizontal gene transfer event from bacteria may have been responsible for the AMT2s in Mamiellales.
Here, we present comprehensive phylogenies reconstructing the evolutionary history of the NH4+, NO3- and peptide transporter families, AMT1, AMT2, NRT1/PTR, and NRT2 across 20 fully sequenced land plant (Embryophyta) genomes complemented with two green algal (Chlorophyta) species. These phylogenies are supplemented with TM domain topology predictions, subcellular localization predictions, and in silico expression profiling for selected species. All four N transporter families appear to be monophyletic in plants. However, all four families in angiosperms contain members that separated early during land plant evolution and that further diverged through gene duplications prior to the monocot/eudicot split to give rise to evolutionarily and functionally distinct groups. This provides the basis to build hypotheses on physiological functions of NH4+, NO3-, and peptide transporters, and suggests a classification system for the transporter families based on their evolutionary relationships.
Results and discussion
Functionally characterized NRTs and AMTs [
6
,
21
,
23
–
30
] were used for BLASTP searches against the annotated proteomes derived from 20 land plant genome sequences and this set was complemented with two green algal species (both belonging to the
Chlorophyceae
) resulting in a total of more than 1,300 plant protein sequences analyzed (Table
1
, Additional file
1
). Sequences not named beforehand were given letters (e.g. PtNRT2-A, MgAMT1-B, etc.) and sequences that had been named or functionally characterized to some degree retained the original name assigned. The AMT1, AMT2, and NRT2 transporter classes are encoded by comparably small gene families in most plants ranging from one to 14 members. In contrast, the NRT1/PTR family can have more than 90 members (Table
1
). Two
Chlorophyceae
genomes, from
Chlamydomonas reinhardtii
and
Volvox carteri
, were included as a root to the land plants. They contain NRT2 and AMT1 family members, but not AMT2s. A single NRT1/PTR like sequence is present in
V. carteri
, but not in
C. reinhardtii
(Table
1
). When present, green algal and land plant sequences each form sister clades in rooted plant-only maximum likelihood phylogenetic reconstructions (part A of Figures
1
,
2
,
3
, and
4
) suggesting that a single NRT2 and AMT1 gene was present in the ancestor of
Viridiplantae
. To evaluate if all land plant sequences were indeed inherited vertically, we used representative members from all major clades in sequence similarity searches against GenBank excluding land plant and green algal species. If sequences with close homology to specific land plant sub-clades would exist outside the plant lineage (e.g. because they were transmitted horizontally) and be present in GenBank, similarity searches (such as BLAST) should identify them more readily than more distantly related vertically inherited sequences and they should be among the most similar hits. Inclusion of these non-plant sequences into the phylogeny should then place horizontally transmitted sequences within the plant clan, while vertically related sequences should form a distinct clan outside the whole plant family in unrooted phylogenies. In all four cases, all non-plant sequences formed a single clan (part B of Figures
1
,
2
,
3
, and
4
) suggesting that indeed all plant sequences are monophyletic and were inherited vertically.
Table 1
Members from the AMT1, AMT2, NRT1/PTR, and NRT2 gene families analyzed
Number of members analyzeda

Taxonomic group

Species (abbreviation)

AMT1

AMT2

NRT1/PTR

NRT2

Eudicot

Aquilegia coerulea (Ac)

1

4

48

2

Arabidopsis lyrata (Al)

6

1

49

6

Arabidopsis thaliana (At)

5

1

51

6

Carica papaya (Cp)

2

1

41

2

Cucumis sativus (Cs)

4

2

49

1

Glycine max (Gm)

5

5

96

3

Manihot esculenta (Me)

5

4

61

3

Medicago truncatula (Mt)

4

3

52

1

Mimulus guttatus (Mg)

6

2

52

7

Populus trichocarpa (Pt)

6

5

70

6

Prunus persica (Prp)

3

4

49

2

Ricinus communis (Rc)

4

3

41

4

Vitis vinifera (Vv)

1

1

44

0

Monocot

Brachypodium distachyon (Bd)

2

6

67

5

Oryza sativa (Os)

2

6

65

3

Setaria italic (Si)

2

6

74

7

Sorghum bicolor (Sb)

2

6

67

4

Zea mays (Zm)

3

5

51

3

Lycophyte

Selaginella moellendorffii (Sm)

1

0

31

2

Bryophyte

Physcomitrella patens (Pp)

5

10

18

8

Green algae

Chlamydomonas reinhardtii (Cr)

3

0

0

3

Volvox carteri (Vc)

6

0

1

3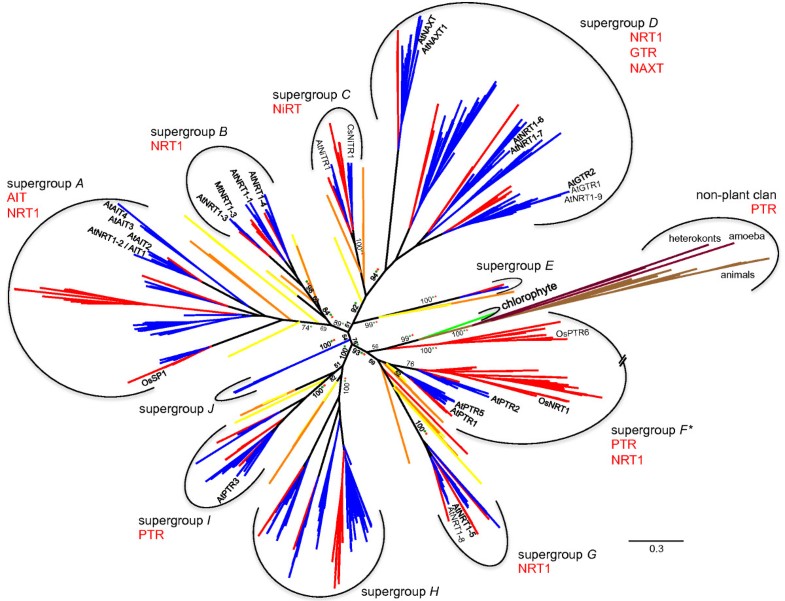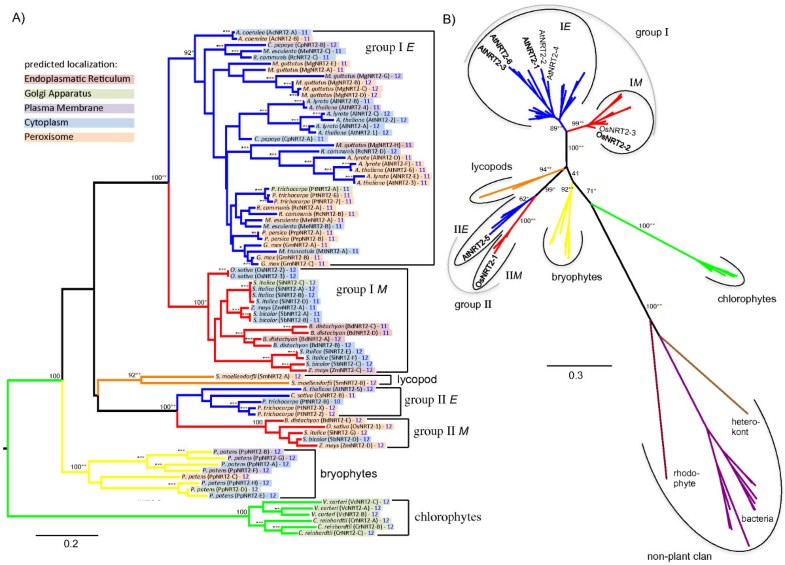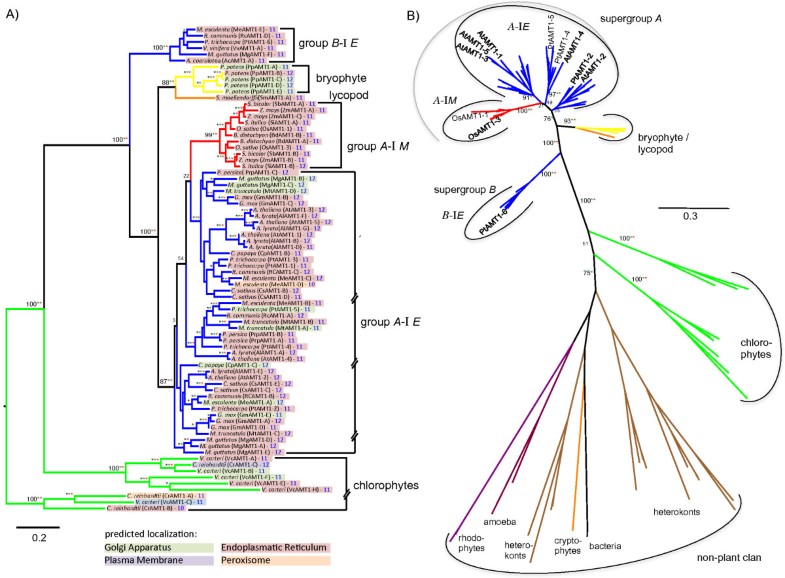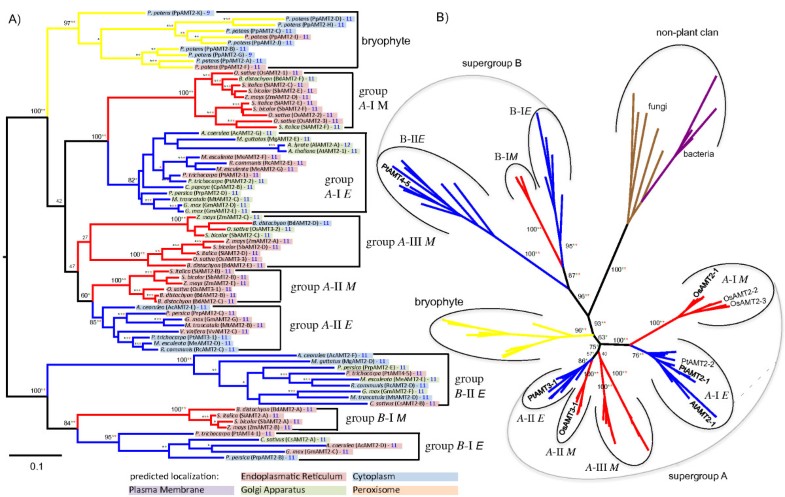 Within the land plants, several gene birth and death events apparently occurred throughout the lineage, giving rise to a complex mixture of subfamilies. Clades were initially characterized as chlorophyte, bryophyte, lycophyte, or angiosperm. Within the angiosperms, 'groups' were defined where there was a single common ancestor between a eudicot and a monocot clade. Groups were combined to 'supergroups', if they separated prior to the embryophyte/bryophyte split, i.e. were separated by P. patens sequences.
Conclusion
We here provide a comprehensive evolutionary view of ammonium, nitrate, and peptide transporter families across a large number of land plant species. This enables a phylogentic classification of each family and affords a foundation for further functional characterization. Given the depth of species coverage, it can be assumed that most, if not all, groups of N-transporters in angiosperms have been defined. All four families of N-transporters appear to be inherited vertically within the land plants, although evolutionary distinct, sometimes small and lineage specific groups are obvious, suggestive of lateral gene transfer. These lineage specific groups likely separated prior to the bryophyte/tracheophyte split and were maintained only in select species suggesting specialized functions. McDonald et al. [57] also suggested monophyly of the land plant clades for all four N-transporter families, but given the broader scope of their study, it did not aim to resolve the evolutionary history within land plants. However, at least two HGT events within green algal AMT2s were evident in that study, one of which led to the monophyletic AMT2s in land plants.
Early divergence and extensive amplification is particularly obvious in the NRT1/PTR family. Ten supergroups were defined that separated prior to the bryophyte/tracheophyte split and subsequently underwent duplications, giving rise to at least 32 groups that separated prior to the monocot/eudicot split. This is paralleled with functional divergence in this family with four known substrates being transported, namely nitrate, peptides, abscisic acid, and glucosinolates. The most similar non-plant sequences encompass the solute carrier family 15 (SLC15) of animals. Given that SLC15 proteins are peptide transporters [32], it appears plausible that the ancestral function of the plant family was transport of organic N-containing solutes. Thus, it is obvious that nitrate transport activity is polyphyletic and evolved several times independently within the NTR1/PTR family. There appear to be multiple cases in which functional labels can be applied to groups proper within each supergroup. However, these functional assignments can only be tentative, given the paucity of functionally characterized proteins relative to the abundance of sequences analyzed, and given that NRT1s within at least two supergroups have clearly evolved to transport distinct substrates: N-containing glucosinolates and N-free isoprenoids, ie abscisic acid [13, 14].
Subcellular localization predictions largely support the notion of functional divergence among discrete groups and subgroups. Functional information can be inferred from localizations, for instance, the extensive endomembrane system (golgi, ER, and plasma membrane) prediction in the AMT2 family may indicate primary localization to the plasma membrane, suggesting cellular uptake rater than intracellular compartmentalization of ammonium. However, some of the localization is unexpected, such as the high degree of peroxisome localization in the NRT2 family. This could be due to difficulties in predicting hydrophobic, membrane bound proteins, but also to the immaturity of proteome annotations, many of which are based on genomes recently released; but distinct functions in unexpected organelles should not be precluded.
Currently, no systematic nomenclature of the NO3- and NH4+ transporters exists. Here, we suggest a naming system that pertains to group membership, defined as being derived from a single gene present in the last common ancestor of monocots and eudicots. This simple rule allows for easy addition of future sequences to groups, and formation of new groups, should the need arise.
Given the depth of angiosperm sequences available, we were able to dissect this taxonomic group comprehensively. However, it is apparent from the inclusion of P. patens and S. moellendorffii that a similar diversity also exists in non-seed plants, and that inclusion of additional taxa in these groups and other taxonomic groups, from ferns to gymnosperms, is necessary to assess the full evolutionary history of the N-transporting systems in all plants.
Endnote
aWhile this manuscript was under review an alternative naming and classification system of the NRT1/PTR superfamily was proposed by Léran et al. (Trends Plant Sci, in press, doi:10.1016/j.tplants.2013.08.008). Largely, the 'supergroups' described here and the 'clades' defined by Léran et al. have good correspondence, albeit relationships between 'supergroups/clades' lack resolution and thus correspondence: supergroup A corresponds to clade 4; supergroups B, E, and J together correspond to clade 6, supergroup C corresponds to clade 3; supergroup D corresponds to clades 1 and 2; supergroup F corresponds largely to clade 8, but the distinct group F II-M (defined by OsPTR6 in Figure 1) was placed into clade 7; the remainder of clade 7 corresponds to supergroup G; supergroups H and I together correspond to clade 5. For ease of comparison, the names used by Léran et al. were added to Additional file 1.
Abbreviations
N:

Nitrogen
AMT:

Ammonium transporter
NRT:

Nitrate transporter
PTR:

Peptide transporter
HATS:

High affinity transport system
LATS:

Low affinity transport system.
Declarations
Acknowledgements
This work was supported by individual Discovery Grants from the Natural Sciences and Engineering Research Council of Canada (NSERC) to JE and BJH. NJJBvW and CHL received graduate stipends from the NSERC Collaborative Research and Training Experience Program (CREATE) in Forests and Climate Change. We are grateful for critical discussions with Dr. Steve Perlman (University of Victoria) throughout this project.
Authors' Affiliations
(1)
Centre for Forest Biology & Department of Biology, University of Victoria, Victoria, Canada
(2)
Centre for Forest Biology & Department of Biochemistry and Microbiology, University of Victoria, Victoria, Canada
Copyright
© von Wittgenstein et al.; licensee BioMed Central Ltd. 2014
This article is published under license to BioMed Central Ltd. This is an open access article distributed under the terms of the Creative Commons Attribution License (http://creativecommons.org/licenses/by/2.0), which permits unrestricted use, distribution, and reproduction in any medium, provided the original work is properly cited.