Research article

Open Access
Babes in the wood – a unique window into sea scorpion ontogeny
BMC Evolutionary Biology
2013
13:98
Received: 11 December 2012
Accepted: 25 April 2013
Published: 10 May 2013
Abstract
Background
Few studies on eurypterids have taken into account morphological changes that occur throughout postembryonic development. Here two species of eurypterid are described from the Pragian Beartooth Butte Formation of Cottonwood Canyon in Wyoming and included in a phylogenetic analysis. Both species comprise individuals from a number of instars, and this allows for changes that occur throughout their ontogeny to be documented, and how ontogenetically variable characters can influence phylogenetic analysis to be tested.
Results
The two species of eurypterid are described as Jaekelopterus howelli (Kjellesvig-Waering and Størmer, 1952) and Strobilopterus proteus sp. nov. Phylogenetic analysis places them within the Pterygotidae and Strobilopteridae respectively, both families within the Eurypterina. Jaekelopterus howelli shows positive allometry of the cheliceral denticles throughout ontogeny, while a number of characteristics including prosomal appendage length, carapace shape, lateral eye position, and relative breadth all vary during the growth of Strobilopterus proteus.
Conclusions
The ontogeny of Strobilopterus proteus shares much in common with that of modern xiphosurans, however certain characteristics including apparent true direct development suggest a closer affinity to arachnids. The ontogenetic development of the genital appendage also supports the hypothesis that the structure is homologous to the endopods of the trunk limbs of other arthropods. Including earlier instars in the phylogenetic analysis is shown to destabilise the retrieved topology. Therefore, coding juveniles as individual taxa in an analysis is shown to be actively detrimental and alternative ways of coding ontogenetic data into phylogenetic analyses should be explored.
Keywords
Palaeozoic
Pragian
Eurypterida
Strobilopterus
Syntomopterella
Jaekelopterus
Cottonwood Canyon
Development
Instars
Phylogeny
Background
Eurypterids represent a major clade of extinct chelicerate arthropods that probably represent the sister group to arachnids [1, 2]. They are relatively common in Silurian and Devonian Lagerstätten, to which they are generally restricted due to their unmineralized cuticle [3], and have a total range extending from the mid-Ordovician until the end-Permian, throughout which time they exhibited a euryhaline distribution, with an increasing trend towards freshwater habitats apparent through the Carboniferous and Permian [4]. By the Middle Devonian, eurypterids had become increasingly rare, with the last of the phylogenetically basal swimming forms occurring in the Emsian Beartooth Butte Formation of Wyoming. One of the species described from that locality, Strobilopterus princetonii (Ruedemann, 1934), is of particular interest because juvenile specimens have been recognised that show distinct morphological differences from the adults [5].
Here, we describe new eurypterid material from an older section of the Beartooth Butte Formation at Cottonwood Canyon, Wyoming, which is Pragian in age. Two species can be recognised from the locality: the pterygotid Jaekelopterus howelli (Kjellesvig-Waering and Størmer, 1952) which is also known from the younger section at Beartooth Butte [6], and Strobilopterus proteus sp. nov. Both species are included in a broad phylogenetic analysis of the Eurypterida. Remarkably, multiple instars of both species are also recognisable at the Cottonwood Canyon locality, and these represent a unique opportunity to study the postembryonic development of extinct chelicerate species. There have been few previous studies on eurypterid ontogeny, and these have tended to rely on the same few well-sampled species and focused on changes in the dorsal carapace structures or relative length/width ratios of the carapace and opisthosoma [7–9]. Strobilopterus proteus, meanwhile, preserves individuals from at least four instars and exhibits previously unrecognised changes in appendage and body segment dimension and structure. Chelicerate palaeontologists have tended to neglect the influence of ontogeny when describing species [10, 11] and it is important to recognise that a number of taxa may be over-split taxonomically. What is largely unknown, however, is what effect including such ontogenetic species into phylogenetic analyses would have, and so the instars of Strobilopterus proteus are used in a brief case-study of this possibility.
The current work comprises a complete description of both eurypterid species present at Cottonwood Canyon and a phylogenetic analysis of the Eurypterida. The ontogeny of these species is then analysed using a holomorph approach [10] in order to identify morphological trends that occur during postembryonic development and compared with the known ontogeny of other eurypterid species. Finally, the influence of including juvenile taxa in phylogenetic analysis is tested using the current analysis and material.
Results
Systematic Palaeontology
Subphylum CHELICERATA Heymons 1901
Order EURYPTERIDA Burmeister 1843
Suborder EURYPTERINA Burmeister 1843
Family STROBILOPTERIDAE fam. nov.
Type genus
Strobilopterus Ruedemann, 1935.
Included genera
Buffalopterus Kjellesvig-Waering and Heubusch, 1962.
Stratigraphical range and distribution
Middle Silurian (Wenlock) to Lower Devonian (Emsian) of Estonia, Norway and Ohio, New York and Wyoming, USA.
Diagnosis
Eurypterina with semicircular carapace; appendage VI short, barely projecting from beneath carapace; carapace ornamentation radiating out from the lateral eyes and curving around the carapace margins; row of angular scales across the posterior of metasomal tergites.
Genus StrobilopterusRuedemann 1935
v* 1935 Strobilopterus Ruedemann, p. 129
v. 1961 Syntomopterus Kjellesvig-Waering, p. 91 [preoccupied]
2007 Syntomopterella Tetlie, p. 1424 [replacement name for Syntomopterus]
Type species
Pterygotus princetonii Ruedemann, 1934, by original designation.
Included species
Strobilopterus laticeps (Schmidt, 1883) [= Dolichopterus stoermeri Caster and Kjellesvig-Waering, 1956], Strobilopterus richardsoni (Kjellesvig-Waering, 1961), Strobilopterus proteus sp. nov.
Stratigraphical range and distribution
Middle Silurian (Wenlock) to Lower Devonian (Emsian) of Estonia, Norway and Ohio and Wyoming, North America.
Emended diagnosis
Large Strobilopteridae with wide semicircular carapace; lateral eyes lunate to crescentic with palpebral lobe, situated between central and centrimesial sectors; I small, no denticles; II–V small with fixed spines and serrated distal podomere margins; VI short but with powerful serrations on anterior podomere margins; VI-9 larger in later instars; metastoma almost elongate petaloid; type A genital appendage undivided and long; type B genital appendage oval; both genital appendage morphs with angular spatulae; genital operculum striate ornament marked by highly sclerotized, broad lunate scales; tergite of somite VIII reduced; preabdomen short and wide; second order opisthosomal differentiation on segments 2 to 12, especially pronounced on 7; cuticular sculpture of minute pustules, adults with narrow, elongate scales arranged across the posterior of the metasomal tergites in large individuals (emended from Tetlie [5]).
Remarks
The new species of Strobilopterus described from Cottonwood Canyon herein shows the characteristic ventral and appendicular morphology of Strobilopterus and the diagnostic dorsal carapace structure and ornamentation of Syntomopterella. Kjellesvig-Waering, in a personal communication to Waterston [46], considered the Cottonwood Canyon species to be assignable to Syntomopterella; however, the available opisthosomal material corresponds well with the type species of Strobilopterus. The discovery of the Syntomopterella-type carapace ornamentation in a species of Strobilopterus renders Syntomopterella without any unique, defining characteristics, and the two genera are therefore synonymised herein, with Strobilopterus being the senior synonym. Consequently, the material of Strobilopterus richardsoni, and that of the other eurypterids from the Holland Quarry Shale, should be re-evaluated because a number of swimming paddles assigned to Dolichopterus asperatus Kjellesvig-Waering, 1961 bear close resemblance to the paddles of Strobilopterus princetonii and Strobilopterus proteus.
Larger specimens of the Cottonwood Canyon Strobilopterus also reveal a number of characteristics that the genus shares with Buffalopterus, particularly the elongate scales along the posterior metasomal tergite margins, along with the dorsal carapace ornamentation of scales angled away from the lateral eyes, and cuticular ornamentation of the sternites. The type A genital appendage of Buffalopterus is, however, markedly different from that of Strobilopterus, consisting of three segments rather than a single fused segment, and so the two genera are retained as distinct entities.
Strobilopterus laticeps (Schmidt, 1883) is based on material described by Schmidt [60], Holm [61] and Størmer [62] and considered by Caster and Kjellesvig-Waering [63] to be two distinct species. The two carapaces figured by Schimdt [60] (his pl. 3, fig. 16, pl. 6, fig. 6), including the holotype, were assigned to Erieopterus along with a poorly preserved carapace described by Størmer ([62], fig. 1). Subsequently, a genital operculum figured by Holm ([61], pl. 4, fig. 23) was made the holotype of Dolichopterus stoermeri Caster and Kjellesvig-Waering, 1956, to which a metastoma figured by Holm ([61], pl. 10, fig. 10) and a swimming paddle figured by Schmidt ([60], pl. 7, fig. 9) were also assigned. The carapaces clearly belong to a strobilopterid due to their semicircular shape while the paddle is short and the type A genital operculum is a good match for Strobilopterus itself, possessing an elongate appendage that dorsally consists of a single unit, angular spatulae and the striate ornament on the operculum being demarcated by highly sclerotised lunate scales. Given that the dorsal and ventral material both indicates assignment to Strobilopterus the two species are synonymised and transferred to the genus herein.
Strobilopterus proteussp. nov.
Figures
1
,
2
,
3
,
4
,
5
,
6
,
7
,
8
,
9
,
10
,
11
,
12
,
13
,
14
,
15
.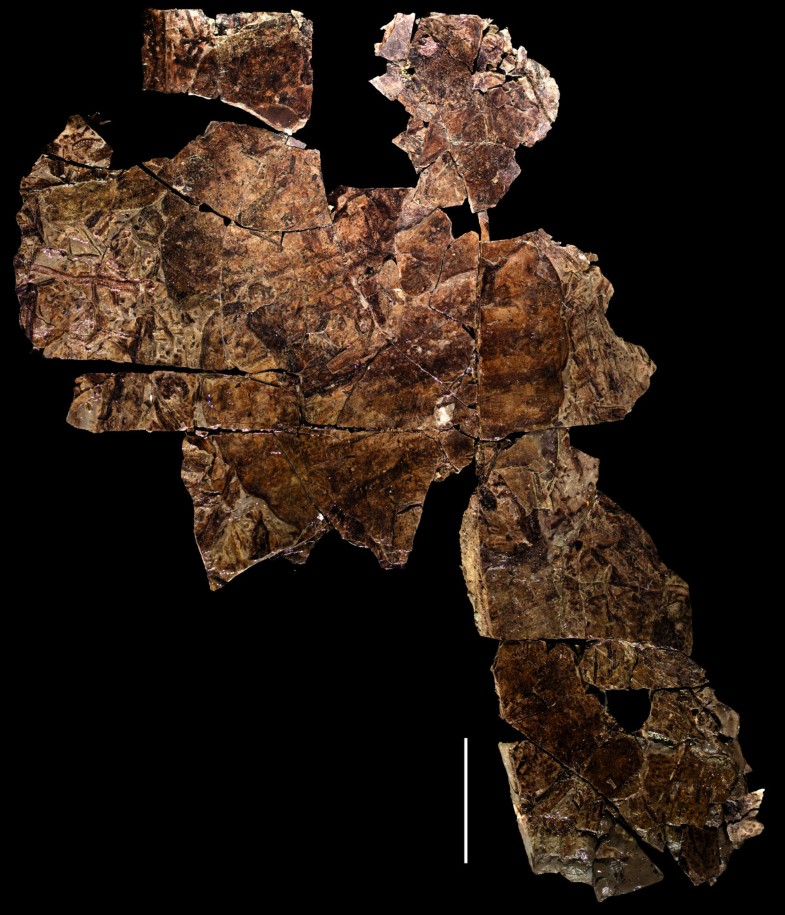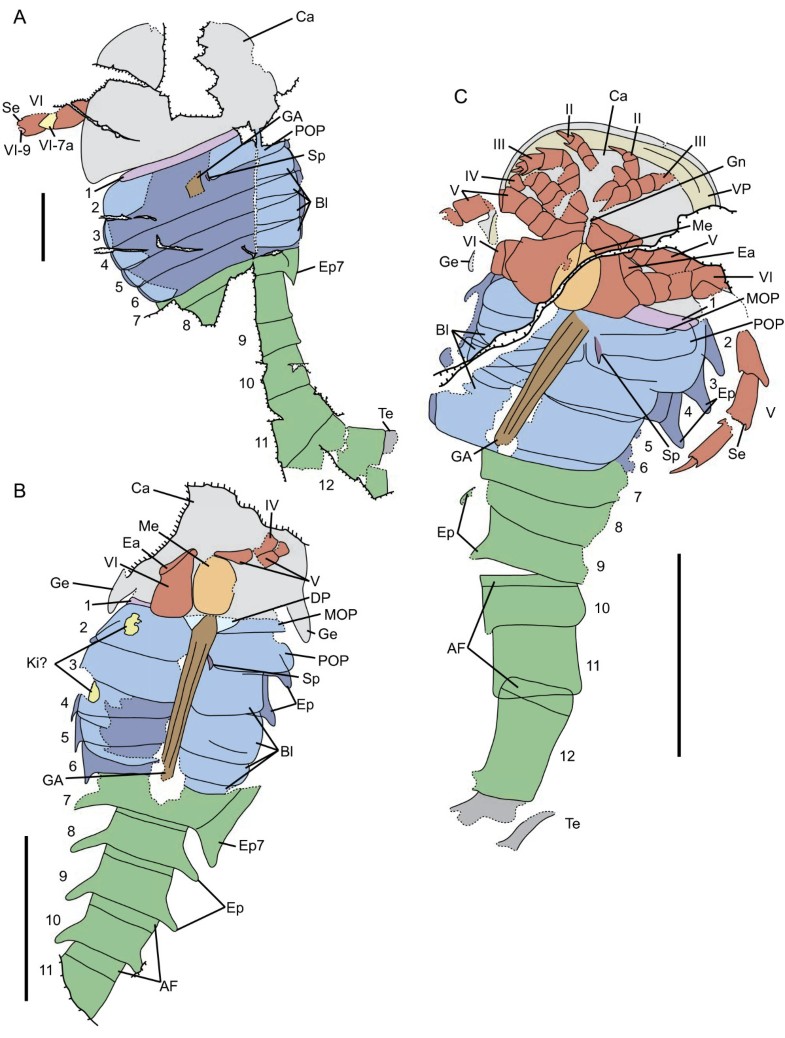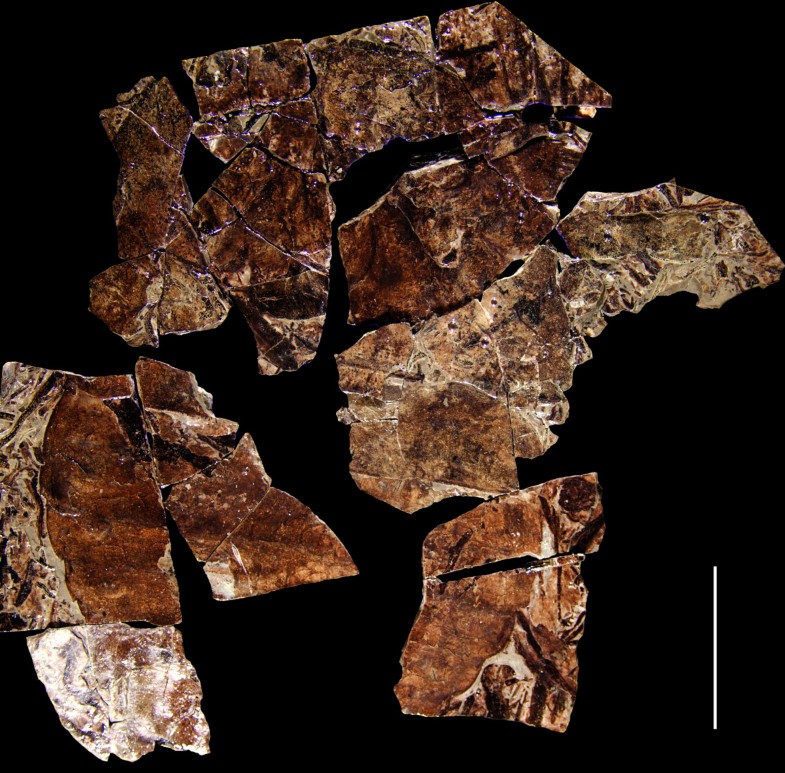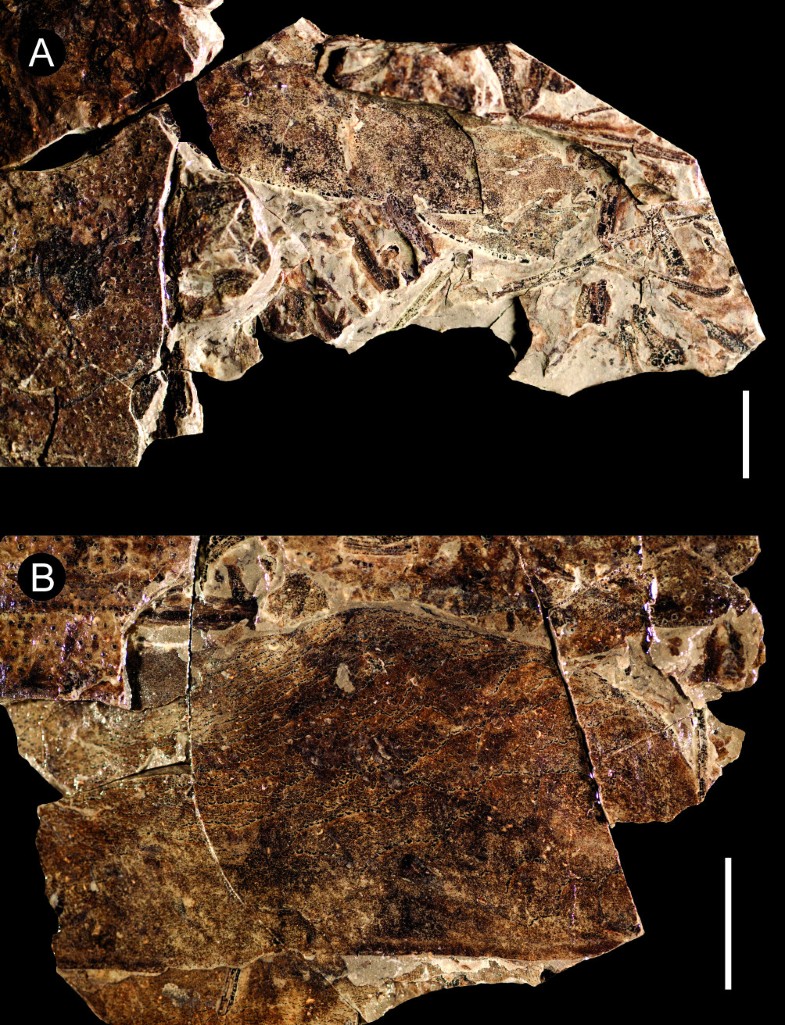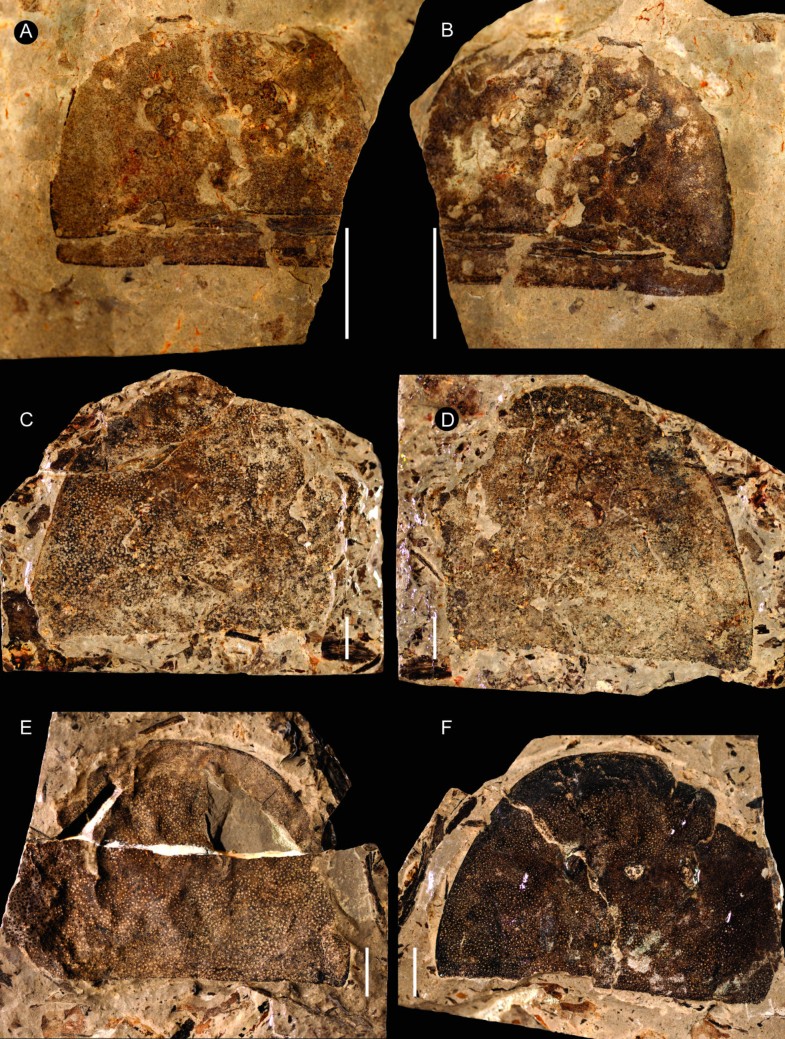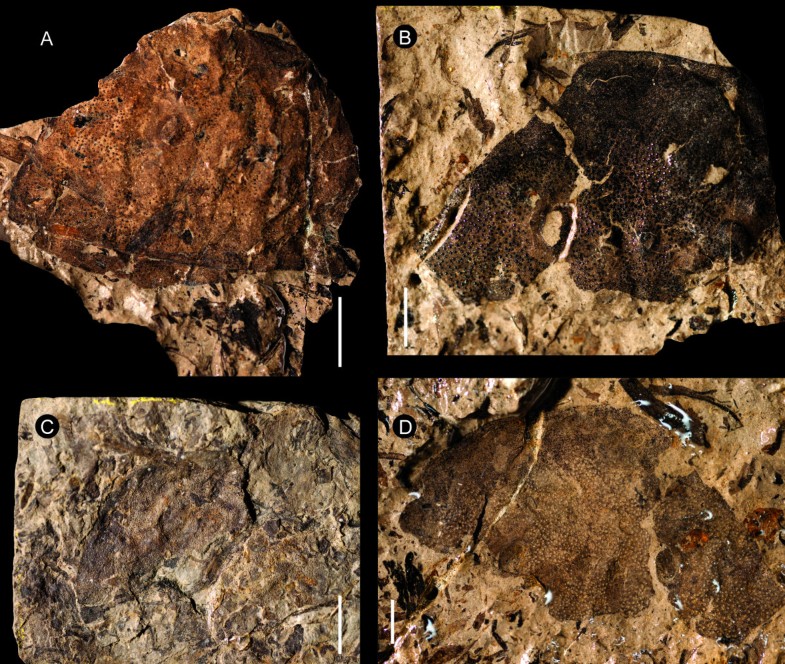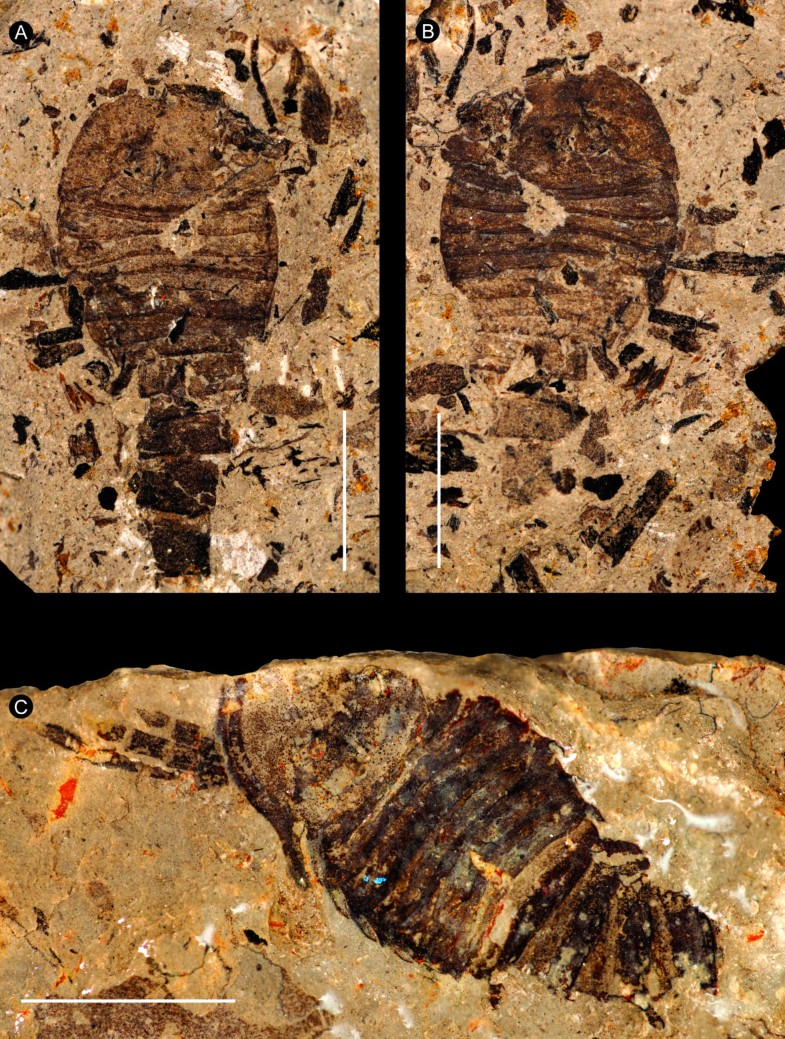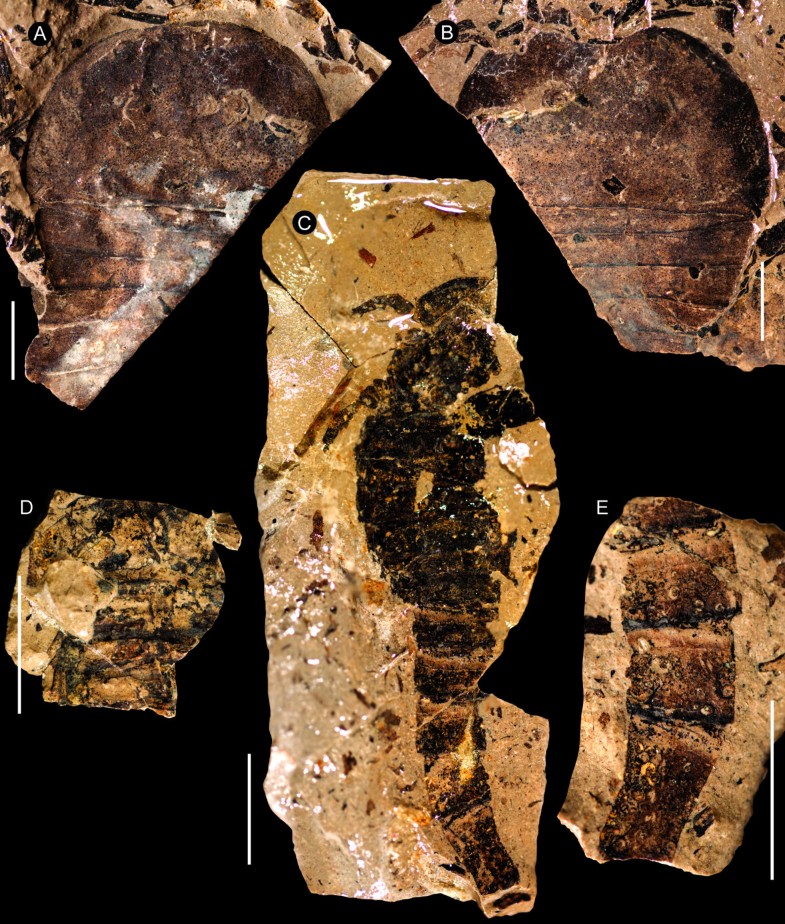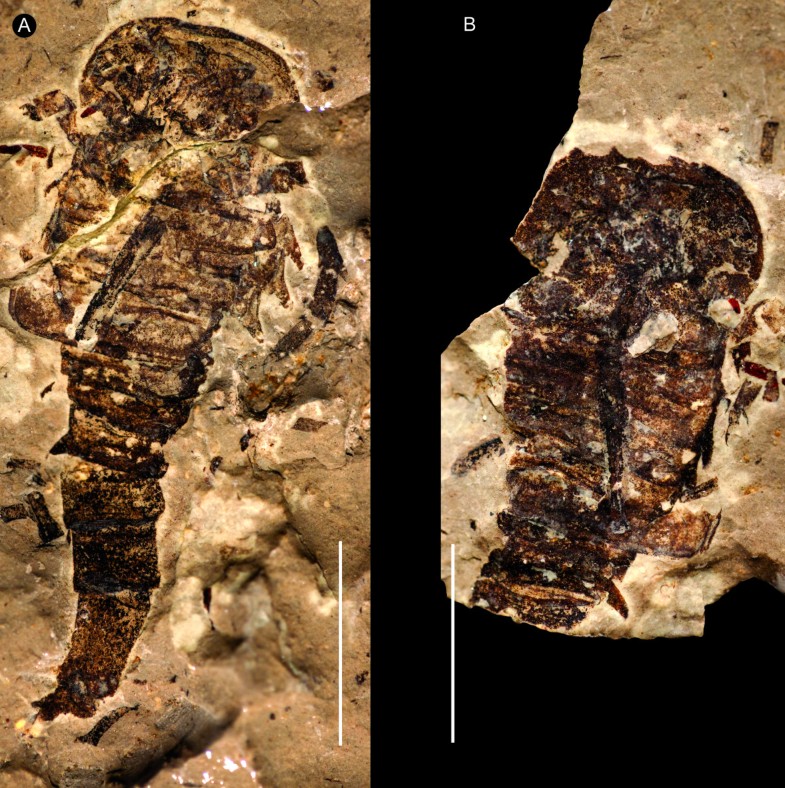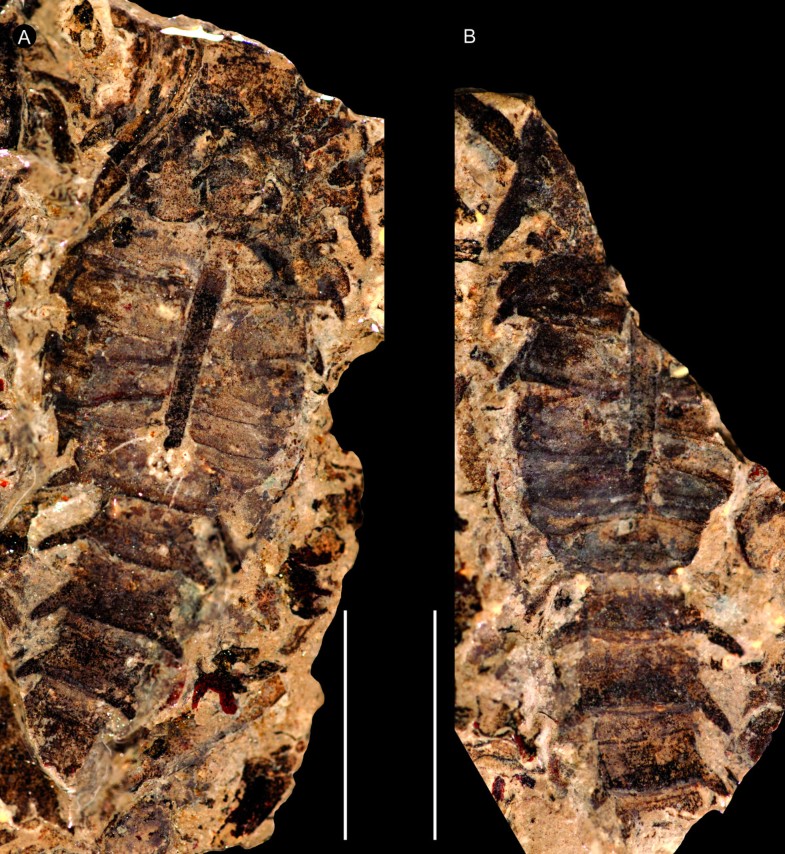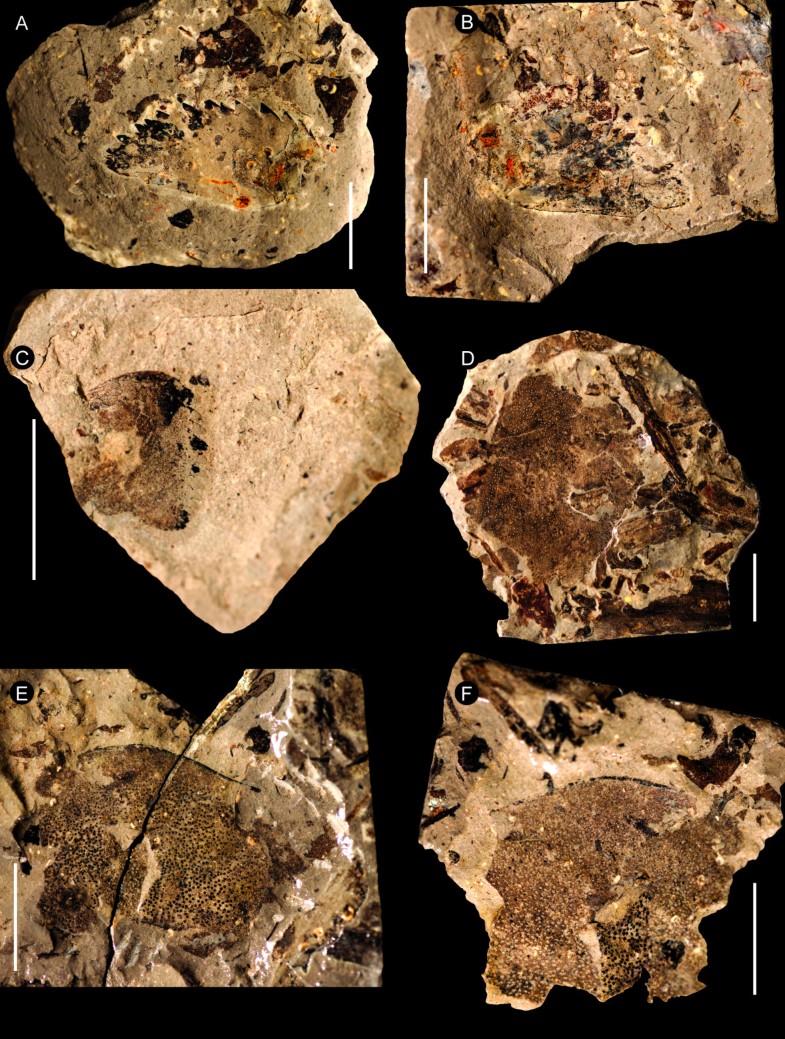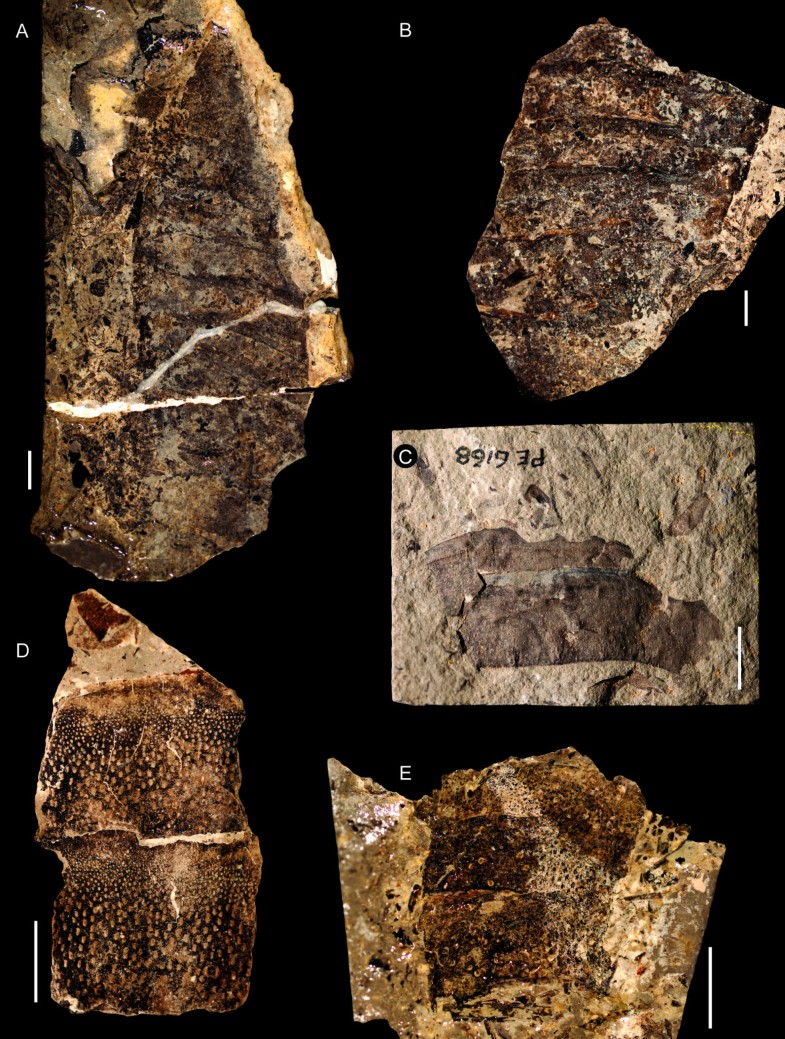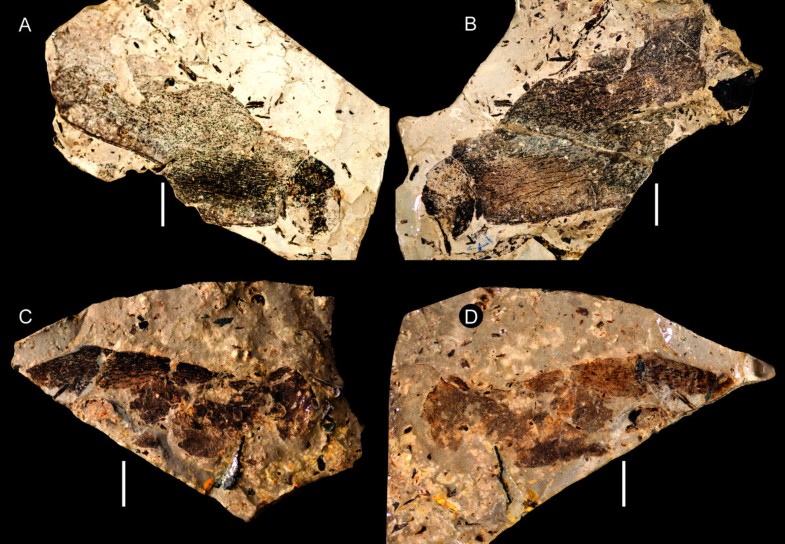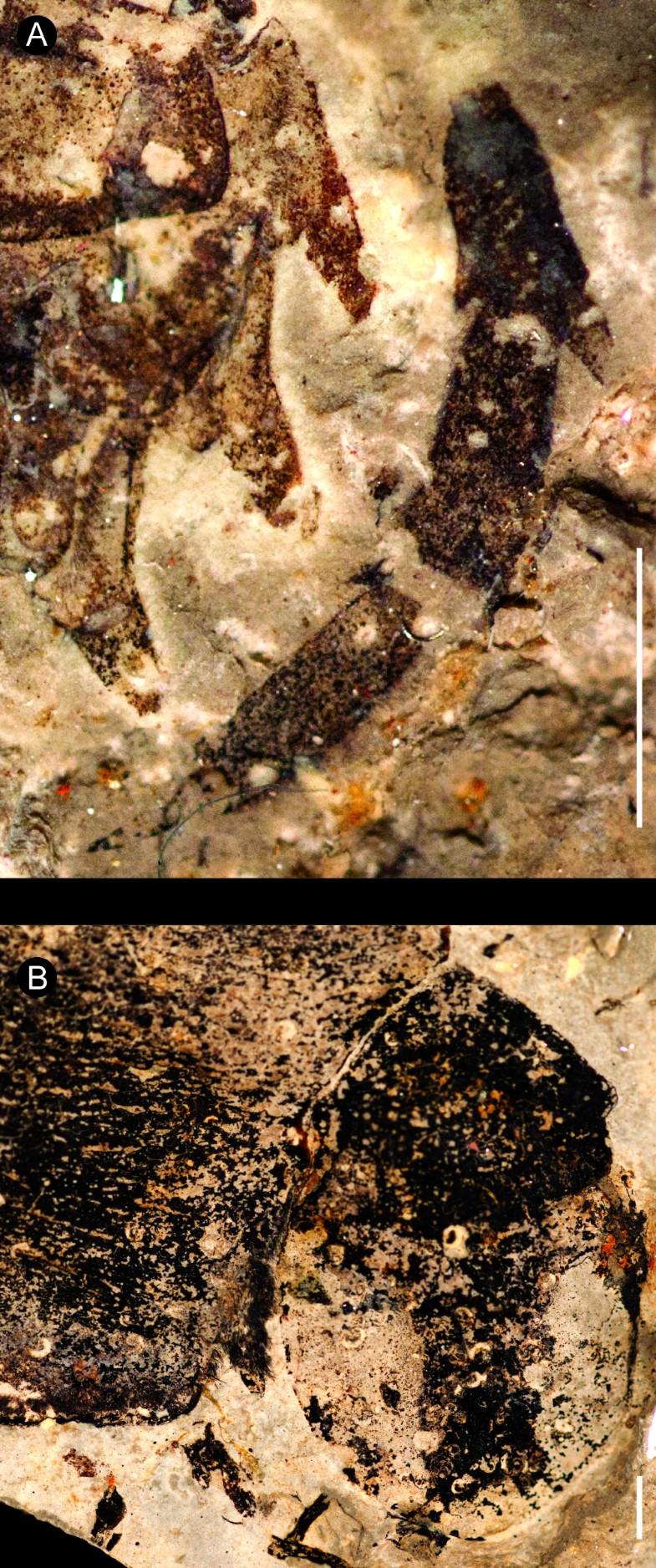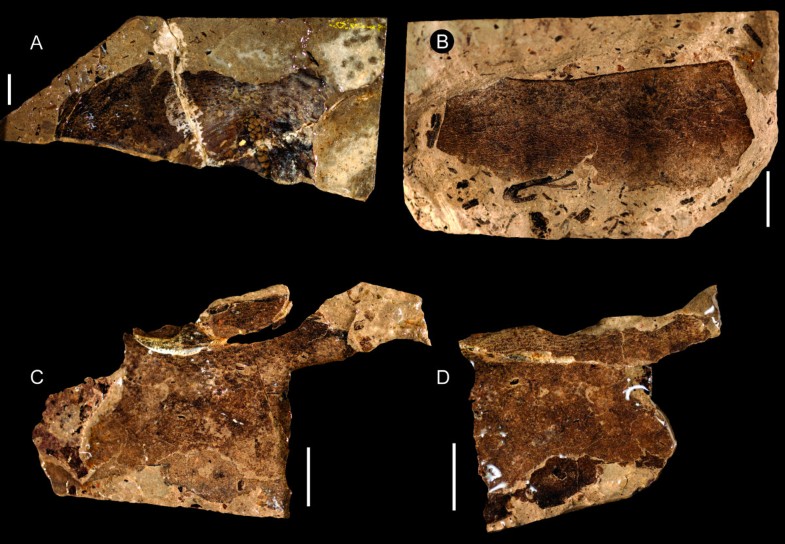 Etymology
Named for Proteus, a sea-god of Greek mythology and one of several deities referred to by Homer in his Odyssey as 'Old Man of the Sea', known for his ability to change shape, and origin of the adjective 'protean'.
Material
Holotype: FMNH PE 28961, relatively complete large individual consisting of articulated carapace, opisthosoma and proximal portion of telson, also preserving part of prosomal appendage VI. Paratypes: FMNH PE 6165–6166, PE 6168, PE 9236, PE 26079, PE 61154–61155, PE 61163, PE 61166, PE 61197–61199. Additional Material: FMNH PE 6167, PE 7077, PE 9242, PE 61150–61151, PE 61162, PE 61165, PE 61168–61172, PE 61179–61180, PE 61185, PE 61187, PE 61191–61192.
Horizon and locality
All specimens were collected from the sole locality, the Pragian Beartooth Butte Formation section at Cottonwood Canyon, Big Horn County, Wyoming, by Robert H. Denison and Eugene S. Richardson, Jr. in 1962.
Diagnosis
Strobilopterus with lateral eyes positioned on outer limits of central region; carapace cuticular ornamentation consisting of elongate pustules angling away from the lateral eyes and curving around the carapace margin; podomere VI-9 serrate, enlarged (greater than half the length of VI-8) but not longitudinally drawn-out; podomere VI-7a lacking serrations.
Description
Strobilopterus proteus is known from 31 specimens which, between them, provide an almost complete view of the external morphology of the animal. Furthermore, these specimens represent a number of different instars (see discussion below) that allows for some morphological changes that occur throughout the ontogenetic development of the species to be documented.
Appendage VI is known from five specimens (Figures 4, 8, 9, 10, 11), three of which are juveniles (FMNH PE 61197–61199) with the remaining two, including the holotype, being adults (FMNH PE 28961, PE 61155). The juvenile specimens preserve the proximal podomeres: the coxa (equivalent to the basipod of non-chelicerate arthropods) is expanded, with a length/width ratio of < 2.0, and has its anterior margin expanded to form an ear, although the exact shape of the ear cannot be ascertained. Podomeres VI-2–VI-5 are equal in dimension and unusually short (FMNH PE 61197), with carapace margin extending over podomere VI-6 which is still short but widens distally compared to the preceding podomeres (FMNH PE 61198). The angle between each of these podomeres is consistently 180°. VI-7 is shown in FMNH PE 61198 (Figure 8C) to be elongated and laterally expanded, although its full dimensions are not known. Podomeres VI-7–VI-9 are, however, known in detail from the adult specimens and are laterally expanded into a swimming paddle. VI-7 is at least equal in length to VI-8 and can be seen projecting out from underneath the carapace margin in the holotype (FMNH PE 28961), the VI-6/VI-7 joint being located underneath the carapace itself. The dorsal margin of VI-7 bore enlarged serrations as hinted at by the proximal region of FMNH PE 28961 (Figures 2A, 3) that shows a single serration before the dorsal margin is obscured by overhanging sediment and smaller serrations along its distal margin. The modified spine, so-called podomere 7a, is long and triangular, being about half the length of VI-8 and approximately 50% of its width. Although poorly preserved, there is no evidence on serrations along the anterior margin of VI-7a, nor are there serrations along the posterior margins of VI-7 or VI-7a. VI-8 and VI-9 are best preserved in FMNH PE 61155 (Figure 11A) which consists of both podomeres in isolation. VI-8 is longer than wide and has its dorsal margin ornamented with a series of alternating large and small serrations, although the ventral margin is devoid of ornamentation. Proximally the posterior margin of VI-8 curves anteriorly into the joint with VI-7 so that at the joint the podomere is only half its total width, which is also the width of VI-7. The gap created by this curvature of the ventral margin is covered by VI-7a. VI-9 is deeply set into VI-8, with VI-8 the ventral margin of VI-8 drawn out into an ancillary lobe, although it is unclear if this lobe articulates with the rest of VI-8 or is simply an extension of the podomere. VI-9 is large and expands distally to maintain the outline of the paddle; however, it is not distally drawn out, instead maintaining a roughly diamond-shaped outline. The antero-distal margins of VI-9 are serrated, bearing six serrations that successively decrease in size.
The metastoma is known from two juvenile specimens (FMNH PE 61197, 61199). Both are markedly longer than wide, with length/width ratios of 2.0; the FMNH PE 61197 (Figure 9) metastoma has a length of 4 mm and a width of 2 mm while the metastoma of FMNH PE 61199 (Figure 10) has a length of 6 mm and a width of 3 mm. The anterior notch is comparatively deep and the anterior shoulders rounded, while the posterior margin of the metastoma is narrow and appears rounded. In shape it is closest to elliptical (sensu Tollerton [42]) and is ornamented by minute scales.
Remarks
Strobilopterus proteus exhibits clear characteristics supporting its assignment to the genus Strobilopterus, specifically the morphology of the carapace and lateral eyes, the pronounced epimera on the seventh opisthosomal tergite, the cuticular ornament consisting of fine pustules with a striate ornament of highly sclerotised scales on the genital operculum and, particularly, the distinctive morphology of appendage VI. Despite the morphological disparity between the smallest juveniles and the adult specimens, both possess the pustular cuticular ornamentation and pronounced epimera on tergite seven. Furthermore, the type A genital appendage and morphology of prosomal appendages II–V, which are known only from juvenile specimens of Strobilopterus proteus, correspond well to those structures in Strobilopterus princetonii. The type A genital appendage in FMNH PE 61197 and PE 61199 is identical in morphology to that of the Strobilopterus princetonii holotype, YPM 204947, while the anterior prosomal limbs in FMNH PE 61197 strongly resemble those of the juvenile Strobilopterus princetonii specimen PU 13854 in both armature and ornamentation, the only difference being their comparative increased length in the Strobilopterus proteus specimen.
Strobilopterus proteus can be differentiated from other species of Strobilopterus by the position of the lateral eyes on the outer limits of the central region, compared to their fully central position in Strobilopterus princetonii and Strobilopterus richardsoni and their centrimesial position in Strobilopterus laticeps. The carapace cuticular ornamentation consisting of elongate pustules angling away from the lateral eyes and curving around the carapace margin is clearly present in Strobilopterus proteus and Strobilopterus richardsoni but appears to be absent from Strobilopterus princetonii; the presence or absence of this ornamention cannot be ascertained in Strobilopterus laticeps but, given its presence in Buffalopterus pustulosus, it is most likely the plesiomorphic condition for the genus. Another difference between Strobilopterus proteus and Strobilopterus princetonii is that the latter possesses serrations on podomere VI-7a and has a longitudinally drawn-out VI-9, both of which are lacking in Strobilopterus proteus.
Infraorder DIPLOPERCULATA Lamsdell, Hoşgör & Selden, 2013
Superfamily PTERYGOTOIDEA Clarke and Ruedemann, 1912
Family PTERYGOTIDAE Clarke and Ruedemann, 1912
Genus Jaekelopterus Waterston, 1964
Type species
Pterygotus rhenaniae Jaekel, 1914, by original designation.
Included species
Jaekelopterus howelli (Kjellesvig-Waering and Størmer, 1952b), Jaekelopterus marylandicus (Kjellesvig-Waering, 1964).
Stratigraphical range and distribution
Silurian to Lower Devonian (Wenlock to Emsian) of Maryland and Wyoming, USA, and Alken an der Mosel, Germany.
Emended diagnosis
Pterygotidae with triangular telson; principal denticles on cheliceral ramus inclined (emended from Waterston [67]).
Jaekelopterus howelli (Kjellesvig-Waering and Størmer, 1952)
Figures
17
,
18
,
19
,
20
,
21
,
22
.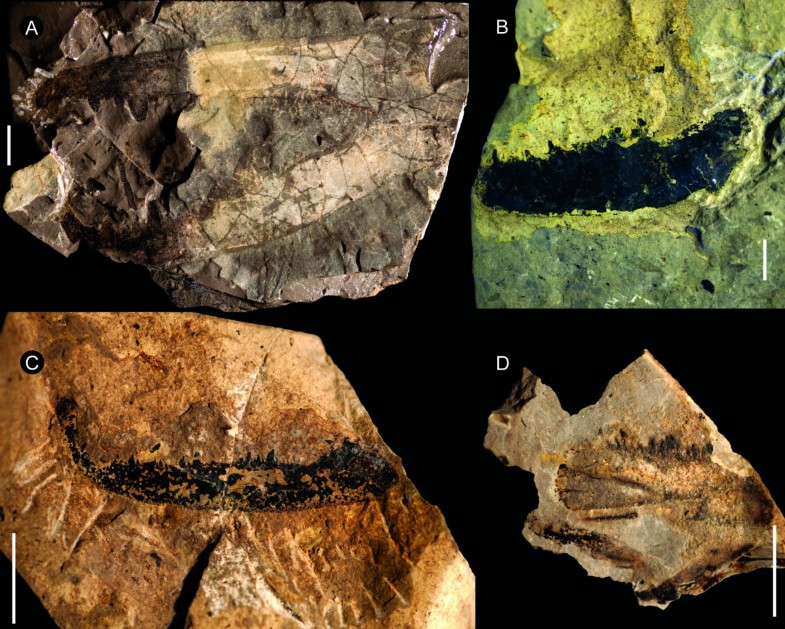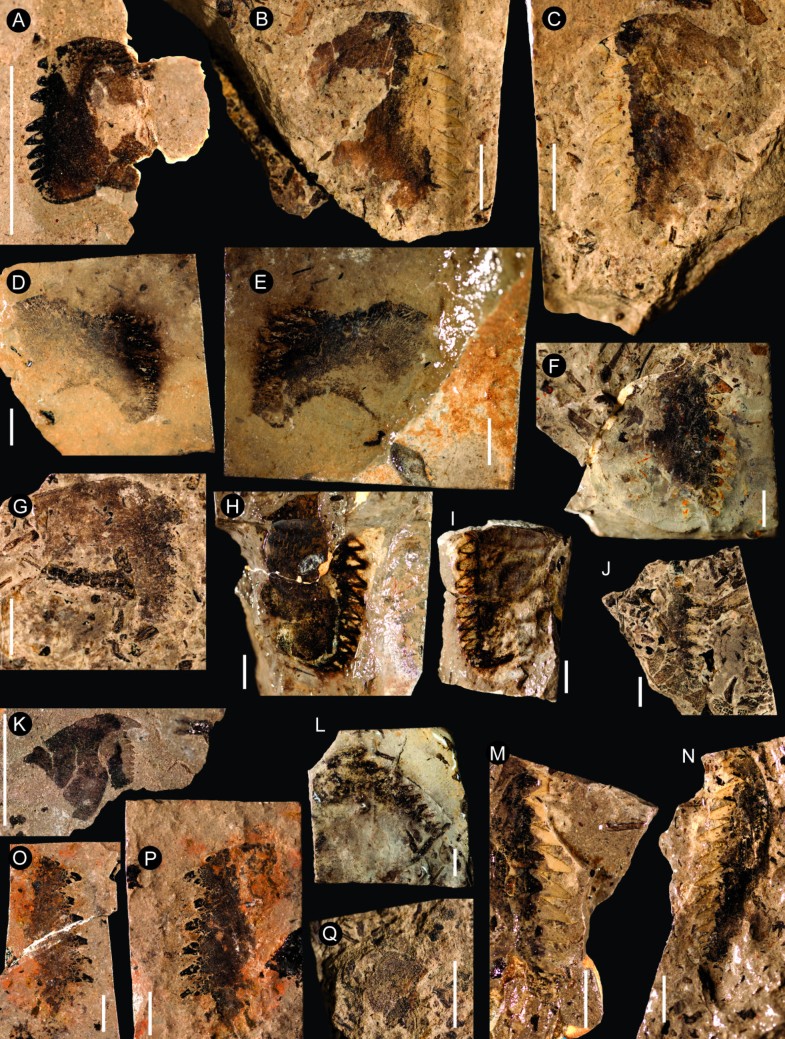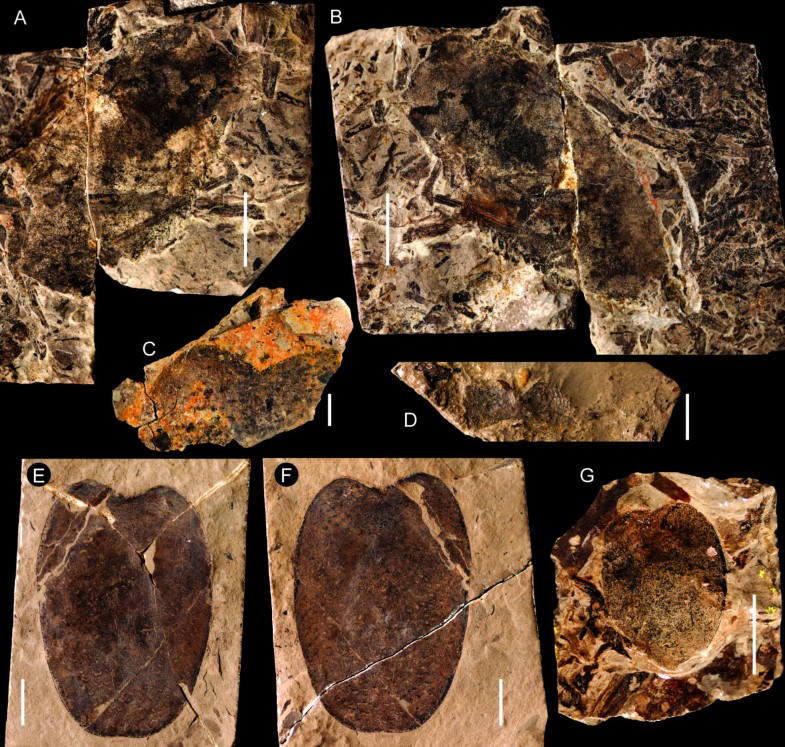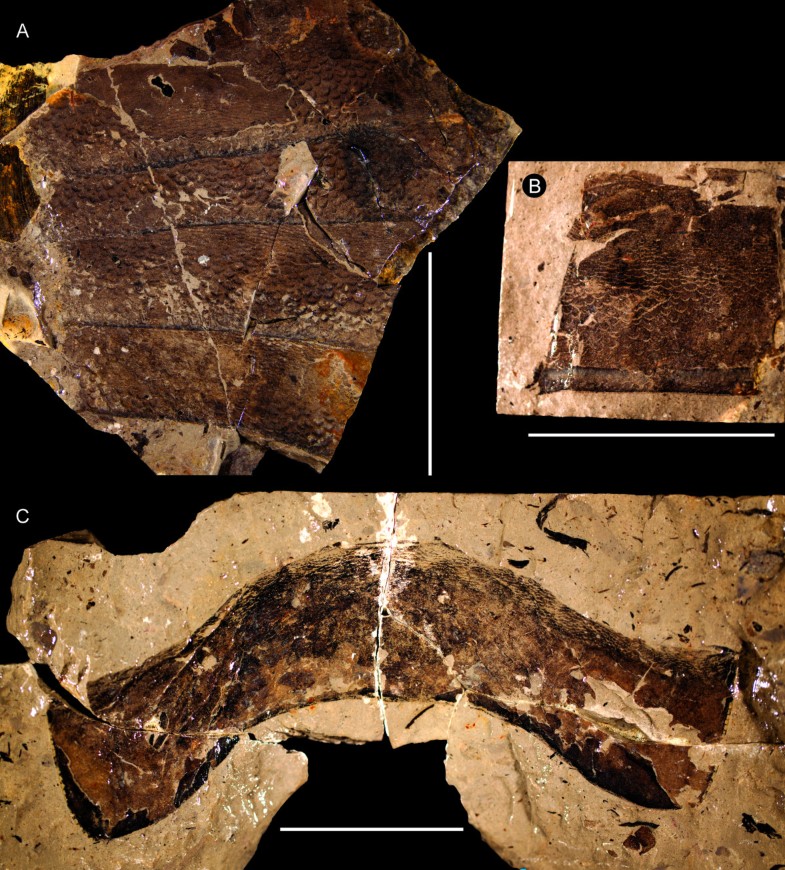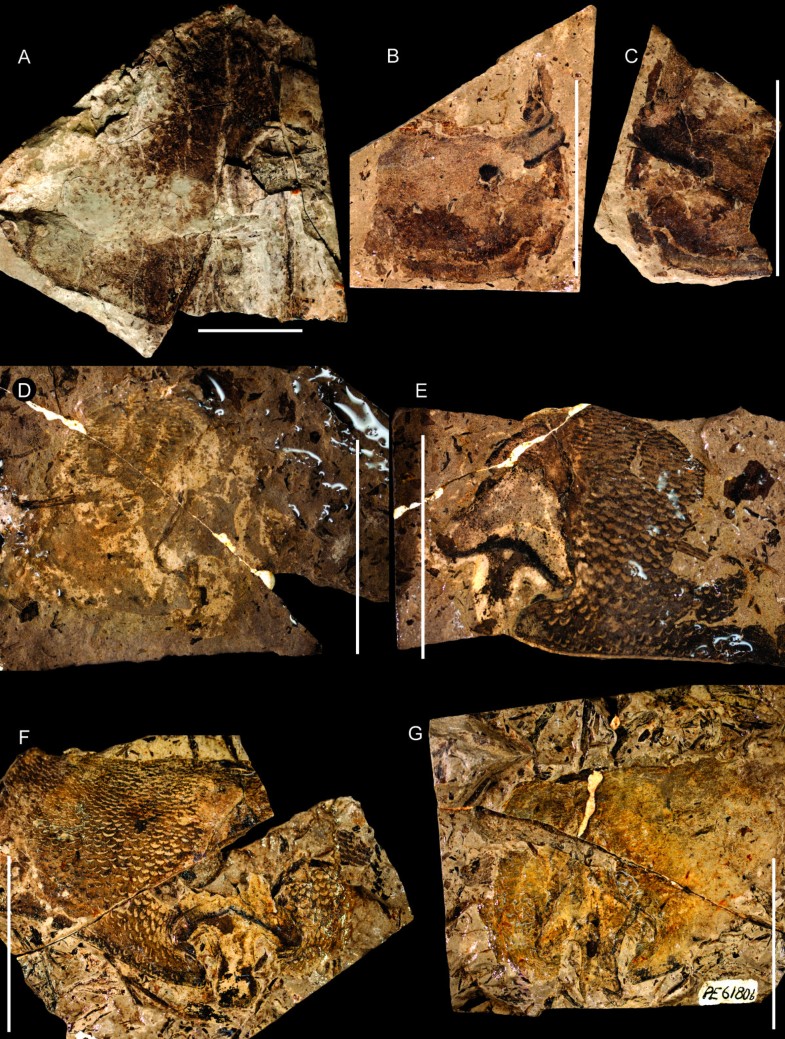 p 1934 Pterygotus princetonii Ruedemann, pl. 2 [non pp.163–167, pls. 1 & 3 = Strobilopterus princetonii (Ruedemann, 1934)]
* 1952 Pterygotus (Pterygotus) howelli Kjellesvig-Waering and Størmer, pp. 997–998, fig. 1
1964 Pterygotus (Pterygotus) howelli Kjellesvig-Waering, tables 1 and 2
V. 1986 Pterygotus mcgrewi Kjellesvig-Waering and Richardson in Kjellesvig-Waering, p. 73 [nomen nudum]
2007 Jaekelopterus (?) howelli Tetlie, p. 1430
v. 2010 Jaekelopterus cf. howelli Lamsdell and Legg, pp. 1206–1207, fig. 1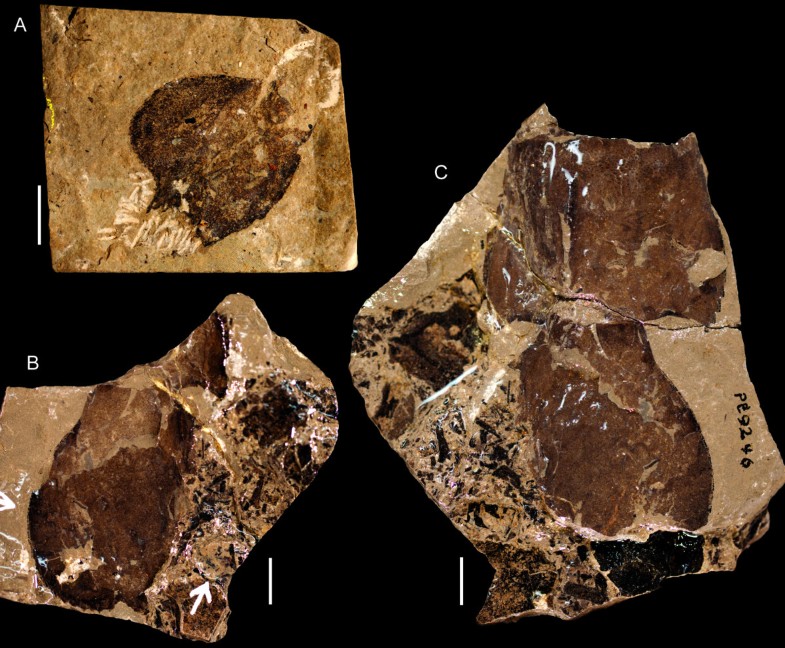 Material
Holotype: YPM 204946 (originally PU 13740), posterior of telson. Additional Material: YPM 204945 (originally PU 13661), FMNH PE 6177.2, PE 6179–6180, PE 7076, PE 9436, PE 9238–9241, PE 9245–9246, PE 26078, PE 60395, PE 61152–61153, PE 61156, PE 61161, PE 61164–61165, PE 61169, PE 61175–61176, PE 61181–61184, PE 61186, PE 61189–61190, PE 61193, KUMIP 292563.
Horizon and locality
Specimens YPM 204945 and 204946 were collected by Erling Dorf in 1932 from the type section of the Beartooth Butte Formation at Beartooth Butte, Park County, Wyoming, and are Emsian in age. The remaining Field Museum material originates from excavation of the Beartooth Butte Formation section at Cottonwood Canyon, Big Horn County, Wyoming, by Robert H. Denison and Eugene S. Richardson, Jr. in 1962 and is Pragian in age. The University of Kansas specimen is also from the Cottonwood Canyon locality and was collected during fieldwork led by Hans-Peter Schultze in 1983.
Diagnosis
Jaekelopterus with serrated telson margin; second intermediate denticle massively elongate in larger instars; type A genital appendage without median distal indentation.
Description
Jaekelopterus howelli is known in total from 33 specimens, which reveal details of the chelicera, appendage VI, metastoma, genital appendage, opisthosomal tergites, and pretelson and telson. The material from Beartooth Butte is scant, consisting of only the holotype YPM 204946 (the posteriormost portions of a telson) and YPM 204945 (isolated trunk tergite). The Beartooth Butte material is not restudied here; instead, see Kjellesvig-Waering and Størmer [6] for a full description of these specimens, and Ruedemann [19] for a photograph of the holotype. Similarly, the cheliceral ramus referred to Jaekelopterus cf. howelli (FMNH PE 6177.2) by Lamsdell and Legg [31] is not refigured and reference should be made to that paper for a full account of the specimen. The ramus is, however, herein assigned to Jaekelopterus howelli without reservation and measurements of the specimen are presented alongside those of the newly described chelicerae.
Three specimens preserve details of the opisthosomal tergites (Figure 20), all identifiable from the typical pterygotid ornamentation of large scales that grade from being broad or chevron-shaped anteriorly to more elongate semilunate and linguoid scales posteriorly that is also seen on the isolated tergite from Beartooth Butte (YPM 204945). One specimen (FMNH PE 7076) is simply a fragment of cuticle, 40 mm long and 63 mm wide; however, FMNH PE 61189 (Figure 20C) is a complete tergite and FMNH PE 61190 (Figure 20A) consists of a number of tergites in series with their lateral margins missing. FMNH PE 61190 is 218 mm long in total, with a maximum preserved width of 211 mm, and preserves four tergites with the following length/width measurements (asterisks indicate incomplete measurements): 47 mm/200 mm*, 40 mm/211 mm*, 54 mm/162 mm*, 47 mm/133 mm*. The first tergite shows the smooth articulating facet across its anterior border with a row of flattened scales delineating the posterior extent of the articulation, while all the tergites also display a cuticular thickening at the posterior margin that can also be seen in FMNH PE 7076 (Figure 20B). The isolated tergite FMNH PE 61189 has a length of 49 mm and a width of 181 mm and shows strong curvature between the axial and pleural regions, with the lateral margins of the tergite appearing swept back, probably a genuine characteristic in life magnified by the flattening of its three-dimensional shape during the taphonomic process. The lateral margins of the tergite are ornamented with a row of rectangular scales that give it a crenate (sensu Tollerton [42]) outline.
The only ventral opisthosomal structures preserved are the genital operculum and genital appendage, with material of both the type A and type B morphologies present (Figure 21). The type A material is known from two specimens, both of which are fragmentary and relatively poorly preserved. FMNH PE 61193 (Figure 21A) consists of the medial portions of a genital appendage and one ala (sensu Wills [68]) and has a preserved length of 144 mm with a preserved width of 158 mm. The ala is broad, curving smoothly away from the genital appendage distally, and is a single plate lacking the suture that marks the median and posterior opercular plates in some taxa. The lateral and distal margins of the ala show a thickening of the cuticle which narrows towards the base of the genital appendage. The anterior portions of the operculum are not preserved, so it is impossible to see whether deltoid plates were present. The ornamentation of the operculum consists of lunate scales that angle distally while following the curvature of the ala margin away from the genital appendage. The genital appendage itself is long and narrow, having a preserved length of 134 mm and a proximal width of 23 mm, and appears to consist of a single ventral lamella lacking segmentation which extends beyond the posterior margin of the operculum, thickening distally (distal width 33 mm). The other type A genital appendage, FMNH PE 61164 (Figure 21B, C), is the tip of the ventral lamella of an exceptionally large individual, with a width of 46 mm and a preserved length of 54 mm. The lamella is bordered by a doublure distally that is 5 mm thick and narrows as it curves up the lateral margins of the lamella. The distal termination of the lamella is rounded with no evidence of bilobation; however, the lamella clearly begins to narrow anteriorly, indicating it possessed the typical pterygotid spoon-shape. Another structure possessing doublure or cuticle thickening overlies the lamella partway up its preserved length. This structure is better preserved in the counterpart which shows the cuticle to be ornamented with scales and suggests that the structure is in fact a displaced ala from the genital operculum.
The telson of Jaekelopterus howelli is known from two specimens at Cottonwood Canyon which correspond well to the specimen from Beartooth Butte (Figure 22). FMNH PE 9246 consists of an articulated telson and pretelson with a total preserved length of 89 mm, the pretelson being 37 mm long and 46 mm wide and the telson 52 mm long with a preserved width of 26 mm. The pretelson is shown to have serrated lateral margins and bears a median carina, while the telson broadens distally and has a flattened posterior margin, hinting at a more triangular shape. The lateral and posterior margin of the telson also bears serrations formed by angular scales. The presence or otherwise of a median carina cannot be ascertained; however, a flattened, ridge-like structure that runs down the centre of the telson may be this feature, although it could also be the result of taphonomic cuticular folding. The second Cottonwood Canyon specimen (FMNH PE 61152) is a relatively complete, isolated telson with a total length of 30 mm (24 mm discounting the terminal spine) and a width of 11 mm at its base, expanding to 23 mm distally. The posterior margin of the telson is almost flat, giving it a definite triangular outline. The lateral and posterior margins are ornamented with angular scales resulting in a serrate margin; these scales reduce in size towards the median posterior spine, which is triangular and 6 mm long, being 4 mm wide at its base. The dorsal surface of the specimen is somewhat worn, and although a structure resembling a median carina is present, it is far from definitive. This specimen, in particular, closely resembles the holotype Beartooth Butte telson (YPM 204946), which is far larger then either of the specimens described here, being 128 mm in width. The holotype also possesses a flattened posterior margin with serrated margins caused by the presence of angular scales that decrease in size towards a triangular posterior spine.
Remarks
Jaekelopterus howelli shares an almost identical cheliceral denticulation pattern with Jaekelopterus rhenaniae along with a flattened posterior margin to the telson, resulting in an overall triangular shape. The Cottonwood Canyon species is clearly differentiated, however, through its possession of a serrated margin to the telson and the massive elongation of the second intermediate denticle in larger instars. The juvenile chelicerae clearly exhibit the Jaekelopterus denticulation pattern and show similar trends to those noted in juvenile chelicerae of Jaekelopterus rhenaniae by Poschmann and Tetlie [69]: specifically, a more gracile terminal denticle and less differentiation between the principal and intermediate denticles. The form of the FMNH PE 61152 telson (Figure 22A), with its flattened posterior, triangular outline and serrated margins, confirms that the Cottonwood Canyon species is the same as the Beartooth Butte pterygotid.
Phylogenetic affinities
Analysis of the phylogenetic matrix as detailed in the methods section yielded two most parsimonious trees with a tree length of 314 steps, an ensemble Consistency Index of 0.455, ensemble Retention Index of 0.811, and Rescaled Consistency Index of 0.369, the strict consensus of which is presented here (Figure
23
). The topology is predominantly congruent with that retrieved by Lamsdell
et al.
[
47
], while the intrarelationships of the expanded Stylonurina is the same as in earlier analyses [
48
,
49
] and the resolution of the pterygotoids is identical to the analysis of Braddy
et al.
[
51
]. The result differs from previous hypotheses in splitting the two constituent clades of Dolichopteridae, resulting in the family as presently defined being paraphyletic. The more basal clade consists of
Dolichopterus
Hall, 1859,
Ruedemannipterus
Kjellesvig-Waering, 1966 and
Clarkeipterus
Kjellesvig-Waering, 1966 and comprises the pruned Dolichopteridae, defined by the possession of antelaterally (
sensu
Tollerton [
42
]) positioned lateral eyes, an angle between podomeres VI-3 and VI-4 other than 180°, an angular projection on the anterior of VI-7, an additional moveable lobe on VI-8, and an expanded VI-9. The second clade constitutes the newly named Strobilopteridae and includes
Strobilopterus
and
Buffalopterus
. The clade is defined by the possession of a semicircular carapace, the first podomere of appendage VI that fully projects beyond the carapace margin being VI-6 (as opposed to VI-4 as in most eurypterids), a distinctive carapace ornament consisting of elongate scales that angle away from the lateral eyes, and an ornamentation of angular scales across the posterior of the tergites. Strobilopterids are a node closer to Diploperculata in relation to dolichopterids due to podomere VI-7a being more than half the width of VI-7 and VI-9 being less than 25% the length of VI-8 (although this characteristic is reversed in adult
Strobilopterus proteus
and
Strobilopterus princetonii
, it is present in earlier ontogenetic stages of
Strobilopterus princetonii
[
5
]).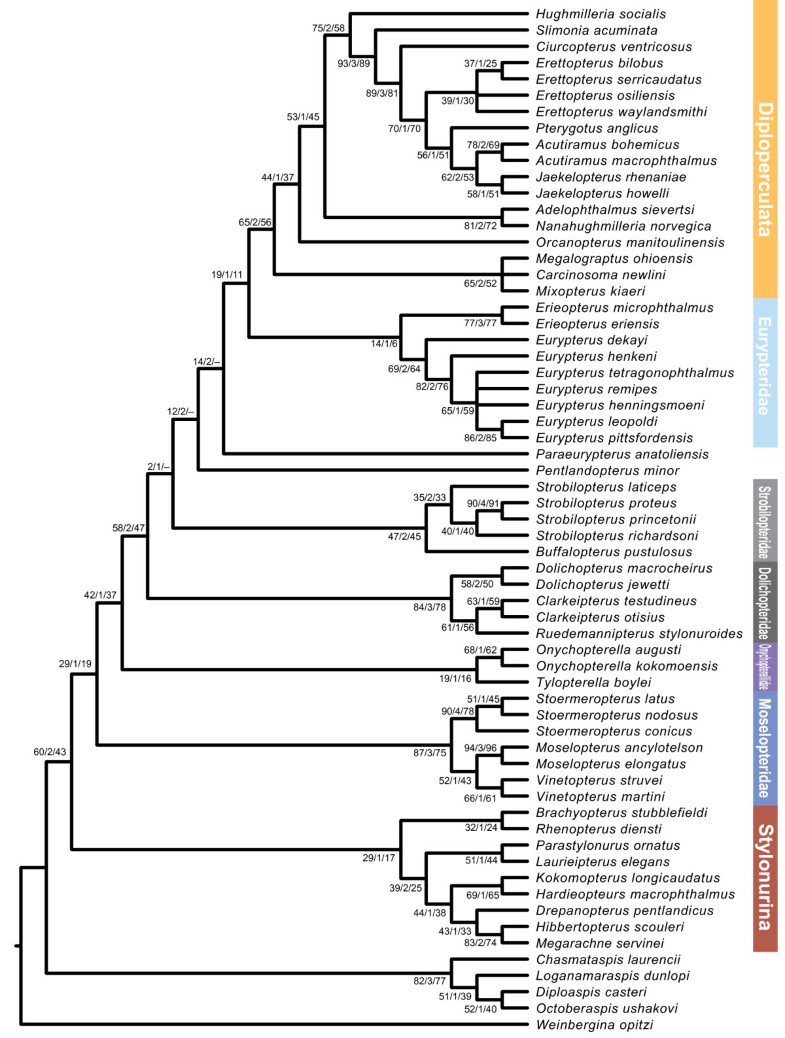 All three taxa that are included in the phylogeny for the first time resolve within established clades. Jaekelopterus howelli is the sister-taxon to Jaekelopterus rhenaniae, united by the possession of a triangular-shaped laterally expanded telson. Strobilopterus proteus is united with Strobilopterus princetonii by a suite of characters including the presence of carapace genal facets, a large podomere VI-9 which is greater than a quarter of the length of podomere VI-8, podomere VI-9 bearing serrations, and possibly the presence of an additional moveable lobe on VI-8. This last character is uncertain, however, as it is possible that the lobe in these taxa is a fixed extension of the podomere lacking the articulation reported in Dolichopterus. Strobilopterus laticeps, on the other hand, resolves at the base of the Strobilopterus clade, united by the presence of angular spatulae associated with the type A genital appendage and the occurrence of broad, sclerotised lunate scales in congruence with the striate opercular ornamentation. The position of Strobilopterus laticeps at the base of the clade is important because it suggests that characters that previously grouped strobilopterids with dolichopterids, such as an enlarged podomere VI-9 and serrated podomeres on limb VI, are not part of the Strobilopterus groundplan, and developed convergently in those species that possess them.
Conclusions
The new species of eurypterid described here from Cottonwood Canyon are a new and important source of data on the postembryological development of an extinct arthropod group. Trends that have been inferred in the few previous studies into eurypterid ontogeny [7–9] are corroborated by the new material, while new developmental phenomena are also described for the first time; the ontogeny of eurypterids appears to broadly parallel that of extant and extinct horseshoe crabs [10, 81, 86] with the major exception that eurypterids may hatch with their full complement of opisthosomal segments and appendages, thus being true direct developers like arachnids, and not hemianamorphic direct developers as in xiphosurans. Ontogenetic data can also be important for informing on homology statements and the observed development of the genital appendage in Strobilopterus proteus lends support to the hypothesis that the appendage represents a fused opisthosomal endopod [87].
The inclusion of these taxa into a growing phylogenetic framework provides further resolution of the basal Eurypterina. Previous chelicerate workers have commonly neglected to differentiate between juvenile and adult morphologies, and our experiments using the different Strobilopterus instars have shown how including juvenile individuals into an otherwise well-resolved phylogeny can destabilise it. It is integral that future workers account for ontogeny when describing species and selecting taxa for phylogenetic analysis; the preliminary results presented here suggest that coding juveniles as operational units within a phylogenetic analysis will produce unresolved, potentially spurious results. Ontogenetic data should not, however, be excluded without thought; rather, serious attempts should be made to successfully integrate ontogenetic data into phylogenetic analyses without resorting to coding instars as evolutionary individuals. The logical alternative of coding ontogenetic data as separate characters is also problematic, however, as heterochronic perturbations in the timing of development and maturities can make the recognition of homologous developmental stages difficult. Recent studies on trilobites have shown that the protaspid larval phase does not encompass the same developmental stages in all trilobites [92], casting doubt on the validity of the standard direct comparison between final stage protaspides. In order to account for these issues, it has been suggested that comparisons be made only when the entire ontogenetic series is taken into account [92], and recent work has attempted to characterise this both descriptively [93] and quantitatively [94] in a number of trilobite species. In many cases however the entire ontogenetic series will not be available for study, and although instars can be recognised as in the current study it is impossible to correlate these stages with certainty between species. It is possible that in these situations ontogenetic data can still be included in phylogenies through careful character selection and definition, however a definitive procedure is at present lacking. If ontogenetic data could successfully be incorporated into phylogenetic analysis it could potentially have great utility in resolving groups that are at least partially defined by characteristics present only in the larval phases, as in some crustaceans [95, 96]. Furthermore, it is only through accurate handling of ontogenetic data that the affinities of taxa derived through paedomorphosis can be accurately determined phylogenetically. This is key to resolving conflicts in groups where paedomorphically derived species a commonplace, such as amphibians, where paedomorphic species have been shown to behave during analysis in a manner similar to the juvenile ontogenetic stages coded herein [88]. While this study does not present a full solution to the issue, it does suggest that incorporating well-constrained ontogenetic characters in a phylogenetic analysis may be a preferable solution to the potentially destabilising influence of juvenile instars being included as distinct operational units.
Author's contributions
JCL conceived of the study, documented the specimens, undertook the morphological interpretations, processed the images, produced the figures, performed the phylogenetic analysis, and wrote the manuscript. PAS participated in the writing of the manuscript. Both authors have read and approved the final manuscript.
Institutional abbreviations
FMNH:

Field Museum of Natural History, Chicago, USA
KUMIP:

University of Kansas Museum of Invertebrate Paleontology, Kansas, USA
PU:

Princeton University Geological Museum, New Jersey, USA
YPM:

Peabody Museum, Yale University, New Haven, Connecticut, USA.
Declarations
Acknowledgements
We grateful to Paul Mayer (FMNH), Stephanie Ware (FMNH) and Scott Lidgard (FMNH) who facilitated access to the Field Museum specimens. Sarah Gibson (University of Kansas: KU) and Hans-Peter Schultze (KU) helped confirm the identity of some of the fish material from the locality and provided information of the existence of eurypterid specimens at Kansas. Úna Farrell (KUMIP) was most helpful in locating the Kansas pterygotid specimen. Curtis Congreve (KU) and Amanda Falk (KU) are thanked for numerous discussion and feedback sessions. Elisabeth Vrba (YPM) gave excellent insights into ontogeny and development during her visit to Kansas. David Legg (Imperial College London) and an anonymous reviewer are thanked for providing comments on the manuscript. JCL acknowledges a Field Museum Visiting Scholarship and an Association for Women Geoscientists Sean S. Thomson Memorial Service Scholarship that provided funding for museum visits. Publication costs were covered by a One University Open Access Fund from the University of Kansas.
Authors' Affiliations
(1)
Paleontological Institute and Department of Geology, University of Kansas, Lawrence, USA
(2)
Palaeontology Department, Natural History Museum, London, UK
Copyright
© Lamsdell and Selden; licensee BioMed Central Ltd. 2013
This article is published under license to BioMed Central Ltd. This is an Open Access article distributed under the terms of the Creative Commons Attribution License (http://creativecommons.org/licenses/by/2.0), which permits unrestricted use, distribution, and reproduction in any medium, provided the original work is properly cited.