Research article

Open Access
Congruence of chloroplast- and nuclear-encoded DNA sequence variations used to assess species boundaries in the soil microalga Heterococcus(Stramenopiles, Xanthophyceae)
BMC Evolutionary Biology
2013
13:39
Received: 15 September 2012
Accepted: 5 February 2013
Published: 13 February 2013
Abstract
Background
Heterococcus is a microalgal genus of Xanthophyceae (Stramenopiles) that is common and widespread in soils, especially from cold regions. Species are characterized by extensively branched filaments produced when grown on agarized culture medium. Despite the large number of species described exclusively using light microscopic morphology, the assessment of species diversity is hampered by extensive morphological plasticity.
Results
Two independent types of molecular data, the chloroplast-encoded psbA/rbcL spacer complemented by rbcL gene and the internal transcribed spacer 2 of the nuclear rDNA cistron (ITS2), congruently recovered a robust phylogenetic structure. With ITS2 considerable sequence and secondary structure divergence existed among the eight species, but a combined sequence and secondary structure phylogenetic analysis confined to helix II of ITS2 corroborated relationships as inferred from the rbcL gene phylogeny. Intra-genomic divergence of ITS2 sequences was revealed in many strains. The 'monophyletic species concept', appropriate for microalgae without known sexual reproduction, revealed eight different species. Species boundaries established using the molecular-based monophyletic species concept were more conservative than the traditional morphological species concept. Within a species, almost identical chloroplast marker sequences (genotypes) were repeatedly recovered from strains of different origins. At least two species had widespread geographical distributions; however, within a given species, genotypes recovered from Antarctic strains were distinct from those in temperate habitats. Furthermore, the sequence diversity may correspond to adaptation to different types of habitats or climates.
Conclusions
We established a method and a reference data base for the unambiguous identification of species of the common soil microalgal genus Heterococcus which uses DNA sequence variation in markers from plastid and nuclear genomes. The molecular data were more reliable and more conservative than morphological data.
Keywords
Soil algae Heterococcus XanthophyceaepsbA/rbcL spacerITS2SystematicsMolecular phylogenySpecies concept
Background
Heterococcus
is a genus of yellow-green microalgae (Xanthophyceae, Stramenopiles) that is common and widespread in soils of cold regions such as the Alps or Antarctica [
1
,
2
]. In addition to soils, three species have been reported from freshwater [
3
–
6
], and
Heterococcus
is the only xanthophyte known from lichen symbiosis [
7
,
8
].
Heterococcus
produces extensively branched filaments when grown on agarized culture medium (Figure
1
); however, in field samples it produces unicellular coccoid cells that are weakly connected. Perhaps uniquely for microalgal genera, all species have been described based upon isolates grown in culture and observed with a light microscope [
1
,
2
,
6
]. Without culturing,
Heterococcus
is often mistaken for other coccoid xanthophytes, eustigmatophytes or green algae. Sixty-one
Heterococcus
species have been described [
9
], and 51 species are recognized [
10
]. Extensive ultrastructural observations were undertaken by Lokhorst [
2
], but he reluctantly concluded that ultrastructural features were not sufficient to distinguish species.

Sexual reproduction is unknown for Heterococcus, and therefore the biological species concept cannot be employed (e.g. [11]); only the morphological (typological) species concept has been used. That is, Heterococcus species identity is limited to light microscopic morphological characters interpreted within the extensive plasticity that is exhibited during culture studies [1, 2, 6]. For example, branching patterns are not present in very young or old cultures, and filament formation is suppressed (coccoid cells are produced) when cultures are grown at suboptimal temperature ranges [1] (Figure 1). Cladistic analysis of these morphological features would be extremely difficult because cell sizes, branching patterns, colony growth, chloroplast number and other features overlap extensively among the species, even when grown under optimum conditions.
Molecular phylogenetic analysis is often a reliable alternative for identification of species; however, species diversity of
Heterococcus
using molecular markers was unstudied and no molecular reference data base existed. From only seven
Heterococcus
species DNA sequences had previously been reported, and all these sequences were from conserved molecular markers. The sequences revealed the probable monophyletic origin of the genus and its basal position within the Xanthophyceae, which was distinct from other filamentous members (e.g.
Tribonema, Vaucheria
) [
12
–
15
]. We used molecular phylogenetics, especially within the framework of the monophyletic species concept [
16
–
18
], to evaluate 33 culture strains identified as
Heterococcus
(Figure
2
). Fourteen strains were originally identified to species level using morphology, and ten of those strains were authentic culture strains, i.e. the culture strains used to describe the species [
1
,
3
–
5
,
19
]. Unfortunately, the cultures used to describe all other species have been lost. For nine authentic strains, there are extended morphological descriptions with numerous illustrations produced by two independent authors [
2
–
5
]. We added 19 unidentified culture isolates, including twelve cultures recently isolated. Our goals were (1) to test boundaries of
Heterococcus
species as inferred from morphological features and (2) to establish a reference data base of strains unambiguously distinguished with DNA sequence data. We chose two highly variable molecular markers, i.e. the chloroplast-encoded
psb
A/
rbc
L spacer region [
20
,
21
] and the nuclear-encoded internal transcribed spacer 2 of the nuclear rDNA cistron [
22
–
24
], to examine species boundaries. We also determined full plastid-encoded
rbc
L gene sequences to infer the phylogenetic position of species.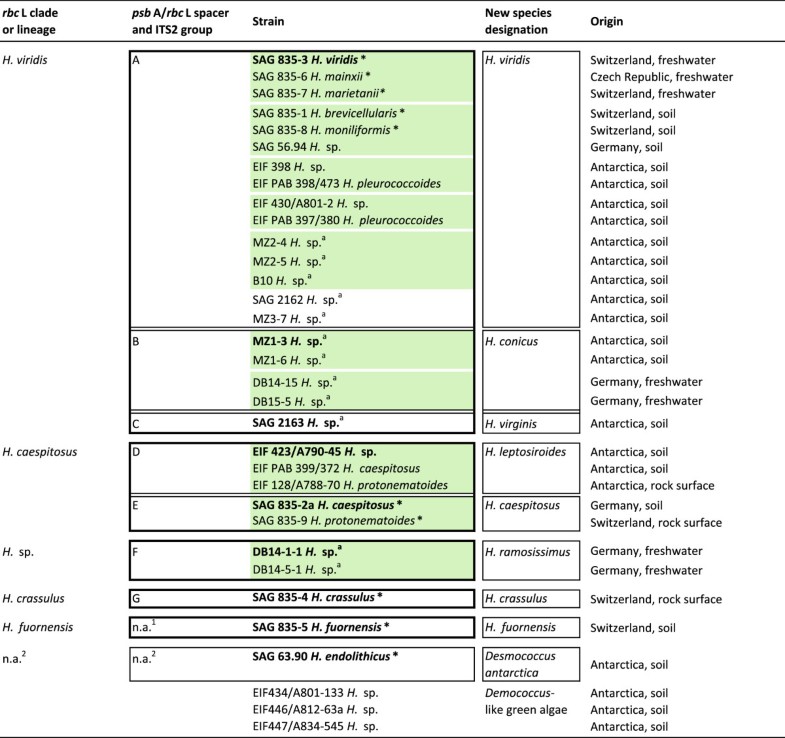 Results
Four of the strains, identified as
Heterococcus
, were green algae (Figure
2
). These were not included in the rest of the study. The
rbc
L gene sequences were used to assess the phylogenetic relationships of the remaining 29 strains (Figure
3
, Additional file
1
). For 25 strains, PCR amplification was successful for the whole region from
psb
A (downstream), through the
rbc
L, through the
rbc
L/
rbc
S spacer and to the
rbc
S gene; therefore the full
rbc
L gene, 1467 base pairs long, was determined (Additional file
2
). We failed to obtain full
rbc
L sequences for three authentic strains,
Heterococcus fuornensis
Vischer strain SAG 835–5,
H. caespitosus
Vischer strain SAG 835-2a, and
H. protonematoides
Vischer strain SAG 835–9, but we used available sequences (AM421004, AM421002 and AJ579575) for these three strains. Also, for strains DB14-15 and MZ1-6 the full
rbc
L failed to amplify. Fifteen different
rbc
L sequences were recovered among the 29 strains, which implies that the
rbc
L gene was identical among many strains (Additional file
3
). Only the 15 different
rbc
L sequences were used for phylogenetic analyses (Figure
3
, Additional file
1
). Monophyly of
Heterococcus
was highly supported with all methods except maximum likelihood, and this confirmed the generic identity of the 29 strains. The analyses resolved two well supported clades, named "
H. caespitosus
clade" and "
H. viridis
clade". In addition, there were three independent lineages representing
H. crassulus
Vischer
, H. fuornensis
and an unidentified strain ("
H.
sp."). Relationships among the clades and lineages remained ambiguous (Figure
3
, Additional file
1
).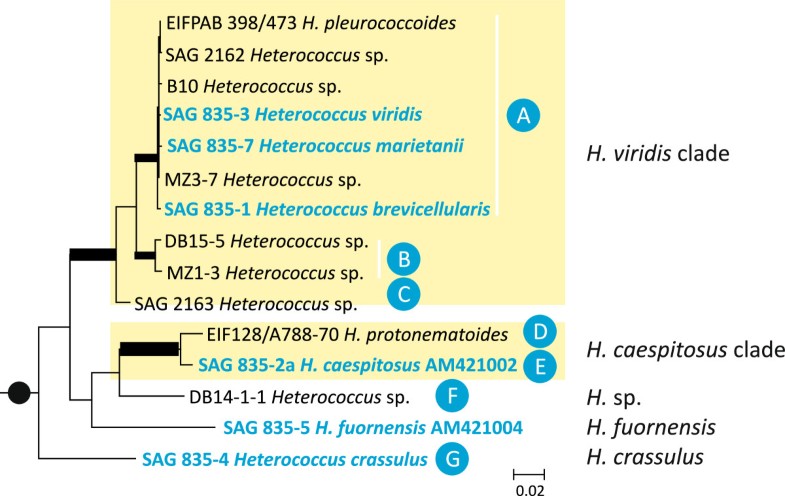 psbA/rbcL spacer
To further examine the relationships, the psbA/rbcL spacer sequences were determined for 28 strains (H. fuornensis strain SAG 835–5 failed to amplify). The spacers varied greatly in length and primary sequences; the sequences could not be aligned across all strains. Nevertheless, two short sequence stretches were aligned across all strains. The first was 23 nucleotides at the 5'-end (pos. 78–99 of reference sequence H. viridis Chodat strain SAG 835–3, JX681220) and the second was 36 nucleotides at the 3'-end (pos. 312 – 347, same reference sequence).
In most Heterococcus strains the nucleotide length of the psbA/rbcL spacer ranged from 275 nucleotides (H. caespitosus strain SAG 835-2a,) to 289 nucleotides (H. sp. strain DB14-15). The sequence for H. crassulus strain SAG 835–4 was 1762 nucleotides, and the identical sequences for two strains, DB14-1-1 and DB14-5-1, were 2143 nucleotides. Sequence similarities further downstream grouped the strains into seven "spacer groups", A – G, within which the psbA/rbcL spacers were identical or displayed only very few differences (Figure 2, Additional file 3). When mapped on the rbcL phylogeny, the strains of spacer groups A, B and C were included in the H. viridis clade, strains of spacer groups D and E fell in the H. caespitosus clade, and spacer groups F and G represented the lineages "H. sp." and H. crassulus (Figure 3).
Between closely related groups or within a group, also other regions of the psbA/rbcL spacer sequences could be aligned. For example, strains of the Heterococcus viridis clade (groups A-C) had sequence regions that aligned well, but there were up to 28 nucleotide differences among them. In addition, there was a hypervariable region of different lengths (20–31 nucleotides, between pos. 172 and 193 of the reference sequence H. viridis SAG 835–3, JX681220) that was not alignable among the three groups, but clearly distinguished them from each other. In the H. caespitosus clade, i.e. between groups D and E, the psbA/rbcL spacers also aligned well over the entire lengths, but differed at 14 sequence positions and a single indel. Similarly, there was a maximum of 13 psbA/rbcL spacer sequence differences between strains of group A. In group A there were nine strains isolated from Antarctica (Figure 2). There were no more than two nucleotides difference among them when Antarctic strain MZ3-7 was not considered and the previously unidentified strain SAG 56.94, isolated from Germany, had just one to three sequence differences with the eight Antarctic isolates. Conversely, strain MZ3-7 was with seven to nine spacer differences more distant to the other eight Antarctic strains. Strain H. brevicellularis Vischer SAG 835–1 was the closest neighboring strain of strain MZ3-7; there were just 4 sequence positions different between both strains. Group B contained two Antarctic strains (MZ1-3, MZ1-6) that had identical spacers; Group B also contained two German strains (DB14-15, DB15-5) with identical spacers; however, the Antarctic strains differed at 4 positions when compared to the German strains. Finally, group D had three strains that had only one nucleotide difference, while two strains in group F had only two sequence differences.
ITS2
Nuclear-encoded ITS2 sequences were determined for 28 strains as an independent assessment of the plastid-encoded sequences. Heterococcus fuornensis strain SAG 835–5 was successfully amplified and included; however, amplification failed for strain MZ1-6 and this strain was not included in the ITS2 analyses. Based upon alignment similarity, the ITS2 sequences formed the same groups that were recovered in the psbA/rbcL spacer analysis; therefore, we used the same group notation for both datasets. Within a spacer group, the ITS2 sequences and their secondary structures were easily aligned and rather similar; conversely, between spacer groups, the sequences and secondary structures were highly variable, i.e. they could be aligned with confidence only for a few short segments. The ITS2 sequences exhibited a considerable length variation of up to about 130 nucleotides between spacer groups. The shortest ITS2 had 285 nucleotides (strain SAG 2163 from group C; strain EIF 399/372 from group D); the longest sequence had 416 nucleotides (strains DB14-1-1, DB 14-5-1 from group F). Within each spacer group, the ITS2 sequences were relatively constant in length (variation < 10 nucleotides), except for group D where sequences were either short (285–287 nucleotides) or long (315–319 nucleotides), and the difference was due to an indel at the terminal end of helix III in the secondary structure model (see below; Additional file 4). The ITS2 sequence from Heterococcus fuornensis, which had a distinctive rbcL gene but could not be amplified for the psbA/rbcL spacer, showed little similarity to other spacer groups.
The inferred RNA secondary structures folded into the common core structure known for eukaryotes [
23
] which consisted of four helices with the third being the longest and helix IV the shortest (Figure
4
, Additional files
4
,
5
,
6
). Because of the high sequence length variation there was not a single ITS2 secondary structure from which the secondary structure models of the remaining sequences could be deduced using homology modeling. Only helix II could be modeled throughout the set of sequences independent of the used sequence-structure pair. However, within each group complete secondary structures could be obtained by homology modeling (Figure
4
, Additional files
4
,
5
,
6
). Throughout the set of sequences, conserved regions were restricted to the entire helix II (pos. 86–125 of reference sequence
H. viridis
SAG 835–3, JX681147), which had a constant length of 40 nucleotides, and a segment of about 50 nucleotides (pos. 165–189 and 205–228 of the same reference sequence) located at or close to the distal end of helix III (Figure
4
, Additional files
4
,
5
,
6
). It was followed by an extended terminal end of the helix III of 45 and 133 nucleotides in spacer groups D and F, whereas the corresponding sequence region in other spacer groups comprised of six (
H. fuornensis
strain SAG 835–5, no assigned group) to 18 nucleotides (spacer group E). That means there was a continuous lengthening/shortening of the ITS2 helix III within
Heterococcus
(Figure
4
, Additional files
4
,
5
,
6
). Another conserved ITS2 region useful to distinguish groups among
Heterococcus
strains was an unpaired sequence segment (~12 nucleotides) adjacent to helix II (Figure
4
; pos. 126–137 of reference sequence
H. viridis
SAG 835–3, JX681147). It separated
H. crassulus
SAG 835–4,
H. fuornensis
SAG 835–5, and two clusters of strains from each other. The one cluster comprised the strains from groups A-C, the other the strains from groups D-F. Within each cluster the sequence segments were invariant.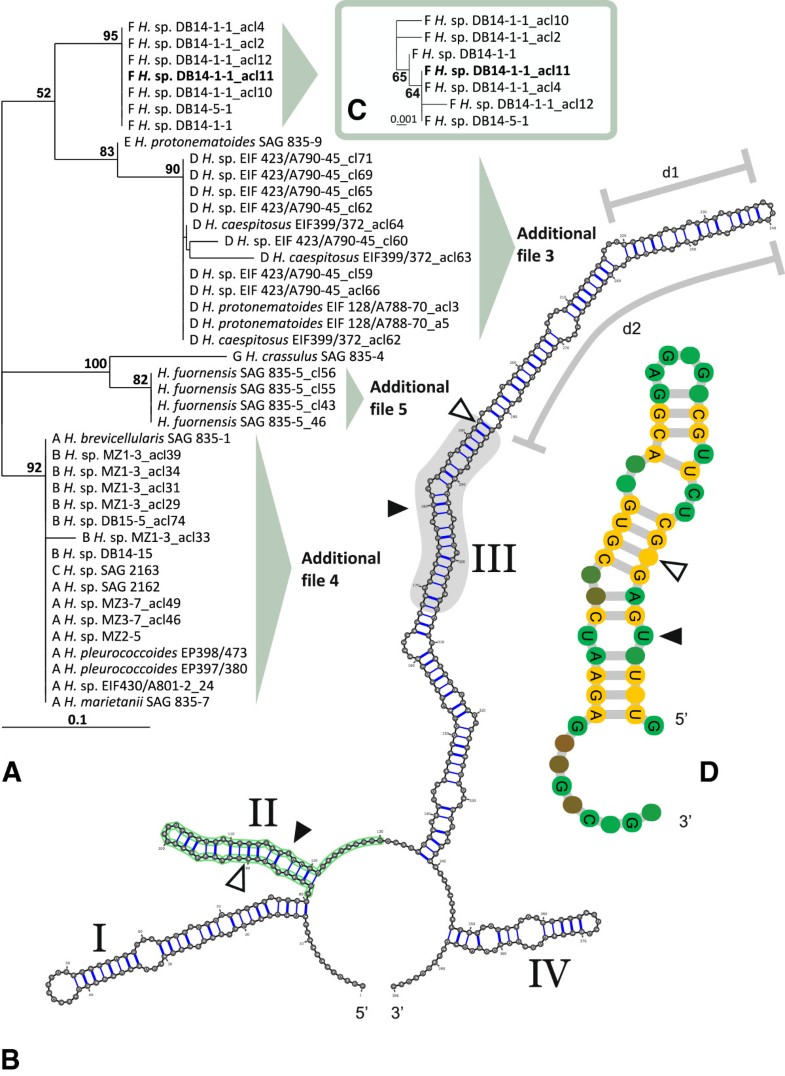 Multiple copies of ITS2 were recovered in eight strains (from groups A, B, D, F and G; Additional file 2), i.e. there were no clear sequence reads possible without cloning. Four to 12 clones per strain were sequenced and this revealed up to seven ITS2 variants per strain (Additional file 2). Differences between ITS2 variants consisted of one to seven sequence positions and a few small indels (< 5 nucleotides); they were mostly located in helices I, IV and the basal part of helix III preceding the conserved segment. In groups B and D differences between ITS2 variants were also located in the conserved helix II. In group D three out of the ten detected ITS2 variants were lacking the extended 45 nucleotides long terminal end of helix III. These shorter variants were present in all three strains of group D or in about half (10) out of the sequenced 21 clones, while the longer ITS2 variants were retrieved only from two strains, EIF 423/A790-45 and EIF 128/A788-70.
The ITS2 phylogenetic analyses were confined to helix II (with adjacent unpaired conserved region, pos. 85–134 of reference sequence H. viridis SAG 835–3, JX681147) for assessing relationships among all studied strains. The sequence alignment was with 50 positions relatively short; it contained no more than 14/9 variable/parsimony informative sites and just nine sequences were not identical with others. However, a well-resolved phylogeny was obtained when secondary structure was considered in addition to primary structure information (Figure 4). The resolved helix II sequence groups were congruent with the groups recovered in the rbcL phylogeny (see spacer group letters on Figure 4). A common origin of H. crassulus with H. fuornensis was well supported in the unrooted ITS2 (helix II) phylogeny, and this contrasted with the rbcL phylogeny where the relationships of both were unresolved (Figure 3). Also an unrooted (maximum likelihood) phylogeny of only Heterococcus rbcL gene sequences did not support the common origin of both species (not shown). The helix II phylogenetic tree resolved a close relationship of groups D and E (as the rbcL phylogeny, H. caespitosus clade in Figure 3), but at the same time both groups were clearly separated species because there were two CBCs [23, 24] in helices II and III (Figure 4, Additional file 4); also their helices I and IV could not be aligned. No resolution was provided within the H. viridis clade, i.e. among spacer groups A, B and C (Figure 4). The complete ITS2 sequence was used to produce phylogenetic trees for individual spacer groups or rbcL clades. For example, then within the rbcL H. viridis clade the spacer groups A-C were resolved (Additional file 5). Within group A, both variants of strain MZ3-7 shared a common origin and were separated from other strains of the group. The three authentic strains, Heterococcus viridis SAG 835–3, H. mainxii SAG 835–6, and H. marietanii SAG 835–7, shared identical ITS2 sequences with each other (Additional file 7). Similarly, the ITS2 sequences of the two Antarctic strains EIF 398 and EIF PAB 398/473 were identical (Figure 2, Additional file 3). Two authentic strains, H. brevicellularis SAG 835–1 and H. moniliformis SAG 835–8, and one unidentified strain (SAG 56.94) shared identical ITS2 sequences except for a short indel (4 nucleotides) in helix IV. Another congruence with the chloroplast-encoded data was within group E where the ITS2 sequences of two authentic strains, H. caespitosus SAG 835-2a and H. protonematoides SAG 835–9, were identical. Conversely, within group B no differentiation among strains was possible due to the extensive radiation of multiple ITS2 variants of strain MZ1-3 (Additional file 5). Similarly, group D had extensive radiation of ITS2 variants and no relationships among strains were resolved (Additional file 4). Here the shorter variants of both strains EIF 423/A790-45 and EIF PAB 399/372 were intermixed among each other; they formed two independent lineages distinct from a clade comprising the variants with extended terminal end of helix III. Within group F no clear distinction of the two strains DB14-1-1 (with multiple variants) and DB14-5-1 was provided (Figure 4).
Conclusions
Application of the monophyletic species concept using the highly variable chloroplast-encoded psbA/rbcL spacer, the more conserved plastid rbcL gene, and the nuclear-encoded ITS2 provided a reference data base for unambiguous identification of the common cold soil microalga Heterococcus. Eight species were recognized and characterized at the molecular level. Previous taxonomic studies relied entirely on morphological features produced in cultures; our data will facilitate diversity assessments that are independent of culturing. In addition, the PCR amplification approach for the psbA/rbcL spacer is specific for Xanthophyceae. Using the new reference data base, partial sequences of the psbA/rbcL spacer and/or ITS2 may already be sufficient for the assignment of a new strain to a certain species. There are some difficulties; amplification of the psbA/rbcL spacer may be hampered by length variations, and sequence analyses of ITS2 may be complicated by multiple variants per strain. Using the monophyletic species concept, our species are mostly in contrast to those defined by the morphological (typological) species concept. We conclude that the extensive morphological plasticity displayed in culture cannot be interpreted without rigorous methods (e.g. cladistics), and the largely overlapping morphological characteristics make cladistic analysis very difficult or impossible. The identical, but highly variable, sequences that were repeatedly recovered among the species, suggest that the species diversity of Heterococcus is not extensive, especially considering the repetition that occurred in our small sampling from Europe and Antarctica. The observed sequence changes within a species may reflect adaptations to different types of habitats or climates and distinguish geographically widely separated strains.
Abbreviations
SAG:

Culture Collection of Algae at Göttingen University, Germany (Sammlung von Algenkulturen der Universität Göttingen, Göttingen, Germany)
ML:

Maximum likelihood
MP:

Maximum parsimony
ME:

Minimum evolution
NJ:

Neighbor joining.
Declarations
Acknowledgments
NR acknowledges the various support provided by Professor Rüdiger Schulz, Kiel University, Germany. This work would not have been possible without the generous financial support of grants extended by the Christiane Nüsslein-Volhard-Stiftung (CNV) and the "L'Oréal-UNESCO "For Women in Science" Award to NR; RAA acknowledges National Science Foundation support for grant DEB-0949211. NR acknowledges Professors Maria Olech (Jagiellonian University, Kraków, Poland, and Polish Academy of Sciences) and Andrzej Massalski (Jan Kochanowski University, Kielce, Poland) for provision of Antarctic soil samples and strain B10. Dr. Katrin I. Mohr is acknowledged for provision of four strains she isolated from freshwater; development and analyses of these strains were made possible through a grant of the Deutsche Forschungsgemeinschaft (DFG) extended to T.F. (FR 905/13-2,3). NR and TF acknowledge the assistance in purification, and maintenance of the studied culture strains as well as provision of reference strains from the SAG culture collection, by Ilse Kunkel, Marlis Heinemann, Hella Timmermann and Dr. Maike Lorenz. Robert Rockstuhl helped in isolating strains from Antarctic soil samples.
Authors' Affiliations
(1)
Experimental Phycology and Culture Collection of Algae (SAG), Georg August University Göttingen, Göttingen, Germany
(2)
Plant Cell Physiology and Biotechnology, Botanical Institute, Christian Albrechts University of Kiel, Kiel, Germany
(3)
Department of Bioinformatics, Biocenter, University of Würzburg, Würzburg, Germany
(4)
Friday Harbor Laboratories, University of Washington, Friday Harbor, USA
Copyright
© Rybalka et al.; licensee BioMed Central Ltd. 2013
This article is published under license to BioMed Central Ltd. This is an Open Access article distributed under the terms of the Creative Commons Attribution License (http://creativecommons.org/licenses/by/2.0), which permits unrestricted use, distribution, and reproduction in any medium, provided the original work is properly cited.