Research article

Open Access
Amblyomma cajennense (Fabricius, 1787) (Acari: Ixodidae), the Cayenne tick: phylogeography and evidence for allopatric speciation
BMC Evolutionary Biology
2013
13:267
Received: 14 August 2013
Accepted: 3 December 2013
Published: 9 December 2013
Abstract
Background
Amblyomma cajennense F. is one of the best known and studied ticks in the New World because of its very wide distribution, its economical importance as pest of domestic ungulates, and its association with a variety of animal and human pathogens. Recent observations, however, have challenged the taxonomic status of this tick and indicated that intraspecific cryptic speciation might be occurring. In the present study, we investigate the evolutionary and demographic history of this tick and examine its genetic structure based on the analyses of three mitochondrial (12SrDNA, d-loop, and COII) and one nuclear (ITS2) genes. Because A. cajennense is characterized by a typical trans-Amazonian distribution, lineage divergence dating is also performed to establish whether genetic diversity can be linked to dated vicariant events which shaped the topology of the Neotropics.
Results
Total evidence analyses of the concatenated mtDNA and nuclear + mtDNA datasets resulted in well-resolved and fully congruent reconstructions of the relationships within A. cajennense. The phylogenetic analyses consistently found A. cajennense to be monophyletic and to be separated into six genetic units defined by mutually exclusive haplotype compositions and habitat associations. Also, genetic divergence values showed that these lineages are as distinct from each other as recognized separate species of the same genus. The six clades are deeply split and node dating indicates that they started diverging in the middle-late Miocene.
Conclusions
Behavioral differences and the results of laboratory cross-breeding experiments had already indicated that A. cajennense might be a complex of distinct taxonomic units. The combined and congruent mitochondrial and nuclear genetic evidence from this study reveals that A. cajennense is an assembly of six distinct species which have evolved separately from each other since at least 13.2 million years ago (Mya) in the earliest and 3.3 Mya in the latest lineages. The temporal and spatial diversification modes of the six lineages overlap the phylogeographical history of other organisms with similar extant trans-Amazonian distributions and are consistent with the present prevailing hypothesis that Neotropical diversity often finds its origins in the Miocene, after the Andean uplift changed the topology and consequently the climate and ecology of the Neotropics.
Keywords
COII SequenceEastern CordilleraSubstitution SaturationPhylogeographical HistoryMolecular Clock Hypothesis
Background
Amblyomma cajennense
Fabricius (Figure
1
) is one of the most widely distributed tick species in the New World. Its range extends from northern Argentina, to the Caribbean and the southernmost part of the U.S. (from 27° N to 29° S). Throughout its distribution, this tick has adapted to widely different ecological conditions, including ecosystems as different as semi-arid grasslands and subtropical secondary forests [
1
]. The geographical area occupied by this tick is interspersed with major geographical barriers: the Andes, the Gulf of Mexico, and large rivers [
1
,
2
] (Figure
2
A).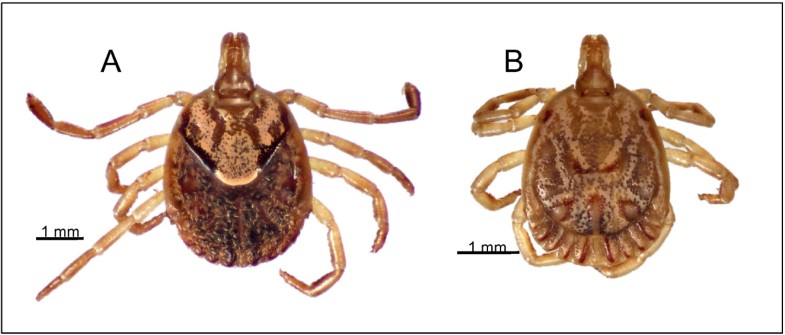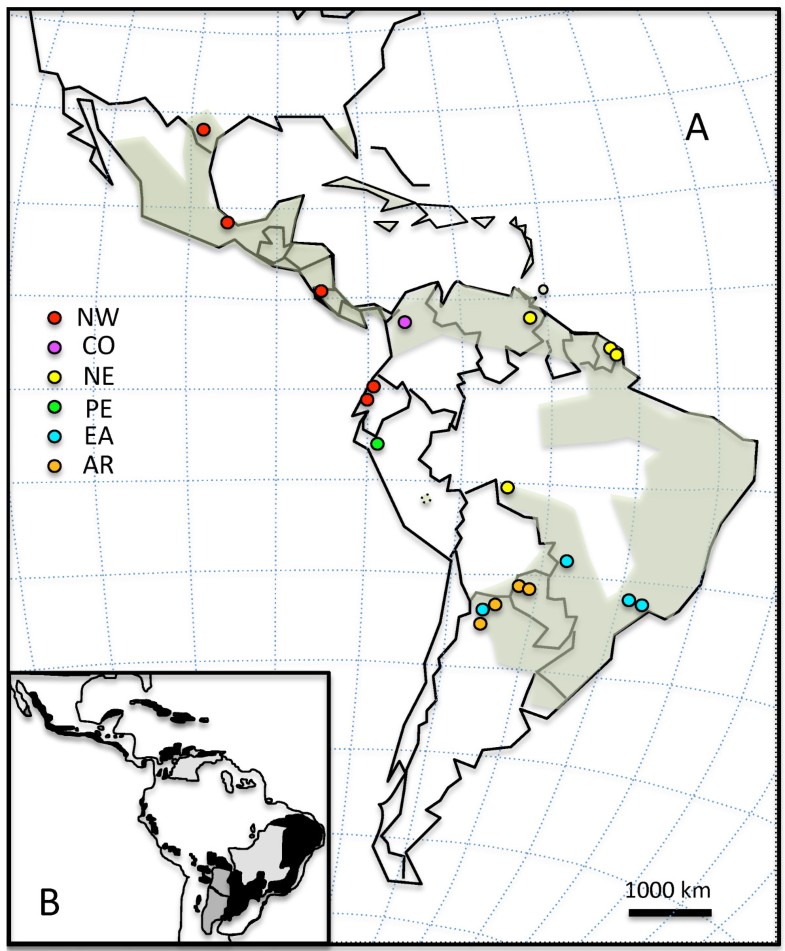 Early morphological studies resulted in contradicting opinions about the taxonomy of A. cajennense. Some authors considered phenotypic differences (presence and number of ventral plates, proportional length of festoons, ornamentation, scutal size and shape, punctation, and shape of porose areas) to identify different species within A. cajennense[3–5], whereas other authors ascribed morphological differences to mere intraspecific polymorphism [6–9]. The latter point of view prevailed and, since 1953 [8], all related species were relegated to synonyms of A. cajennense. Lack of variation in the cuticular hydrocarbons reported from twelve geographically distinct populations of A. cajennense supported the synonymy [10].
Nevertheless, after observing different distinct developmental features (lengths of feeding, pre-molting, pre-ovoposition, and egg incubation periods) in laboratory colonies of A. cajennense from different Neotropical areas (Argentina, Brazil, Cuba, U.S., and Trinidad), Guglielmone et al. [11] suggested that A. cajennense might be a complex of sibling species. More recently, biological crossbreeding incompatibility was observed between colonies of A. cajennense from different geographical areas [12, 13]. Unsuccessful crossmating experiments constitute a strong indication of the occurrence of different species. Nevertheless, laboratory breeding conditions may not fully represent natural settings and may artificially impede mating processes that would normally occur in nature.
In order to further investigate these apparently contradicting findings it was therefore necessary to use molecular methods as additional tools for developing better informed taxonomic opinions. Molecular sequence analyses were also used to evaluate the phylogeographical evolutionary history of the taxon as its present distribution, similar to that of other Neotropical organisms [14–22], can contribute to better understand the respective influence of Pleistocene versus Miocene biogeographical events in generating diversity in the Neotropics.
The present distribution of taxa and their diversity is the result of past demographic events such as colonization, expansion, and extinction, usually driven by habitat modifications. The evolution and population differentiation in ticks, obligate blood-sucking ectoparasites of vertebrates, are shaped by two main driving forces: biogeographical vicariance and host association [23–26].
In terms of vicariance, in the Neotropical area, the richness in species diversity had initially been attributed to habitat fragmentation due to the fluctuations in levels of dryness [27] or temperature [28] during the Pleistocene. By degrees, the scientific community realized that the diversification of organisms in the Neotropics could not be solely be attributed to the effect of Quaternary glaciation on Neotropical climate [29–34], but was likely to have started earlier under the effect of the Andean orogenesis [35]. More recently, particular attention has been given to vicariant trans-Amazonian taxa distribution. The geographical range of such organisms often overlaps the remaining nuclei of the Neotropical Seasonally Dry Tropical Forest (SDTF) and of the adjoining dry savannas of the Chaco and Cerrado regions, which are thought to have been widespread during the Neogene [15, 29–31, 36–38]. The distribution of the Cayenne tick [1] roughly coincides with a typical trans-Amazonian distribution and significantly overlaps SDTF, Chaco and Cerrado refugial foci (Figure 2B) [29, 39]. Ticks collected in deeper Amazonian areas (i. e. Rondonia) usually inhabit drier corridors and are found at the interface between forest and savanna and not in the thick of the rain forest [40]. One can, therefore, hypothesize, that like many other organisms with a trans-Amazonian distribution, the Cayenne tick has undergone allopatric speciation in the different ecological regions which resulted from the fragmentation of SDTF and of environments drier and more markedly seasonal than rain forest habitats. However, if we consider host association as the main driving mechanism underlying tick diversification, there is no doubt that A. cajennense is very eclectic in its feeding preferences. Adult specimens mainly infest large wild and domestic mammals, ungulates in particular [41]; immature stages are less specific in their host choice and can feed on a broader range of vertebrates, including marsupials, small and large mammals, humans, and sometimes birds [42–45]. Therefore, this tick not only can find suitable hosts practically everywhere, but it can easily be carried over large distances on wild ungulates, cattle displaced by humans, or on birds. Hillburn and Sattler [46] postulated that populations of livestock ticks, when not host-specific and in the presence of abundant host fauna, should closely approach panmixia.
Hence, two opposite evolutionary hypotheses can let us expect either that isolation mechanisms have resulted in the subdivision of A. cajennense into genetically distinct populations, or that persistent gene flow, maintained by dispersal on hosts, has created a genetic gradient of progressive differentiation throughout the tick distribution range. In the present study, we investigated the phylogeny and population structure of A. cajennense throughout its distribution range by analyzing three mitochondrial and one nuclear gene sequences. Data were used to determine the extent of genetic structure within the taxon and its compatibility with the hypothesized occurrence of distinct cryptic species, to evaluate the demographic and phylogeographical history of the tick, and to tentatively date lineage radiation events.
Conclusions
Phylogenetic analyses and taxonomic considerations
Our data demonstrate that A. cajennense is subdivided into six genetically distinct groups. The question arises, therefore, as to whether or not these reciprocally monophyletic units represent different species. Regardless of the gene used, the six groups are characterized by unique fixed characters and mutually exclusive sequences, which is in agreement with the phylogenetic species definition [105]. The level of genetic divergence between the clades is comparable to, or much higher than, genetic diversity recorded between different Amblyomma species represented here by the outgroup taxa. Significant very high among-clade differentiation estimates also confirm that there is significantly little genetic exchange between these entities. These results prompted a thorough reassessment of the morphology of A. cajennense, which resulted in the identification of previously ignored fixed phenotypic characters, differentiating the six groups [106]. Therefore, if allopatric speciation between populations of A. cajennense has occurred, it is certainly not "cryptic". While this study was completed, some of us [12, 13] carried out cross-breeding experiments with colonies established for some of the clades. The experiments showed that colonies of AR, EA, NE and CO were not compatible, at least in laboratory conditions. Therefore, morphological and biological studies further strengthen our results and collectively argue for the occurrence of six species, indicating that Koch [3] and Tonelli-Rondelli [4, 5] were mostly correct in their species delimitations. Formal descriptions of these species will be provided separately [106].
Phylogeographical patterns and tentative dating of the major lineages splits
The presence of Amblyomma fossils in Dominican amber deposits, dated from the late Oligocene-early Miocene (approx. 25 Mya), indicates that the genus was already well established in the New World at the end of the Oligocene. In present times, adults A. cajennense appear to favor ungulate hosts, such as horses, cows, deer, and pigs, but can also be found feeding on carnivores, marsupials and Edentata. Therefore, although the present preferred hosts invaded the Neotropical region from the Northern Hemisphere after the establishment of the Panama Isthmus, we can surmise that suitable hosts were available earlier. The geographical area occupied by A. cajennense significantly overlaps, or is closely adjacent to, the vestigial refugia of SDTF (Figure 2A-B) which are disjunct geographical areas with similar ecological conditions, identified mostly through the study of hundreds of plant lineages with coincidental distribution patterns [14, 15]. In addition, the tick distribution includes also areas of Chaco and Cerrado which were excluded by Pennington from the definition of SDTF [15] based on soil and vegetation compositions. Nevertheless Chaco and Cerrado are characterized by seasonality and long dry seasons like SDTF. Ticks, unlike plants, are more likely to depend on climatic conditions than on soil composition. Although the ecology of the ancestral SDTF was probably very similar, their long isolation from each other also coincided with gradual ecological modifications to which the ticks responded through increasing allopatric adaptation. For instance, while some clades may share similar coastal ecological conditions (EA, NE in French Guiana, and NW) there is no doubt that AR and PE occur in very different environments, the arid Chaco and the montane dry Inter-Andean valleys. The EA and AR ticks can be found 50 km apart, but they do not appear to venture out from their respective endemic areas. Nevertheless, a thorough exploration of the possible secondary contact zones between clades has yet to be undertaken and may shed some light on the real level of incompatibility in the natural environment between the identified species. Our attempt at node dating is in part speculative, as fossil records are largely missing for ticks, and because the dating of biogeographical topological modifications are also sometimes conjectural. Nevertheless, the phylogeography of A. cajennese is, sometimes partly but sometimes extensively congruent with the phylogeographical estimates generated for organisms with similar trans-Amazonian distributions, which include reptiles, rodents, and birds [16–20]. In some cases, divergence dating in these studies were supported by dated fossil records. Not only are the radiation patterns similar, but their dating often also matches our results, indicating that A. cajennense is only one of many organisms with an early Miocene origin and with affinity for trans-Amazonian regions with marked seasonality and long dry seasons [16–20]. Interestingly, the most extensive phylogeographical similarities are found in unrelated taxa, such as caviomorph rodents [21] and Crotalus spp. snakes [22]. To the best of our knowledge, this is the first study dealing with an invertebrate with such a large and typical trans-Amazonian distribution range. The identification of these new species is not of solely taxonomic interest. It also has important implications for public health issues, because these ticks are vectors of important human pathogens. Accordingly, the subdivision revealed by our study also appears to correlate, in some cases, with distinct tick-pathogen associations [107–111].
Availability of supporting data
GenBank accession numbersfor 12SrDNA sequences are: EU791583-97, EU791599-600, EU791603-609, EU791611-615, AY342288, and JX987796-890. GenBank accession numbers for COII sequences are: KF787572-787631 and FJ860250-251; GenBank accession numbers for d-loop sequences are:KF527299-408. GenBank accession numbers for ITS2 sequences are: JN866835-JN866905, JN866908-910, and KF527286-298. Sequence alignments (concatenated mtDNA and mtDNA + ITS2) and the corresponding ML trees are accessible through TreeBase (URL: http://purl.org/phylo/treebase/phylows/study/TB2:S14894).
Declarations
Acknowledgements
This study was funded by NSF grant #1026146 to L. Beati and L.A. Durden. Our gratitude also goes to Jeff Alfred (USDA, Ames, ID) who provided us with samples from Texas. ICPS article number 1.
Authors' Affiliations
(1)
Institute for Coastal Plain Sciences and Biology Department, Georgia Southern University, Statesboro, USA
(2)
Instituto Nacional de Tecnología Agropecuaria, Estación Experimental Agropecuaria Rafaela, Rafaela, Argentina
(3)
Department of Infectious Diseases, University of Georgia College of Veterinary Medicine, USA
(4)
Laboratório de Parasitologia, Instituto Butantan, São Paulo, Brazil
(5)
Departamento de Medicina Veterinária Preventiva e Saúde Animal, Faculdade de Medicina Veterinária e Zootecnia, Universidade de São Paulo, São Paulo, Brazil
(6)
Departamento Académico de Microbiologia Médica, Facultad de Medicina, Universidad Nacional Mayor de San Marcos, Lima, Perú
(7)
Laboratorio de Entomología, Instituto Nacional de Salud, Lima, Perú
(8)
Laboratorio de Acarología, Departamento de Biología Comparada, Facultad de Ciencias, Universidad Nacional Autónoma de México, CoyoacánDistrito Federal, México
(9)
Laboratorio de Entomología Médica y Medicina Tropical (LEMMT), Colegio de Ciencias Biológicas y Ambientales, Universidad San Francisco de Quito, Cumbayá, Ecuador
(10)
Biology Department, Georgia Southern University, Statesboro, USA
(11)
Departamento de Parasitologia Animal, Instituto de Veterinária, Universidade Federal Rural do Rio de Janeiro, Seropédica, Brazil
Copyright
© Beati et al.; licensee BioMed Central Ltd. 2013
This article is published under license to BioMed Central Ltd. This is an Open Access article distributed under the terms of the Creative Commons Attribution License (http://creativecommons.org/licenses/by/2.0), which permits unrestricted use, distribution, and reproduction in any medium, provided the original work is properly cited.