Research article

Open Access
Paleoclimatic modeling and phylogeography of least killifish, Heterandria formosa: insights into Pleistocene expansion-contraction dynamics and evolutionary history of North American Coastal Plain freshwater biota
BMC Evolutionary Biology
2013
13:223
Received: 2 September 2012
Accepted: 13 September 2013
Published: 9 October 2013
Abstract
Background
Climatic and sea-level fluctuations throughout the last Pleistocene glacial cycle (~130-0 ka) profoundly influenced present-day distributions and genetic diversity of Northern Hemisphere biotas by forcing range contractions in many species during the glacial advance and allowing expansion following glacial retreat ('expansion-contraction' model). Evidence for such range dynamics and refugia in the unglaciated Gulf-Atlantic Coastal Plain stems largely from terrestrial species, and aquatic species Pleistocene responses remain relatively uninvestigated. Heterandria formosa, a wide-ranging regional endemic, presents an ideal system to test the expansion-contraction model within this biota. By integrating ecological niche modeling and phylogeography, we infer the Pleistocene history of this livebearing fish (Poeciliidae) and test for several predicted distributional and genetic effects of the last glaciation.
Results
Paleoclimatic models predicted range contraction to a single southwest Florida peninsula refugium during the Last Glacial Maximum, followed by northward expansion. We inferred spatial-population subdivision into four groups that reflect genetic barriers outside this refuge. Several other features of the genetic data were consistent with predictions derived from an expansion-contraction model: limited intraspecific divergence (e.g. mean mtDNA p-distance = 0.66%); a pattern of mtDNA diversity (mean Hd = 0.934; mean π = 0.007) consistent with rapid, recent population expansion; a lack of mtDNA isolation-by-distance; and clinal variation in allozyme diversity with higher diversity at lower latitudes near the predicted refugium. Statistical tests of mismatch distributions and coalescent simulations of the gene tree lent greater support to a scenario of post-glacial expansion and diversification from a single refugium than to any other model examined (e.g. multiple-refugia scenarios).
Conclusions
Congruent results from diverse data indicate H. formosa fits the classic Pleistocene expansion-contraction model, even as the genetic data suggest additional ecological influences on population structure. While evidence for Plio-Pleistocene Gulf Coast vicariance is well described for many freshwater species presently codistributed with H. formosa, this species demography and diversification departs notably from this pattern. Species-specific expansion-contraction dynamics may therefore have figured more prominently in shaping Coastal Plain evolutionary history than previously thought. Our findings bolster growing appreciation for the complexity of phylogeographical structuring within North America's southern refugia, including responses of Coastal Plain freshwater biota to Pleistocene climatic fluctuations.
Keywords
Coastal PlainMismatch DistributionIncomplete Lineage SortingCoalescent SimulationAtlantic Coastal Plain
Background
Present-day distributions of many of Earth's biotas reflect the profound influence of climatic and sea-level fluctuations during the glacial-interglacial cycles of the Pleistocene (2.58-0.01 million years ago, Ma; [1]) [2–4]. Notably, eight glacial advances since 740 ka have produced more extreme 100,000-year environmental changes than those preceding 1 Ma [5]. Because glacial-interglacial transitions occurred in an evolutionary blink of an eye, many extant species have spent most of their recent evolutionary histories under glacial rather than short-lived (~10,000-20,000 years) interglacial conditions [6]. Therefore, extreme environmental changes associated with the Last Glacial Maximum (LGM; ~22-19 ka) may have been the most recent climatic factors that affected present-day patterns of biodiversity prior to the global proliferation of humans and anthropogenic environmental disturbance [2, 6].
The biogeographical consequences of Pleistocene glaciations are generally thought of in terms of direct effects of glacial cover and temperature change on Northern Hemisphere biotas. This is because over 80% of glacial ice on Earth resided in the Northern Hemisphere during the LGM, resulting in the destruction and reorganization of continental landscapes in both the Old and New World e.g. [2, 7]. While few species from glaciated areas persisted in situ by adapting to changing local environments, many were actively displaced (tracking suitable habitat), passively displaced (local extinction, regional extirpation), or went extinct [3, 8]. Indeed, abundant paleontological and palynological evidence indicates that many terrestrial species of North America and Europe contracted their ranges during the LGM to one or more lower-latitude (or altitude) refugia, then expanded northward to recolonize much of their present-day ranges during the warmer Holocene interglacial [9–14]. This scenario is known as the 'expansion-contraction' model of Pleistocene biogeography and has reached paradigm status in biology [15].
Many patterns of genetic variation are consistent with predictions from a model of range contraction during glacial advance and rapid post-glacial expansion. For example, phylogeographical analyses across European flora and fauna have identified the Iberian, Italian and Balkan peninsulas as three main southern refugia from which postglacial recolonization of northern Europe took place [9, 16, 17]. In more recent work, the tools of phylogeography and ecological niche modeling e.g. [18] have been joined to refine models of Pleistocene expansion and contraction. Such analyses have revealed complicated patterns of northern and southern LGM refugia and complex histories of speciation, dispersal, secondary contact, and demographic expansion of species within the southern refugia themselves, particularly in Europe [15, 18–24].
There is substantial geoscientific evidence that the glacial-interglacial cycles also had substantial effects in subtropical and tropical zones, including refugial areas recognized today that were not covered by glaciers [
7
,
19
–
21
]. During the Last Interglaciation (LIG; 130-116 ka; including 'Sangamonian' stage, ~125 ka), wetter, warmer climate and sea levels ~4-6 m above present sea level (ASL) [
25
,
26
] created favorable conditions for expansions in many species ranges. Subsequent global cooling (~4-10°C cooler surface air temperatures [
27
]) and aridification during the LGM caused eustatic sea levels to drop ~120-130 m lower than today [
28
], exposing huge areas of continental shelf, areas large enough to have doubled the span of the Florida peninsula to 600 km wide. For freshwater species, this increase in LGM land area also increased river lengths (Figure
1
), which likely increased population connectivity through river anastomoses. Such mixing of populations from formerly isolated drainages would have promoted dispersal and gene flow, and may have aided southward range shifts. Thus while glacial stages are perceived as periods of reduced population sizes and isolation in refugia [
9
], for some species, particularly those in fresh waters, they may have presented opportunities for coastal dispersal, leading to range expansion or shifting (contraction). The possibility for southern refugia to act as areas of long-term persistence, dispersal, and gene flow, rather than range expansion-contraction dynamics, is known as the 'southern crossroads' hypothesis [
21
].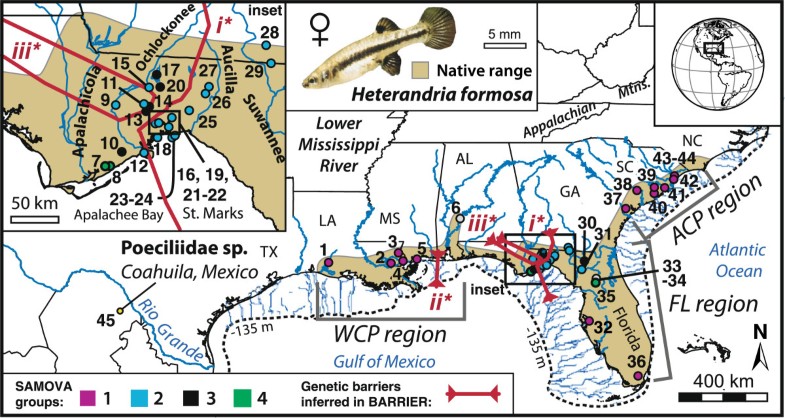 The Gulf-Atlantic Coastal Plain of eastern North America presents an ideal system in which to study interactions between geology, climate and diversification of a unique biota. This unglaciated region has figured prominently in phylogeographic research, and has revealed several major genetic breaks and confirmed local glacial refugia for northern taxa and endemic coastal species [29, 30]. Many Coastal Plain species possess evolutionary lineages that have diverged in an east-to-west direction across common biogeographic barriers, including peninsular Florida which separates the maritime Atlantic-vs.-Gulf coast biota, the Apalachicola River (Gulf-Atlantic slope drainages), Mobile Bay, and the Mississippi River [30–32]. Genetically identified breaks in this region also coincide with species distributional breaks [33] and thus likely reflect historical vicariance events, or recurrent vicariance coupled with extinction-recolonization of populations [29, 31, 34]. However, phylogeographical studies also indicate that species persisted through the LGM in refugia on either side of the Apalachicola basin in Florida and Texas-western Louisiana [29, 31]. Between these regions, there are north-south-trending zones of hybridization and secondary contact, including one of Remington's 'suture zones' between Alabama and northwest Florida, indicating a meeting place for lineages undergoing northward postglacial expansion [30, 35]. As is the case for the patterns in evidence for expansion-contraction dynamics in unglaciated regions of Europe [2, 4, 9], evidence for these refugia in North America has been developed mainly from terrestrial taxa, e.g. mints (e.g. Conradina[36, 37]) and yellow-poplar (Liriodendron tulipifera[38]). These terrestrial data suggest that other codistributed species may have experienced similar range dynamics fitting the expansion-contraction model, possibly involving similar refugia. However, while regional genetic breaks are well documented, Pleistocene evolutionary responses of Coastal Plain aquatic biota remain relatively uninvestigated.
Here, we focus on least killifish, Heterandria formosa Girard 1859, a species which presents several advantages as a historical biogeographic study system that likely exhibited distinct response(s) to the climatic upheavals of the Late Pleistocene. First, these small (12-30 mm) livebearing freshwater fish (family Poeciliidae) are restricted to low-elevation Coastal Plain areas of subtropical humid climate zones (hot, wet summers and mild winters), and the tropical Everglades [39]. This suggests climate is likely an important factor limiting H. formosa distribution. This species is also intolerant to cold-seasonal temperatures, making it an ideal candidate for ecological niche modeling and for testing the expansion-contraction model. Second, H. formosa span the Florida peninsula, an important glacial-stage refugium [29, 35]; thus, it is plausible that populations were displaced to warmer south-peninsula areas during the LGM. Third, H. formosa display ecological characteristics consistent with the potential for rapid population expansion over evolutionary timescales, including (i) rapid reproduction and short generation time (T ≈ 0.33 yr [40]); (ii) a range of tolerances to different abiotic conditions [39, 40], and (iii) female capacity for livebearing and sperm storage, suggesting individuals or groups of migrating females could found populations during rapid post-LGM expansions [41]. Fourth, H. formosa is endemic to the Gulf-Atlantic Coastal Plain and thus also offer the opportunity to test the generality of the standard regional vicariance model and phylogeographical breaks documented in other taxa.
A previous rangewide study by Baer [42] using allozymes inferred genetic barriers in H. formosa between the Western Coastal Plain (WCP) and Atlantic Coastal Plain (ACP) regions (Figure 1), around the Suwannee River, but not between north Florida and the ACP. Another break occurred between Gulf-draining Waccasassa and Withlacoochee Rivers, creating a clade of Louisiana plus south Florida samples. Baer [42] also hypothesized an important role for population expansion and cross-peninsula gene flow in influencing current levels of genetic variation—including recent founding of ACP populations after Early Pleistocene high seas (≤1.5 Ma; 'northeast colonization' hypothesis), supported by lower genetic diversity and a lack of isolation-by-distance only among ACP populations. Yet while Baer's [42] study presents a broad outline for understanding H. formosa historical biogeography, the limited levels of genetic variation he found and the more modest methods available at the time limited the hypotheses that could be tested. The current analytical framework in historical biogeography, including our ability to combine ecological niche modeling (e.g. to infer Pleistocene-Holocene distributions and generate spatially explicit hypotheses) with coalescent simulations (e.g. used to discriminate among historical scenarios [43, 44]), provides a more rigorous framework for biogeographical inference in this species [45–47].
In this study, we integrate ecological niche modeling with paleoclimatic data, phylogeography, and coalescent simulations to infer the historical biogeography of H. formosa. Specifically, we use H. formosa to test the hypothesis that members of the Coastal Plain freshwater biota fit predictions of the expansion-contraction model (as opposed to southern crossroads, or regional vicariance and northeast colonization hypotheses) by testing for predicted patterns of Late Pleistocene range shifts, refugia and recolonization patterns and their spatial-genetic effects. In addition to analyzing new mtDNA and nDNA sequences, we re-analyze available allozyme data [42], which provide a novel temporal spectrum and improve our tests of genetic diversity predictions, including latitudinal patterns not previously investigated. We show that these new data, combined with paleoclimatic modeling in an integrative approach, support a hypothesis of Pleistocene range expansion-contraction dynamics in least killifish.
Discussion
Our results failed to reject most expansion-contraction model predictions (66.7% of tests; summarized in Additional file 1: Table S8). Indeed, several independent lines of evidence from geospatial and genetic data give concordant results consistent with this model. Here, we explore these results.
Ecological niche modeling suggests that H. formosa underwent range contraction to a single LGM refugium in the southwest Florida peninsula, an area that underwent less environmental-climatic change than the northern parts of the species range (Figure 3B). Paleoclimatic data, climate models and pollen records indicate southwest Florida maintained ~0-4°C lower temperatures, wetter tropical climates (+400-800 mm/yr annual precipitation) and mixed southern pine/hardwood forest to open woodland vegetation during the LGM [11, 27, 93], relative to today. By contrast, LGM conditions in northern Florida and the 'mainland' Gulf-Atlantic plains were colder/drier with extreme ~8-10°C drops in winter temperatures, 400 mm/yr lower annual precipitation, and patchy northern forest and grasslands vegetation [27, 93, 94]. Combined with these data, our results strongly suggest H. formosa were extirpated from their northern range and survived the LGM in bioclimatically suitable peninsular areas, areas that, in fact, were the only parts of eastern North America that did not experience significantly colder winter and summer LGM temperatures [94].
While one paleobotanical synthesis suggested this putative refugial area was nothing more than arid sand-dune scrub at the time [13], other data [11] indicate that at this time south Florida was semiarid, containing suitable freshwater stream and wetland/marsh habitats where cold-intolerant freshwater organisms persisted. This deduction is consistent with pollen data showing aquatic macrophytes such as Brasenia, Isoëtes, Myriophyllum, Typha and Sparganium occurring within the Florida peninsula during the LGM [95].
Comparing the predicted LGM refuge of H. formosa with its much wider modern distribution (Figures 1 and 3C), we suggest that H. formosa rapidly recolonized most or all of its preceding range to the north (e.g. of the LIG, Figure 3A) during postglacial climatic 'amelioration.' After 16-15 ka, eastern North American rivers underwent transitions from braided to meandering channel types, during which wetter-than-modern early Holocene conditions may have increased wetlands and river discharge [96]. Conditions from this time onward may thus have favored expansion into parts of the species range, even though temperature and precipitation did not stabilize near their modern levels until somewhat later, ~9-6 ka [93]. Such northward post-glacial expansions were unlikely to have been slowed by Younger Dryas cooling 12-11 ka (i.e. potentially negative effects on aquatic habitats), which did not affect areas below ~38°N latitude ([96], refs. therein). As a corollary, we reject vicariance-northeast colonization-predicted range dynamics and our results also seem to run counter to rangewide population stasis and connectivity expected under the southern crossroads hypothesis [21]; apparently, smaller areas of the North American Coastal Plain (south Florida) may have experienced prolonged ecological stability than in Mediterranean Basin coastal plains.
Ecological niche modeling assumes that relationships between present distributions, abiotic factors, and ecological interactions remain more or less at equilibrium, that species physiological limits have changed less than the magnitude of changes in abiotic variables, and that biotic features of a species' niche affect historical distribution less than large-scale changes in abiotic conditions [18, 22, 23]. We cannot evaluate all of these assumptions, nor can we exclude possible bias due to coastline effects i.e. major influence of the Bermuda high-pressure zone on coastal precipitation, which was among the variables of highest (>30%) predictive importance (Additional file 1: Tables S3-S4). Nonetheless, our niche-based modeling results provide meaningful insights into H. formosa biogeography. Our paleoclimatic models yield highly accurate predictions, e.g. AUCs >0.90 and our results are consistent with existing ecophysiological data. For example, modern H. formosa populations reach critical thermal minima at ~10°C [97] and live close to this cold-season limit in northern parts of their range. Coinciding with this value, 88% of the H. formosa localities (Additional file 1: Figure S2) had mean temperature of coldest quarter values ≥10°C (±0.1°C), and this variable had sharply higher effects on MAXENT prediction above 10°C (JCB, unpublished data). Given cold-season temperatures across the species entire northern range declined to -8 to 4°C during the LGM [27, 93], it is reasonable to infer that glacial-stage extirpation occurred passively in these areas, with drought and colder winter temperatures reducing survival. In addition, the assumption of ecological niche conservatism on these spatial and temporal scales seems justified for this species. Differences in thermal tolerances among H. formosa populations from different parts of their range are minimal (~2 °C; [97]) compared to the temperature differences induced by climatic oscillations of the last glacial cycle above; thus differential physiological adaptation to temperature regimes likely has not had a confounding effect on our inferences. Our analyses of DNA sequence data and re-analyses of nuclear allozyme loci reinforce the paleoclimatic data to support expansion-contraction dynamics. In particular, the negative latitudinal cline suggests a glacial refugium in south Florida and northward recolonization [4, 9, 15]. Admixture in south Florida due to secondary contact of diverged lineages, i.e. following 'vicariance' expected under vicariance-northeast colonization, or recent dispersal mediated by episodic connections (e.g. flooding, axial-valley connections) can be ruled out for two reasons. First, there is a distinct lack of phylogenetic divergence and, second, seven allozyme alleles in south Florida are private alleles not shared with populations in other areas. These data are also inconsistent with southern crossroads dynamics supported elsewhere, in which no clinal diversity patterns were witnessed [21]. That our phylogeographical results also support expansion-contraction dynamics agreeing with the niche models also suggests that the assumption of ecological niche conservatism through time is essentially correct for H. formosa.
Of course, it is difficult to discount the possibility of 'microrefugia' [98] in small habitat pockets elsewhere. This is because our niche-based models predict responses to prevailing macroclimatic conditions, not microclimatic conditions below the data-layer grain (1 km2) or within local habitats. If any secondary refugium existed, the most likely candidate area would seem to have been the Tallahassee area, where we also found one private allozyme allele.
Several of our results agree with previous studies [42, 54]. Similar to Baer [42] and despite extreme distances of >2000 km between our collection localities and those in the allozyme dataset, we find H. formosa are characterized by shallow genetic divergences and a single population-lineage (e.g. mean mtDNA p-distance = 0.66%; Figures 6 and 7). Combined with high Hd but low π estimates, this suggests recent postglacial expansion with too limited time for recovery to allow accumulation of large sequence divergence [29], and/or high historical gene flow levels. Also congruent with [42], we infer no genetic barriers within the Atlantic Coastal Plain. This is consistent with Baer's 'northeast colonization' hypothesis (ACP populations colonized following an Early Pleistocene high-sea stand following 1.5 Ma), which he argued was also supported by lower allozyme diversity and a lack of ACP isolation-by-distance [42] (see below). Heterandria formosa also contains four significantly differentiated mtDNA population groups subdivided outside of the putative refugium, or between the refugium and recolonized areas (Figures 1, 2 and 7). The latter break, inferred between the Suwannee and Hillsborough Rivers (i.e. SAMOVA groups 1 vs. 2-4; Figures 1 and 7), corresponds roughly to a north-to-south break between Gulf-draining Waccasassa and Withlacoochee Rivers described by Baer [42]. This break creates a clade of Louisiana plus south Florida samples in our phylogenetic and multivariate ordination analyses of the allozyme-frequency data, and Baer's (Figure 2; though our results are based on different genetic distances). This Suwannee-Hillsborough break thus appears robust to different data types and methods and is shallow in both studies (e.g. ~0.6-0.8% mtDNA divergence) implying recently limited gene flow between these rivers. Perhaps more importantly, the Suwannee-Hillsborough break falls (with other genetic barriers) outside the predicted LGM refugium but is not correlated with deep phylogenetic divergence. This is consistent with the action of density-dependent processes, such as priority effects e.g. [2, 9], or allele surfing [61], operating during leading-edge recolonization. Given their patchy distribution [39, 42] and propensity for explosive population growth [99], it is reasonable to assume that H. formosa quickly fill new habitats once they arrive and that when local patches become extinct they are recolonized from nearby populations. Thus if northward postglacial expansion occurred through small numbers of colonists, alleles might have surfed along a relatively quickly expanding wave front. Our niche-based models suggest postglacial genetic divergence between these rivers may have partly been maintained by lack of predicted suitable habitat between these rivers (Figure 3).
By contrast, we find several points of nuclear-mitochondrial discordances, indicating differences between studies. For example, allozyme and mtDNA results yield mixed support for the expansion-contraction prediction that isolation-by-distance should occur within the refugium, but not outside of it, due to a longer demographic timeline and geographically restricted dispersal within the refuge. Allozymic variation exhibits nearly rangewide isolation-by-distance in our study and Baer's [42]. Baer [42] also inferred populations were at or near drift-migration equilibrium, using a 2-dimensional stepping stone model with cross-peninsula gene flow. Global Nem estimates were high (>4, range: 2.5-37.5), suggesting local H. formosa populations have not evolved independently but that gene flow has importantly shaped their evolution [42]; and in a second study, Nem within and across two peninsular Florida rivers ranged >3-400 [54]. In Baer [42], ACP populations were exceptional, forming a relatively homogeneous monophyletic group with no isolation-by-distance consistent with recent colonization, consistent with our mtDNA and allozyme findings. However, contrasting these patterns, we find: a lack of mtDNA isolation-by-distance across the range; Nem suggesting zero on-going mtDNA gene flow (see Supplement S1); and ACP populations as indistinct from other regions (i.e. nonmonophyletic; Figures 2, 6 and 7). Incongruent with Baer's [42] allozyme results, the historical signal of the mtDNA genome also does not indicate east-to-west genetic differentiation between WCP and ACP regions (Figure 1).
Such nuclear-mitochondrial discordances are traditionally explained by several factors. The first and most common explanation is balancing selection (e.g. during genetic hitchhiking) mainly on allozymes [100], some of which (particularly metabolic protein loci) are known to evolve non-neutrally. However, this is rejected outright by the data: Lewontin-Krakauer tests on the allozymes [42, 54] and multiple tests of mtDNA neutrality (e.g. Additional file 1: Table S5) reject the hypothesis of selection operating in either genome, as does the concordant lack of deep phylogenetic structure within either marker-class. A second explanation is that these discordances arise from the contrasting modes of transmission, evolution, and resolution of these marker-types; this could plausibly explain a lack of isolation-by-distance in the mtDNA, but isolation-by-distance in the allozymes. Compared with haploid, maternally transmitted mtDNA, allozymes are diploid and evolve roughly 10× slower with ~4-fold larger Ne and coalescence times (independent of mutation rate), and higher gene-flow rates [29, 101, 102]. As a consequence, mtDNA provide a higher-resolution view of population structure, e.g. at finer spatial scales (supported by our data), and more likely reflect homogenizing effects of gene flow hence lack of isolation-by-distance. By contrast, due to lower resolution, allozymes may display isolation-by-distance in northern areas even when expansion occurred from a single southern refugium, if postglacial expansion(s) did not involve leptokurtic (long-distance) dispersal e.g. reviewed in [2, 4, 9]. Regarding discordant migration patterns, allozyme Nem estimates and Ne estimates seem preferable in the case of H. formosa (mtDNA typically drastically underestimate Ne in high-gene flow species [29]). Still, their large coalescence times mean allozyme-inferred Nem may reflect averages across transmission routes over four times the history of mtDNA, rather than current processes. Thus, we interpret our results and Baer's [42] as indicating that historical gene flow (high Nem) among populations nearing migration-drift equilibrium, and large Ne, has influenced H. formosa phylogeographical structuring. This could partly explain the low observed genetic divergences, but can we reconcile this scenario with the isolation-by-distance findings, taken at face value? Taking such a scenario as compatible with the expansion-contraction model assumes most population structure has arisen since the LGM and that sufficient time has passed for H. formosa allozyme loci to reach equilibrium. This is supported by the data if we assume Nm = 10 (similar to [42], or higher [54]) and that populations must have achieved migration-drift equilibrium since the LGM, or G = 57,000 generations (19 ka*T). Given our Nef (~6 × 105-3 × 106) and ~1.2 Ma intraspecific tMRCA estimates, the number of generations required to approach equilibrium is recent, ~60,829 generations, and since the LGM based on the equation G = 1/(2 m + 1/(2Ne)) [103]. Thus, the above interpretation seems reasonable in light of population genetics theory; equilibrium could have arisen even faster in this species, as postglacial recolonization and population expansion can rapidly generate population structuring [61].
Another factor potentially explaining our results is sex-biased migration. Heterandria formosa exhibit strongly female-biased sex ratios due to higher male mortality rates, as demonstrated by predation trials [104] and otolith ring counts (JT, personal observation). In light of this, female dispersal/gene flow should outpace male dispersal even assuming equal dispersal propensities and rates between sexes. Thus, aside from differences in marker resolution, female-biased dispersal has likely also contributed importantly to nuclear-mitochondrial discordance above, specifically lack of mtDNA isolation-by-distance. This is because, under female-based dispersal, females carry both mtDNA and male/female nuclear genes out of populations while males are effectively philopatric (geographically restricted), thus we expect matrilineal alleles to more likely homogenize among localities while nuclear genomes remain site-dependent [29]; this would result in a relatively weaker matrilineal signal of isolation-by-distance. Unfortunately, we cannot reliably empirically evaluate effects of female-biased survival and dispersal on our other genetic results given comparable metrics influenced by geographical distance (e.g. linearized FST) are not estimable from the mtDNA and allozyme-frequency data, and low RPS7-gene sampling restricts possible mtDNA-nDNA comparisons. Last, consistent with the observation that deep coalescences appear to influence the H. formosa mtDNA/gene tree (e.g. Figure 6B), patterns of discordance between markers herein may to some extent reflect historical processes of incomplete lineage sorting in addition to the homogenizing effects of gene flow [significant when Nm > 4 (reviewed in [29]), as in H. formosa]. In future studies, sampling multiple, unlinked nuclear loci will be necessary to tease apart the relative contributions of these two opposing forces within H. formosa using coalescent-based models.
In addition to the geospatial and genetic analyses above, our phylogenetic and historical-demographic results also met predictions of the expansion-contraction model. While our inferences regarding ancestral derived/populations were limited by reduced south Florida sampling, phylogenetic and spatial patterns of ancestral/derived populations (alleles) between the phylogeny and network analyses congruently follow expectations derived from the model (e.g. Figure 4, Additional file 1: Table S8), and star-like patterns in the network suggest a history of population expansions. Our argument that H. formosa fits the expansion-contraction model is also reinforced by mismatch analyses and mtDNA genetic equilibrium tests (Fu's FS, R2), which fail to reject demographic expansion models (e.g. for SAMOVA-inferred population groups; see text; Table 3, S5; Figure 5) and thus capture genetic signatures of predicted historical changes in Ne containing information about the record and timing of expansion [61, 70, 92]. The 95% confidence intervals on expansion parameter τ suggest the onset of expansions has overlapped the LGM in most population groups and regions analyzed, and lower 95% confidence intervals extending into the present may be indications that expansion is on-going or ceased only recently, e.g. in north Florida (Table 3; Figure 5). Because balancing selection seems not to have been at play (as per above), low-frequency peaks in our mismatch distributions likely reflect secondary Holocene expansions rather than selection (Figure 5).
These demographic results generally agree with genetic patterns in European taxa (despite possibly earlier onset of H. formosa expansions) that are inferred to have experienced postglacial population expansions e.g. [4, 17]; however, in our case, integrating niche-based modeling and genetic analyses provides an additional check that it is reasonable to conclude H. formosa expansion has been both spatial and demographic (Figure 3; Table 3). Interestingly, our mtDNA genetic equilibrium tests only point to recent population bottlenecking within WCP samples (Table 3) spanning extensive wetlands and swamps of the Mississippi River Delta, a major outlet of postglacial meltwater flow and alluvial deposition. This could reflect a small population surviving the LGM in one or more WCP microrefugia not identified in our paleoclimatic models; however, no evidence exists that a population-lineage experienced drift in isolation in the WCP since the LGM (e.g. Figure 6B). We thus interpret this bottleneck as a result of founder events during postglacial recolonization.
Although the distribution of H. formosa spans nearly the entire lowland Coastal Plain (Figure 1), its genetic patterns do not completely coincide with those described in several other species with overlapping present-day distributions. At least 20 species, including 50-67% of freshwater fishes and turtles examined to date, display pronounced east-west Apalachicola phylogeographical [29–32] and distributional [33] breaks. In four freshwater fishes—bowfin (Amia calva) and three sunfishes (Lepomis gulosus, Lepomis microlophus, and Lepomis punctatus)—this pattern has been linked to vicariant isolation in upper reaches of different drainage basins that were reduced in size by eustatic high-stands 50-80 m ASL of the Pliocene-Early Pleistocene interglacials [105, 106]. Thus, major phylogenetic divergence(s) should be expected in this region in as-yet unsampled freshwater taxa. Remarkably, however, neither patterns of multilocus phylogenetic structuring or mtDNA-population structuring, nor a coalescent simulation perspective on neutral mtDNA evolution, support such a pattern within H. formosa. Variation at protein loci in H. formosa also departs from this vicariance model, revealing shallowly diverged and geographically overlapping population groups/lineages without deep genetic breaks at predicted barriers. While the common pattern of Gulf drainages containing Atlantic-coast haplotypes (but not vice versa) is present in the allozymes (Figure 2), neither mtDNA nor allozyme data support clear east-west Apalachicola splits.
Our estimated tMRCA suggests intraspecific diversification of H. formosa has coincided with Pleistocene diversification within A. calva, which is codistributed with H. formosa in the Coastal Plain but ranges much more widely across eastern North America (including the Mississippi and St. Lawrence River basins). This indicates that recent isolation within constraints of Pleistocene-Holocene (rather than earlier) drainage geomorphology, e.g. drainage divides, has influenced genetic variation of both H. formosa (i.e. genetic distinctiveness of mtDNA at AMOVAs structured by Florida drainages) and A. calva. However, additional studies will be necessary to test whether these species diversification has actually been synchronous, and to evaluate finer-scale patterns relative to drainage basins. It would also be interesting to examine whether Coastal Plain freshwater fish species that are presently codistributed with H. formosa responded to Late Pleistocene disruptions in climate and sea-level with similar range-shifting responses, possibly involving refugia; however, the only species in which effects of Pleistocene expansion-contraction dynamics have been rigorously tested is H. formosa (this study). Here, the eastern/Atlantic intraspecific lineages (Florida peninsula-Atlantic seaboard) present in many freshwater taxa will likely present good candidates for testing for range expansion-contraction dynamics similar to H. formosa. For example, the eastern/Atlantic lineages recovered by Bermingham and Avise [32] exhibit <2-4% genetic divergences, indicating Pleistocene tMRCAs (assuming the standard 2%/Myr clock for vertebrate mtDNA [101]), and phylogroups or private alleles unique to the Florida peninsula. While ad hoc explanations that interspecific differences in the position of the Apalachicola break (particularly geographical distributions of the eastern lineages) resulted from unique histories of dispersal and range-shifting in response to Pleistocene climatic fluctuations have been advanced [29, 31, 32], the actual pattern of such dynamics remains an unanswered question. Additional studies similar to ours of previously studied fish taxa, e.g. in [32], as well as understudied aquatic plants, insects, freshwater fishes (e.g. Fundulus seminolis, Jordanella floridae, etc.), and crayfishes from the Florida peninsula will therefore permit testing the generality of the scenario of historical range-shift and population dynamics uncovered within H. formosa, as well as general predictions of the expansion contraction model [15], within the Gulf-Atlantic Coastal Plain freshwater biota.
Conclusions
Understanding historical responses of species to the climatic and sea-level fluctuations of the Late Pleistocene has emerged as a major goal of ecology, evolution and biogeography [2, 4, 15, 29]. We find the evolutionary history of Heterandria formosa indicates southward LGM range contraction and large-scale postglacial expansion, as predicted under the Pleistocene expansion-contraction model [15]. Species-specific expansion-contraction dynamics may therefore have played a more general role in shaping the evolutionary history of Coastal Plain biota than previously thought. By adding to considerable variation surrounding common biogeographical themes recovered among even codistributed species in this region, our results bolster growing appreciation for the complexity of phylogeographical patterning in North America's southern refugia. Our study demonstrates the benefits of taking an integrative approach to biogeographical hypotheses generation and testing (e.g. more realistic hypotheses testing through niche modeling and statistical phylogeography) and showcases how similar approaches can be used by biologists in the future to gain further insights into the evolutionary history of the Gulf-Atlantic Coastal Plain biota, as well as the important role of this region as a dynamic refuge during the last glacial cycle. Indeed, a better understanding of the tempo and mode of species responses to the Pleistocene glacial-interglacial cycles will likely aid predicting and managing ecosystem responses to present-day and future climate change [6].
Availability of supporting data
Sequences are deposited in GenBank (accession numbers: KF632895-KF633114, cytb, and KF633115-KF633133, RPS7). Sequence alignments and phylogenetic trees are available in the TreeBASE repository: http://purl.org/phylo/treebase/phylows/study/TB2:S14718.
Declarations
Acknowledgements
We are grateful to M F. Breitman, E. Castro, and J. A. Wooten for helpful comments on this manuscript, and to A. L. Almendra for critical assistance with ecological niche modeling analyses. We thank P. J. Unmack for discussions and for graciously donating GIS data and samples from Hillsborough and St. Johns Rivers, Florida. Sampling was conducted under permits from Louisiana, Mississippi, Alabama, Georgia, Florida, and South Carolina issued to MS, JT and The University of Alabama Ichthyological Collection (UAIC). We thank A. Contreras-Balderas and G. Hubbard for assistance with field collections. Research was funded by Brigham Young University, including a Mentoring Environment Grant to JBJ that covered molecular sequencing costs; The University of Alabama; and The Florida State University.
Authors' Affiliations
(1)
Department of Biology, Brigham Young University, Provo, USA
(2)
Monte L. Bean Life Science Museum, Brigham Young University, Provo, USA
(3)
Department of Biological Science, Biodiversity & Systematics, The University of Alabama, Tuscaloosa, USA
(4)
Department of Biological Science, The Florida State University, Tallahassee, USA
(5)
Laboratorio de Ictiología, Facultad de Ciencias Biológicas, Universidad Autónoma de Nuevo León, Monterrey, México
Copyright
© Bagley et al.; licensee BioMed Central Ltd. 2013
This article is published under license to BioMed Central Ltd. This is an open access article distributed under the terms of the Creative Commons Attribution License (http://creativecommons.org/licenses/by/2.0), which permits unrestricted use, distribution, and reproduction in any medium, provided the original work is properly cited.