Research article

Open Access
Evolution of variation in presence and absence of genes in bacterial pathways
BMC Evolutionary Biology
2012
12:55
Received: 16 December 2011
Accepted: 17 February 2012
Published: 20 April 2012
Abstract
Background
Bacterial genomes exhibit a remarkable degree of variation in the presence and absence of genes, which probably extends to the level of individual pathways. This variation may be a consequence of the significant evolutionary role played by horizontal gene transfer, but might also be explained by the loss of genes through mutation. A challenge is to understand why there would be variation in gene presence within pathways if they confer a benefit only when complete.
Results
Here, we develop a mathematical model to study how variation in pathway content is produced by horizontal transfer, gene loss and partial exposure of a population to a novel environment.
Conclusions
We discuss the possibility that variation in gene presence acts as cryptic genetic variation on which selection acts when the appropriate environment occurs. We find that a high level of variation in gene presence can be readily explained by decay of the pathway through mutation when there is no longer exposure to the selective environment, or when selection becomes too weak to maintain the genes. In the context of pathway variation the role of horizontal gene transfer is probably the initial introduction of a complete novel pathway rather than in building up the variation in a genome without the pathway.
Keywords
BacteriaEvolutionPathwayCryptic genetic variationde FinettiMathematical modelHorizontal gene transferReductive evolutionGenome evolution
Background
The analysis of bacterial genomes has revealed a remarkable degree of variation in the presence and absence of genes among bacteria within the same species. For instance, in a set of 3 genomes of Escherichia coli studied by Welch et al. 2002 [1] only 40% of all genes were common to all 3 genomes, and 21% of genes in the uropathogenic isolate did not exist in the other two isolates (a non-pathogenic and a enterohaemorrhagic strain). Horizontal gene transfer plays a major role in the evolution of bacterial genomes [2–4], and is one factor explaining the large extent of variation in gene presence and absence among sets of related genomes [1]. Indeed, bacterial genomes can acquire entire genetic pathways encoding discrete functions through horizontal gene transfer [5]. A major impact of this dynamic is that bacteria can acquire new functions without having to evolve all of the elements of the pathway de novo. When a bacterial population is faced with a new niche, this ability to acquire new pathways confers considerable advantage [2]. For example, genes for enzymes acting on polysaccharides in edible algae have been transferred from marine bacteria to human gut bacteria [6]. Many examples of the horizontal acquisition of pathogenicity islands have also been described [7–9].
The large extent of variation in gene content between related bacterial genomes suggests a corresponding variation in gene presence and absence within pathways. For example, isolates of Neisseria meningitidis lacking components of virulence systems have been observed [10]; variation in the presence and absence of genes involved in oxidative sulfur metabolism occurs across species of green sulfur bacteria (Chlorobium and related genera) [11]; and metagenomic analysis of human gut microflora suggests a patchy distribution of porphyranase genes of marine origin in gut bacteria of genus Bacteroides [6]. Given such observations, extensive variation in gene content within pathways is likely to be uncovered as more bacterial genomes are analysed.
A challenge is to explain variation in gene content, particularly at the pathway level. Why would there be any variation if a pathway is beneficial? One possibility is that a change to environmental conditions creates a situation in which a pathway is no longer needed, and so existing pathways undergo decay by loss of individual genes over time. This reductive evolution occurs at the genome level in some taxa [12, 13].
Another possibility arises in the situation in which the pathway is not essential for survival, and in which there is little benefit in carrying it. Under this scenario, provided there is little or no cost to carrying the genes, horizontal transfer contributes to an accumulation of variation in the presence of components of the pathway. If the environment changes to one in which the pathway confers an advantage, selection would then favour acquisition of the complete set of genes. Indeed, Hall et al. 1983 [14] proposed that phenotypically silent genes or pathways may act as reservoirs for adaptation when environments change. In this context, cryptic genes may be maintained by fluctuation in environments [15]. We later discuss how this relates to the idea of cryptic genetic variation. A similar but distinct alternative hypothesis is that selection for the pathway acts continuously through partial exposure to the selective environment. Variation in gene presence again would be found en route to the acquisition of the complete pathway.
In this paper, we investigate these alternative explanations for the occurrence of variation in pathway content. We do this by developing an evolutionary model of pathway acquisition and gene loss for a bacterial population undergoing horizontal gene transfer and facing partial exposure to a new environment in which the pathway is favoured. We find that while pathway variation is readily generated by decay of pathways no longer under selection, horizontal gene transfer is generally unable to produce much variation unless the rate of transfer is extremely high. We interpret specific examples of variation in gene presence in bacteria in the context of these findings.
Methods
The model
We model a bacterial population that, through horizontal gene transfer, is able to acquire genes of a pathway that confers a selective advantage in some special "selective" environment or niche. The source of these genes is the collection of species carrying the complete pathway living in the selective environment. We consider the recipient bacterial population but not these source species. We assume this recipient population is large enough to be described by a deterministic system, that is, ignoring the effects of genetic drift. The model tracks the proportion x i of the population containing i genes of the n-gene pathway in the genome. We assume that the external populations have a substantially greater effect than the recipient population on the distribution of gene content in the pool of DNA fragments available for uptake by transformation or other processes. Pathways are diverse in structure and could be network-like or contain redundancy [16]. To focus on the dynamics of acquisition and variation we assume pathway linearity and that all genes of a pathway are equally necessary.
Let
c
be the cost of carrying each gene due to expression and maintenance. In the selective environment in which carriage of the complete pathway is advantageous, this cost is overridden by a benefit and the net benefit in that environment is
b
. We assume that individuals are to some extent exposed to the selective environment. In particular, assume that a proportion
ε
of the time is spent in that environment. The fitness of an individual with
i
genes of the pathway is thus
Genes of the pathway can be inactivated through mutation. We assume these mutations are irreversible and have in mind processes such as deletion, either of the whole gene or enough of the gene to render it unable to function in the pathway. This deletion occurs at rate δ per individual per generation. We assume that δis significantly smaller than 1/n, so that we approximate the probability of one of i genes being deleted by iδ. At most one gene is deleted at a time.
We model the horizontal transfer of sets of genes belonging to the pathway as follows. Let the parameter γ1 be the probability of acquisition of a single gene in a generation. Genes that are grouped closely — that is, clustered — on the chromosome are more likely to be transferred than unclustered genes. This assumption follows the observation that the probability of transfer decreases with the length of the segment [5, 17, 18]. Letting each additional gene on a fragment reduce the probability of transfer by a factor of κ, the transfer probability for i genes is γ i  = γ1κi−1 per recipient per generation. The parameter κ represents the degree of clustering of the genes: when κ is high the genes are more clustered and γ i is flatter with respect to i. Specifically, a value of κ = 1 corresponds to the genes being colocated, while κapproaches 0 for evenly spaced genes as the genome length increases (under a model of clustering such as that of Ballouz et al. [18]).
Changes in
x
i
due to transfer are handled as follows. Consider increases through transfers such that individuals with
j
genes (where
j
 < 
i
) are converted to individuals with
i
genes through transfer of
i
 − 
j
,
i
 − 
j
+ 1,…,
i
genes, where there may be some overlap with genes already present in the recipient genome. The number of such sets of genes whose transfer fits this requirement is where is the number of ways the set may overlap with the extant
j
genes, and is the number of ways of choosing the
i
 − 
j
"new" genes. To obtain the probability that a chosen set of
i
 − 
j
+
k
transferred genes satisfies this requirement, we divide by the number of possible choices of sets to transfer. Assuming the genes on the pathway in the external source population to be randomly arranged, this is the number of non-empty subsets of
n
genes, namely 2
n
 − 1. This is together multiplied by the transfer probability
γ
i − k
. Summing over set sizes
j
results in the addition, then, of
to the population carrying i genes from the pathway.
We note that the assumption of random arrangement of genes is not entirely realistic because local synteny would persist to some extent in the source population; however, some rearrangement weakens this synteny. Furthermore, most transfer events involve a single gene since shorter fragments are more likely to be transferred, and in these cases, synteny does not affect the dynamics. We therefore adopt random arrangement as a simplifying assumption; there may be benefit in re-examining this in future work.
Now consider decreases in
x
i
through transfer, converting individuals with
i
genes into individuals with more than
i
genes. This is given by computing the number of ways of adding
j
genes to a genome with
i
genes that changes the total number of genes from the pathway that are on the genome. For each
j
there are choices of
j
genes, and the number of these selections that are contained within the
i
we already have is . Note that iszero if
i
 < 
j
. To obtain a probability we again need to divide by the total number of non-empty subsets of
n
. Thus, summing over all possible
j
, we need to subtract
Putting together all of these components and setting
x
n + 1
 = 0, we have for 0 ≤ 
i
 ≤ 
n
, the following equation describing the state of the population in the next generation (denoted by a prime).
where is a normalizing factor. It can be shown that this normalizer is the mean fitness (). Figure
1
illustrates the structure of the model for the special case of
n
 = 5.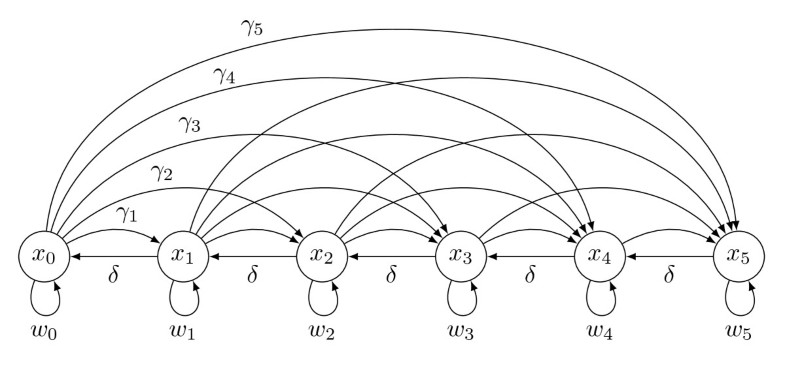 Note that for the values of parameters we consider in this model (Table
1
), which follow the constraints that
δ
≪
 1/
n
,  
γ
1
≪
 1 and
c
≪
 1, all coefficients in the expansion of in Equation (
2
) are non-negative, since:
Table 1
Parameters of the model
| Symbol | Range or value | Meaning |
| --- | --- | --- |
| n | [1, 30] | the number of genes in the pathway |
| c | [0, 0.01] | the fitness cost per gene to a single genome |
| ε | [0, 1] | the exposure probability (of encountering the selective environment) |
| b | 0.1 | the fitness benefit conferred by the whole pathway |
| δ | 10−9 | the probability of deletion of a single gene per generation |
| γ 1 | [10−9, 10−3] | the transfer probability for 1 gene per generation |
| κ | [0.1, 1] | the transfer decay parameter, modelling clustering |
We consider properties of the model in the Results, and also analyse the dynamics numerically by iterating Equation (2) with initial conditions of either x0=1 (all individuals lack all genes of the pathway) or x n  = 1(all individuals have the complete pathway). We will refer to the state of lacking all genes of the pathway as the "empty pathway". This computational work was done in the programming language Sage [19].
The parameters are set according to the default values shown in Table 1 and varied within the ranges given to explore their impact on the dynamics. We fix the length of the pathway at n = 5genes. Deleterious mutation occurs in E. coli at an estimated minimum rate of 2×10−4per genome per generation [20]. If there are 4000 genes, this corresponds to 5×10−8 per gene per generation. We set the per gene loss rate to 10−9, given also that not all deleterious mutations render genes non-functional. Rates of horizontal gene transfer would vary widely depending on what mechanisms of genetic exchange are operating, the availability of foreign DNA, and presumably many other factors. We therefore consider two rates: a low rate of the same order of magnitude as the rate of gene loss, namely 10−9, and a high rate of 10−3 corresponding to the presence of highly mobile plasmids.
The metabolic cost of carrying genes is likely to be low [21], so we consider values in the range 0 to 0.01. The fitness w n of carrying the full pathway ranges from (1 − c) i when ε = 0 to 1 + b when ε = 1, and so the parameter b sets an upper limit for the overall fitness conferred by possession of the full pathway. We fix this at b = 0.1, and allow ε to vary in the range [0,1].
Discussion
Analysis of the model shows that with continuous partial exposure to the selective environment a pathway can be acquired when the level of exposure is high enough compared to the cost of carrying fragments of the pathway. Continuous partial exposure may explain, for instance, the acquisition of porphyranase genes from marine bacteria by human gut bacteria. From the perspective of the gut microbes, the diet of humans ingesting seaweed provides constant exposure to the selective environment containing polysaccharides that marine bacteria are able to metabolise. Because genes of a pathway are often clustered on chromosomes [5, 24], horizontal transfer can move multiple genes, which accelerates the process of acquisition. Indeed, a bioinformatic analysis of pathways shows that acquisition is mostly rapid rather than gradual [25]. The speed of acquisition clearly depends on the extent of exposure to the selective environment.
We have shown that some variation in the presence of genes of the pathway can accumulate when the selective environment is absent, or nearly absent, in certain conditions. Such variation is seen in Figure 4 where variation is evident along the left axis of each panel (as well as in Figure 6 when the pathway is long and exposure very low). This scenario is very similar to the notion of cryptic genetic variation, or evolutionary capacitance, which is usually discussed in the context of eukaryotes [26–28]. In principle cryptic genetic variation can also apply to prokaryotes. We contrast this concept with cryptic genes in the sense of Hall et al. 1983 [14] who have in mind complete rather than partial pathways, which are maintained by alternating environments. Here, we are interested in variation: pathways can be built from scratch through horizontal transfer, and swiftly be driven to fixation when the appropriate environment arises. Hence, this process is much like cryptic genetic variation, except that the mechanism for variation accumulation is horizontal transfer rather than mutation. Based on our results, however, this kind of variation only occurs when the rate of horizontal transfer is very high and pathway genes are clustered (Figure 4).
Various genetic structures and mechanisms promote the transfer of genes between bacterial genomes. Integrons, for example, capture genes in cassette structures and are notable for their role, in conjunction with plasmids, in the accumulation of multiple drug resistance genes in pathogens [29, 30]. Here, horizontal transfer plays a far greater role in generating variation for selection to act on than does mutation [31]. When mobile genetic elements harbour genes that arose by transfer rather than being directly selected, this is very much like cryptic genetic variation. Although multiple drug resistance is not an instance of a metabolic pathway it falls into the scope of this study: multiple genes are required to generate a fitness advantage in special environments in which many drugs are found. Such an environment may be an infected host who is treated either sequentially or simultaneously with multiple antibiotics. If continuous partial exposure to this environment contributes to the maintenance of the multiple resistance phenotype, then the variation is not so cryptic and these genes are more like cryptic genes in Hall's sense [14].
Our model shows how variation in gene presence can also occur through decay of an existing pathway. This type of variation occurs when exposure is very low or zero; that is, when the selective environment no longer acts on the pathway. Here, the pathway is mostly lost at equilibrium but there is a large degree of variation produced transiently as the pathway decays. This variation in gene content is generally far greater than the variation due to the accumulation of genes by horizontal transfer (Figure 3). The model structure (see Figure 1) shows why this is so. The process of acquisition by horizontal transfer can be a rapid process as described above because multiple genes can be gained at once. In contrast, deletion of genes occurs gradually – one gene at a time. While acquisition occurs without much intermediate variation, decay from a complete pathway takes a different route, visiting these intermediate states. Thus, where large amounts of variation occur in pathways, such observations would be better explained by past changes in the environment so that the genes in question were no longer being needed or were only weakly selected because of genetic drift [32]. The extensive genome variation due to gene decay observed in Shigella [13, 33] and Mycobacterium leprae [12] is a clear illustration of this point.
Horizontal gene transfer has frequently been argued to be an important force in bacterial genome evolution [2]. This stems from the observation of frequent transfer events that cross prokaryotic species boundaries and the inevitable distortion of phylogenetic signal that results [34]. This idea is strengthened by the observations of the transfer of whole pathways across species and the mixed origins of elements of pathways [35, 36]. Our study examines the impact of horizontal gene transfer as an evolutionary force acting within a bacterial species, especially on the extent of variation at the pathway level. Although horizontal gene transfer is likely to play a large role in the initial acquisition of pathways, it is far less able to explain pathway variation than can mutational loss of genes.
As more genomic data become available, a careful examination of variation within pathways within species will shed light on these ideas. If the distribution of the number of genes in a pathway is either weighted towards the complete pathway or weighted in the middle (e.g., Figure 2B or 2C), then it is likely to be a decaying pathway in transit. If on the other hand, the distribution is weighted towards zero elements of the pathway, then this distribution could be consistent with either a small accumulation of variation due to horizontal transfer, or the decay of an existing pathway in its final stages (e.g. Figure 2A). In this case an examination of the phylogenies of the remaining genes would allow the issue to be resolved. If those trees are congruent (and follow the tree of vertical evolution), then the observed pattern arose by decay provided there have not been subsequent transfer events to swamp the signal; otherwise it was from horizontal transfer. Understanding variation in presence and absence of genes in pathways can provide insight into the current ecology of a species as well as its evolutionary history.
Conclusion
Analysis of the mathematical model developed in this study has shown that a high level of variation in gene presence in bacterial genomes can be readily explained through decay of an existing pathway. In the context of pathway variation the role of horizontal gene transfer is probably the initial introduction of a complete novel pathway rather than in building up the variation in a genome without the pathway.
Declarations
Acknowledgements
The authors would like to thank Attila Egri-Nagy, Steven Hamblin, Ruiting Lan, Laurence Park and Glenn Stone for their comments on the manuscript. This work is supported by the Australian Research Council through Future Fellowship FT100100898 (to ARF) and Discovery Grant DP0987302 including a QEII Fellowship (to MMT).
Authors' Affiliations
(1)
School of Computing, Engineering and Mathematics, University of Western Sydney, Locked Bag, Australia
(2)
School of Biotechnology & Biomolecular Sciences, University Of New South Wales, Kensington, Australia
Copyright
© Francis and Tanaka; licensee BioMed Central Ltd. 2012
This article is published under license to BioMed Central Ltd. This is an Open Access article distributed under the terms of the Creative Commons Attribution License (http://creativecommons.org/licenses/by/2.0), which permits unrestricted use, distribution, and reproduction in any medium, provided the original work is properly cited.