Research article

Open Access
The evolution of Dscamgenes across the arthropods
BMC Evolutionary Biology
2012
12:53
Received: 14 November 2011
Accepted: 13 April 2012
Published: 13 April 2012
Abstract
Background
One way of creating phenotypic diversity is through alternative splicing of precursor mRNAs. A gene that has evolved a hypervariable form is Down syndrome cell adhesion molecule (Dscam-hv), which in Drosophila melanogaster can produce thousands of isoforms via mutually exclusive alternative splicing. The extracellular region of this protein is encoded by three variable exon clusters, each containing multiple exon variants. The protein is vital for neuronal wiring where the extreme variability at the somatic level is required for axonal guidance, and it plays a role in immunity where the variability has been hypothesised to relate to recognition of different antigens. Dscam-hv has been found across the Pancrustacea. Additionally, three paralogous non-hypervariable Dscam-like genes have also been described for D. melanogaster. Here we took a bioinformatics approach, building profile Hidden Markov Models to search across species for putative orthologs to the Dscam genes and for hypervariable alternatively spliced exons, and inferring the phylogenetic relationships among them. Our aims were to examine whether Dscam orthologs exist outside the Bilateria, whether the origin of Dscam-hv could lie outside the Pancrustacea, when the Dscam-like orthologs arose, how many alternatively spliced exons of each exon cluster were present in the most common recent ancestor, and how these clusters evolved.
Results
Our results suggest that the origin of Dscam genes may lie after the split between the Cnidaria and the Bilateria and supports the hypothesis that Dscam-hv originated in the common ancestor of the Pancrustacea. Our phylogeny of Dscam gene family members shows six well-supported clades: five containing Dscam-like genes and one containing all the Dscam-hv genes, a seventh clade contains arachnid putative Dscam genes. Furthermore, the exon clusters appear to have experienced different evolutionary histories.
Conclusions
Dscam genes have undergone independent duplication events in the insects and in an arachnid genome, which adds to the more well-known tandem duplications that have taken place within Dscam-hv genes. Therefore, two forms of gene expansion seem to be active within this gene family. The evolutionary history of this dynamic gene family will be further unfolded as genomes of species from more disparate groups become available.
Keywords
Alternative splicing Dscam-like Gene duplicationOrthologCo-orthologParalog
Background
The biological complexity of an organism does not appear to correlate with the number of protein-coding genes in that organism. This is exemplified by comparing the human with the nematode
Caenorhabditis elegans
genome, where roughly similar numbers of genes (20,000-25,000 and 19,000, respectively) result in organisms with startlingly contrasting complexity [
1
,
2
]. A pervasive contributor that may in part account for this is alternative splicing of precursor messenger RNA, creating transcriptomic and proteomic diversity [
3
–
5
]. A particularly remarkable example is the
Down syndrome cell adhesion molecule
(
Dscam
) gene in
Drosophila melanogaster
, which can potentially generate 38,016 mRNA isoforms via mutually exclusive alternative splicing of exons that encode the ecto- and transmembrane domains [
6
]; this number increases to 152,064 when one considers independent alternative splicing of exons within the endodomain ([
7
,
8
]; Figure
1
). The latter figure accounts for more than eleven times the number of genes in
D. melanogaster
's genome [
9
]. Mutually exclusive alternative splicing occurs for ectodomain encoding exons 4, 6 and 9 and transmembrane exon 17 ([
6
]; Figure
1A
). One of twelve exon 4 alternatives, one of 48 exon 6 alternatives, one of 33 exon 9 alternatives and one of two exon 17 alternatives are present in each mRNA ([
6
]; Figure
1B
), and endodomain exons 19 and 23 can be contained or lacking [
8
]. Because of the extreme number of isoforms possible,
Dscam
has more recently been referred to as hypervariable,
Dscam-hv
[
10
], a nomenclature that we also adopt in this paper, but it is noteworthy that earlier papers do not use the -
hv
suffix (
e.g
. [
6
]).

The Dscam-hv gene is a member of the Immunoglobulin (Ig) superfamily [11]. In D. melanogaster it plays an essential role in neuronal wiring: it is an axon guidance receptor [6] and it ensures that olfactory receptor neurons synapse in the correct target [12]. The importance of isoform diversity in neuronal wiring and self-recognition has since been uncovered [13–16]. In 2005 Watson and co-workers [17] discovered that depletion of Dscam-hv impairs the ability of D. melanogaster haemocytes to phagocytose bacteria, spurring research into the immunological role that it could play in Drosophila and other pancrustaceans (i.e., the clade consisting of crustaceans and insects) [17–20]. It has been hypothesised that the large diversity of Dscam-hv isoforms could provide specificity for antigen recognition [21–23], however evidence to support this hypothesis is limited. Dscam-hv is particularly interesting because of its versatility due to the extreme diversity that it encodes, and also because the nervous and immune systems may exert different selection pressures on this gene [24].
The protein domain structure of Dscam-hv in
D. melanogaster
[
6
] consists of ten Ig domains: the alternatively spliced exon 4 lies within Ig2, exon 6 within Ig3, and exon 9 comprises the whole of Ig7 (Figure
1C
). There are also six fibronectin type III (FN) repeats, a transmembrane domain and a C-terminal cytoplasmic tail [
6
]. Orthologs of the
Dscam-hv
gene have been found in other pancrustaceans (Figure
2
), including several insect [
17
,
25
] and crustacean species [
10
,
20
,
26
,
27
], and all have the same ectodomain protein structure as
D. melanogaster
. However, there is considerable variation in the total number of alternatively spliced exons in the
Dscam-hv
genes across the Pancrustacea [
10
,
17
,
26
,
28
], and there is also variation in the number of conserved exons. Therefore for simplicity, hereafter we will refer to the hypervariable exons using domain numbering as these are likely to be more conserved than exon number. The question then arises of whether one could reconstruct the history of duplications and deletions that have shaped
Dscam-hv
evolution, and infer the ancestral set of alternatively spliced exons that were present at the base of the arthropods, pancrustaceans and insects. Also, of particular importance to the question of the ubiquity of
Dscam-hv
, it remains unclear when alternative splicing as found in
Dscam-hv
arose [
11
]. It has been assumed that
Dscam-hv
was already present in the genome of the common ancestor of the Pancrustacea but it is not known whether it was already present in the common ancestor of the arthropods. To date the most closely related species to the pancrustaceans that has been examined for
Dscam-hv
is the nematode
C. elegans
, although evidence of multiple exon variants was not found [
28
], and Brites and co-workers [
10
] subsequently suggested that it lacks
Dscam
altogether. Similarly more distantly related taxa within Protostomia, such as a platyhelminth and a mollusc, appear not to have
Dscam-hv
[
10
,
11
].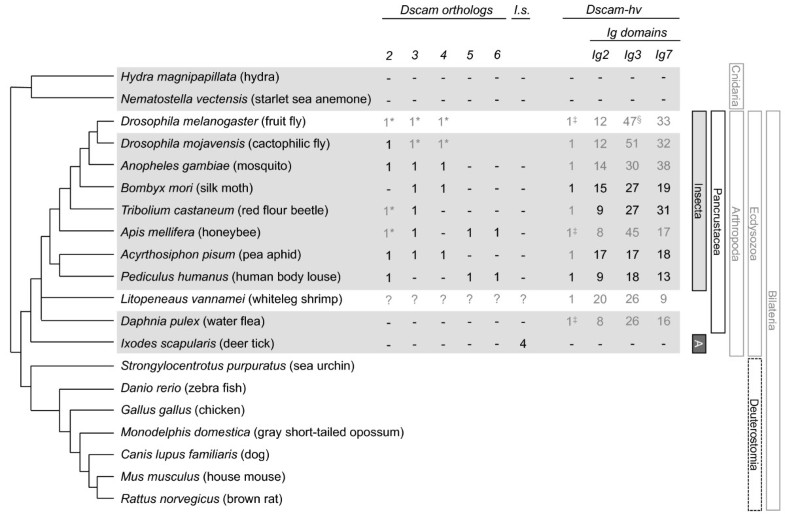 In addition to the hypervariable Dscam-hv gene, three non-hypervariable Dscam genes, so-called Dscam-like genes have been described in D. melanogaster [36]. One such gene, Dscam2, has two alternatively spliced exons in Ig7 [37], whereas Dscam3 and Dscam4 have only one isoform each. Dscam2 and Dscam3 have also been ascribed neuronal roles [37, 38]. The ancestor to at least one of the Dscam-like genes was already present in the common ancestor of the holometabolous insects (Figure 2), because Dscam-like genes have been predicted in the genomes of the honeybee Apis mellifera (AbsCAM [39]), the yellow fever mosquito Aedes aegypti (used in the Dscam gene phylogeny presented in [10]) and the red flour beetle Tribolium castaneum (NCBI gene prediction XP_967655.2). A first approximation of the evolution of the insect Dscam gene family including the aforementioned genes was described by Brites and co-workers [10], however, it is unclear whether all of these species contain orthologs to all three Dscam-like genes as found in D. melanogaster, and therefore also at what point the Dscam gene family diversified: were the three Dscam-like genes already present in the common ancestor of the holometabolous insects, of all insects, or of the pancrustaceans?
Dscam orthologs are also present in deuterostomes. Unlike its pancrustacean counterpart, vertebrate DSCAM has only two predicted isoforms [40]. DSCAM also plays a fundamental role in, e.g., axon guidance [41] and self-avoidance [42], but as of yet no immune function has been suggested. A further vertebrate DSCAM homolog has also been identified (DSCAML1 [43]). Phylogenetic inference shows that the Dscam/DSCAM genes in protostomes and deuterostomes cluster separately; it follows that separate duplication events may have occurred leading to the independent expansion of the Dscam/DSCAM families in both lineages [10]. It seems that taxa quite distant from the bilateria (i.e., a plant and a yeast species) do not contain Dscam orthologs [28], however, it is unknown whether Dscam exists in a more closely related group to the Bilateria, e.g., the Cnidaria.
In this paper we take a bioinformatics approach, constructing Hidden Markov Model profiles (HMMs [44, 45]) to search within the genomes of species for putative Dscam genes and hypervariable alternatively spliced exons and then reconstruct phylogenetic relationships between these genes and exons, to examine the evolutionary history of the Dscam gene family and the evolution of the three extracellularly expressed alternatively spliced exon clusters. Specifically we examine i) whether Dscam orthologs exist outside the Bilateria, if this is the case, it would suggest the origin of the Dscam gene family lies further back than previously believed, ii) whether the origin of Dscam-hv could lie outside the Pancrustacea, iii) when the Dscam-like orthologs arose, iv) how many alternatively spliced exons of each exon cluster were present at the base of the Arthropoda, Pancrustacea and the Insecta and v) whether the three exon clusters evolved similarly.
Methods
For a general overview of the workflow followed, and extra methodological details, please see Additional files 1 and 2, respectively.
Results and discussion
We have identified novel putative members of the Dscam gene family across the Pancrustacea. These fell into six well-supported insect gene clades: five Dscam-like and one containing the Dscam-hv cluster. A seventh well-supported clade included the four Dscam-related genes present in the genome of the arachnid I. scapularis, each containing a maximum of only one Ig2, one Ig3 and one Ig7 variant. These findings suggest that the Dscam genes duplicated independently in the insects and an arachnid genome, which adds to the two independent DSCAM gene copies found in vertebrate genomes. Similarly to tropomyosin genes [72], a second form of gene expansion, tandem duplication, is also highly active in this gene family, and is thought to have resulted in numerous alternatively spliced exon variants. We also identified alternatively spliced exons within Ig2, Ig3 and Ig7 from various insect species, but the short sequence length and the limited amount of phylogenetic signal of the putative exons identified, precluded the reconstruction of deep relationships between the exon variants of all arthropods.
Conclusions
Our analyses of the evolution of the Dscam family in the arthropods are compatible with the following evolutionary scenario. The genome of the arthropod ancestors already contained one copy of the ancestral Dscam gene. In the arachnid I. scapularis, gene duplication and diversification generated the four extant copies (co-orthologs) of the Dscam gene, which are exclusive to this lineage. In the pancrustaceans, a basal duplication event generated the ancestral Dscam-hv and the ancestor of the rest of the Dscam-like clades. The ancestral Dscam-like gene underwent a further series of between two and four duplication events in the lineage of the insects. In the Dscam-hv lineage, the expansion of alternatively spliced exons in the Ig2, Ig3 and Ig7 domains via duplication started early, or immediately after, the emergence of the ancestral Dscam-hv genes in pancrustaceans, and seems to be basal to this clade. There seems thus to exist an adaptive value in this broadening of the Dscam-hv transcript/protein repertoire that may have been available through neofunctionalisation after gene duplication. Such new function(s) could be related to the differentiation between self and non-self, as evidenced in their role in the nervous system and in their putative role in immunity. If it is true that the hypervariability in Dscam-hv arose after the split between arachnids and insects, one may wonder whether such new roles correspond to new solutions to old problems, also faced by arachnids and solved by other means, or whether they correspond to new functions that are exclusive to insects. A future search on more genomes with better quality will help fill the evolutionary gaps and clear the oddities that remain unexplained. Finally, only experimentation will enable us to solve questions about whether the putative Dscam-like genes are expressed and what their functions are, and to understand more about the role of alternative splicing of the hypervariable exons in Dscam-hv across the arthropods.
Declarations
Acknowledgements
We would like to thank Daniela Brites for access to unpublished work. This work was supported by a grant from the Volkswagen Stiftung for SAOA (grant number: 1/83 516) and for IGB (recipient of a professorship under the Volkswagen Stiftung program "Evolutionary Biology"), and by the late Spanish Ministry for Science and Innovation (Programa Ramón y Cajal and grants BFU2009-06702-E/BMC and CGL2010-16713) to IGB.
Authors' Affiliations
(1)
Institute for Evolution and Biodiversity, University of Münster, Münster, Germany
(2)
Unit of Infections and Cancer, Catalan Institute of Oncology (ICO), Gran Via de L' Hospitalet, Barcelona, Spain
Copyright
© Armitage et al; licensee BioMed Central Ltd. 2012
This article is published under license to BioMed Central Ltd. This is an Open Access article distributed under the terms of the Creative Commons Attribution License (http://creativecommons.org/licenses/by/2.0), which permits unrestricted use, distribution, and reproduction in any medium, provided the original work is properly cited.