Research article

Open Access
Widespread horizontal genomic exchange does not erode species barriers among sympatric ducks
BMC Evolutionary Biology
2012
12:45
Received: 8 November 2011
Accepted: 2 April 2012
Published: 2 April 2012
Abstract
Background
The study of speciation and maintenance of species barriers is at the core of evolutionary biology. During speciation the genome of one population becomes separated from other populations of the same species, which may lead to genomic incompatibility with time. This separation is complete when no fertile offspring is produced from inter-population matings, which is the basis of the biological species concept. Birds, in particular ducks, are recognised as a challenging and illustrative group of higher vertebrates for speciation studies. There are many sympatric and ecologically similar duck species, among which fertile hybrids occur relatively frequently in nature, yet these species remain distinct.
Results
We show that the degree of shared single nucleotide polymorphisms (SNPs) between five species of dabbling ducks (genus Anas) is an order of magnitude higher than that previously reported between any pair of eukaryotic species with comparable evolutionary distances. We demonstrate that hybridisation has led to sustained exchange of genetic material between duck species on an evolutionary time scale without disintegrating species boundaries. Even though behavioural, genetic and ecological factors uphold species boundaries in ducks, we detect opposing forces allowing for viable interspecific hybrids, with long-term evolutionary implications. Based on the superspecies concept we here introduce the novel term "supra-population" to explain the persistence of SNPs identical by descent within the studied ducks despite their history as distinct species dating back millions of years.
Conclusions
By reviewing evidence from speciation theory, palaeogeography and palaeontology we propose a fundamentally new model of speciation to accommodate our genetic findings in dabbling ducks. This model, we argue, may also shed light on longstanding unresolved general speciation and hybridisation patterns in higher organisms, e.g. in other bird groups with unusually high hybridisation rates. Observed parallels to horizontal gene transfer in bacteria facilitate the understanding of why ducks have been such an evolutionarily successful group of animals. There is large evolutionary potential in the ability to exchange genes among species and the resulting dramatic increase of effective population size to counter selective constraints.
Keywords
Single Nucleotide PolymorphismMinor Allele FrequencyAssortative MatingPersistence TimeGenetic Admixture
Background
Biology has seen the proposition of several species concepts. Of these, the biological species concept [1] is historically the most influential; according to it all individuals belong to the same species if they produce viable and fertile offspring in nature, i.e., they share a common gene pool. To account for inherent difficulties to test this concept in practice, especially in allopatric populations that never encounter each other, biologists tend to supplement it by elements of the morphospecies concept (which is as old as the study of nature). With the advance of molecular genetic data over the past decades many researchers now define species by genetic characteristics rather than morphological ones because genetics provides a means of actually measuring recent or ongoing genetic connectivity between species [2]. Species boundaries are strengthened by accumulation of genomic incompatibilities preventing formation of zygotes, so called Dobzhansky-Muller incompatibilities [3–5]. Once evolved, post-zygotic isolation is irreversible, in contrast to pre-zygotic barriers such as mate recognition. There is much evidence that post-zygotic barriers evolve slowly in birds [5, 6], potentially contributing to the high rates of hybridisation observed in this group [7] and explaining why genetic distances can be low in spite of large morphological differences [8].
When populations diverge into species their gene pools become disconnected, and even in the absence of ecological differentiation stochastic effects, i.e., genetic drift, will drive each new species towards increased differentiation. If introgression of genetic material of one species into another occurs regularly enough in the absence of genomic incompatibility, one would expect that these events oppose genetic drift by exchange of alleles that the two subsequently will have in common. Such potential sharing of alleles at genetic loci through genetic admixture can directly be observed by the study of genetic markers. One type of genetic marker that has recently received a lot of attention is the 'single nucleotide polymorphism' (SNP) [9]. Due to the abundance of SNPs in genomes and suitability for high automation in genotyping, SNPs can be characterised in large numbers, yielding a representative image of an entire genome. With SNP data from multiple species, one can study the sharing of genetic material at the same loci, providing a new means of studying species divergence by the speed of loss of genetic coherence.
While persistent genetic admixture can lead to the merging of species [
10
,
11
] this does not generally seem to be the case in some taxonomic groups. For example, ducks (family Anatidae) show much hybridisation in the wild, with viable and fertile offspring [
7
,
12
,
13
]. In spite of this, duck species remain morphologically distinct. Males especially display species-specific plumage, ornamentation, and courtship behaviour (Figure
1
). In the present study, we utilise a recently developed SNP set for the mallard (
Anas platyrhynchos
) [
14
] to infer the degree of genomic connectivity among five species of closely related, ecologically similar and morphologically well differentiated duck species, among which interspecific hybridisation is commonplace. With this example we set out to illustrate how analysis of "SNP persistence time" facilitates the understanding of the evolutionary impact of ongoing hybridisation, how it can reveal the existence of superspecies complexes, and how it sheds light on longstanding unresolved puzzles of speciation processes.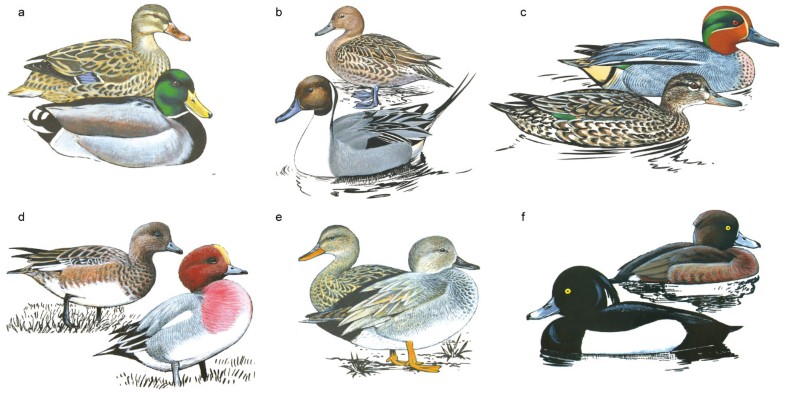 Conclusions
The amount of shared polymorphism between the studied duck species cannot be explained by large population sizes of the respective species only. We suggest extraordinary and evolutionarily sustained hybridisation rates as drivers of ongoing gene pool mixing. Gene flow continues and will allow the transfer of genetic material among duck species. At present, extensive hybridisation still occurs. The genetic compatibility of different duck species, combined with mixed effects of genetically determined and imprinted mate choice leads to speciation reversals [11] despite genotypically and morphologically defined species boundaries. Present-day occurrence of Anas platyrhynchos in large numbers and wide geographical extent may even drive some of their close relatives to extinction by hybridisation [61]. This is a major concern in many parts of the world, especially where Anas platyrhynchos is not indigenous [62]. Many species of the genus Anas are hard to fit into the biological species concept because their evolution has rather led to a superspecies complex with discernable lineages. Besides the five dabbling duck species studied here, it is likely that many more of the ca. 40 Anas species are part of the global supra-population.
Besides conservation implications, this creates large evolutionary potential, comparable to bacteria, which are able to exchange genes among different species by horizontal gene transfer. Further, increasing effective population sizes into the millions may allow non-adaptive evolutionary processes to act, opening up additional degrees of evolutionary freedom [63]. SNP-based analysis at hundreds of independent loci across the entire genome, as done here, may serve to re-evaluate long-standing puzzling patterns of speciation and hybridisation in several bird groups, such as other waterfowl, galliforms, hummingbirds and woodpeckers [7], as well as in many other organisms where species pairs exhibit unusually high levels of hybridisation.
Methods
Samples
In total, 212 individuals of Anas platyrhynchos obtained from nine localities representing Eurasian and North American populations were sampled and their blood was stored on FTA cards [64] at room temperature until DNA isolation. Numbers of samples with abbreviation codes in brackets: Eurasian samples were from Austria (25, ATHO), Estonia (22, EETA), Portugal (32, PTDJ), and three Russian localities: Yaroslavl (25, RUYA), Omsk (12, RUOM) and Tomsk (32, RUTO). North America was represented by Ontario (7, CALM), Manitoba (20, CARM) and Alaska (22, USMF). Preliminary multivariate clustering of SNP genotypes (see below) positioned 15 of these individuals far outside the Anas platyrhynchos species cluster, sometimes well within the clusters of other duck species (Additional file 3). We discarded these 15 individuals as mislabelled because they showed obvious deviation from their putative genotypic species cluster. Details are available in Additional file 4.
A set of 67 samples from other duck species were obtained world wide from various sources (hunting bags, live-trapped, zoos) and localities. Most often blood on FTA cards was used, sometimes other tissues stored in ethanol, and also previously isolated DNA from collections. The cross species testing was applied to ducks of the following Anas and Aythya species (numbers of samples and abbreviation code in brackets): Anas acuta (7; ANAC), Anas crecca (9; ANCR), Anas penelope (14; ANPE), Anas strepera (10; ANST), Aythya fuligula (17; AYFU) and one F1 hybrid between Anas acuta and Anas platyrhynchos (ANACPLA). Using the same procedure as with the Anas platyrhynchos set, we identified nine of these samples as apparently mislabelled. These were excluded from all subsequent analyses (Additional file 5). Details are available in Additional file 6.
DNA isolation
DNA isolation was done using the Gentra Systems Puregene DNA purification Kit according to the manufacturer's instructions, with modifications when handling of FTA cards. Appropriate amounts of tissue or blood on FTA cards were digested with 9 μg Proteinase K (Sigma) in Cell Lysis Solution (Gentra Systems) at 65°C over night, or longer in case of some tissues. Proteins were subsequently precipitated with Protein Precipitation Solution (Gentra Systems) and spun down together with the FTA card material. DNA from the supernatant was precipitated with isopropanol and washed twice with 70% ethanol. DNA quantity and purity were measured using the Nanodrop ND1000. Samples with 260/280 nm absorption ratios less than 1.8 were purified again.
SNP genotyping
We used Illumina's GoldenGate Genotyping assay, on the Illumina BeadXpress. The marker set consisted of 384 SNPs [14] ("mallard 384 SNP set"), which are numbered according to their dbSNP accession numbers from ss263068950 (SNP 0) to ss263069333 (SNP 383). Raw genotyping results were analysed in GenomeStudio (Illumina), and SNP clusters adjusted by hand. The respective OPA (oligo pooled assay) and cluster files can be found online with this paper (Additional file 7 and Additional file 8).
SNP set evaluation
We assessed technical and biological properties of the SNP set in Anas platyrhynchos:
Persistence times of SNPs
The equation for mean persistence time t(p) is a combination of the time to loss and to fixation [72, 73]. It can be written as -4N e [(1-p) ln(1-p) + pln(p)] where p denotes the initial MAF and Ne the effective population size (for derivation see ref. [23], page 112, eqn. 3.10). To calculate the persistence time t(p) of a SNP, an estimate of the effective population size (Ne) from the census population size (Nc) is thus required. Estimates of current census population sizes (Nc) of the investigated duck species were taken from the BirdLife species fact sheets [74]. Upper estimates were used when a range was given. The ratio between Ne and Nc for species of dabbling ducks has to our knowledge not been studied, but it is probably fairly low as most census estimates are based on winter counts made several months before the breeding season starts and most mortality may occur before breeding [75]. Further, dabbling ducks are generally r-selected and their population sizes fluctuate greatly by swift responses to benign and detrimental conditions [76, 77], with Ne being dominated by the smallest values [23]. Estimated Ne: Nc ratios from white-winged wood ducks (Asarcornis scutulata, formerly Cairina scutulata) range between 0.052 (genetic measurements) and 0.094 (demographic measurements) [78]. Thus, we use a ratio of 0.1 as a conservative estimate (on the high side) for the ratio of Ne to Nc.
The generation time has been set to one year for clarity. As mentioned above, many individuals do not reproduce at all, and those that do are in the vast majority of the cases first-years [75]. The actual generation time value should lie in the range between 1.1 and 1.2 years, and this has no effect on our interpretations.
Interspecific, genetic admixture
A Bayesian genetic clustering algorithm as implemented in the software STRUCTURE [37] (version 2.3.3) was used to test for genetic admixture, i.e., the incorporation of genes from one discrete population/species into another. Two datasets were analysed: i) all Anas platyrhynchos and other duck species (the same individuals as analysed by PCA, see Figure 2c); ii) only the other species (cf. Figure 2b) plus the putative hybrid between Anas platyrhynchos and Anas acuta. A value of K = 6 simulated clusters (as many clusters as species) was chosen in the analysis of all ducks (i), and consequently K = 5 when Anas platyrhynchos was excluded (ii). Default settings were used with the admixture model of STRUCTURE, run for 300,000 steps (the first 100,000 discarded as burn-in). Additionally, we compared the results of the STRUCTURE analysis with those of the program InStruct [38] which is designed to perform the same analysis as STRUCTURE but not depending on Hardy-Weinberg equilibrium. The same datasets and settings were used, including the default settings, with the same values for K. Mode 1 - "infer population structure only with admixture" - in InStruct was chosen because it is most comparable to the program STRUCTURE as explained in its manual. The dataset containing only non-Anas platyrhynchos ducks (K = 5) was also run for the same amount of iteration steps. The larger dataset, all ducks combined (K = 6), was run substantially longer because the Markov chain converged very slowly (2,000,000 steps, of which 1,000,000 were discarded as burn-in).
Multivariate genetic clustering of genotypes
We tested for genetic similarity of individuals using principal component analysis (PCA) on their genotypes with the program smartpca from the Eigenstrat package [79] with default settings, but outlier removal switched off. The analysis was repeated for every new subset of the data.
Declarations
Acknowledgements
We are thankful to the following persons and institutions for providing Anas platyrhynchos samples: Ernst Niedermayer, Hans Jörg Damm (Stiftung Fürst Liechtenstein, Austria), David Rodrigues (Escola Superior Agrária de Coimbra, Portugal), Brandt Meixell, Danielle Mondloch, Jonathan Runstadler (University of Alaska Fairbanks, USA), V.N. Stepanov, O. Tutenkov, V.I. Zalogin, Sergey Gashkov, Sergey Fokin (State Informational-Analytical Centre of Game Animal and Environment of Hunting Department of Russia), Urmas Võro, David Lamble, Garry Grigg, Aaron Everingham, Holly Middleton (Simon Fraser University, Vancouver, Canada). Rolik Grzegorz (Zoo Opole, Poland), Magnus Hellström (Ottenby Bird Observatory, Sweden), Michael Wink, Javier Gonzales (University of Heidelberg, Germany), Dirk Ullrich (Alpenzoo Innsbruck, Austria), Kamil Čihák (Zoo Dvur Kralove, Czech Republic), Marina Euler (Tierpark Lange Erlen, Switzerland), Sascha Knauf (Opel Zoo, Germany), Yang Liu (University of Bern, Switzerland), Mathieu Boos (CNRS Strasbourg, France), Crystal Matthews (Virginia Aquarium, USA), Timm Spretke (Zoologischer Garten Halle, Germany) and Valery Buzun provided samples from duck species other than Anas platyrhynchos. Technical assistance with genotyping was provided by Bert Dibbits. Daniël Goedbloed helped with the software package Eigenstrat. We thank Michael Turelli and Carlo Dietl for discussions. Javier Gonzales provided unpublished data on divergence times of duck species, and Brian Cade helped with statistics. The WWT, Slimbridge, UK, provided drawings for Figure 1. This work was financially supported by the KNJV (Royal Netherlands Hunters Association), the Dutch Ministry of Agriculture, the Faunafonds and the Stichting de Eik trusts (both in The Netherlands) and the Swedish Environmental Protection Agency, grants V-220-08 and V-205-09.
Authors' Affiliations
(1)
Resource Ecology Group, Wageningen University, AA Wageningen, The Netherlands
(2)
Conservation Genetics Group, Senckenberg Research Institute and Natural History Museum, Gelnhausen, Germany
(3)
Department of Molecular Biology, Faculty of Science, Nijmegen Centre for Molecular Life Sciences, Radboud University Nijmegen, Nijmegen, The Netherlands
(4)
Animal Breeding and Genomics Centre, Wageningen University, PG Wageningen, The Netherlands
(5)
Aquatic Biology and Chemistry, Kristianstad University, Kristianstad, Sweden
(6)
Biological Station Rybachy of the Zoological institute RAS, Kaliningrad region, Russia
(7)
Ecological Watch of Siberia, Omsk, Russia
(8)
Department of Chemistry, Omsk State University, Omsk, Russia
(9)
Centre for Wildlife Ecology, Simon Fraser University, Burnaby, Canada
Copyright
© Kraus et al; licensee BioMed Central Ltd. 2012
This article is published under license to BioMed Central Ltd. This is an Open Access article distributed under the terms of the Creative Commons Attribution License (http://creativecommons.org/licenses/by/2.0), which permits unrestricted use, distribution, and reproduction in any medium, provided the original work is properly cited.