Research article

Open Access
Leucine-Rich repeat receptor kinases are sporadically distributed in eukaryotic genomes
BMC Evolutionary Biology
2011
11:367
Received: 7 September 2011
Accepted: 20 December 2011
Published: 20 December 2011
Abstract
Background
Plant leucine-rich repeat receptor-like kinases (LRR-RLKs) are receptor kinases that contain LRRs in their extracellular domain. In the last 15 years, many research groups have demonstrated major roles played by LRR-RLKs in plants during almost all developmental processes throughout the life of the plant and in defense/resistance against a large range of pathogens. Recently, a breakthrough has been made in this field that challenges the dogma of the specificity of plant LRR-RLKs.
Results
We analyzed ~1000 complete genomes and show that LRR-RK genes have now been identified in 8 non-plant genomes. We performed an exhaustive phylogenetic analysis of all of these receptors, revealing that all of the LRR-containing receptor subfamilies form lineage-specific clades. Our results suggest that the association of LRRs with RKs appeared independently at least four times in eukaryotic evolutionary history. Moreover, the molecular evolutionary history of the LRR-RKs found in oomycetes is reminiscent of the pattern observed in plants: expansion with amplification/deletion and evolution of the domain organization leading to the functional diversification of members of the gene family. Finally, the expression data suggest that oomycete LRR-RKs may play a role in several stages of the oomycete life cycle.
Conclusions
In view of the key roles that LRR-RLKs play throughout the entire lifetime of plants and plant-environment interactions, the emergence and expansion of this type of receptor in several phyla along the evolution of eukaryotes, and particularly in oomycete genomes, questions their intrinsic functions in mimicry and/or in the coevolution of receptors between hosts and pathogens.
Keywords
Kinase DomainPhytophthora InfestansPhytophthora ParasiticaPhytophthora RamorumApproximate Likelihood Ratio Test
Background
Receptor-like kinases (RLKs) are plant-specific transmembrane (TM) receptor kinases (RKs) that are closely related to the Pelle proteins, a family of animal cytoplasmic kinases. These RLK/Pelle proteins are involved in host defense against a range of pathogens and are also key regulators of many developmental processes in both plants and animals [
1
–
4
]. In an extended phylogenetic analysis of eukaryotic receptor kinases, Shiu and Bleecker (2001) have shown that, with respect to the kinase domain (KD), the RLK/Pelle, receptor tyrosine kinase (RTK), receptor serine/threonine kinase (RSK) and Raf protein subfamilies form a monophyletic group, the receptor kinase group (RKG), that is distinct from all other eukaryotic kinases [
5
,
6
]. All plant RLKs possess a single-pass TM domain and an intracytoplasmic KD but differ in their extracellular domain (ECD) [
5
]. Members of the largest RLK subfamily, the leucine-rich repeat receptor-like kinases (LRR-RLKs), contain 1 to 30 leucine-rich repeats (LRRs) in their ECDs (Figure
1A
). Plant LRR-RLKs are involved in many developmental processes and in host responses to biotic and abiotic stresses [
7
,
8
]. Animals also possess LRR-containing receptors (the Toll and Toll-like receptors) that play a role in development and immunity [
9
]. Interestingly, these animal receptors contain LRRs in their ECD but do not possess a KD, and several transduce their signal by activating kinase-containing co-receptors through the binding to adaptor proteins. Because the structural organization (LRRs exclusively in the ECD, followed by a TM and a KD with serine/threonine kinase activity) was previously found only in plants, a plant-specific dogma for LRR-RLKs was expounded for many years. However, LRR and KD domains are highly versatile with respect to their associations with other protein domains and are predicted to be present in all genomes from bacteria to humans [
10
].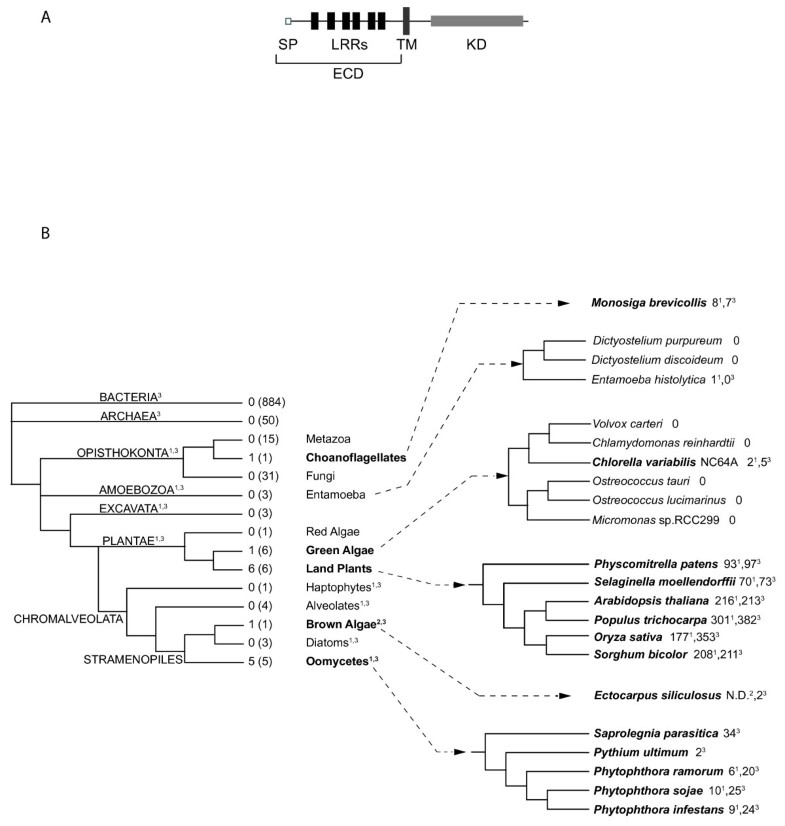 In this report, we show that LRR-KD subfamilies have been reinvented in several eukaryotic genomes outside plants. Moreover, the evolutionary history of these LRR-RKs is comparable to the one described for the LRR-RLK plant subfamilies.
Conclusions
In conclusion, we have shown that the Monosiga, Chlorella, Ectocarpus and oomycete LRR-RK receptors belong to the RKG and are likely to have acquired the LRRs in their ECDs independently. The evolutionary history of the oomycete LRR-RK receptor subfamily is consistent with the molecular evolution of plant LRR-RLKs [16, 17]. Saprolegnia and Phytophthora species have developed, expanded and functionally diversified a subfamily of receptors that are structurally, but not phylogenetically, related to plant LRR-RLKs. Considering the key roles that plant LRR-RLKs play throughout the plant life cycle and in plant-environment interactions, it is tempting to propose that oomycete LRR-RKs may be important regulators of the oomycete life cycle. Future work should focus on deciphering the functions of oomycete LRR-RKs in host-oomycete interactions to reveal new targets to help combat these pathogens, which pose a serious threat to plants and aquaculture farming worldwide, causing tremendous economic damage every year [18].
List of abbreviations
LRR:

leucine-rich repeat
RLK:

receptor-like kinases
RK:

receptor kinase
LRR-RLK:

leucine-rich repeat receptor-like kinase
LRR-RK:

leucine-rich repeat receptor kinase
TM:

transmembrane
KD:

kinase domain
ECD:

extracellular domain
RKG:

receptor kinase group
RTK:

receptor tyrosine kinase
RSK:

receptor serine/threonine kinase
EST:

expressed sequence tag
TM:

transmembrane domain
SP:

signal peptide
hpi:

hours post inoculation.
Declarations
Acknowledgements
This research was funded by the French Agence Nationale de la Recherche (RICE RLK.O.me, 2008).
Authors' Affiliations
(1)
CIRAD, UMR AGAP, Montpellier, France
(2)
Institut de Génétique Humaine, CNRS, UPR 1142, Montpellier cedex 5, France
(3)
INRA, CNRS, Université Nice-Sophia Antipolis, UMR Interactions Biotiques et Santé Végétale, Sophia Antipolis, France
Copyright
© Diévart et al; licensee BioMed Central Ltd. 2011
This article is published under license to BioMed Central Ltd. This is an Open Access article distributed under the terms of the Creative Commons Attribution License (http://creativecommons.org/licenses/by/2.0), which permits unrestricted use, distribution, and reproduction in any medium, provided the original work is properly cited.